This post may contain affiliate links. Please see my full disclosure for more information.
Are you in a bit of a "new year, new you" mindset at the moment? These days, people seem to be very split down the middle when it comes to new year's resolutions. Some think it's just a way of setting yourself up for disappointment, while others believe in the fresh start a new year can provide.
I'm very much in the latter camp – while I don't necessarily set resolutions, I love the turn of the new year for taking some time to ananalyze where I am in life, and to set some goals for the coming months.
If you've been moving towards the goal of getting more frugal lately, the beginning of a new year is the perfect time to start making better budget habits. Select a few points from the list below each month, and you'll be well on your way to creating a habit – with much less chance of you breaking that resolution!
I've listed my top 20 ways to easily become more frugal this year, and even created a FREE printable to stick to a wall or keep in a draw – I recommend ticking off 2 – 3 of these tips each month and see how frugal you can get this 2018.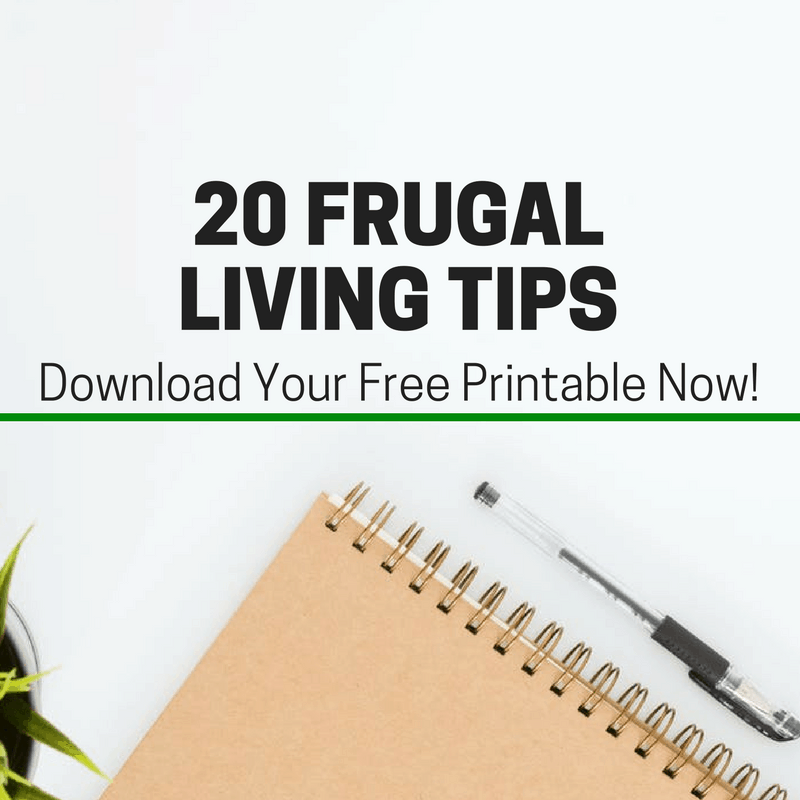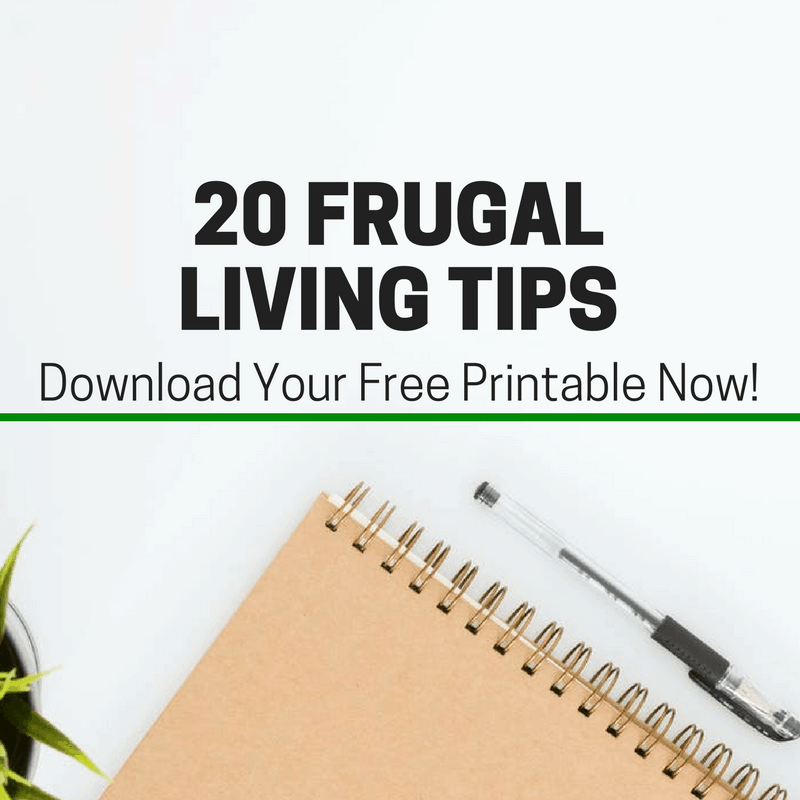 1. Use Up Your Leftovers
Christmas is undoubtedly one time of year where leftovers are aplenty, and many of us can be guilty of throwing some of those goods away rather than using them all up in time.
If you find yourself throwing away a lot of uneaten food, make using up your leftovers a habit to start this year. A few great ways to ensure you always have the correct amounts of food to eat each week include:
2. Take Packed Lunches (and Breakfasts…and Dinners!)
Spending £5 a day on a tasty lunch might not feel like a big expense, but if you do that 5 times a day every week, you're looking at spending upwards of £1000 a year on food that could easily be made at home for far less money.
Cooking your own meals is not only cheaper, it can also be much healthy as you know exactly what is going into your meals.
Check out my post on 10 meal-prep meals perfect for packed lunches for some inspiration!
3. Avoid All Late Fees
Late fees are a totally avoidable expense, and that's why this habit is so essential to start this year.
Set a reminder a few days before your bills are due to be paid, and make sure that you have budgeted enough to be able to pay these bills when they're due.
A late fee of a few pounds each month might not seem like too much, but again, those fees really rack up if you take a look at the bigger picture over a year.
4. Switch Utility Providers
USwitch report that homeowners can save hundreds by simply switching utility providers. If you haven't changed providers in years, it's definitely time to gather some quotes and find out if you could make some real savings by simply moving to another company.
5. Shop Seasonally
If you shop locally (rather than in more expensive supermarkets), you'll quickly find that food is much cheaper when it's in season.
A great frugal living tip to try this year is to shop seasonally – that means berries, peaches and beans in the summer months, and things like root vegetables and apples in the winter. Not only does this help save money, but it keeps shopping and what appears on your kitchen table fresh and exciting!
6. Make Decluttering a Habit
Try to make a habit out of decluttering an area of your home once a quarter. For me, that almost always means my wardrobe (self-confessed shopaholic, right here!). For you, it may be your garage that ends up messy and cluttered, or your kitchen. Or it might be your entire home!
Select one area to declutter, and sort your items into keep, throw, and donate piles. Recycle your unwanted items as much as possible, but don't hang on to things just because you can't donate them.
I find living with less, in turn, makes me want to spend less – try it, and this might just be the key to a more frugal you!
A few articles that will help you here include:
7. DIY Your Beauty Regime
How much money do you spend each month on things like face masks, hair products, and manicures?
A great frugal living tip can be to try out some natural DIY beauty regimes to save money on expensive products. A few I'm definitely planning on trying this year include:
8. Heat Up Your Home
In the colder months, it can be a big temptation to crank up your heating to keep warm – and this, in turn, can mean spending a lot more money than you'd like to.
Get more frugal this year by finding other ways to keep warm: from wearing an extra layer to using draught stoppers and thicker curtains to keep the heat in your home – and the cold out!
We invested in one of these Nest Learning Thermostats early last year and it is such a good buy – you can program your heating from your phone, keeping your house warm when you're in it, and turning the heating off when you're not!
9. Practice Living with Intention
Sometimes, the easiest way to start living more frugally is simply to bring some awareness into your actions, especially when it comes to spending.
Before you make a new purchase, just ask yourself 'do I really need this?' and that moment of hesitation is all it takes to prevent you from making an impulse, and unnecessary, purchase.
Sure, you may decide that actually, yes, you do want and need that item – and that's fine. The point is that you may start to realise that for every 5 purchases, there's actually only one that you really need – and that's good for your wallet!
10. Cook in Bulk
Cooking in bulk is a great way to be more frugal this year, ensuring you use up all your leftovers and plan your food shopping more thoroughly for the week.
If you're a total newbie to cooking a bulk, check out my Meal Prep 101 guide here for some pointers!
11. A Tidy Home
A tidy home means a tidy mind, so staying on top of your cleaning around the home is a great way to keep the calm, minimal atmosphere you want to create in your environment.
Simple things like keeping on top of the washing up, giving your room a tidy each day, and keeping floors and surfaces free of dust are all easy habits to build.
12. Turn Off the TV
Could 2018 be the year where Netflix and Chill loses its edge? Let's see! Try cancelling one of your cable providers – these days, you only really need Freeview, Amazon Prime, or Netflix to get your TV fix – not all of them!
Try cutting down your TV time to save money, and you might surprise yourself at how productive you get in the meantime.
13. Walk to Work
Do you currently spend a lot of money on petrol for your daily commute, or on bus and train fares? For some people, walking to work is simply not possible. However, the majority of people could walk at least some of the way, or even consider cycling into work.
I love this frugal living tip because you'll not only be saving money, but you'll also be doing a little bit more to help the environment, and your health!
14. Thrift Shopping
Thrift shopping is so much cheaper than buying items first-hand, but the real secret is that if you go to the right places, you'll find never-worn-before items up for grabs at a massively reduced price.
Have a look for second-hand or thrift shops in your local area, and go check them out when you have a free afternoon. It's definitely a little more hectic than shopping at a high-street shop, but it's worth it for the savings you can make!
15. Drink More Water
Get more frugal with your drink choices by making an effort to drink more water this year.
Soft drinks and alcohol may be delicious, but they're not kind on our bank balances if consumed on a daily basis. Try to stick to drinking H20 all day, and have a fruit juice or alcoholic drink if you want to on the weekends. I used to be addicted to fruit squash, but now I can't get through the day without my water bottle by my side!
16. Save Your Scraps
You know all those vegetable peelings and odds and ends that you just end up throwing out after cooking a meal from scratch? Well, those scraps can actually be put to use!
Check out this guide from Oh My Veggies to making a delicious vegetable stock with kitchen scraps – this is definitely a frugal idea I'm planning on implementing this year!
17. Ditch the Contract
Once the contract had run out on my iPhone, I cancelled it and got a free SIM card with a Pay as You Go provider. The savings I have made on this one simple change are insane.
With WiFi readily available at home and in almost every public building, restaurant, and cafe, I barely ever use my data. I use Whatsapp instead of texts, and I mean really, we all know millennials are adverse to the dreaded phone call!
Next time your phone contract runs out or you're considering a new phone deal, consider using Pay as You Go instead.
18. Grow Your Own Veggies
It stands to reason that growing your own veggies so you don't have to buy them is about as frugal as you can get. The great thing is that wherever you are in the world, there will be fruits and vegetables that can thrive in those conditions.
Set up a small vegetable garden in your background, or look into applying for an allotment space to start laying seeds for a veggie abundance by summer!
19. Use Less
Use less shampoo, less conditioner, less toothpaste, fewer lights, less deodorant, less packaging – less of everything.
These changes are great for really stretching out your pennies, but they're also small and easy changes that added up, can make a big difference for the environment.
20. Embrace No-Spend Entertainment
Have fun for free! No-spend days are no stranger on this site (check out my super popular post with over 50 no-spend activities!), and they're a great way to get more frugal this year.
Start with no-spend weekends, and then see how long you can go without any real expenses. You'll probably find you get a bunch of new hobbies from it too!
And…
21. Get Your Freebies!
When you're living frugal, freebies are as good as it gets. That's why I've created a free resource library with the ultimate tools to master your money this year. Click HERE to get instant access to a range of printables, planners, declutter guides and more!
Frugal Reads
If you're looking for some frugal reading for 2018, below are a few fantastic books for starting a more minimal lifestyle: