We may earn money or products from the companies mentioned in this post, and as an Amazon Associate I earn from qualifying purchases. Please see my full disclosure for more information.
This list has over 30 vegan meal prep ideas for breakfast, lunch, and dinner – make any of these delicious vegan recipes ahead of time for a healthy, quick, and easy meal that won't break the bank!
Whether you're vegan or not, we can all agree: cutting down our meat intake as a planet can only be a good thing.
Eating a more plant-based diet is a fantastic way to save money, eat more vegetables, and reduce your impact on the environment.
Benefits of vegan meal prep include:
Reducing your meat intake
Saving money on your weekly grocery bills
Save time on cooking each week
Lose weight/eat healthier meals
Totally master a handful of delicious vegan recipes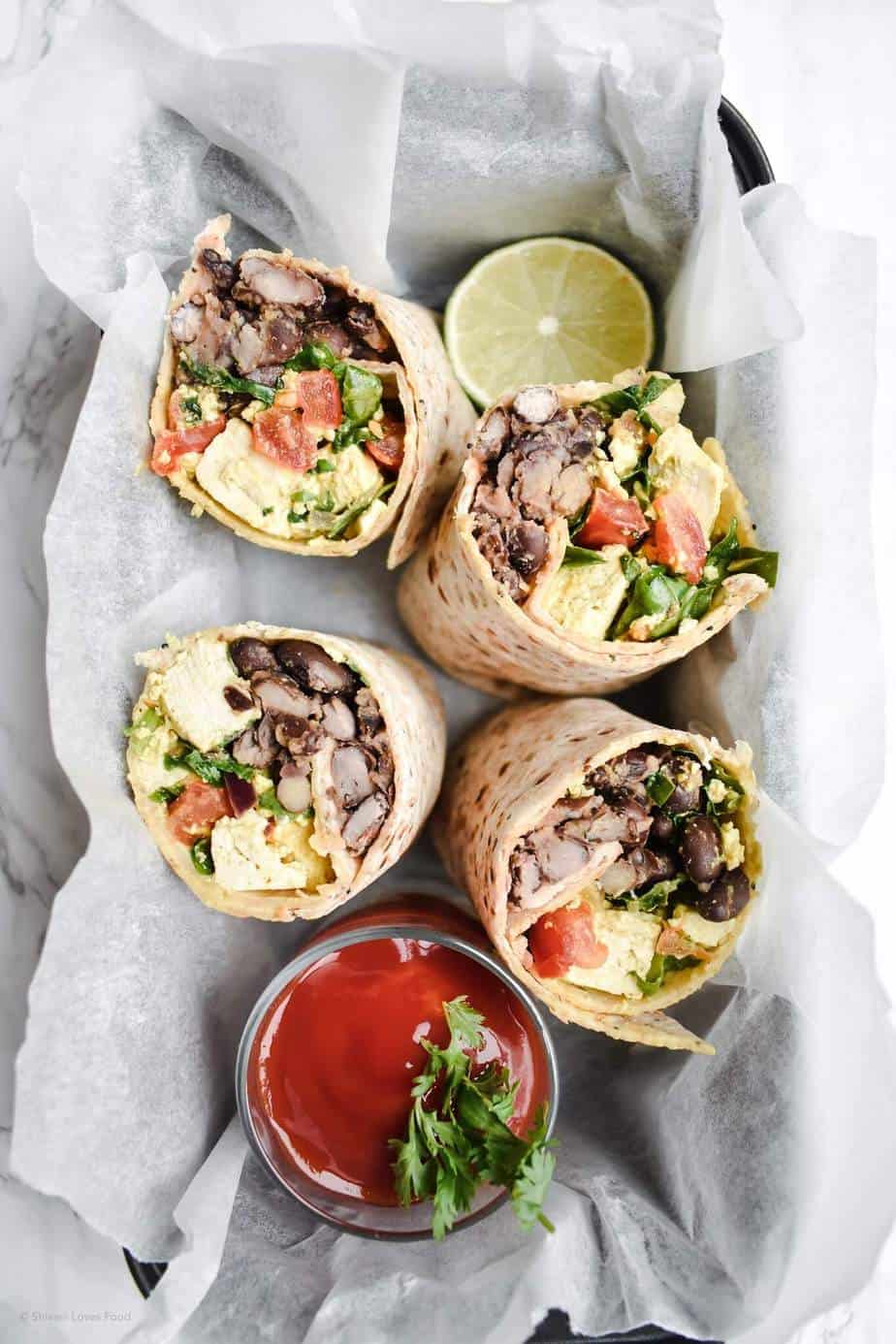 How To Vegan Meal Prep:
I stopped eating meat almost two years ago (time goes so fast!) so while finding inspiration for vegan meals is pretty second-nature to me now, it's always useful to have a list of meal prep ideas that you can rely on for healthy meals.
Key tips for doing meal prep right:
– Create a weekly meal plan
In order to know how big a batch of each recipe you need to make, I highly recommend making a meal plan and writing out your shopping list before heading to the store.
Make sure you check out my free grocery list templates and meal plans for some easy templates to follow.


– Set aside time to prep
The people who successfully make meal prep a habit are the ones who make time to meal prep every week.
Many people, for example, like to block out lazy Sunday afternoons to spend in the kitchen – you can even multitask and make multiple vegan meal prep recipes at once to save time.


– Stock up on containers
Once you've made all your food for the week, you obviously need somewhere to store it!
Make sure you've got plenty of Tupperware containers – personally, I love these glass containers as you can stick them in the microwave, oven, freezer, and dishwasher without ruining them.


Once you've got some recipes you want to try, head over to my guide on budget meal planning to see how to cook great food without breaking the bank.
These vegan meal prep recipes are easy to make, super healthy, and perfect inspiration if you've been struggling to think of vegan meals to cook.
25+ Fantastic Vegan Meal Prep Recipes:
Vegan Meal Prep Ideas For Breakfast
PREP TIME: 2 MINUTES
This gorgeous vegan meal prep recipe makes the perfect make-ahead breakfast: simply mix up your chia seeds, almond milk, and extra ingredients the night before and store in your fridge, ready to grab and go in the morning!
Chia seed puddings are so versatile – I love topping mine with warm, stewed berries and a spoon of nut butter.
PREP TIME: 10 MINUTES
COOK TIME: 15 MINUTES
If you're more of a savoury breakfast person, these breakfast burritos are a fantastic vegan meal prep idea – you can whip up a whole batch, and simply store them in parchment paper in the fridge or freezer to re-heat in the microwave when ready.
PREP TIME: 5 MINS
COOK TIME: 30 MINS

How incredible do these peanut butter granola clusters look?! These are a great, traditional recipe vegan-ised and perfect for meal prep.
Simply prepare a batch of these clusters and store in a large mason jar, then add to vegan yoghurt and top with berries in the morning for a quick and healthy breakfast.
PREP TIME: 10 MINUTES
COOK TIME: 30 MINUTES
This high-protein breakfast bowl is packed with flavour and is a super versatile vegan meal prep idea depending on what you have in your fridge when cooking.
Make the tofu scramble, veggies, and potatoes and store separately – just throw it together and reheat when you're ready. This is the type of vegan meal prep recipe I can easily see myself having for lunch or dinner, too!
PREP TIME: 10 MINUTES
Like chia seed puddings, overnight oats are one of the best vegan meal prep ideas because they are so easy to make in the evening, store in the fridge, and have ready to grab and go whenever you're hungry in the morning.
This gorgeous overnight oat recipe uses almond milk, coconut flakes, mini chocolate chips, and chopped almonds for a deliciously decadent breakfast recipe.

PREP TIME: 10 MINUTES
This healthy muesli recipe is made from oats, seeds, nuts, and dried fruit – it's an extremely versatile recipe, so you can make a big batch with whatever you have in your pantry.
Taking just 10 minutes to make and with a long shelf-life, this is a go-to vegan meal prep breakfast idea everyone can enjoy.

PREP TIME: 10 MINUTES
COOK TIME: 5 MINUTES
These granola bars contain just 5 ingredients and take less than 15 minutes to make from start to finish.
While they may not be the most nutritious of this list of vegan breakfast meal prep ideas, they're a great grab-and-go homemade breakfast ideal for meal prepping and keeping for a quick meal or a healthy snack option.


Vegan Meal Prep Lunch Ideas
PREP TIME: 13 MINUTES
COOK TIME: 17 MINUTES
These spinach and quinoa bowls make a lovely light, nutritious lunch that are super easy to meal prep.
You could even eat these cold if you want to, or simply pop in the microwave to reheat – easy and delicious!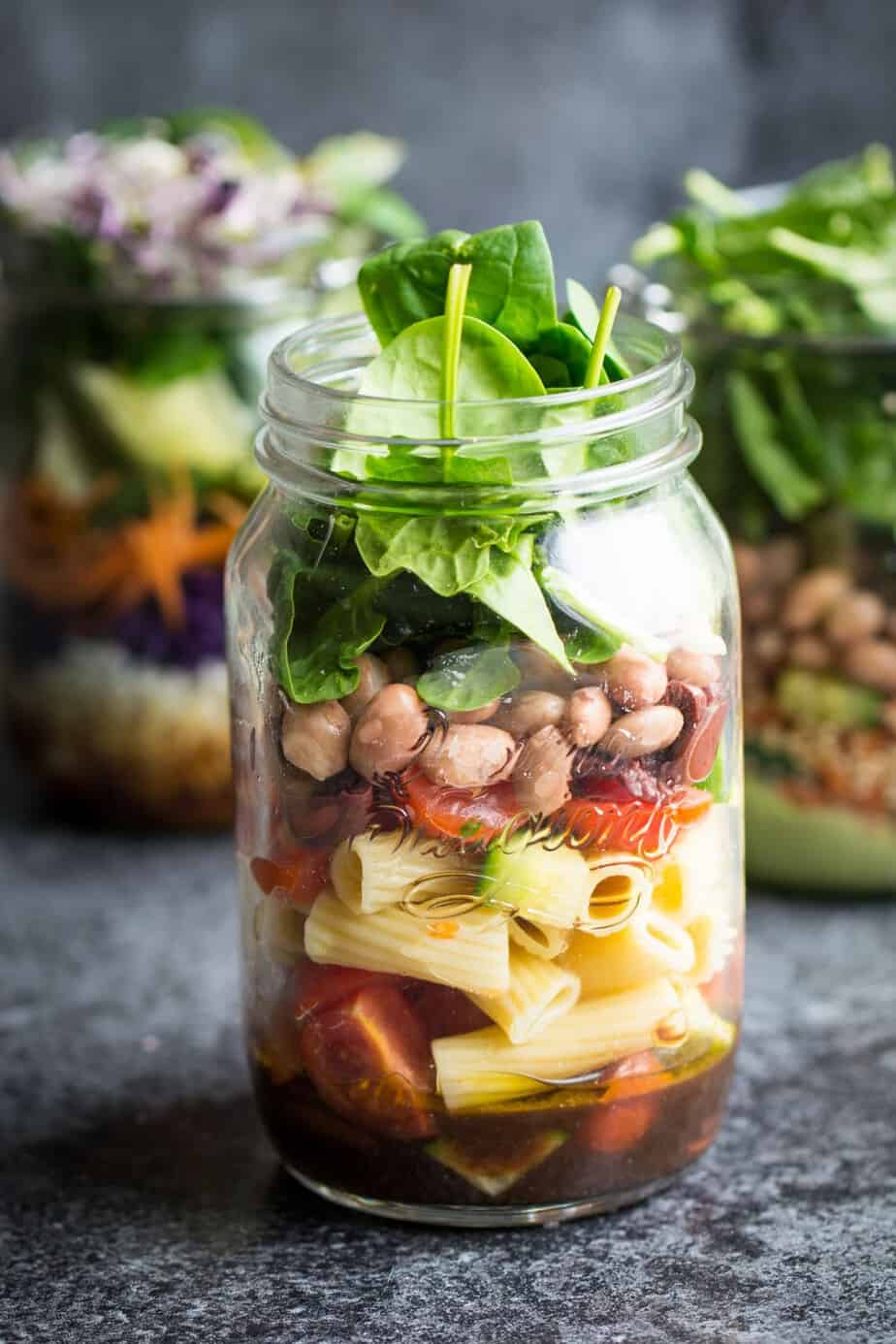 These make-ahead salad jars are perfect for vegan meal prep: simply layer up your chosen ingredients in a mason jar, and throw it in your bag until your ready to tuck in!
I love that Lauren uses pasta and pinto beans in the recipe pictured above – so much more interesting that just salad leaves!
PREP: 10 MINUTES
COOK: 22 MINUTES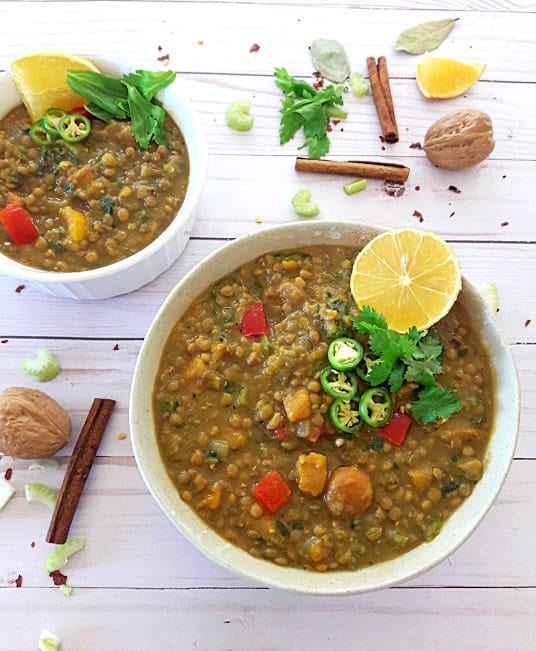 For a more hearty lunch idea, this Morrocan lentil stew offers the perfect solution. Absolutely packed with nutritious vegetables and lots of lentils for added protein, this stew looks amazing.
These kinds of vegan meal prep ideas often get even better the day after you've made them too – the perfect reason to make a big batch to last you for the week!


PREP TIME: 7 MINUTES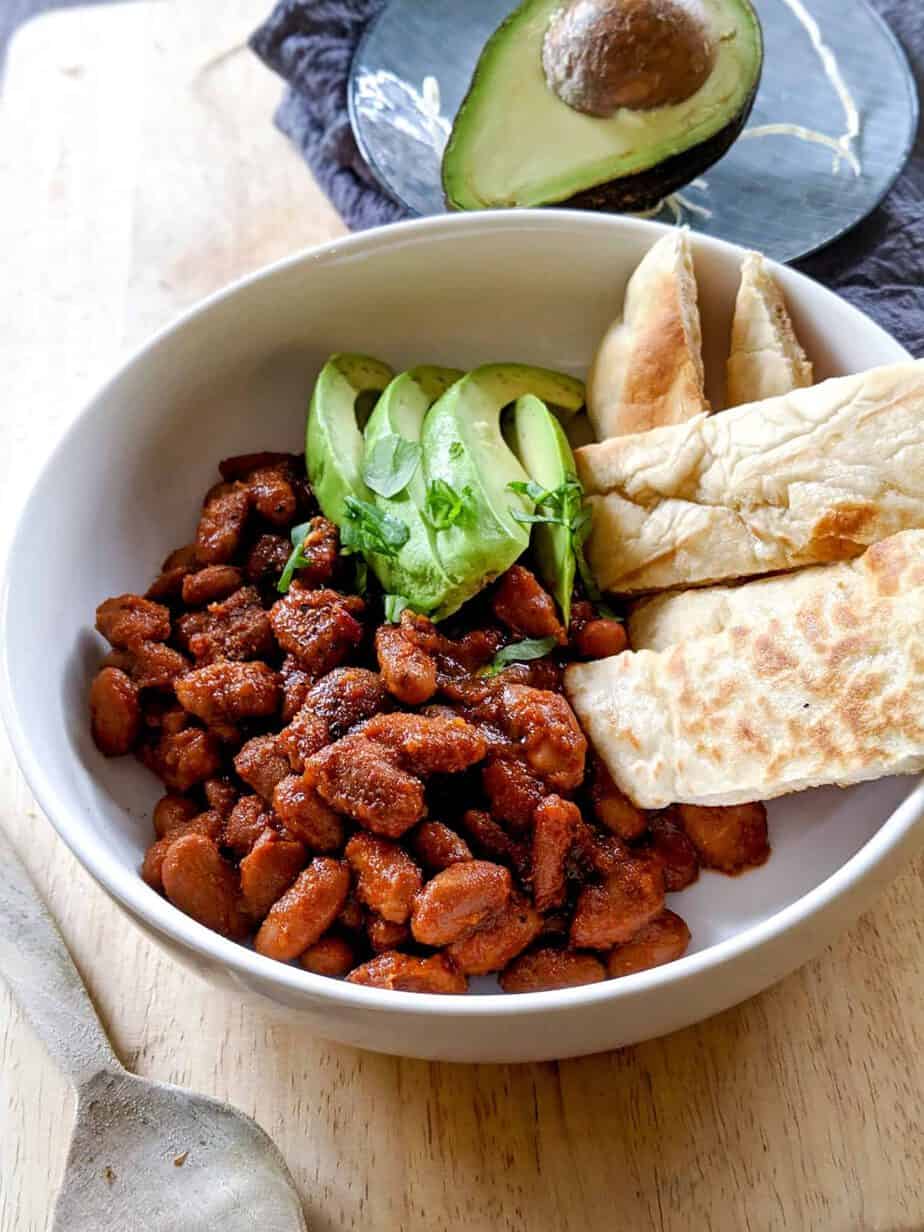 A quick, easy, and absolutely delicious meal prep idea for lunch: smoky Mexican pinto beans that you can pair with tortilla chips and avocado, rice, or on top of a baked potato.
Make a big batch of this vegan meal prep recipe and enjoy in a variety of ways throughout the week.

PREP TIME: 45 MINUTES
COOK TIME: 15 MINUTES
Butternut squash is one of my favourite things to have for lunch – so rich and creamy, yet so nutritious.
I love this recipe from Loving It Vegan – it's perfect to cook in a big batch and keep for the week.


PREP TIME: 5 MINUTES
COOK TIME: 15 MINUTES
A great, handheld lunch you can have on the go: tofu wraps. These Green Goddess tofu wraps from the Fitchen look insanely good – packed with protein, veggies, and a delicious sauce to hold it all together.
The ideal vegan meal prep recipe if you just want to batch-made wraps to keep in the fridge for lunches all week.

PREP TIME: 15 MINUTES
COOK TIME: 25 MINUTES
Buddha bowls are a great meal prep idea because of how versatile they are. This recipe uses roasted chickpeas, fluffy quinoa, fresh salad leaves, and avocado.

The best way to meal prep a buddha bowl? Roast a bunch of veggies, cook a grain like quinoa or potato, and make a yummy dressing to hold it all together – then just add in what you want on each day!


Vegan Meal Prep Ideas For Dinner

PREP TIME: 15 MINUTES
COOK TIME: 30 MINUTES
Fajita veggies are perfect for vegan meal prep: you can simply chop up onions, peppers, and mushrooms and bake them on a sheet pan with the seasoning of your choice.
Plus, with a batch of this amazing queso dip, I wouldn't be surprised if you're eating these every night!


PREP TIME: 10 MINUTES
COOK TIME: 1 HR 20 MINUTES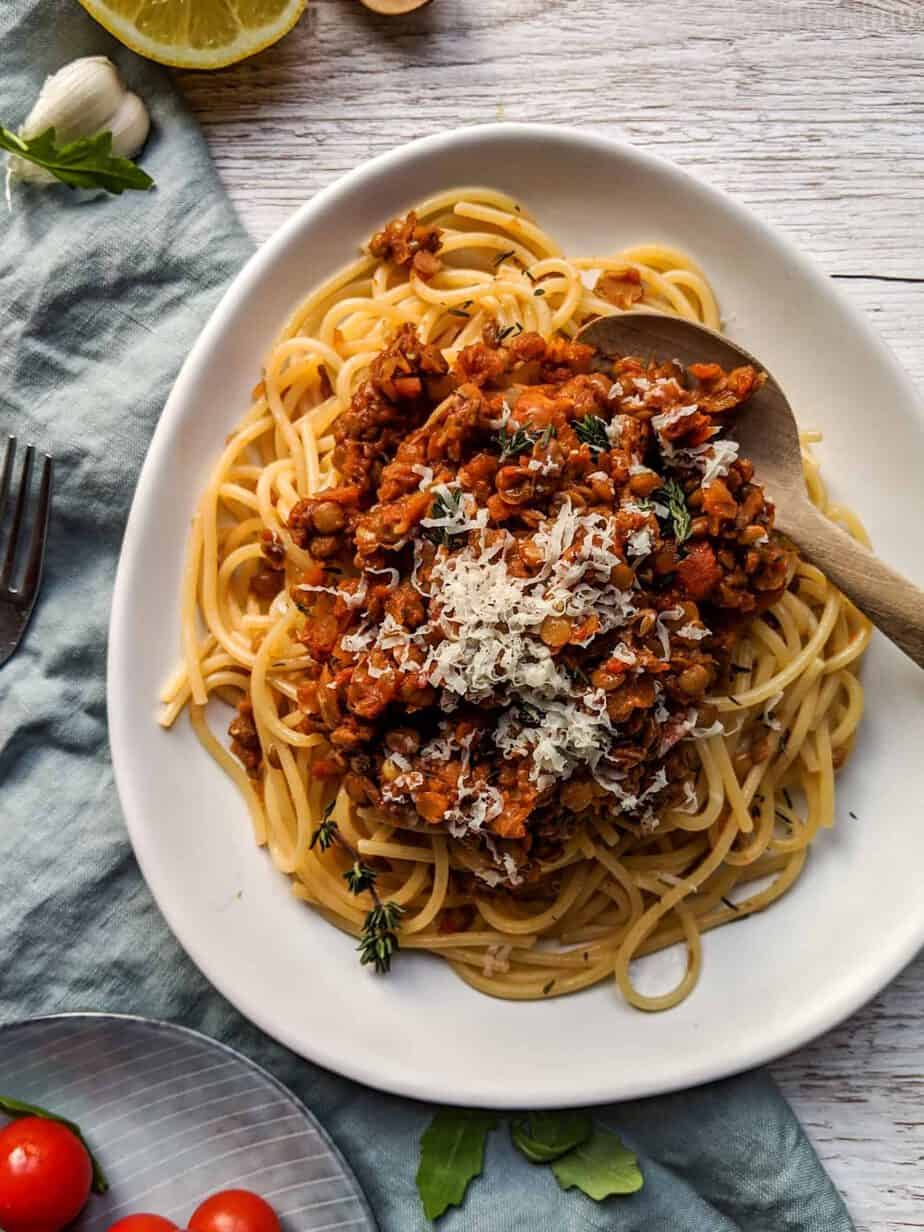 This is another very versatile vegan meal prep option: you can make a huge batch to keep in the fridge or freezer, and then pair with pasta, a baked potato, or even just on its own with a big green salad.


PREP TIME: 3 MINUTES
COOK TIME: 49 MINUTES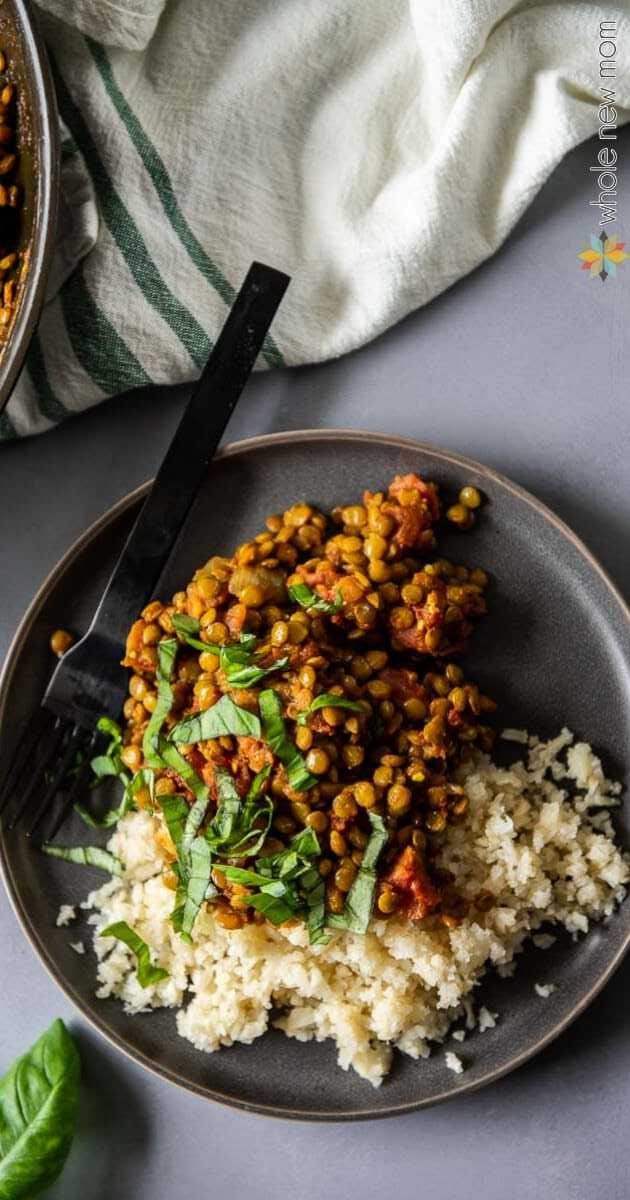 Healthy, easy to make, and fantastic paired with a variety of accompaniments so you never get bored – lentil curry is one of my all-time favourite vegan meal prep ideas, and this recipe is something everyone can enjoy.


PREP TIME: 20 MINUTES
COOK TIME: 25 MINUTES
Burrito bowls are another fantastic meal prep recipe – cook up a batch of rice, black beans, fajita veggies, and pico de gallo and store separately.
Then, when you're ready to eat, you can simply assemble your bowl. This recipe from Vegan Richa just uses black beans, but you can mix it up as much as you want – add tofu or tempeh for more protein, use re-fried beans, swap rice for potatoes, and add big spoons of guacamole!


PREP TIME: 10 MINUTES
COOK TIME: 30 MINUTES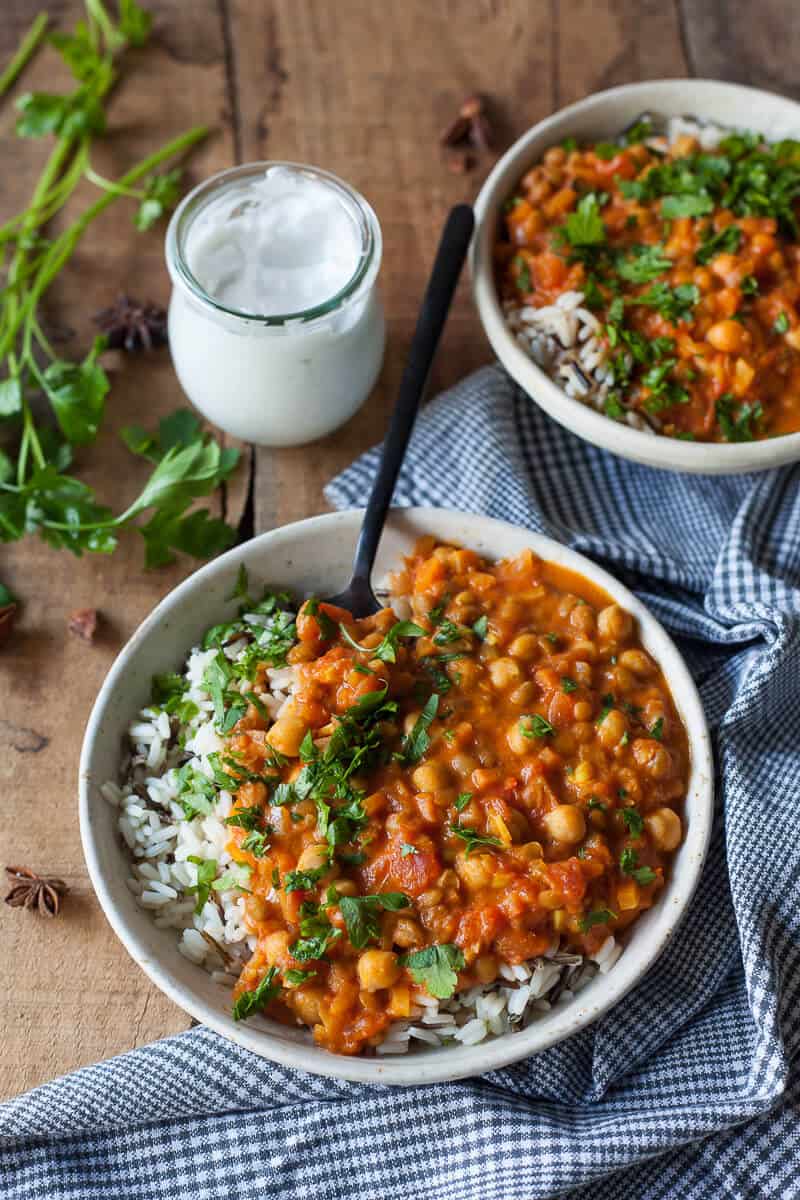 Curry is another vegan meal prep recipe that just gets better the next day – so making extra portions for lunches and dinners the next couple of days just makes sense!
This chickpea, lentil, and coconut curry is hearty, nutritious, and very easy to make.


PREP TIME: 15 MINUTES
COOK TIME: 25 MINUTES
Who can say no to a bowl of chilli as glorious as that? Heart, filling, and full of nutritious, plant-based foods, this recipe from Foolproof Living is perfect for meal prep.
Make a big batch of this chilli at the beginning of the week and enjoy!

See 30 more vegan dinner recipes for more inspiration!
Vegan Meal Prep Snacks
PREP TIME: 5 MINUTES
COOK TIME: 10 MINUTES
Four vegan ingredients, both keto and vegan-friendly, super simple to make, and completely delicious — you'll love this healthier take on classic peanut butter cookies!


PREP TIME: 10 MINUTES
COOK TIME: 30 MINUTES
These sunflower and chickpea bars make the perfect sweet vegan treat to meal prep for desserts or a quick snack throughout the week.


PREP: 5 MINUTES
COOK: 45 MINUTES
A batch of this vegan baba ganoush dip will keep in the fridge for 3 – 4 days, making it the perfect vegan meal prep snack paired with pitta bread or crudites.


PREP TIME: 20 MINUTES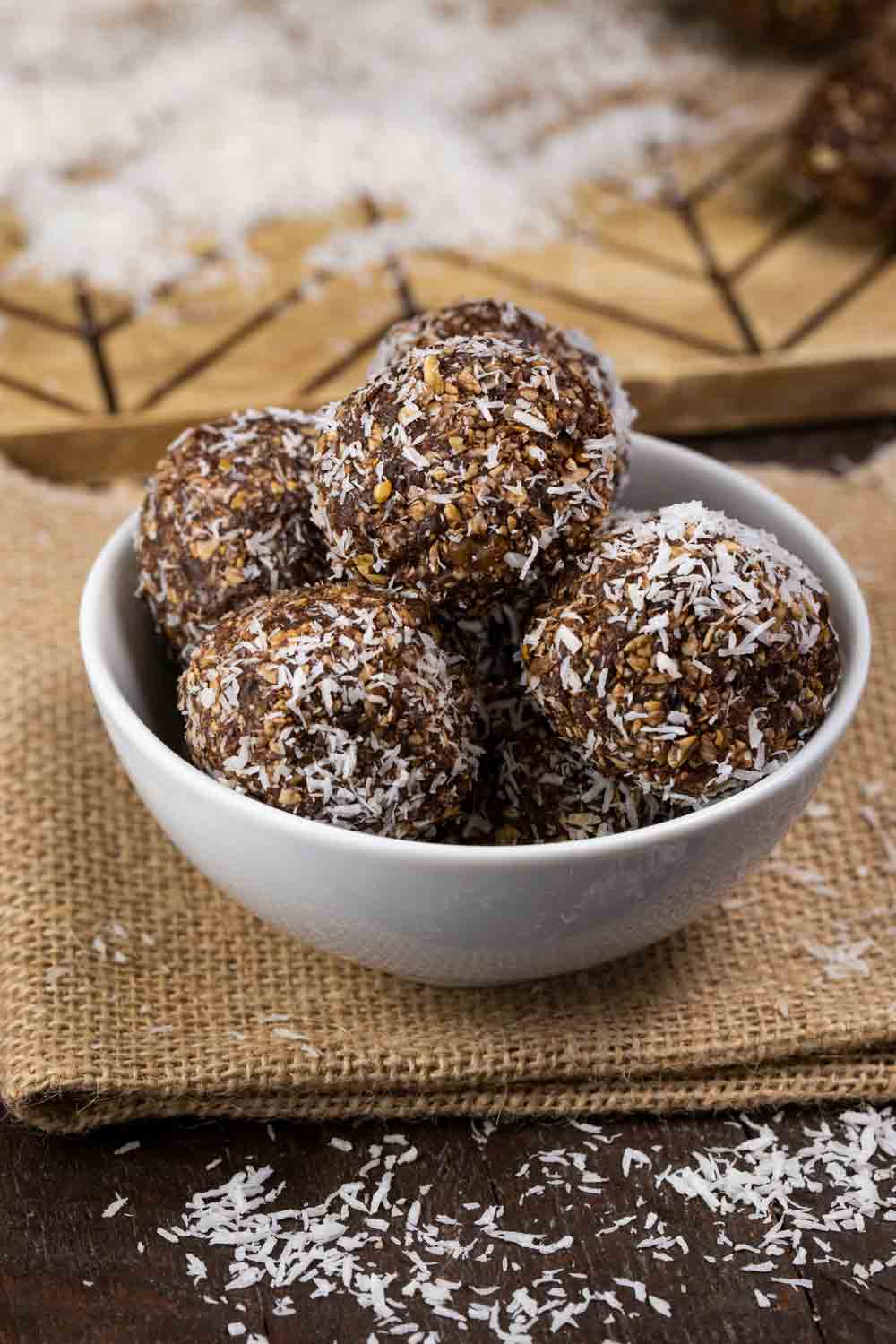 I couldn't have a section for meal prep snacks without including a recipe for no-bake energy balls!
This recipe from Veggie Chick is vegan meal prep perfection: simply blend the ingredients in a food processor, roll them into balls, and keep in the fridge or in your freezer until you want a nutritious, healthy snack!


COOK TIME: 40 MINUTE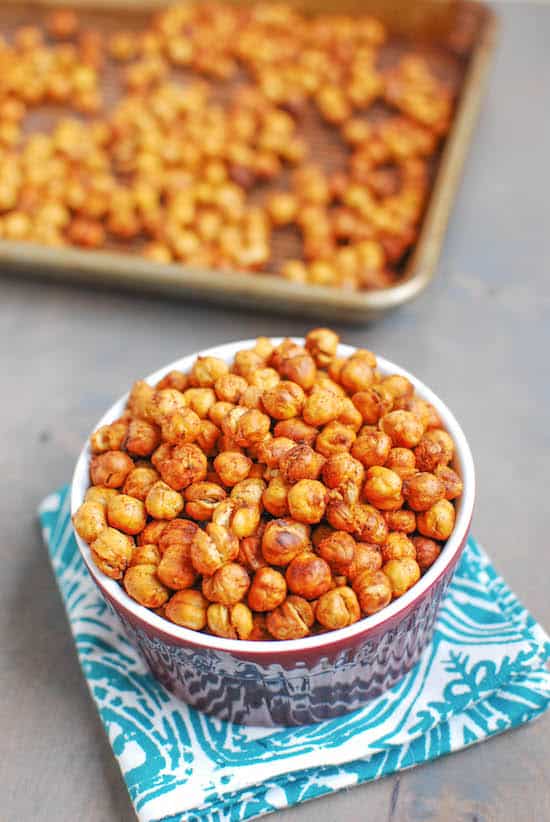 Roasted chickpeas are a healthy alternative to crisps, giving you that satisfying crunch without the added fat.
Another great thing about roasting chickpeas as a snack is that you can add different herbs and spices depending on what you fancy!


---
I hope this list of vegan meal prep ideas gave you some inspiration!