We may earn money or products from the companies mentioned in this post, and as an Amazon Associate I earn from qualifying purchases. Please see my full disclosure for more information.
When it comes to being frugal vs cheap, there is definitely a fine line to balance at points. And sure, there's also going to be some crossover where people who are just 'cheap' have some frugal qualities and where people who live a frugal lifestyle are just being a little…stingy.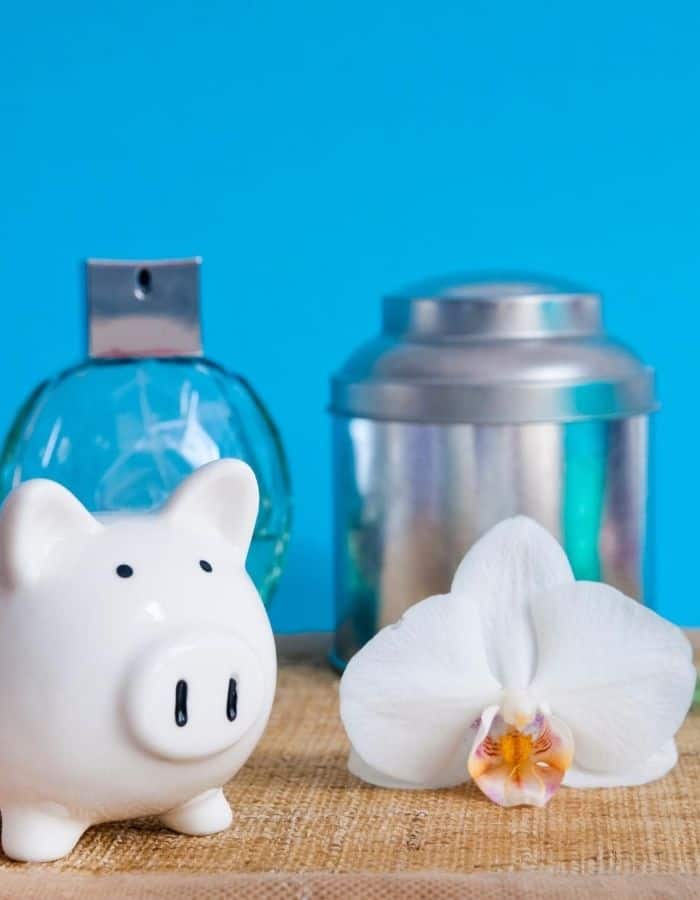 So what's the difference?
For years now, I've been saying the same thing about frugality. Frugal living isn't always about spending less: it's about spending smarter.
Being frugal with your cash is about taking a step back and creating mindful habits about how you spend your money and distribute your income. It's about knowing what you want for your own life, and finding the best uses for your money to achieve that.
Being cheap, however, is often just about spending as little as possible. It's about scrimping and saving, sometimes bordering on outright immoral (like making their friends pay for meals or stealing fistfuls of those 'complimentary' condiments at fast food restaurants). It's not about spending smarter – even if some of the ideas and tricks are pretty savvy – being cheap always comes down to the attitude of the less money spent, the better.
DISCLAIMER: This post is 100% not aimed towards people who need to be cheap in order to get by. Making the conscious decision to be frugal with your cash is a privilege that some people don't have – and I absolutely acknowledge the privilege I have to choose to live frugally as a middle class, white woman with a supportive family. While I definitely think everyone and anyone can build frugal habits, sometimes the only way to get by is to stretch your cash as far as possible by shopping as cheap as possible.
To outline the difference between these two approaches to spending, I've come up with a few really specific instances where this becomes clear:
Frugal vs Cheap: Major Differences
Frugality Prioritizes Value, Cheap Prioritizes Cost
In frugal living, getting the best value for money is a top priority – even if that does mean spending slightly more in order to get a bigger return on that investment. This includes things from food (for example, spending more on locally sourced products if being environmentally conscious is a priority for you) to hobbies – i.e. making room in your budget for the things you love to spend time doing.
Cheapness, however, prioritizes the lowest cost possible, even if that doesn't equate to the best money spent.

Frugality doesn't mean saving money at the expense of other people
Being frugal with your cash means knowing when to set a boundary and say no to an activity with friends or family if that means reaching an urgent saving goal.
On the flip side, being cheap might look something like accepting an invitation out but asking someone else to cover your costs because you're skint.

Being frugal means being patient if it means getting the best deal
Spending smarter means holding off on an impulse buy if you know you'll probably be able to find a cheaper deal online, or wait a month or so for a sale season.
Rather than simply buying something as soon as you see it, taking the time to do some research into the product (again, going back to that value for money concept), find possible discount codes and deals, and waiting until you've got the best bargain can be one of those small habits that can help you save a lot of money on the long run.
This habit of patience is also a really good way of eradicating those unnecessary spends that you could end up regretting or never using.

The problem with being cheap | Frugal vs cheap
Personally, the problem with being cheap is when I start letting my standards and lifestyle slack in the name of 'saving money'. For example:
Walking around in leggings full of holes when I could very justifiably fit buying a new pair into my budget.
Not getting a haircut for a whole year claiming it was because they're too expensive (when really I'm just lazy and hate staring at myself in the mirror for two hours).
Buying second-hand and cheap furniture for my apartment in a rush – I've recently learned the real value behind being patient and investing in quality pieces over time.

How to stop being cheap and start being more frugal?
Being more frugal really starts with a mindset shift. Instead of immediately going for the cheapest, most convenient option, start to question your priorities and your values in life and how you can better distribute your money to serve those things.
Accept that your money is there to be spent – that's what you work so damn hard for! But make sure you are spending your money on things you actually want to spend money on (life admin and responsibilities notwithstanding)!
A few articles to kick you off:
Things Every Frugal Person Should Own/DO:
A way of tracking your spending: Whether you use your phone, a spreadsheet, an app, or a budget planner (I love the Clever Fox Budget Planner!), get into the habit of knowing where your money is going. I don't track mine every month (tracking too consistently in any way can be a little triggering for me), but I do find keeping note of my average expenses plus factoring in bigger costs (holidays, car insurance etc) is so helpful for staying frugal.
Change (or challenge) your mindset: A frugal lifestyle starts with your mindset. It means finding your priorities and values and adjusting the way you live to bring those things to the forefront. While minimalism is a little different, this article on creating a minimalist mindset is a great starting point.

Stay open minded to ways to increase your income: Not everyone has to have a side hustle or a small business – even if social media does sometimes make you feel like a failure if you're not pulling in six figures and running a handful of other projects on the side.

Frugal vs cheap Home Quick Tips:
Reuse Your Glass Jars: Invest in some cheap glass jars (and start washing and saving your existing ones) and put them to good use around the home.

Storage Baskets: My motto when it comes to getting organized around the home is to give everything a home – at the end of the day, I simply make sure everything gets home safely. Storage baskets are an essential way of keeping your home tidy and organized, taking stock of exactly what you own, and helping you be more mindful about spontaneous buys (because you'll have to think more about where it goes!).

Meal Prep: With proper planning, you can spend money on quality, great value for money ingredients and still end up with cheaper (and healthier) meals than just buying the cheapest option every time you head to the shops. Check out this ultimate guide to meal planning.


---
Ultimately, being cheap isn't necessarily a bad thing – but it can reduce your quality of life. Once you start evaluating your spending habits and mindfully distributing your expenses towards things that genuinely add value to your life, you can really see the benefits of living frugally without that urge to hoard all your cash.