We may earn money or products from the companies mentioned in this post, and as an Amazon Associate I earn from qualifying purchases. Please see my full disclosure for more information.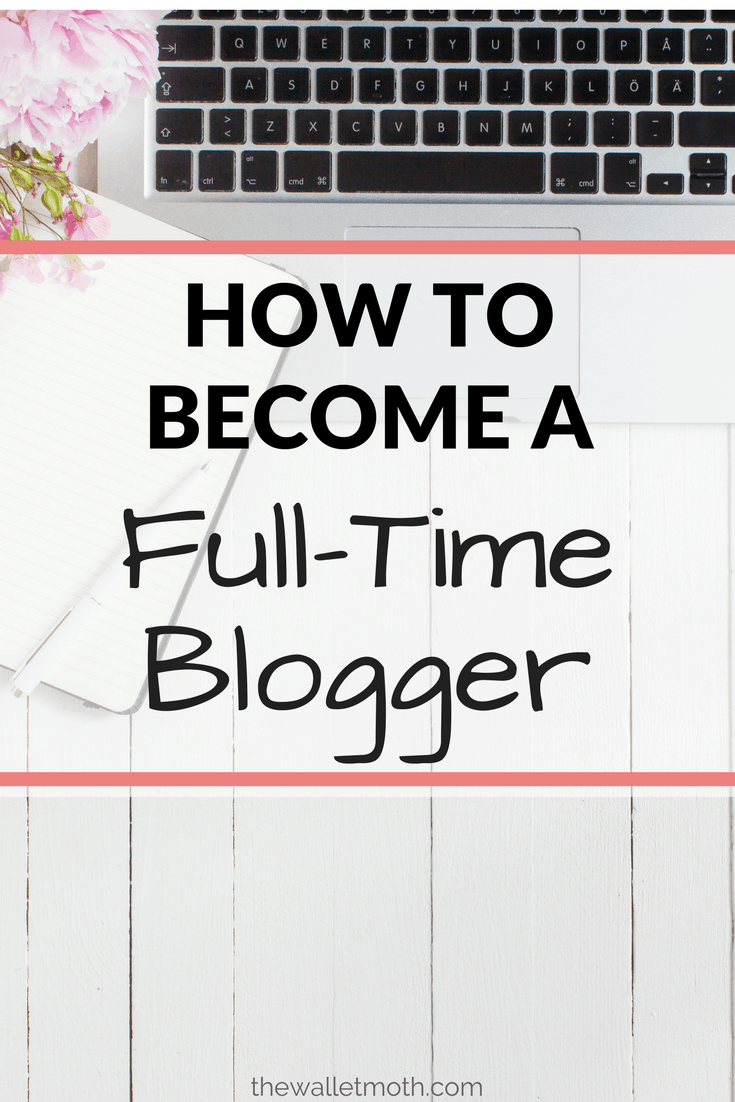 Hey Everyone, and welcome to another installment of my work anywhere series, focused on finding the best, most legitimate remote jobs that can provide the freedom you need in your lifestyle.
In this post, we're going to discuss exactly how to make money blogging full-time. Many people think blogging is just a hobby, but in fact, there are people not only making a living but building extremely successful careers as bloggers with 6 figure incomes every month (I know – whaat?!).
In fact, recently my own website has started picking up enough that I'm making a genuine income each month – not just a few pennies like when I first started out!
When I first started my blog, I knew you could earn great money from blogging (we'll cover this in a minute!), but I didn't really consider that fact for myself until a few months ago. 
Join the free 6-day Build-A-Blog Course

Sign up below to get started with this FREE course to help you start a blog & monetize it from the beginning.
The real problem? I was a total newbie, fumbling around in the dark trying to figure this whole thing out.
Then I realised you have to invest to get something back.
How to Make Money Blogging
When I tell people I make money from my blog, their reaction is always something like this:
"That's awesome! But…how can you actually make money from a blog!"
I used to think the same thing, assuming that most bloggers earn money from ads all over their website and that's about it.
Then, I stumbled across an income report from Michelle at Making Sense of Cents and my eyes were opened. There's a collection of bloggers that share their income reports online for everyone to see exactly how they make an income from blogging – and a lot of them are raking it in.
Michelle start her blog over 6 years ago, and from there she has grown it from a simple 'hobby' blog she did on the side, to a hugely successful one-woman empire that now makes over $100,000 every month per month. Yep.
How does she do it?
Michelle's income breaks down into 4 main areas:
What is Affiliate Marketing?
Affiliate marketing is great because it applies to almost every blogging niche, and many companies have a program you can sign up for. This means that you can earn money by recommending products that you already love and use!
Affiliate marketing is essentially a method of earning commission from companies for referring customers to them. You can refer a huge number of things, from physical objects such as books and clothing to courses (like the one I'm about to introduce you to!)
How to Make Money from Affiliate Marketing
I'd been a reader of Michelle's blog long before I started my own site, so I'd known about her hugely successful course, Making Sense of Affiliate Marketing, for several months before I decided to buy it.  From Michelle's income reports, you can see that she earns over half (that's over $50,000) her income a month in affiliate sales.
I read countless glowing reviews showing how good the course was but the truth is, I didn't think I needed it. $197 was a big investment for me. I signed up for some affiliate marketing sites and put some links to products I love on a bunch of my blog posts. What could anyone really teach me about this?
I was wrong though. No one was clicking my links, let alone buying anything I recommended. Not a thing. Affiliate marketing sounds like a simple game, but it's really, really not.
I had all of these negative thoughts, doubting myself as anything more than an amateur blogger, so I decided to take the plunge and make my first big investment in my blog: Michelle's course.
Within 2 days of finishing the course and implementing some of the top strategies she suggests in her course, I'd made my first AND second affiliate sales – no joke. Michelle's course showed me what I was doing right, but more importantly, it highlighted areas I had completely neglected to address on my blog. Michelle shows you how to seamlessly include affiliate links without ruining the integrity of your voice as a blogger, and that's absolutely key.
UPDATE: It's now 6 months on and my blog income matches my job income. It can happen – even in 2018!
This course really works. I wouldn't recommend it otherwise.
This is my second month properly applying affiliate marketing strategies to my blog and everything is growing: my income, my page views, and my engagement. This month, I've more than double last month's income and actually spent less time on my blog altogether.
If like me, you're interested in making money from your blog on the side or even growing it into a full-time income, you need this course. I can already tell it's the best investment I've made for my blog yet, saving me months of confusion trying to figure things out on my own.
Head on over to Making Sense of Affiliate Marketing to enroll on the course now – if you're struggling to see the light at the end of the tunnel when it comes to making money on your blog, you will not regret investing in this!
Other Blogging Resources:
My site is currently hosted on Bluehost and run on WordPress. I've used Bluehost as my hosting provider for every blog I've ever started (there's been a few of them!) and have never had any problems. Bluehost is great for a cost-effective hosting option that gets your site up and running in minutes. Check them out here for hosting packages for $3.95/month with a free domain included.
BoardBooster is the first service I started paying for my blog. I use the services scheduling tool to post my pins to the group boards I'm a part of, and credit the automation tool for saving me hours every week while still growing my traffic. Pinterest is now my number one referrer for traffic, and I couldn't imagine seeing the same amount of traffic by pinning manually. BoardBooster also offers a 30-day free trial – after seeing the difference in my traffic in 30 days, I didn't think twice about signing up.
Just last month I signed up for Tailwind's trial period, and I've been amazed out how quickly my traffic and followers on Pinterest have skyrocketed. I use this tool to schedule pins from others on Pinterest, which seems to be a key component to a good Pinterest strategy. I'd highly recommend signing up to the Tailwind free trial and seeing what it does for your blog – it's also affiliated with Pinterest which makes many bloggers feel more confident that using an automation service won't be penalised by the platform.
Proofreading with Grammarly
I use Grammarly to proofread my blog posts and it works great. Sign up for the free version of Grammarly here, or check out my full review on the software here.