We may earn money or products from the companies mentioned in this post, and as an Amazon Associate I earn from qualifying purchases. Please see my full disclosure for more information.
Learning how to budget kills two bird with one stone: it's an excellent solution for staying healthy and is also one of the best ways to stay on budget with your food bills.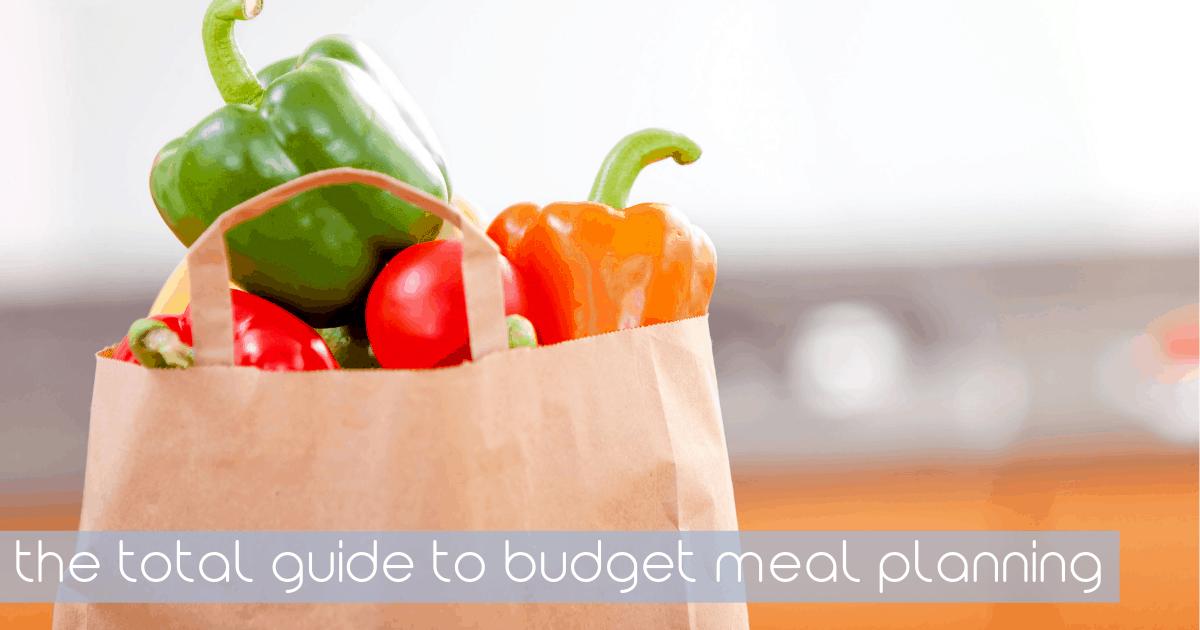 People. Love. Food.
We shape our days around it. We socialise over it. We drool over photos of it. We get excited talking about it.
So it's no real surprise that for a lot of households, groceries are high up there on the list of expenses.
I grew up as an extremely fussy child. Suddenly discovering the delights of anything other than beige food in my late teens has definitely made it difficult for me to accept eating anything other than delicious-ness.
With that said, however, trying a new recipe for every meal of the week simply isn't practical. Ain't nobody got time for that kind of washing up.
Plus, when it comes to living frugally, you really can't beat the wonders of meal prep.


Budget meal planning is one of the most effective ways to save money while still being able to cook healthy, nutritious meals that taste great.
Now, many – or most – of us are guilty of heading to the shops to pick up food without creating even the vaguest plan. Worse, we'll often do this when we're hungry – which means a lot of expensive, unnecessary food ends up in our carts.
How often does 6 pm roll around and you think, what am I going to eat tonight? If you don't have something you fancy in the fridge, take out looks like a good option – and that means money spent that easily could have been saved.
Shopping without a plan leads to expensive grocery bills, mismatched ingredients (that are difficult to turn into meals), and excess food being wasted before it can be eaten.
So, my answer is meal planning and meal prep.
Plus, if you're eating to stay healthy and meet fitness goals, meal planning is a great way to stay on track.


Pssst..! While you're here, make sure you've unlocked your free access to The Wallet Moth Freebie Library, which is absolutely full resources all designed to help you start building a life that works for you, including free cheap & healthy meal planners, printables, a minimalist declutter checklist, and so much more!
Budget Meal Planning 101: The Ultimate Guide
Contents:
What Is Meal Prep?
For me, meal prep is a huge part of budget meal planning. Financially, it just makes sense to make a big batch of one meal (that you love, of course!) and eat it a few nights a week than it does to cook something new every night.
Meal prepping covers a wide spectrum. It can be:
Simply creating a grocery list and buying all your ingredients for the week
Chopping and prepping your ingredients so they're ready when you need them throughout the week (major time saver!)
Cooking a large batch-meal to have for several days in a row
Going all out. Planning, prepping and cooking all your meals for the week in one day and simply reheating them through the week.
The busier you are, the more a rigorous meal prep plan can help. Setting aside a few hours on a Sunday afternoon to cook your meals for the week can be a huge time saver, and provides ready-to-go healthy meals whenever you need them.
If you like having everything laid out planned out nicely, check out these grocery meal plans and shopping list templates to get more organized.


The Benefits Of Budget Meal Planning:
1) You'll save money: Obviously, the biggest advantage of meal planning on a budget is that you'll end up saving a lot of money. Take a look at how much you've spent on food this month, and compare it after a solid few months of meal planning. I'll bet you've made crazy savings – not just on groceries but on other food-related expenses like take-outs and lunches out that you won't need to do anymore.
2) You'll feel so much more organised: Meal planning will help you shape what meals you'll eat each week, what ingredients you need, and how much you'll be spending. This level of organisation is almost freeing – it takes all the stress of trying to think up meals each night off your shoulders, and will let you know exactly how much of your income will go on groceries each month. Think how much more time you'll have to get things done!
3) You'll save time. Prepping your meals in advance is something I highly recommend. This budget meal planning guide will also show you how to cook in bulk, allowing you to enjoy delicious, cheap, and healthy meals several times in the week, saving you money and valuable time.


Who Should Consider Budget Meal Planning?
Everyone! Literally, everyone! Budget meal planning goes hand-in-hand with eating a healthy, more balanced diet because you'll be putting awareness into the food you buy and cook.
Even if you live a hectic lifestyle and are often out in the week, you can benefit from a meal plan. Your schedule can simply include the days you'll be out all day – and you could even try to factor some prepared meals or snacks into that day to ensure you're staying on track in terms of both your diet and your budget.


Meal prep is ideal for:
Anyone who likes to see exactly what they're eating to stay healthy or meet fitness goals
If you're short on time
People who don't love cooking and would rather get it all out the way at once
Anyone looking to save money on their food bill
How to meal pREP: STEP BY STEP
STEP 1) Make Your Meal Plan
First things first, you need to create your meal plan. Choose a meal planner template from this list of over 10 free printables and print it out.
Avoid creating an entirely new meal for each day of the week. Breakfasts are a meal that can easily be repeated Monday to Friday (something simple and healthy like oats, overnight oats, a protein shake, or muesli are good options that will keep you full).
If you're planning to cook a fresh on Monday evening, plan to make extras so you can have it for lunch on Tuesday, and perhaps even again on Wednesday. The fewer 'new' meals you have throughout the week, the cheaper it will be.
Don't worry about making your list too specific right now – you can go back and edit your plan later, this is just to give you a template to build your grocery list and go from there.


STEP 2) Create A Grocery List
using your meal plan, write down all the ingredients you'll need. For now, include pantry staples like oil, rice, pasta, spices etc that you may already have – you can simply tick these things off your list before shopping if you need to.
If you're meal planning for just one person, this is going to be fairly simple. If you're budget meal planning for two people or more, you're probably going to have to double or even triple up on ingredients, so make sure you factor this into your grocery list.
Once you've got your grocery list, you're ready to go shopping. Either head to the supermarket, or consider online shopping. Doing your shopping online means you can't browse for discounted items, but it does reduce the likelihood of spontaneous purchases finding their way into your basket.


Step 3) Assign A Day To Plan And Shop
Now you've got your list, you need to do your shopping! I highly recommend getting in the habit of assigning one day a week as the day you'll get all your groceries for the week (Sunday tends to work well for a lot of people).
However, if you also want to batch-cook a load of meals at the weekend to save time throughout the week, it may work best to do your shopping on Saturday, and stay at home meal prepping on Sunday.


STEP 4) Make Budget-Friendly Swaps
Look at your list, and make any budget-friendly swaps that are immediately obvious. For example:
Some frozen vegetables and fruits are far cheaper than their fresh counterparts, so this is a great swap.
If you've added drinks like soda, juice etc, these should be some of the first items to cross off. You just don't need them – and definitely not in large quantities! Try swapping out drinks for water over the next month if this is a particularly hard-ask for you – you'll soon stop having sugar-cravings and you'll love how much money you're saving!
Swap ready meals for fresh ingredients to make from scratch at home.
Check the per 100g or per kg weight rather than just looking at the upfront cost. Sometimes you'll get a better deal buying something in a bigger quantity, which is worth it if you'll use that ingredient frequently
Look for BOGOF and 2-for-1 deals – but only for items already on your list or similar. If there's a deal for cheap carrots, perhaps swap them out for a vegetable you were originally planning on getting.
Step 5) Keep a note of staple items you always use
You'll probably already have some of the ingredients on your grocery list such as spices and staples such as beans, rice, pasta, and oil.
For your grocery list, you can cross these items off, but do keep a note of these staple items you frequently use. It's these items that buying in bulk can be really cost-effective, so consider looking into sizing-up next time you need to stock up on these things.


STEP 6) Batch-Prepare Freezer Meals
Got a big event in the week that means you can't eat at home? No worries! Batch cook your meals as planned, and freeze the portion that you won't be able to eat. Or, you could intentionally make an even bigger portion and freeze the leftovers. These come in really handy for future weeks when you don't necessarily have time to plan all your meals and want something cheap, healthy, and home-made. Your future self will really thank you!


STEP 7) KEEP THINGS INTERESTING
If you're having trouble coming up with a meal plan each week, why not consider making one or two nights a week a 'theme' night?
For example, you could have:
Meatless Mondays
Taco Tuesday (Lego movie fans will know)
World Cuisine Wednesday
Thai Thursdays
Fake-Away Friday
Salad Saturdays
You get the idea! And make sure you make extras to have the following day for lunch. This can be a really great budget meal-planning idea for families, as you'll save money by making the same meal each week, but your kids will love having a themed meal!


How to meal prep for fitness goals
Personally, I love to meal prep in order to meet my fitness goals faster aka being able to be a general badass…



Meal prepping for fitness goals follows the same tips as above, but I have a few extra tips that other fitness junkies might find helpful (or anyone else on a health and fitness mission at the moment!).
Are you a man looking for lunch recipe inspiration specifically? These lunch ideas for men with office jobs are ideal for you.


1) Prep fruit and veggies in advance
Anyone who has had re-heated broccoli before can confirm: meal prepped veggies just don't cut it.
While reheating pre-cooked vegetables is fine if you're in a rush, it will only take a few extra minutes of your time to cook your vegetables fresh when you need them if you have prepped them beforehand.
That means chopping onions, slicing peppers, carrots, mushrooms etc into the size you want them on your assigned meal prep day, storing them in separate Tupperware, and then simply throwing in your pan when you need them.
Likewise, chop your fruit into blender-appropriate chunks and freeze in ready-to-go bags to simply pop in your blender with water or milk when you need a smoothie hit.
Most vegetables will store for up to 5 days in the fridge after prepping, so this is the perfect time saver without having to sacrifice on taste!


2) Get a stash of condiments & spices
If you're 'eating clean' to the extreme with a mostly whole foods diet, you'll want to keep a stash of condiments, herbs, and spices that you love to spice up your food.
Even the traditional bodybuilder diet of rice and chicken (or tofu/meat substitute if you're plant-based too) prepped for every single day can be drastically improved with a little paprika, cumin, and hot sauce on one day, and a sprinkle of oregano, basil, and lemon juice the next.


3) keep your macros in separate containers
My personal favourite tip for fitness meal prep is to cook up batches of protein sources, carbohydrates, vegetables, and a few 'sauces', then storing separately ready for my meals.
Then, each day I can just select what I fancy from my meal prepped ingredients. For example, I could have baked tofu, quinoa, roasted vegetables, and hummus one day, and the next I could have the rest of my quinoa and veg, but mix things up by adding in Mexican black beans and some avocado – a still very macro-friendly bowl, but a new and interesting variation of very similar ingredients.


Meal Planning For One On A Budget
Meal planning for one on a budget is fairly easy because you don't need to factor in anyone else's tastes or dietary needs. You can just cook cheap, healthy meals that you love!
One thing to really bear in mind, however, is that because it's just you, ingredients can go off before you have a chance to eat them if you buy too much food.
This is why meal prepping bulk meals is a great idea, because it will ensure you only by the food you intend to eat, and you can also freeze leftovers that you don't manage to eat.


How to Meal Prep On A Budget For 2
Likewise, meal planning on a budget for 2 is fairly straightforward – especially if you are both happy to eat the same food. Just remember to double up on your recipes so that you've got enough for both of you to have leftovers throughout the week.
If you have different tastes, it may be a good idea to make a meal plan each separately and then come together and see what you can adjust to have a more cohesive, budget-friendly meal plan that works for both of you. Check out a few meal plans for 2 that I've found below.


Budget Meal Plan Examples:
This is my own sample plant-based meal plan for one on a budget, based on what I tend to eat each week following a vegan diet.
A few meals I include are:
Oatmeal with banana and PB
Red lentil dahl (so yummy and so cheap to make!)
Burrito bowls
Vegan pesto pasta
This great meal plan includes a meal plan on a budget for 2 people, coming in under $40 for the entire week.
Meals featured include:
Chicken teriyaki
Spaghetti
Chilli
Tacos
Pizza
This meal plan is designed for meat-eaters, but I think it would be really easy to turn vegan or vegetarian-friendly.
This meal plan includes budget vegan meals such as:
Lentil chilli
Mushroom risotto
Sweet potato and tofu curry
This fantastic budget-friendly meal plan is designed for a family of four, including meals such as:
Baked pasta
Burritos
Grain bowls
Thin-crust pizza
This great meal-plan is designed for people on a budget and is also slimming world friendly if you are trying to lose weight.
Recipes features include:
Sausage hash
Pasta bake
Peanut and banana muffins
Campfire stew
This meal plan includes meals such as:
Beans, rice, and salad
Chilli
Oatmeal
Spaghetti with pumpkin marinara
This isn't the clearest or necessarily healthiest of meal plans, but it does give you a good insight into what a busy family of 5 might plan for their meals each week on a budget!
This budget-friendly meal plan is designed for 7 (!) people and includes meals such as:
Oatmeal
Jacket potatoes with beans
Rice, chicken, and veggies
Peanut butter sandwiches
Again, this meal plan isn't the epitome of health – but it shows exactly what a thrifty family (of 7, no less) looking to save money eats. It's realistic and real, and that is what is really helpful when planning your own meals.
Cheap, Healthy Meal Prep Ideas
To provide you with some more inspiration, below are a few suggestions for cheap, healthy meals that you could include in your budget meal plan.
Make sure you check out this full list of vegan meal prep ideas!



Breakfasts
Breakfast burritos (great for freezing)
Greek yoghurt and berries
Hard-boiled eggs & toast



Lunches


Dinners
Chickpea curry
Tofu & noodles
Rice, protein (meat, tofu, beans etc) and veggies
Sheet-pan roasted veggies, carbs, and chickpeas
Pesto pasta



Snacks
Rice Cakes & Peanut Butter
Greek Yogurt with berries and cinnamon
Protein Bar (homemade recipe to come!)
---
Has budget meal planning helped you to create cheaper, healthier meals for you and your family on a more regular basis? Share this guide on how to meal prep on a budget or save for later!