We may earn money or products from the companies mentioned in this post, and as an Amazon Associate I earn from qualifying purchases. Please see my full disclosure for more information.
Minimalist travel means packing light for your travels – ideally, travelling with just a carry-on bag. This means of travel is cheaper, less hassle, and allows you to really appreciate the things you need when travelling – and ignore everything else.
In 2017, my partner (at the time) and I embarked on a year-long adventure travelling around the world. We adopted a minimalist travel attitude to packing, with both of us fitting all of our belongings into a carry-on bag each.
Minimalist travel is a concept that 5 years ago, I'd never even heard of let alone considered. I used to take a 20kg suitcase on a 2 week holiday.
Although initially I did struggle with the idea of less choice, I soon realised that, in a way, minimalist travel liberates you rather than limits you.
Now, I happily take a >10kg backpack on long adventures while I work my way around the world, and I'll never take a check-in bag if I can help it.
Whether you're planning for a lengthy backpacking adventure like me, or struggle to cut down your packing on a 2-week holiday, learning how to adopt a more minimalist attitude to travel can make your life so much easier, not to mention making travel cheaper.
Today, I'm going to show you exactly what the possessions of a minimal backpacker look like, but first I think it's important to cover exactly why this is a really good choice.
There are so, so many benefits to travelling light.
Minimalist Travel: The Biggest Advantages
It Costs Less
Travelling with just a light backpack in tow means no extra charges for check-in baggage on your flights – and no cheeky extra charges for storing your bag under buses when you're in another country.
What's more, if you bring less, you break less. When you're travelling with a huge suitcase, you tend to get the urge to fill it. Less space
means less stuff, means less spending.
You're Streamlined
I cannot even put into words the pure joy-smug-relieved feelings I experience when I get off the plane, go through immigration, and walk straight out the exit without waiting another 20 minutes for my bag to come rolling around the carousel.
Minimalist travel means you can travel so much quicker – from flights and transport to packing up your belongings ready for the next destination.
You Fit In
If you've ever been to a popular backpacking destination, you'll know that backpackers stand out like a sore thumb due to their aforementioned heavy loads. Travelling with a light bag simply makes you fit in better. It's nice to arrive at a new place and not attract countless stares, offers of overpriced transport and accommodation and more.
You Focus on Travel More Than Stuff
Having just a few choice items of clothing allows me to sling on an outfit each morning and be ready for a day of adventures in 5 minutes flat. There's no dithering about what to wear because I don't really have that luxury – and I love that.
Even if you do get a little sick of wearing the same thing day in and day out, that liberating feeling of not being owned by your wardrobe makes it so worth it.
Read Next: 10 Ways to Be More Minimal or How To Be A Minimalist
Rules to Minimalist Travel
These a few basic rules to minimalist travel that anyone can follow, no matter how long you're planning on going away for:
Don't take a big bag unless you want to fill it
If you have a big suitcase, you've immediately put temptation in your way. Scale down to a small backpack (make sure it's appropriate to take as a carry-on bag. Having limited space to actually fit your things into will instantly make scaling your packing down easier, too.
Learn to separate your wants from needs
Let's say you're going on a beach holiday. Flip flops? Need. Sunglasses? Need. Bathing suit/trunks? Need. Four sundresses, 2 pairs of shorts, a pool inflatable, and 2 pairs of high heels? Hmm, those are wants.
Pack the essentials first, and then see how much room you have left for your creature-comforts – you'll probably be surprised by how little you actually need when travelling.
Treat your wardrobe as a collection, rather than individual pieces
Packing random individual elements of clothing will probably leave you with outfits that don't work together at all. If you pack clothes that compliment each other, you could end up with countless outfits by just cycling through the same few pieces.
Adopt a minimalist mindset
More on that below!
Creating a Minimalist Travel Mindset
I've talked previously on this site about the importance of creating a minimalist mindset and clearing your mental clutter, and creating a minimalist travel mindset is just as important.
It is so much easier to happily pack and travel light when you take a look at your lifestyle and identify the best changes for you.
For me, that was definitely my clothing. I realised that I didn't need multiple different outfits – just a few staple pieces that mix and match perfectly. I didn't need shorts and trousers and skirts and dresses – I needed a pair of shorts, a pair of trousers, and one dress that served as a summer day dress or as a nicer evening outfit if we ever went a little fancy (rare, very rare!).
To achieve a minimalist backpack, you just need to assess what you really need against those home comforts that you want.
Minimalist Travel Essentials
Your minimalist travel packing essentials may vary depending on what you are travelling for and where you are going. For example, photographers are going to have multiple cameras and lenses appearing high up on their lists, while most of us can get by with one camera or even just our iPhones.
In general, though, everyone needs at least these essentials:
Passport
Money (Credit or Debit Cards and Cash)
Phone & Charger
Comfortable shoes (never travel with shoes you haven't worn before!)
One warm jumper
One change of clothes
Water
A snack
A small, well-stocked medical kit
Just put yourself in a situation where you can't access anything for 24 hours – if there's anything you need in order to survive, you may want to add it to your list.
My Minimalist Packing List
Below are all the things I kept in my single bag for almost a year of travel. While this is by no means a definitive list of what you must take with you, I hope it gives you a better idea of what a minimalist's packing list might really look like:
Minimalist Backpack
First things first; the bag. For the past year, I travelled with my Under Armour Hustle backpack. It holds up to 30L, has 3 interior pockets and is fantastic quality. I've owned it for over a year now and it shows almost zero signs of wear despite being lugged around the world with me and, at times, stuffed to the brim!
Pros:
It has a laptop sleeve (a must for anyone working online on the road!)
It has a main compartment, two large side compartments and one smaller one – ideal for separating clothes, toiletries and essentials.
The straps are thick and padded so don't mark my shoulders when I'm carrying it for long periods of time
The bag is also a good size to use as a day bag when I'm out exploring in the day time
Cons:
The bag is not a travel bag by design. While it does the job, the size and design is not ideal. My belongings fit inside, but it is a bit of a squeeze.
Now that I'm a little more experienced as a traveller, in hindsight, I wouldn't recommend this bag as a top pick for travel. For day bag or a gym bag in general, definitely.
However, in the future, I do think I would be best served by a  high-quality backpack that is actually designed for travelling, such as the Osprey Porter 46. When your whole life is going in a bag, that bag should really offer everything you need and the Osprey ticks a lot more boxes than the UA.
Gadgets
Laptop
As I run my freelance business (and this blog!) from the road, my laptop is definitely an essential item for me.
For all of 2017, I had a HP Pavilion Laptop which was over 3 years old before I even started travelling. It worked fine, but it was so heavy. It took up a huge amount of space in my backpack and really weighed me down. In hindsight, one of my biggest mistakes was not investing in a better, more lightweight laptop before setting off.
I now have a Microsoft Surface Laptop and you guys, I LOVE it. It is a fantastic laptop; it runs so fast, it's so well-designed and is so lightweight and compact making it absolutely perfect for when I'm on the go. The screen is still big enough to comfortably work on, but how small and lightweight it means it easily fits in my backpack and I barely notice it's there. My best investment of 2018 so far.
Headphones
I travel with my Kanen Ailihen foldable headphones and I'd recommend them as a perfectly good budget pair of headphones to anyone. They're only $12 so don't expect AMAZING sound quality, but they work great when I want to drown out background noise when working in a public space, and they fold up really neatly in my bag.
Clothes
OK, before we get into this, I'm going to admit: I probably still have too many clothes. Compared to the average person, yes I have very minimal belongings. But for minimalist backpacking, I could probably still do better.
As much as I love minimalism, I also love clothes. That being said, all of my clothes for the entirety of 2017 fit into one packing cube (which happen to be the perfect size for my backpack!). I took a pic for you to see here: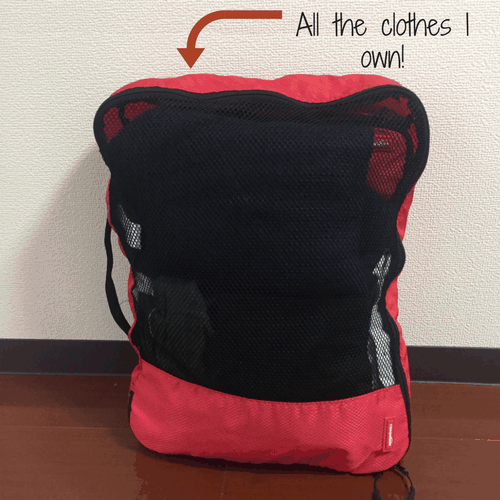 Cutting down my clothes to fit in a backpack has been liberating, but also frustrating. I see girls in beautiful outfits in every new city (not to mention some of those Instagram pics!!) and I do despair a little at the clothes I've been wearing day in, day out for months now!
Just know that although this list is short compared to someone who has a fixed location, I'd probably have more clothes if I had a wardrobe. Just being honest!
My Typical Clothes Packing List (for hot weather!):
1 jumper
1 pair of lightweight trousers
2 pairs of shorts
– Workout Pair (Adidas Shorts)
– Everyday Pair
1 3/4 length jumpsuit or dress
3 t-shirts/tops
2 tank tops
3 bras (1 regular, 2 sports)
4 pairs of socks
8 pairs of underwear (more undies = less washing!)
My clothes are mostly second-hand or obscure brands, so I can't link them directly – one of my go-to outfits throughout Asia was a $1 pair of shorts and a diving t-shirt I got for free! However, my advice would be to go for things you really love – and to pack for the climate. Don't choose something that you ever have second thoughts about putting on.
Durable clothing that doesn't show dirt or sweat too easily also comes in handy – a little bit gross, but true!
Read Next: 8 Digital Nomad Job Ideas Perfect for a World Adventure
Shoes
I started the trip with three pairs of shoes:
For the first few months, I insisted on dragging all three around, using my beloved Vans as my main shoes and my trainers for working out. It wasn't the most efficient, but I just couldn't choose between them!

I saved on space in my backpack by putting a shoe in each drinks slot on the exterior – pretty savvy, I know! 😉
Eventually, my vans got a hole in the toe and forced the issue. I'm now down to my Nike's and my Havaianas, both of which are looking a little worn and dusty, but are holding strong!
I really love the Nike Flex shoes because of how light they are. There's barely any extra weight and having a pair of comfy, close-toed shoes comes in really handy when out exploring all day long!
Packing Cubes
I keep all of my clothes in these Amazon Basics Packing Cubes. I use the smallest bag for my underwear and socks, and then place that inside the biggest one along with all of my clothes.
The medium sized bag serves as our laundry bag.
I really can't recommend these packing cubes enough. I used to see them a lot on other travel blogs before I set off, and can totally see why everyone and their mother raves about them. Best thing is, they only cost £17.99 (~$23) for a full set.
Life is so. much. easier. being able to just pull out my big packing cube and have all my clothes neatly folded/rolled up all in one place.
They keep all my clothes ordered and together, and help avoid an absolute mess in my bag every time we have to move.
Next time you're going on holiday, take it from me: these packing cubes will change the game.
Misc
The rest of the space in my bag is taken up by miscellaneous items which I'll list here.
Travel Wallet Belt (I never actually wear this out, but it's super handy for keeping my documents in one safe place – plus this one has built-in protection against electronic pickpockets!)
– Passport
– Spare bank card (separate from our wallet!)
– Vaccination records
Book
Sunglasses
Travel Cards
iPhone Charger
Universal Travel Adaptor (an absolute must when visiting multiple countries)
Small cosmetics bags (incl. concealer, powder, mascara, and brow kit)
Padlock
That's it!
I'll pick up toiletries at each new destination if I'm staying a longer period of time, or get a travel-sized set for shorter trips. A lot of Airbnb's and hotels do give you free toiletries too!
Minimalist Travel
Aside from your belongings, I think it's really important to try to apply a minimalist attitude to your trip in general.
That means taking photos and experiences away from a trip, rather than cheap souvenirs that end up cluttering your home forgotten. It also means spending intentionally while you're away.
For me, I'd much rather spend $2 on a delicious meal from a local restaurant than dine out at an expensive tourist place. Keep things light, bring some awareness into your spending, and you'll be amazed at how this lifestyle just starts making sense. I know I was.
This is everything I have to live on. It's not much, but we really don't need a whole lot. Minimalist travel just makes more sense.
Sure, sometimes I smell my t-shirt and think, jeez girl, what have you become? But then I get to go on an adventure and see beautiful beaches, cities and sunsets and suddenly a smelly t-shirt is the least of my worries!
---
Were you surprised by how much (or how little) I have in my bag? What are your minimalist travel essentials?
Let me know in the comments!