We may earn money or products from the companies mentioned in this post, and as an Amazon Associate I earn from qualifying purchases. Please see my full disclosure for more information.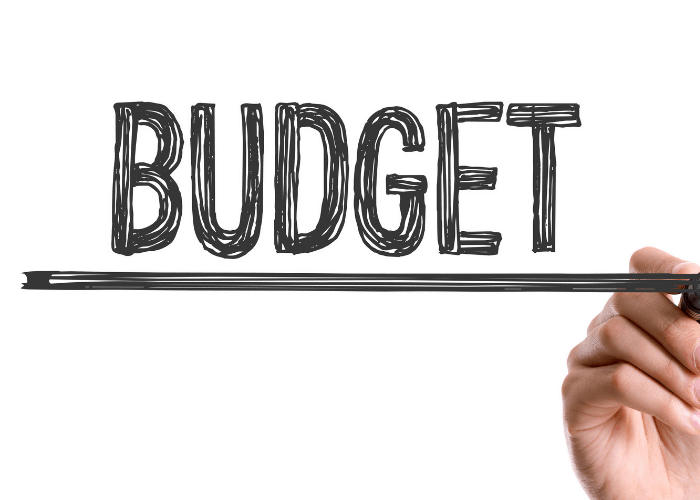 If you want to effectively track your money each month, one of the best ways to that is by getting a budget planner book to get everything money-related written down and in one place.
As someone who, for a long time, kept everything – deadlines, budget-tracking, to-do lists – in my head, I can tell you first hand that having a dedicated planner to write stuff down and then forget it is a life-saver.
I've sorted through the many (many!) planners, binders, and organizers online to compile this list of the best budget planner books online, so if you're looking for a way to get on top of your finances this year, this is it.
Pssst..! While you're here, make sure you've unlocked your free access to The Wallet Moth Freebie Library, which is absolutely full resources all designed to help you start building a life that works for you, including free cheap & healthy meal planners, printables, a minimalist declutter checklist, and so much more!
What to look for in a budget planner book?
When finding the best items for this list, I looked for a few different key criteria:
Room for customization (extra spaces, extra pages for note-taking etc). Not all the planners listed below are totally customizable, but they offer more room for adapting your book to suit you than many others on the market.
User reviews: If something is worth buying, the proof is typically in the reviews. The below budget planners receive some of the best reviews online for a combination of price, usability, and features.
Design: We want something that looks good, but also that is ordered in a way that makes sense. The majority of planners below are separated by month, week, and day for easy organization of your spending.
Other pages you might like:
10 Best Budget Planner Books & Printables:
Key Features:
Weekly planner sections
Daily entry spaces
13 receipt organizer pockets
Bill organizer pockets
Debt tracking secitions
Seasonal savings sections
Dimensions: 9.5″ x 8″
Price: $$
Customization:⭐⭐⭐


I love this budget planner book from Boxclever. This is a proper, all-in-one budget planner that covers every base, from daily and weekly budget tracking, to larger sections for tackling debt, savings, and even seasonal (e.g. Christmas) savings goals.
Each month has a total of 6 dedicated pages: one for income and savings, one for your monthly budget, three pages for day-to-day expenditure and one summary page for the month.
The regular bill tracker page has 7 rows where you can list categories like a cell phone bill, gas bill, the electric bill etc. I really love the organizer pocket features on this budget planner, providing handy spaces for keeping hold of important receipts and bills.
The one downside to this budget planner is that it's not super easy to adapt to suit your specific needs: the bill tracker only has 7 rows, so if you have more than 7 bills you need to track, you're stuck. Additionally, they don't sell replacement pages, so you need to buy an entirely new book for the new year.


Key features:
Monthly goal setting sections
Reminder section for due bills and payments
Monthly spending plan
Expense categories
Seasonal savings sections
Annual summary section
Dimensions: 5.8″ x 8.3″ (A5)
Price: $$
Customization: ⭐⭐⭐
This is another really cute budget planner book from Clever Fox. It includes monthly financial goal setting section, areas to put reminders for bills and payments due, a monthly spending plan, and pre-defined expense categories to help you plan your monthly budget better.
Again, this budget planner book also includes added sections for Christmas and seasonal budgeting, as well as sections for calculating an annual summary to help you track your progress throughout the year.
The Clever Fox Budget Planner Book is A5 size, perfect for keeping in your handbag for easy access.
Again, this budget planner isn't reusable or refillable, so you would need to buy an entirely new book after the first year. If you're looking for a refillable budget planner, taking a look at some of the printable options below might be a better idea.


Key features:
Monthly budget pages
Spending tracking
Progress tracker questions
Daily spending sections (8 days over 2 pages)
Reflections page
Dimensions: 8″ x 10″
Price: $
Customization: ⭐⭐⭐
The Sort Your $hit Out budget planner book has fewer details online about exactly what's included but receives such great reviews from other customers that I had to add it in. It includes monthly budget pages, spending tracking, and progress checker questions (love this feature!).
Despite the lack of detail compared to some of the other options in this list, the reviews provide a really great breakdown of exactly what's included inside the book and also provide a good insight into the cool graphics the book features. The planner includes 12-month sections, but you can start at any month of the year.
One review does comment that the level of detail in the book is actually too much – rather than providing a more mathematical way of tracking your budget, the reflections page and progress questions are pretty time-consuming, so this may not be for everyone.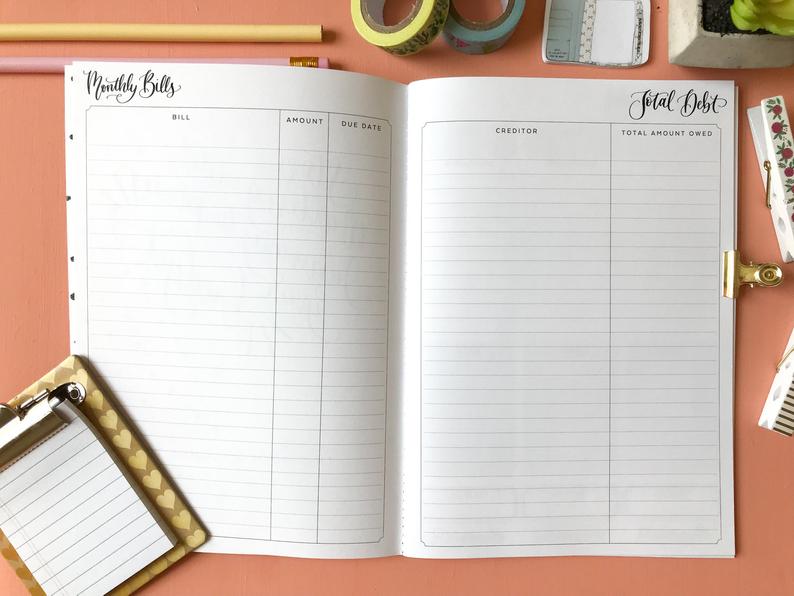 Key features:
Monthly bill tracking pages
Debt tracking pages
Two goal setting pages
12 monthly budgeting spreads
Dotted grid pages for notes, charts etc
Colouring pages at the back
Dimensions: 5.75″ x 8.25″
Price: $$
Customization: ⭐⭐⭐
This beautiful Budget Planner Book is available on Etsy from Printable Wisdom and has received thousands of excellent reviews. The book contains pages for monthly bill tracking, debt tracking, goal setting, as well as budgeting spreadsheets for tracking your income, expenses, and emergency fund.
This budget planner is a great price, useful size, and contains everything you could need for tracking all things money every month.

Key features:
80-pages for budgeting and goal setting
12-months of budget planning spreads
Built-in pockets for receipt storage
Bill-tracking spreads, spending logs, and budgeting checklists
Sticker sheet for goal setting
Dimensions: 5.7″ x 8.25″
Price: $$
Customization: ⭐⭐
The Erin Condren Budget Planner Book has a beautiful design – it has a colourful background, and the quote "the best way to get things done is to begin" on the front, which I love.
The book contains 12-months of budget tracking spreads, including goa setting, spending logs, and budgeting checklists. This book also includes built-in receipt pockets for a handy place to store all things budget-related.
The planner is a useful size – not too big – and a fair price. Again, this book isn't refillable, but it can be started any month of the year.


How to make a free budget planner book:
If you don't want to buy a book for all your budgeting activities, there are a number of excellent budget planner printables out there that are available to download for free.
You could pick your favourite, print it a couple of times, and make it into your own binder budget planner book! If you don't mind a little more effort and getting a little crafty, this is a great way to get a free budget planner book together rather than ordering a complete book online.
Here are a few of my favourite budget planner printables: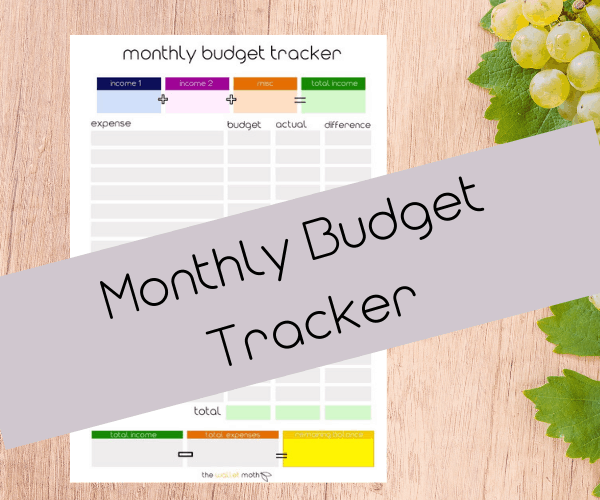 Thaaaat's right – I have my own free monthly budget tracker especially for you! This free budget planner contains sections for listing your expenses, calculating a budget for each, plus sections for marketing down your actual spend and the total difference. Download my monthly budget tracker and get access to my Freebie Library.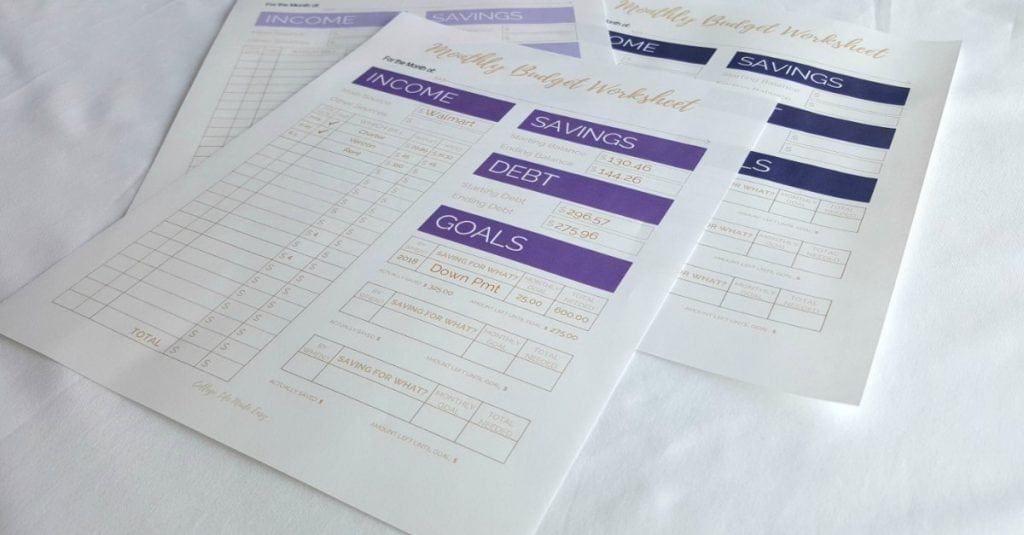 I love this attractive budget planner worksheet from Charlie over at College Life Made Easy – it includes sections for tracking your income, savings, debt, and goals every month.
Charlie offers this worksheet as a free printable on her website, so definitely go check it out!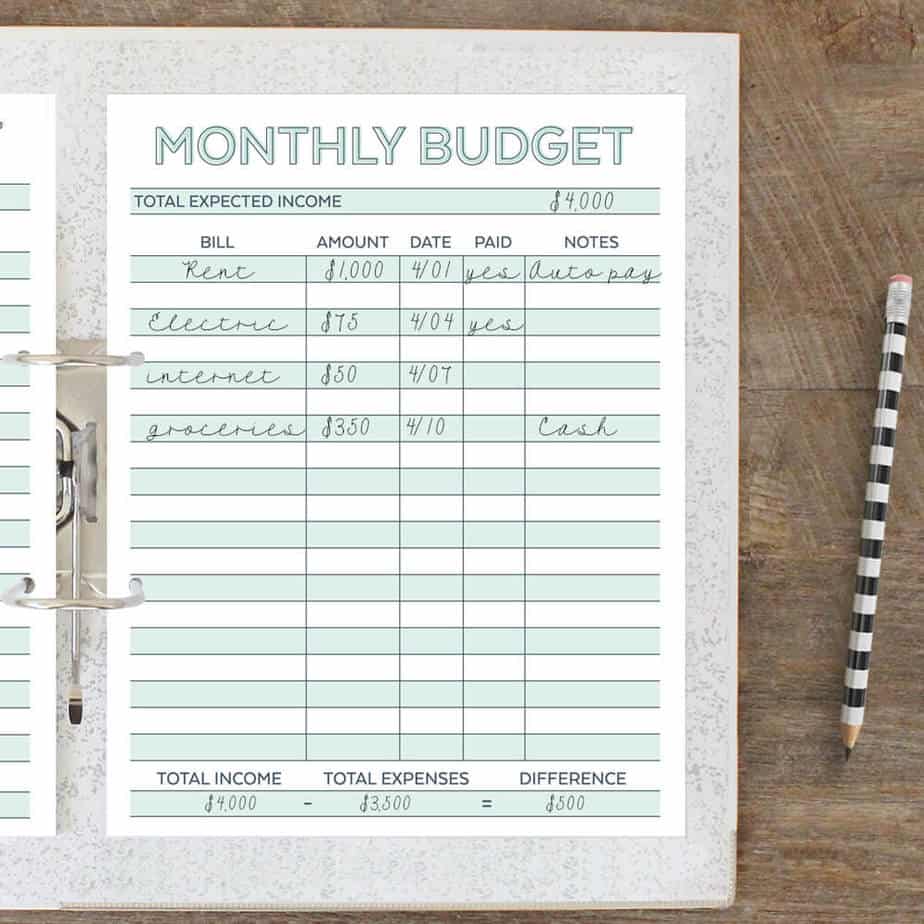 Ginny from Savour & Savvy designed this simple monthly budget planner printable which is super easy to use and looks great too.
It has a section to predict your income, write down your bills and the amounts, plus a section to calculate your total savings after expenses each month.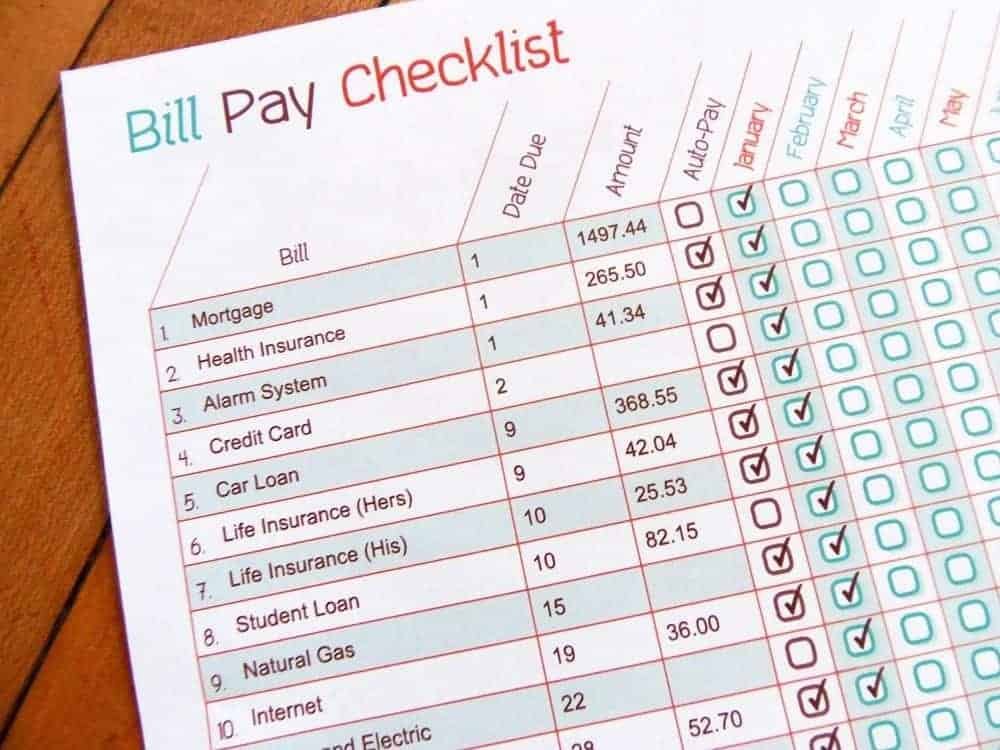 This printable bill pay checklist from My Frugal Home is great because Erin has designed it to be fully editable, so you can customize all your bill info before printing the checklist out.
I've followed Kelan and Brittany's blog for a couple of years now, and they've stepped up their game in every way – including the release of a number of fantastic budget tracking resources and this free budget tracker.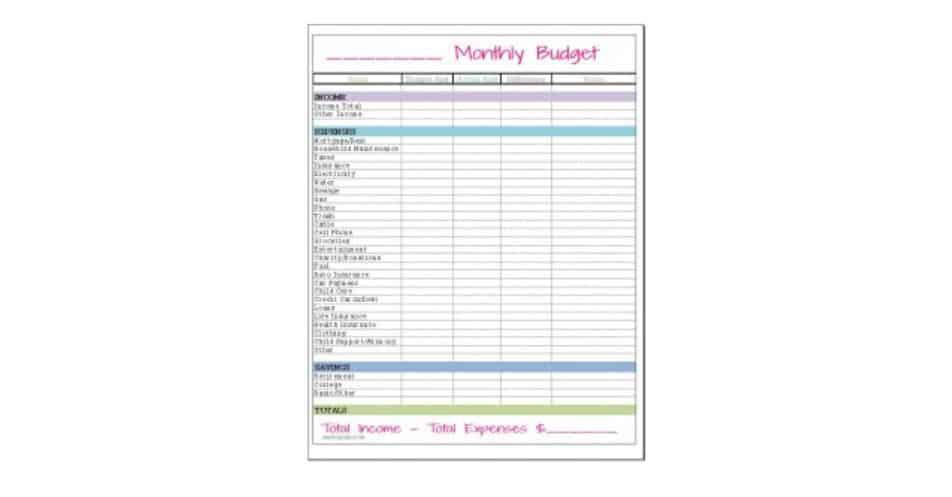 Frugal Fanatic has another Budget Template to choose from – this one has two different colour options, and different sections to track your income, expenses, and savings.