We may earn money or products from the companies mentioned in this post, and as an Amazon Associate I earn from qualifying purchases. Please see my full disclosure for more information.
As a newbie allotment owner myself, this is a simple guide to allotment ideas you could consider when first starting your allotment and the things that worked for my allotment plot.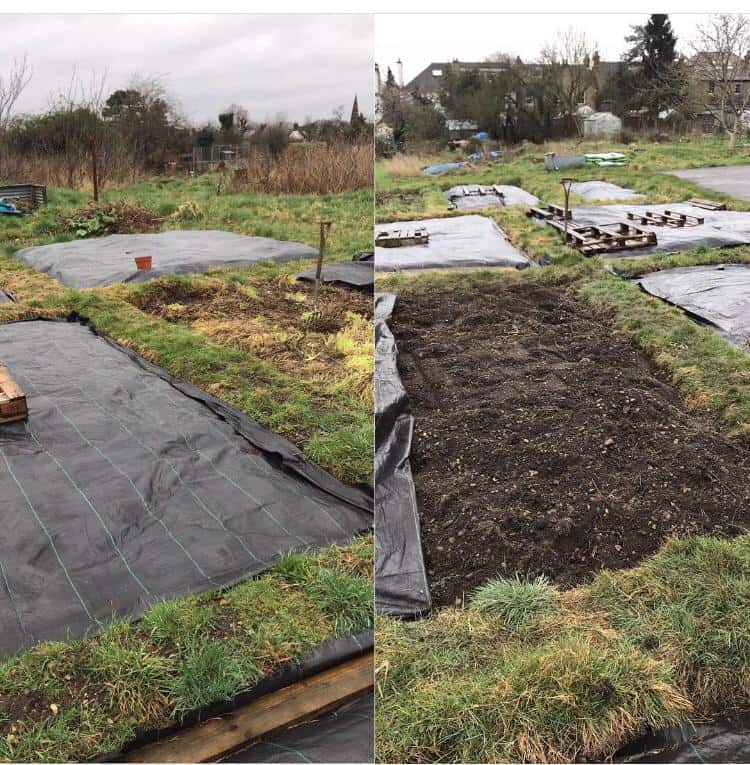 Last month I made a "big" announcement: that my family and I finally got an allotment!
For those who don't know, an allotment is an allocated plot of land that you can cultivate to grow your own vegetables. Of course, some people choose just to grow their own vegetables in their garden, but an allotment gives you a lot more room.
Our aim is to essentially be able to live off our allotment in terms of fruit and vegetables – seeing as I eat a plant-based diet, that's going to mean massive savings!
Typically, when you get an allotment it's going to be completely overgrown. Most people are reluctant to give up an allotment, so it slowly becomes overgrown for months or years before it becomes available for someone else to take it on.
If this is the case for you (it was for mine), it can be pretty overwhelming knowing where to start. My allotment just looked like an enormous grassy field when we first got it – so trying to imagine turning it into the neat beds with thriving vegetables like the plots around us was pretty difficult.
6 months on, and things are another story. We have vegetable beds, a green house, and plenty of fruit and vegetables already growing in the ground, ready for harvesting later this year.
If you're a total newbie to growing your own vegetables, below are some starter allotment ideas I picked up that you might find useful, too.
Allotment Ideas For Total Beginners:
Mark Out Your Beds
We were quite lucky with the allotment we inherited, because the man who previously owned our plot kept (from what we've been told) on top of things with great success, and had clearly marked out the border for his vegetable beds.
So although our plot was completely overgrown (it essentially looked like a huge patch of grass and weeds), it was fairly easy to determine exactly where the vegetable beds previously were, and mark them out for ourselves.
If you don't get so lucky, you'll need to consider how you want your beds to look. Some plots make use of the entire area, whereas others clearly mark their beds out into square or rectangles with grass paths or paving slabs in between.
Cover With Weed Suppressing Membrane
One of the first things we did with our allotment back in November was to cover all of the beds with weed suppressing membrane, which you can buy from garden centres or cheaply online.
We were quite lucky to get our plot in November, as we could then cover the beds and allow the membrane to kill off the weeds underneath throughout the winter.
I'd really recommend investing in some weed suppressing membrane to any new allotment owner. Once we had covered the beds, we could relax knowing that even if we didn't use half our plot this summer, the weeds aren't going to get any more out of control. When February/March rolled around, we simply uncovered the bed and dug it over once the weeds had died off significantly. Then we re-covered the bed until we were ready to plant fruit and vegetables out!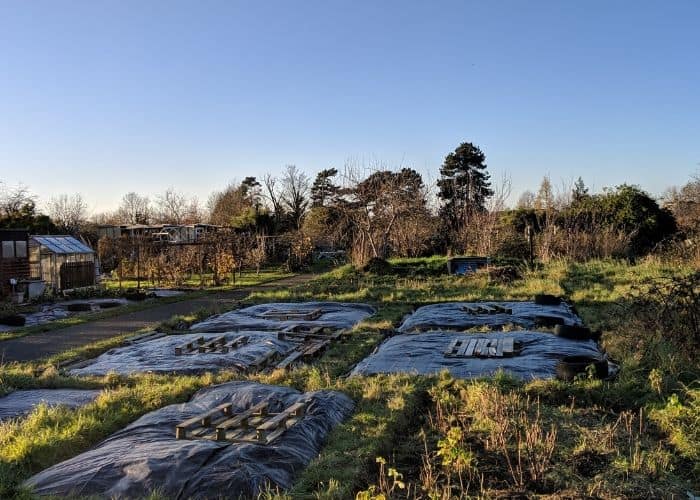 Plan Out What You're Going To Grow
Make a list of the things you'd really like to grow. A good tip is to consider:
The size of your plot
How much time you can actually invest in your allotment
If I've learned anything in the past couple of months, it's that you don't want to overwhelm yourself by planning on growing everything and anything (although admittedly, that's kind of exactly what we've done!).
I'd strongly recommend planning what you'll grow and in which beds before you begin buying seeds and planting veg.
Read Up On What Needs Planting And When
I've got two books which I consult regularly side by side:
I use the month-by-month book to see what tasks need to be done each month, and then I consult the handbook to see exactly what I need to do to successfully grow a certain fruit or vegetable.
As someone who likes to be uber-prepared with every new task I approach, using these two books together has been really helpful and ensured I planted my seeds at the correct time to reduce the chance of things dying in late frosts or due to being uncovered and exposed to birds!
Consider Getting A Greenhouse
A big investment we made in our allotment was buying a greenhouse, which is in our garden. This saves us having to walk round to the allotment every day to water the seedlings before they're ready to go outside, and gives your seeds a big headstart over planting them directly outdoors.
Of course, not everyone can afford a greenhouse (or has the space for one), but it's been a really fantastic investment for us. Everything we planted starting popping up all at once and going in there to water my plants is honestly one of the most relaxing parts of my entire day.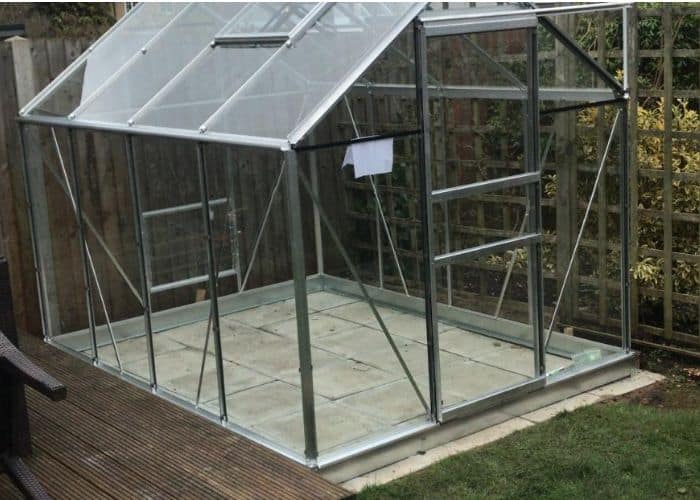 Go Slowly
If I was working on my allotment plot alone, I'd definitely be overwhelmed with how much work it involves.
Luckily, there are three of us working together, making everything a lot more manageable.
Whether you're attempting to grow your own veg alone or as a group, one of the best tips I've learned is to go slowly. Don't try to cultivate the entire plot in a weekend – you'll be exhausted and ache the day after and not want to go back.
Little and often seems to be the key.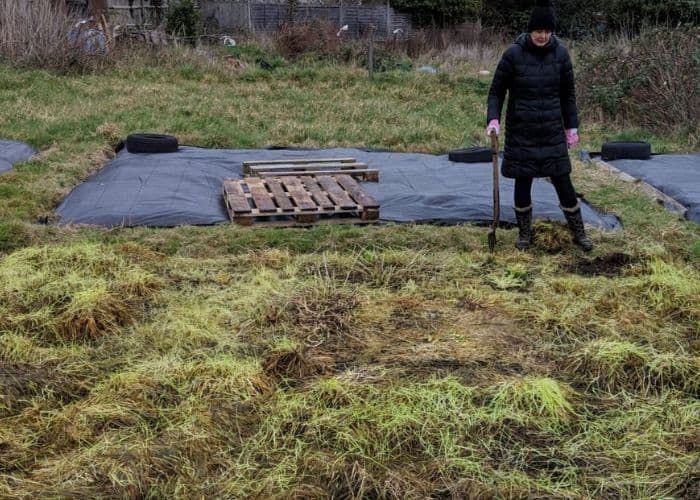 Talk To Your Allotment Neighbours
Our allotment neighbours have turned out to be fantastic sources of information for getting our plot ready for the summer.
Allotments are super friendly places, and everyone I've spoken to has great advice and has even given us some off-cuttings to get us started!
If you've just got an allotment and don't know where to start or if you're doing something right – just ask. Most people are more than happy to talk about all things veg!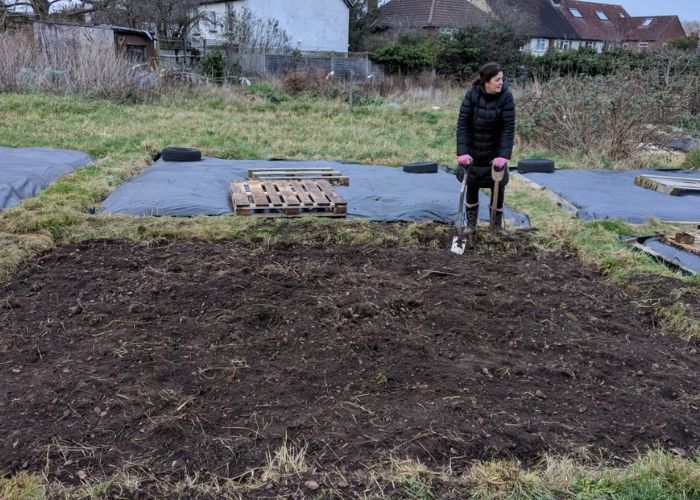 I hope these allotment ideas are helpful to you, whether you're a total beginner with a new allotment plot, or even if you're trying to grow a vegetable patch in your garden!