We may earn money or products from the companies mentioned in this post, and as an Amazon Associate I earn from qualifying purchases. Please see my full disclosure for more information.
This post has 16 simple but effective tips for budgeting when you're pregnant. Get your finances in order, increase your income and/or cut down on your spending, and work out exactly how to afford what you need before you baby's arrival.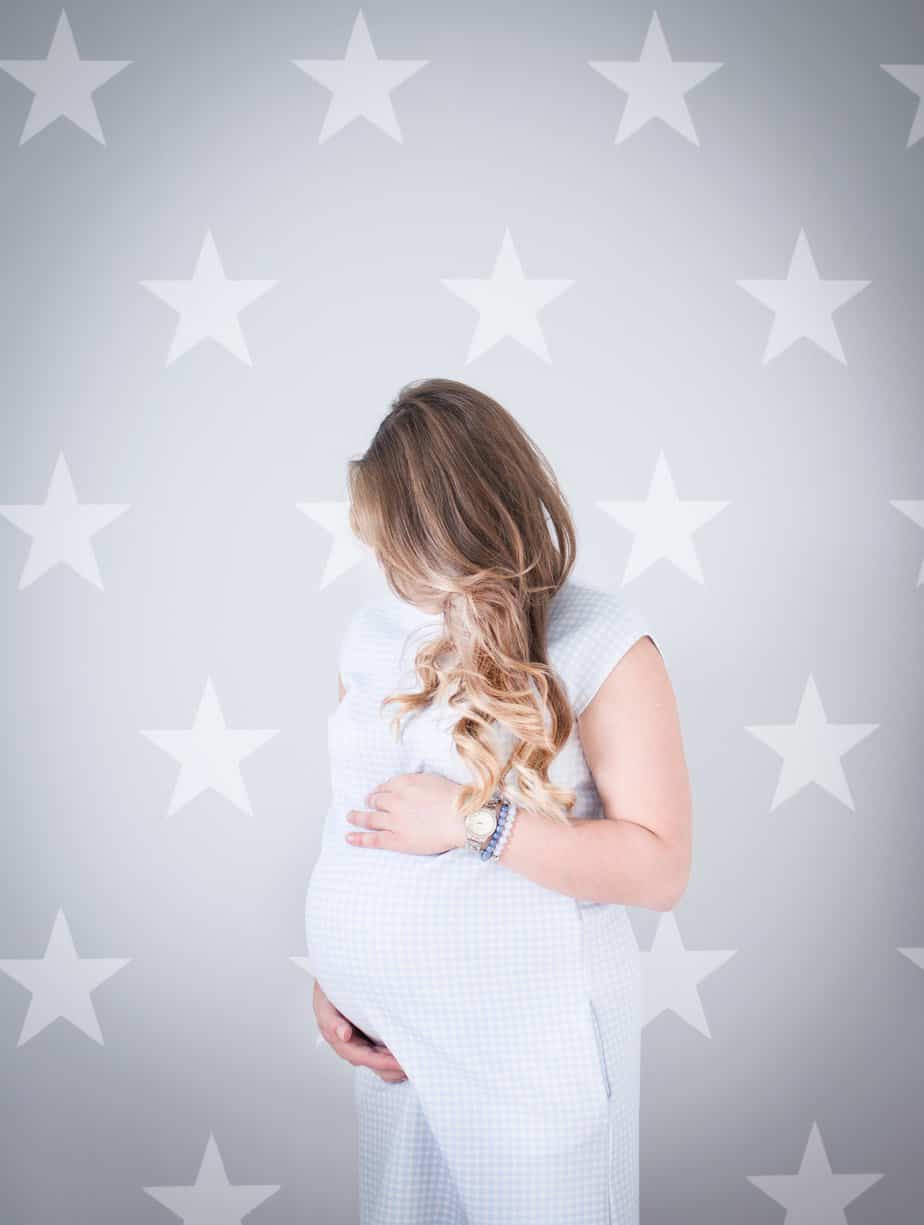 Almost two years ago, I found out I was pregnant by taking a pregnancy test in the bathrooms of my local climbing gym after I just had a feeling something was different.
Obviously, something was.
My daughter – now 13 months old – is the best thing that ever happened to me. She is the light of my life and an absolute joy. But she wasn't planned. Those two blue lines on a stick were not expected – and suddenly, I was faced with completely readjusting my life to make room for another person.
A person that I desperately wanted (want) to give the best life possible. That meant re-evaluating my finances to ensure I could save the best I could to give her a great start to life, and have enough saved to support me during maternity leave (self-employed, I already knew I'd get the statutory maternity allowance in the UK of around £600 a month).
I saved about £13,000 within those 9 months of pregnancy and budgeted hard so that I could take a full year of maternity leave with my baby and make sure we had everything we needed for her arrival. In addition, with the help of family and friends, my little girl has the most beautiful room and wants for nothing.
Here, I'm sharing my best tips for budgeting when you're pregnant to prepare for baby.
1. Start by analyzing your current budget
The best thing you could do before anything else is to analyze your current budget. Are there any major financial drains that you could immediately address? For example:
Unused gym memberships
Contracts that have ended that you're now paying a premium rate for
Monthly subscriptions you don't use or need
Bad spending habits such as takeaways multiple times a week
Before anything else, take stock of what your current spending is like. That will give you a good idea of your existing budget, and what needs to change in order to budget while pregnant for the arrival of your little one.
2. Use a budgeting app
A free budgeting app such as Plum can be a huge help when it comes to tracking your income and your expenses.
Plum automatically categorizes your spending into specific sections such as food, entertainment, bills, etc so you can see exactly what you're spending and where. Another feature I'm a big fan of is the automatic savings – Plum looks at your budget and puts money that it calculates you can afford to save into a wallet for you.
I actually forgot about this for a couple of months and when I looked at my wallet in my app, I had £300 saved ready and waiting for me!
3. Make a list of everything baby will need in those first six months
If you're feeling overwhelmed about all the stuff your baby will need, write it all down on a list. Things like nappies, baby wipes, a place for them to sleep, and babygrows are essential – but you'll soon be able to clearly identify the essentials from the nice extras.
Then, you can start to adjust your budget to ensure you've got everything you need first – and then have some wiggle room for those extras that are nice to have, but certainly not a must-have for a newborn baby.
4. Look at ways you could increase your income
For some, increasing your income is going to be the number one way to budget while pregnant. If you already work full-time, perhaps this is the moment to propose that well-deserved raise to your boss.
If you work part-time or freelance, look at other opportunities you might be able to take on. I quickly found another part-time job as a writer to boost my income when I was pregnant, enabling me to put that extra cash straight into my baby fund.
If that's not possible for you, could your partner take on more work or ask for a promotion? Assuming you're in a relationship, this is the time for both of you to be looking at every way you could boost your income.
Take a look at this guide with over 60 ways to make money on the side, or these jobs that are absolutely perfect for pregnant women (i.e. let you put your feet up!).
5. Find ways to cut down on your spending
Living more frugally is always a great way to save money, especially when you've got a relatively tight 9-month deadline to get your finances in order and prepare to meet the latest addition to your family.
These guides all have some great tips on saving money and cutting down your spending:
6. Ask friends and family for second-hand items
Chances are, you know a family member or friend (or friend or friend) who had a baby not too long ago, and might be looking to declutter their home as they move on to the toddler stages.
In reality, baby toys, bouncers, chairs, etc get used for a year or two before your baby has outgrown them completely (they really do grow so fast!), so you'll often be getting an item that's barely been used.
Ask around and see what your network has – and don't feel ashamed to do this either, from experience I know that we're now only too happy to be able to pass things on that seem barely used and know that they'll be put to good use.
7. Don't say no to the kindness of family
When you're expecting your first child, you may be blown away by the kindness of people around you. So many members of my family and friends wanted to share in our joy and gift us with things we needed for the baby – from her cot to teethers and rattles.
It went against my nature to say yes to this – but it was clear to see how many people genuinely wanted to help us celebrate the arrival of our daughter, and it meant that we had many things for her through gifts.
Of course, this may not be the situation for everyone, and it's also not a reason not to make sure your own finances are in order.
8. Open a savings account
If you don't already have a savings account, this is the time to open one. You may want to consider opening a new savings account (or joint account, for you and your partner) that is specifically a baby-related fund.
This should also take into account any money you'll want to use while on maternity leave.
9. Look at what freebies and discounts you can get
In the UK, there are several grants, freebies, and discount schemes on offer to families – especially if you are on a low income. For example:
10. Shop on Facebook marketplace
If you don't know anyone with a baby, Facebook marketplace is your next best alternative. Here, you can find great quality second-hand clothing, toys, high chairs, and more.
Just be aware that some items such as bottles, bedding, and car seats are not advised to be used second-hand. Once you've had your baby, selling your second-hand baby items is a great way to make a little extra cash, by the way!
11. Look out for 'baby events'
Shops like Boots often have baby or parent events where baby items such as shampoo, wipes, and medicine are on offer – so you can stock up and get a great discount when you check out.
12. Avoid getting sucked into the baby capitalism trap
One thing every parent will agree on is that it is so easy to get sucked into the trap of thinking your baby needs so many things. From cribs that rock themselves to high-end toys marketed as 'must-have' for a baby's brain development, everything you could dream of is now for sale – and often, with a high price tag.
Ultimately, your baby needs to be warm, fed, and safe – and you as their parent can do all of those things. All the fancy extras may be nice if you have the budget for them, but don't stress if you can't afford every gadget and gizmo marketed to you.
13. Look into baby banks near you
For families who are struggling financially, you can apply for help from a baby bank in the UK. There are over 100 baby banks across the country, including a chain called Little Village, which can help you prepare for your baby with essential items such as nappies, wipes, baby clothes, and more up to five years of age.
14. Invest in 2-in-1 items
Instead of buying two items that do similar things, can you bundle those expenses into one item? For example, you can buy a cot bed that will last your baby up to 4 years of age, rather than buying a moses basket, a cot, and a toddler bed when your baby is big enough.
15. Free dental and prescriptions
Did you know that pregnant women and new mums (up to 12 months post-birth) get free dental care and prescriptions from the NHS? Now is a good time to get your dental care up to date and make the most of this useful freebie while you have it available to you.
16. Find out what maternity pay you are entitled to
If you are employed and have worked at the same company for six months or more, you will be entitled to statutory maternity pay.
Currently (as of 2022), statutory maternity pay means you are entitled to 90% of your average weekly earnings for the first 6 weeks, and then £156.66 a week or 90% of your average earnings – whichever is lower. In total, you'll be paid for up to 39 weeks while on maternity leave.
Note that this is the minimum you are entitled to – your employer may provide a more comprehensive maternity pay benefit than the government standard, so make sure you chat with them about what you are entitled to.

If you are self-employed, have recently stopped working, or are employed but do not qualify for statutory maternity pay, you may be entitled to Maternity Allowance. You will need to fill out the maternity allowance application form on the gov.UK website to find out how much you're eligible for.