We may earn money or products from the companies mentioned in this post, and as an Amazon Associate I earn from qualifying purchases. Please see my full disclosure for more information.
If you've suffered from acne or blemished skin in the past, you'll know how detrimental it can be to your confidence. This isn't a topic I've ever really covered before on my blog, but my skin – specifically the tiny bumps on my forehead that just would not budge – was a sore topic that had plagued me for years.
Around 2015, I developed these tiny bumps on my forehead and nothing I did would clear them. And I tried a lot of things. Below, I'm going to share with you the exact steps I took to get rid of acne and how to get rid of these frustrating tiny bumps on your forehead for good.
I was lucky enough as a teenager to avoid acne and suffered at most with one or two pimples every few weeks.
So when a couple of years ago, in my mid-twenties, these small bumps on my forehead just appeared and would not go down, I was devastated.
It wasn't like I had whiteheads that could be squeezed and disappear. These were tiny bumps on my forehead that were colourless and lay just under the skin.
From what I can gather, I was dealing with subclinical acne, which produces an uneven skin texture due to congested, clogged pores.
These kinds of tiny bumps on the forehead are the most stubborn, frustrating kind of spot I've ever encountered.
I searched endlessly online for how to get rid of acne. I feel like I tried so many different holistic acne treatment recommendations, and endless lotions and potions.
I tried multiple different cleansers. I tried beauty creams that promise to dry out pimples – which did make a difference…but it didn't completely get rid of them.
Then I tried no skincare products. I tried wearing no make-up. I washed my face multiple times a day. I tried squeezing the life out of those things (would not recommend that!!)…and nada. They remained, for near on two years.
My confidence plummeted.
While this kind of small bumps on your forehead more effects your skin texture than coloration or something more noticeable, it's definitely a problem you're aware of all day long.
I'd be in conversations with people and secretly worry that the light was shining on my forehead and showing how uneven my skin really was.
I'd constantly be fighting a battle between trying to avoid ever touching my forehead and running my fingernails across the tiny bumps trying to almost scrape them off my skin. Yeah, not an acne treatment anyone would recommend – but when you want to get rid of acne that badly, you'll do it.
I had dry skin all over my face because I avoided putting any added skincare products on the oily skin on my forehead. This might sound like an exaggeration if you've never needed to know how to get rid of acne – but if you've suffered with it in the past, you'll know how much of a kicking your confidence can take just because of a few bumps on your forehead.
My Morning Skincare Routine
What are the Tiny Bumps on Your Forehead?
The bumps first appeared on my forehead during a time when I was working out (and therefore sweating) a lot. However, I also ate very healthy, drank more than 2 litres of water every day, and cleaned my face daily. Some people suggest that the bumps may be:
Subclinical acne
Heat rash
Allergies
Cystic acne
Blind pimples
I never officially had my skin seen by a dermatologist, but the general consensus online seems to be that the bumpy skin texture you have on your forehead (and sometimes around the jaw) is clogged pores (i.e. subclinical acne). They occur when dead skin cells, oil and debris, skincare products, make up, and pollution gets into your pores and clog up.
Why it's so hard to get rid of this type of acne though, I honestly don't know. For me, it felt like my skin suddenly changed, and nothing I did would change it back.
Paula's 2% BHA Liquid Salicylic Acid Exfoliant
My holy grail skincare product. This is the product that completely cleared up my skin after suffering with tiny spots all over my forehead for years - and now, five years on, I still use it within my skincare routine every week and would recommend it to anyone and everyone.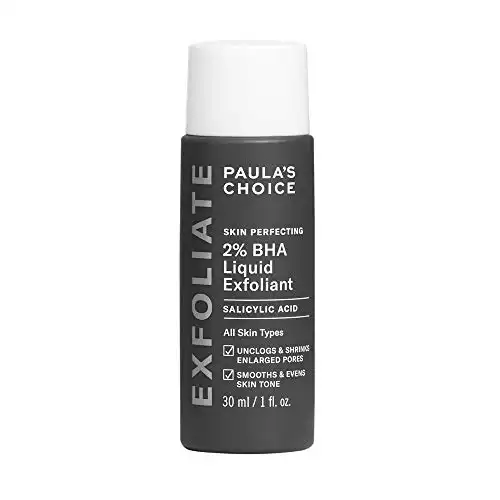 We earn a commission if you make a purchase, at no additional cost to you.
---
From Tiny Bumps on My Forehead To Clear Skin:
Here is a progression of my skin from 2016 to the present. For obvious reasons, I didn't take a whole lot of photos of my skin at this time – but I'm glad I managed the find a few photos to give you an idea of what was going on.
2016: (age 24) oily skin, and a lot of little colourless bumps on my forehead: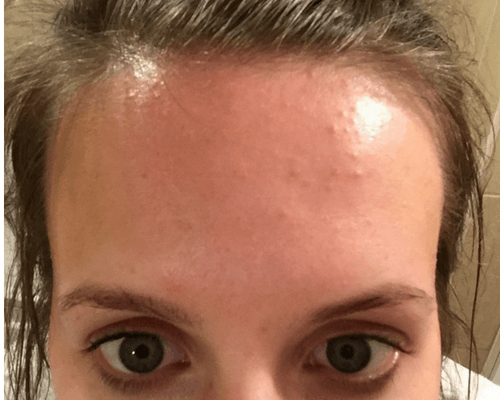 2016 after trying some 'drying' skincare products: less oily, but still a lot of texture and bumps (more than it appears in this photo)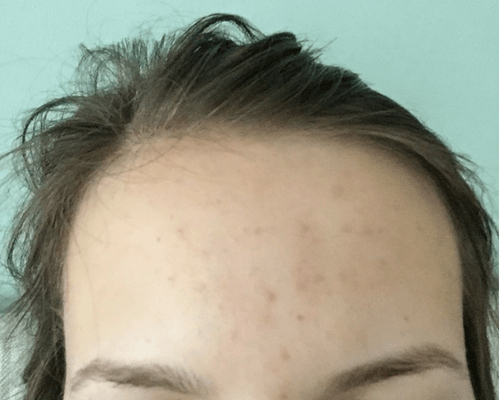 2017 (at this point I'd kind of given up trying to clear them so don't have any better photos): less noticeable, but in certain lights, the bumps were definitely still there and really bothered me.
May 2018: about one month after using my new skincare routine (detailed below), My Skin Is SO MUCH CLEARER!
March 2019: Still using the exact same products, and my skin is the best it's ever been: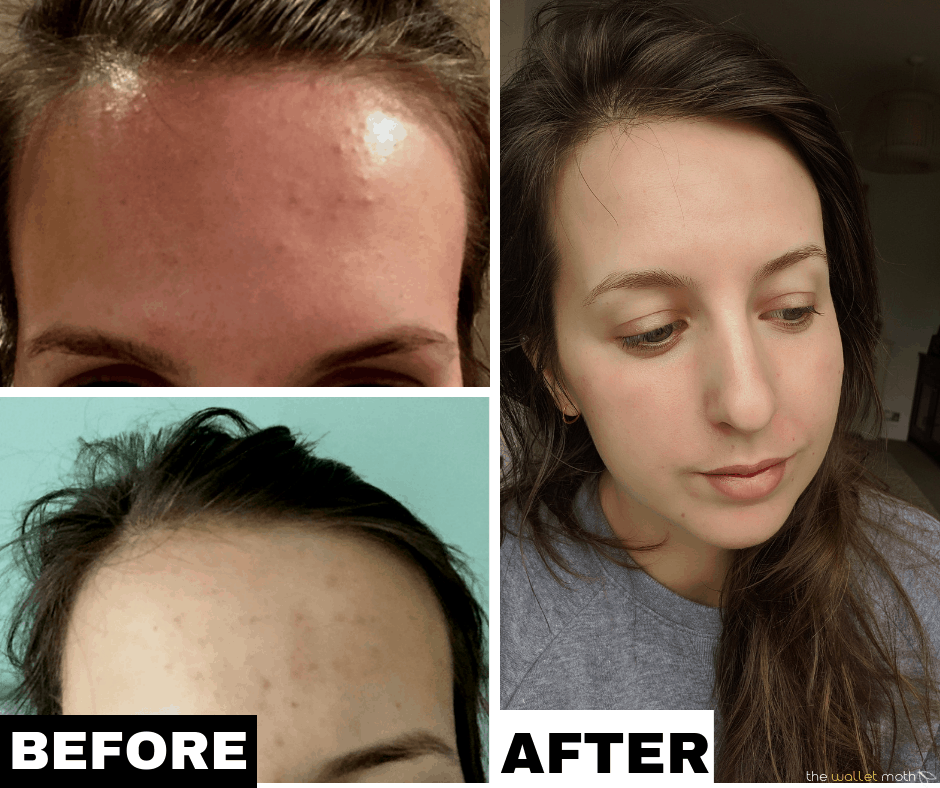 July 2022: clear skin all day, every day (at age 30!)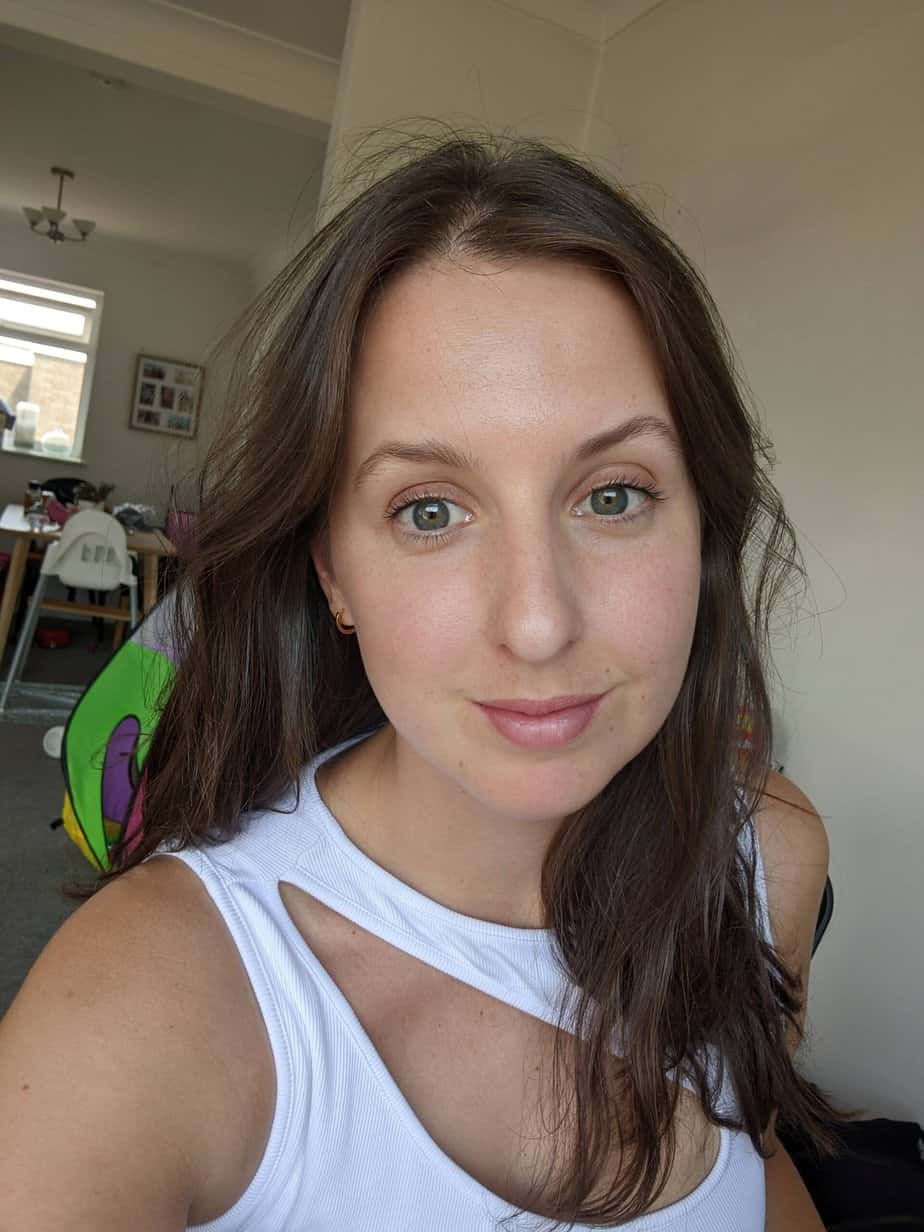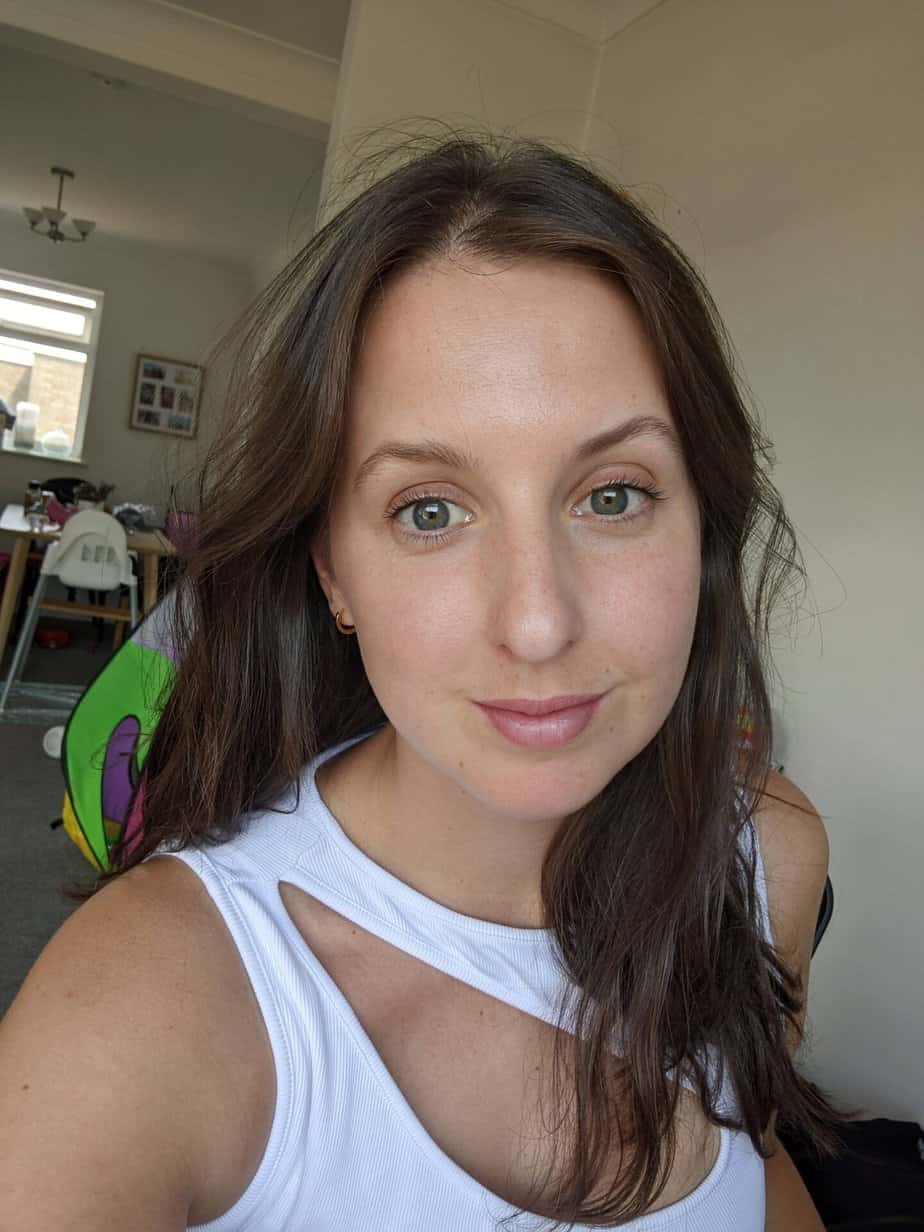 Now, my skin is completely clear, feels soft, smooth and hydrated, and forehead acne is truly a worry of the past. The texture on my forehead has disappeared, and my skin has never felt so good. The oiliness on my forehead is gone, and most importantly, I have my confidence back.
When I was dealing with all of this, I scoured the internet for solutions, devouring 5-year-old forum threads from people with the exact same tiny bumps on their forehead as me but no one had any real, solid solution.
How to get rid of forehead acne seemed like a question that had no real answer.
Now that I've found something that really worked for me, I have to share it. It might not work for everybody, but if this post can help out a few people who were in the same situation as me last year then I'll be happy.
Here's what I did to clear the small bumps on my forehead:
Phase #1: I invested in quality skin care products
For Christmas, my sister gave me a set of high-quality, vegan skincare products from Pai Skincare. (Note, these products aren't cheap, but sometimes you have to pay for the things that really work).
She got me:
Pai Skincare Camellia & Rose Hydrating Cleanser with Cloth
Pai Skincare Rosehip BioRegenerate Oil
and I then bought the Pai Skincare Avocado & Jojoba Hydrating Day Cream and this 2% Salicylic Acid from Paula's Choice (more on this below).
If you can't afford all of these in one go, get the cleanser first, and then the rosehip oil.
These products are hands-down amazing (not sponsored in any way – I just really love these products).
Pai Skincare is cruelty-free, vegan, and made with the highest quality organic ingredients. They never test on animals, use only sustainable plant ingredients and choose recyclable or biodegradable packaging wherever possible. All this, plus the products speak for themselves.
The cleanser smells amazing and leaves my skin feeling so clean, refreshed and soft with every use (I use it morning and night).
The rosehip oil requires only 2 – 3 drops each evening so will last forever, and again, smells absolutely divine and feels even better. It leaves my skin super soft and hydrated in the morning, but never leaves my skin (especially my forehead feeling oily).
After using Pai Skincare for a few months, the difference was already insane. My skin texture was so much more even, the oiliness had all but disappeared from my forehead, and my face felt so soft.
However, the tiny bumps on my forehead were still there to some degree – just a lot less noticeable.
It was at the point where everyone I talked to about them would say they were barely noticeable, but I knew they were there and my confidence was still failing because of it…
Phase #2: the actual gamechanger
I spent more time online searching for things on Google like:
'why do I have tiny bumps on my forehead'
'how to get rid of the small bumps on forehead'
and on and on… I know some of you will resonate with this.
Eventually, I stumbled across a random thread on Reddit (yup, I was in deep) where one or two users mentioned Paula's Choice BHA.
After reading several more threads and reviews, I'd made up my mind and ordered myself a bottle of the Paula's Choice Skin Perfecting 2% BHA Liquid Salicylic Acid Exfoliant (Check the Paula's Choice Range on Amazon too).
Now, this stuff is not cheap. Like, $29 for 4oz not cheap.
But damn you guys, this stuff is miracle water. It works. Like, it really works.
The threads I read had people saying that after a few days, the bumps on their forehead had totally cleared up. I was sceptical – I'd already been disappointed by those other drying creams, after all.
However, within just a few days of applying my Paula's Choice BHA Exfoliant morning and night, the bumps were almost gone.
Once the bumps were almost gone, I started using the BHA only at night, applying a Pai day cream in the mornings to avoid my skin getting too dried out.
Now that my skin has been clear for several years, I use my Paula's Choice BHA maybe 3 – 4 times a week at night, and those tiny bumps on my forehead make no reappearance, even if I forget to use the product for a few days.
If you are suffering from tiny bumps on your forehead and have been trying to get rid of acne for a long time now, I urge you to spend the money and buy this product. I had just about reached the end of my tether and accepted having bad skin texture for life, and Paula's Choice BHA really changed the game.
You might also like: 15 best affordable skincare products

Reader comments!
Since publishing this post almost two years ago, I've received an overwhelming number of wonderful emails from people who have read this post, trusted me enough to try out my recommendations, and had the same amazing results. I just wanted to share a few of the messages I've had here: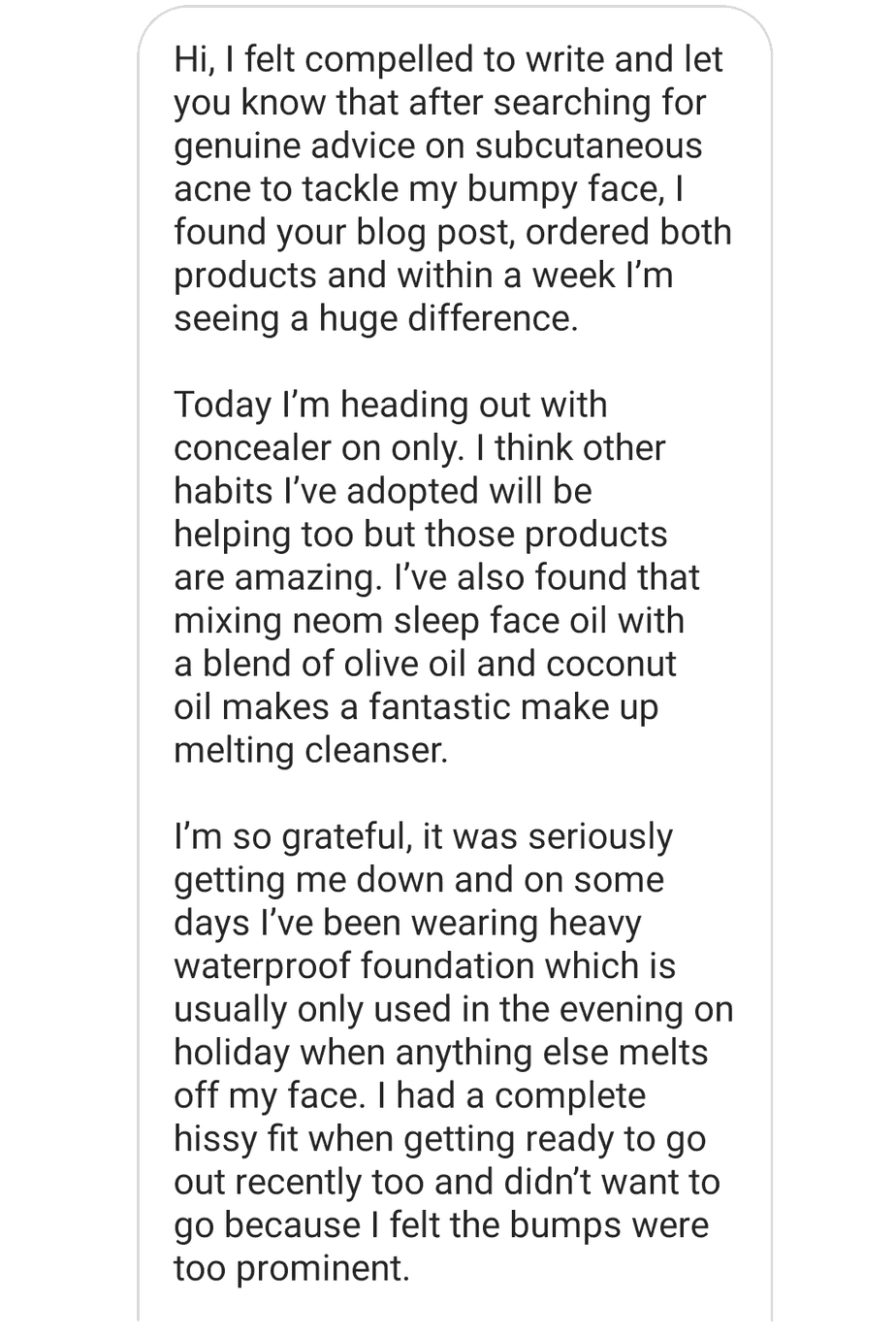 My Current Step-By-Step Skincare Routine:
This is my current skincare routine, step-by-step:
Morning:
Step 1) Wash hands!
Step 2) Apply cleanser
Step 3) Pat face dry
Step 4) Apply serum, moisturiser, and SPF.
P.S. If my skin is breaking out, I'll use the BHA Exfoliant in the morning too, before applying my day cream and SPF. Once my skin is under control, I switch back to using it only at night!
Evening
Step 1) Wash hands!
Step 2) Cleanser skin
Step 3) Double cleanse if I've been wearing make-up.
Step 4) Put some Paula's Choice 2% BHA on a cotton pad, and apply to my 'problem' areas i.e. my forehead and sometimes the tops of my cheeks. If I put it anywhere else, my skin does dry out quite a lot. Nowadays, I do this step every 2 days or so.
Step 5) Apply my moisturiser and occasionally a face oil.


The Price Of Clear Skin
Since I talk about living frugally a lot on this website, I feel that it's only fair that I share some of my thoughts on the costs of these products.
If you've clicked on any of the links above, you'll know that these skincare products aren't cheap.
Initially, my frugal tendencies felt at an enormous conflict with the price of these products, but I started to realise that I was far happier spending my money on:
Products that work
Something that genuinely makes me feel happier about myself
High-quality products with values that reflect my own
When I buy Pai skincare products, I know I'm choosing a brand that's vegan, cruelty-free, and that has values that align perfectly with my own. When I buy Paula's Choice BHA, I know I'm investing in a product that 100% works for my skin like nothing else ever has.
I'm happy to spend more for what I get back in return.
I can't tell you whether or not you should spend your money on these products – I just know that being able to stop researching and endlessly searching for something to clear up my skin is a huge weight off my own shoulders, so it might be for you, too.
Other things that helped:
I want to be really honest in this post about all the changes I made around the time that my skin really cleared up. While I have zero doubts that the BHA exfoliant made the most dramatic difference in my skin texture, the below things may have been a factor too.
Double Cleansing
I read on several forums about the benefits of double cleansing for your skin.
Double cleansing is basically where you cleanse your skin once to rid it of makeup, oil and debris from the day, and then you cleanse it again immediately after to clean the skin itself.
You are only recommended to do this in the evenings before bed so you don't dry your skin out.
I started doing this around February, and while I don't follow this step in my skincare routine every night, I always make sure to double cleanse if I've been wearing makeup during the day. I sometimes use a toner to make sure all the makeup is off my skin as well.


Coming Off the Contraceptive Pill
While Birth Control does seem to be more commonly recommended to improve acne, I did stop taking the contraceptive pill at a similar time to when I started using Pai Skincare. Due to the inevitable changes in hormones this would have caused, I have to consider that it may have been a factor in the changes in my skin.
However, as I did not suffer any problems with my skin before taking birth control or for the majority of the time I was on it, I feel it is safe to say that this is not a real factor here.


Changing to a Plant-Based Diet
In October 2017 I switched over to a vegetarian diet, and since the beginning of 2018, I have eaten a plant-based diet about 95% of the time (the odd chocolate bar and dessert is the last 5% I'm still yet to tackle).
There are a few arguments that suggest that the hormones we consume through dairy, in particular, can play havoc with our skin, causing flare-ups in hormonal acne and breakouts.
While I do feel so much healthier on this diet, I don't think I would definitely attribute a cause-and-effect to my skin clearing up. A contributing factor perhaps, and definitely something to consider if you suffer from skin problems and consume a lot of dairy.
I am so much happier with my skin these days, and it is such a relief to have a solution that I really wanted to share it online and help anyone else who is suffering from the same problem.
You might also like:
How I completely decluttered my skincare routine to save money and really find what works for me.
Do I still use the same products to treat the bumps on my forehead?
At the time of updating (2022), the products I use are slightly different than what I used to fully clear the bumps on my forehead. I use a CeraVe moisturiser which is a lot cheaper than the Pai one but still has great ingredients, fantastic reviews, and is overall a brilliant everyday moisturiser. I switch between the Pai cleanser and the CeraVe hydrating one.
I started using SPF (first Purito Centella Unscented and now, La Roche-Posay – and I can't believe I was travelling around Asia in 2017 not wearing SPF on my face every day!!). The only product that has remained a consistent investment for me is the Paula's Choice 2% Liquid Exfoliant. It is the one thing that completely dealt with the small bumps on my forehead, and has kept them at bay ever since. I am truly a loyal user of this product and will never stop harping on about how amazing it is!