We may earn money or products from the companies mentioned in this post, and as an Amazon Associate I earn from qualifying purchases. Please see my full disclosure for more information.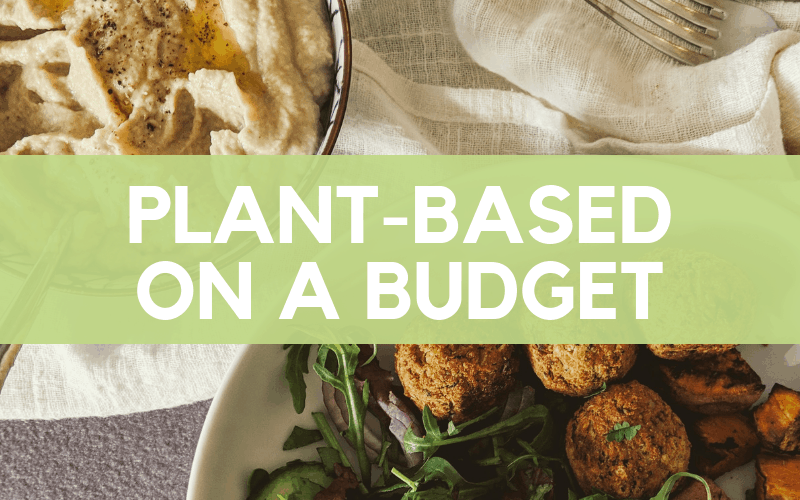 This post has everything you need to get started on eating a plant-based diet – and making it totally delicious.
Eating a plant-based diet is an increasingly popular movement, with 2022 delivering more options in stores, restaurants, and recipes than ever, With such popularity, it's no surprise that with it comes the introduction of more and more vegan-friendly foods in the supermarkets. However, when you're trying to be plant-based on a budget, buying the latest mock meats and vegan ready-meals definitely isn't the cheapest way to do your grocery shopping.
However, eating a plant-based diet on a budget is easy if you do the planning and make the right habits. In fact, a study from Oxford University revealed that vegan and vegetarian diets are considerably cheaper than ones that include meat.
Below, we've included our top tips for being plant-based on a budget, as well as a plant-based diet grocery list, a basic 5-day vegan meal plan based on what By The Forkful founder, Yaz Purnell, eats on a typical week, and some of our favourite cheap vegan recipes that you can easily re-create with staples from your fridge and pantry.

Scroll straight to:
Pssst..! While you're here, make sure you've unlocked your free access to The Wallet Moth Freebie Library, which is absolutely full resources all designed to help you start building a life that works for you, including free cheap & healthy meal planners, printables, a minimalist declutter checklist, and so much more!
Plant-Based On A Budget: Your Ultimate Guide
Yasmin Purnell says "when I adopted a plant-based diet, I had already been very much into the 'clean eating' movement for years, so cooking with whole foods and a vast range of fruits and vegetables was already second nature to me (this is much more budget-friendly than eating take out and ready meals every night, too).
However, when you're eating a plant-based diet, you may need to think about things more if you haven't typically eaten this way before."
Are you a college student? Take a look at this ultimate basic grocery list for students on a budget.
A few key tips for eating plant-based on a budget:
1) Stay Away From Ready Meals
As veganism gains momentum, more vegan ready-meals are being introduced into supermarkets. From curries and pizzas to dirty fries (I'm looking at you Marks & Spencer!), there are so many convenient options that suit a plant-based diet.
However, straying to this kind of food for the majority of your meals is a sure-fire way to rapidly drain your bank balance. Ready-meals are a single-use item that is usually priced far higher than the same meal cooked from scratch would cost, but vegan meals are especially expensive considering:
a) They're entirely plants aka not expensive!
b) Popularity = a higher price.
Try to treat ready meals the same as you would a takeout or a meal out: as a treat, but not something to be relied upon.


2) Eat 'Mock' Foods Sparingly
One of the most exciting things about eating a plant-based diet these days is that almost anything can be vegan-ized. You can get a vegan cheese and pesto toastie, a double-decker cheeseburger, and so much more – and it tastes amazing!
From fake meats to cheeses (that actually melt), mock foods are more accessible than ever, and finally, don't taste like cardboard!
However, if you're trying to eat a plant-based diet on a budget, these exciting new products can also be your downfall. We're not saying to avoid these items entirely. If you enjoy the taste and they make transitioning to being completely plant-based easier, then more power to you.
Being plant-based on a budget does mean limiting the number of mock foods you have in your diet. Again, don't rely on these items for your every meal – a little treat here and there is great, but any more and that, you'll soon see the impact on your bank balance.


3) Shop For Your Fruits & Veggies Seasonally
Seasonal shopping is absolutely key to being plant-based on a budget. Not only is it cheaper, but by shopping seasonally, you're having a smaller impact on the environment.
Shopping seasonally means buying your fruits and veggies according to the season that they grow in, which means you're more likely to be buying plants grown locally to you rather than flown halfway across the world to your supermarket. Less transportation time means lower costs.
Check out this seasonability table to give you a better idea of what is best to buy and when.


4) Buy Your Pantry Goods In Bulk
As a vegan on a budget, you'll quickly learn how much more cost-effective it is to buy your pantry staples (those items that you're eating week-in, week-out) in bulk.
Most plant-based diets rely on pantry staples such as:
Grains e.g. rice, quinoa, bulgar wheat, couscous
Legumes e.g. chickpeas, black beans, pinto beans, lentils (excellent sources of protein!)
Nuts e.g. almonds, walnuts, cashew nuts (an absolute must for cheesy plant-based sauces)
Tofu, tempeh, seitan (these live in the fridge, but will often last up to two weeks)
These items have long shelf lives and are often available as bulk items for a significant discount. I love buying these staples in bulk and transferring them to big glass jars that are easier to cook with and look a lot less cluttered than the original packaging!
5) Focus On Fresh, Whole Foods
The key to eating a plant-based diet on a budget is to make the bulk of your diet fresh, whole foods such as fruits and vegetables.
When you tie this idea into the tips listed above, you'll be eating inexpensive seasonable produce that can then be supplemented with your pantry staples.
Moving away from a diet that's focused on meat can be difficult at first, not necessarily because you miss the meat, but because it's hard to move away from a diet that has three elements: meat, carb, veg, and adopt an approach that consists only of vegan-friendly ingredients, but with a mix of all your nutrients and macros together.


Eating Plant-Based On A Budget: Top Cheap Vegan Recipes
Below is a list of some of our absolute favourite cheap vegan recipes to make over and over again – give these amazing food bloggers some love!
You might also be interested in 120+ Vegan Meal Prep Ideas That Take 30 Minutes Or Less.
1. Sri Lankan Dhal Curry – My Sri Lankan Recipe
2. Vegan Meatballs with Gravy – Ela Vegan
3. Lentil Mushroom Stew over Mash – Minimalist Baker
4. Vegan Jackfruit Gyros – Lazy Cat Kitchen

5. Loaded Mexican-Style Sweet Potatoes – Deliciously Ella
6. Chickpea Curry (Punjabi Chole) – Cooking with Manali
7. Baked Tofu Nuggets – By The Forkful
8. Black Bean Burgers – The Spruce Eats
9. Pinto Bean Tacos – Cookie And Kate
10. Red Lentil Chili – The Stingy Vegan
11. Everyday Lentil Soup – Nora Cooks
12. One-Post Red Pepper Pasta – Budget Bytes
13. Red Lentil Bolognese – By The Forkful
14. Loaded Sweet Potato – Kara Lyndon
15. Falafel Burgers – Vegan Richa


Vegan Meal Plan For A Plant-Based Diet On A Budget
To put these tips into perspective, we've provided a 5-day vegan meal plan below that is perfect for eating a plant-based diet on a budget. These meals could be eaten almost every week, and focus on whole foods that not only make your body feel great but are also extremely low-cost.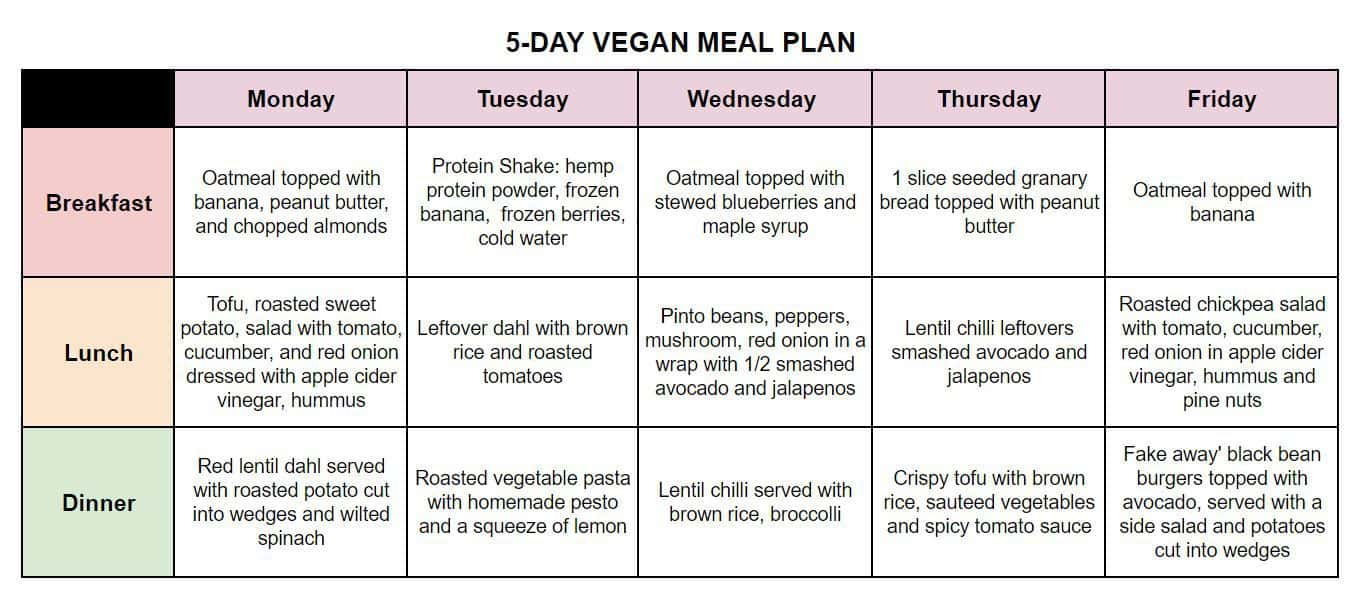 While you're here, make sure you've signed up to our freebie library to access your free weekly meal prep plan and shopping list.


Plant-Based Diet Grocery List: What You Need As A Vegan On A Budget
In order to do the vegan meal plan above, you would need this grocery list:
Pantry:
Oats (rolled or steel cut are best)
Almonds
Hemp protein powder (pea protein is also good)
Seeded bread
Peanut butter
Sweet potato
Apple cider vinegar
Red lentils
Potato
Wholewheat pasta
Brown rice
Pinto beans
Chickpeas
Black beans
Pine nuts (also used in the home-made pesto)
Fruit & Vegetables:
Banana
Tomatoes
Cucumber
Red onion
Salad leaves
Blueberries
Basil (for the home-made pesto)
Lemon
Avocado
Jalapenos
Broccoli
Fridge:
Tofu
Hummus (you could make fresh with your chickpeas)
The great thing is that once you've got your pantry items, you can cross those off your checklist for next month or so (providing you've bought in bulk!), instantly reducing your shopping list by a third!
You're then left with essentially fruit and vegetables, which are almost all extremely low cost.
We'd recommend writing out your plant-based grocery list on a budget every week, and plan out your meals as best you can (even if it's a rough idea of what you'll cook on what day).
It's far easier to stick to a vegan grocery list on a budget when you've put in the time to plan and prep what you're going to be cooking, otherwise, you might end up with a bunch of ingredients but no clear meals!


Plant-Based On A Budget: Other Things To Know
Before we give you our favourite plant-based recipes which are super budget-friendly, here are a few more things that are useful to know when you're trying to be a frugal vegan on a budget:
Cook In Bulk
If you find a recipe you absolutely love, you'll never get bored of eating it – and cooking in bulk will also mean there's less chance of you buying too many ingredients and not getting a chance to cook them before their expiry date.
This entire guide to meal prep will come in handy here.


Dried Is Cheaper Than Canned, But More Time Consuming
In the ideal world, you'd buy all your legumes dried for the most cost-effective way of sticking to your plant-based diet. However, dried legumes (such as chickpeas and black beans) require long soaking times before you can even start cooking them – which then takes another hour or more.
If you have the time, this is the most budget-friendly option – but the tinned version is not much more expensive, and is far more convenient.


Variety Is Essential
Yasmin Purnell says, "I'm not a nutritionist, and I'd never want anyone to take what I say about food as gospel truth because I'm sure there are plenty of people out there with more experience and knowledge than me on nutrition.
However, when people hear I eat a plant-based diet, one of their top concerns for me (eye-roll) is where I'm getting my protein and other vitamins from.
I've learned that variety is the most essential part of my diet. I eat plenty of different protein sources (from legumes to protein powder to tofu), a huge range of fruits and vegetables that I change depending on the season, and have been eating for performance for long enough that I can keep a fairly accurate mental tally of my macros in my head.
My one piece of advice would be to mix up your meals and make sure you're eating lots of different ingredients: don't take your plant-based diet on a budget so far as to be sacrificing your health to save money."


Other Super Quick Cheap Vegan Recipes:
Below are super cheap vegan recipes that are pretty much staples of any plant-based diet on a budget, but they're so simple they don't even need a recipe!
Oatmeal cooked with almond milk or water (almond milk makes it creamier), topped with half a banana, a sprinkle of cinnamon, and a spoon of peanut butter (go for a natural brand such as Whole Earth which has no added salt or sugar and is palm oil free).
Veggie wraps: Sauté peppers, mushrooms and red onion with paprika, cumin, and garlic powder. Add a protein such as pinto or black beans, baked tofu, or sautéed tempeh. Warm up a tortilla wrap for 10 seconds and add your filling, topped with a little hummus or guacamole, lettuce, and jalapenos. Wrap up and serve – my favourite, super cheap lunch!
Babaganoush: Poke a few holes into an aubergine and roast it whole for 45mins – 1hr. Scoop the flesh out and blend with tahini, garlic, lots of lemon juice, salt, pepper, cumin, and a drizzle of olive oil. Serve with falafel, as a topping for your salads, whatever you fancy!
Pesto pasta: Blend a handful of basil with toasted pine nuts, garlic, lemon juice, s&p, a dash of water and a dash of olive oil, then stir into cooked pasta and add any roasted veg/other toppings of your choice.
Your turn: how do you eat plant-based on a budget? Have we missed any essential tips that you rely on? Let us know in the comments!