We may earn money or products from the companies mentioned in this post, and as an Amazon Associate I earn from qualifying purchases. Please see my full disclosure for more information.
This post will show you how to make a chunky knit blanket, where to buy chunky wool, and other chunky knit ideas!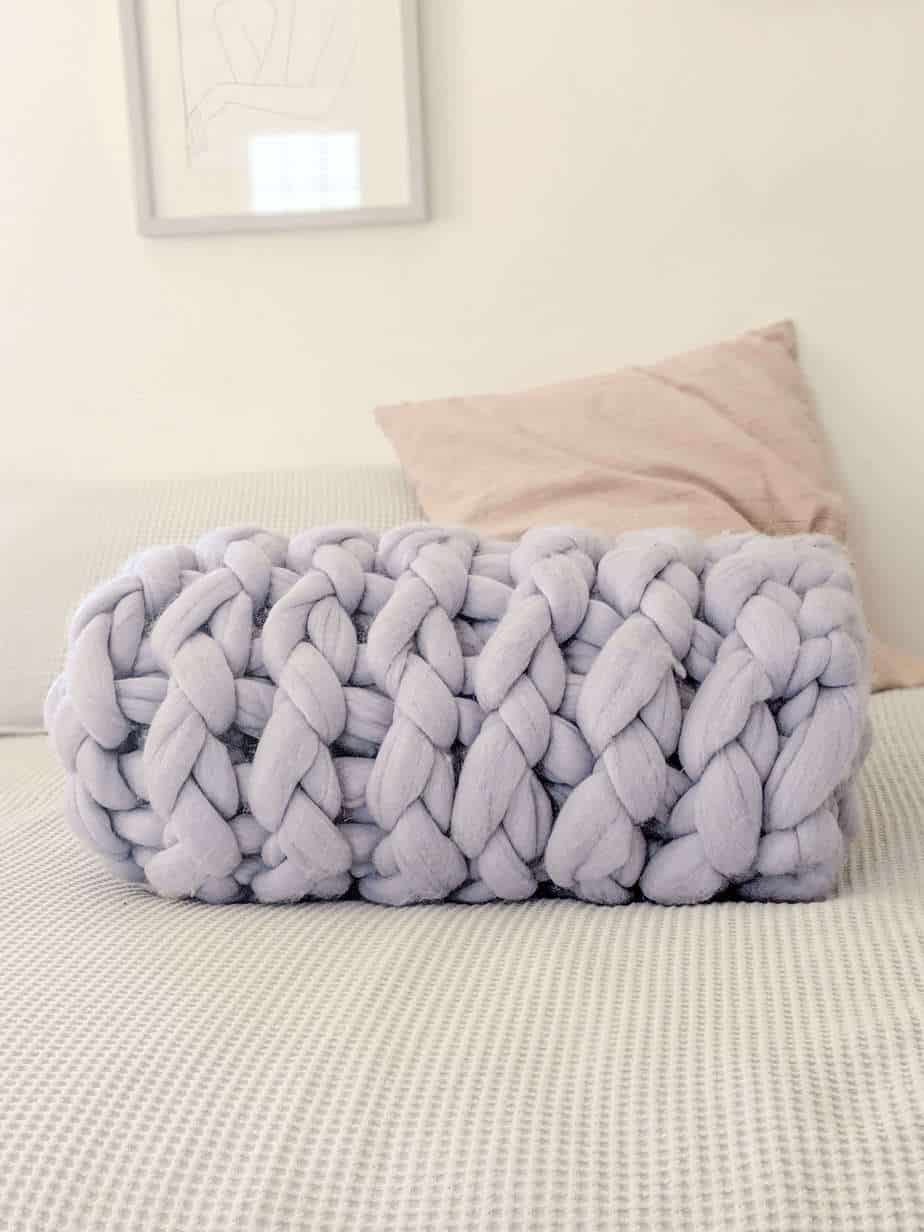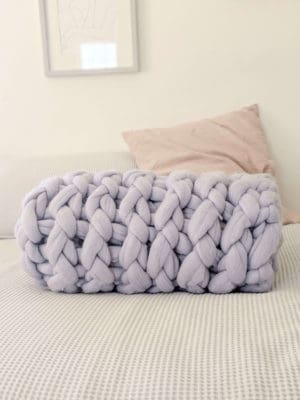 This may be the most beautiful thing I've ever created.
When I was at University, I decided to learn how to knit (yeah, I've always been this cool?). I started with a 'fingerless glove' although, looking back, it was more of a misshapen construction that I crammed onto my hand and called a glove…
I soon progressed to hats (so. many. hats.) and then onto a chunky blue scarf that I still love to this day.
There's something very soothing about knitting.
It's seen as an old-fashioned hobby (which is probably why I love it #hipsterlife), and although I am often met with impressed faces when people find out I can knit – it's a skill that's unfortunately been lost!
Read: 20 Inexpensive Hobbies You Could Start From Scratch Today
I find that for me, I need something to literally tie my hands out to force me to slow down and take a break.
When you love what you do – and I love working on my websites – it's hard to switch off, and I often find myself working long into the evenings.
Knitting is one of the few things that forces me to turn off completely. I'll sit in front of the TV with my big ball of yarn and my knitting needles but I'll be so absorbed in what I'm making that I barely look at the screen! (You can also definitely knit without watching TV at all!)
That was definitely the case when I made this super chunky knit blanket a few years ago.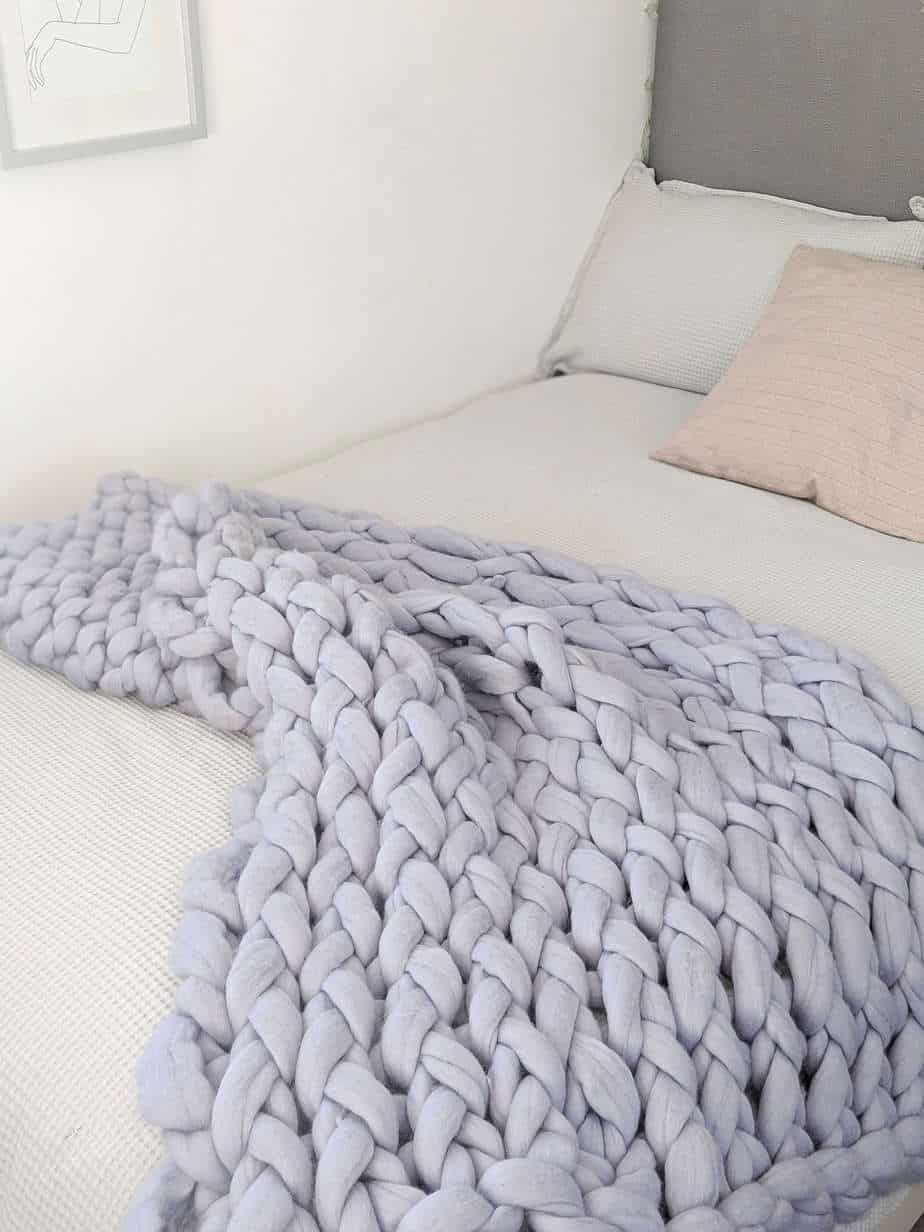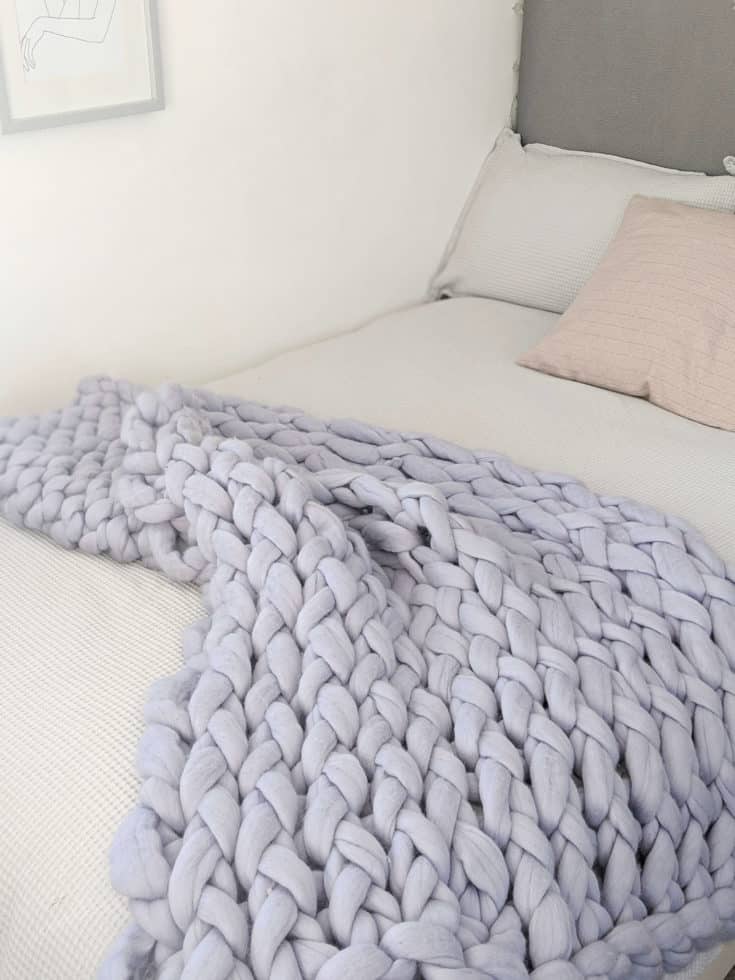 I actually arm-knitted it as a gift for my mum for Christmas. I love being able to give thoughtful, handmade gifts for Christmas and birthdays, and it really meant the world to my mum that I had made this gorgeous (if I do say so myself) blanket from scratch.
Reasons To Make A Chunky Knit Blanket:
As a Christmas or Birthday gift
OK – as any kind of gift
You're cold
You want to seriously elevate your interior design game
You want to learn how to knit
You're bored
You've got a huge ball of chunky yarn laying around!
I've only made one of these blankets so far (the yarn is such great quality and you need it in high quantities so it's not exactly cheap). I definitely plan to make more as special gifts to my family and friends, and maybe one day I'll get around to making one for myself!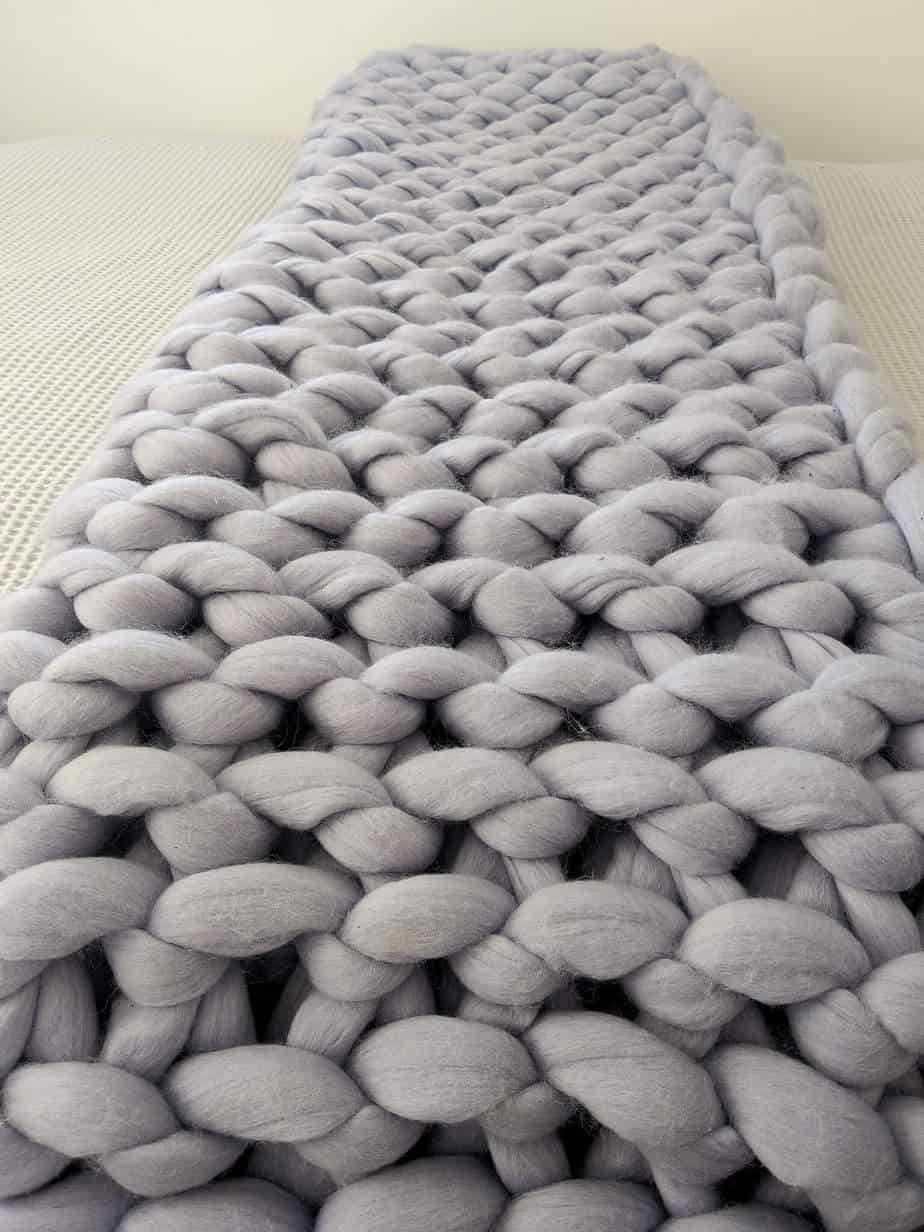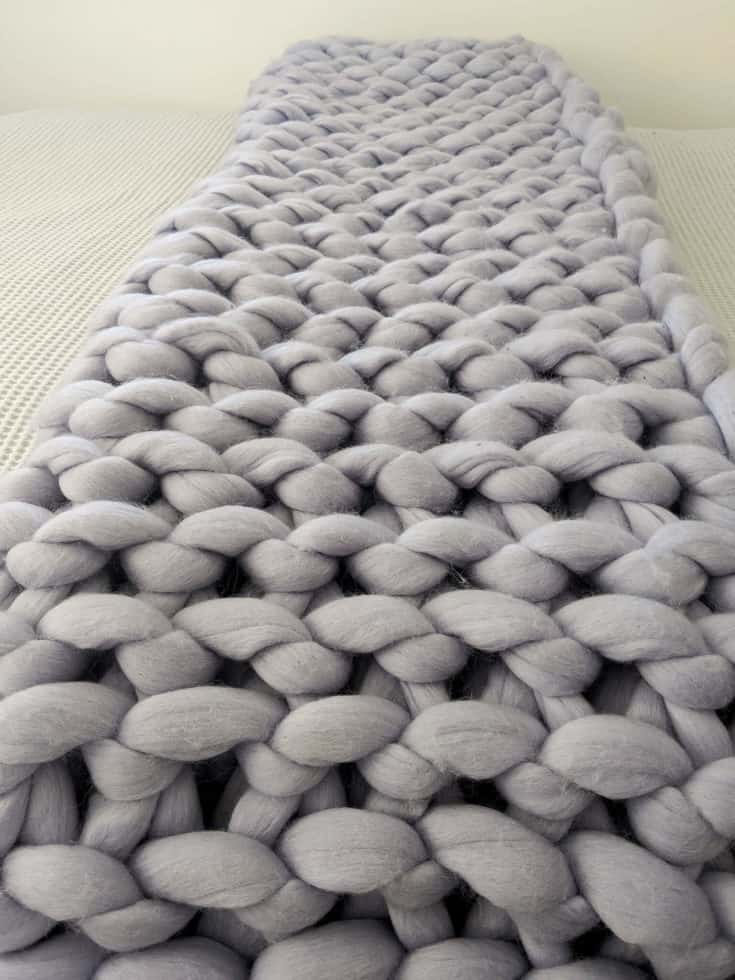 How To Make A Chunky Knit Blanket
Making a chunky knit blanket with this big a knit requires arm-knitting, so don't worry – you don't need to invest in ginormous needles.
Arm-knitting is where you knit with your arms acting as your knitting needles, resulting in a huge chunky knit perfect for this thick, soft yarn that is used.
If you don't know how to knit, getting a basic understanding first might be a good idea. Arm knitting is so easy that I think anyone can learn!
I tried to start typing out how I knitted this blanket, but since I didn't take any photos while actually making it, things got really confusing really fast.
Essentially, your arms become your knitting needles. You cast on your stitches on your arms, and the chunky wool makes it easy to start knitting with your hands. If you're a complete beginner to knitting in general, you might need to look into this a little more.
Below, I continue with the wool I used, how much, and where to get it.
Where To Get Wool For Your Chunky Knit Blanket
I got my super chunky yarn from a merchant called mycosyLondon on Etsy. I ended up buying 3kg of wool, which cost me close to $160 (£120) because I first ordered 1kg, and only then realised that I would need much, much more.
So, I was kind of stupid and missed out on getting a much better deal than I would have got if I made the larger order of 3kg in the first place.
For an even bigger blanket, obviously, you'll need more yarn.
A chunky knit blanket is priced at around $250 (£190) on Etsy, so you'll be saving money buying the yarn.
This may sound extremely expensive for a DIY blanket project and yeah, it is if you normally buy cheap.
Let me tell you though: you have not felt a soft blanket until you feel this blanket. It's like you're being wrapped in a warm, cosy cloud.
This kind of yarn is high-quality, super soft, and dyed in beautiful colours. If you're paying a low price for your yarn, you're going to feel that in the quality.
That's why these blankets are very special projects, otherwise, everyone would be making one!
If you're based in the US, here are some options for buying chunky yarn I found:
Wool Couture Company or Sheps Wool Giant Yarn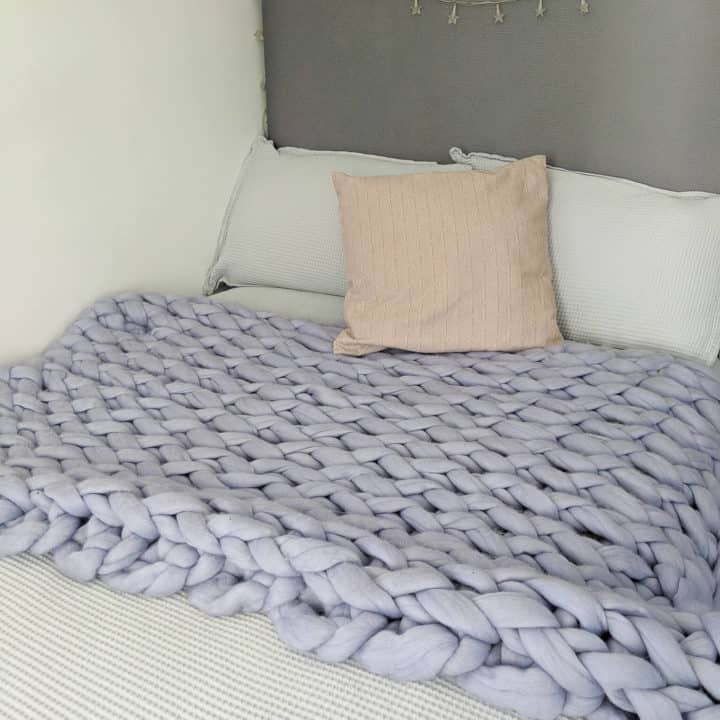 I hope this post has helped you learn how to make a chunky knit blanket of your own. Do send me your photos of your own knitting projects, I'd love to see them!