We may earn money or products from the companies mentioned in this post, and as an Amazon Associate I earn from qualifying purchases. Please see my full disclosure for more information.
This guide features over 50 no spend weekend activities. For fun things to do on the weekend without blowing your budget, these ideas should spark some inspiration!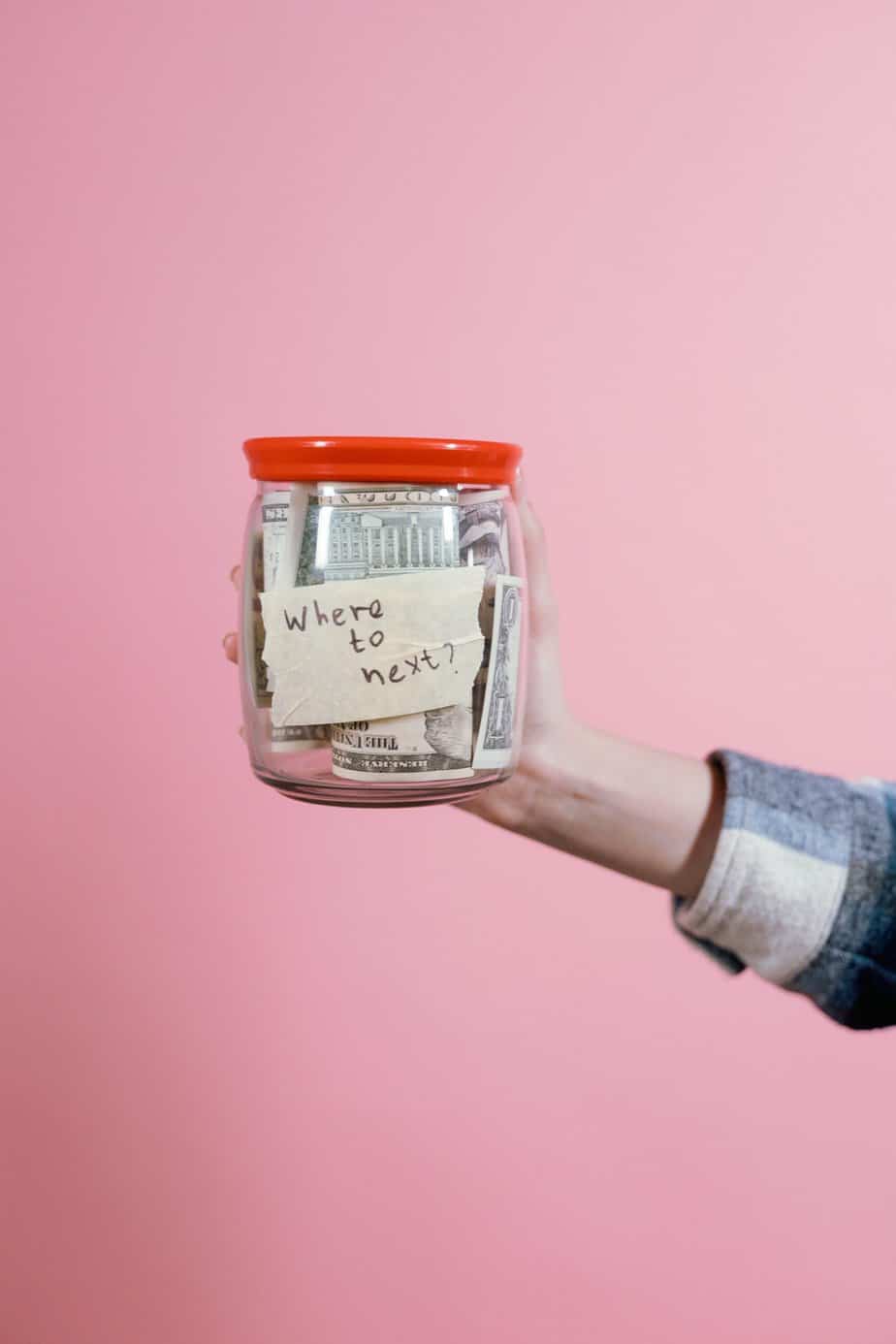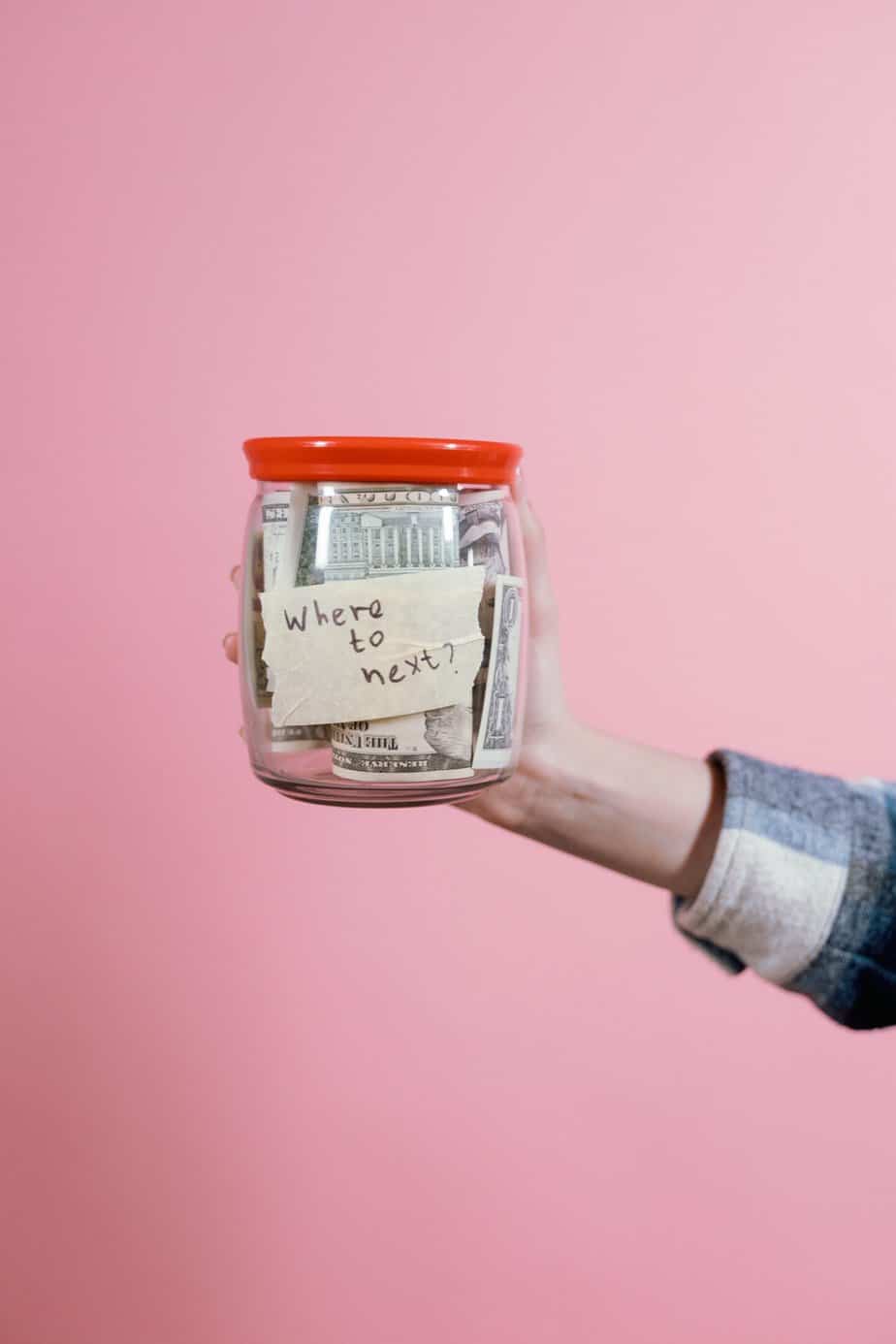 What is a no spend weekend?
A no spend weekend means spending no money at all for the entirety of the weekend. It's a popular challenge for people on a strict budget looking to save more money in a set period of time. Of course, spending no money at all is sometimes impossible, but the ideas listed below will show you that you can still have a fun weekend on a very tight budget.
Is a No Spend Weekend a good idea?
When it comes to saving money, finding free activities that are fun, interesting, and actually worth spending your time on are the holy grail. Especially when you're bored and looking for things to do. Or at least, they were until this post!
Many people find themselves sticking perfectly to budget throughout the week, but when the weekend begins, all hell breaks loose. Meals out, takeaways, trips to the mall, movies…sound familiar?
It's a cycle that's hard to break.
You may already stay frugal in your daily life by sticking to habits that you've created, like doing all your online shopping through eBates to earn cashback and keeping on top of your spending with a free app like Plum, but let's admit it, even the best of habits can be broken at times – at the weekends can be a minefield for distractions!
If you find your budget consistently going out the window at the weekends, you may want to consider a "No Spend Weekend" to reign in your spending and actually start saving more money.
How to get started with a no spend weekend:
Aim for one No-Spend Weekend this month: Plan a weekend packed with the free activities listed below. If you enjoy it, try for two low-cost weekends next month. Soon, it will become a habit – and with no loss to the fun you have at the weekends either.
Select activities that suit your lifestyle: A no spend weekend is going to look very different for a single person compared to a family of four. The ideas before cover no spend activities, free things to do, and free places to go for all kinds of circumstances – so make sure you choose activities that are actually realistic for you.
Make it a fun challenge: A huge part of successful budgeting is to be more intentional with your mindset. Make this a fun challenge for everyone involved to help motivate you to stick to your goal. If you view this as a horrible sacrifice, it will feel like one!
It's about finding free, frugal, and fun ways to fill your time without emptying your wallet. Finding things to do when you're bored, but not spending half your budget while you're at it.
Types of no spend weekend activities:
This guide breaks down your no spend weekend ideas into three main categories:
Free things to do inside: If you don't fancy getting out of the house much, this section has plenty of free things to do around your own home.
Free activities outside: Get out and explore the world – all completely for free – in this section.
Creative free activities: Some slightly more unique ideas to express your creativity all without spending a penny.
Another seasonal idea to consider is the free entertainment that may be available in your local area. For example, a popular free summer activity is to attend free community festivals and fairs, or you might find a bar or cafe near you that is hosting a night of free live music.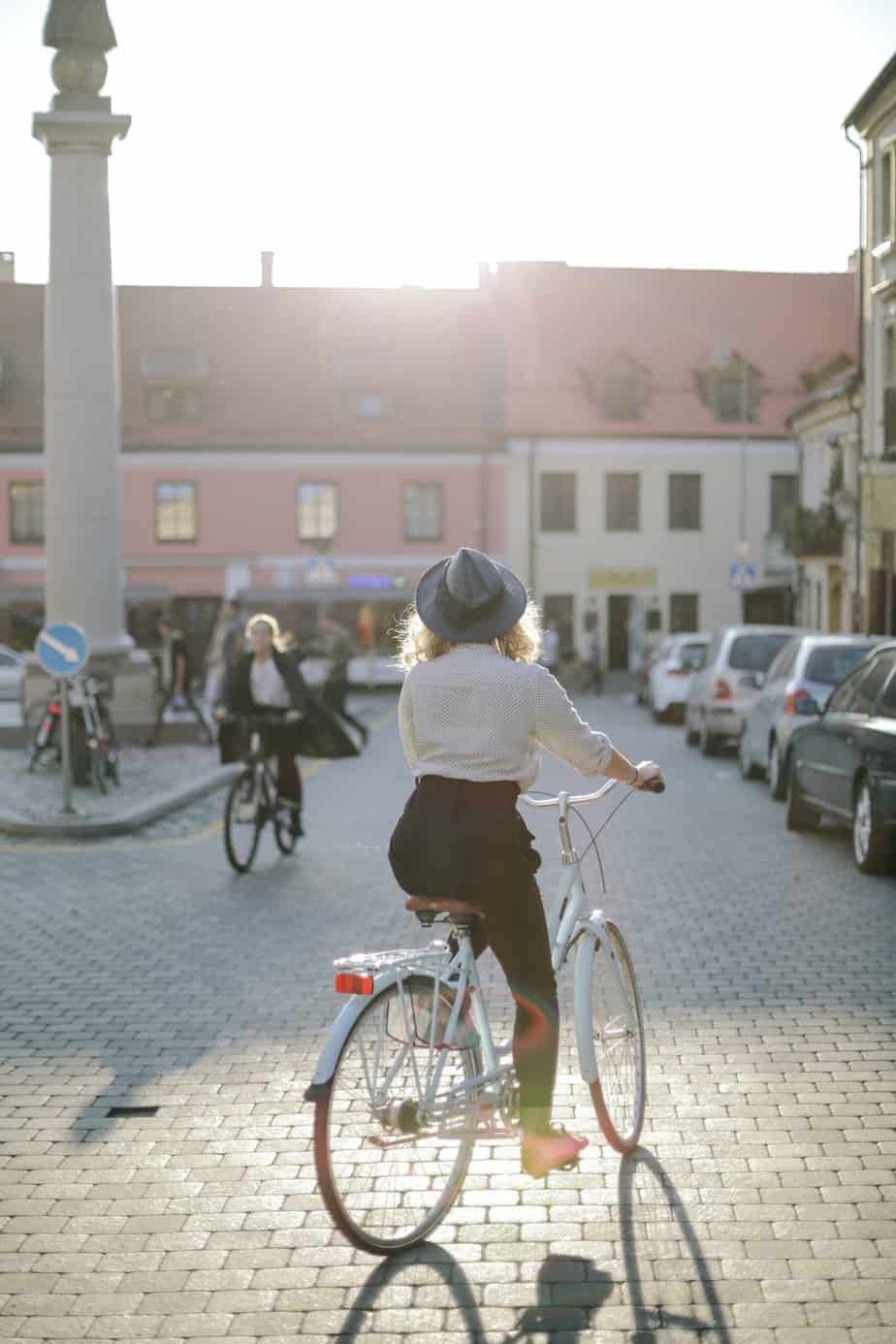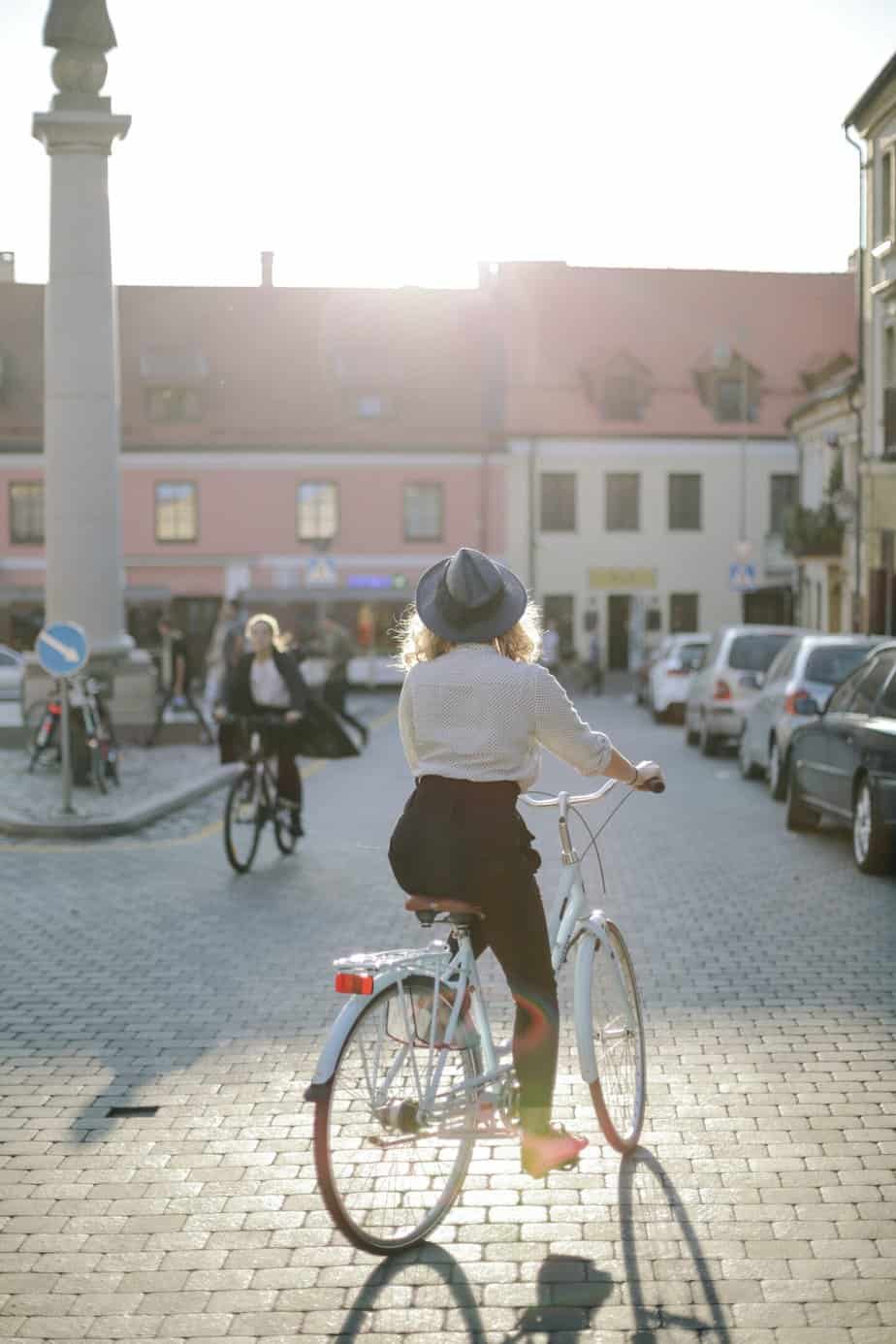 50 Free Activities and things to do for a No Spend Weekend!
free things to do when you're Staying In
Some days, we all just want the comfort of our own homes to enjoy at the weekend. For a no-spend weekend, your house can be your playground.
Whether you're binge-watching TV shows and films (we've all been there – and it's a great day!), or rustling up some goodies out of ingredients you find in your kitchen – check out these free activities for a no-spend weekend in your own home…
Have a movie/Netflix day
Host a board game night – Exploding Kittens, anyone? 😉
Plan out your budget for the month
Hang out with friends
Clear out the clutter in your home
Meditate
Workout – no equipment needed!
Yoga
Read a book
Get your Feng Shui on point
Bake
Declutter your phone (delete unused apps, sort your contacts list out, create folders, etc)
Make lists
Play video games
Tie-dye clothes – check out this awesome tutorial that uses food coloring!
Donate unwanted/needed items
Re-organize your garage
Wash your car
Build a fort!
Paint your nails
Organize your paperwork
Do some gardening
Have a dance party
Listen to a podcast or audiobook
Start writing a journal
Write out some affirmations for your goals
Master a magic trick
Teach your kids a new skill
Relax and take a nap!
Call a friend or leave a voice note
Set out your budget for the next few months and start a new savings challenge!
Read next: 45 Frugal Living Tips To Try in 2022
Free Activities to do outdoors
Even on days of glorious sunshine, a frugal weekend is perfectly possible.
We asked our readers what their favorite no spend, free activities were, and many of you included outdoor activities such as hiking, exploring, and going for picnics as some of your favorite things to do when you're on a tight budget, especially on a nice day!
Related: Why are So Many Outdoorsy People Aiming for Financial Independence?
For your no-spend weekend, take the opportunity to enjoy some fresh air and the great outdoors with any of these low-cost activities:
34. Go for a walk around your neighborhood
35. Hiking
36. Visit some open houses and pretend you're a buyer
37. Visit the library
38. Have a park picnic
39. Volunteer
40. Visit museums
41. Go to the beach
42. Go fishing
43. Take yourself on a bike ride (it helps if you already have a bike!)
44. Have a sightseeing adventure
45. Explore your city
46. Sunbathe
47. Outdoors swimming
48. Find a free music concert
49. Visit your local woods
50. Go star-gazing
51. Go geo-caching
52. Practice tai chi, yoga, or parkour in your local park
53. Take your children to some nostalgic locations of your own childhood
54. Join Rover and take a dog out for a walk
55. Play some lawn games (rounders, bowls, etc)
56. Visit your local playground
57. Practice handstands in the garden
58. Gather up leaves to do imprint artwork
59. Do some exercise outside
60. Clean out your garage or backyard
61. Do some gardening
62. Host a garage sale outside your house
63. Play hide and seek in the woods
64. Go camping (even if it's just in your backyard!) if you have the right equipment already
Read next: 60 Side Hustle Ideas to Start Making Money from Home!
Creative free activities
Many of these projects can be done indoors or outdoors, but are great when you're feeling a little creative. Try your hand at any of these ideas and you may even end up with a new hobby or side hustle!
65. Start a new DIY project
66. Take some online surveys/games and actually earn some money!
67. Start a vegetable garden with seeds from the veg in your fridge
68. Create a blog!
69. Have a pantry-items-only dinner party
70. Practice your photography
71. Write poetry
72. Write a book
73. Sing
74. Practice an instrument
75. Learn a new TikTok dance and film yourself doing it
76. Paint a mural on one of your walls
77. Give your stuffed animals a pamper day
78. Paint some rocks and create a scavenger hunt for the kids in your neighborhood
79. Have a crafting night
80. Do some scrapbooking
Free Printable/Pin Image Here!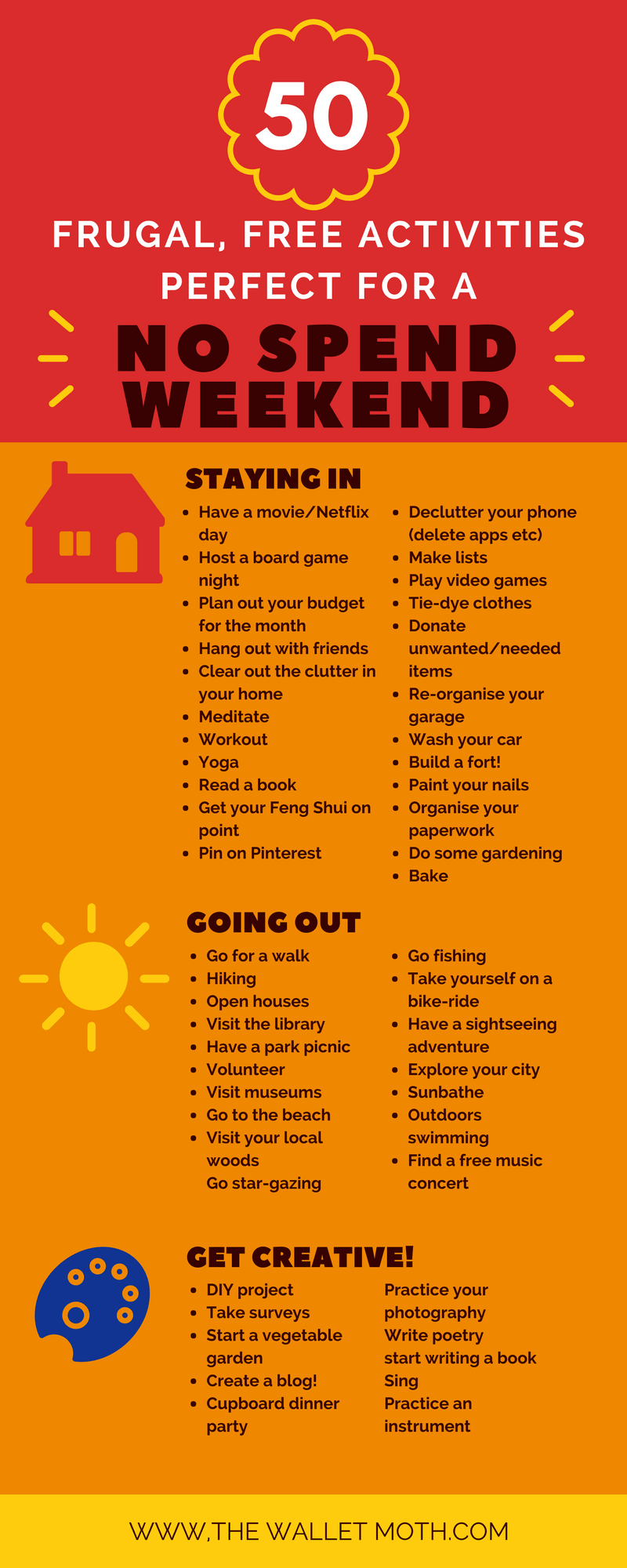 We hope this list has given you some fresh inspiration for no spend weekend ideas when you're in need of fun things to do on the weekend without blowing your budget.
Have you already completed a no spend weekend, or attempted to? Let us know your experiences in the comments below!
The form you have selected does not exist.
---
Have you tried having a no-spend weekend before? Did it work?