We may earn money or products from the companies mentioned in this post, and as an Amazon Associate I earn from qualifying purchases. Please see my full disclosure for more information.
When it comes to saving money, finding free activities that are fun, interesting, and actually worth spending your time on are the holy grail. Especially when you're bored and looking for things to do. Or at least, they were until this post! Today, I've got over 50 free activities packed with things to do when you're bored and looking for something to keep you entertained without blowing your budget.
Many people find themselves sticking perfectly to budget throughout the week, but when the weekend begins, all hell breaks loose. Meals out, trips to the shopping centre, movies…sound familiar?
It's a cycle that's hard to break.
I stay frugal in my daily life by sticking to habits that I've created, like doing all my online shopping through eBates to earn cashback and keeping on top of my spending with a free app like Plum, but let's admit it, even the best of habits can be broken at times – at the weekends can be a minefield for distractions!
If you find your budget consistently going out the window at the weekends, you may want to consider a "No Spend Weekend" to reign in your spending and actually start saving more money.
These are pretty popular challenges with budget bloggers, and I think they're a great way to add some fun to not spending any money.
Aim for one No-Spend Weekend this month, packed with the free activities listed below. If you enjoy it (and with the number of activities I'm about to throw at you, how could you not?!), try for two low-cost weekends next month.
Soon, it will become a habit – and with no loss to the fun you have at the weekends either.
The best thing about these No-Spend challenges is that they don't involve just sitting in your house whiling away the time. Jeez, no thank you.
It's about finding free, frugal and fun ways to fill your time without emptying your wallet. Finding things to do when you're bored, but not spending half your budget while you're at it.
I've thought of 50 – yes 50! – no-spend, free activities to get your brain whirring. If you don't find at least a few on this list that sound like a good time to you, I don't know what to do!
50 Free Activities for a No Spend Weekend!
For Staying In
Some days, we all just want the comfort of our own homes to enjoy at the weekend. For a no-spend weekend, your house can be your playground.
Whether you're binge-watching TV shows and films (we've all been there – and it's a great day!), or rustling up some goodies out of ingredients you find in your kitchen – check out these free activities for a no-spend weekend in your own home…
Have a movie/Netflix day
Host a board game night – Exploding Kittens, anyone? 😉
Plan out your budget for the month
Hang out with friends
Clear out the clutter in your home
Meditate
Workout – no equipment needed!
Yoga
Read a book
Get your Feng Shui on point
Bake
Declutter your phone (delete unused apps, sort your contacts list out, create folders etc)
Make lists
Play video games
Tie-dye clothes – check out this awesome tutorial that uses food colouring!
Donate unwanted/needed items
Re-organise your garage
Wash your car
Build a fort!
Paint your nails
Organise your paperwork
Do some gardening
Read next: 20 Frugal Living Trips to Try in 2018!
For Going Out
Even on days of glorious sunshine, a frugal weekend is perfectly possible (although if you splurge on an ice cream from the ice-cream truck, I'm not going to judge you!).
I asked my readers what their favourite no-spend free activities were, and many of you included outdoors activities such as hiking, exploring and going for picnics as some of your favourite things to do when you're bored, especially on a nice day!
Related: Why are So Many Outdoorsy People Aiming for Financial Independence?
For your no-spend weekend, take the opportunity to enjoy some fresh air and the great outdoors with any of these low-cost activities:
Go for a walk around your neighbourhood
Hiking
Open houses
Visit the library
Have a park picnic
Volunteer
Visit museums
Go to the beach
Go fishing
Take yourself on a bike-ride
Have a sightseeing adventure
Explore your city
Sunbathe
Outdoors swimming
Find a free music concert
Visit your local woods
Go star-gazing
Read next: 60 Side Hustle Ideas to Start Making Money from Home!
Get Creative!
Many of these projects can be done indoors or outdoors, but are great when you're feeling a little creative. Try your hand at any of these ideas and you may even end up with a new hobby or side hustle!
DIY project
Take surveys
Start a vegetable garden
Cupboard dinner party
Practice photography
Write poetry
Write a book
Sing
Practice an instrument
Also check out: 
Free Printable/Pin Image Here!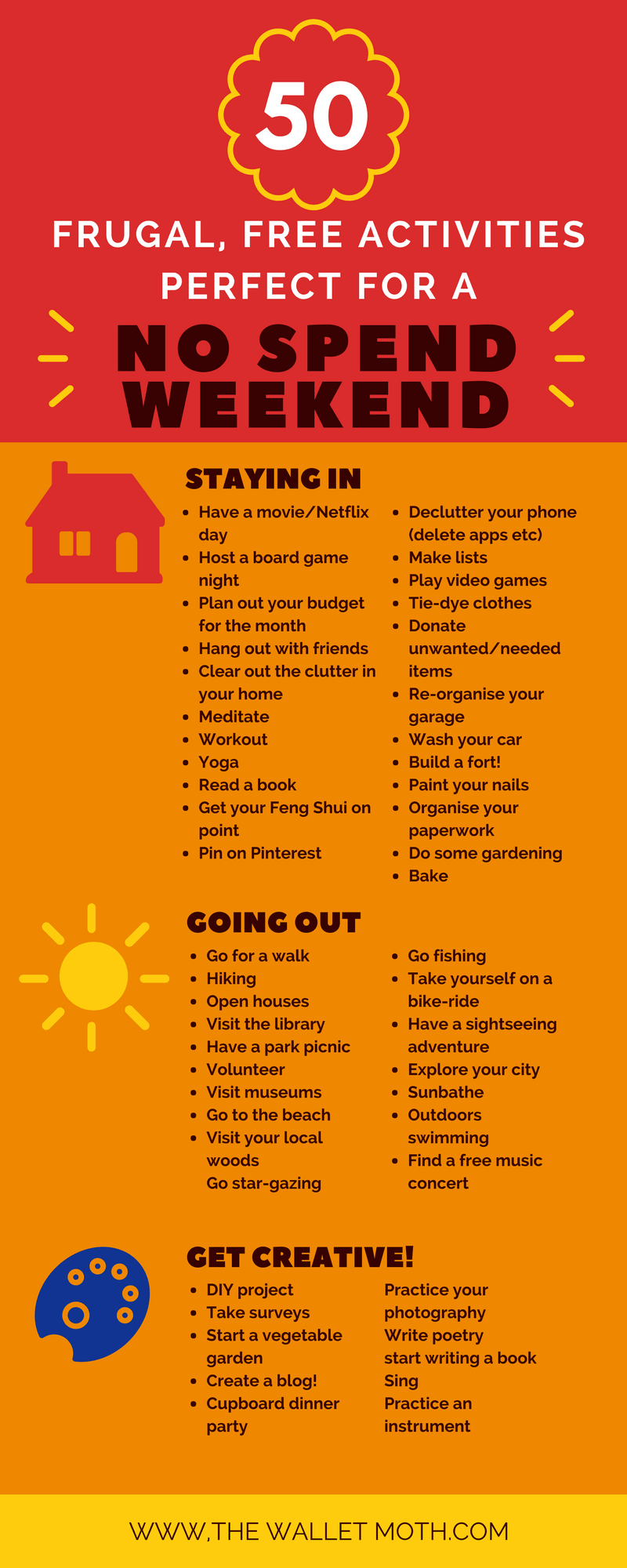 Starting my own blog was one of the best decisions I made for focusing my mind on the goals I truly want to achieve.

If you're interested in starting a blog of your own, I strongly recommend using BlueHost for a quality hosting provider at low prices (it's the only provider I use!). Check out my exclusive link for a free domain and hosting packages as low as $3.95/month.
The form you have selected does not exist.
---
Have you tried having a no-spend weekend before? Did it work?