We may earn money or products from the companies mentioned in this post, and as an Amazon Associate I earn from qualifying purchases. Please see my full disclosure for more information.
Getting organized? These free grocery list templates are a great way to take control of your weekly food shop and save money on your meal planning. Shopping lists don't need to be overwhelming or regimented – they can be an amazing tool for staying in order!
For many of us, weekly food bills take up a large part of our budget – and spontaneous spending is often largely to blame for that.
Starting the habit of writing out a grocery shopping list and meal plan every single week can make the biggest difference in terms of saving money on your food bill, sticking to your budget, and reducing the amount of waste thrown out each week.
Download any (or all!) of the free grocery list templates below to save time, money, and energy next time you need to go grocery shopping!
Get The Full 10 Free Shopping List Template Bundle!
We'll deliver all 10 free grocery shopping list templates straight to your inbox for you to enjoy at your own leisure.
If you're looking to start a more frugal lifestyle, managing your grocery bills is a great place to start.
P.S. After you've found the template for you, head over to the total guide to meal planning on a budget to start mapping out your meals!

10 free grocery shopping lists
Take your pick from these fantastic free grocery list templates to get your meals organized this week.
1. Detailed Grocery List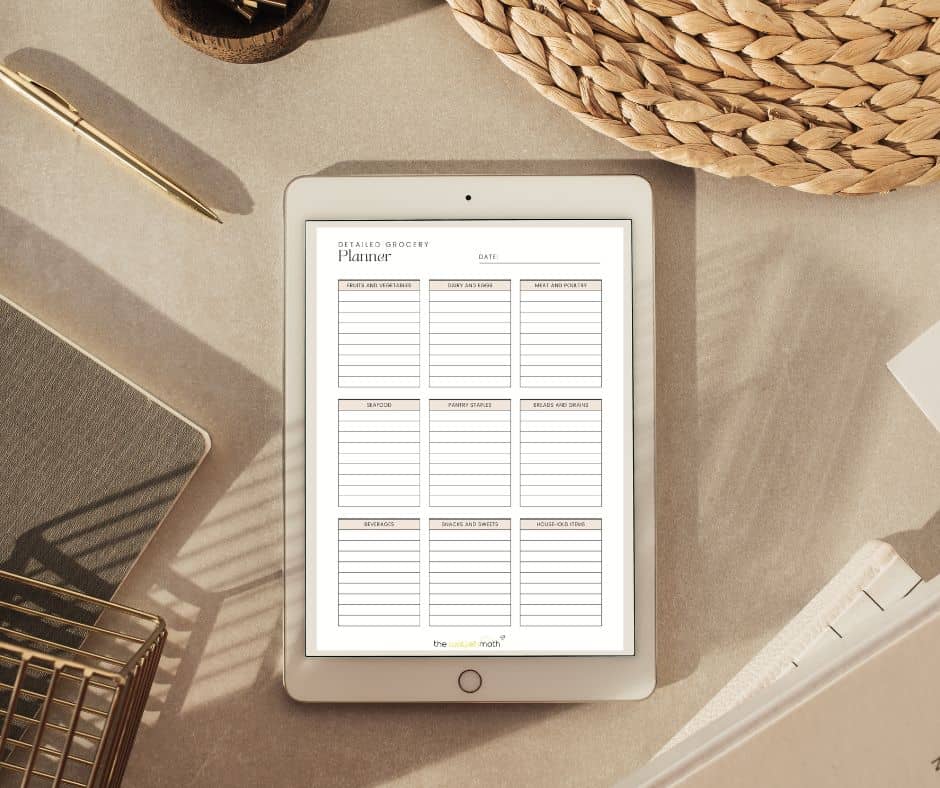 This detailed shopping list template includes sections for key grocery categories such as fruit and veg, dairy and eggs, meat, snacks, household items and more.
Download the Detailed Grocery List Template
2. Simple Weekly Grocery List & Meal Plan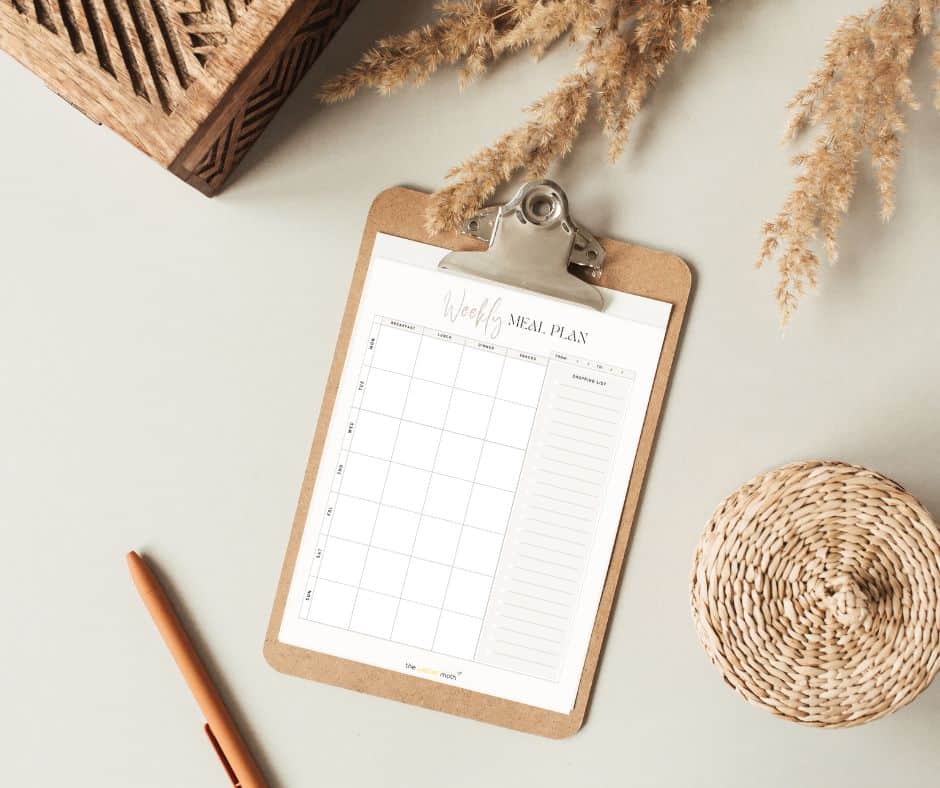 This 3-page bundle includes a weekly meal plan with a small shopping list section, a larger simple weekly meal plan page, and then a food diary template.
Download the Simple Grocery List & Meal Plan Template
3. Pastel Pink Grocery List Template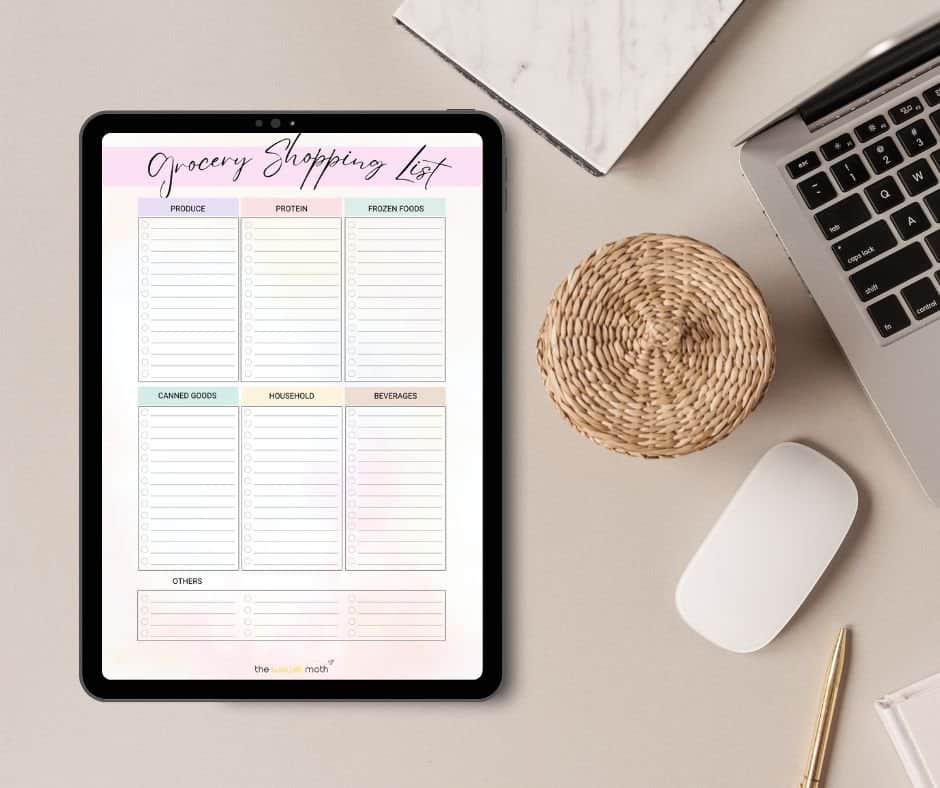 This super cute grocery shopping list template includes an altered version that swaps out the 'meat' category for 'protein' for vegetarians and vegans.
Download the Pastel Pink Shopping List Template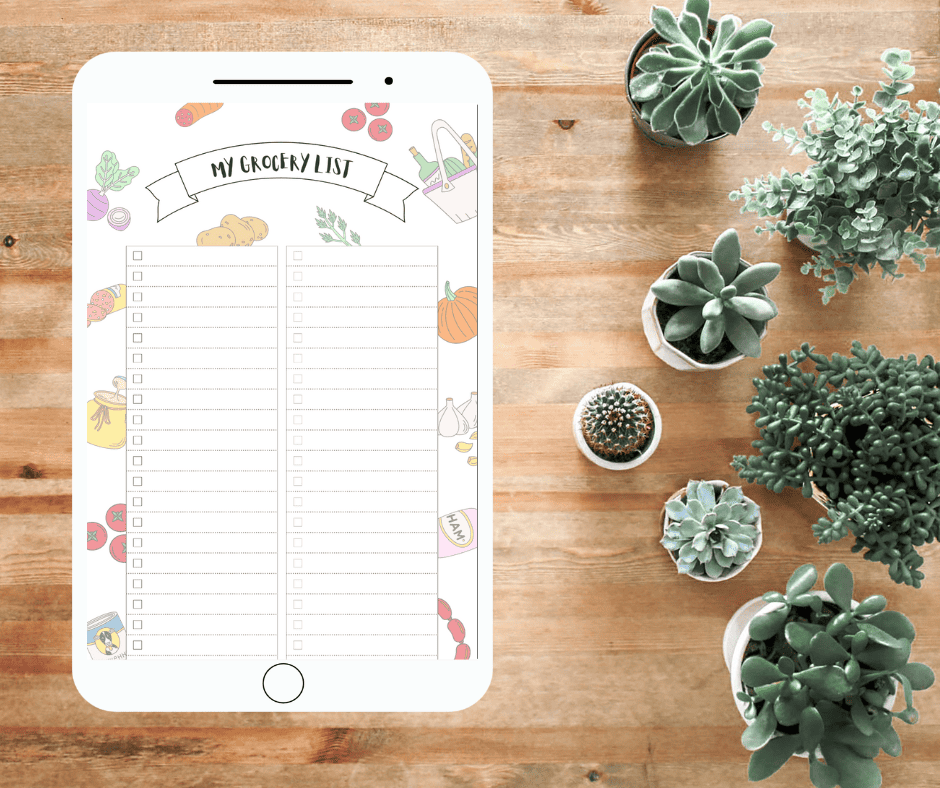 This master grocery list template to gives you a full list of the typical household foods most families will use each week. This printable grocery list gives you a simple collection to look through when crafting your own shopping list for the week, as well as a blank template for writing up your list.
It's categorized into your basic grocery areas: meat, fish, dairy, grains, condiments, fresh produce, canned goods, and miscellaneous items to help you fully customize your own grocery list to suit your shopping preferences and budget.
Download the Master Grocery List Template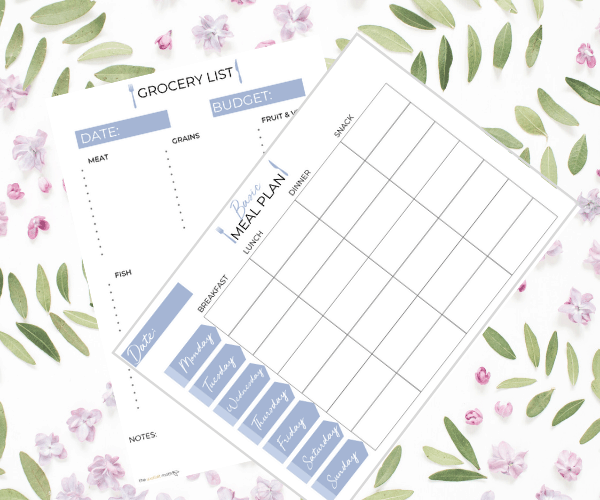 This printable grocery list template includes the same basic grocery categories as the master grocery list above but has all blank spaces so you can customize your grocery list completely to your own preferences.
The printable grocery list also comes with a free meal plan to allow you to plan out your breakfast, lunch, dinner, and snacks for every day of the week.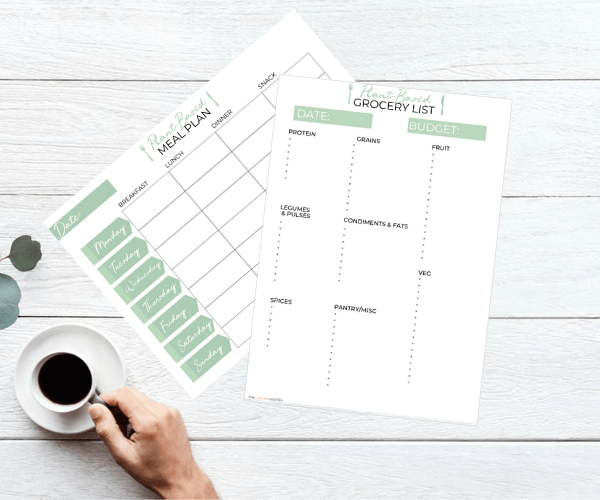 As a plant-based eater myself, I find having a specific plant-based diet grocery list template particularly helpful. Instead of having the meat, fish, and dairy categories, this list includes columns for:
Proteins (such as tofu, tempeh, fake meats, seitan etc)
Legumes & pulses (a huge part of any plant-based diet grocery list!)
Fruits & vegetables
Fats and condiments
It also includes a miscellaneous area so that once again, you can customize your plant-based diet grocery list entirely to suit your needs. Here's a great guide to creating a vegan grocery list on a budget, with prices included for typical items. Also be sure to check out this ultimate list of 120 vegan meal prep recipes for some inspiration!


7) Simple Master Grocery List
A simple but effective master grocery list for inspiration and ideas to add to your grocery list.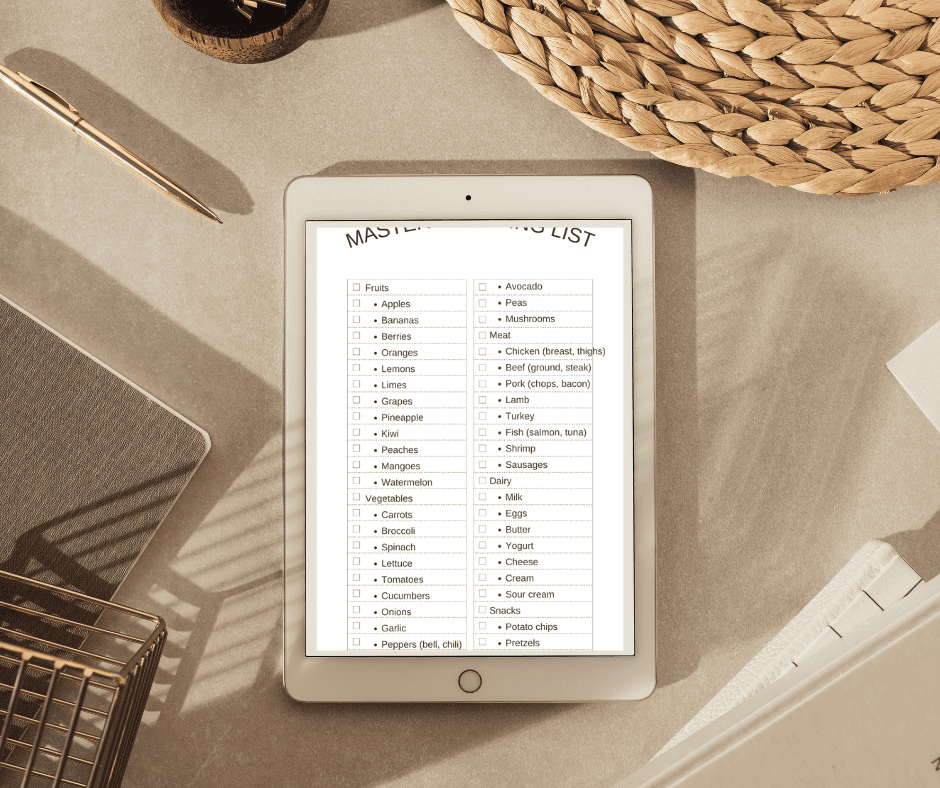 Download This Template: Simple Master Grocery List
8) Blue Printable Grocery list
Another simple but pretty blue printable grocery list, nice for sticking up on the fridge!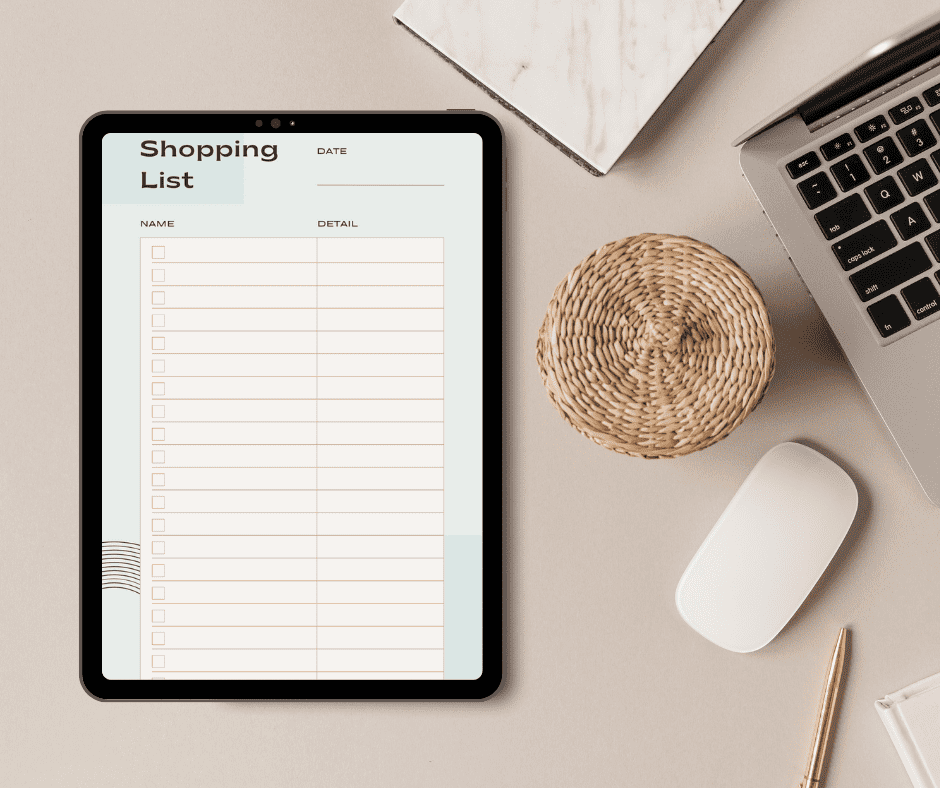 9) Grocerylists.org
This website has quite a large collection of grocery lists to suit different needs. They do look a little dated, but if you're after a basic grocery list with no-frills, this might be the best bet for you!


10) Minimalist-Style Printable Grocery Planner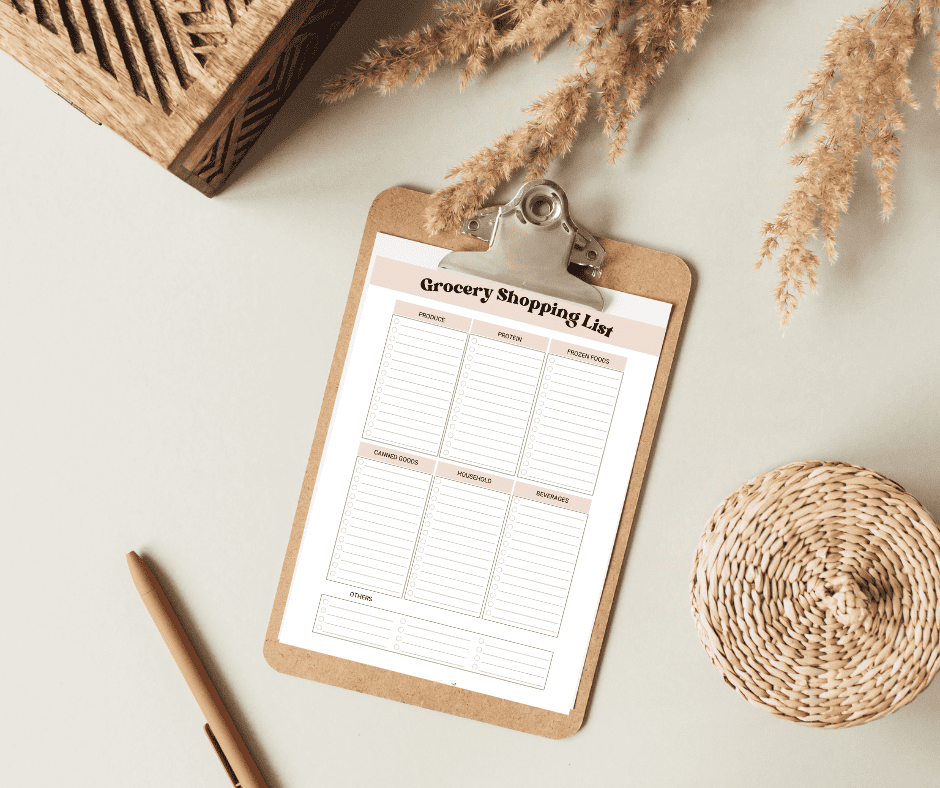 Where else can you find free printable grocery lists?
Pinterest is one great place to find hundreds of free printables for grocery shopping, meal planning, meal prepping, and everything else kitchen-related that you can think of!

Another good option is to PowerPoint or the Google Drive template library – especially if you prefer to keep your plans digital.

What Is A Master Grocery List?
A master grocery list is basically a grocery index, providing you with a huge list of ingredients and staple food items you are likely to choose from when creating your weekly grocery list.
Many people use bullet journaling to create a master grocery list, but it's just as easy (probably easier) to download a printable grocery list that you can either check in or full out yourself – I've provided both options in this list.

What's in a basic grocery list?
Grocery lists are obviously a fantastic way to save money, but knowing what basic things to include in your list is really key to help you budget the money you've allotted to food and avoid unnecessary purchases or food waste.
A basic grocery list should include:
Fresh fruit and vegetables
Bread/wraps etc
Protein – meat/eggs/plant-based protein sources
Pasta and rice
Canned goods such as chopped tomatoes, beans, legumes etc
(Plant-based or not) Dairy, cheese, eggs
Cereal, oats or other breakfast foods
Condiments, oils, dressings
Herbs & spices
Frozen food

Grocery List Template Examples: My Typical Plant-Based Diet Grocery List:
I've included grocery list templates for both meat-eater diets and plant-based diets above because I want to help everyone, and while I personally eat plant-based, I can acknowledge and accept that my diet isn't for everyone right now.
However, to give you an idea of my typical basic grocery list, I've provided an example of a cheap grocery list that I'll regularly buy:
Pantry Staples
Lentils (red lentils are perfect for making dahl, while green lentils are awesome for things like spaghetti bolognese!)

Black Beans or Pinto Beans

Chickpeas

Steel Cut Oats

Brown Rice

Quinoa

Peanut Butter

Maple Syrup

Vegetable Stock Cubes
Fruit & Vegetable Staples:
Peppers

Onions (Red)

Mushrooms

Garlic

Spinach

Potatoes

Sweet Potatoes

Mix Berries

Apples

Bananas

Avocado

Tomatoes

Jalapenos

Lemons

Limes
Fridge Staples:
Plant-Based Milk (I love Oat Milk!)

Tempeh

Tahini

Coconut Milk
Staple Spices:
Cinnamon

Paprika

Cumin

Salt & Pepper

Mustard Seeds

Tumeric
How To Use Your Grocery List Template to create a weekly grocery list
Follow these steps to create an organized grocery list with the templates below:
Step 1) Have a running list at home
Choose your template below and stick it to the fridge or even just have a notepad in the kitchen to jot down the items you've run out of and need to stock up on next time you head to the shop.
Step 2) Plan your meals before your write your list
This is so important! Plan out what meals you will be eating this week (even doubling up a recipe to last two nights to save time and money) and then write out your list so you've got everything you need – and avoid things you won't use.
Step 3) Check your pantry essentials
Before finishing your list, give your pantry essentials a quick check to see if you need to replenish anything – or cross any duplicates off your list.
Step 4) Check for coupons and discounts
Have a quick look online for any discounts, offers, and coupons currently going for the things you need. If you can get a 2for1 or a discount on something, it's always worth checking!
Step 5) Cross each item off your list as you go
Rather than just committing your list to memory, print out your list and bring it with you as you shop, to tick off each item as you add them to your basket.

I hope these printable grocery list templates have helped you find some inspiration for planning your weekly meals more efficiently – and hopefully, they'll help you to save some money, too.
I hope one of the grocery list templates above gave you some inspiration for getting your shopping list and meal plans a little more in order! Let me know – what are you planning on cooking this week?