We may earn money or products from the companies mentioned in this post, and as an Amazon Associate I earn from qualifying purchases. Please see my full disclosure for more information.
Trim is a "financial health company" that aims to help it's users save money automatically so they can live the life they want. Here, I provide a full review of the app so you can decide if it's worth it.
Trim promises to help you save money effortlessly, automatically finding ways that you can save money an autopilot. In this review, we'll look at:
How Trim works
The services they provide
If it's worth it
QUICK​ OVERVIEW
​
Overall, I really rate Trim as an app for saving money. They deliver on their promise to help save money effortlessly, and the apps ability to find and cancel unwanted subscriptions and re-negotiate expensive bills automatically are both huge helps.
The app is free to sign up to, so it costs nothing to try out. You need to be comfortable syncing up your financial accounts for the app to work effectively, but the company uses 256-bit SSL encryption and all server-side databases, and doesn't sell your data, so I felt comfortable using the service.
Trim Review: Is It Worth It?
The Trim App is one of the newer additions to a growing marketplace of apps designed to help you manage your finances more efficiently.
From Mint to Digit, there are a number of fantastic apps out there that will track your spending, help you save more money, and make budgeting so much easier.
Where Trim differs, however, is its ability to save you money on autopilot.
How does the Trim app work?
Trim uses AI to automatically scan your spending to identify recurring subscriptions that could allow you to save money, as well as bills you may be overpaying.
Where it really stands out is its ability to re-negotiate these contracts on your behalf, delivering big results with minimal input from you (you still need to give the app permission to actually negotiate with each billing company, which is an essential security feature in my opinion).

Services Trim Provide: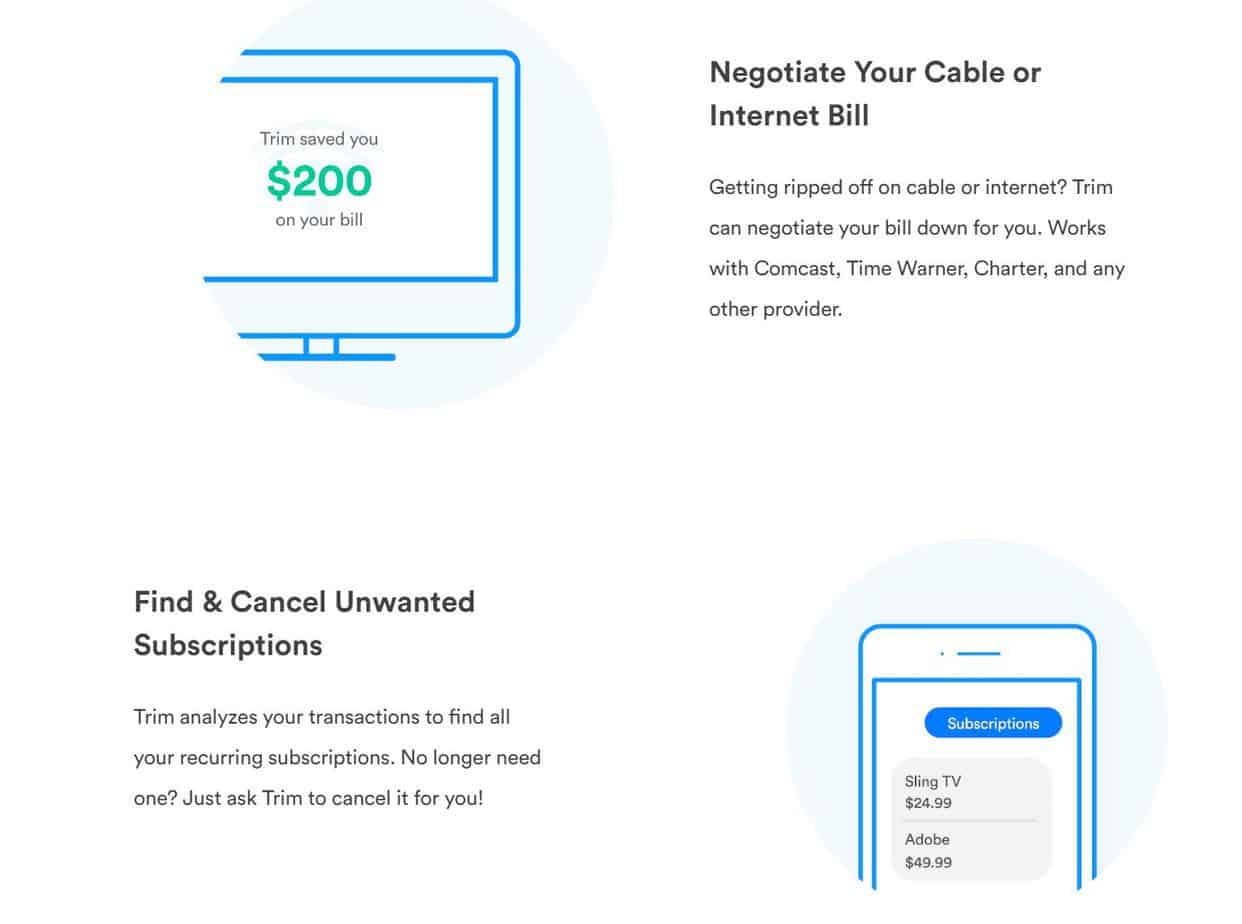 Trim can also cancel the subscriptions you no longer want on your behalf, saving you money and time.
The company also have a Simple Savings 'set it and forget it' feature, and offer debt pay off plans.
What's the catch?
I know, right – a free tool that will automatically monitor your finances to potentially save you hundreds might sound almost too good to be true, so what's the catch?
Why is Trim free to use?
The company are super upfront about how they operate. It works like this:
Once Trim have the information from you regarding your service providers and current bills, they'll work on finding better plans for you.
If they manage to save you money, Trim takes a cut of 33% of your total yearly savings. For example, if they manage to save you $10 a month for 12 months, they'll take $40.
This might be a lot for the more pro-active amongst us who are in the habit of negotiating on the regular.
Where Trim really appeals to me is the automated subscription cancellation service. I know I'm one in many who signs up to a free trial and then totally forgets to cancel my subscription to a service. For months.
Even with their cut, Trim can help you save a lot of money on forgotten, unnecessary subscriptions, and it's more than worth it for that service alone.


How do I sign up?
When you visit the site, you can either sign up with your Facebook account or by entering your email address manually.
After verifying your identity via messenger or SMS, you'll be prompted to connect your financial accounts in order for Trim to begin scanning for subscriptions and higher than average bills.
You can then communicate with Trim via messenger or text message rather than having to add another app to your phone, which is a cool feature.
Is it secure?
Of course, when dealing with a service that can access your financial information, you want to be sure it's secure and there are significant checks in place to protect your money.
Trim uses a 256-bit SSL encryption on their website, encrypted databases and two-factor authentication or OAuth when you sign in, and can currently connect with more than 15,000 financial institutions across the U.S.
You can read more about their security protocols here.


Is Trim worth it?
In my opinion, a free app that can provide you with something new is always worth a try.
Beyond that though, I've been really impressed with everything about Trim. They've got some great, unique features, a smooth operating system, and they've got great reviews.
Give Trim a try by signing up here.