We may earn money or products from the companies mentioned in this post, and as an Amazon Associate I earn from qualifying purchases. Please see my full disclosure for more information.
This ultimate list includes over 50 easy ways to make money from home this month.
If you're looking to increase your income, start a side hustle, or supplement your income for some additional disposable income, this list will get you started.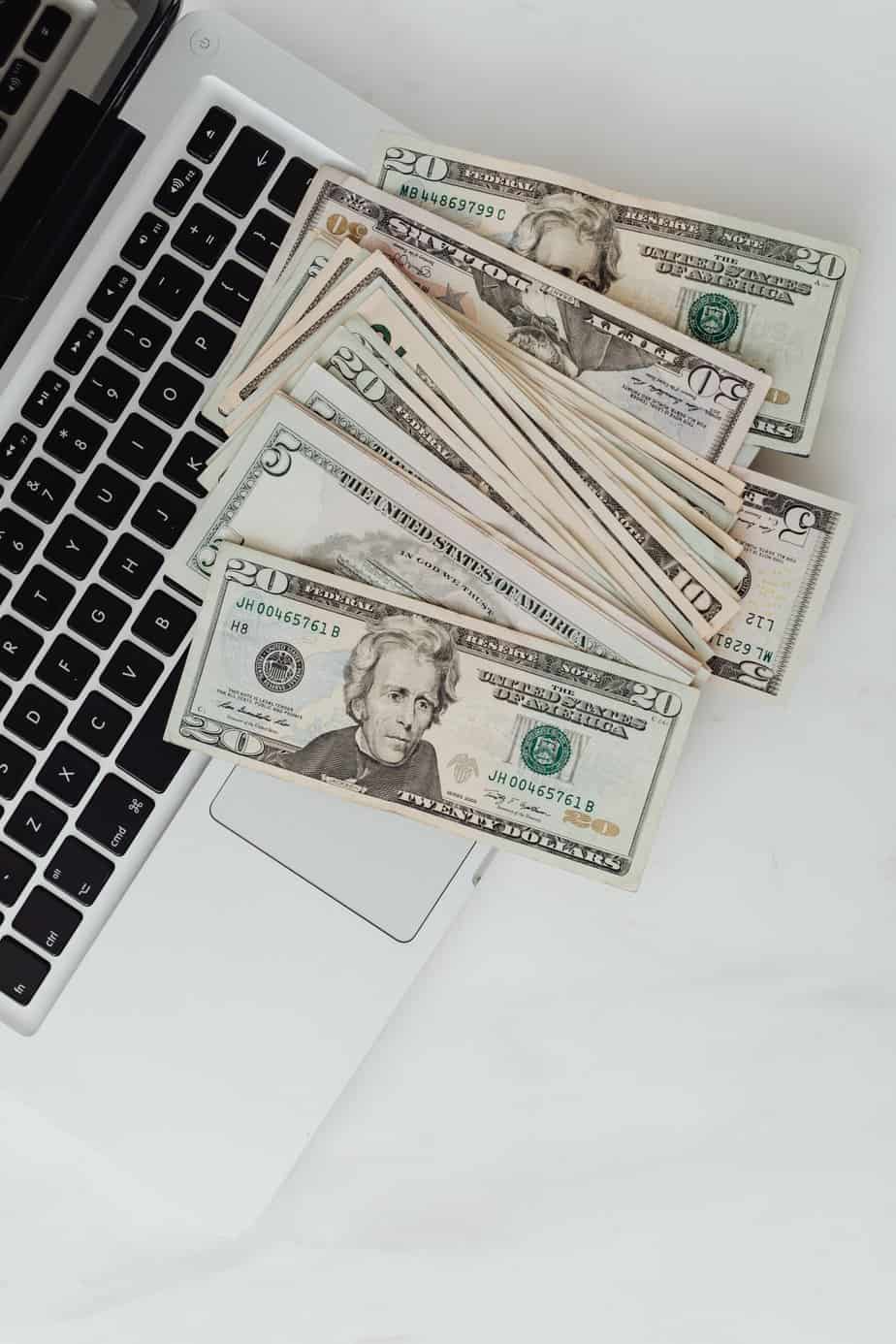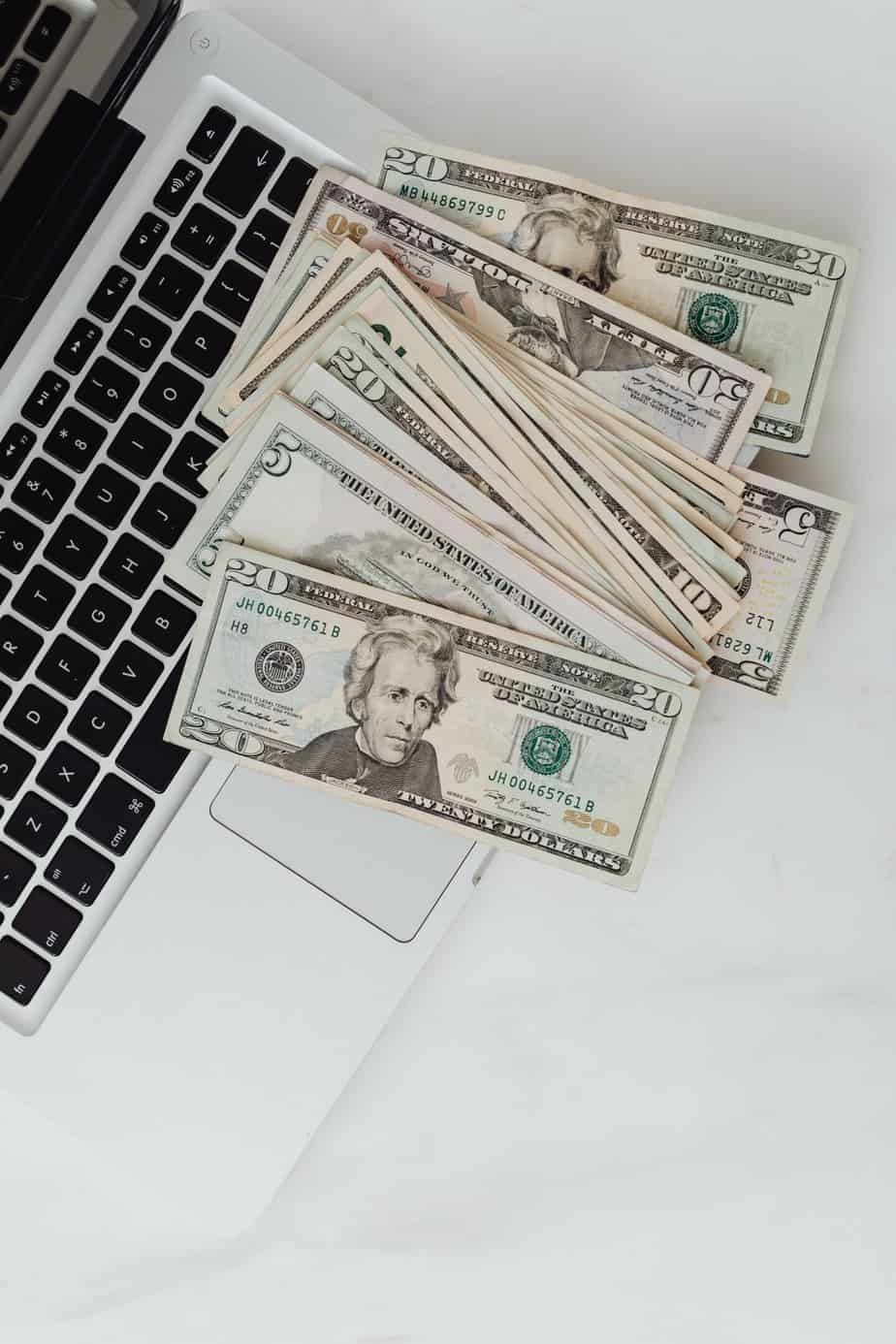 Making money from your full-time job is great, but you will always have spare time, side hustle ideas, and the additional skills needed to make more money on the side.
Or, maybe you don't want to work anymore in an office setting, and are setting your sights on entrepreneurialism and being your own boss!
Whether you use that money to fund your lifestyle or put it straight into your savings for a rainy day, having an additional side income source keeps you motivated, provides a security buffer if things start to go south in your full-time job, and you never know where that side project may lead you!
There are so many things you can do to make money on the side, too. You don't just have to be a tech whiz or a coupon collector (although both of those things can help!).
We've written a comprehensive guide with over 50 side hustle ideas to up your income and make more money on the side.
See the full list below.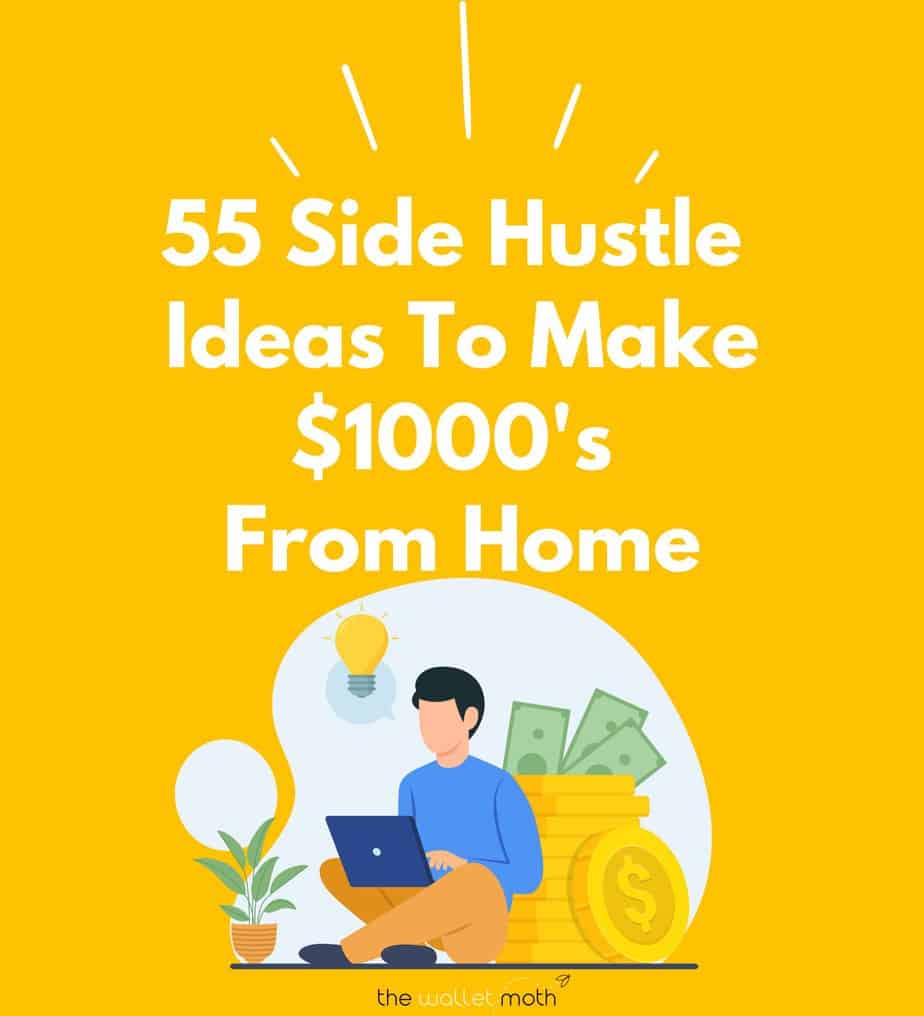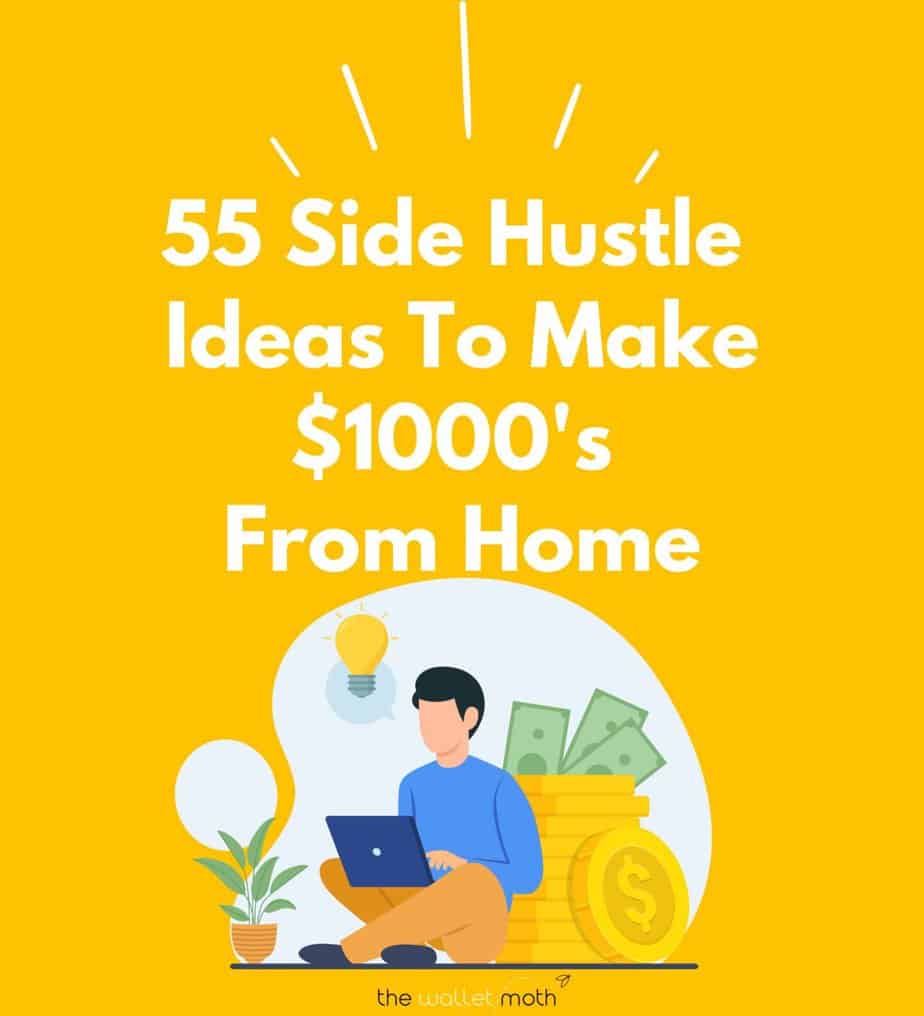 How To Make Money From Home Online:1. Start Freelance Writing
Being a freelance writer has many perks, including:
You can do it remotely, anywhere in the world
The scope is endless – you could work full-time, or take on just an article or two a week
Specialist websites and businesses will pay high figures for specialist knowledge
There is a huge range of industries to specialize in, from finance to food blogging!
The downside is that freelance writing can be quite competitive, so you need a great portfolio and top-tier writing skills. Plus, rates can vary dramatically – as a newbie to the field, you might be tempted to take low-paying jobs just to get an in, but remember that has a negative impact on the entire profession.
Check out our guide to building your own freelance writing business, or how to start freelance writing with zero experience.
When I was pregnant, the benefits of being freelance became even clearer to me. Flexibility, no set hours (so I could work when I had the energy, and nap when I needed to!), and the ability to scale up my income to save.
This list of jobs for pregnant women is a must-read for anyone in a similar situation – and if you're a mom (or a new dad!) these side hustles for moms are a great source of inspiration.

2. Sell Your Clutter Online
Get rid of clutter and make money at the same time by selling your clothes, gadgets, and furniture on eBay, Decluttr or at garage sales. Find the best places to sell your clothes online in 2023.
When selling online, just be sure to take some good pictures and price your items fairly, and you'll be making a killing in no time – some people even make a full-time living just selling things online!
If you want to learn more about living a more minimal life after you've decluttered your home and wardrobe, read about these 10 essential steps to becoming a minimalist.

3. Become A Virtual Assistant
A virtual assistant can help digital businesses with anything from writing, editing, and uploading blog posts, to replying to emails and managing social media accounts.

If you run a blog, you should absolutely be able to offer your services as a virtual assistant, and it's a great way to earn a more stable income as a freelancer. Being a virtual assistant is a very accessible way to make money online for anyone who is competent on a P, however.
If this is something that appeals to you, we highly recommend checking out Gina Horkey's Horkey Handbook.
This was one of the first courses I ever took when embarking on my side hustle journey, and the very first gig I landed (long-term, working with them for over 12 months), was a virtual assistant job for $500 a month and about 6 hours a week.

4. Become A Blogger
Blogging is still big, even in 2023. Yes, it's more competitive and you need to really know your stuff, but it's a great way to be your own boss.
A blog doesn't have to be a personal online diary anymore – you could be providing a service, sharing specialist knowledge, or just writing about a topic you're really passionate about. Popular blogging niches include:
Travel
Food
Parent & Baby
Tech
Cryptocurrency
DIY
Blogging is a great way to bring in extra income, although it can take a while to get enough traffic to your blog before you start to make an income off of it. You can make money blogging through ads, affiliate marketing, and even selling your own products.
Check out this great step-by-step guide on creating your own blog to get started.

5. Earn Cash Rewards
A very different route to go down, but there are a number of websites out there that offer cash rewards in return for your participation in market research, online testing, and focus panels.
Swagbucks are one of the most well-known, legitimate websites for market research and surveys, and currently, they offer a $10 bonus simply for signing up.
To sign up:
Register: Visit this link and create your profile
Earn: Redeem 'points' by completing surveys, playing games, and even watching videos
Get Paid: Convert these points into cash
Survey sites are by far one of the least effort, high-reward ways to make money from home.
When I was a student, I'd fill out surveys in the evening while watching TV, and I can imagine these being a great little money maker for stay-at-home moms or anyone looking to make a little extra cash in the evenings. They won't make you a millionaire – but just filling out surveys for an hour a day can add up to hundreds each month.
A few other great sites to get started with include:
These won't make you a millionaire – but just filling out surveys for an hour a day can really add up each month.

6. Get Paid When Shopping Online
There are actually companies out there that will pay you for shopping online. Many people hear this and think those sites must be scams, but they're not. eBates and TopCashback are able to pay people who shop through their sites cashback on any online purchases. This is because they are affiliated with the retailers featured on their sites, who pay them for referral traffic – which these sites then refund back to you.
Next time you're looking to make an online purchase, access that retailer through eBates and you'll be able to make some extra cash by shopping as you usually would. Not using these sites is like throwing free money away!
You can sign up to Rakuten here and use this link for an instant $10 to your account!
TopCashback is another great site that offers one of the highest rates of cashback. Sign up for the service for free and earn cashback when you shop online – it's really as simple as that.


7. Be A Proofreader
If you've got a good eye for spotting spelling mistakes and grammatical errors online, then proofreading can be a great side hustle.

People are on the hunt for proofreaders for all kinds of copy, from blog articles and web pages to academic texts and eBooks that need a fresh eye before being published.
(Hint: Grammarly is free to sign up for and is a lifesaver for checking for grammatical mistakes online!).
A common way to get paid for your side hustle is via a money transfer service like PayPal. Make sure you know how to differentiate between scam and legitimate messages.

8. Photography
If you've got a good camera and know a bit about composition, you could sell your photography online and make money from home as a means of passive income!

Register with a stock photo site such as DepositPhoto, upload your photos and see who picks them up. This is a great side hustle idea for anyone who travels frequently (some travel Instagrammers now earn thousands per post for their photos!), lives in a scenic area, or has a great eye for flat lays that are extremely popular with bloggers and online businesses.

9. Travel writing
If you're traveling, you could become a travel writer for one of the many sites available online. This is a tough gig to get as there are tonnes of travel blogs out there, but once you're in, this can be a steady-paying job that brings a lot of exposure to your writing.

(Check out this list of over 45 travel sites that pay for guest articles to get started).

10. Teach Online Workshops
If you've got a skill a lot of people want to learn, you could make a great income by teaching workshops/webinars online and making money from home.
A few people for whom this type of job might work really well include:
Yoga teachers
Start-up business owners/entrepreneurs
Motivational speakers
Breathwork/ spiritual ceremonies
Musicians
Gymnasts/ Athletes
Consultants (for branding, design, marketing – whatever!)
Creative skills (painting, making crafts etc)

11. Freelance web design
Marketing your web design skills as a freelancer can be a great way to make additional money, and if you've got some experience, you could make a significant contribution to your savings through freelance work alone!

12. Sell Products
Amazon fulfillment programs make it easier than ever to set up a business and sell products online, without having to ship the products yourself. Check out this guide to the most popular things you could make and sell from home.

The Selling Family are a fantastic example of creating a super successful business using Amazin fulfillment – check out their story to success and see how you could emulate it.


13. Sell crafts
If you've got a knack for DIY crafts such as knitting, soap making or woodwork, you could sell these products online. Sites like Etsy are great for this.
Find out the top 10 best crafts to make money on Etsy.

14. Affiliate Marketing
Affiliate marketing is when you recommend products on your website, and when your readers click the links from your site to buy those products, you receive a commission for sending a customer to the brand.
Many business owners set up sites with the sole intention of affiliate marketing. Think about those sites that seem to just exist to review and compare certain products.
This can be an extremely lucrative way to make money from home. Check out Making Sense Of Affiliate Marketing if you're serious about making money with affiliate marketing.

15. Temp
If you don't mind the extra hours, temp work can be a great supplement to your main source of income. Look on job sites for work in your local area for anything that might suit your skillset – from admin work, to virtual assistants, writing and more.

16. User Testing
User testing will pay you to test websites – you don't need to be tech-savvy to land the job as they simply want honest reviews.


17. Social media management
Many companies and bloggers do not have the time to manage their social media feeds. Offering your services as a social media manager will earn you a great additional income, and as you gain more experience and get your name out there, the offers will come rolling in!


18. Develop an App
Developing an App is one of the best means of passive income – if you know how to do it. Not that many people just have this skill in their back pocket.


19. Write an eBook
Side hustle ideas don't need to be quick money makers – if you are willing to put the time in, you can see a great return in passive income!

If you've got a wealth of knowledge on any given subject (fitness, finance, food, travelling – the world is literally yours), share it with the world via an informative eBook. Amazon's self-publishing service has never made this easier.
20. Create a Course to Sell Online
If teaching is your thing, create an online course to sell. This will require some work, in the beginning, to ensure your course is the most informative, well-researched option available, but once you've uploaded it, you can earn passive income from your course for years to follow.


21. Buy and Sell Domain Names
Investing in domain names may be a more long-term side income solution, but if you can predict popular domain names for the next few years and buy them early, you could have a company knocking on your door with a big figure before you know it. You can check which domain names are available with BlueHost here.


22. Teach English (or another language) Online
Teaching English is a great side hustle ideas for making money online at home or while abroad.
If you speak another language, you can also teach this – both in your own town and abroad!
23. YouTube
Successful YouTuber's make a very comfortable living off the ad revenue from their videos, which is calculated from the number of views they receive per upload. However, you can also make money by creating YouTube videos that lead back to your website – selling your services, products, or courses for a higher income.

Think you've got a unique angle that people would love to watch? Try it out! The competition is steep, but if you make it you've got a great side – or even full-time – earner.


24. Twitch
Again, you can earn money on Twitch (a gaming stream site) via advertising revenue generated by visitors to your channel. You can also use affiliate marketing by sending viewers to particular games that you recommend via links.


25. Graphic designer
Gaining experience and skills as a graphic designer does take time, but it is an ideal profession to take freelance, or even to offer as a service on the side of your full-time job.

Sites like Fiverr are competitive, but great places to showcase your work as an inexperienced designer.


26. Enter Competitions!
Enter one competition, and the chances that you'll win are pretty low. Enter a hundred – or even a thousand – those odds suddenly shift in your favor.
If you've got some spare time, enter as many competitions as you can to be in with a chance of winning some cash prizes – just be careful to make sure they're genuine!


27. Mystery shopping
Become a mystery shopper and get paid to review shops, restaurants and entertainment venues.


28. Focus Groups
Be a part of a focus group for a new brand or product, and get paid for your efforts.

Again, Swagbucks is a great option to find legitimate opportunities to participate in focus groups for market research.


29. Tutor
Become a tutor in your area of expertise, whether that's offering online coaching or meeting up with your students in person.



How To Make Money At Home With Your House:
30. Rent out Your Spare Room
If you've got a spare room that you never use and don't mind sharing your home, Air BnB can be an amazing source of income.

Sign up to Airbnb here to list your spare room online and start making money from it instantly.


31. Rent your Driveway
Yes, you can actually make money off your driveway! If you live in a busy area with expensive parking, you can rent out your driveway space for a good price and make money from home with your spare space! People living around London or near airports could find this particularly fruitful.
If you do live near an airport or a busy city – check out YourParkingSpace to easily rent out the spare space on your driveway to an easy passive earner!


32. Invest in real estate/ become a landlord
Buying a house, improving it, and selling it on for a profit is a popular way of making money, but another side income source from real estate is simply renting your property out – allowing you to make money from anywhere in the world!


Creative Ways To Make Money From Home:
33. Write a Book
You could also put your efforts into a real, written book! Of course, the competition to get published is always high, but if you're a talented writer and a real expert in your field (or a great creative writer) the rewards for your time could be great.

34. Release Music
Anyone talented with a musical instrument or with a great voice can release their own music easily, and if you're picked up by a radio station or agent, you could kick-start a whole new career! Post your music to YouTube or Soundcloud, and you could also make jingles and backing music to be sold into the public domain.
35. Become a TikTok Influencer
TikTok is huge these days, and influencers can make a real living just by making videos in the comfort of their own homes via the creator fund.
Top tips? You need to make a lot of content – like a couple of videos a day. Plus, you'll probably want to think of a 'niche', such as sharing fashion tips, daily vlogs, food, etc.
36. Make Jewellery
Jewellery making is quite a skill, but with a bit of time and talent, you could be making stunning pieces to sell either at markets and fairs or online.

Look up a few online jewellery-making tutorials and consider trying a class out before committing to buying all the tools you'll need.
This is a fantastic craft to consider selling via a shop on Etsy.
37. Sell used textbooks
Are you a student or a graduate?
Chances are you'll remember the sting of making your first textbook purchase as a first-year student – those books aren't cheap!

Sell your old textbooks at a discount and earn some of your money back on your old books – and selling them at a slightly cheaper price helps out your fellow students too!

How To Make Money From Apps:
38. Uber
All you need is a car (and a driving license!) to become an Uber driver, easily earning money in your spare time with just the online app in your car.


39. Postmates
Another very popular delivery service is Postmates – many drivers actually work for both. Make money from home (or, at least, from the comfort your home) in your spare evenings.
Have a bike, car, motorcycle or scooter? Put them to work and earn on your own schedule. Deliver for Postmates.
40. Save With Trim
Trim is a free service that will automatically find and cancel old, unused subscriptions and research the bills you are currently over-paying for, saving you money literally while you sleep.
How does Trim work?
Trim analyses your monthly spending and looks for places where you might be over- spending, such as forgotten monthly subscriptions (we all have them), or bills that are higher than the market average.
One the app has found bills and subscriptions you're currently paying for, you can then go in and select which ones you want to cancel, and the app will then do this for you, even reaching out to companies you are over-paying and re-negotiating your contract on your behalf.
Kind of awesome.


41. Nielsen Computer App
The Neilsen Mobile Panel app will literally pay for simply having it downloaded on your phone.
Downloading the app allows it to see insights into your spending behaviour, data it then uses for market research.
Some reviews say it can slow down your phone, but it might be worth checking out for a month for free money!


Other effective ways to make money from home:
42. Academic Marking
You may require a degree or higher level of education, but if you're qualified you can be paid to mark exams – the perfect way to while away a winter evening!


43. Research Studies
Researchers will pay you either in cash or vouchers for contributing to their studies. A friend of mine funded his studies at University with medical studies – not for everyone but it worked for him!

Check out postings from research students at your local University to see how you could take part.


44. Start your Own Business
Do you think you can provide a service or product that's is missing from the market, or have a product you'd really like to sell? Start your own business and make money from home while being your own boss!

It can be a lengthy process to get started, but you never know where that path will lead. Check out my guide to starting your own freelance business (including all the tips I would have wanted to know when first starting out!).


45. Invest in a Business or Product
If you've got extra savings, you could look into investing your money into a start-up business or product.

I purchased this podcast microphone on Amazon for a great price, and have been really impressed with the quality when recording new content for my site.
46. Open A High-Yield Savings Account
You can earn interest on your savings by simply choosing the right savings account – compare the accounts different banks are offering to find the right deal for you.

CIT Bank offers high-yield savings accounts with interest rates over 20 times higher than the national average due to them being an online bank (which means lower running costs than a traditional brick-and-mortar bank!)


47. Sell your Own T-shirts
If you've got a creative streak and have a few designs in mind, why not try your hand at designing your own t-shirts?

Online stores such as Vista Print make it super easy to upload your design and create your own t-shirt to then distribute as you please.


48. Be a consultant
Are you a leading authority in your field? Have an untapped niche that you can offer great advice on? Become a consultant for your niche and, when your name starts to get around, you could be making a killing in your side income game.


49. Hairdressing
Hairdressing obviously requires training before you can start charging your services, but it's one to consider if you want to make money from home without sitting in front of a laptop all day. Many self-employed hairdressers have their clients come to their home – and clients often love that more personal touch.
50. Fitness instructor
There are many courses you can take to be a fitness instructor – from personal training to Zumba! Get your qualification and you can safely instruct others online, providing Zoom classes to large groups, or providing 1-2-1 sessions in your own home.

51. Yoga teacher
Yoga teachers also need to be qualified to be able to teach safely and correctly, but once you've gained your qualification, you can teach classes to people all over the world via your laptop.
Since the pandemic, online classes are a lot more popular, so don't be afraid to give this avenue a try.

52. Sell Baked goods
From selling fancy occasion cakes to delicious brownies, you could start a side hustle selling your baked goods from your home, either posting them out or just targeting your local area.
53. Translator
If you speak another language, you can make a great side income as a translator. For many jobs, you won't even need to leave your home, simply transcribing documents from one language to the other.
54. Sell Feet Pics
Yup, you read that right. There is a legitimate, genuine market for selling feet pics online – from model agencies and stock photography sites to the slightly more…niche audience searching for that kind of stuff.
Read How to Sell Feet Pics Online and Make Money for a full breakdown – this one might not be for the faint-hearted, but there's cash to be made!
55. Make Money Selling Plants
Are you a house plant parent? Do your plants keep outgrowing their current pots at an alarming rate?? (cant you tell I'm speaking from experience?!
You can actually kill two birds with one stone by starting up a side hustle selling plant cuttings, propagated plants, and seeds.
This guide to making money selling plants covers everything you need to know.
---