We may earn money or products from the companies mentioned in this post, and as an Amazon Associate I earn from qualifying purchases. Please see my full disclosure for more information.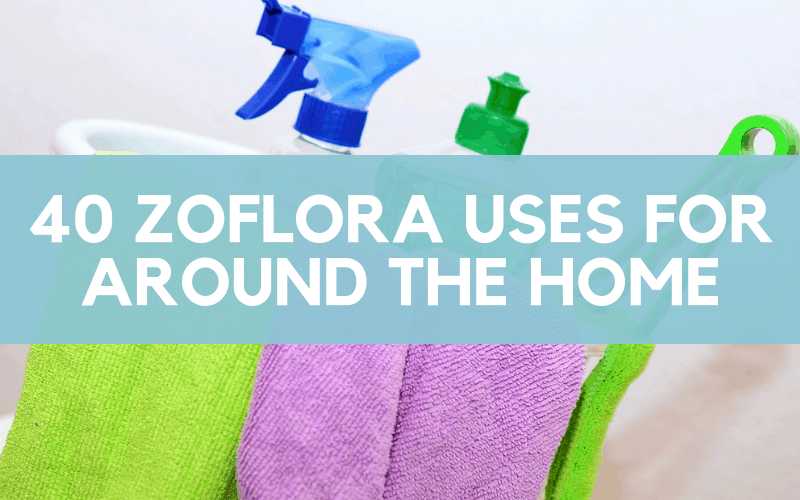 Zoflora is a cleaning product that has taken the cleaning-world by storm. Although it's been around for years, it's only recently that people having being going crazy for this product. One of those reasons is because there are so many creative Zoflora uses for around the home.
In case you didn't know, here's a quick explanation of exactly what Zoflora is:
Zoflora is a versatile concentrated disinfectant that can be used all over the house and kills up to 99.9% of bacteria and viruses in your home. Simply add Zolfora to a spray bottle or bucket with water, and use all over the home to keep it clean and smelling fresh.
This post is going to highlight some creative Zoflora uses you may not have thought of.
Now, I like a clean home – but my mum is another level. She is very house proud, and that means when my mum can't stop talking about how good a cleaning product is, you know it's legit.
Plus, Zoflora is a fantastic way to be more frugal around the house, as it's so versatile that you don't need to be stocking up on countless other cleaning products: you've got an all-in-one disinfectant to use everywhere with just one product.
It's readily available on Amazon in single and multi-packs for very reasonable prices, but you can also get it in your local supermarkets, B&M, Poundland, more.

Can Zoflora be used in the washing machine?
Yes, Zolfora is suitable for use in washing machines! You can either use a water and Zoflora solution to wipe down the outside of your machine, or you can also add a capful of Zoflora to an empty drum and put it on a hot wash to clean the inside of your machine.
Can you use Zoflora on carpet?
Zolfora is perfect for cleaning and eliminating odours on carpets. You can use a diluted solution and scrub stains/odour patches on your carpet, or another great tip is to put a few drops of Zolfora in your vacuum cleaner for amazing smelling carpets!

Can you use Zoflora in an iron?
It's not a good idea to put Zolfora in your iron, as this could cause the device to break. If you wanted to freshen up your clothes, a good idea could be to put a capful of Zoflora in a trigger bottle and dilute with water, then just spray the solution over your clean clothes before ironing.
How To Use Zoflora:
There are a number of ways you can use Zoflora to clean your home. These include:
A mop and bucket: dilute 4 capfuls of Zoflora in a 1.5-litre bucket of water.
Cloth and bucket: dilute 4 capfuls in 1.5 litres of water.
Spray bottle: 1.5 capfuls of Zoflora in a standard spray bottle
Undiluted: Use a cap of Zoflora in bacteria concentrated areas such as drains and toilet brush holders
Best Zoflora Scents: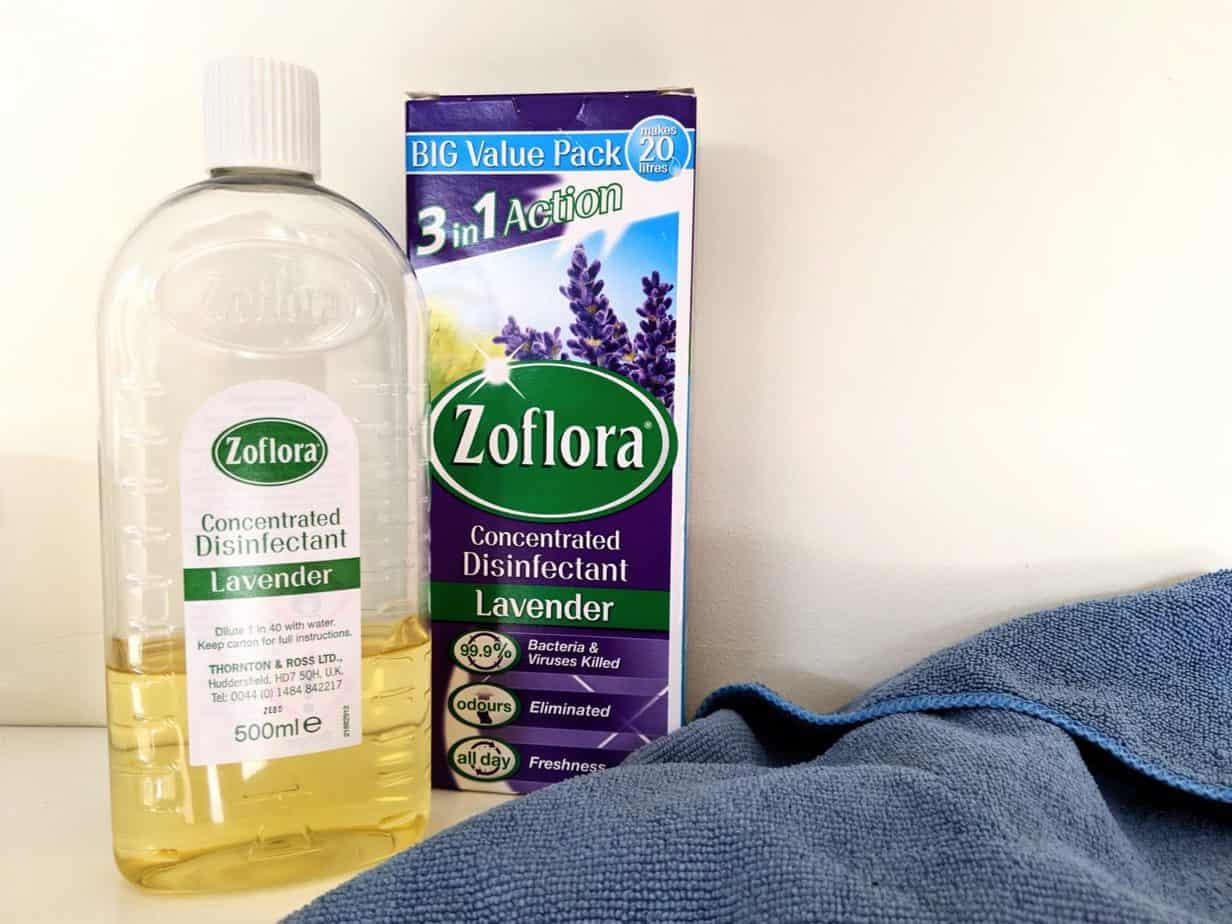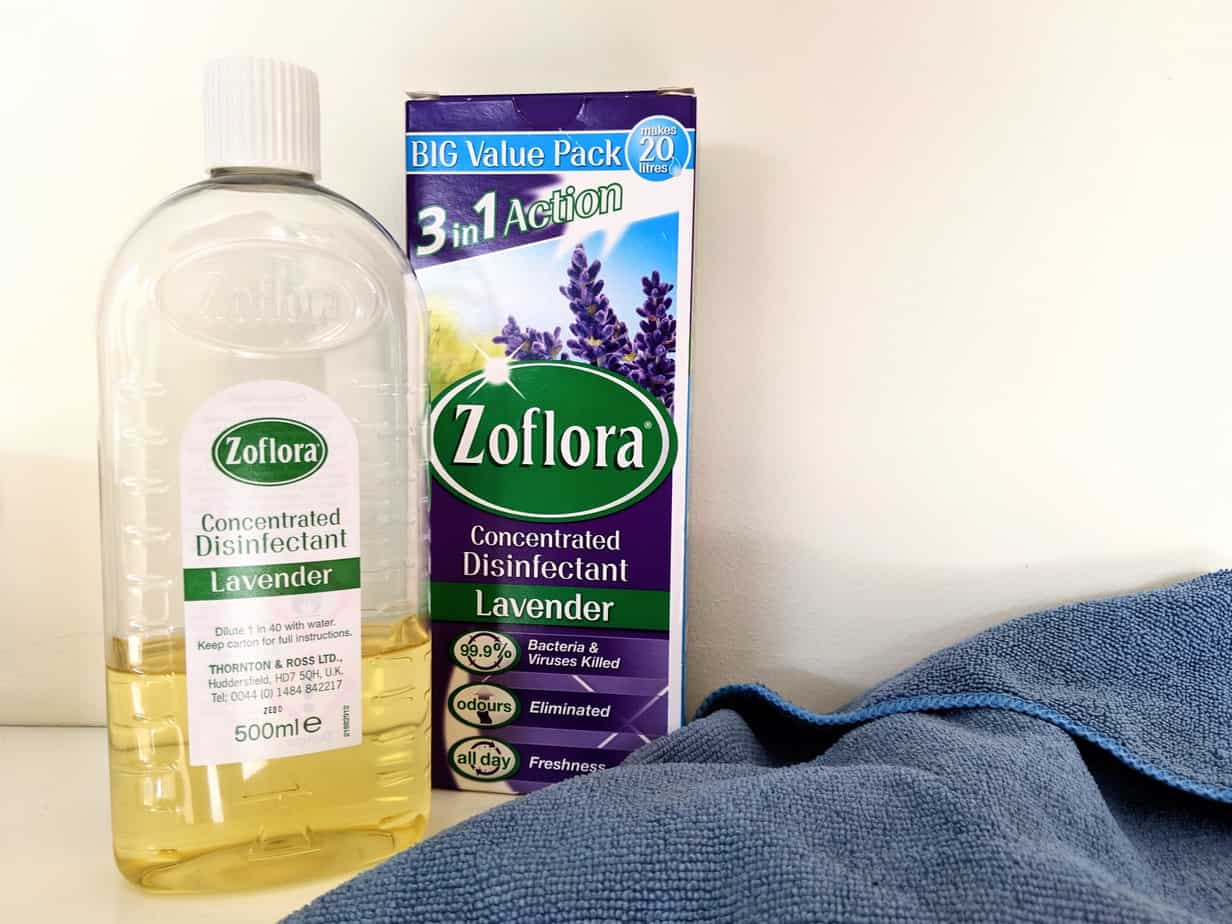 40 Zoflora Uses: Uses For Zoflora Around The House
1. Kitchen Worktops
Kitchen worktops are another area where bacteria can thrive unseen, so wiping down the surfaces every day with a mild solution of Zoflora and water is a great way to keep your kitchen clean and bacteria-free.
2. Doormats
Spray your doormats with a solution of Zoflora and water to get rid of any bacteria that's entered your home via dirty shoes. To be extra thorough, you could also soak the mats in a solution to remove all the bacteria and leave your mats smelling great.
3. Wiping The Skirting Boards
With your spray bottle, go around the house to wipe down your skirting boards and remove dust and grime that can build up over time. This will also leave a subtle but noticeable scent around your entire home!
4. Cleaning Your Wheelie Bins
Your wheelie bins are a prime place for bacteria and viruses to grow, not to mention how quickly they can begin to smell! Wipe your bins down every now and again with a solution of Zoflora and water to keep them fresh and hygienic.
5. Mop The Floor
You can either mix up a bucket of Zoflora and water to mop the floor and leave the house smelling amazing, or I have seen some people add a few drops of Zoflora to their steam mop, so this could work too!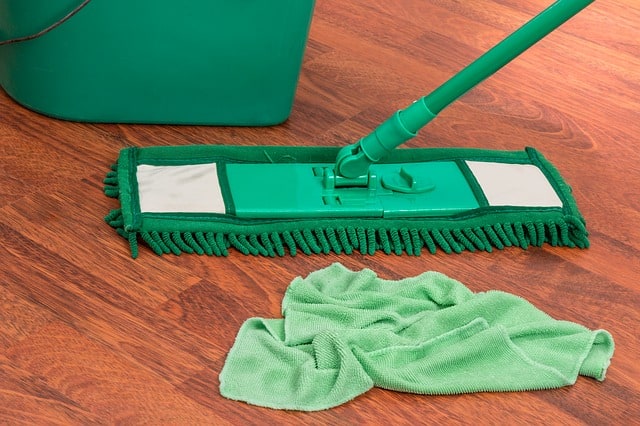 6. Getting Rid Of Bubbles In The Sink
Another popular use for Zoflora is to clear any bubbles leftover from washing up liquid in the sink! You'll also get the added bonus of disinfecting your sink and clearing any lingering cooking smells that can leave an unpleasant odour in your kitchen.
7. Laundry
If you (or your family) often come home with a smelly gym kit, Zoflora can be added to your laundry to keep the clothes smelling fresh, but also to actually target the bacteria growing in the clothes.
That means the clothes are actually being cleaned, rather than another product just masking the bacteria with nice smells!
8. Steam Cleaning The Bathrooms
Use your Zoflora solution to give your bathrooms a deep-clean, whether that's with your steam cleaner or simply by wiping down the walls and floor with a spray bottle solution or micro-fibre cloth.
9. Mattress & Duvet
When you're washing your sheets, don't neglect your actual mattress and duvet cover: spray a solution of Zoflora and water over your mattress and let it dry before putting your sheets back on your bed. It will smell amazing, and get rid of any nasty bacteria that's been lurking in the mattress!
Read next: How To Create A Minimalist Bedroom
10. General Cleaning
There are so many uses for Zoflora that I feel like I have to just drop 'general' cleaning in once! Whether you're just mopping the floors, wiping down your surfaces, or doing a deep-clean, adding a few drops of the product to your cleaning solution is a go-to Zoflora uses.
11. Kitchen Bin
Wipe down your kitchen bins and leave a few drops of Zoflora at the bottom before adding a bag to keep that area of your home smelling good, even when the bag has waste in it.
12. Radiators
This is one of the best Zoflora uses I've heard! Take a cotton pad or micro-fibre cloth soaked in Zoflora and use it to wipe down your radiators to clear away any dust and grime. When your radiators come on, they'll heat up the Zoflora and make your home smell amazing!
13. Car-Air Fresheners
Give your car air fresheners a new lease of life by dipping them in a strong solution of Zoflora – when they're dry, they'll smell amazing when placed in your car.
14. Remote Controls
Bacteria can so easily build up between the buttons of your remote controls, so giving these a wipe down once a week or so is a good idea.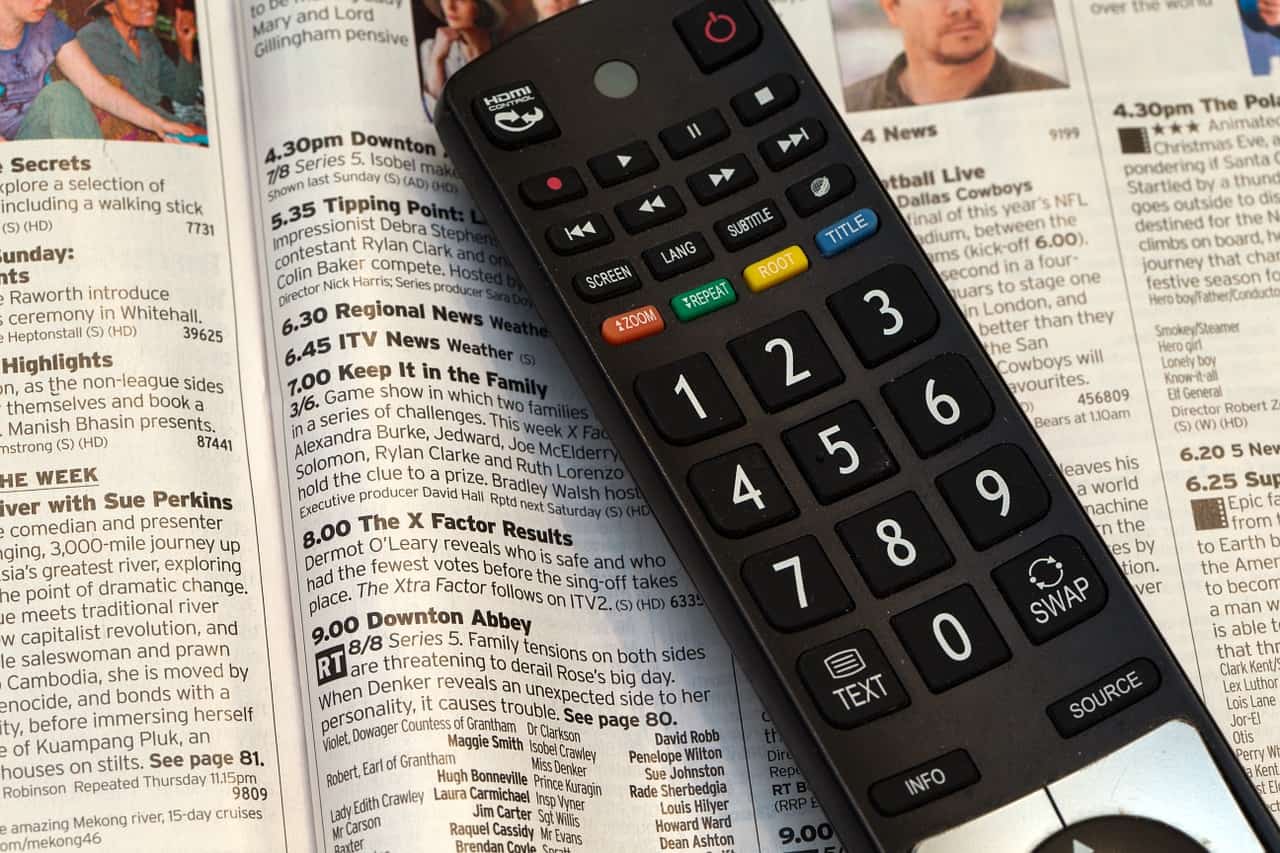 10+ Fun, Frugal Alternatives To Watching TV Every Night
15. PC Keyboards
Likewise, the keyboard of your PC or laptop is a hot-bed for bacteria to thrive, so give your keys a wipe down to disinfect them, too.
16. Ironing Water
Add a few drops of Zoflora into your ironing water to leave your clothes smelling amazing as you iron them.
17. Toilet Brushes
Another use for Zoflora is to put a few drops in your toilet brush holder, which makes them smell better and also disinfects them for a more hygienic way to store them.
18. Hoover bag
Another popular Zoflora uses is to either soak a cotton pad and place it in your hoover bag, or just sprinkle a few drops straight into the bag to make your floors smell great as you vacuum.
19. Light bulbs
Another one of those cool and creative Zoflora uses! Wipe down your lightbulbs with a Zoflora solution to clear away any dust, and when you switch the lights on the bulbs will heat the Zoflora to emit a lovely smell into your home.
20. Shoes
Wipe down smelly shoes with your Zoflora and water solution to clear away any bacteria, and keep the shoes smelling fresh for longer. Perfect if you've got fitness fanatics in your house – we all know how bad gym shoes can begin to smell!
21. Fridge Freezer
Zoflora is also great to use to clean down your fridge and freezer to keep it free from bacteria. Just pick a day when your fridge and freezer are pretty empty so you can give it a thorough clean without risking defrosting your food!
Read Next: Your Total Guide To Meal Prep & Saving Money On Food
22. Taps
Taps can harbour some bad bacteria, so giving your kitchen and bathroom taps a wipe down with your Zoflora spray bottle mix is a smart use for Zoflora.
23. Scenting Fake Flowers
This is one of my mum's favourite Zoflora uses, and it's so creative! She has these huge, beautiful bunches of fake flowers around the house (they are good quality as you can see below so actually look real!), and wipes them with Zoflora so they not only look great but also emit a heavenly smell, too!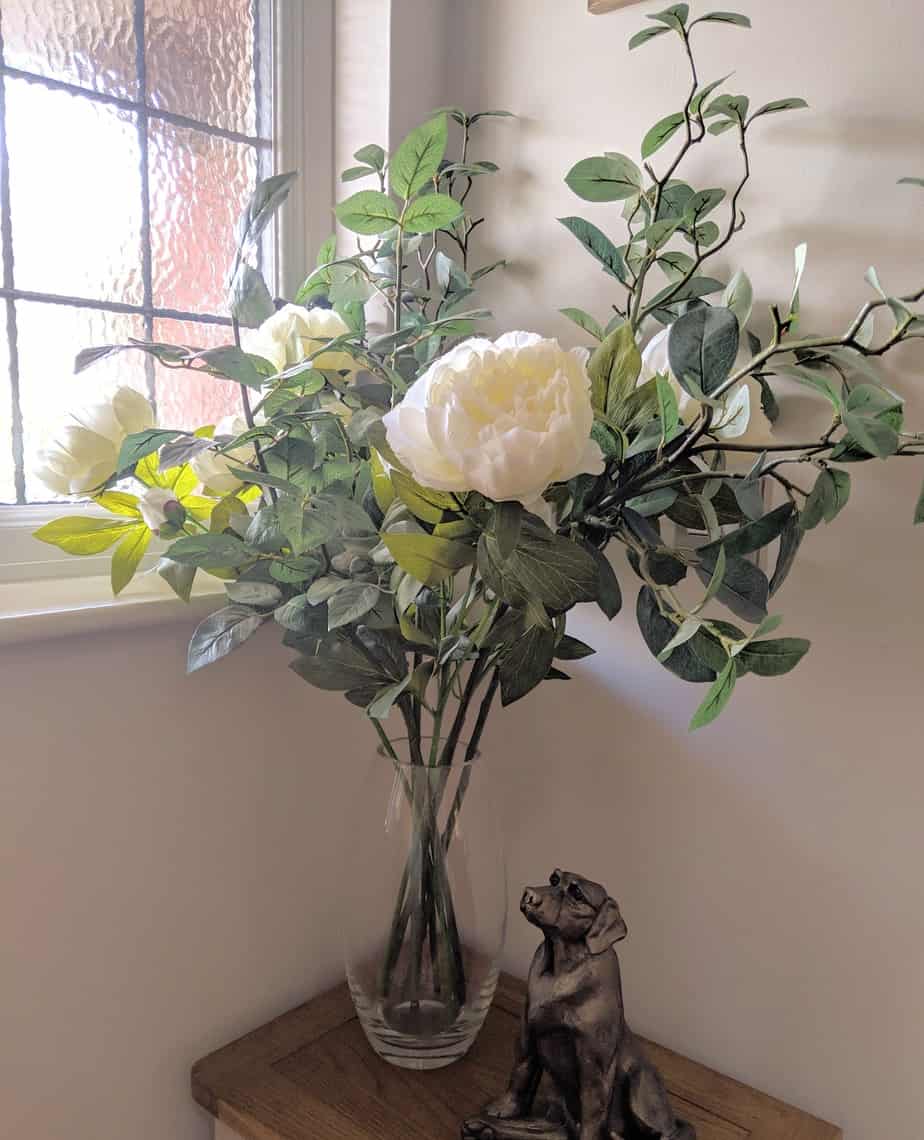 24. Shelves & Cabinets
Give your shelving and cabinets a once-over every so often with your Zoflora spray bottle to keep them free from dust and bacteria.
25. Soaking The Showerhead
Soaking your showerhead in a solution of Zoflora and warm water is a fantastic way of clearing limescale and grime build up from it. A good soak for 20 minutes or so should do just the trick.
26. Toilet
Pour a neat capful of Zoflora down the toilet just before going to bed, and you'll wake up in the morning with a wonderful smelling toilet that's also thoroughly disinfected!
27. Toilet Cistern
Another clever Zoflora uses is to add a little of the product to your toilet cistern, keeping the whole thing smelling fresh.
28. Drains
Again, pour a capful of neat Zoflora down your drains and leave overnight to get rid of any smelly bacteria.
29. Garden Tools
Gardenings tools and equipment can very easily be over-run with bacteria, so wiping these down every so often with your Zoflora solution and a micro-fibre cloth is a good idea.
30. Car Air Vents & Interiors
There are many Zoflora uses outside of the home, including your car! Wipe down the air vents and your car interiors (especially if you have kids or pets!) to clear away any unseen bacteria. With the air vents, you'll get the added bonus of a great smell when you turn your car AC or heating on!
31. Pet Toys
Look, we all love our pets – but we can also admit that they can get their favourite toys pretty gross. Pop them in the washing machine with a few drops of Zoflora to give them a thorough disinfecting. If you line-dry them for the day the smell shouldn't be too overpowering, either.
32. Pet Bedding & Blankets
Bacteria can easily grow in your pet's bedding and blankets, especially when your dog is coming in and out of the garden and from walks. Give your pet's bedding a wash with some Zoflora to thoroughly disinfect it and leave a pleasant smell.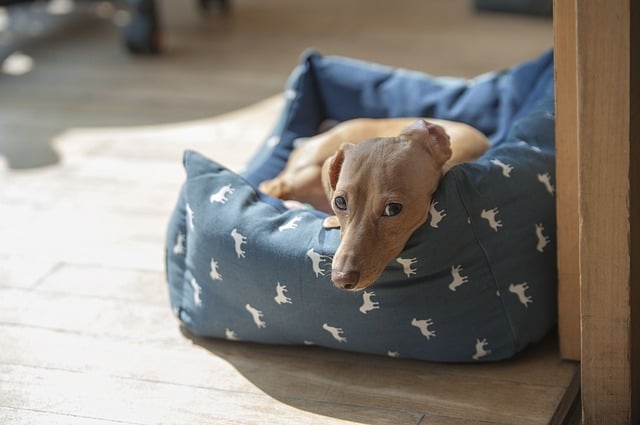 33. Washing Machine
You can also use Zoflora to actually clean your washing machine itself! Just add a few drops and put the machine on a light wash to allow the disinfectant to freshen it up.
34. Hob
Make sure your hob doesn't have any specialist cleaning instructions before doing this, but you should be able to wipe down your hob and hob grates with Zoflora to keep them spick and span.
35. Oven & Microwave
Likewise, keep your oven and microwave bacteria-free and smelling great by wiping them down with your Zoflora solution.
36. Rugs
Another popular Zoflora uses is to spray a little on your rugs and carpet, producing a subtle, fresh smell throughout the house.
37. Door Knobs & Handles
Doors, and more specifically, door handles, are hotbeds for bacteria to grow and spread. Don't neglect these areas on your cleaning rounds!
38. DIY Diffuser
A great frugal hack is to create your own DIY diffuser by mixing water and Zoflora, and adding some reed sticks to a small jar. Pick your favourite Zoflora scent and your house will smell amazing!
39. Dishwasher
Use a little Zoflora in an empty dishwasher cycle to disinfect your machine and leave a pleasant aroma.
40. Tumble dryer
Put your tumble dryer on an empty cycle with some Zoflora and you'll leave a lingering scent on your clothes in the next few loads!
Are there any best Zoflora uses that I've not mentioned? I'd love to hear your own favourite uses for Zoflora, so please do leave them in the comments if I've missed any!
*This post is not a sponsored post – all opinions are my own and tips found on forums from genuine customers!*