We may earn money or products from the companies mentioned in this post, and as an Amazon Associate I earn from qualifying purchases. Please see my full disclosure for more information.
This guide will take you step by step through how to start freelance writing with no experience. Whether you currently have a full-time job doing some form of content writing, are looking to make a complete shift in careers, or would like to dabble in freelance writing as a side hustle to earn some extra cash, this post contains everything you need to get your freelance writing business set up and running.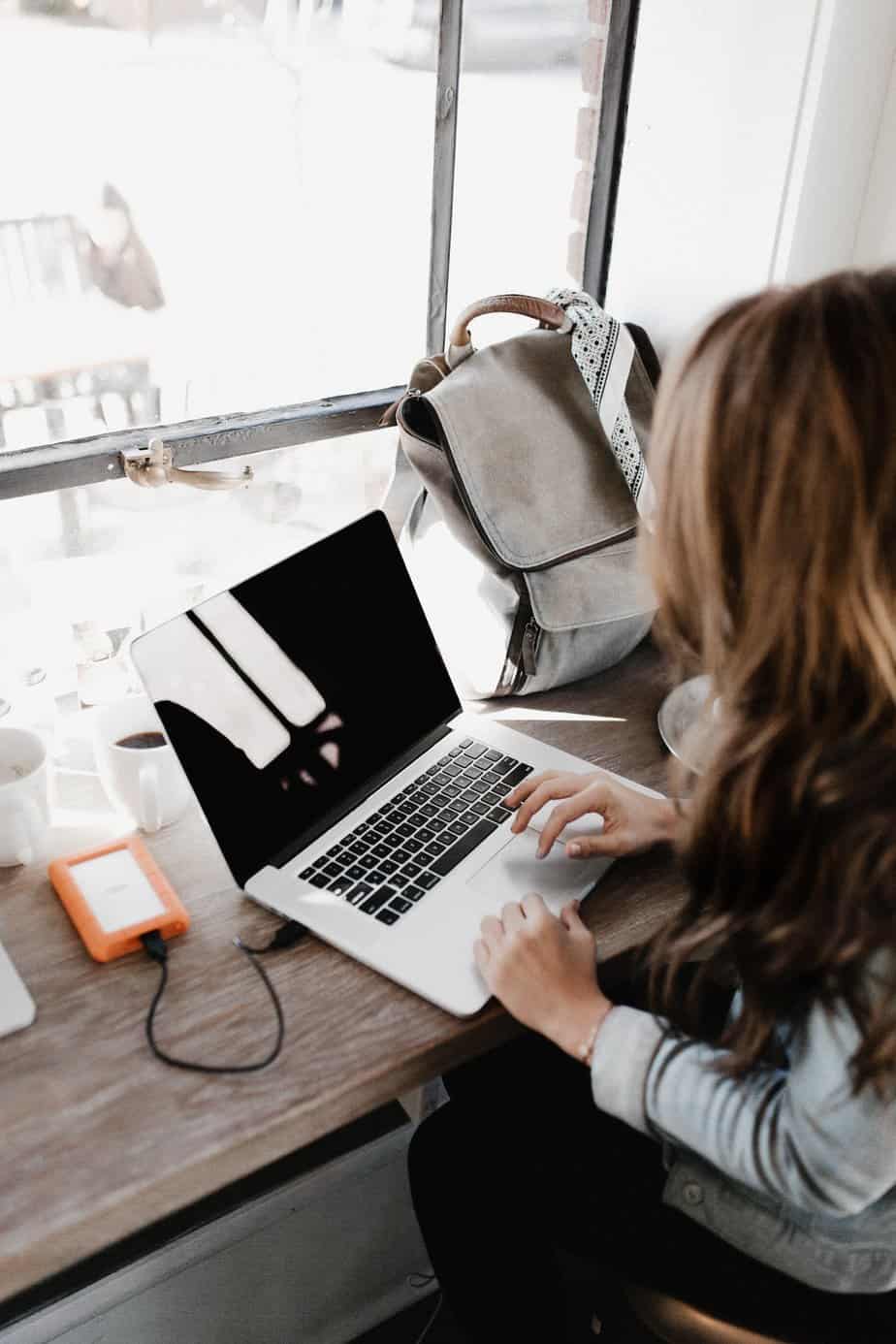 First of all though…
What do freelance writers do?
When I tell people I'm a writer for a living, many instantly think that means I write novels. While that would be a dream job, the reality for many freelancer writers is very different. The term is an umbrella for a huge range of different styles and industries. A freelance writer might specialize in:
Ghost writing
This type of freelance writing can take several forms. Essentially, ghostwritten content means your name is not credited for the work. For example, some prominent websites have a high readership because the founder is considered extremely knowledgeable in their field. You could be hired to ghost-write articles for this website as the founder will still want to put their name to the work in order to continue that authority they have within their niche. This extends to novels, biographies, and other types of content too.
Content writing for blogs
A large majority of freelance writers will earn money by writing blog articles for websites. You might be writing an article for a blogger, for an online magazine, or for a business's blog page. These days, having a constant online presence is key for businesses, and updating blogs with regular content is a big part of this.
Writing content for social media
Some successful freelancer writers specialize solely in writing content for social media. This could be either posting on social media platforms for increased brand awareness, engagement, and customer loyalty, or it could be writing more sales-driven content for paid social ads.
product pages and descriptions
E-commerce sites and online retailers need skilled copywriters to create eye-catching copy for their product pages and product descriptions. If you've got a knack for writing a catchy description in around 100 words or less, this could be a good route for you.
Web page copy
Some freelance writers work alongside freelance web designers to provide unique, SEO-driven copy for new websites or businesses looking to update their existing web pages with a fresh look and style.
Copywriting for advertisements online and in print
Freelance writers may choose to go down the sales route by offering copywriting services to businesses. This involves writing original, catchy content that reaches the target audience, drives sales, and ultimately increases conversions.
Writing for print – such as leaflets, guides, and training manuals
Some freelance writers go back to old-school print methods and will write articles for magazines and newspapers, and provide content for educational and marketing leaflets, guides, etc.
Article writing for online newspapers and websites
Finally, some freelance writers will go down the journalism route, pitching unique and interesting stories to major publications, either for print or online.
These are only a few examples of what freelance writers may earn money doing, too – it can be an incredibly varied job with a number of different avenues to specialize in. For the purpose of this article, I'll be focusing mostly on content writing/articles for blogs and other online businesses as this is one of the most common niches for freelance writers to start out in, and is one of the easiest to build up your experience in.
The freelancer's paradox
The new freelancer's paradox: you need a portfolio to get clients, but you need clients to build your portfolio in the first place!
In case that comes as a surprise to you, let me just repeat that. Having a portfolio of your writing is crucial for landing jobs as a freelance writer – and it's even more important if you have no experience and therefore no likelihood of being recommended through word of mouth.
So, how do you build a portfolio before you even have any clients? Let's take a look.
How to become a freelance writer with no experience
`1. Choose a niche
Before you begin creating your portfolio, it's a good idea to first decide on your freelance writing niche. That way, you can style your portfolio around your target audience – business owners and entrepreneurs in the industry you'd like to write for. Any professional writer will generally have one or two main niches that they write for. It builds trust. Travel industry clients are more likely to trust someone with five years' experience building an online presence in the travel niche, for example, than they would a writer with five years of experience writing for any client that throws them a job.
The first thing you should do, then, is to decide what industry you would most like to write for. For now, you can choose two or three – but make sure the writing experience you demonstrate is applicable to the jobs you will be applying for. That's key, especially when you don't have a lot of experience.
2. Create your portfolio
First things first; don't panic. You don't necessarily need to land paid freelance writing work before you can start building your portfolio. In fact, it may be better to take a bit of time when you can to create a portfolio of 3 – 5 pieces before you even begin applying to writing jobs.
Some great ways of doing this include:
a) Start your own blog
Here's a little anecdote for you. When I first started freelancing all the way back in 2017, I also started a blog about personal finance and my life on the road. This was one of the best decisions I ever made. I learned so many skills that my future clients were happy to pay more for, and my personal blog gave me a portfolio packed full of samples of my writing to send to potential clients.
In fact, within months I was having clients come to me with work after finding my blog. Without really intending to, I had simultaneously created a freelance writing portfolio and provided a gateway for future clients to reach out to me directly.
Having a blog of your own is arguably the best way to build authority in your niche (if you'd like to win freelance travel writing jobs, start a travel blog, SEO jobs, start an SEO blog, etc) and provide great examples of your writing skills in your blog posts. All you need to do is link your blog when applying for freelance jobs!
This guide to starting your own blog is a great place to get started. It's a little more time intensive than some of the other strategies mentioned below, but a genuinely great investment for your future as a writer.
b) Write guest posts for existing blogs
Many websites will let you pitch a blog article related to that niche, which will also include a bio in which you can advertise that you are a freelance writer. Guest posting is a great way to get your writing in front of a pre-established audience, and it also provides a sample of your writing to add to your portfolio. It can even be a great way of connecting with others in your niche, which could lead to potential clients in the future.
Some bloggers do require that you be a blogger before you can guest post for them, so be mindful of these rules if you don't have your blog set up yet.
You should also be aware that guest posting is often used as a way for spammy link-builders to attempt to get a link on more established websites, so take care to tailor your emails to these websites to show you are genuine in your pitch with no alternative motive.
c) Reach out to your network
As well as starting my blog when I first started my freelance writing career, I also did some work for friends free of charge when I first started building my freelance business.
I approached friends, family, and friends of my family who owned their own businesses, and asked if I could produce some copy in the form of blog posts or re-writing their websites in order to add some quality writing samples to my portfolio.
As you can imagine, not many turned down the offer of free work (many even paid in non-cash ways in return), and these projects contributed to some awesome, legitimate samples of work to add to my portfolio.
d) Write unpublished content
If none of the above are an option for you, you could simply write content that goes unpublished. This is an easy way for new writers without published work to showcase that they're good writers with a lot of knowledge in their chosen niche but doesn't take much more effort than that.
You could showcase your unpublished portfolio in a tasteful PDF, and include a selection of the writing services you're aiming to offer – such as articles, social media posts, email marketing examples, etc. Note that although this may be the easiest way to demonstrate your writing skills quickly and easily, a client is more likely to put their trust in someone who has been previously published.
3. Finding your first clients as a new freelance writer
If you've followed the above steps and got a beautiful portfolio of around 3 – 5 pieces of content in place, it's time to get out there and find yourself some prospective clients!
A few of my top ways to find clients for your freelance business include:
1) Upwork
Upwork is arguably the biggest platform online for finding freelance work. I've used it to find freelance writing jobs and, now I'm further along in my career, to find freelance writers for hire for my own projects.
If you're thinking Upwork seems like the exact kind of place where you'll find countless jobs offering $1 for a full article, you would be right to have that worry. Upwork can be notorious for clients offering shockingly low rates – and the unfortunate part is that as a global platform, you're often competing with writers in parts of the world where they can afford to live on those low rates offered.
However, Upwork is also an enormous platform with just as many genuine, quality jobs hidden amongst the rest. I used Upwork most often in 2017 and 2018 when I was first starting out as a freelancer. Back then, I earned almost $6,000 from Upwork in the past year, with many of those projects being long-term contracts that guarantee an income every month.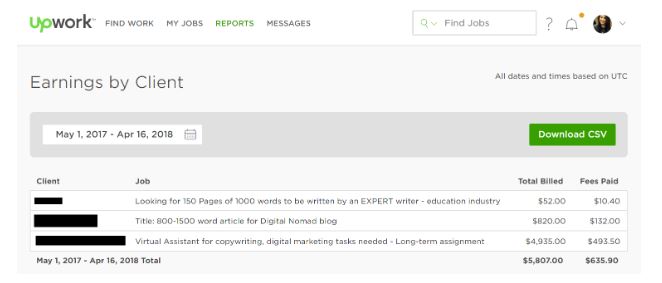 You may have to spend a little extra time sorting the genuine clients from the time wasters, but there is real money to be had here.
2) Job Boards
Job boards tend to have a higher caliber of job vacancies all-round, with clients likely to pay a higher rate for a better standard of writing. Once I had some solid experience under my belt, I started applying for writing gigs via the sites listed below – and landed some well-paid, long-term jobs that made me feel like I'd actually made it as a successful freelance writer.
However, you can still use job boards to find freelance writing jobs, even with no experience. Just know that you may be competing with more experienced writers, so you'll need to be sure that your application really fits the job spec. If you don't have the time to spend finding genuine jobs on Upwork, I would recommend you go straight to job boards to find opportunities to pitch to.
My favorite job boards for finding work include:
ProBlogger
BloggingPro
Remote.OK
3) Fiverr
Fiverr is a bit different because the clients come to you. However, as a hiring manager myself these days, I've had a lot of success hiring great quality freelance writers via Fiverr, and it's definitely one of the platforms to be on.
You can join Fiverr by creating a profile with the jobs you offer, and your rates (most writers provided rates for 500 words, 1,000 words, and 1,500 words with optional add-ons such as SEO research, revisions, and a quick turnaround.
4) Cold email pitches
This is a great way to find freelance writing jobs in your local area if that's something you're interested in. Say you see a business in your local area that has amazing products, but its online presence and blog are significantly lacking. You could easily find their email address and offer your writing services. This may be one of those techniques where you email businesses 20 times to get one response from potential customers, but it can still be an excellent way to target businesses for long-term work without facing the high level of competition you get on online platforms such as Upwork and Fiverr.
Setting your rates
Many jobs will ask that you provide your rates when applying for freelance writing jobs. So, what should you put? According to PayScale, the average hourly rate for freelance writers is $24.64. For jobs looking for your rate per word, Draft estimates the average rate to be between $0.02 and $1 per word – so quite a significant margin!
As a new freelance writer, it can be tempting to set your rates low to increase the likelihood of being hired. However, you need to be careful that you are not setting your rates so low that you can't afford to live. Additionally, keep in mind that most quality clients will not be looking to hire the cheapest writer – they'll be willing to pay for a higher standard of work.
As a hiring manager myself, I actually tend to steer away from the freelance writers with super low rates as I would expect to get a poor standard of work for that price.
mANGING YOUR FIRST CLIENTS
Once you've got to the point where you have a client or two on board, you need to turn your attention to managing your clients and cultivating those successful professional relationships that will really skyrocket your career.
Here are a few tips for successfully managing your first clients:
Use a project management tool such as Monday or Asana, or a Google Sheet, to track your projects throughout the month and ensure you don't miss deadlines.
Keep track of the timezone your client is in if you are working for international clients, and take care to contact them when you know they'll be online if possible.
Set aside some time to analyse your capacity each time you take on a new client. It's crucial that you don't take on too much work and end up delivering a lower standard of work in a rush to make all your deadlines.
Agree a clear invoicing structure with each client – ideally, you'll be invoicing your clients at the same time each month so nothing gets missed.
Don't be afraid to let go of bad clients. If you have a bad feeling about a client at the beginning (red flags include late payments, poor communication, vague briefs, excessive demands for revisions, etc) then listen to your gut and try to align yourself with clients who you can see yourself having a working relationship with.
Should new freelance writers build an online presence?
There's a few different ways to look at this. In the long-term, it can be extremely beneficial to have an online presence as a freelance writer. Simply having an active Twitter account, for example, can be instrumental for connecting with other writers, potential clients, and building authority around your name in your chosen niche.
However, there's definitely the risk of focusing on this so much when you first start out that you end up putting off the most important part of all – applying for jobs! The number two most important things you need to do to become a freelance writer when you have no experience are to create an impressive portfolio that will impress your prospective clients, and secondly, to get out there and start applying for jobs.
Once you've landed your first couple of jobs and are in the swing of things, then you can turn your attention to marketing yourself through building that online presence.
Tools every new freelance writer should use:
These tools are a must-have for every new freelance writer:
Google Docs
Google docs saves automatically, lets you share your work instantly with your clients, and is all based online, so you can access your work from any device provided you have your login details. If you are not using Google Docs already, this is a must.
Grammarly
Grammarly is a free browser extension (although there is a paid version) that automatically scans your content for spelling mistakes and grammatical error. It's so incredibly useful for picking up typos and other mistakes that you might not otherwise spot, ensuring your work is always it's best possible quality.
Wordtune
If you're a new writer with no experience, you might still be really getting to grips with your style of writing. Wordtune is a great little (free) tool that offers different ways you could re-write a sentence to make it more cohesive. I use this occasionally when I just can't express something quite right!
QuickBooks
All freelancers are responsible for filing your own tax return every year. Using a tool such as QuickBooks automates the process of tracking your expenses and income across the year, so you can submit accurate tax returns without manually trawling through every invoice you sent.
Complimentary freelance writer skills
What other skills do freelance writers need aside from being a great writer? These skills are all highly-valued by clients looking for a writer.
SEO knowledge
Independent research
Knowledge of WordPress and other CMS systems
Sourcing royalty-free images
---
The above tips should give you a fantastic foundation for starting your own freelance writing business. Interested to learn more? Sign up for my free resource library below for more tips on launching a successful freelance writing business with no experience necessary!