We may earn money or products from the companies mentioned in this post, and as an Amazon Associate I earn from qualifying purchases. Please see my full disclosure for more information.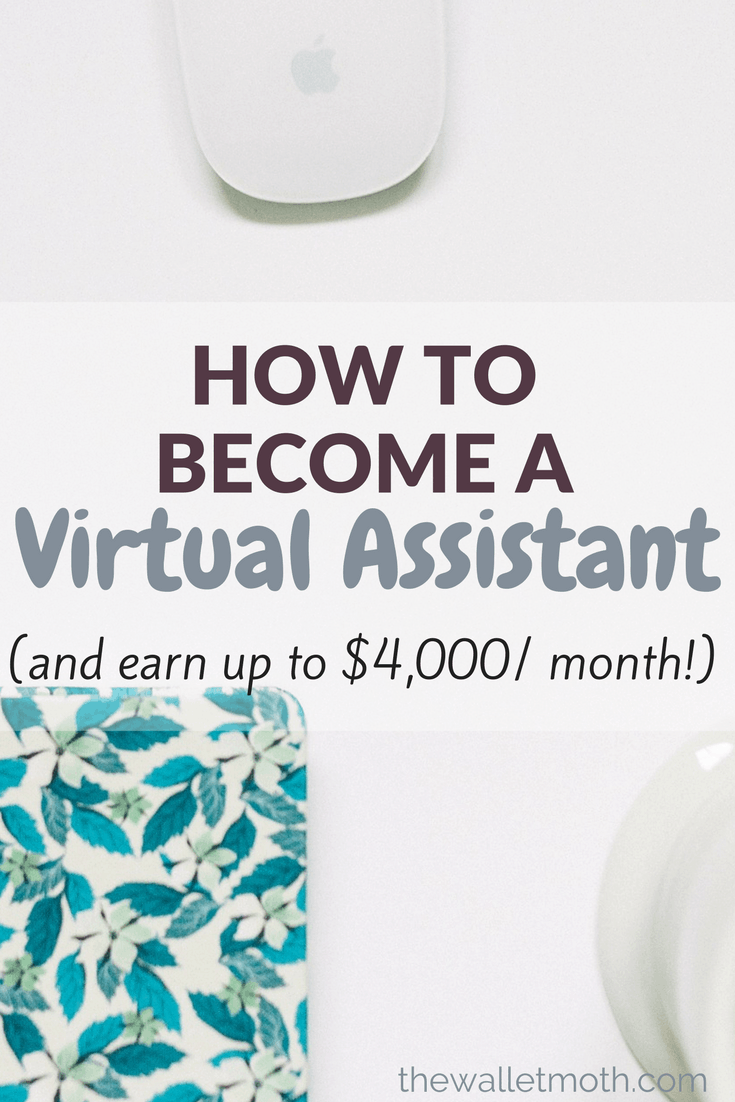 Hey Everyone! This post is another installment of my Work Anywhere series, featuring a whole host of legitimate jobs that can be done remotely (yup, that means working in your PJs is totally OK!), as well as the best tips and information you need to successfully be location independent.
Check out my first post to see how I make money working anywhere! Today's post is going to focus on how to become a virtual assistant. As a virtual assistant myself, I know that this remote job is a great way to earn a living, and provides an enormous amount of flexibility in your day-to-day life.
If you're interested in becoming a digital nomad, are a SAHM (or Dad!), looking to make some extra cash as a student, or looking for a remote job to make into a career, this post applies to you – read on to find out exactly how to become a virtual assistant, make a genuine living – and work anywhere! If you like the idea of working online but are not sure you have the skills to do so, this article on getting paid to be an online friend might be just what you're looking for!
How I Became a Virtual Assistant
If I'm honest, I fell into my virtual assistant job. I was applying to tonnes of job postings in the run-up to leaving my full-time job and I got lucky. I wasn't totally sure what a virtual assistant did, and I wasted a good portion of the first few months in this role trying to find my feet.
That's why I did some serious research online to find examples of other people who have not only bumbled along as virtual assistants but have actually made it. Then I stumbled across Gina Horkey, a lady who discovered the concept of being a virtual assistant and working remotely in 2014, and has totally overhauled her life since.
Within just 6 months she was earning over $4,000 per month with her side hustles. Within 8 months, she quit her day job and was working entirely online. Oh, and did I mention she achieved all this with a baby and a toddler in tow? Yeah, Gina is my virtual assistant goals.
While I'm a part-time virtual assistant, she is living proof that being a virtual assistant is a legitimate career choice for anyone – and better still, she's the brains behind a hugely successful course that trains you to become a virtual assistant in just one month.
Read Next: How I Landed My First Freelance Client
What Actually is a Virtual Assistant, Though?
'Virtual Assistant' is admittedly a vague-sounding term, but that's because the things you can do as a virtual assistant are extremely broad. Essentially, you're providing online support to businesses in whatever way they need it. This can include:
Proofreading and editing blog posts

Scheduling social media posts

Administrative tasks (responding to emails, sorting inboxes etc)

Running a blogger's Pinterest strategy

(my personal favourite task!)
The list goes on. Thankfully, Gina's site has an enormous list of over 150 services you could offer as a virtual assistant – and you'll be pleased to find that most of these are skills you probably already have!
What's the Best Thing About Being a Virtual Assistant?
One of the biggest reasons to consider becoming a virtual assistant over another remote job – for example, writing or web design, is how quickly you can start. Being a virtual assistant requires good common sense and IT skills over anything else. You don't need hours of training to become a highly skilled writer, you don't need to invest in expensive software such as Photoshop or coding programmes to get started – you just need you.
In Gina's course, 30 Days or Less to Virtual Assistant Success, she takes you through how to become a virtual assistant, with everything you need to set yourself up in – you guessed it! – just 30 days. This is the perfect course if you're ready to kickstart your new remote career, but are feeling a little overwhelmed on where to get started – and how to move forward.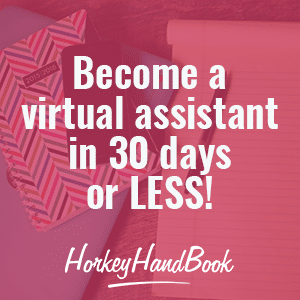 If you're looking for a work anywhere career path right now, this is one of the best courses you could take. As a copywriter, I don't believe anyone who says they can prepare you to be a freelance writer in just a few weeks. You'll be stuck writing $10 articles for years. Ditto for web design, coding and a number of other technical remote jobs.
Being a virtual assistant uses skills you already have – and Gina's blog and course are dedicated to showing you what those skills are, and how to market them.
Related: Starting a Freelance Business 101: What You Need to Know
How Much Can You Make as a Virtual Assistant?
When looking into how to become a virtual assistant, you want to be sure that you can earn money from this service. How much you can make, of course, varies completely depending on your experience, the company you're applying to, and the number of hours you'll be working each week. However, to give you a sense of scale, Gina says she charged her first client $34/hour.
As for myself, I earn $500/month as a virtual assistant for one client and spend about 8 – 10 hours per week on their tasks. The most important thing to remember is not to undervalue yourself – there are a lot of people out there that will take advantage of the competition for remote jobs, but there's a lot of genuine companies looking for hard workers too if you know where to look.
How to Become a Virtual Assistant?
I completely fell into my role as a virtual assistant and honestly, my lack of knowledge about what would be expected of me lead to a lot of wasted time and a rocky few months while I found my feet.
When I found out about Gina's course, I knew it would have saved me so many painful hours in front of my laptop wondering what on earth I was supposed to be doing and scrabbling to get my work together for my clients.
Check out Gina's super helpful post on everything you need to know about becoming a virtual assistant. She'll take you through exactly what she does, how to calculate how much to charge, and how to find your first clients.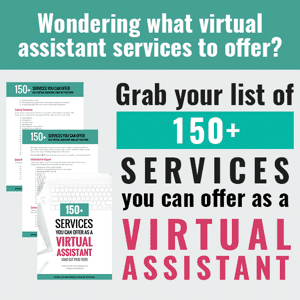 Things to Consider
A virtual assistant helps others build their brand by providing behind-the-scenes support. However, it's been a great door for me into more freelance writing work, building skills in SEO, design, and more. Whether you want to become a full-time virtual assistant or to just build up your income by adding this quill to your bow, I'd highly recommend joining the VA Community with Gina's hugely successful course.
Check out the best-selling course 30 Days or Less to Virtual Assistant Success to learn everything you need to know about becoming a Virtual Assistant – and you could be launching a fully-fledged, professional VA Service by the end of this month!
The form you have selected does not exist.