We may earn money or products from the companies mentioned in this post, and as an Amazon Associate I earn from qualifying purchases. Please see my full disclosure for more information.
If you're looking for more freedom in your career, the ability to travel full-time, or for a side-hustle to earn a little extra money, freelancing is the perfect option. However, many people don't know how to start freelancing – I'll be the first to admit, taking those initial few steps can feel like a leap into the unknown.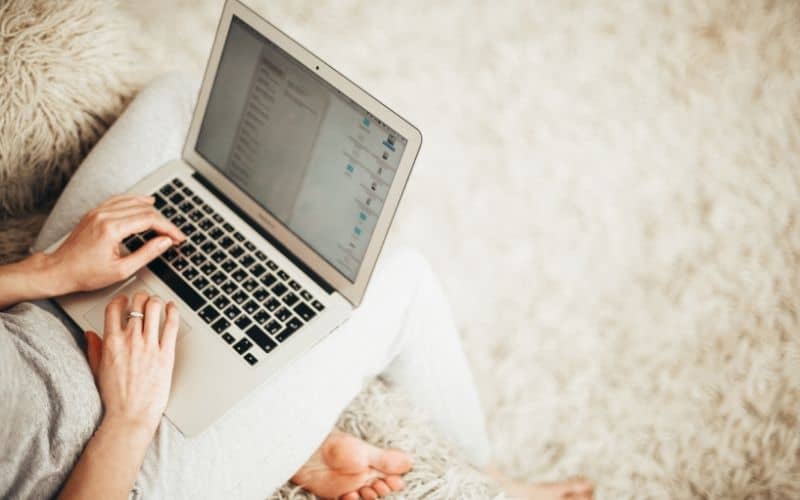 I'm under no illusions that successfully building a freelance business at 24 years old is something that sounds entirely impossible to a lot of people.
Three years on, I still have the same conversations with all kinds of people, again and again. And that conversation centres around the same theme: I wish I could do something like that, but I have no idea where I would even start.
The fact is, more and more people are waking up to the fact that the 9 to 5 workday is dated and no longer the most efficient way of working. Millennials these days don't want to be sat on our asses for 8 hours a day.
Flexible working is increasingly being shown to increase productivity, happiness, and well-being. What's more, freelancing has grown so much in popularity that 66% more 26 – 29-year-olds are now in the gig economy compared to 2008.
People are starting to question who the hell got to decide that every job under the sun takes 8 hours a day, 5 days a week to complete properly? Who gave businesses the audacity to dictate where we work and for how long – and with no promise of more money if we happen to be more productive or efficient than most?
Freelancing is the answer to one thing more and more people are craving: more freedom.
We know ourselves best. If that means starting work at midnight and finishing at 4 am works best for us, then who's to say you can't make your money that way?
A bit of background
I've been working as a freelance copywriter as my sole source of income since the start of 2017, and I've also been a virtual assistant for a site that's all about connecting other freelance professionals with jobs around the world as well as a social media manager, so I've come into contact with a lot of advice, tips and evidence that show just how much freelancing can change your life.
Freelancing gives you complete control. You control your working hours, your income, who you work with, what you work on, and how quickly your business progresses. For some people, that's liberating – and for others, that's terrifying. It's not for everyone.
Of course, there are downsides to freelancing. It's isolating. You need to be incredibly motivated. My income dips as much as it peaks, and I'd be lying if I said that doesn't send me into a spiral of anxiety some weeks. Discipline is essential. Sick pay, holiday and employee benefits don't exist anymore. Taxes, period.
The pros and cons aren't really the point, though.
Everyone should have the tools they need to decide if this lifestyle is right for you. The whole reason I started The Wallet Moth was because I hated the thought of there being people out in the world living a life they hate all because they don't know how to change it.
So, I've spent a long time putting this post together. A step by step, complete guide to how YOU can start a freelance business – ambiguity be gone.

How To Start A Freelance BUSINESS FROM SCRATCH
step 1) state your business
When starting a freelance business, you can't just be "a freelancer".
No one makes money by selling themselves as a writer, web designer, marketer, programmer and more – I mean, sure, at first you might, but you're quickly going to find yourself either overwhelmed with different projects or unable to convince anyone that you're actually an expert at the million things you offer.
You may be adept at all of those things, but you need to choose one to specialise in first.
A lot of advice says to go niche – very niche. However, to get started, just pick a specialism. Copywriting, web design, programming – whatever you have skills in and an interest in, run with it.


STEP 2) BUILD YOUR FOUNDATIONS
Every business should have a website, and be blogging about their services. Having all the social media channels for your freelance services is great, but having a website dedicated to your business (even if it's just a yourname.com domain listing what you do) is better.
List your site in all your social media channels, and create several optimised pages to increase your chances of being picked up on search engines. Adding your niche and location in the page title can be great ways of being listed at the top for certain searches.
Your website pages could include:
About Me
Services (broken down into several pages if necessary)
Portfolio
Testimonials
Contact Page
Blog
Building an online presence with a professional website, social media profiles (LinkedIn, Twitter, and possibly a Facebook or an Instagram page are good places to start) is essential. We live in a world where you can apply for a job, and your employer will Google your name to find out more about you. Be present, and be impressive.


STEP 3) BE ABLE TO BACK YOURSELF
When I first started looking at freelancing (way back, when I was still working full-time at the same time), I thought I'd fallen into a trap. I had a lot of copywriting experience from working at a marketing agency for almost 2 years, but because we were essentially ghostwriting, I couldn't publicise the work I'd done online.
The articles and sales pages I'd written belonged to the business that paid for them, or at the very least the agency I worked for. Putting links to these sites on my website called in some serious questions and wasn't an option for me.
If you're in a similar situation to me, do what I did: create a PDF portfolio that you can send privately to clients. While it's not online, I can still privately show potential clients the projects I've worked on in the past.
Alternatively, you're more likely to be in the situation where you have little to no prior experience at all, and thus no portfolio to speak of. Start offering your services to friends and family immediately, for free if you have to. Do these projects to the very best of your ability, and you'll soon have a great – if small – portfolio to send to clients. Clients love to see proof of your skills and experience, so having something to show for yourself is better than nothing.
Finally, if you are starting from scratch and have a small (or non-existent portfolio), the next step is essential if you are serious about growing a freelance business.
STEP 4) MAKE YOURSELF AN AUTHORITY
The ease at which you can create an online presence these days means that establishing yourself as an authority in your chosen niche is incredibly easy (provided you are actually an authority in what you do).
Your website can be the perfect place to build your portfolio, especially if you're a copywriter. If you're a web designer, illustrator, graphic designer, or something else, blogging can still be a great way to promote your freelance business.
Blog about your field if you want to – how to be a better copywriter, how to create perfect illustrations etc. This can be a great way to make connections in your field.
I started this blog around the same time that I started my freelance business, and without even meaning to, it served as a fantastic showcase of my writing for potential clients. In fact, within just three months of starting my blog, I was contacted out of the blue with a copywriting job offer directly through this site in less than 2 months. Make your blog great, and people will want you to make theirs look great too.
The number of opportunities blogging opened up to me has honestly changed my life. I've lost count of the number of friends, family, and readers I've urged to give blogging a try if only for the creative outlet it can provide.
pro tip:
Be authentic. The number of people out there today claiming to be an expert in


5) Get Your Name Out There
Many people turn their nose up at job boards like Upwork and Freelancer.com. While these can be saturated in job postings wanting to pay $0.01 per word or less (yes, really), there are also real, genuinely great clients on there willing to pay a higher premium for a quality freelance professional.
Spend the time sifting through job posting and applying to any that you feel you'd be a great match for. Don't undersell yourself and accept clearly poor paying jobs from the start, but be realistic about your experience at the same time.
I actually landed my first few paying clients via Upwork. I'm still happily working for them today. Check out my post on how to successfully get great clients via Upwork with no experience necessary.
Looking Ahead…
Once you've landed your first client, keep the ball rolling! Keep applying for jobs, keep networking, and keep marketing yourself via your blog and social media.Are you looking to become a freelancer? Don't hold back – follow the tips listed here and get started on your lifestyle change today…
Starting my own blog was one of the best decisions I made for focusing my mind on the goals I truly want to achieve. If you're interested in starting a blog of your own, I strongly recommend using BlueHost for a quality hosting provider at low prices (it's the only provider I use!). Check out my exclusive link for a free domain and hosting packages as low as $3.95/month.