We may earn money or products from the companies mentioned in this post, and as an Amazon Associate I earn from qualifying purchases. Please see my full disclosure for more information.
These jobs for pregnant women are ideal whether you're looking for a completely new role, or are looking to make some extra money on the side before the arrival of your baby.
In this total guide, we've listed some of the best jobs for pregnant women wanting to work online from home, build passive income, or earn some extra cash without getting another job.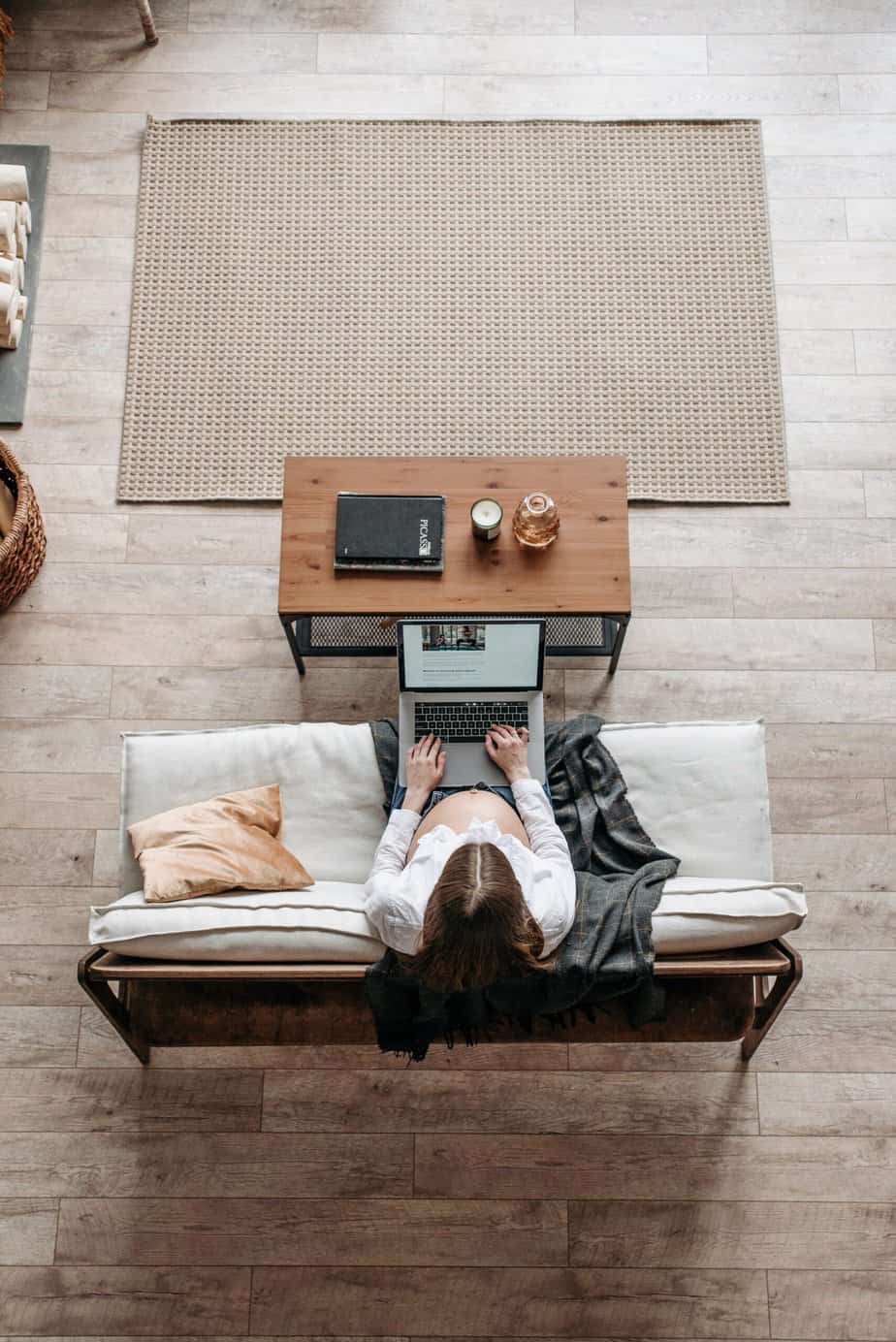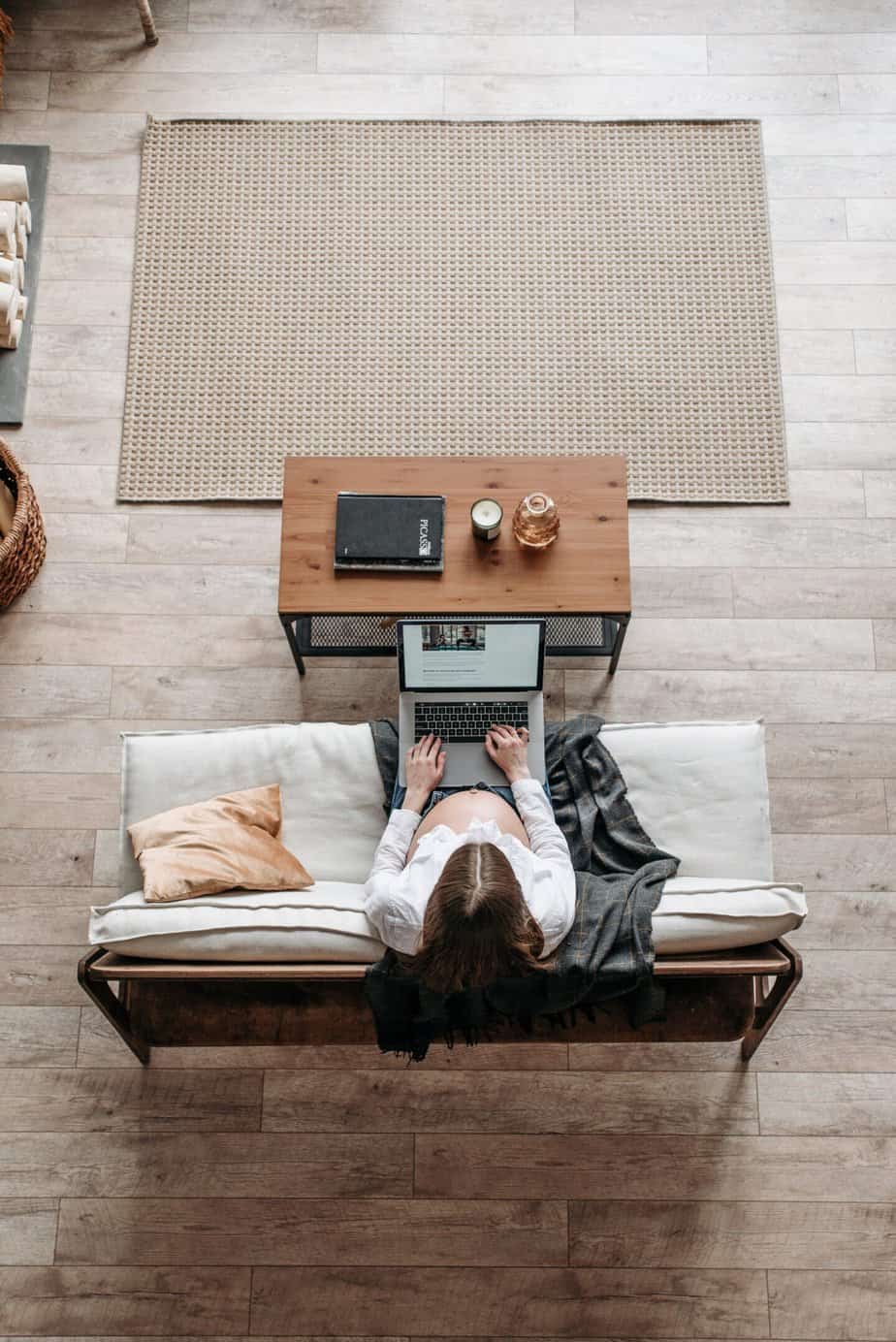 Finding the Right Job as a Pregnant Woman
Jobs for pregnant women are, in theory, easy to come by. That's because legally, employers are not able to refuse to hire you due to anything relating to your pregnancy. However, many of us know the reality can be different.
Equally, your priorities may be changing when you're pregnant. You may prefer to find a job you can do remotely, where you're more comfortable and don't need to travel for hours on hot public transport.
Can I be employed if I'm pregnant?
The below list features some of the best jobs for pregnant women – but it's by no means an exclusive list. As a pregnant person, you can be employed for any role that you are qualified to do. You aren't automatically excluded just because you're pregnant.
The stay-at-home jobs for pregnant women listed below, however, are all online and often possible to do completely remotely. For many pregnant women, this offers a degree of freedom, flexibility, and comfort that is extremely valuable both when you're pregnant and after you've had your baby.
Work form home jobs for pregnant women:
1. Writer
Working as a writer has many perks. You can control your own hours, your workload, and your rate, and you have a wide range of niches to choose from depending on your interest and expertise.
You could opt to freelance as a writer by signing up with a popular platform such as Fiverr or Upwork and find work that way, or you could look on job boards for an employed position. Note that not all employed writer roles are completely remote, so this is something to be aware of. Read this guide to getting started as a freelance writer.
2. Blogger
When you only have a maximum of nine months (and realistically, around seven months by the time you realise you're pregnant!) before your baby's arrival, blogging may be a risky strategy. While it is possible to make a fantastic income via blogging, it can take a while for your website and following to gain traction.
One thing to consider, however, is that many ways to make money blogging are passive once you're up and running. You could work on your blog now and reap the rewards of passive income once you're little one is here. You can buy your domain and hosting for around $4 a month on Bluehost and get started in a couple of minutes.
3. Customer-Service Agent
Have you ever spoken to a customer service agent online via a company's chat box on their website? We all know how much easier and more convenient this option is compared to phoning up or waiting hours for an email response.
Being an online customer service agent is a perfect job for pregnant women, with set hours and therefore a stable income each day.
4. Editor
If you've got an eagle eye for grammatical errors and spelling mistakes, one of the good jobs for pregnant women is to be an editor.
As an editor, your role is to polish and preen an article before it's published in order to ensure the content is in keeping with your client's tone and brand voice.
Much the same as writing, you'll find success here registering your services on Fiverr or Upwork and applying for appropriate roles.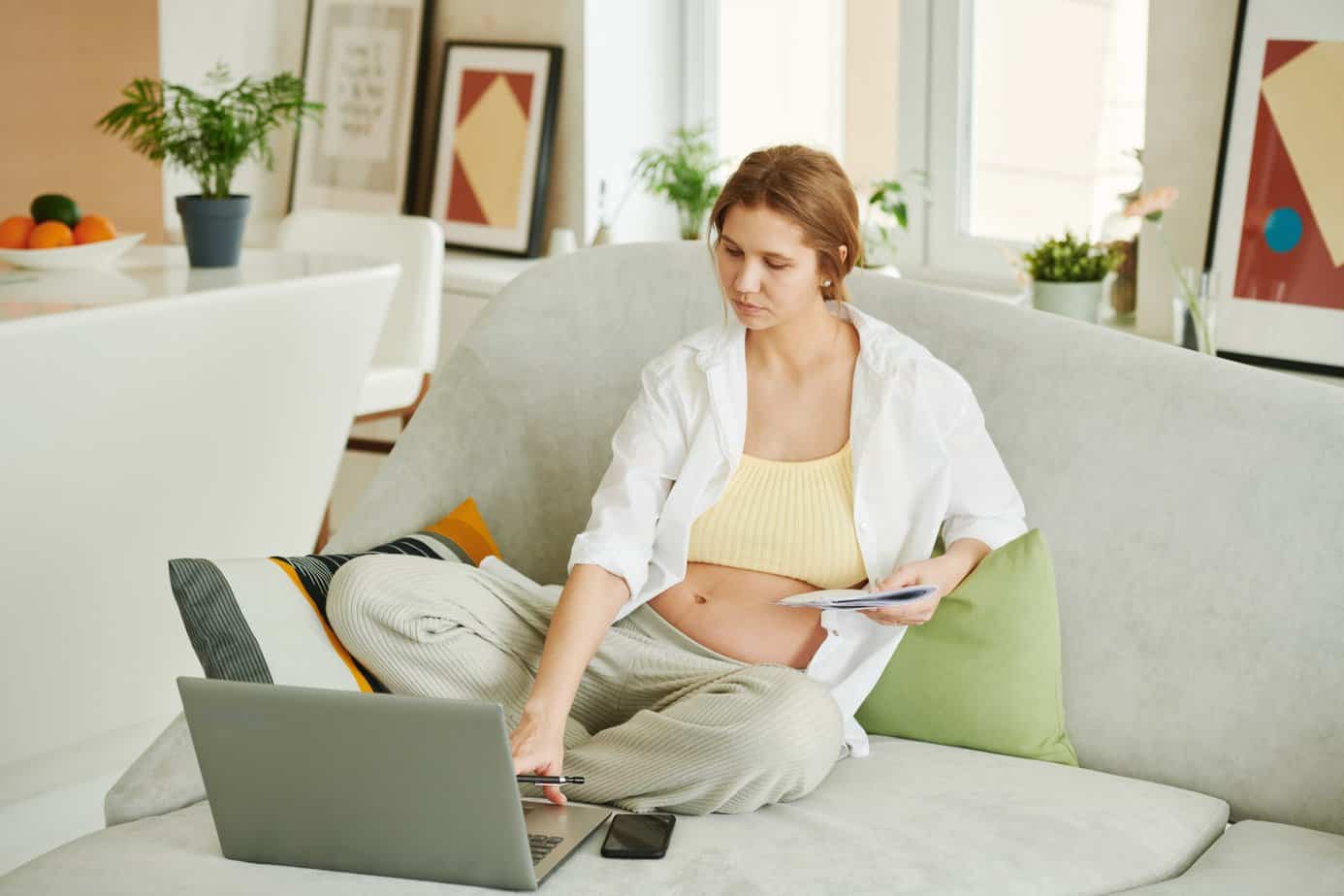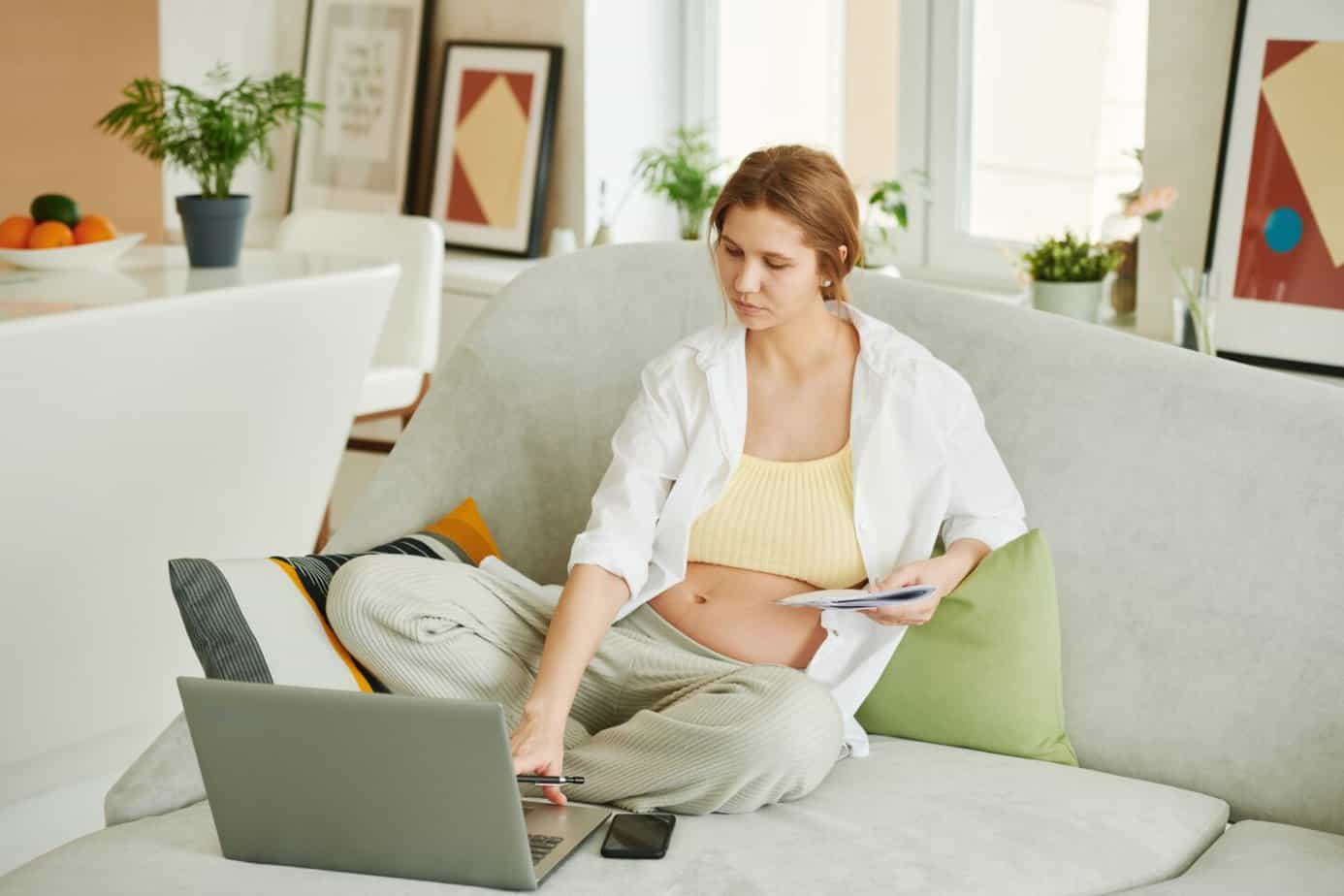 5. Proofreader
Being a proofreader is very similar to being an editor, but with less restructuring. As a proofreader, your role is to identify spelling errors, grammar and syntax flaws, inaccurate facts, and unprovided sources.
You won't be re-shaping the content necessarily – you'll be ensuring it's the best quality article it can be.
Recommended post: 16 Top Tips For Budgeting When You're Pregnant
6. Transcription
A transcriber will take a podcast, for example, and transcribe it into a written article. This is a common need for people with multiple platforms, who want to make their content accessible to anyone and everyone.
Offering transcription services is a job pregnant women can do from home, and you can enter a variety of niches. For example, you could go for podcasts only, you could enter the legal sector such as transcribing police phone calls for legal cases, or you could choose another industry focusing on your existing expertise.
7. Virtual Assistant
Becoming a virtual assistant is one of the best jobs for pregnant women. In this role, you'll get paid to help a business owner with their administrative duties – but often, you'll be completely remote.
A VA can do a wide range of tasks. You could be managing emails, syncing up your client's calendar, editing content, scheduling posts on social media, general admin such as issuing invoices, or a mix of everything altogether.
8. Social Media Scheduler
A social media scheduler or social media manager will assist businesses in carrying out their social media campaign. You might write and schedule posts, interact with followers, and provide insights into campaigns.
This is a popular job with pregnant moms who are savvy in social media and can get stuck in straight away.
9. Online Tutor
An online tutor is another good job for pregnant women. You can choose to specialise in whatever area you have existing expertise in and can focus on tutoring children or adults only.
You will often work in the evenings in this role, which appeals to many people as you'll have your days to yourself. Equally, tutors can set their own rates (provided you're competitive with other tutors), so there's no real cap on your earnings.
10. Website Tester
Website testers are paid to assess how user-friendly a website is to its visitors. This is a great job for pregnant moms as you can do this entirely from home with just a laptop or smartphone and an internet connection.
Recommended post: Baby Shower on a Budget: 25 Cheap Ideas for Planning Your Shower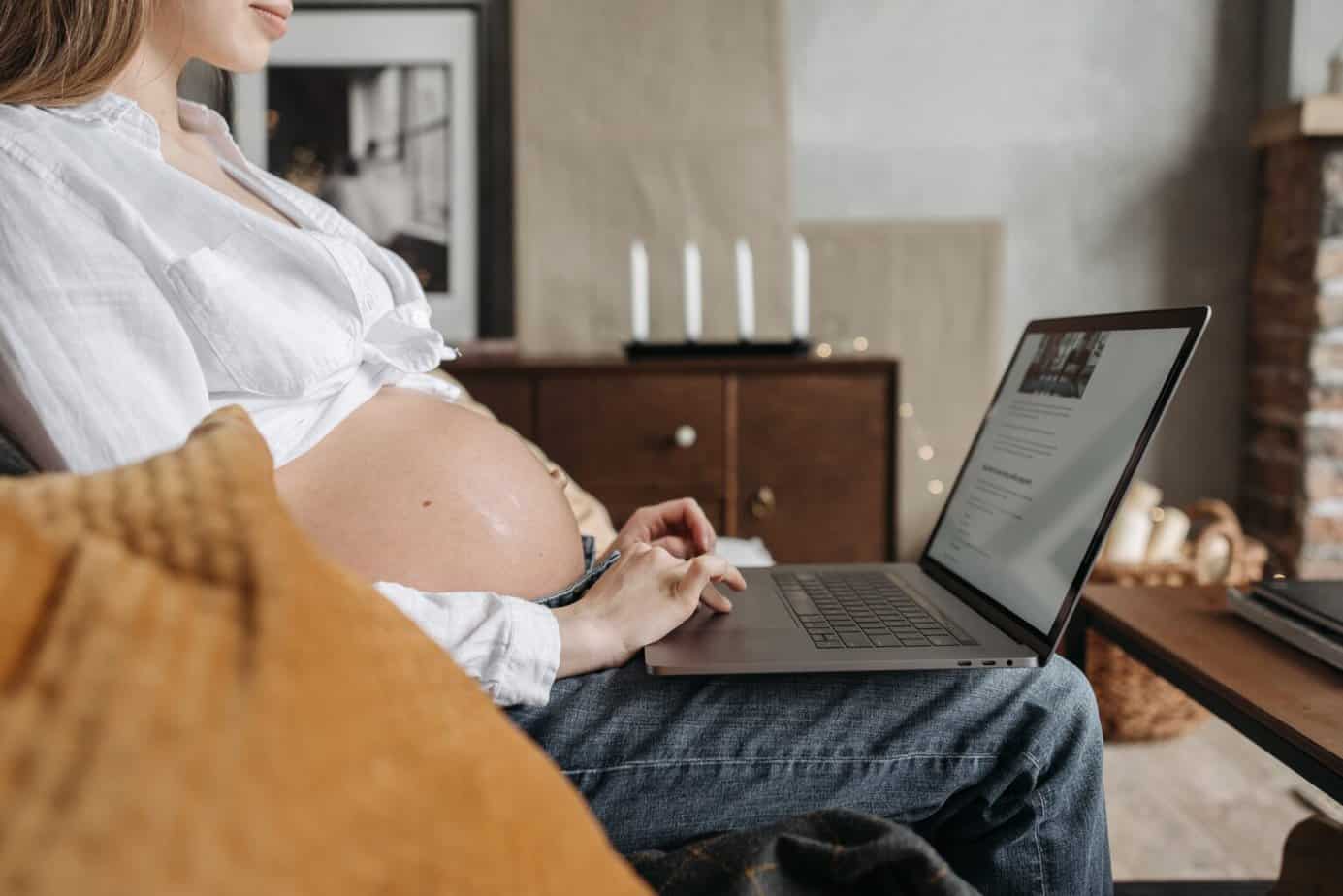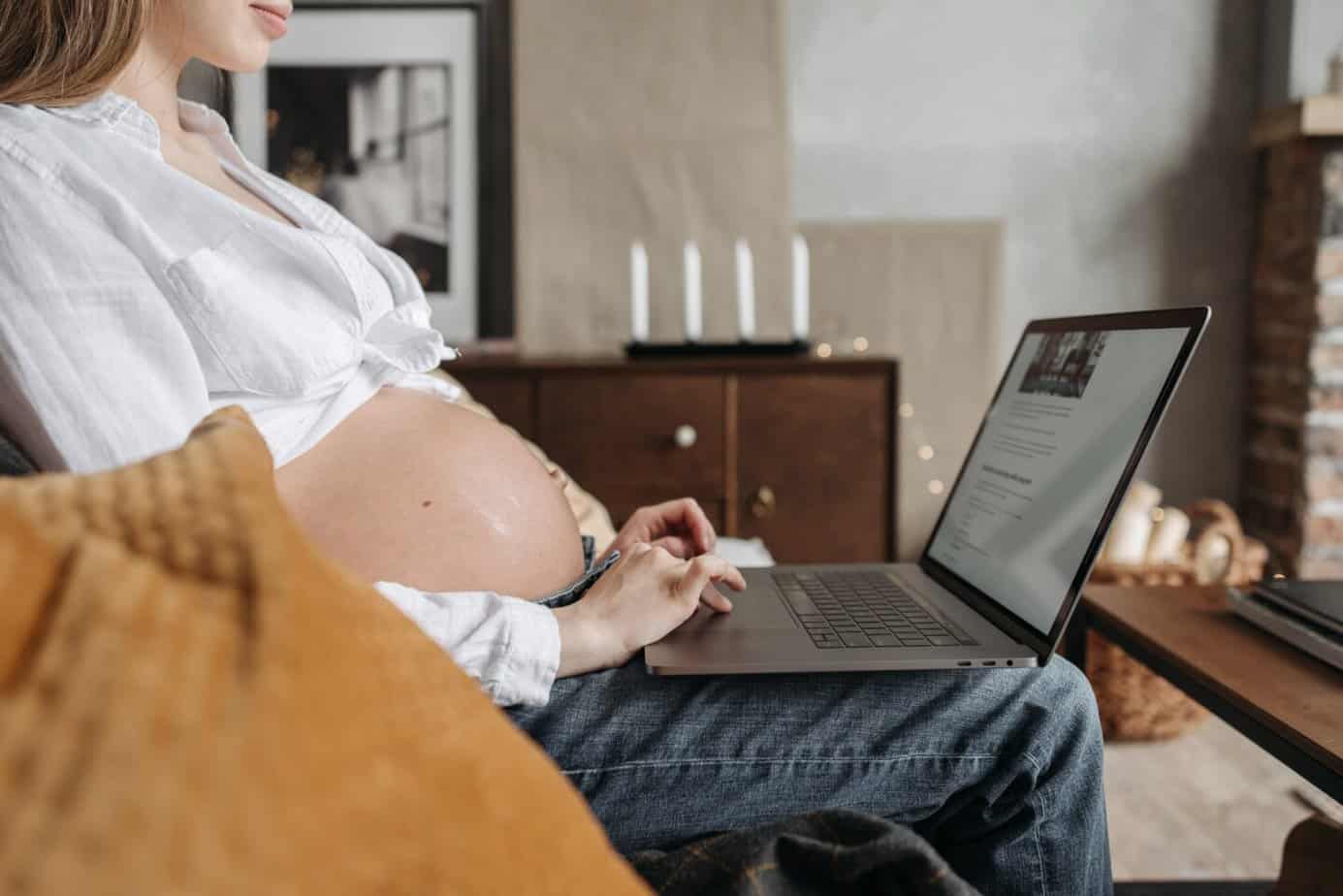 11. Data Entry
Another of the best jobs for pregnant women is data entry. You can do this from home, work whatever hours you like, and choose your own workload.
Data entry might consist of creating reports, scheduling, and in-putting numbers into a spreadsheet for your client to review.
12. Community Moderator
If you're good with social media, like talking to people, and have a certain expertise in particular fields, being a community moderator can be a great job for a pregnant person.
Community moderators are in charge of monitoring Facebook Groups and forums to ensure the posts are appropriate, on-theme, and that the comments aren't getting too off-track.
13. Designer
If you've got an eye for design, you could make a great freelance income as a designer. People with great skills in PhotoShop, Infogram, and Canva are highly sought after, especially because bigger businesses don't often have the time to do these projects themselves.
14. Online researcher
An online researcher might be used to gather information on a variety of topics, whether that's to then pass over to a writer to turn into an article or academic essay, for businesses to compile reports and future strategies, or for something else entirely.
This is a good job for pregnant women who don't necessarily feel like you have a specific online skill you can sell straight away – you'll still need to follow instructions closely, but you can pretty much jump straight into this one.
15. Event planner
Moms learn very quickly that organization is everything – so getting a step ahead by gaining some experience as an event planner could knock out two birds with one stone!
Event planners are hired for a wide range of industries, from entertainment and weddings to business conferences and recruitment fairs.
Recommended post: Best Sites To Sell Second-Hand Baby Items Online
16. Bookkeeper
Bookkeeping is the bane of most freelancers' lives. That's where a freelance bookkeeper comes in. You'll be responsible for recording and processing the financial transactions of your clients, ensuring their books are ready for accountants at the end of each financial year.
Of course, you'll need to be adept at data entry and have some knowledge of accounting to really excel in this role.
17. Video/content editor
Video is fast becoming the go-to content form for businesses and influencers online, but a lot of businesses don't have an employee with the skills to produce this type of content for them. That's where you come in.
You can make a killing from home creator video content for businesses to post on their social media channels – you just need to know how to film, edit, and compile video content first.
18. Photographer
Equally, there's always going to be a need for photography. You could hire yourself out as a freelance photographer in a specific niche, or you could go down the passive route and upload your photos to sell on stock sites such as iStock and Deposit photos.
Just be aware that this second option can take longer to build traction before you see any income from it.
Building Passive Income
If you want to take on a side hustle and start earning money while pregnant, the jobs listed above are some of the best online jobs for pregnant women. However, another option to consider is using this time to create a passive income stream.
What is passive income?
Passive income is money you earn without actually working for it. That sounds too easy – but you're earning that money from something you've worked hard to build/provide previously. A few examples of brilliant passive income streams include:
(19) Sell printables
(20) Sell digital products
(21) Sell online courses
(22) Influencer
(23) Affiliate marketing
(25) Advertising income through your website
(26) Sponsorships via social media or blogging
(27) Selling photos via stock photo sites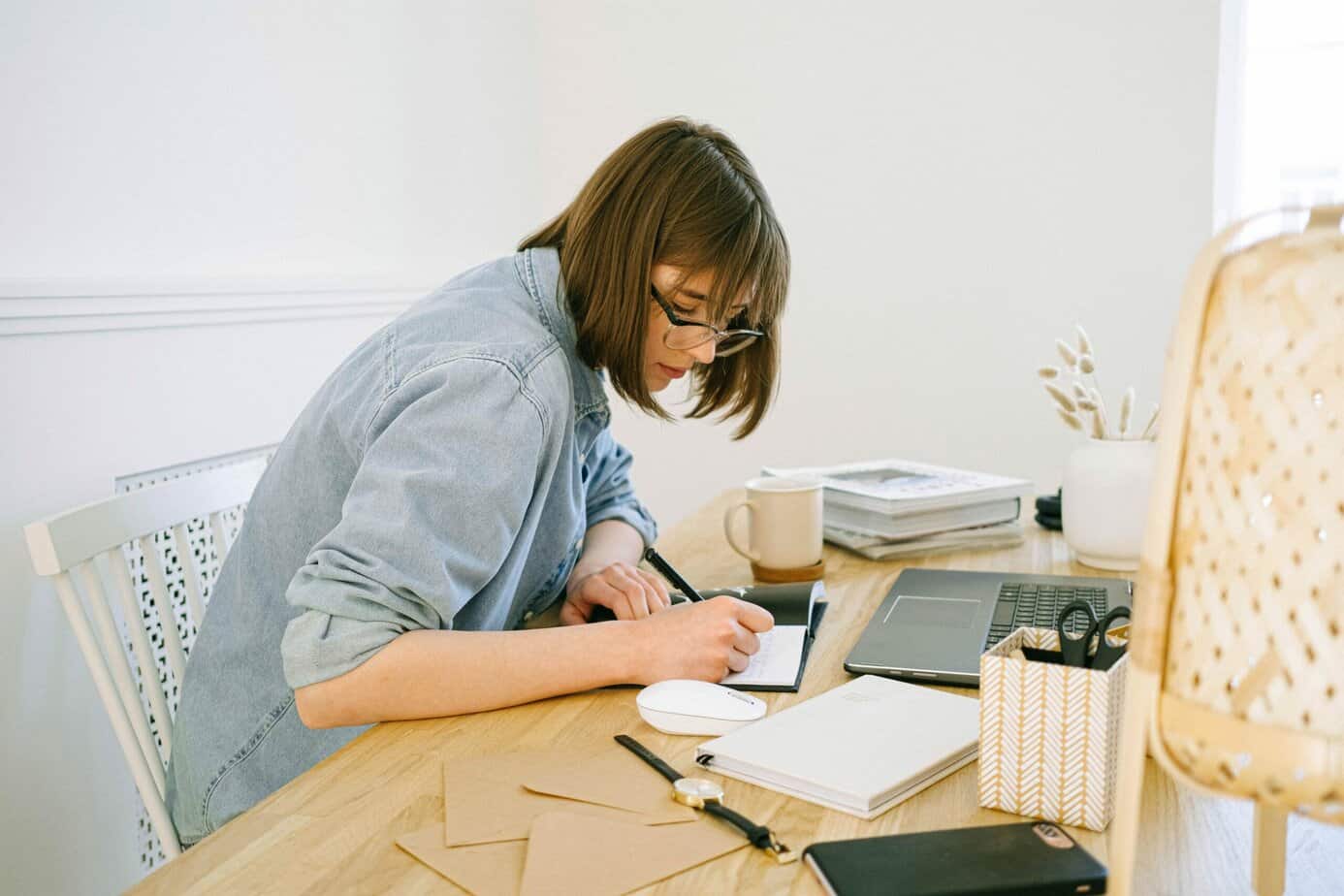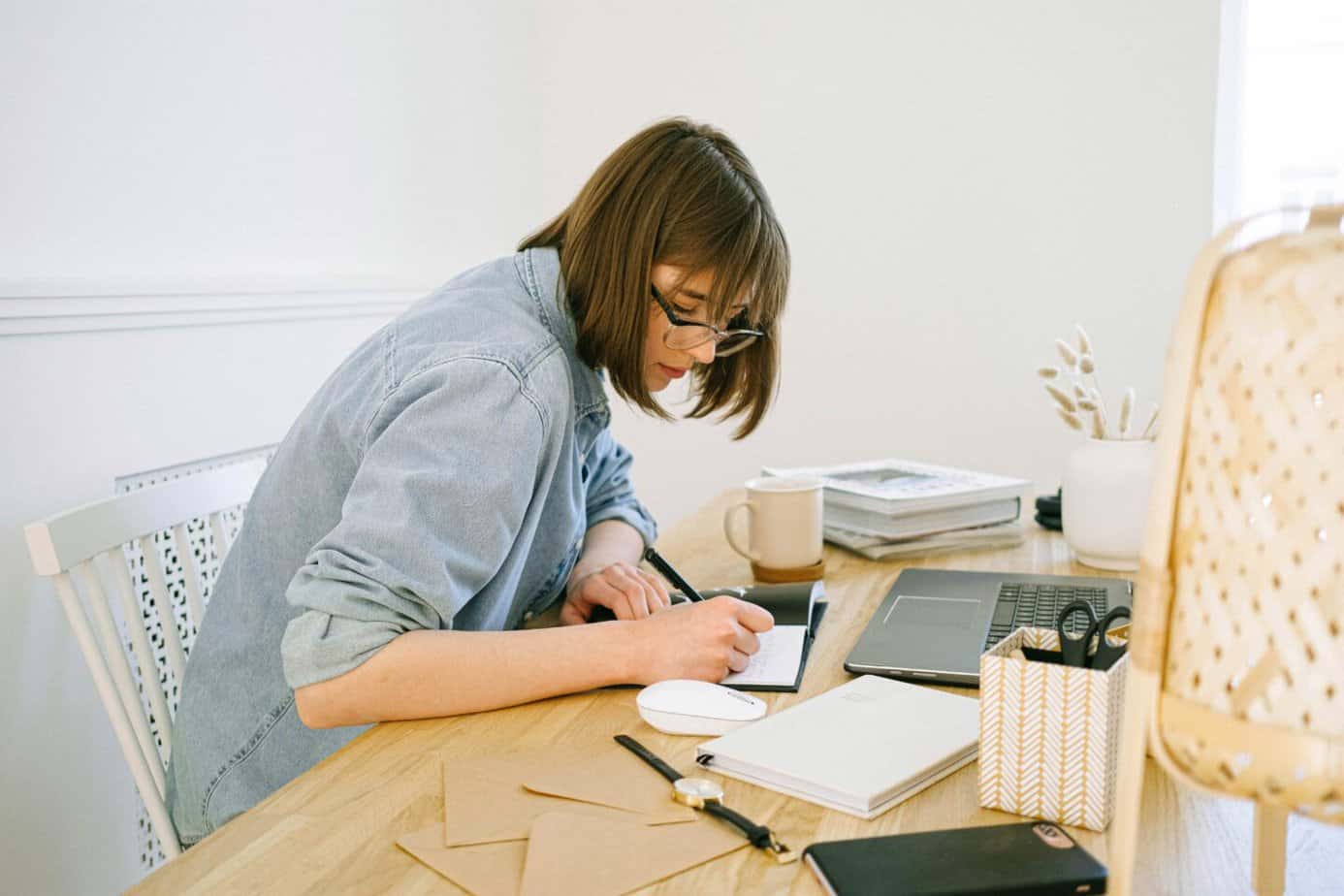 How to make money online when you're pregnant
If any of the ideas above appeal to you, there are a few things you'll need to do to start actually making money:
Sign up to a large freelance platform such as Fiverr and create your profile. Really take the time to fill out every detail to ensure you stand out to future clients.
Upload your portfolio in whatever skill you are offering. Even unpublished articles or designs will go a long way if you are just starting out.
Look for open jobs and send your pitch. It's important to tailor your pitch to every client – 90% of freelancers don't, so the people that take the time to explain why you're the right fit will really stand out.
Ask clients for reviews. It takes them 2 minutes to leave a good review but can be instrumental in securing more clients.
Other ways to make money when pregnant
Other ways to make money when you're pregnant without taking on an official job could include:
28. Selling clothes online
Second-hand fashion is increasingly popular, and these days, it's easier than ever to sell your clothes online. Check out this guide to the best places to sell your second-hand clothes.
29. Selling items second-hand
You don't need to stop at clothes, either. Declutter your home (and make room for your little one!) and make money off the things you no longer need or use. This guide to decluttering your home is a great place to start.
30. Survey Sites
Survey sites won't make you a millionaire, but they are a tried and true way of earning a little extra money when you're pregnant. A few of our top recommendations include Survey Junkie, Inbox Dollars, and My Points.
31. House/pet sitting
If you work remotely already, you could earn some extra cash by working from someone else's home while house sitting or pet sitting! Trusted Housesitters is a great site for connecting with people looking for someone to house sit while they're away, or to pet sit their dogs while on holiday.