We may earn money or products from the companies mentioned in this post, and as an Amazon Associate I earn from qualifying purchases. Please see my full disclosure for more information.
Spending any amount of time online can make you feel like everyone is on a mission to make more money, attract more wealth and abundance, and ultimately to become rich.
We live in a 'hustle' culture, where being a #BossBabe who works long hours, has a million different side hustles, and does it all while sipping a Tumeric latte in Gucci slides is a figure to aspire to.
And why not, really? Financial independence is the new hot thing. The gig economy is skyrocketing, and more and more of us are realising that staying in a job we don't LOVE is a choice – and one most of us would rather not make.
The thing is, creating financial abundance can be frustrating, challenging, and overwhelming. It can feel like everyone around you is succeeding while you stagnate, and nothing you do really changes that.
Looking Inwards
It can be easy to scroll through social media, trigger a deep-dive into entrepreneurship article after motivational article only to come up reeling and feeling like you're coming up short,
The ability to compare ourselves to the whole world can be an inspiring gift – but it can also be extremely dangerous.
What if, instead of looking outward, you instead began to look inwards? Affirmations are an extremely popular form of self-care and motivation, and a method that countless successful entrepreneurs, athletes, and celebrities use. These money affirmations can be used to flip your mindset from thinking I can't do this into I deserve the wealth and abundance.
The fact is, making more money, becoming wealthier and more abundant in life is impossible if you don't think you are capable of it.
A simple mindset shift can be the one thing that releases the block that is preventing you from taking a step back and seeing exactly what you need to do to cultivate the life you actually want.
What is preventing you from really going after what you want, right now? Is it:
Fear of what other people will think?
The possibility of failure?
That you lack confidence in your skills and abilities?
You've never had wealth and therefore can't imagine a life with it?
You see wealth as something other people have, but not you?
Fear of the unknown?
Judging yourself for wanting to be wealthier?
Let go of the things that are limiting you. Let go of fear and doubt and self-limiting beliefs.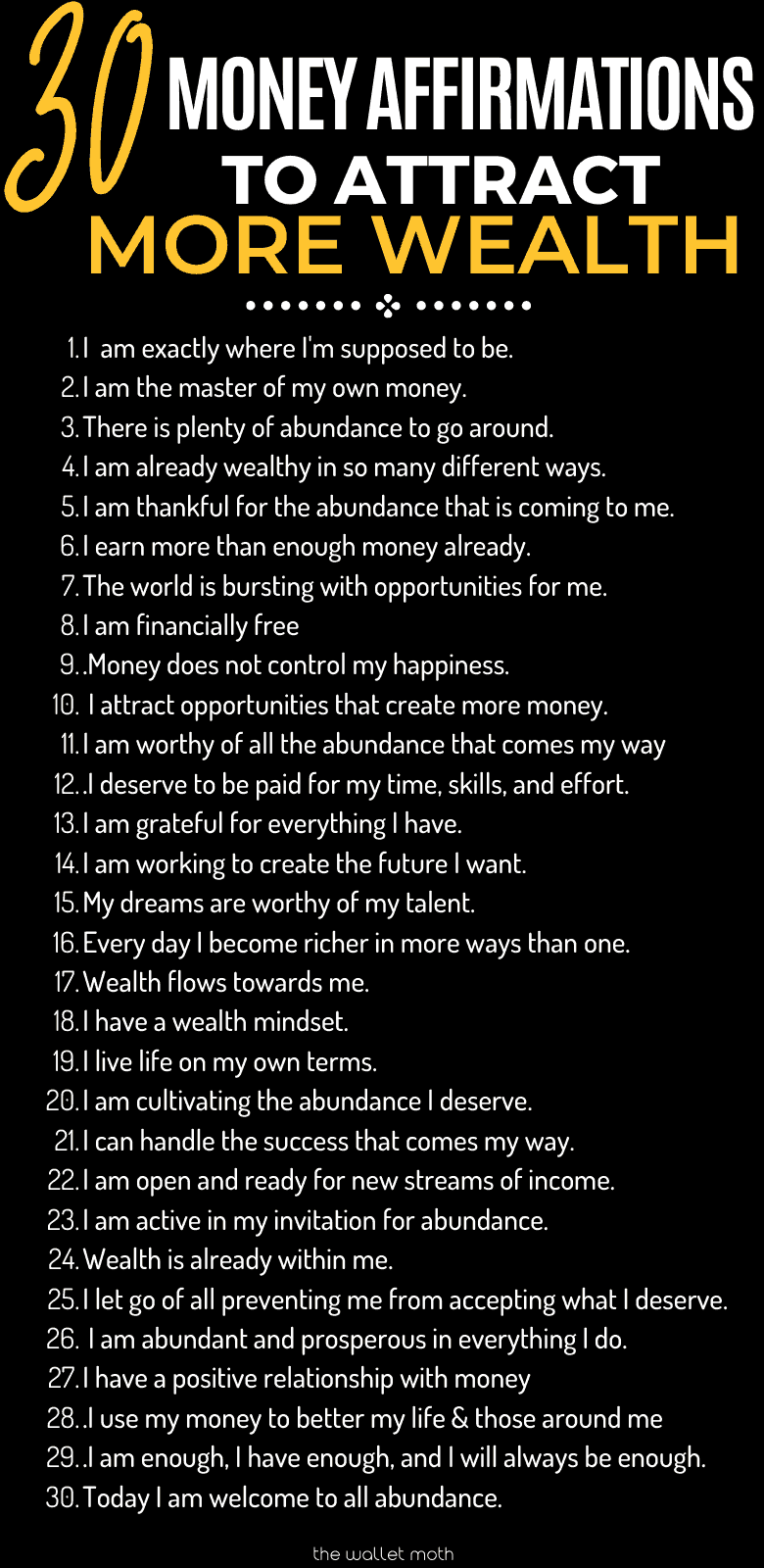 Changing Your Mindset
In the past, I've talked about cultivating a minimalist mindset, which focuses on changing your attitude to look at the things that make you happy, bring you joy, and directing your energy there.
This shift in attitudes is exactly the same for creating more wealth and abundance in your life. One of the best ways to do this is with positive financial affirmations. Visualization and affirmations are a powerful tool for shaping your mindset, not only for your finances but also for anything you want to achieve in life.
They break down the blocks that are stopping you and shift your mindset into one of positivity and belief. If you've used affirmations before, you'll know how powerful they can be.

How to use These positive Money affirmations and visualization
If you've never used positive affirmations to change your mindset before, most people recommend writing down a few positive affirmations in a notebook each morning.
Repeat these affirmations to yourself, either just in your head or out loud. Really feel what you are telling yourself. This simple technique can totally transform your approach to life – and in this case, to the wealth and abundance, you are welcoming into your life.

Wealth and abundance is already in your hands
Money does not – cannot – buy happiness. However, it can help you afford the resources you need to feel more fulfilled, satisfied, and content with your life.
I encourage you to really think about why you want more wealth in your life. Not because you want a super-yacht or simply to be rich. Consider what more wealth and abundance will do for you.
Ask yourself: can I use these affirmations to simply transform how I see the wealth I already have? Often, we all want to be richer, have more, do more, be more, when it simply takes a shift in attitude to see we already have it all.

30 Positive Money Affirmations To Create Wealth and Abundance In Your Life
I am exactly where I'm supposed to be.
I am the master of my own money.
There is plenty of abundance to go around.
I am already wealthy in so many different ways.
I am thankful for the abundance that is coming to me.
I earn more than enough money already.
The world is bursting with opportunities for me.
I am financially free.
Money does not control my happiness.
I attract opportunities that create more money.
I am worthy of all the abundance that comes my way.
I deserve to be paid for my time, skills, and effort.
I am grateful for everything I have.
I am working to create the future I want.
My dreams are worthy of my talent.
Every day I become richer in more ways than one.
Wealth flows towards me.
I have a wealth mindset.
I live life on my own terms.
I am cultivating the abundance I deserve.
I can handle the success that comes my way.
I am open and ready for new streams of income.
I am active in my invitation for abundance.
Wealth is already within me.
I let go of all blocks preventing me from accepting the wealth and abundance I deserve.
I am abundant and prosperous in everything I do.
I have a positive relationship with money.
I use my money to better my life and the lives of those around me.
I am enough, I have enough, and I will always be enough.
Today I am welcome to all abundance.
Not sure affirmations are for you? Please try it! Whether you use these money affirmations, or perhaps something more general for other goals you have in life.
I used to think meditation, visualization, affirmations, and journalling were 'woo-woo' stuff that were a bit of a waste of my time. Then, I gave them a chance.
Now I'm a yoga teacher writing about positive affirmations on the internet for all to see! I write about the stuff I believe in, and what I really think will help other young women just like me. So try it, be open minded, and see what a simple shift in gears with your attitude can do.