We may earn money or products from the companies mentioned in this post, and as an Amazon Associate I earn from qualifying purchases. Please see my full disclosure for more information.
In this guide, we cover how to get paid to be an online friend, provide a review of the top eight ways to start being a virtual companion for rent, how much you can earn, and how to keep yourself safe if you choose this side hustle idea.
The beauty of the internet means that there are many more weird and wonderful ways to make money from the comfort of your own home these days. From more 'normal' side hustles like becoming a freelance writer, to the far out there money-earners (like selling feet pics!), anyone who wants to make extra cash simply needs to choose from hundreds of side hustles ready for the taking.
One such side hustle is being an online friend available for hire. Platforms such as RentAFriend.com and Fiverr Friendship are specifically in place to help connect people looking for friends with people who are available for hire at a set hourly fee. Let's take a deeper look into getting paid to be an online friend and just how legit this side hustle is.
8 Ways to get paid as an online friend:
Click the links below to jump straight to our review of 7 of the best platforms to start being a virtual companion for hire:
Skip to:
Why would someone pay you to be an online friend?
If you've never come across this side hustle before, it may seem like an odd concept to you.
You may question the true intentions behind someone looking to pay for an online friend, but with the number of platforms designed specifically for this purpose, there's definitely a demand for it.
We live in an increasingly online world. Many people already make friendships via social media and online gaming, while many adults find it increasingly difficult to make new friendships.
Hiring an online friend is a surefire way to have a listening ear and a supportive friend either via text, phone call, or video chat – without putting in the hours of groundwork to build a friendship or the fear of rejection.
A recent 2022 study found that two-thirds of people "are actively looking to increase the number of people in their inner circle" – but lockdown over the past few years, work commitments, and the rising cost of living makes it hard to get out there and find new friends.
What's more, online friendships are increasingly common – with social media and online forums providing lonely people the opportunity to connect with others all over the world.
Other reasons someone might want to pay you as their online friend could include:
They've just moved cities or countries so feel lonely
They have low self-esteem or social anxiety and want help feeling more confident
They want a gaming buddy for multiplayer games
Wanting to learn a skill or more about a specific area of expertise
Wanting a supportive friend who will listen to their problems
An elderly person who feels isolated
Someone wanting to simply chat about common interests
What is an online friend?
An online friend is somebody who you get to know through the internet, typically through social media or online gaming. You might chat with them on a regular basis, exchange messages or emails, or even meet up in person.
In some cases, people get paid to be online friends via virtual friend services. This can involve being a sounding board for someone who wants to practice their English skills or simply being a virtual companion for somebody who is feeling lonely. While there are some risks associated with meeting people online, as long as you take precautions such as meeting in a public place and letting somebody else know where you are, it can be a fun and rewarding experience. Who knows, you might even make a new friend for life!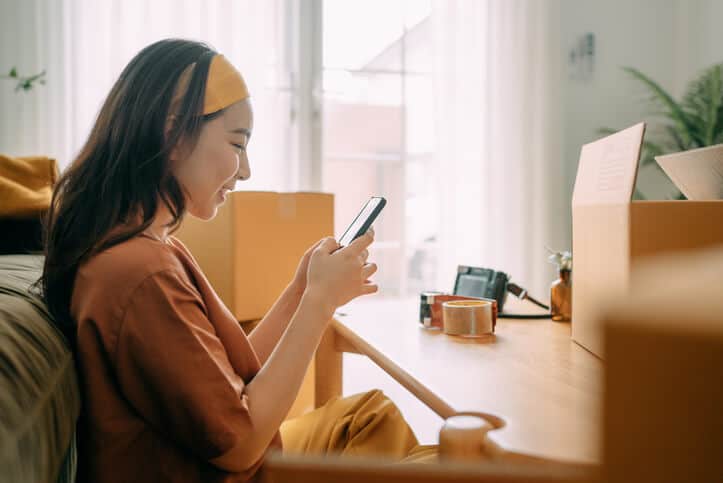 How Much Can I Make As An Online Friend?
There is quite a range of rates listed by friends for rent on each of the sites listed below. In general, rates vary from $5 to $50, although around $30 is a fair rate that you'll commonly see on all of the sites. You will be able to set your own rates wherever you choose to register, so think carefully about what price is most important to you.
The online platform RentAFriend states that some people using the site are "making over $2000 a week full-time" but in all honestly, the number of people who are making that much money is probably low! Here are the average rates found on each site from a little research
RentAFriend.com: Between $20 and $50 an hour
Rent A Local Friend: $18 – $35 an hour
Rent A Cyber Friend: $0.10 – $1 a minute, although prices can start from $0.01 a minute.
FriendPC.com: $10 – $30 an hour (Virtual Girlfriends had much higher rates!)
Fiverr: $5 – $100
RentAFriend has a useful table highlighting income possibilities if you become an online friend via their platform:
If you work part-time (8 hours, 3 days a week):
| Charging $20/hour | Charging $50/hour |
| --- | --- |
| Weekly: $480 | Weekly: $1200 |
| Monthly: $1920 | Monthly: $4800 |
| Yearly: $23,040 | Yearly: $57,600 |
If you work full-time (8 hours, 5 days a week):
| Charging $20/hour | Charging $50/hour |
| --- | --- |
| Weekly: $800 | Weekly: $2000 |
| Monthly: $3200 | Monthly: $8000 |
| Yearly: $38,400 | Yearly: $96,000 |
As you can see, there is the potential to make really good money by being an online friend to others. Whether this earning potential is fully achieved by anyone, however, is uncertain. You may also be able to charge higher rates depending on what services you offer as an online friend.
If you're teaching your online companion new skills, for example, you may be able to charge a little more than if you were just offering standard friendship services via text message.
Best Places To Get Paid To Be An Online Friend
1. RentAFriend.com
RentAFriend.com seems like one of the most legitimate sites for getting paid to be an online friend. The platform boasts having "over 621,585 Friends available for rent worldwide" as of November 2022, so you can assume there are plenty of potential clients already using the site.
Read our review: Is Rent A Friend Legit?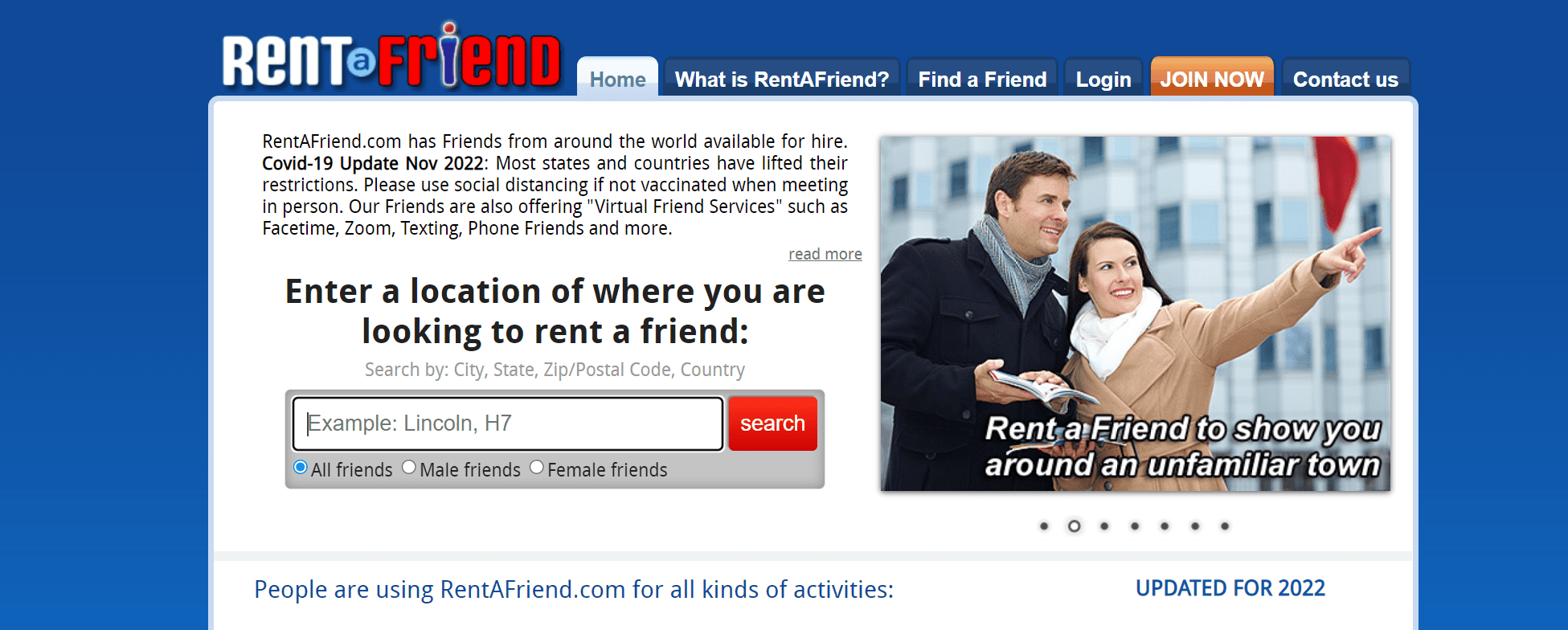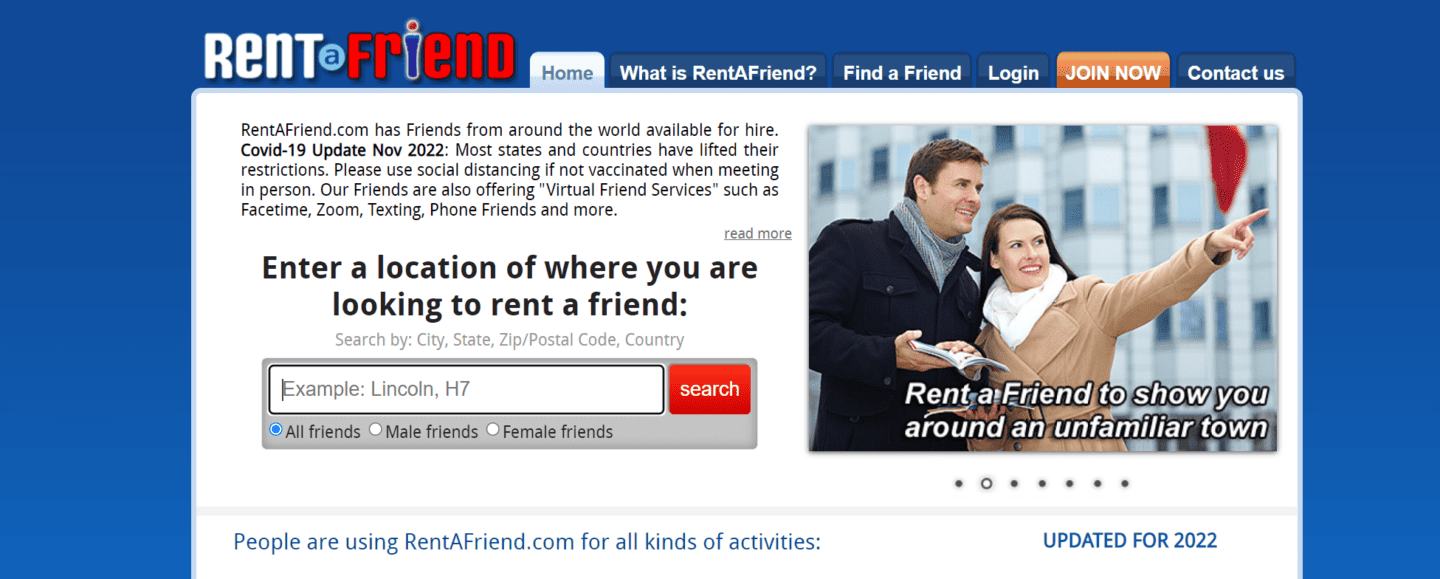 The site is a little dated in design when you first log on but is also one of the most consistent out of all platforms listed on social media, and on the surface, it does seem to be one of the biggest. RentAFriend.com has over 5.7k likes on Facebook and numerous reviews from users, so it does seem like a legitimate way to make money as a virtual friend.
You might be interested to know that a lot of the profiles I scrolled through while reviewing this website were female. That's not to say men can't make money as a friend for rent on this site, but just know that women seem to be using the site to make money far more than men from what I can see.
Rentafriend.com membership
RentAFriend.com membership to hire online friends is $24.95 in order to be able to contact Friends directly. The positive of this, of course, is that the paid membership feature is going to filter out a lot of spam users, so you have that bit more faith that whoever is contacting you via the platform is legit.
What services can you offer on RentAFriend.com?
The platform allows you to register as a friend either for online services – text chat, phone calls, and video calls. Virtual friends list themselves as a listening ear, a life coach, a supportive counselor, a friend to discuss similar interests, and more.
Users can also enter their location and the kinds of activities they would like to rent a friend for, and narrow down the search results most suitable to them. It may be worth considering, then, how important it is to you to be a strictly online friend for rent, or if you would consider meeting people looking for a friend for face-to-face meet-ups.
Is RentAFriend.com Legit?
Yes, Rent A Friend is a legitimate and legal website with hundreds of thousands of users both hiring virtual friends and getting paid to be online friends worldwide. It is arguably the biggest platform for this side hustle, and there are many Rent A Friend reviews online from people who have used the service.
Know, though, it's still important to protect yourself and stay safe when using the site. Scroll down for our safety tips to being an online friend. This video covers some safety aspects you might want to be aware of regarding RentAFriend.com specifically:
Is RentAFriend.com currently accepting applications?
Unfortunately, Rent a Friend is not currently accepting applications to become a friend so while you can register your interest for when applications do re-open, it's a no go at the moment (as of November 2022).
Pros
Large existing user base (600k+ people use the service)
Connects you with potential clients all over the world
Set your own rates
Potential to earn up to $50 an hour
Membership fee filters out spammers
Cons
Membership means you can't test the site out yourself from a user perspective
Lots of pre-existing competition from other friends for hire
Dated website design
Not currently accepting applications!
2. Fiverr Friendship
Fiverr is an extremely popular platform for finding and selling online services. That can be anything from freelance writing and graphic design, to selling your services as a spiritual coach or online friend.
There is an entire gig board for online friends on Fiverr, with hundreds of people offering their services as virtual friends. If you want to get paid to be an online friend using this platform, then, you'll need to make sure your profile really stands out and that your rates are in keeping with the competition.
To get set up on Fiverr, you'll need to:
Register with your name and email address (you'll need to verify your email)
Create your profile and add a listing as an online friend
Describe the service you are offering, add a relevant photo or two, and set your rates
You'll need to set three rates: a basic service, a standard service, and a premium service
How much should I charge to be an online friend on Fiverr?
Prices on Fiverr started from around $5 and went up to $100+. One profile I checked out offered a basic service which was 'secret sharing' for $5. Her premium rate was $25, which paid for 2 hours of texting.
Another started at $10 for 2 hours of chatting, and went up to $50 for 'Exclusive Dialogue'. No further details of exactly what this included were provided!
Can anyone be an online friend on Fiverr?
Yes, provided you are over the age of 18. I did notice that the vast majority of online friends available on Fiverr were women, so we could assume two things:
Women are higher in demand as online friends, so are more likely to offer this service
There are fewer men offering this service – so there's less competition if you are a man and thinking of trying to make money as an online friend!
Pros
Large platform – lots of potential for finding clients
Tiered system for setting your rates based on services, not time
Pre-existing global userbase for being a virtual friend
Cons
You'll face a lot of competition from other friends for hire
Some existing rates are vary low (starting from $5)
Many friends currently on the site have zero reviews, so unclear how popular this platform is
3. Rent a Local Friend
Rent a Local Friend is another platform that people can use to rent a local friend or register themselves to make money as a friend for rent! This platform is unique in that it gives you the ability to offer your services both as an online friend and as a local friend – showing people the sights, going for walks, coffee, etc. 
Check our full Rent A Local Friend review.
The platform says it's had "86237 travelers who used our community", and does seem to position itself as a popular option for expats and travelers who are new to a city. A couple of the profiles I checked out led to people that offered local tours as a part of their job, too.
To sign up you need to provide:
Name
Email
Phone number
Location
A short bio
Languages
Expertise – you can select all options
Concierge Friend price – the site recommends $35 an hour but then wouldn't let us click next until I put a value of 20 or lower!
PayPal link
National ID
Photo (they recommended a friendly, professional photo that is in focus and clearly shows your face)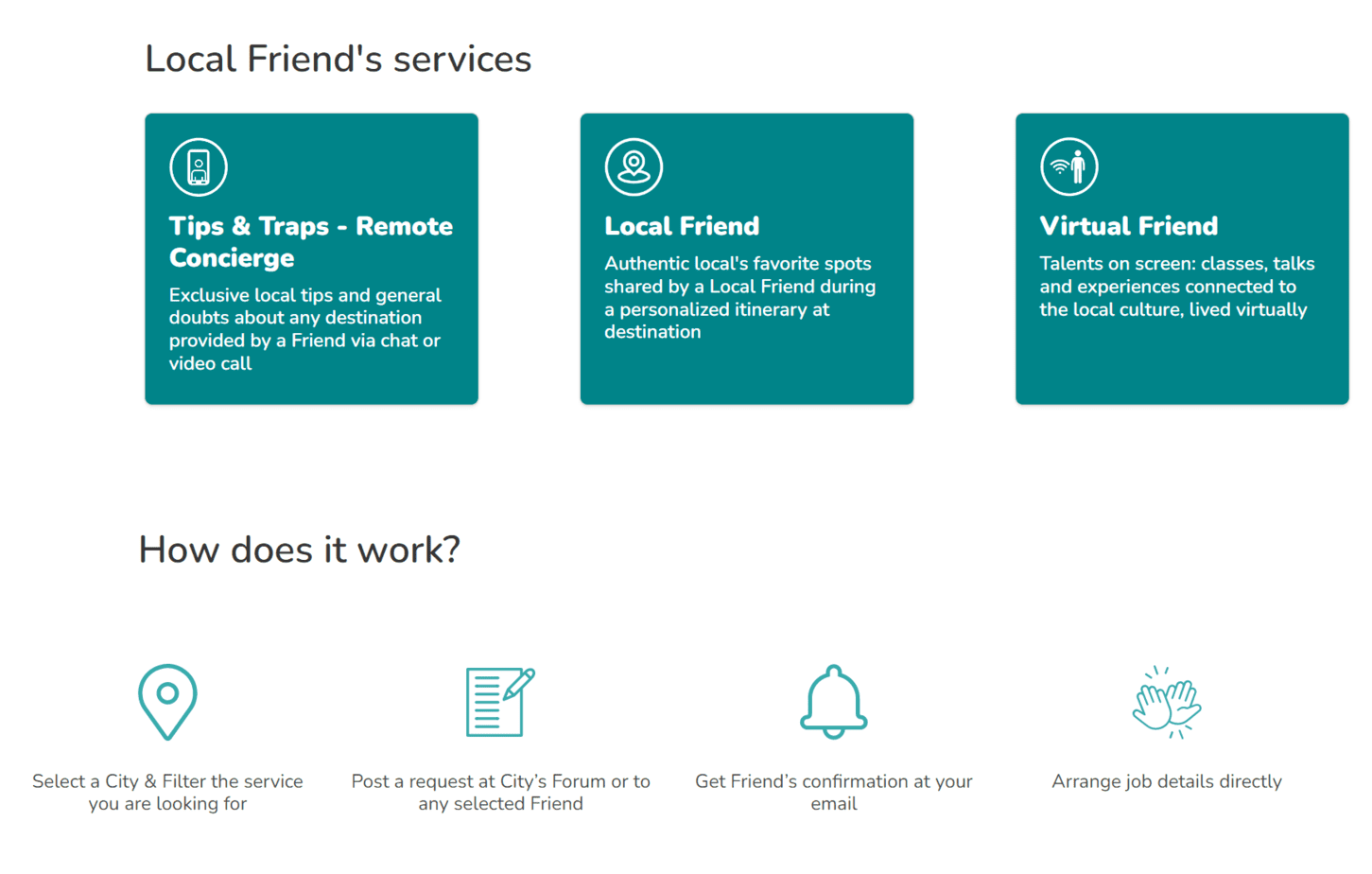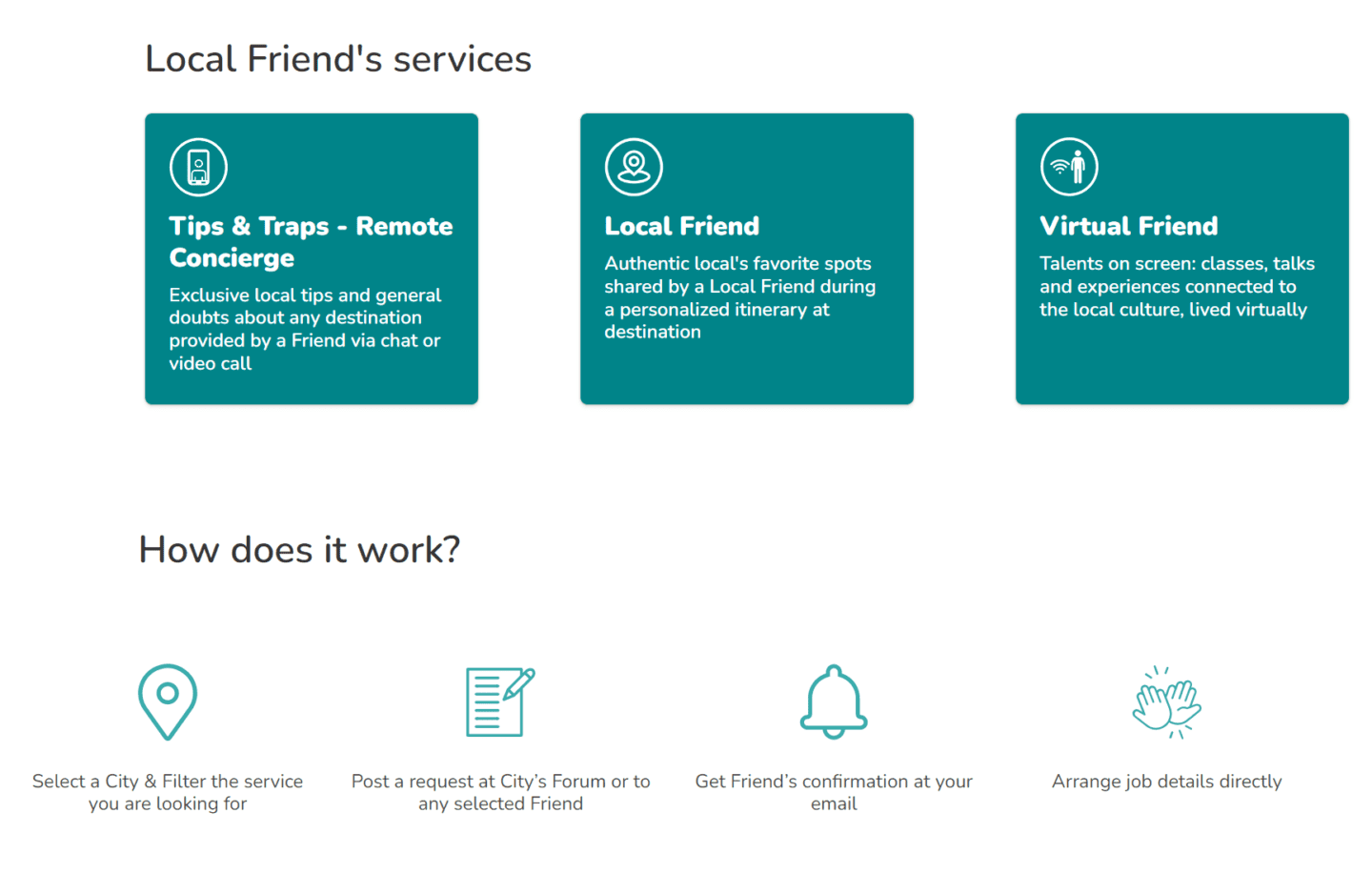 Is Rent A Local Friend Legitimate?
I tested this site out myself to see how legitimate it is. I was able to register and verify my email address and then filled out the above steps. Note, I didn't want to provide the website with my personal phone number, so I actually just typed some random numbers into the box and the site accepted that. It also allowed me to pick any location I liked, which defeats the point of the 'local' friend service somewhat.
However, users may be assured that anyone registering must submit their national ID to verify their identity, so you are less likely to come across spammy profiles when using this site.
Even though I didn't technically complete my profile (incorrect phone number, no PayPal link, no National ID, and no photo), I was still able to browse the existing people on the site offering their services as an online or local friend.
I was surprised that there weren't as many listings as I expected (around 20 for London and 40 for New York). Viewing other people's profiles, I could see their names and profile images, and there was quite an even mix of men and women.
You can view local friends' hourly rates, which had a massive range of between $20 and $87.50 an hour for New York. Also viewable are each person's interests, bio, languages, and links to their social profiles – so choose carefully what you want to be linked to your profile.
This video gives a good overview of Rent A Local Friend in general:
Rent A Local Friend's Experiences
I reached out to a couple of the people featured on the site via Instagram to see whether they had any success finding work on the platform. It may be a coincidence, but everyone who got back to me confirmed that they had not had any work through the site.
They all said that they had been contacted via the site, but had chosen not to meet the user for one reason or another.
Pros
Option to be both a virtual friend or an in-person friend for rent
You can specify your interests so people with similar interests are more likely to want to pick you
You can set your own rates
Cons
The site can be a little buggy
It's not clear just how thorough the 'background checks' on users are
Friends for hire that we spoke to had not had any work through the site
4. Rent a Cyber Friend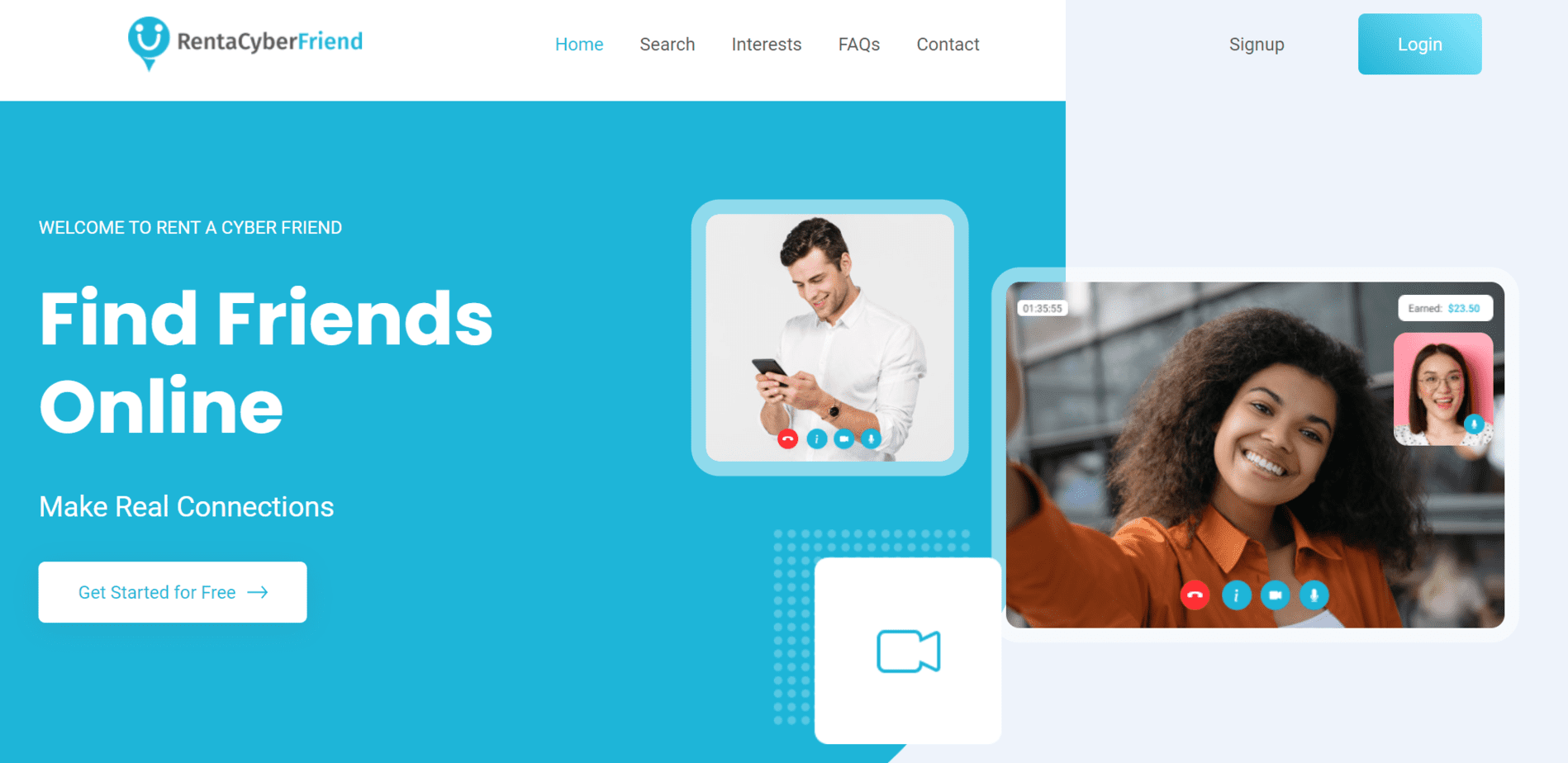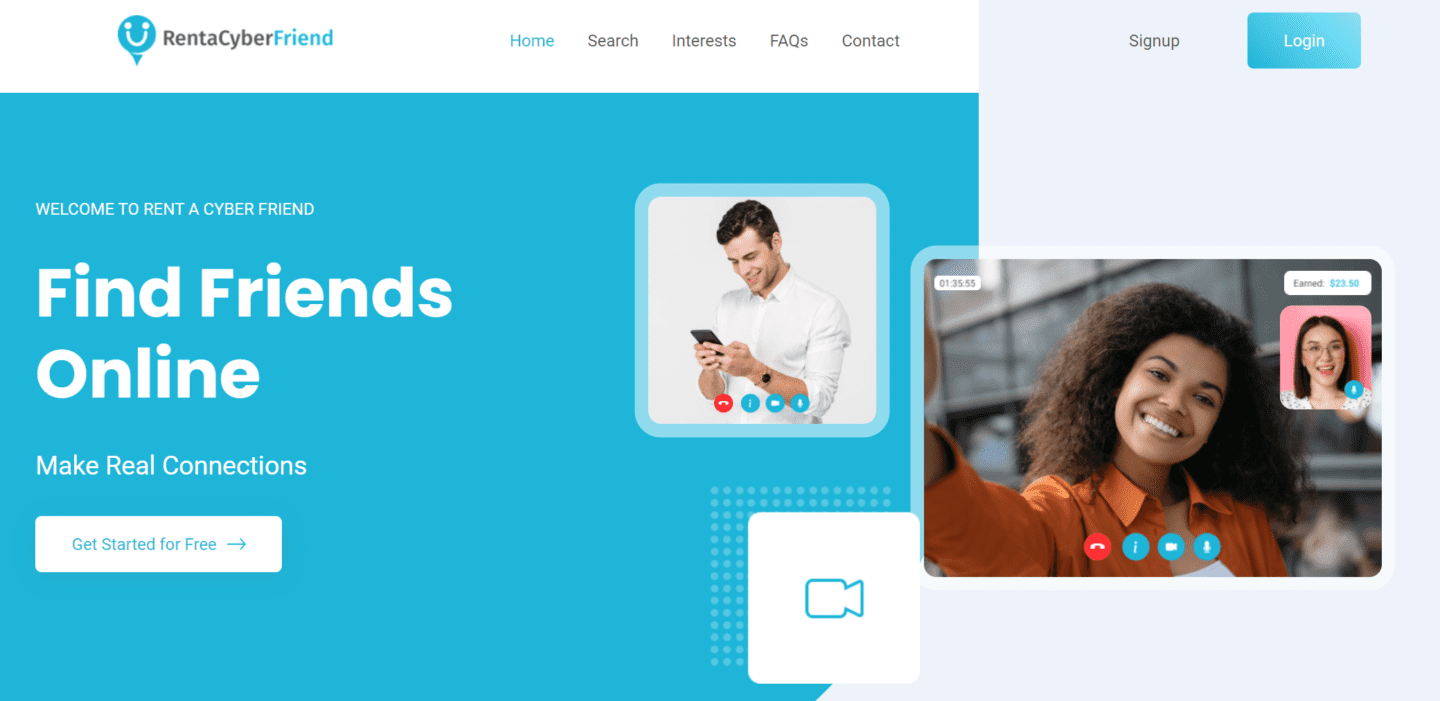 Rent a Cyber Friend is another website that connects people looking for an online friend to people volunteering their time for a fee. This site looks like a good option for making money online – here's what you need to know.
To register with Rent a Cyber Friend, you'll need to provide your name, email, and date of birth. Once you've verified your email address, you'll then need to complete your profile before you can start making money as an online friend. You'll need to add:
A short bio about yourself
A photo (a clear image of your face)
What languages you speak
Your interests
The interests you can choose from are: friendship, relationships, music, movies, sports, traveling, cooking, lifestyle, environment, technology, and video games. There's no limit on how many you can pick, so if you want to maximize your earning potential, you could select all.
Next, you'll be asked to set your rates as an online friend. You can set your rates from $0.01 per minute up to $100 a minute. If you were charging around $25 an hour, you would set your rate at $0.41 per minute.
Is Rent A Cyber Friend Legitimate?
Rent a Cyber Friend is a legitimate site for making money as a friend. The site may look a little dated, but it functions as it should and is a platform that people looking for an online friend are likely to browse.
Rent A Cyber Friend clearly highlight that they are not a dating or sex site, and advises against releasing personal information to anyone. It recommends reporting anyone who is soliciting sexual favors.
Pros
Specifically for hiring online friends, unlike the other platforms
You can set your own rates
You can specify your expertise and interests to help users narrow down their search
Cons
The website is a little dated and buggy
Rates can differ wildly, so you might be outpriced by cheaper friends for rent
5. Friend PC
FriendPC offers virtual friends available to rent in the form of life coaches, online friends, virtual games, and virtual girlfriends. The site says it's main aim is to "help people make friends, find someone to accompany you somewhere, or help you reach a goal".
Virtual Girlfriend
Another fairly common service available from just scrolling through the existing profiles on the site is to be a virtual girlfriend. These profiles charged a noticeably higher rate (upwards of $100) for virtual chatting and flirting. If that's something you're open to, you can do it here.
Is it legit?
I tried to sign up for Friend PC three times, with two different email addresses, and never had the verification link through to my email. Unfortunately, I can't comment on the legitimacy of the site because I couldn't even sign up to it! This user on Reddit had the same experience.
Pros
Competitive rates (that you set yourself)
Cons
We couldn't access the site!
Virtual girlfriend is another popular service offered here so it might be harder to filter out undesirable clients
6. Papa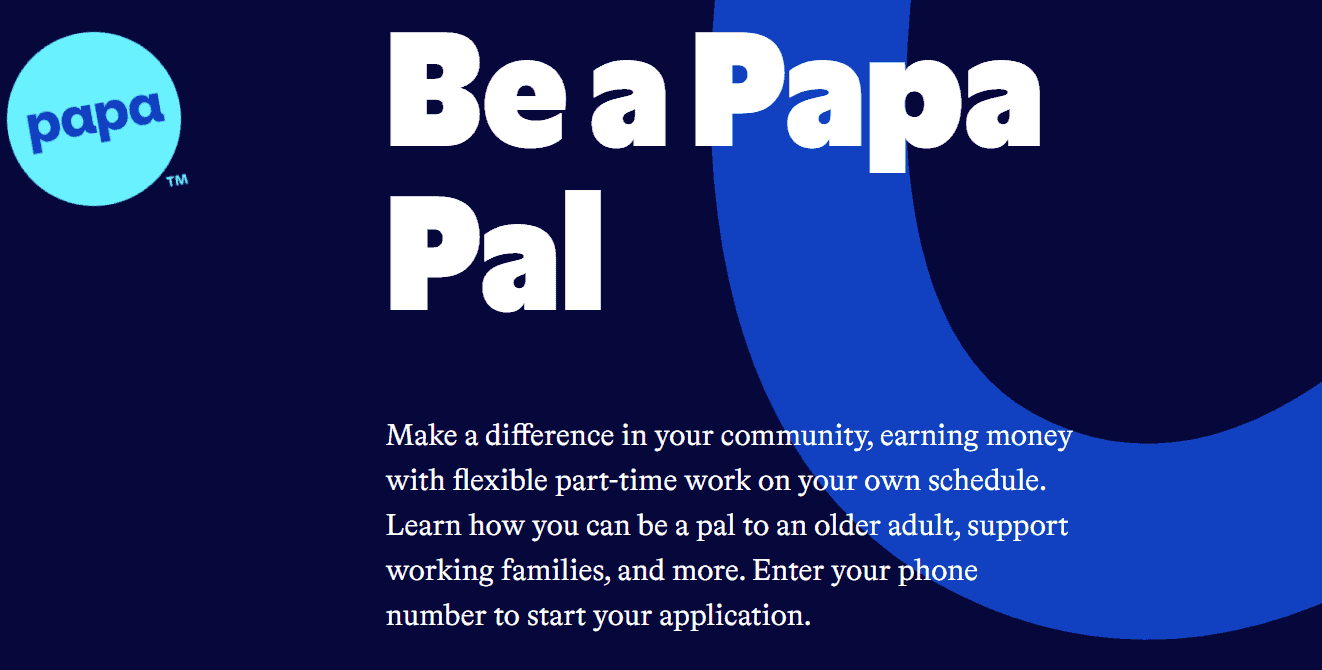 Papa is another great service to become a companion for people in need. However, you should know that this service does require face-to-face interaction, so may not be for you if you are only interested in being an online friend. I decided to keep this option in because the site and the service itself look like such a great side hustle and a fulfilling way to make money for anyone who's interested in being a friend for hire.
Papa Pals provide anything from simple companionship and support to providing pet care, tech support, and light tasks around the home. The service does clearly state that you won't be expected to do any personal care tasks that would more typically fall under the remit of a carer, nor should you be asked to do any kind of full household cleaning or heavy lifting. You are primarily there for companionship to the service user.
To sign up as a Papa Pal, you need to meet the following eligibility requirements:
US work authorization
21 or over
English speaking
You need to pass a background check
You'll be paid an hourly rate that varies by location, plus you can also earn bonuses for how many visits you carry out and for certain support tasks.
Users looking for a Papa Pal must sign up through their eligible medicare advantage, Medicaid, or employer-sponsored plan.
Pros
Ideal for anyone living in the US and 21 or over
An official program so checks are carried out on both users and Papa Pals
Fulfilling way to help people genuinely in need
Bonuses for repeat friendships
Cons
This an a face-to-face service, so not ideal for anyone wanting to be strictly an online friend
You can't set your own rates
7. Freelancer.com
Another service worth mentioning is Freelancer.com. Here, people looking for an online friend will post their job, and then choose from the freelancers applying for their job.
This is a much less popular service offered on this platform, however, so you might not find many job posts. However, this also means that there's less competition, so there's no harm in setting yourself up and being amongst the first to apply for a relevant job that does come up.
Is Freelancer.com legit for getting paid as an online friend?
I had a scroll through some of the most recent jobs that fell under this category and I'll be honest…they seemed iffy! The problem is that a large platform like this won't have as many checks in place to make sure posters are looking for anything sexual/illegitimate as specific sites for meeting friends will.
Be sure to stay safe, protect your personal information, and do your own checks first.
8. Twitter/Social Media
If none of the sites above appeal to you, why not consider advertising your services as an online friend on Twitter or another social media platform? This could be a great idea if you have an area of expertise people would pay for 1-2-1 calls to gain insight into.
For example, if you're a dating expert, you may find it easy to get paid to be an online friend to people who are unlucky in love and looking for a little emotional support! List your services in your bio, stay consistent with your posts, and ask your followers to DM you for your rates.
Again, it's important to stay safe when using social media to interact with strangers. You may want to consider creating a new public social media account for your online friend gig, and making your personal accounts private (or at least, limiting what you post) in order to keep yourself safe.
Final Thoughts: Can You Actually Get Paid To Be An Online Friend?
Yes, being an online friend is a legitimate way to make money, and there are multiple platforms that you can use to get yourself set up. However, I would be skeptical of anyone who promises you can make a full-time income from this side hustle – the competition is fierce (understandably, as getting paid to be someone's friend is a sweet deal!), and it's unclear how high the demand for this service there actually is.
If you're a confident, outgoing person and are interested in this side hustle, there's no harm in creating a profile and seeing what comes you're way. It may be wise to branch out and find more side hustles to make extra cash than just this one, however.
Other ideas that are perhaps more guaranteed to earn money faster are freelance writing, being a virtual assistant, or even something a little more niche like selling your house plants!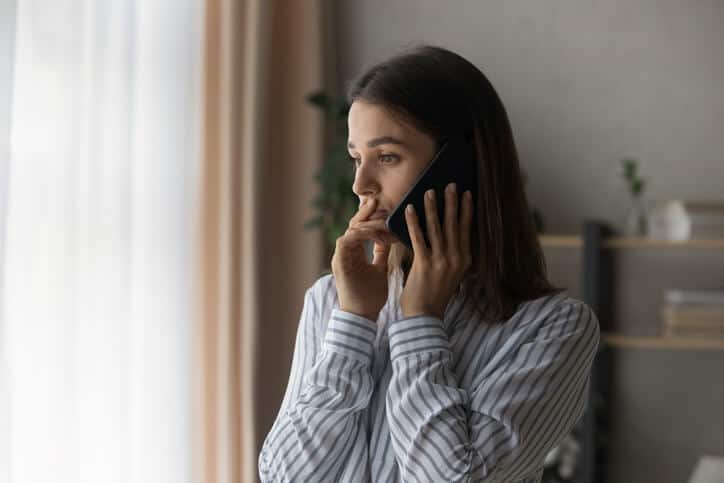 What's The Best Platform to Get Started?
If RentAFriend.com starts taking applications again, then this is probably the best platform to get started on. It seems to have the biggest user base and there is plenty of Rent A Friend reviews that discuss its legitimacy – the other platforms are harder to verify.
However, if applications are still closed off, then Rent a Cyber Friend and Fiverr Friendship are both great options to consider.
Alternatives to Being An Online Friend
If you love the idea of being able to talk to someone online as a way of making money, but aren't quite sold on this side hustle, what about being an online teacher?
If you speak English, you can make a really good earning teaching others English online – whether that's children in another country or adults who want a conversation partner to practice their confidence and language skills.
The benefit of being an online teacher is that there's much less potential for boundaries to be crossed than there is being an online friend. You might also like to read:
Being A Volunteer Online Friend
If the idea of being a friend to people in need of support and companionship appeals to you more than the money side of things, the following services are all looking for volunteers! This can look great on college applications and CVs and is an extremely rewarding way to spend your spare time.
Sense (UK only): For people with disabilities
Re-engage (UK): For elderly people
Friend in Me: Connects children with disabilities and neurodivergent kids through online games and conversations
Get Paid To Be An Online Friend: Frequently Asked Questions
Are paid online friend services legitimate?
It's not uncommon to feel lonely, even when we're surrounded by people. In today's digital age, it's easy to feel isolated and disconnected. This is where online friends come in. For a fee, you can hire someone to be your online friend. They'll text or talk with you on the phone, offering companionship and support. But are these services legitimate?
The short answer is yes. These services are legal and there are no hidden catches. However, that doesn't mean they're right for everyone. Some people might feel uncomfortable paying for companionship, while others might prefer to make friends the old-fashioned way. Ultimately, it's up to each individual to decide whether an online friend service is right for them.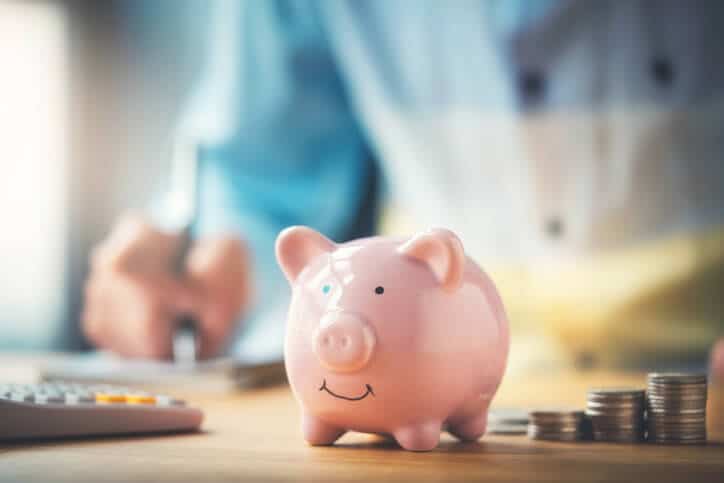 How to get paid as an online friend?
You can get paid to be an online friend in a number of ways. The most common way to start a side hustle as a virtual friend is through online platforms that connect people who are looking for companionship with those who are willing to provide it.
These platforms usually take a percentage of the fees that you earn, but they offer the opportunity to connect with people from all over the world and will typically have a few checks in place to ensure you're getting legitimate offers. The platforms listed above will either pay you directly into your bank account or ask for your PayPal email to send your earnings to you there.
You can also get paid to be an online friend by setting up your own website or blog and offering your services directly to clients. This option allows you to keep 100% of your earnings, but it requires more effort to find and attract paying customers as you'll be responsible for all of your marketing. All you need to do is find the right platform or clientele and get started.
Is it illegal to be a virtual friend?
No, it is not illegal to get paid to be an online friend. In fact, there are many websites that offer this service completely legally. If you're worried that a lot of these platforms are a front for more illicit services, then it might give you some peace of mind to know that all sites clearly state that they are not to be used for dating or sex.
Online friends provide companionship and support and can help to improve the service user's mood, confidence, and mental health. However, it's always a good idea to be sure you research the person contacting you before you agree to do anything. Only give out personal information that you are comfortable with and even then, it's safest to never disclose details such as where you live to people you have never met before.
If you are ever feeling unsafe or uncomfortable, you can always report the person to the website or block them from your account. Remember, you are in control of your online presence, so make sure you stay safe and have fun!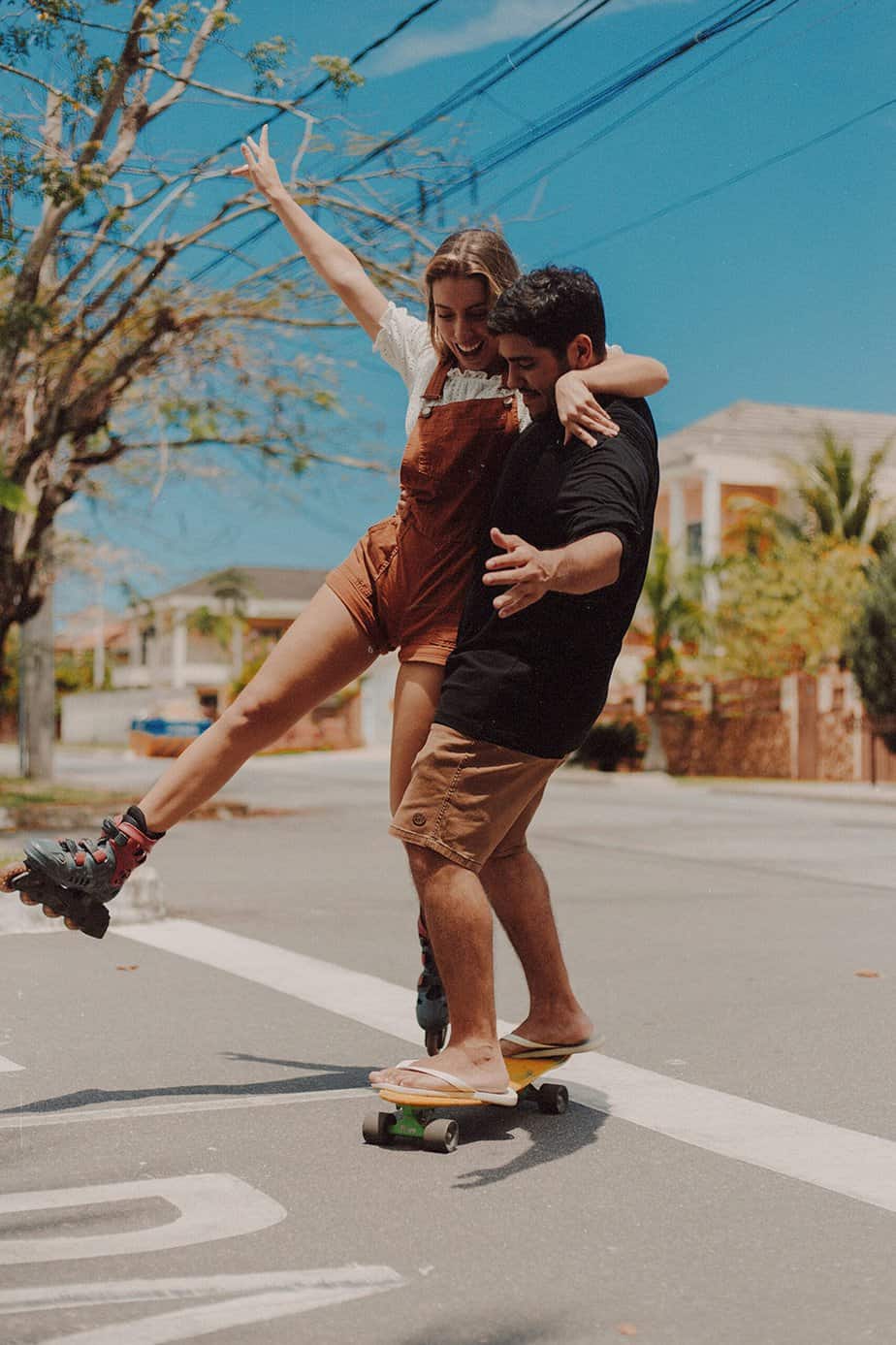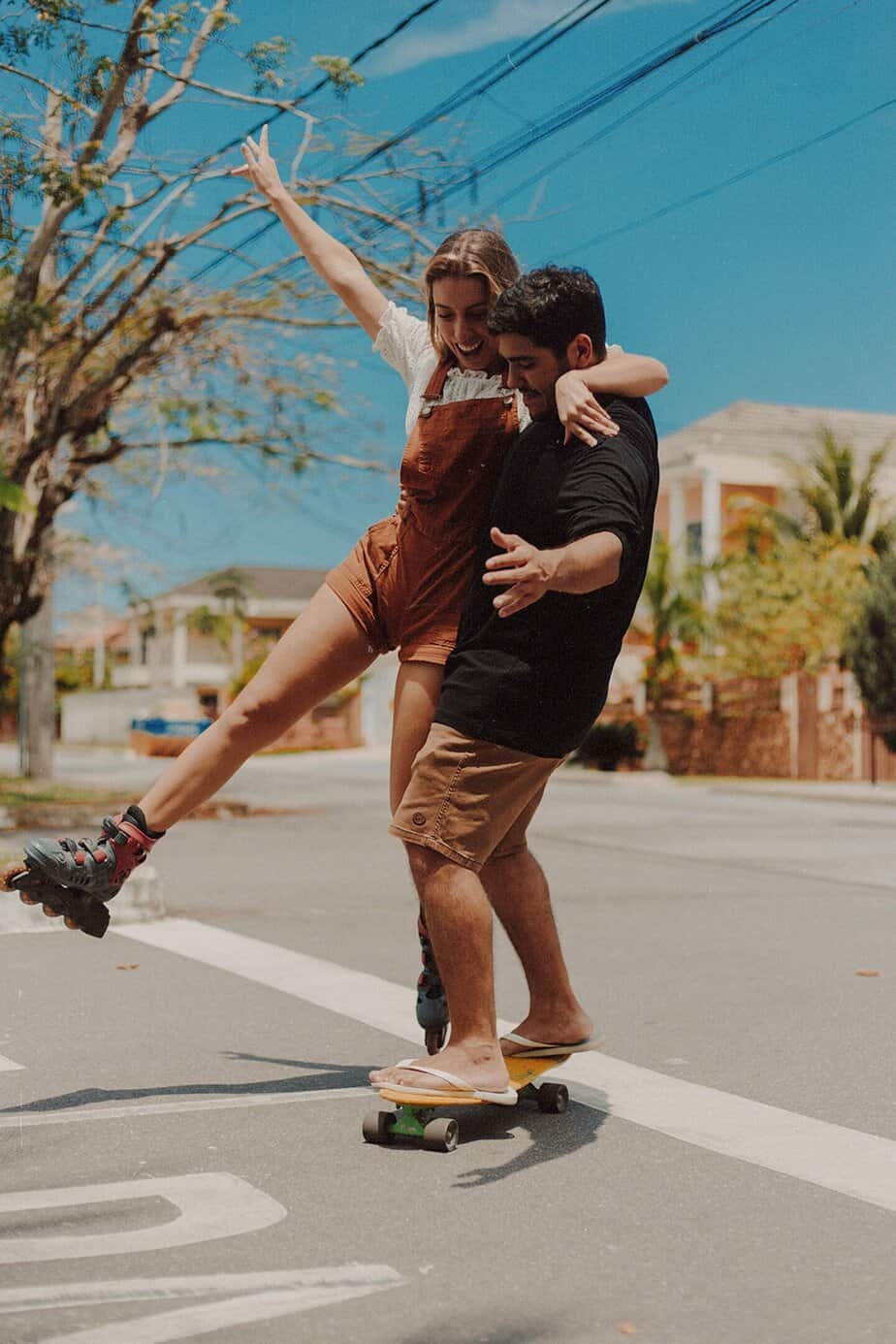 What services do paid online friends offer?
In today's digital age, it's not uncommon to form close relationships with people we've never met in person. Whether it's through social media, online gaming, or shared interests, we can connect with people from all over the world and for some people, these online relationships are just as important as any offline friendship.
Paid online friend services allow people to get paid for literally just being a friend, providing companionship and support through chat, email, or even video calls. Paid online friends can offer a wide range of services, from simply being someone to talk to, to offering advice and support on a variety of topics.
People with low self-esteem, anxiety, or who are experiencing loneliness may all use an online friend service for genuine companionship without the fear of being rejected. Some 'services' you might offer in your role as a virtual friend could include:
Simple being a supportive listening ear, talking through their problems
A life coach, helping someone with low self-esteem to feel more confident
A counselor (although I would advise against actually saying you're providing counseling as you don't want to be held responsible in that way)
Playing video games online with them
Watch a movie at the same time and chat about it
Sharing a skill or teaching them something
Allowing them to practice another language (for example, if you speak English, you might find people wanting to rent you as a friend to practice their English!)
Most importantly, you should only do what you feel comfortable with. Although most platforms above clearly state they are strictly for friendship, it's not hard to see how some boundaries could be crossed.
While you might meet genuine friends on the platform, you are also within your rights to keep a professional boundary with your clients. If you feel like your client is beginning to blur the lines between a platonic, virtual friendship and wanting something more from you, speak up immediately.
Other qualities you'll need are to be able to be empathetic, kind, a good listener, confident (or at least able to lead a conversation when it falls silent), and make a stranger feel at ease instantly.
Safety Tips for Being a Virtual Friend
When you get paid to be an online friend, there are a few things you should keep in mind in order to stay safe. It's important to protect yourself and your identity when you're online, and even more so when dealing with people that you have never met in person. A few general safety tips you should follow when working as a friend for hire include:
Never reveal your address, social security number, or personal phone number

You should never have to pay a platform or an individual if you are the one working as a friend for hire

Vet websites carefully before putting any payment details on

End the friendship at any point that you feel uncomfortable or that a line has been crossed

Report inappropriate users to the platform

If you are ever doing a face-to-face meet-up and feel comfortable doing so, meet in a public place and always let a few friends where you are going. Arrange for one of your friends to call you and check that everything is okay.

Be cautious about what you share on social media if you choose to link your accounts, as this can be used to track you down in real life. Some of the sites listed in this article ask for your social media links to connect with your profile – think carefully if you want to do this, and perhaps consider creating a separate social media account dedicated to your online friend side hustle so you're not sharing every part of your life with strangers.

If you're ever feeling unsafe or uncomfortable, make sure to reach out to a trusted friend or family member for support, and don't hesitate to report users that are not operating within the services regulations.

Remember that you always have the right to say no, and if someone is making you feel uncomfortable, it's okay to block them or end the conversation.
Tips for Making More Money as an Online Friend
Being an online friend is understandably a fairly competitive side hustle – because it's such a fun way to earn extra cash! Here are a few tips to get the most out of getting paid to be an online friend.
1. Find the right platform
There are many different platforms that you can use to find paid virtual friends, and it is important to choose one that is reputable, legitimate, and popular! Make sure to read reviews of the platform before signing up.
Our reviews of the most popular virtual friend sites above should give you a good foundation for where to look, but it's always a good idea to do your own research.
2. Create a profile
Once you have chosen a platform, you'll need to create a profile. Most platforms require you to provide your name, email address, location, a short bio, and a clear photo of your face.
Depending on what platform you use, you might also be asked to verify your identity or provide more information about your interests to help you better connect to people with shared interests.
This is your time to really put in the effort to make your profile as good as can be. Choose a clear, friendly photo of yourself (a smile will automatically make would-be service users more likely to pick you!), and give a short but informative introduction to yourself. Include any hobbies you have that friends might be drawn to.
3. Set your rates
When you create your profile, you will also need to set your rates for different services on most platforms. This can range from $0.01 a minute, to $50 and upwards an hour, depending on the service you offer and what site you are using.
Be sure to research the going rate for paid virtual friends in your area and on the platform you are using so that you can set a competitive price. However, also make sure that what you're charging is actually worth it! You don't want to be charged less than minimum wage an hour, for example, or you could just go out and get another remote job!
4. Promote yourself
Once you have created your profile, be sure to promote yourself so that people can find you – this can really pay off even if you're using an official virtual friend platform, giving you an edge over your competitors.
You can do this by sharing your profile on social media or by sending messages to people who might be interested in becoming your friend – for example, if you're a regular in a subreddit and establish yourself as a bit of an expert, you may have others there who would love to pay for your time.
5. Be available
When people contact you about becoming their friend, be sure to respond in a timely manner and be available when they want to chat.
6. Be friendly
This may seem like an obvious one, but it is important to remember that people are paying you to be their friend! Be sure to be friendly and engaging when you are chatting with them.
7. Be respectful
Just as with any friendship, it is important to be respectful of your virtual friend's boundaries and privacy. If they do not want to share certain information with you, respect their wishes and do not push them for more than they are comfortable with giving. These people are hiring you for compassion, kindness, and empathy – don't go in with a mocking attitude because you're getting paid just to be a friend.
8. Offer additional services
If you want to make more money as a paid virtual friend, you can offer additional services such as video chats or phone calls for an additional fee. You can also be a life coach, counselor, virtual gamer, virtual gamer, or offer face-to-face meet-ups (on some sites) as additional services.
9. Get creative
There are no set rules when it comes to being a paid virtual friend, so get creative! If you have unique talents or skills that you think people would be willing to pay for, don't hesitate to offer them as part of your service.
10. Have fun!
Being a paid virtual friend can be a great way to earn extra money, but it is also important to enjoy yourself while doing it!
Where is the best place to get paid to be a virtual friend?
The best platforms to get paid as an online friend in 2023 are:
RentAFriend (not currently accepting applications)
RentACyberFriend
RentALocal Friend
FriendPC
Fiverr
All of these are platforms specifically for offering your services as an online, platonic friend – and where people who are interested in this service are genuinely looking to connect with friends for hire.
Conclusion
Being paid simply for being someone's friend may sound like a strange concept, but with multiple different platforms offering this exact service and thousands of people using each site, there is clearly a demand for people available to hire as listening ears and supportive friends.
With an increasingly online society, it's hard for many adults to get out there and make new friends – and paying someone for an hour or two of their time may be less intimidating than the fear of rejection from regular people in someone's day-to-day life.
Getting paid to be an online friend may sound like an easy side hustle, but it's also an extremely worthy use of your time – it's very likely that offering your time for a fee and being a friendly face to someone online is having a hugely positive impact on their mental health.
Just be safe, and remember to be clear about what you are offering when you sign up to one of the sites above to get paid as an online friend today!