We may earn money or products from the companies mentioned in this post, and as an Amazon Associate I earn from qualifying purchases. Please see my full disclosure for more information.
Listing over 85 cheap college date ideas for students on a tight budget, this guide provides fun and unique date ideas for all times of the year.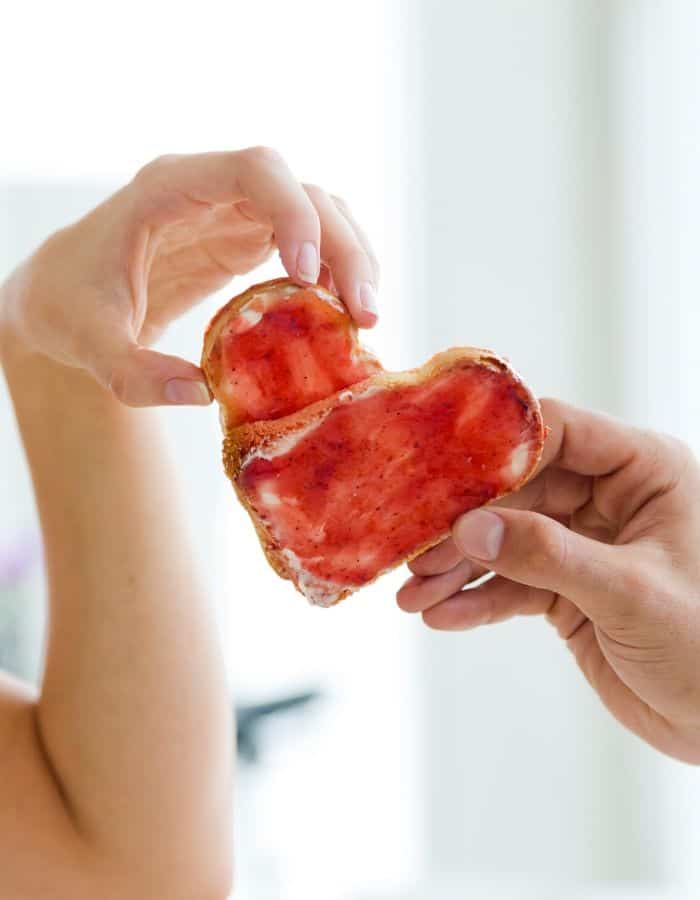 We all know how important regular date nights are for keeping the spark alive in a relationship, but sometimes it can be tough to come up with new and creative ideas that don't break the bank, especially for college students on a budget. It's almost like society tells us that we need to spend a lot of money on fancy dinners and shows to have a good time, but that's just not true!
With a little bit of creativity, though, you can have fun without spending a lot of money. Here is the ultimate list of the best cheap college date ideas for students that will help you get out of your comfort zone, have some fun, and rekindle the romance without breaking the bank!
Read next: How to Save Money in College
85 Very Best Cheap College Date Ideas to Wow Your Partner..!
1. Play card games
A pack of cards will set you back a few dollars at most but can provide an entire evening's worth of fun on a tight budget. A fun idea to make this more interesting is to set each other a challenge to learn a card game or two in advance of your date to teach each other.
2. Host a board game night
Playing board games together is a great way to have fun and connect with your partner. You can play classic games like Monopoly or Scrabble, or try something new. There are also many online games you can play for free. Whatever you do, make sure you're both having fun!
3. Go shopping at the thrift store
You could simply enjoy browsing your local thrift stores and flea markets for a great bargain, or you could turn this into a fun activity by picking out a new outfit for each other!
4. Go on a double date
A bottle of wine split 4 ways is much cheaper than between 2, so this could be a good time to indulge in a slightly more fancy dinner for your date night. Plus, a group date is a great way to get your date and your friends to meet.
5. Cook dinner together
Cooking can be a fun and romantic activity to do together, especially if you don't usually do it at home. Choose a dish that you both love or have always wanted to try, and take the time to cook yourselves a fancy dinner scratch. It'll be a fun way to spend some quality time together and you'll save a lot of money on a meal out. Don't forget the candles and music!
Some delicious recipes for inspiration:
– 20 Best Vegan Cast Iron Skillet Recipes
– 30 Vegan Dinner Ideas Everyone Will Love!
– 45 Frugal Meal Ideas
6. Visit your local animal shelter
This can be a unique date idea at any time of the year. You might be able to volunteer to walk the dogs or play with the cats, or you might just be able to spend a bit of time with the animals there.
7. Build a blanket fort
If you can't be a big kid with your partner, then who can you do fun activities like this with? Build a cozy blanket fort in your living room, grab some snacks, and watch a movie on your streaming service of choice in your comfy den together for a fun date night.
8. Write each other love letters
This date idea might not be for everyone (and definitely isn't a first date idea!), but writing each other love letters and then reading them out can be an amazingly intimate activity that really helps you both express your emotions and feelings towards each other better and have a great conversation about what's important to you.
9. Find out your love languages
If you haven't been dating long, finding out your love languages can be a great way of getting to know each other better, and can set you up for a really healthy foundation for your relationship in the future.
10. Play 21 questions
21 questions can be a fun activity to pass the time, or it can be a good way of getting to know your date on a deeper level. How serious and revealing the questions are is up to you!
11. Go Happy Hour hopping
A good way to go for some drinks while still on a budget is to go happy hour hunting – find out all the spots near you that have a happy hour on, and go on a bar crawl!
12. Paint together
You don't have to invest in expensive art supplies to paint together – some plain paper and whatever pens or pencils you have at home will do! Perhaps pick the same thing to paint and see what you both come up with.
13. Have a spa night at home
A DIY spa night could involve a bubble bath, face masks, manicures, pedicures, and anything else you fancy! You could also take turns giving each other a massage for this date idea.
14. Make a fire pit
If you have a backyard, you could build a fire pit and enjoy cozying up to the fire in the evening. An extra fun idea would be to toast marshmallows over your open fire! Just make sure you're being fire safe.
15. Go indoor rock climbing together
This isn't a free date night as you'd need to pay for entry to the wall, but rock climbing together can be a fun new skill that you do together and is a great place for a second date or when you've only recently started dating. It might even become a hobby you both bond over!
16. Go to a quiz night
Find out if any bars near you are hosting a quiz night and go along. This is also a good idea for a double date or group date night with friends.
17. Watch the sunset
Free and super romantic – take a blanket to the best sunset spot on your college campus and enjoy the beauty of nature around you.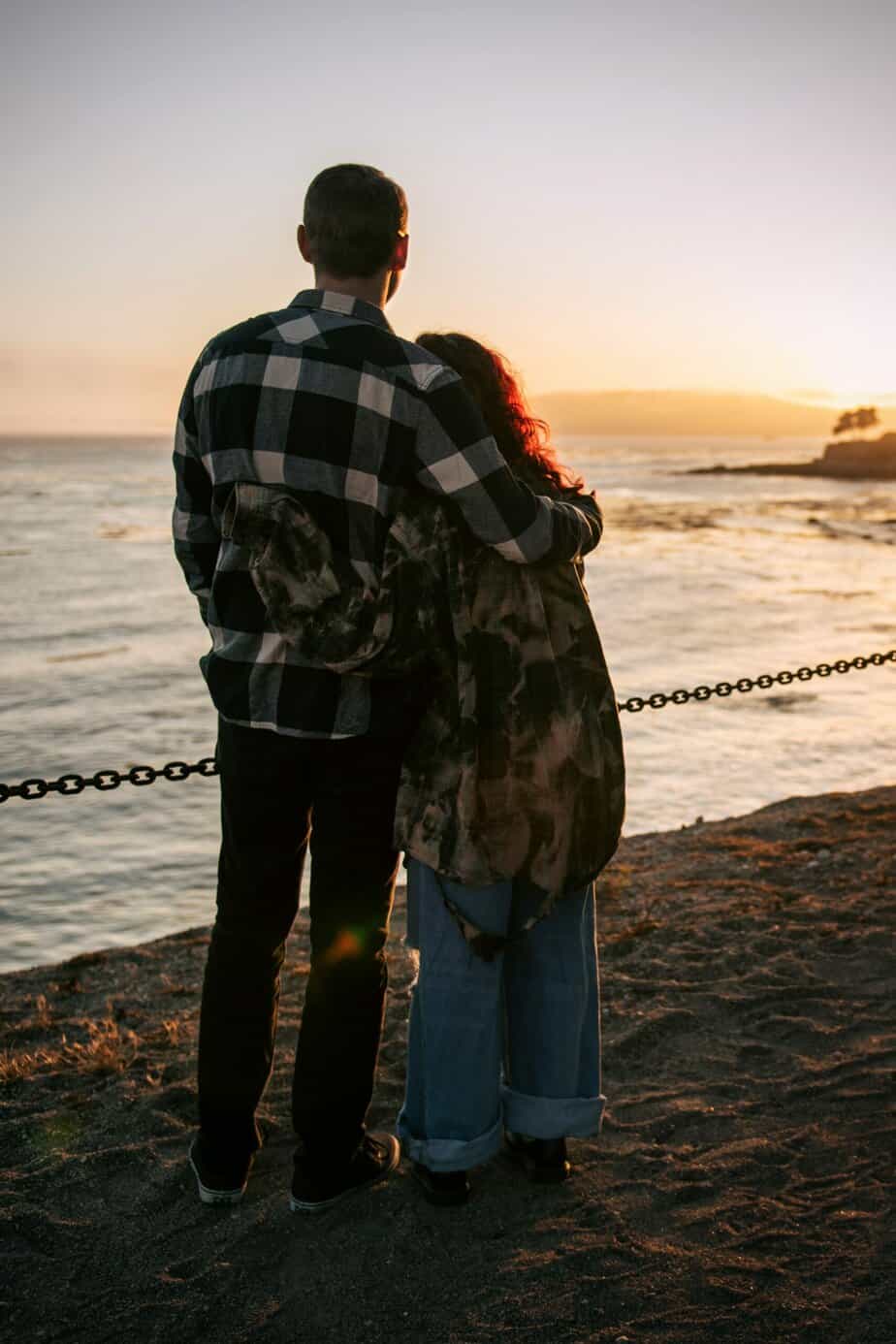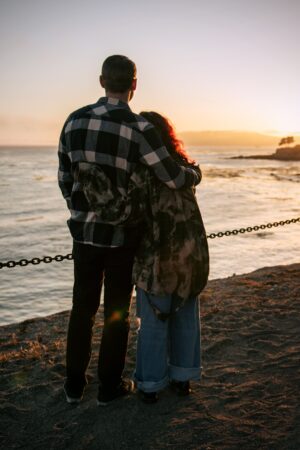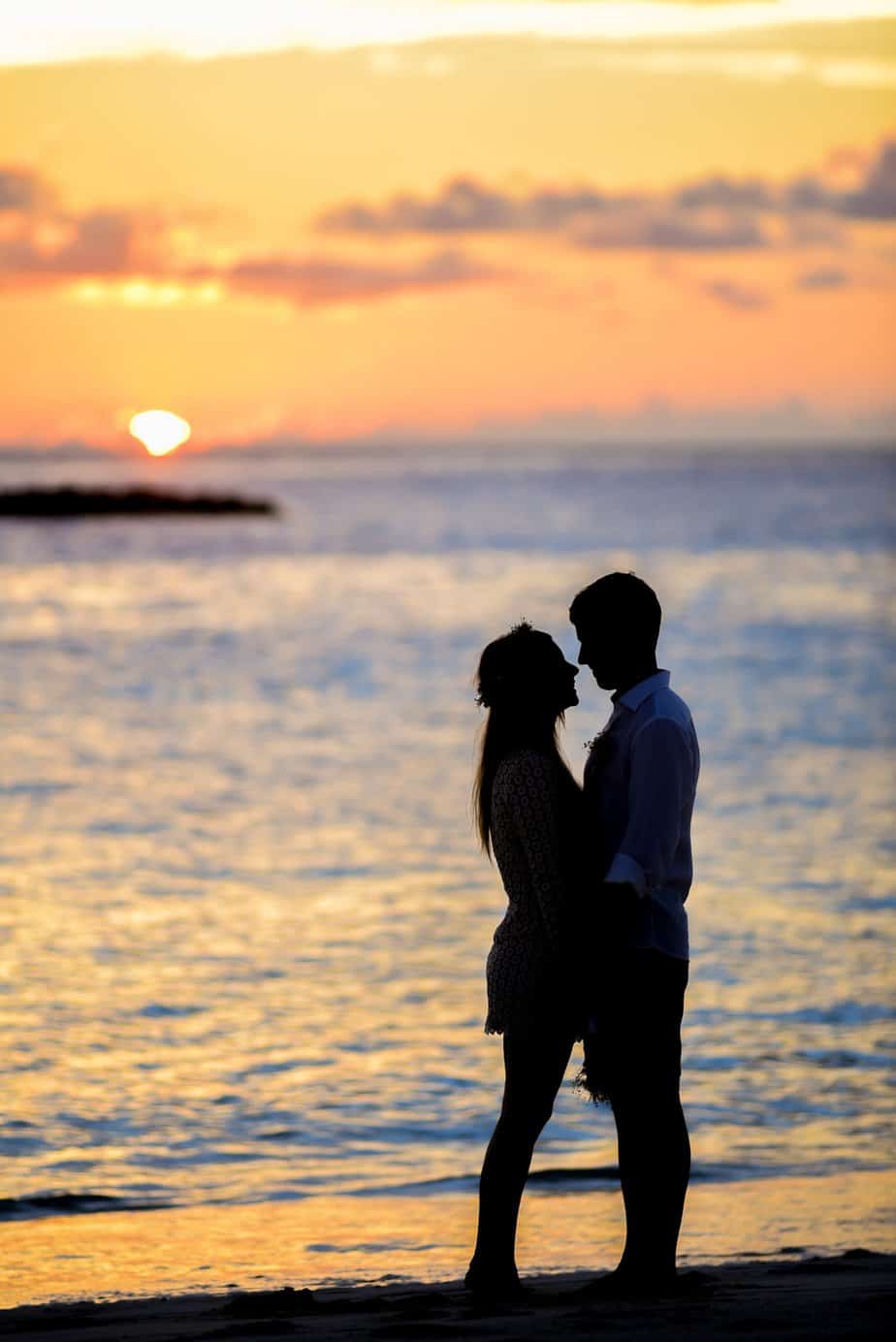 18. Play tennis
Many areas have free tennis courts dotted around, so this can be a fun and active date idea for the two of you to do in the day and add a little friendly competition into your relationship. Remember, you'll need to supply your own rackets and balls.
19. See some live music
Live music on a local basis is normally completely free (or the cost of a beer at most!), and a fun, relaxing cheap college date activity. This could be a good college date idea if this is the first time you're going on a date with each other.
20. Do a yoga class together at home
Get your zen on by taking a yoga class together at home. There are even couples yoga classes that include acro yoga, so you really feel like you're in it together!
21. Go backyard camping
If one of you has a tent already, you can save on the cost of a campsite by camping in your backyard! This has the added advantage that you'll also have access to your own toilet and kitchen!
22. Play hide and seek
Embrace your inner children and have a fun time playing a good old-fashioned game of hide and seek. You could do this at home, or be brave and play at the park!
23. Work out together
Couples that work out together, stay together. Plus, this is an entirely free date idea that you can either do at home (even using cans or books for weights) or get outside and get a sweat on!
24. Have a cupboard-raid dinner
Raid your pantry and see what unique and tasty dinner you can come up with from what you already have. You might surprise yourselves at what you can concoct from seemingly few ingredients!
25. Write out a couple's bucket list
For this date idea, you'll sit down together and write out all the future cute dates you'd like to tick off together in your relationship. For example, traveling to a foreign country, visiting a local attraction, getting matching tattoos, etc!
26. Have a movie night
Renting a movie is cheaper than going out to the movie theater, and you can make it even per by popping your own popcorn at home. Get cozy on the couch with your favorite snacks and drinks, and enjoy a night together. It's all about quality time, not the cost of the date.
Spring Date Ideas on a Budget
27. Go on a bike ride
Spring is the perfect time to go on a bike ride together and enjoy being outdoors. If you already own bikes, this is a lovely free date – but you could also rent bikes for a small fee.
28. Go for an evening stroll
As the weather gets warmer and the flowers begin to bloom, there's nothing more romantic than a casual stroll around your local area. You could even detour to the park and partake in some free activities, such as feeding the ducks or bird watching.
29. Have a picnic
Picnics are the perfect way to enjoy a nice day together without spending any money. Just pack a blanket, some snacks, and drinks, and head to your favorite park or outdoor space. Whether you stay close to home or take a drive somewhere new, you're sure to have a good time.
30. Go for a scenic drive
Escape college life by heading to the countryside and enjoy the views as you drive around together. You could make a playlist ahead of time and enjoy some of your favorite views as you travel down the scenic route.
31. Visit a national park
If you're lucky enough to live relatively close to a national park, this can be a great cheap date idea for students. Most national parks have a budget-friendly bus service nearby, and entry is free.
32. Visit a botanical garden
Spring is a wonderful time to visit a botanical garden, as all the flowers will just be beginning to bloom. Take a picnic and make a day of it.
33. Go to an outdoor cinema
Have a look out for outdoor cinema events in your local areas. These are usually very affordable events showing classic movies and are perfect for the warmer weather and lighter evenings. An outdoor concert is another good option.
34. Go to your local farmer's market
A stroll through the local farmer's market on a Saturday morning can make a great cheap college date for students on a budget. You could pick up a treat or two, or just enjoy browsing and being in each other's company.
35. Eat al fresco
Cook a meal and pack it up in containers to enjoy outside! You could venture as far as your backyard, or go to a local park and make it into a hot picnic.
36. Go hiking
Spring is a great time to be outdoors, and you can't get much cheaper than a hike. Be aware, this college date idea can be a make-or-break date depending on how much your date likes to hike outdoors!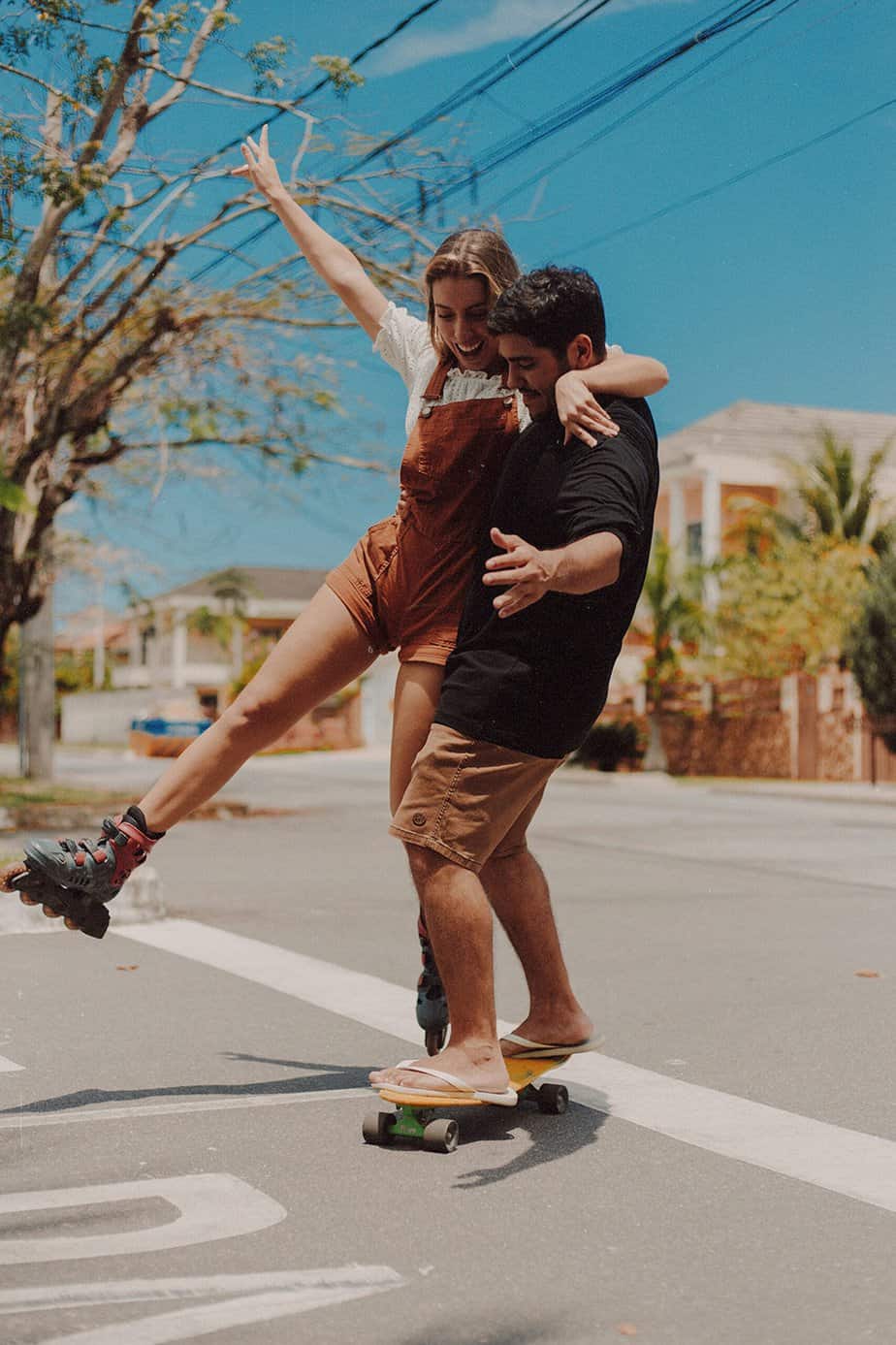 37. Visit some local museums
Museums and art galleries can be fun and educational, and many of them offer free or reduced admission on certain days or for certain groups of people. See what's happening at your local museums and galleries, and plan a visit together. A bonus is that finding free museum admission is very easy, so this is a great idea for students on a budget.
38. Do a scavenger hunt
This makes for a wonderfully thoughtful date that's lots of fun, and you'll both remember for years to come. Agree on who will be the scavenger and who will plant little things and clues to find along the way, and you'll have a lot of fun on a budget.
39. Pick some flowers
Of course, you'll want to be sure that you're allowed to pick the flowers (some are protected species or just belong to someone else!). It can be a lovely date to head into the country and pick wildflowers, forage for berries and garlic, and whatever else you can find. Just be sure that you know exactly what you are picking and stay safe!
40. Plant some vegetables together
If one of you has a backyard or perhaps an allotment, planting some seeds for growing your own vegetables in the summer can be a great date activity. It will be a nice project that you both see right ugh to picking your own veg and cooking with it, too.
41. Volunteer
Why not consider volunteering opportunities in your local area? You could volunteer as stewards or clean up crew for a festival, at an animal sanctuary, or anything else you share an interest in.
Summer cheap college date ideas
42. Visit a sunflower field
Summer is a great time to visit a sunflower field and the perfect opportunity for a scenic photo shoot for your social media. Just be sure you're visiting a field that accepts visitors and not trespassing on land!
43. Go fruit picking
Fruit picking is a unique date idea that doesn't cost much money provided you don't go overboard on what you pick. Popular fruits for this activity include strawberries, apples, pears, and even oranges.
44. Get ice cream together
A date to get ice cream is low cost, fun, and delicious. You could even search out a particularly popular ice cream parlor nearby and take a trip there together.
45. Go to your local park
Dates don't need to be fancy, and one of the most affordable ways to keep costs down is to get outdoors. If you're both on a budget, a visit to your local park to stroll around and enjoy the summer's day is enough if you enjoy each other's company!
46. Go wild swimming
Summer is the perfect time to go wild swimming – a completely free date idea! Just remember to be safe and swim within your limits.
47. Do some water sports
Alternatively, you could look into renting a kayak together or doing another water sport that's available to you. A little more expensive, but this can still be done pretty cheaply.
48. Visit the beach
If you're not too far from the beach, this can be a great cheap date for students. Pack a picnic, towels, your swim stuff, sunscreen, and some cool drinks – the perfect date for any couple.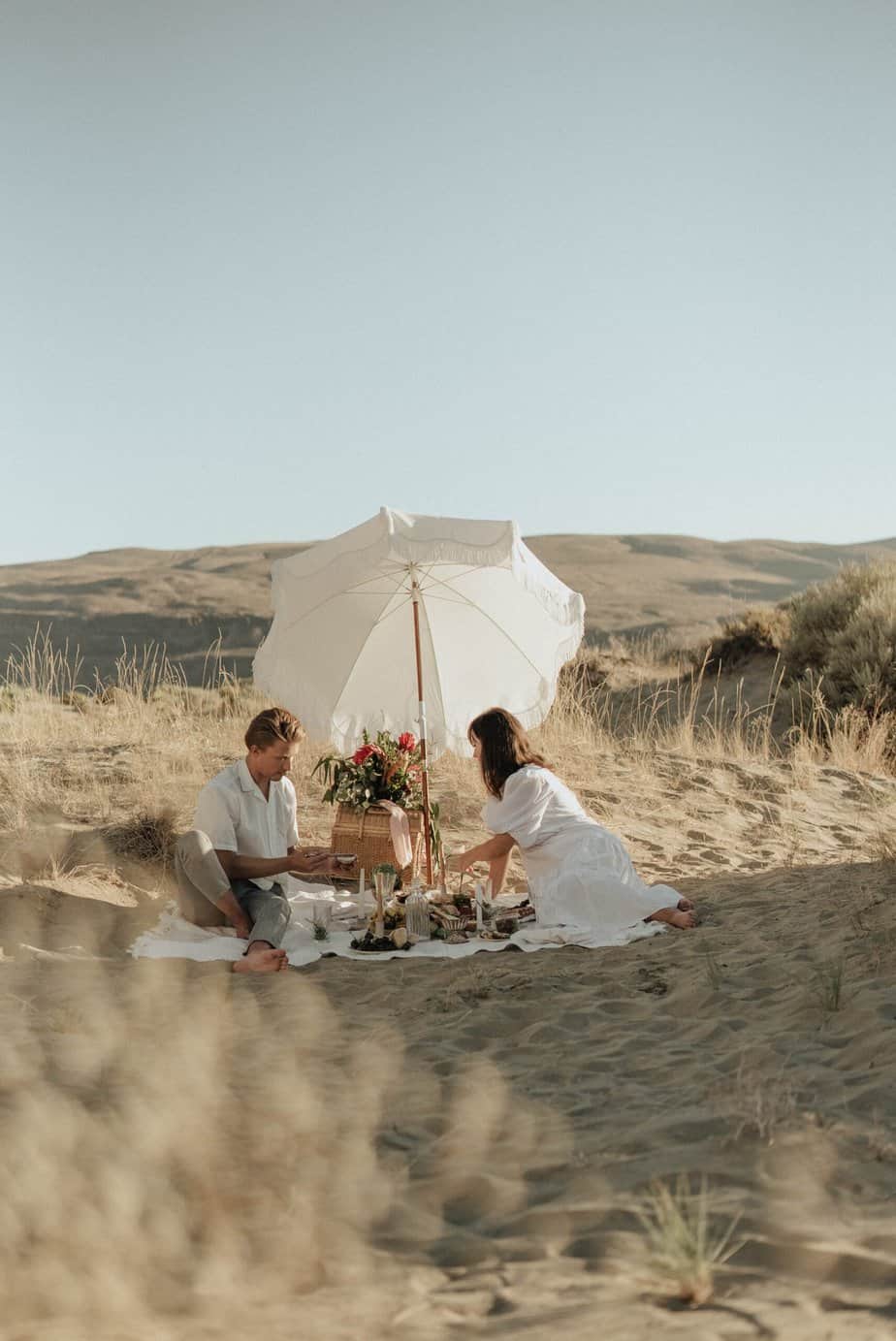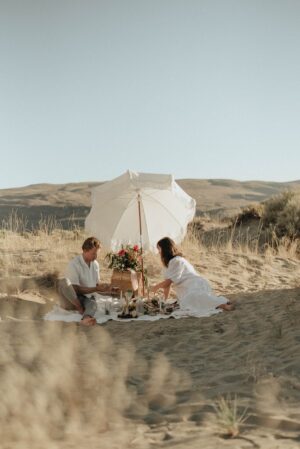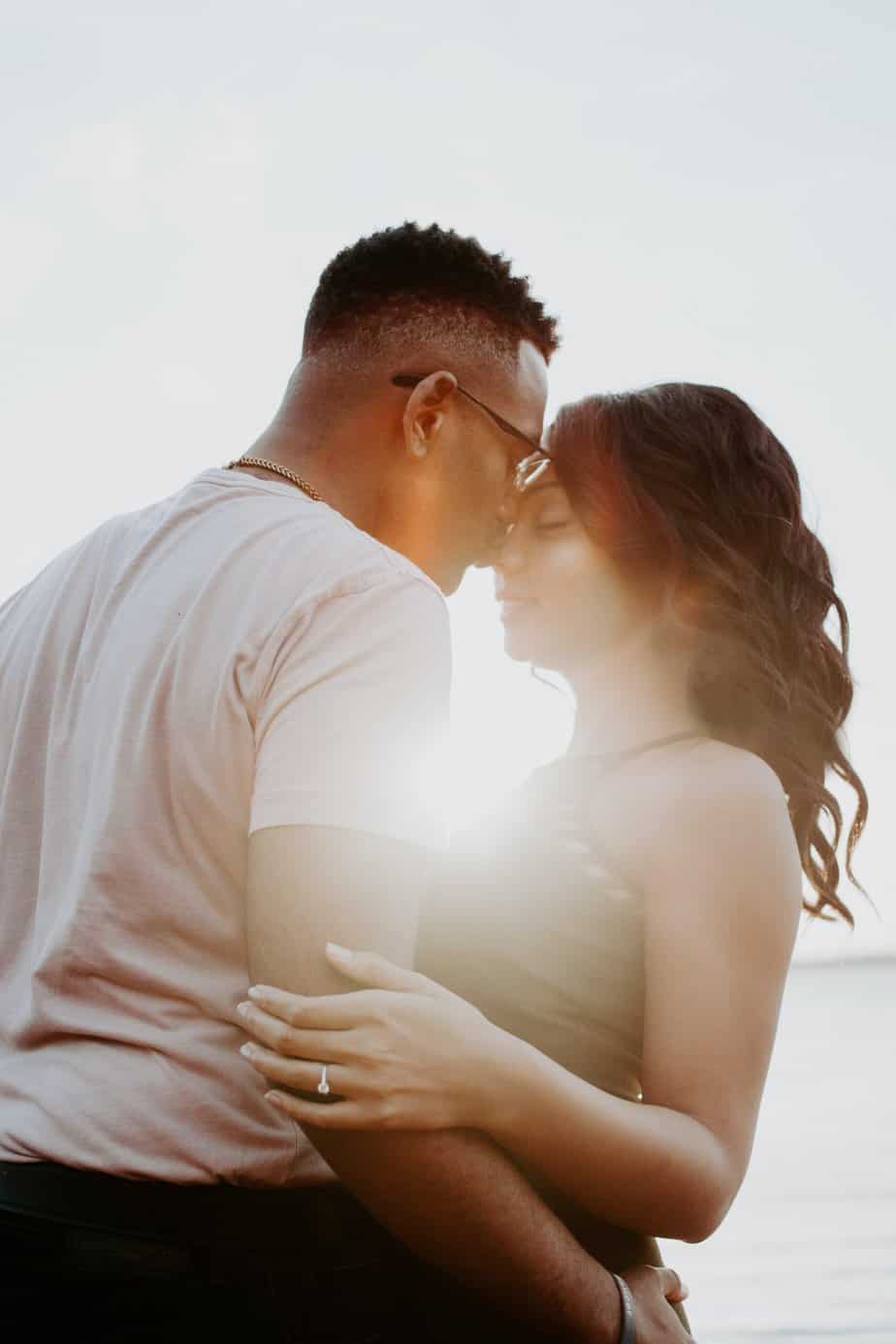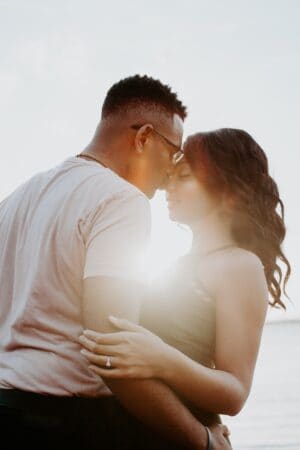 49. Have a late-night picnic
As the weather gets warmer and the light lingers, packing up a simple picnic to enjoy in the lighter evenings can be a lovely romantic date idea. Head to a picturesque park to really dazzle your date.
50. Go sightseeing
Pretend you're both tourists and go sightseeing together. It can be fun to discover the attractions that people from far and wide coo see right on your own doorstep.
51. Go to the pub or bar
A cheap student date doesn't have to avoid the bar completely! You can still agree to go for a drink or two (especially if you do a round each) without spending a ton of money. Look for happy hours or student discounts for an even more affordable date.
52. Go for a run together
For active couples, going for a run together and pushing your pace can be ag experience and really get your endorphins pumping!
53. Sunbathe
If it's a blisteringly hot summer day, why not simply head to the park, lake, or beach near you and sunbathe together? You can enjoy each other's company while catching a golden glow.
54. Visit a scenic location
Most towns and cities will have a 'Top X Best Locations' list somewhere online – check it out for your local area and visit the most scenic spot together to enjoy the view and take some pictures. If you have a great date here, it could even become a special place for big moments in the future, such as a proposal.
55. Go to a sporting event
Summer is the season for sports, so go see a football game together. For a more low-budget option, you could go see a college game or find an amateur league. You don't need to watch the professionals to still have a good time.
56. Check out some live music
There are often free concerts and performances happening in cities and towns across the country. Check your loanything is happeningere's anything happening that you and your partner would enjoy. It's a great way to experience something new together.
Cheap Student Date Ideas for Fall
57. Visit a pumpkin patch
Visit a pumpkin patch together and perhaps even pick up a pumpkin to carve and turn into pumpkin pie once you get home.
58. Carve pumpkins together
Purchase some cheap pumpkins at the store and spend a cozy afternoon carving them together. This one could get competitive!
59. Go apple picking
This is the perfect cheap college date idea to get in the Fall mood. Visit an apple orchard and go apple picking – you'll normally have to pay for either your entry or the weight of the apples you pick so make sure you have a budget in mind for this one as it's easy to go overboard!
60. Go to a carnival
Fall tends to be the time of year when carnivals crop up on the outskirts of town, making for a great day out that can be very affordable if you avoid expensive games. Treat yourselves to some cotton candy or a spiced tea and enjoy the atmosphere around you.
61. Visit a haunted house or spook fair
If you're both Halloween lovers, visiting a haunted house can be a fun, heart-racing activity that helps to break any boundaries between the two of you.
62. Visit a corn maze
Corn mazes are at their best in Fall, and can be a fun and unique date idea to take your partner to. You could split up and try to find each other, or aim to complete the maze as quickly as possible. Or, you could find a cozy hidden corner for a fun story for the future!
63. Hunt for conkers
Embrace your inner child and go hunting for the shiniest, most perfect conker you can find. Or, you could both get crafty and find conkers to paint and leaves to trace.
64. Get a pumpkin-spiced coffee
Getting a cup of coffee in your favorite coffee shop is a classic cheap date that enables you both to get to know each other better with some good conversation, and arranging this in the Fall with a variety of delicious pumpkin-spiced drinks only makes it cozier.
65. Make your own mulled cider
You could make your own mulled cider to enjoy in front of the fireplace together, or head out and find a stall that is selling it for the ultimate Fall vibes.
66. Go to a bonfire together
Warm up in front of the fire and see a bonfire together. This is a free date idea that can be lots of fun.
67. Watch fireworks
Look out for local firework displays around this time – many are free admission or very cheap, and make for a romantic date under the lights.
68. Have a horror movie night
If you're both fans of horror and Halloween, having a movie night at home is super budget-friendly and can be very romantic. Cuddle up to each other when you get scared!
69. Visit a Halloween-themed theme park
Many theme parks put on Halloween-themed events with haunted houses, actors in scary get-ups, and more. This can be a unique date idea that you'll both remember for a long time.
70. Go on a woodland hike
Sometimes the simplest activities can be the most romantic. Taking a walk or going for a bike ride together is a great way to spend time together and get some fresh air. If you live in a beautiful area, take advantage of it!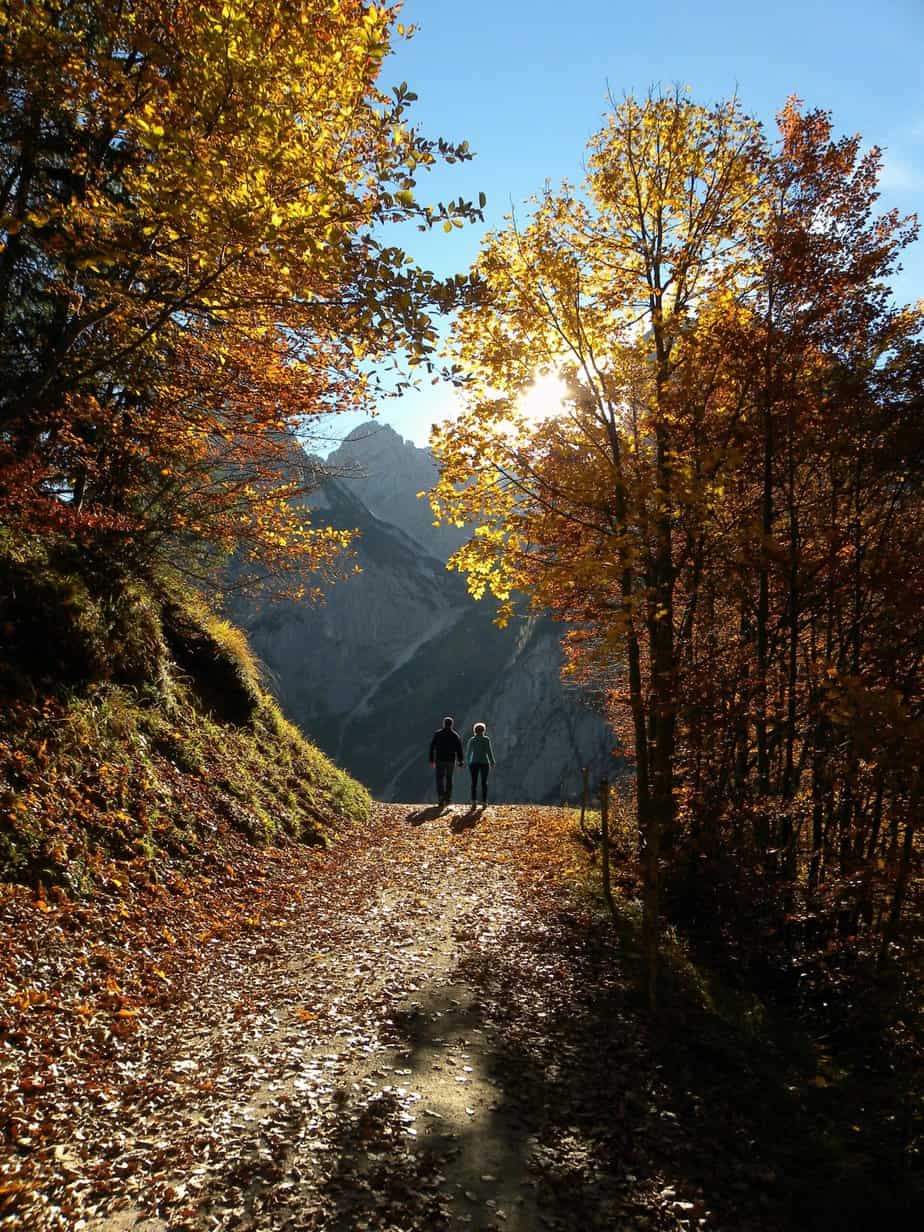 71. Have a cozy night in
Cozy socks, velvety hot chocolates, homemade pumpkin pie, maybe a classic movie, and snuggling under a blanket together…what could be better? Sometimes, the best dates are the most simple – plus, a night in is one of the cheapest dates you can have.
Cheap Winter Date Night Ideas
72. Go ice skating
You may have to pay a fee for renting ice skates if you don't live in an area where it's common to have your own, but ice skating still makes for a fairly cheap and fun date idea for students.
73. Visit a winter wonderland
You're never too old to enjoy the magic surrounding Christmas and Santa Claus, so if there's a winter wonderland event near you, then you should check it out!
74. Take a Christmas tree tour
Take a tour of your local area and aim to find the tallest tree of all. Stores, malls, and hotel lobbies are good places to start.
75. Have a snowball fight
A snowball fight is a unique date idea that will certainly 'break the ice' with your date. Make sure there's a cozy cafe you can head to afterward to warm up.
76. Go sledding
Sledding is great fun no matter how old you are and is a super cheap date idea for students looking to get outside even in the cold weather. If you don't have a sled, you'd be surprised how effective a large oven tray can be!
77. Play Secret Santa
This can be a nice date idea if you've been dating for a while. Set a budget within your means, then buy each other a secret Santa gift. You could even set each other the challenge while you're in a store and put a timer on your shopping.
78. Decorate a gingerbread house
Decorating a gingerbread house is a holiday classic, and a great way to stay warm inside with your date and get creative. Plus, you've got a whole house of gingerbread to dig into together afterward.
79. Make baubles together
If you both like tapping into your artistic sides, you can get some cheap baubles from the dollar store, and jazz them up with paint, glitter, and other accessories. You could even embellish yours with your date's name for a thoughtful gift. This is a great college date idea for more artsy students!
80. See the Christmas lights
Head out to see the best of the Christmas lights in your area! Whether you live in a city or plan to take a tour of the homes in your neighborhood, this is a free date idea that makes lasting memories.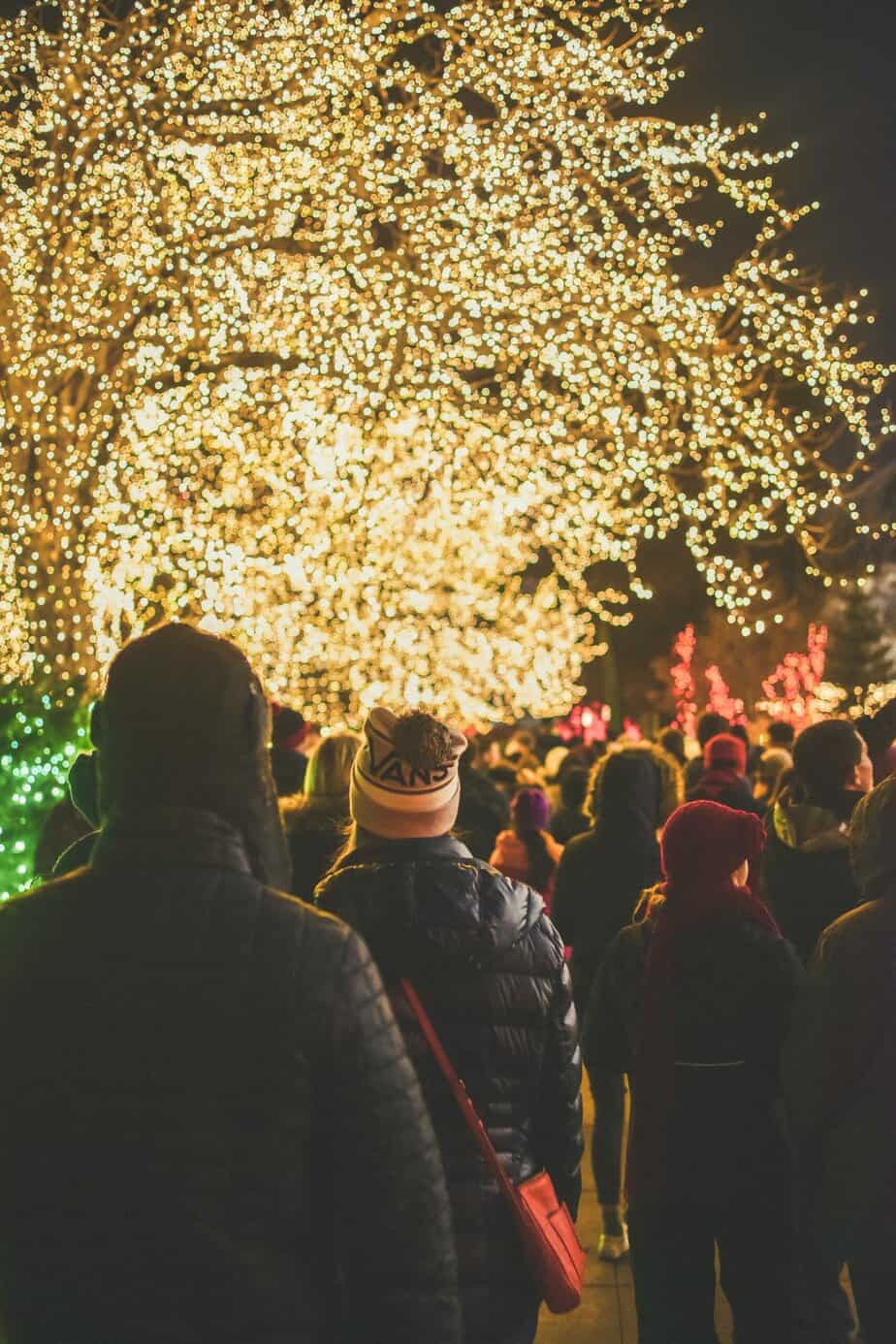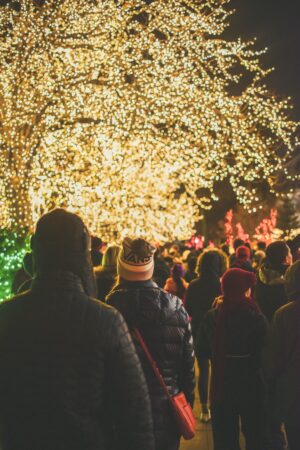 81. Bake Christmas cookies together
Baking or cooking together is always a fun date idea, and baking Christmas cookies is a fun way to get creative and share something delicious.
82. Have a hot chocolate cook-off
What's better than a big mug of hot chocolate on a cold winter's evening? That might be enough for the two of you, but if you're a competitive pair, see who can make the very best hot cocoa of all.
83. Build a snowman
If it's snowing near you, building a snowman together is an inexpensive date idea for students that you'll love doing together. This is one where you're guaranteed to have so much fun together!
84. Visit a holiday market
Mulled wine, crispy roast potatoes, roasted chestnuts, hot chocolate, and dozens of toys and trinkets to feast your eyes on. A stroll around a holiday market makes a great date idea, although you might have to keep a tight eye on your purse here as it's easy to overspend…
85. Put up decorations together
If you haven't gotten around to putting up your Christmas decorations yet, why not make it a fun date activity? Get some Christmas songs on, wear your very best Christmas jumpers, and make a lasting memory transforming your home into a Christmas grotto of dreams.
---
There you have it – cheap college data ideas that will help you save money and have fun at the same time. if you're interested in more ways to save money as a college student, take a look at these 15 best budgeting apps for students. Dates are all about quality time, so don't worry about spending a lot of money. Just focus on the important thing – enjoying each other's company and making memories together.
What to read next…
Share this post!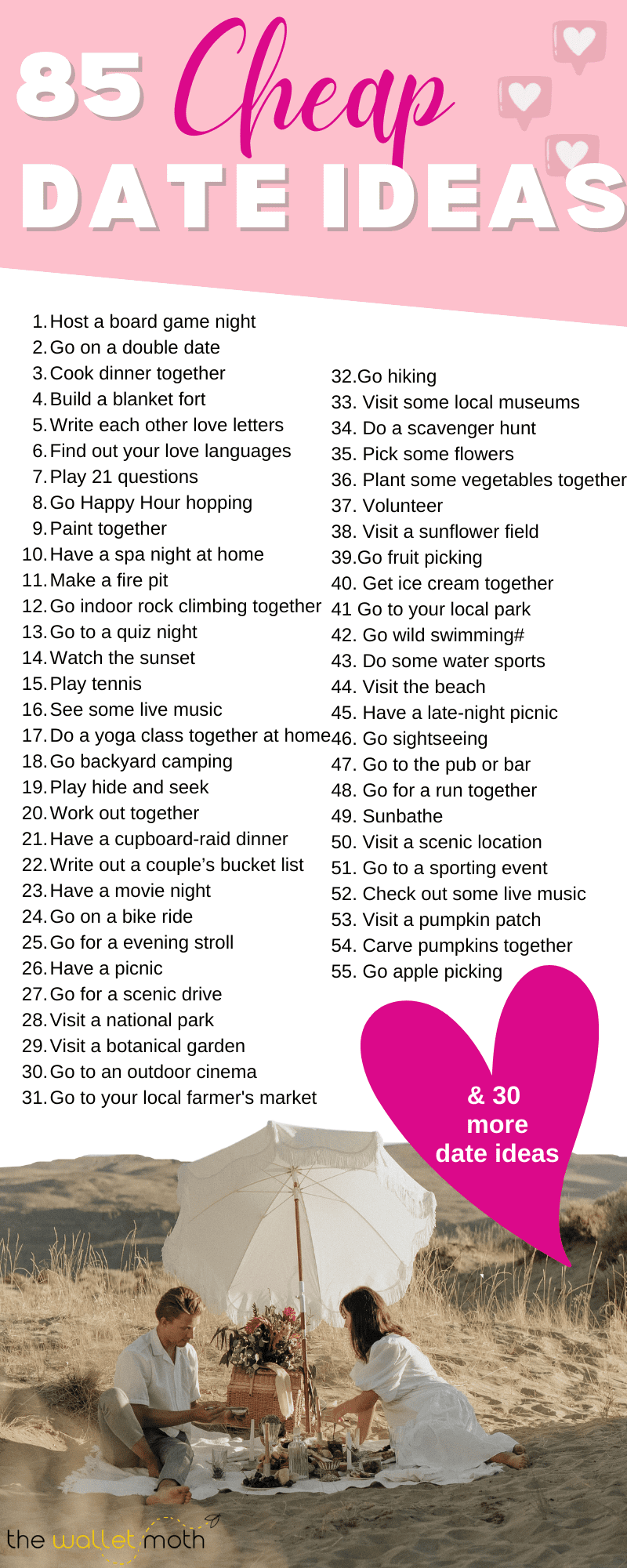 Yasmin Purnell is a freelance writer and the founder of The Wallet Moth. Yasmin is on a mission to help her readers achieve control of their own finances and live an independent life that isn't controlled by a number in a bank account. When she's not tapping away at her keyboard, you'll find Yasmin spending quality time outdoors with her daughter, cooking up a plant-based storm on ByTheForkful.com, or enjoying a yin yoga class.