We may earn money or products from the companies mentioned in this post, and as an Amazon Associate I earn from qualifying purchases. Please see my full disclosure for more information.
This list has over 30 vegan dinner ideas – make any of these delicious vegan recipes ahead of time for a healthy, quick, and easy meal that won't break the bank!
Whether you're vegan or not, we can all agree: cutting down our meat intake as a planet can only be a good thing.
Eating a more plant-based diet is a fantastic way to save money, eat more vegetables, and reduce your impact on the environment.
What makes a good vegan dinner recipe?
When I look for inspiration for vegan dinner ideas, I look for recipes that include:
A protein source (i.e. tofu, tempeh, beans, legumes, nuts, or a meat-substitute)
A large portion of vegetables (obviously, these are good for your health – but more vegetables will also keep you fuller for longer!)
A carbohydrate source (i.e. potato, a grain, sometimes pasta)
A delicious sauce to tie everything together – not essential, but it definitely helps!
A good vegan dinner recipe provides a balanced, nutritious meal that leaves you feeling satisfied but not over-full.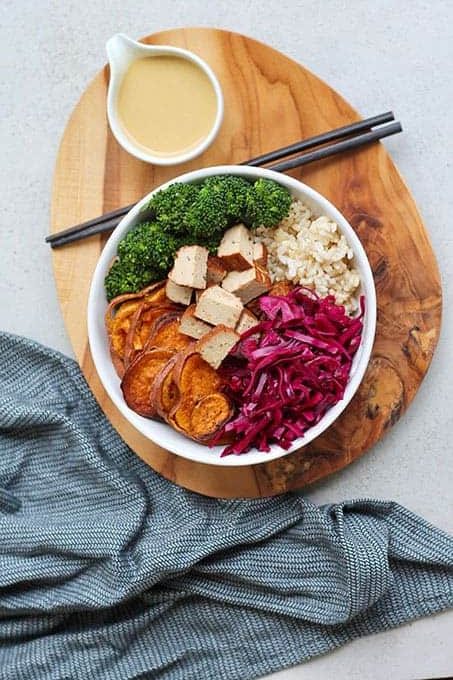 Vegan Dinner Ideas Everyone Will Love:
Vegan Meal Prep Dinner Ideas
Pssst..! While you're here, make sure you've unlocked your free access to The Wallet Moth Freebie Library, which is absolutely full resources all designed to help you start building a life that works for you, including free cheap & healthy meal planners, printables, a minimalist declutter checklist, and so much more!