We may earn money or products from the companies mentioned in this post, and as an Amazon Associate I earn from qualifying purchases. Please see my full disclosure for more information.
A cast-iron skillet is such a great investment for quick and easy cooking. From healthy, hearty dinners to rapid fast meals, a cast iron skillet can be used for almost every kind of meal – and are even hardy enough to withstand the heat of a camping fire. These 20 best vegan cast iron skillet recipes include dinners, snacks, and even desserts.
No exaggeration, I probably use my cast iron skillet at least once a day – often twice. It is, hands-down, the best investment you could make in kitchenware. My parents gifted me my Le Creuset cast iron skillet a couple of years ago now, and even with so much use, it's still going strong – and should for years to come.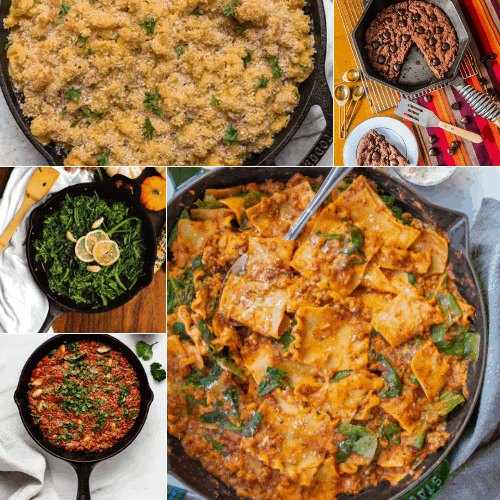 These skillet recipes range from savoury dinners to dreamy desserts – scroll down for a little more information on how to cook with and maintain your skillet, or you can jump straight to the recipes here.
How to maintain a cast iron skillet
Cast iron skillets need very little oil, are non-stick, and are very easy to maintain for years and years, provided you treat them properly. This includes washing them after every use with hot water and a non-abrasive scrub pad with minimal soap – never put your skillet in the dishwasher!
To keep your cast iron skillet in top condition:
Always store your cast iron skillet dry! Don't just rinse it and leave to dry on the rack as this can cause it to rust
Rinse it with warm water and scrub gently to remove any black bits – you don't really need soapy water
'Season' your cast iron skillet with a thin coat of oil applied with the skillet on a low heat
Try to avoid using metal utensils that could scratch the pan – wooden or rubber utensils are best
Clean the pan right after use, rather than soaking it
Cooking with a cast iron skillet
One of the best parts about a skillet is that it can be used interchangeably on the hob and in the oven, so the number of recipes you can make with just this one pan are endless.
I'm all about minimal ingredients, simple recipes, and big flavours, so skillet recipes tend to be my go-to for weeknights. I also love the idea of taking a skillet and cooking a proper, hearty vegan meal when camping, too.
Below, I've collected the best vegan cast iron skillet recipes on the internet. This list ranges from hearty meatballs and mac & cheese to an indulgent chocolate skillet cookie and fresh berry crumbles. Most of these recipes are one-pan only, too – so minimal washing up and maximum flavour is the real theme here!
Check out these 10 mouthwatering vegan one-pot recipes for summer next.
Best Vegan Cast Iron Skillet Recipes:
20 Best Vegan Cast Iron Skillet Recipes
Make these easy, one-pan vegan cast iron skillet recipes for a simple, delicious dinner or dessert. From hearty vegan mac and cheese to the most delicious looking chocolate chip skillet cookie, you'll be getting good use out of your skillet with these wonderful recipes.
I hope this post has given you some inspiration for making vegan skillet recipes – let me know what recipe you plan on making next!