We may earn money or products from the companies mentioned in this post, and as an Amazon Associate I earn from qualifying purchases. Please see my full disclosure for more information.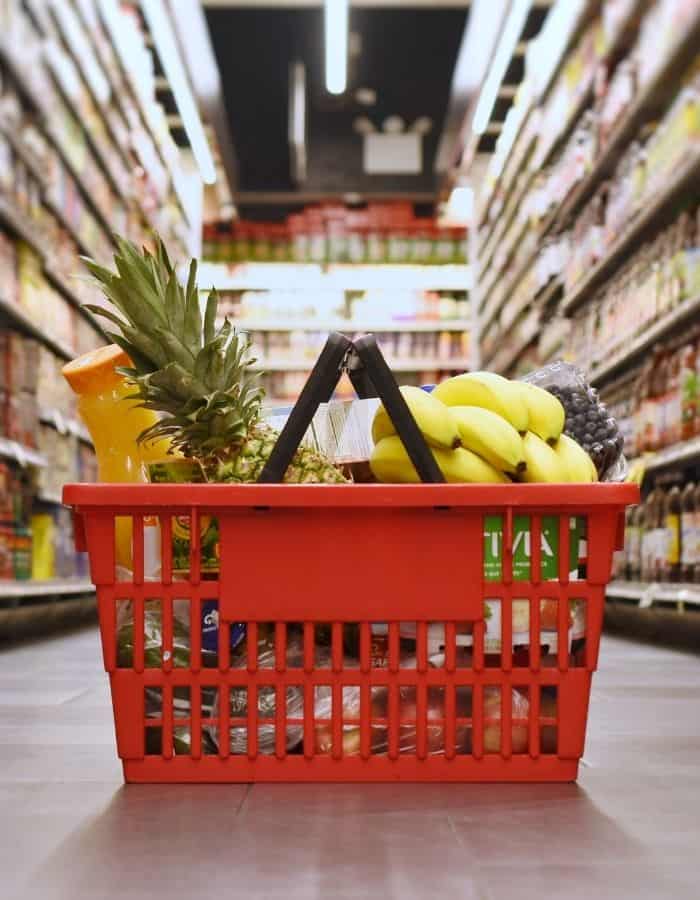 The way you budget for food in your household can make or break your finances. While food is a necessity that we can't do without in our everyday life, you don't have to break the bank to eat.
So, whether you feel that your grocery budget is going through the roof and you want to bring it down to earth, or you're just broke trying to battle a tough financial situation, there is a way to cut back on your grocery budget without depriving yourself to the core.
In this article, we'll show you where to buy cheap groceries, and how this can benefit your finances in the long-run. Let's dive right in!
Why Buy Cheap Groceries?
Spending money is enjoyable, especially when you do it on things you enjoy and love. Before you embark on a trip to find where to buy cheap groceries, you need to lay down a detailed financial plan on why you need to cut back on your food spending. Otherwise, you may find yourself going back to your bad spending habits in the food area.
To help you in this, ask yourself this question: How will I use the extra cash flow that I will generate after cutting back on my grocery spending?
Here are some areas you can put the money to better your current or future financial situation.
Catch up on bills: If you have some unpaid utility bills, cutting on your grocery budget is a great way to free some money and settle them. You can even use those extra dollars to pay down your student loans, credit card debt, or any other high-interest loans that you may have. This will save you money in the long-run.

Build an emergency fund: Life happens, and you never know when the uncertainties of life will knock on your door. Financial experts advise that one should have enough money saved to cater to monthly expenses for six months or up to one year. Finding where to buy cheap groceries is a good way to spare some cash and kickstart your emergency fund. Even if the worst happens and you get laid off, have a medical emergency, or are just faced with hard times, you will have peace of mind knowing that you have some money saved to feed your family for some months.

Save for your dream vacation: If you opt for a cheap shopping list in the kitchen and make budget-friendly meals for your family, you will have some cash to stash aside for your dream vacation, put down that 20% downpayment for your dream house, your wedding, or even save for college.

Save money for big-ticket items: Whether you want to buy furniture for your house, save for a car or a boat, going low-key in the kitchen will definitely generate some extra cash that you can direct towards these purchases.
How to find Cheap Groceries on a budget
Comparison-shopping is the key to finding the best places to buy cheap groceries. Patronize different grocery stores to compare prices and see the different types of deals and cashback programs they have for their loyal customers.
Make sure you don't sacrifice quality in pursuit of cheaper food. For example, don't just go for frozen or canned food because it is cheaper than fresh vegetables. Do it without sacrificing taste, comfort, and your health. Plus, always carry a shopping list to avoid impulse buying.
Where to Buy Cheap Groceries On a Budget?
According to a dunnhumby Retailer Preference Index for U.S grocery, consumers consider two things when shopping for groceries: price and quality. Per that report, here are the top 10 places where you can buy cheap groceries at favorable prices.
Aldi
Market Basket
Walmart
ShopRite
Amazon Go
Amazon
Costco
WinCo Foods
Food 4 Less
BJ's
Making a 'Broke' Grocery List
Being broke doesn't have to mean missing out on healthy nutritious meals for yourself or your family. If you've not got much money to spend on your groceries, the priority is going to be getting the most out of your budget.
That means skipping the single use ready meal style ingredients and focusing on bulk items that you can use to make countless recipes, cook things from scratch (quickly and easily), and that you won't be rushing to use before their sell-by date.
For example, focusing on cheaper ingredients that will enable you to bake at home may seem like more hassle, but it will get a lot more for your dollars than buying pre-packaged baked goods. Plus, once you've got an easy muffin recipe down, you'll be able to whip up a tasty batch of cheap, homemade baked goods in less than 30 minutes (and that tastes so much better than shop-bought!).
The frugal lifestyle is perfectly suited to people who feel broke. It's about switching your mindset to making the most of your money, rather than getting the cheapest items in the store without any thought for how you can actually use those things.
If you can start to see the value in bulk ingredients that you can make from scratch at home (from baked goods to even homemade bread, tortillas, and snack bars), your broke grocery list will soon turn into a treasure trove of goodies.
Cheap groceries to add to your list
Below are a few samples of cheap groceries to add to a budget shopping list. A few posts you might find helpful in addition to this one include:
The below items are all cheap groceries that are versatile, nutritious, and longer-lasting. For example, by opting for apples and cabbage over berries and lettuce you'll have longer to use your ingredients,
Grains/Carbohydrates:
Pasta
Rice
Oats
Flour (a staple for baked goods)
Tinned Goods
5. Canned vegetables (e.g. peas, sweetcorn, mixed vegetables)
6. Tinned tomatoes/ passata
7. Tinned pulses (chickpeas, lentils, beans)
8. Canned fruit (make sure it's in water not in syrup!)
Fresh produce
9. Onions
10. Carrots
11. Potatoes
12. Cabbage
13. Apples
14. Squash
Protein
15. Pork
16. Chicken thighs or legs (cheaper than breast)
17. Tofu/ tempeh
18. Dried lentils or pulses
Shop For Groceries Without Breaking the Bank
There you have it! These are some of the stores where you can buy cheap groceries on a weekly or monthly basis at great prices. Before you hit the road for a trip to the grocery store or place your order online, make sure you eat first, then go shopping.
You have heard it before: don't go grocery shopping on an empty stomach. This may result in cravings for high-calorie snacks that you would otherwise have avoided.
Also, make sure that you carry your shopping list, and stick to it. That way, you will be able to cut back on your food budget and squeeze out some money that you can put towards paying your credit card debt or save for an emergency fund.