We may earn money or products from the companies mentioned in this post, and as an Amazon Associate I earn from qualifying purchases. Please see my full disclosure for more information.
Are you struggling to come up with new and interesting recipes? Perhaps you're spending too much on your weekly shop. Or perhaps you just want to start saving money by learning some new cheap and frugal meals. These frugal meal ideas are all designed to help you do exactly that.
Cheap and frugal meal ideas
Homemade cooking can be as expensive as you make it – meaning with a little planning, you can make consistently healthy, delicious, and nutritious meals on a very small budget. The below 45 meals are simple, quick (for the most part), and most importantly, frugal and cheap.
Other sources of inspiration include these great lunch ideas for working men, or this epic list of over 100 vegan meal prep ideas!
Cooking meals when you're broke
If you're totally broke at the moment, even some of the most simple recipes below can feel out of reach. Maybe you don't have the money – or the time – to pick up the extra ingredients you need.
A few ideas for cooking when you're broke can include:
Substituting or missing certain ingredients out altogether (for example, if you can't afford meat, you could turn a meal vegetarian)
Making the most of your staple, long-life goods in the cupboards such as rice and beans for a simple but balanced meal
Looking online for 'pantry' meals for inspiration that doesn't require many fresh ingredients
Other frugal & meal posts you might find helpful:
Frugal meal ideas
The list below contains some fantastic frugal meals, from healthy breakfasts to quick lunches, simple but delicious pasta dishes, and a number of great vegetarian and vegan cheap meals if you're trying to cut out the meat from your diet.
Breakfasts
1. Simple oatmeal with berries | via It's Liv B
2. Granola and yoghurt bowl
3. Smoothie bowl | via By The Forkful
4. Egg muffins | via Spend with Pennies
5. Breakfast burritos | via Show Me The Yummy
6. Homemade pancakes or waffles | via Cooking Nook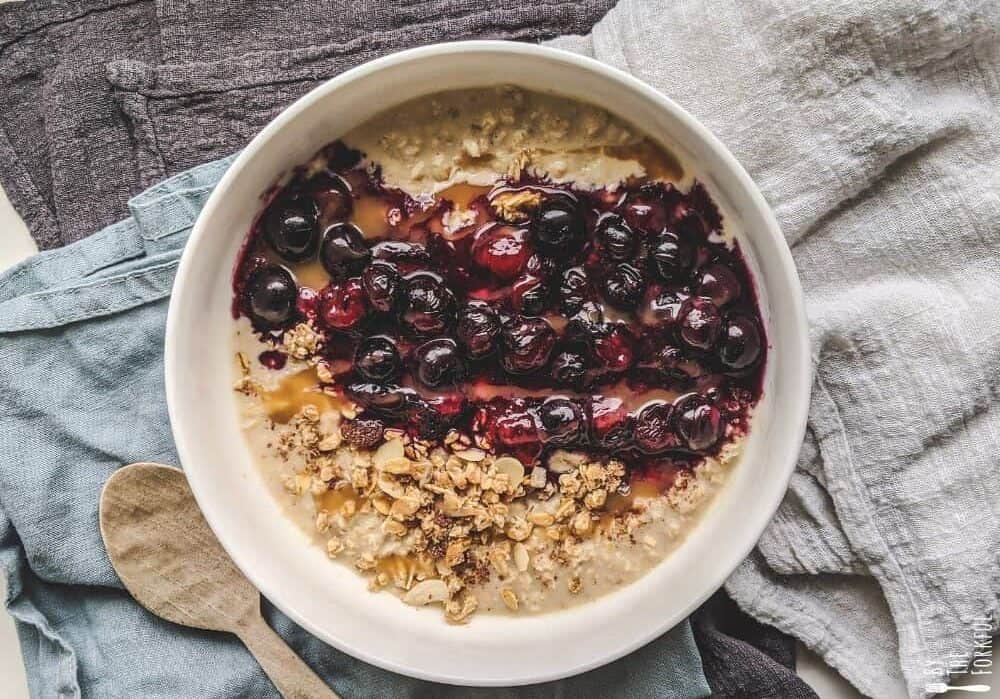 Chicken Cheap Meals
7. Healthy chicken pot pie | via Well Plated by Erin
8. One-pot chicken stew | via Little Broken
9. Classic chicken salad | via Dinner then Dessert
10. One-pan honey chicken and veggies | via Damn Delicious
11. Coconut chicken curry | via Jo Cooks
12. Healthy chicken quesadillas | via Slender Kitchen
13. Crispy roast chicken with vegetables | via The Seasoned Mom
14. Chorizo Chicken Jambalaya | via Budget Bytes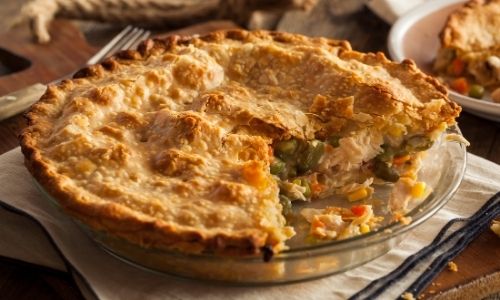 Fish
15. Cheap fish pie for students | via Student Eats
16. Brazilian fish stew | via Feasting at Home
17. Sweet and spicy tuna salad | via Budget Bytes
18. Budget Thai fishcakes | via Delicious Magazine
19. Baked cod sheet pan dinner | via Bellyful
Pasta
20. Greek pasta salad | via By The Forkful
21. Easy pesto pasta | via Love and Lemons
22. Simple vegetable pasta bake | via Kitchen Sanctuary
23. Quick pasta Alfredo | via Craving Home Cooked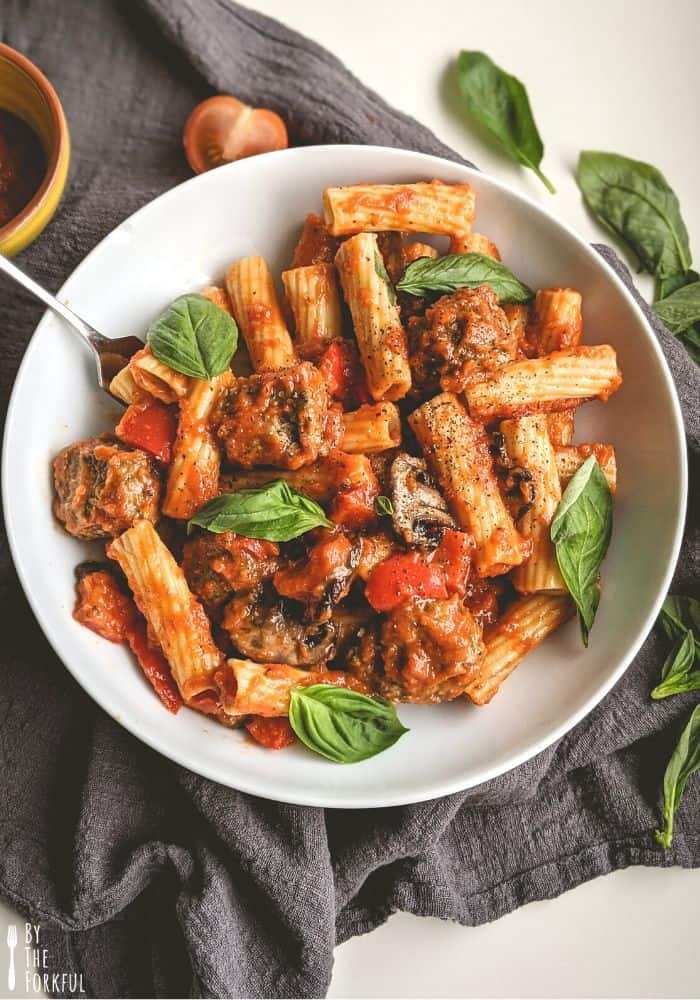 24. One-pot macaroni and cheese | via Cheapskate Cook
25. One-pot tomato pasta | via From My Bowl
26. Slow cooker meatballs with spaghetti | via Kitchen Mason
27. Summer pasta with basil and feta | via By The Forkful
Vegetarian & Vegan
28. Lentil bolognese | via By The Forkful
29. Vegetable pasta bake via Cupful of Kale
30. Chickpea and vegetable sheet pan dinner | via Simple Veganista
31. Stir-fried Udon noodles | via Simple Vegan Blog
32. Easy chickpea curry | via By The Forkful
33. Bean chilli | via Epicurious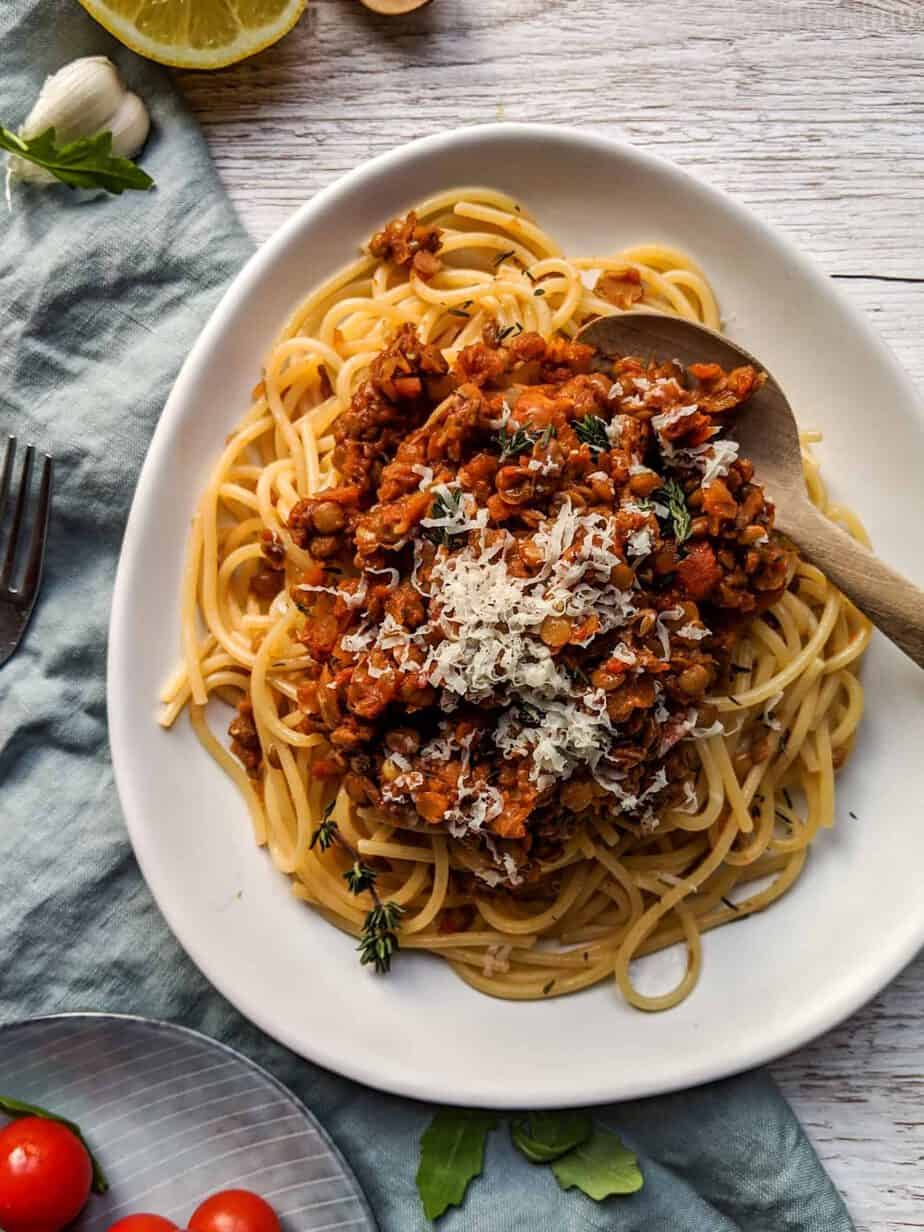 Soup
34. Red pepper and butternut squash soup | via By The Forkful
35. Spicy red lentil soup | via Hint of Healthy
36. Easy leek and potato soup | via The Last Food Blog
37. Easy vegetable soup | via Good Cheap Eats
38. Chicken and lime soup | via Budget Bytes

Misc
39. Omelette via The Frugal Girls
40. Simple baked potato | via It's a Veg World After All
41. Burrito bowls | via Dinner at the Zoo
42. Shepherd's pie | via Simply Recipes
43. Slow Cooker Poor Man's Stew via The Magical Slow Cooker
44. White bean harissa stew (v) | via Rabbit and Wolves
45. Flatbread pizza via By The Forkful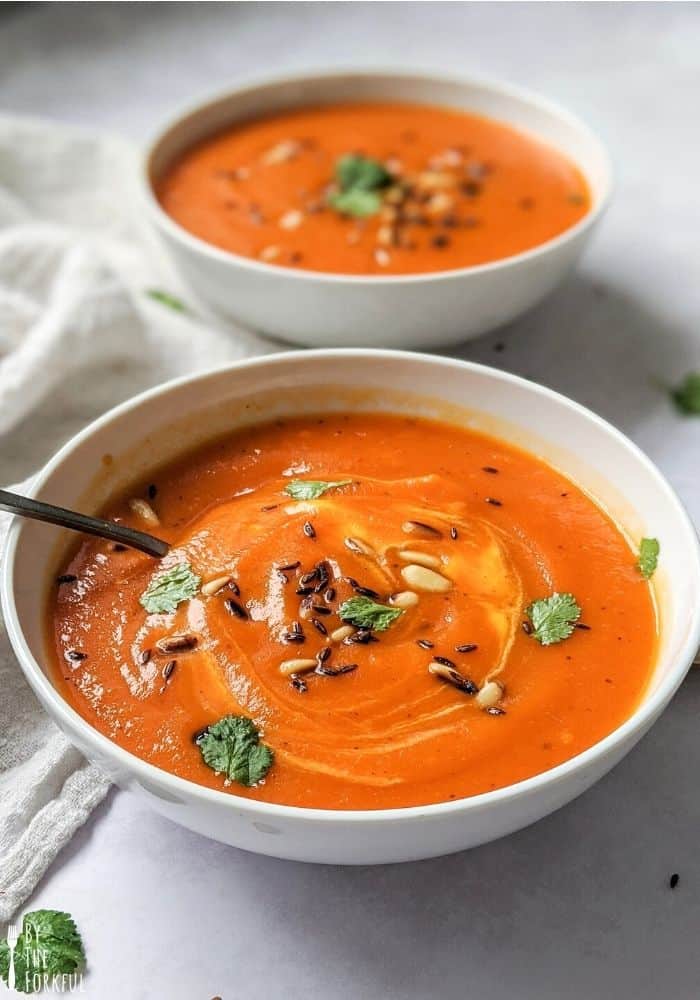 Meal planning on a budget
One of the best ways to start saving money on your food shopping is to meal plan. Meal planning can help you bulk up on cheap ingredients while still keeping your meals healthy and interesting.
This guide to meal planning is a great place to get started.