We may earn money or products from the companies mentioned in this post, and as an Amazon Associate I earn from qualifying purchases. Please see my full disclosure for more information.
If you've just started making YouTube videos and are eagerly awaiting the money to start rolling in, you might be wondering just how much you could make. In this video, we're looking at how much money 200,000 views on a YouTube video will generate.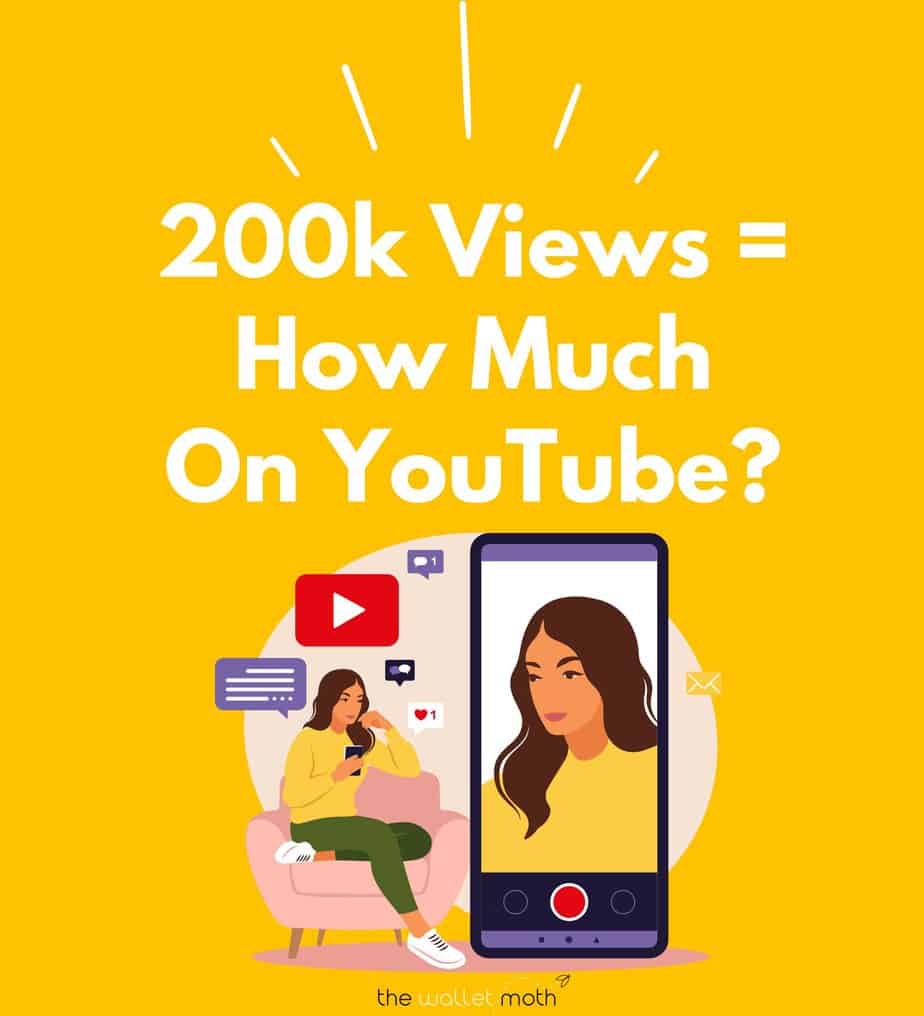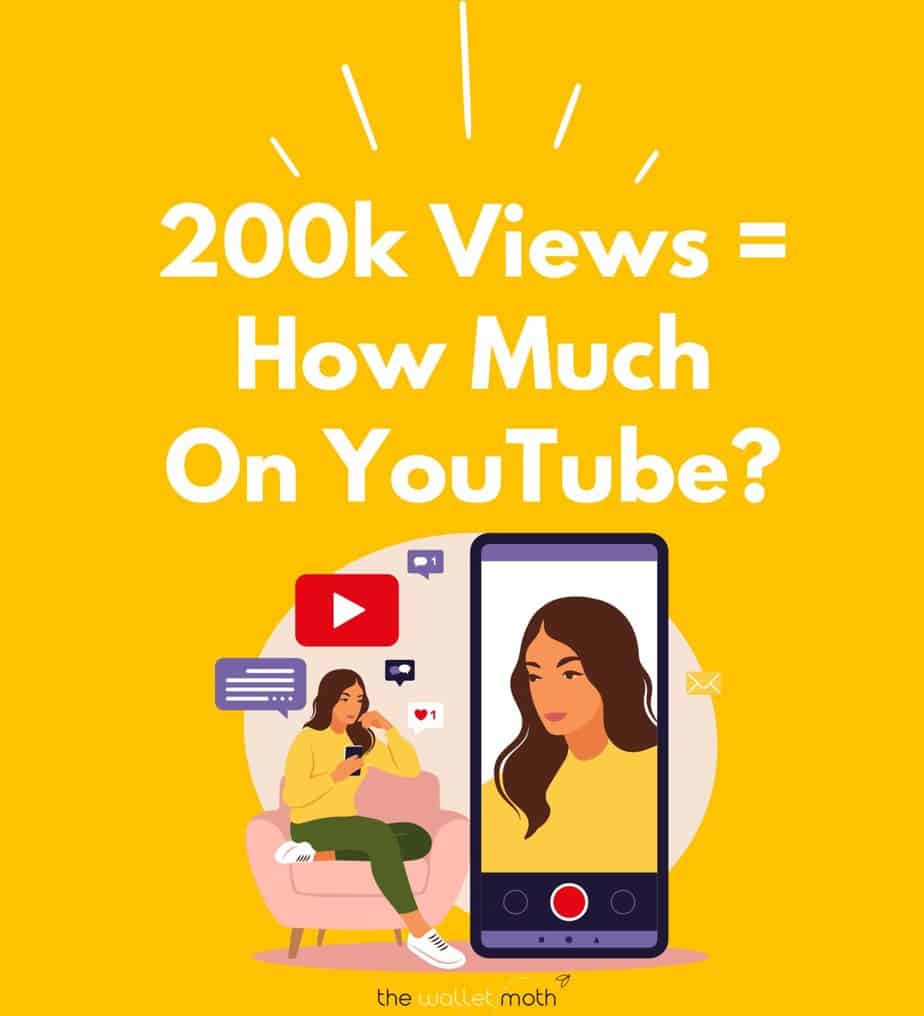 How Much Does YouTube Pay Per View?
It's difficult to get a definite answer from YouTube or anywhere else on the web on exactly how much YouTube pays per view or per thousand views.
In all likelihood, this is because there is no single answer. A multitude of factors can all be contributing factors to how much you earn per view.
From looking at a number of studies and articles on this very topic though, we can at least make a good estimate.
It is generally accepted that most YouTube creators will earn between $1 – $5 per 1,000 views on their videos. Despite their increasing popularity, Shorts earn much less videos than long-form videos, bringing in around $0.04 to $0.06 per 1,000 views.
200k Views On YouTube Money Earned
If you have a video that has generated around 200,000 views on YouTube, your earnings would be in the range of $200 to $1,000. This is a great milestone for any YouTube creator to achieve, and should be a sure sign that your efforts as a content creator are beginning to make some serious headway!
It's only up from here! Most people who go that step further and gain an average of 300k views are earning 6-figures, easily. (Not sure what 6-figures actually breaks down to? We've got a whole guide on 6-figure incomes).
Note that your earnings may be higher or lower than the figures above, depending on a myriad of factors. This could include:
Your location
The location of your audience (generally ad revenue from US watchers is higher than it is from an audience in other countries)
The length of your video
The type of content you are posting about
Your subscriber numbers
"For my channel, which is highly dependent on my view duration stats and video lengths, I currently get about $0.00065 per view (average for all views from monetized videos, not just monetized views), so 200k views for me would make about $130." – sdawkminn, reddit.com.
To give you an idea of how much you could earn with an average viewer number of 200k per video, let's do some calculations. If you made:
1 video a week, you could earn up to $52,000 in a year
2 videos a week, you could earn up to $104,000 in a year
3 videos a week, you could earn up to $156,000
Looking for more information on how much you could earn on YouTube per view?
We've covered how much ad revenue you'd earn from 10k views per video all the way up to 2 million views – and wow, those are some big numbers!
How Do YouTubers Make Money?
In this post, we're talking about the money earned by YouTubers via ad revenue. Any YouTuber who wants to earn money via ads needs to join the YouTube Partner Program, which essentially just allows you to monetize your content.
Unfortunately, there are entry requirements to join the YouTuber Partner Program.
You'll need to be in good standing with YouTube, follow all the YouTube monetization policies, and live in a country/region where the YouTube Partner Program is available.
What's more, though, to be eligible for the YouTube Partner Program, you need at least 1,000 subscribers and 4,000 watch hours in the past 12 months OR have 1,000 subscribers with 10 million valid public Shorts views in the last 90 days
What Are Some Other Ways YouTubers Can Make Money?
Of course, other ways YouTubers make money can include:
Affiliate marketing: This involves recommending products (such as clothing, software, and beauty products) via a custom link. When subscribers buy that product using the creator's link, the creator receives a commission for recommending the product. We cover affiliate marketing in general (not YouTube specific) a little more in our guide to blogging.

Brand sponsorships: Many YouTube creators collaborate with brands for a fee. Brands use influencers, well, influence – and engagement – to get their products in front of more people.

Selling their own products: Many successful YouTubers launch their own merch (creating a fanbase that has something to mark them as such is a great marketing tactic), or go a step further and launch their own products.

This can be witnessed in Zoella's multiple beauty, stationary, and countless other business ventures and Emma Chamberlain, who created her own ready-to-drink coffee line amongst a number of other extremely successful brand campaigns and side businesses.
Of course, YouTube is just one way to make money online. There are countless more fun, creative side hustles that can turn into huge money-makers if you work hard at them.
We've listed 55 fantastic ways to make money online for you to look through – you can choose from the more ordinary like freelance writing or being a virtual assistant, all the way to selling photos of your feet(!) or selling cuttings of your houseplants!
Frequently ASked Questions
200k views on YouTube money earned, how much would this be?
If you have a video that has generated around 200,000 views on YouTube, your earnings would be in the range of $200 to $1,000.
Can I make a living on YouTube?
There are many successful creators making a very comfortable living on YouTube. However, it would be false to claim that this is an easy side hustle – you will need to be great at shooting, editing, and uploading content, posting consistently, and have a clearly defined niche – and even then, it may take some time to see results.