We may earn money or products from the companies mentioned in this post, and as an Amazon Associate I earn from qualifying purchases. Please see my full disclosure for more information.
If you've just started making YouTube videos and are eagerly awaiting the money to start rolling in, you might be wondering just how much you could make.
In this video, we're looking at how much money you can make depending on views per YouTube video to give you an idea of what you could aim for.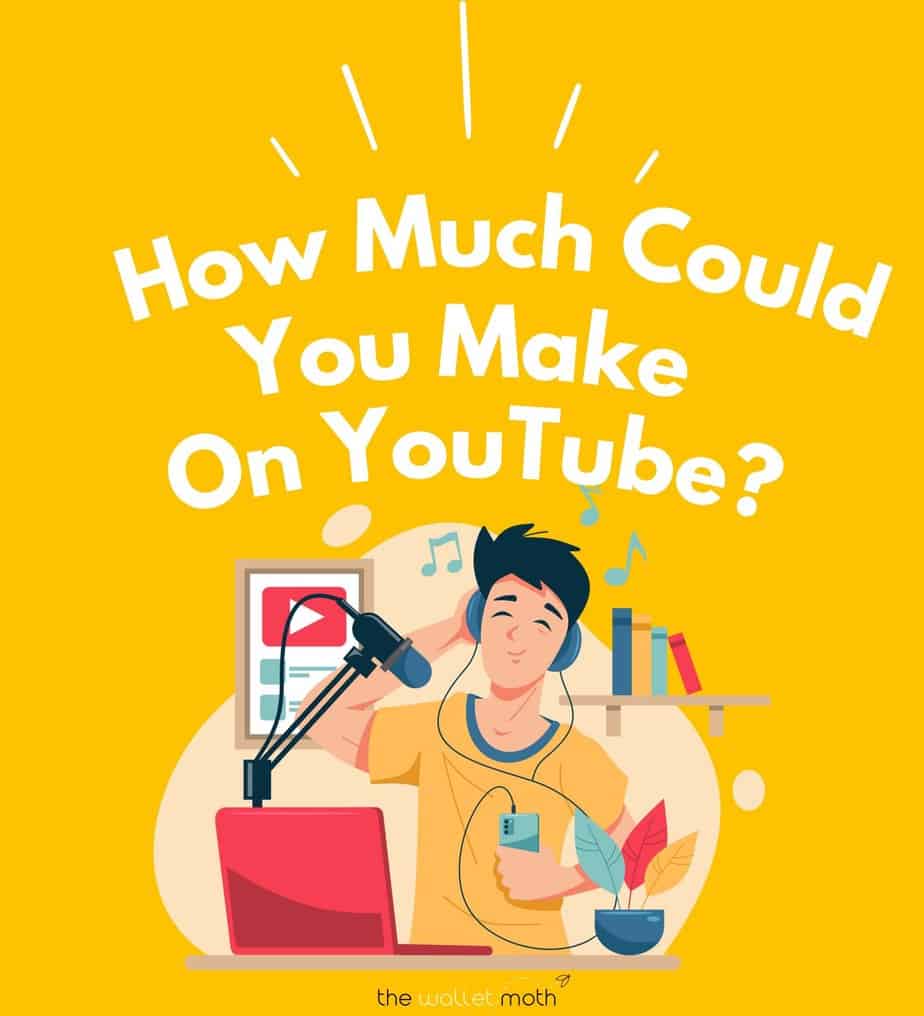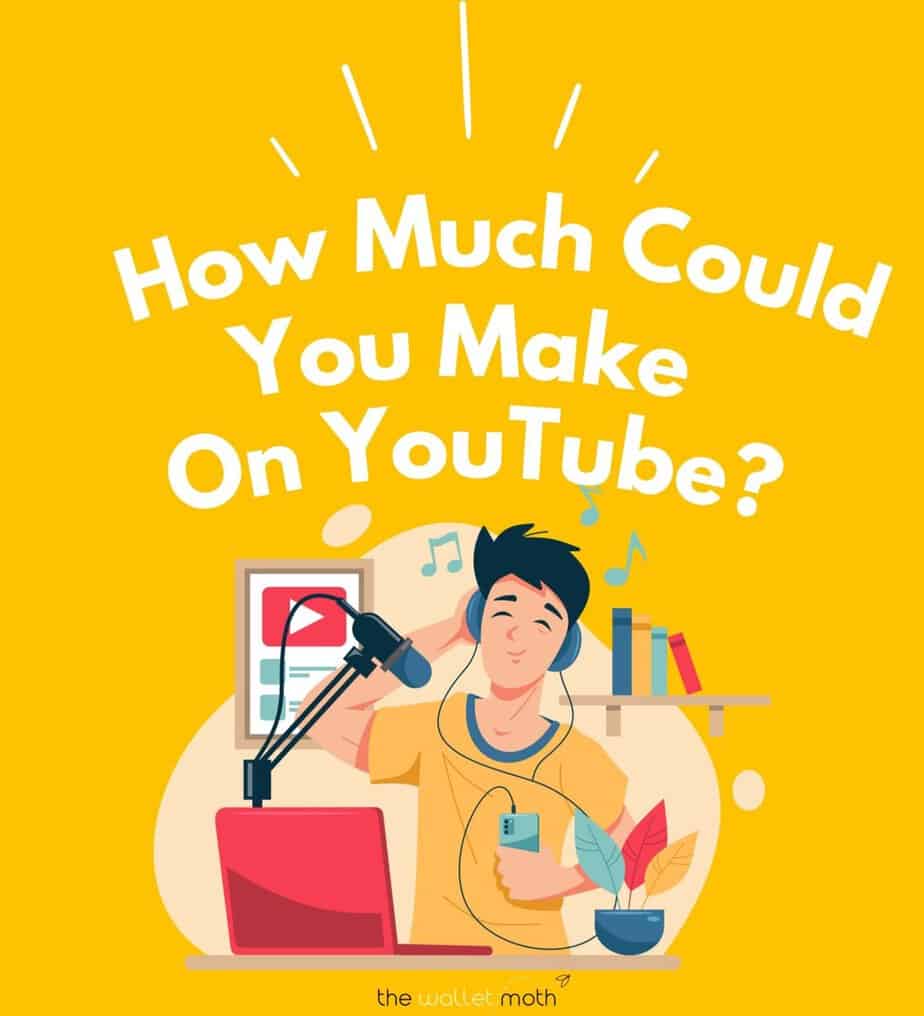 With the success of multi-millionaire YouTubers such as Mr Beast and Ryan's Toy Review, it's no wonder that more and more people are eager to try their hand as content creators on the path to success.
It's true that successful YouTubers can make a lot of money – from advertising revenue on their videos, sponsorship deals with brands, and selling merchandise to fans.
However, the truth is – making your riches through YouTube could be somewhat of a long road. Let's get realistic – below, we've covered an estimate of what you'd earn from ad revenue depending on how popular your views are.
How Much Does YouTube Pay Per View?
It is painfully difficult to get a definite answer from YouTube or anywhere else on the web on exactly how much YouTube pays per view or per thousand views (this is also known as RPM or Revenue Per Mille (Thousand), which is the amount of money that an advertiser pays you for every one thousand views of their ad).
In all likelihood, this is because there is no single answer. A multitude of factors, from your location, your audience's location, the length of your video, your niche, and even your number of subscribers can all be contributing factors to how much you earn per view.
From looking at a number of studies and articles on this very topic though, we can at least make a good estimate.
It is generally accepted that most YouTube creators will earn between $1 – $5 per 1,000 views on their videos. Despite their increasing popularity, Shorts earn much less videos than long-form videos, bringing in around $0.04 to $0.06 per 1,000 views.
How Do YouTubers Make Money?
The first step to making money on YouTube is to join the YouTube Partner Program. This program allows creators to monetize their content on YouTube. Creators can earn money from advertisements served on their videos and from YouTube Premium subscribers watching their content.
To qualify for the YouTube Partner Program, you need to be in good standing with YouTube, follow all the YouTube monetization policies, and live in a country/region where the YouTube Partner Program is available.
To be eligible for the YouTube Partner Program, you need at least 1,000 subscribers and 4,000 watch hours in the past 12 months.
Of course, other ways YouTubers make money can include:
Affiliate marketing
Brand sponsorships
Selling their own products
Interested in some cool ways to earn money online other than YouTube? We've got over 50 side hustles listed here – including quirky business ideas such as selling cuttings from your houseplants, selling feet pics (anonymously!), and creating a thriving freelance writing business.
How Much Money Per View Can You Earn On YouTube?
Let's take a deep dive into how much you could earn per video based on the figures listed above.
Keep in mind that this is only an estimate – your earnings would likely fall within this range if your videos get the listed number of views, but there is always the possibility to dip above or below these estimates.
As we started above, most videos earn around $1 – $5 per 1000 views. If you want to see how the RPM measures up to earning via ads on a blog, you can have a look at our old income reports from a couple of years back (we don't post these anymore).
Skip straight to the table with all estimated figures laid out.
10k Views On YouTube Money Earned:
Hitting the 10,000 views milestone is a great start and a fantastic milestone for any beginner creator to aim for. With this viewership, you could be looking at earnings from $10 to $50 per video. Not bad for your first big step into the YouTube world!
If you were getting 10,000 views per video and made 3 videos a week for a year, you could earn up to $7,800 in one year.
50k Views On YouTube Money Earned:
Wow, 50,000 views! That's a small stadium's worth of people watching your content. At this level, you could be earning anywhere from $50 to $250 per video.
One creator, of Backstage Income, stated that he earned $621 in ad revenue for a video that received 55.6k views overall. Note this appears to be over a spam of at least two years, so wasn't exactly quick change!
Again, making three videos a week with 50k views per video for a whole year could rack up $39,000 – wow! Not to mention, most YouTube creators generate more views per video as they increase in popularity – so your earnings are likely to be far higher if you're hitting these kinds of views consistently.
100k Views On YouTube Money Earned:
100,000 views is a significant achievement, and a sure sign that your efforts as a YouTube content creator are really starting to pay off. You could be seeing earnings between $100 and $500 per video. That's a nice reward for your hard work!
Yearly (based on 3 x 100k views for a year), you could expect to bring in at least $78,000 – and that's assuming your videos didn't increase in views at all in 12 months (again, unlikely as your account continues to grow).
150k Views On YouTube Money Earned:
With 150,000 views, you're really making waves. Your earnings could be anywhere from $150 to $750. That's a pretty penny for sharing your passion.
Using the same calculations as above, a creator averaging 150,000 views per video, posting three times a week, would be earning up to $117,000 yearly.
200k Views On YouTube Money Earned:
200,000 views? That's impressive! At this point, your content is likely to be resonating with a large audience, and your earnings could be in the range of $200 to $1,000. You are well on your way to being an extremely successful and wealthy YouTube creator at this point.
Read more on exactly how much 200k views on YouTube could earn you depending on how often you post.
Using the same calculations as above, you could expect to earn up to $156,000 a year posting three times per week with 200k views per video. Wow.
"For my channel, which is highly dependent on my view duration stats and video lengths, I currently get about $0.00065 per view (average for all views from monetized videos, not just monetized views), so 200k views for me would make about $130." – sdawkminn, reddit.com.
300k Views On YouTube Money Earned:
300,000 views is a big deal! You're reaching a wide audience, and your earnings could be between $300 and $1,500. 
We covered in-depth how much you could make on YouTube with 300k views here.
This creator who got a total of 340,267 views on one video backs this up – he earned $1,379.77 on his video, with an RPM of $4.06.
If you kept the momentum going and made three videos a week and they all average 300k views, you could expect to be making $234,000 a year.
500k Views On YouTube Money Earned:
Half a million views is a huge milestone! With this level of viewership, your earnings could be anywhere from $500 to $2,500 per video. That's a lot of people's entire monthly income in just one video.
Using the same calculations, you could be earning around $390,000 per year. If that's not financial success to you, you'll never be happy!
750k Views On YouTube Money Earned:
750,000 views is no small feat! You're making a big impact, and your earnings could range from $750 to $3,750 in one video.
Yearly, that could surmount to $585,000 a year if you posted three times a week and averaged 750k views per video. And that's not even including the sponsorships and other income streams someone with this many views is likely to attract.
1 Million Views On YouTube Money Earned:
Hitting the big 1 million is a major achievement for any YouTube creator, and it could net you earnings between $1,000 and $5,000. You're in the big leagues now!
Annually, you'd expect to be earning up to $780,000 a year posting three times a week with 1 million views per video.
2 Million Views On YouTube Money Earned:
2 million views is an incredible accomplishment. Only big-time YouTubers see these kinds of views within the first week or so of posting a new video, and many creators who have been creating content for years will only see a handful of videos hit this milestone.
With this level of viewership, you could be earning anywhere from $2,000 to $10,000 on that video alone.
Revenue per video views on YouTube (Estimated):
| Video Views | Potential Earnings ($1 – $5 per 1,000 views) |
| --- | --- |
| 10k | $10 – $50 |
| 20k | $20 – $100 |
| 30k | $30 – $150 |
| 40k | $40 – $200 |
| 50k | $50 – $250 |
| 60k | $60 – $300 |
| 70k | $70 – $350 |
| 80k | $80 – $400 |
| 90k | $90 – $450 |
| 100k | $100 – $500 |
| 125k | $125 – $625 |
| 150k | $150 – $750 |
| 175k | $175 – $875 |
| 200k | $200 – $1,000 |
| 250k | $250 – $1,250 |
| 300k | $300 – $1,500 |
| 500k | $500 – $2,500 |
| 750k | $750 – $3,750 |
| 1 million | $1,000 – $5,000 |
| 2 million | $2,000 – $10,000 |
How To Generate More Views on YouTube?
There's no single way to succeed as a creator on YouTube, just as there's no secret formula for becoming a successful influencer on Instagram, TikTo, Twitter, or any other platform.
However, there are of course some things you can do to make your chances of success more likely. Those include:
Posting consistently
Picking a niche (and if you can't think of one, make the niche you!)
Use keywords in your video titles, descriptions, and tags
Make eye-catching video titles and stills to draw people in
Be controversial (people might not always like you for it, but it does drive views!)
Ultimately, no single successful YouTube got to where they are today by sheer luck. They all put in the time to create great content, learned to edit it, leaned into what their audience liked, and stuck it out even when their career was just beginning.
Consistency and intensity, that's what you really need – because this journey to your riches could take some time.