We may earn money or products from the companies mentioned in this post, and as an Amazon Associate I earn from qualifying purchases. Please see my full disclosure for more information.
Sometimes, all it can take is reading a couple of words to spark the beginning of a shift in your mindset. These simple living quotes aim to do exactly that.
Time and time again, I have found myself inspired by the words of others in the intentional living and minimalist space, constantly challenging my way of things about how I prioritize things in my life.
What is simple living?
Simple living is a movement that places an emphasis on decluttering your life of the distractions that add zero value to your lifestyle, and instant cultivating a life that places a focus on your personal priorities.
It is a philosophy that ties into the minimalism movement, with a focus on living frugally with your money, being more mindful, and living intentionally.
These minimalist living quotes all serve as inspiration, encouragement, and motivation if you are interested in the simple living movement, from cultivating a more minimalist mindset to getting inspired to declutter and tidy your home.
30 Simple Living Quotes To Inspire you to declutter, simplify, and be more intentional about your lifestyle…
---
1. "A minimalist by intent, I live a beautiful life with fewer things – simple, yet full." – Laurie Buchanan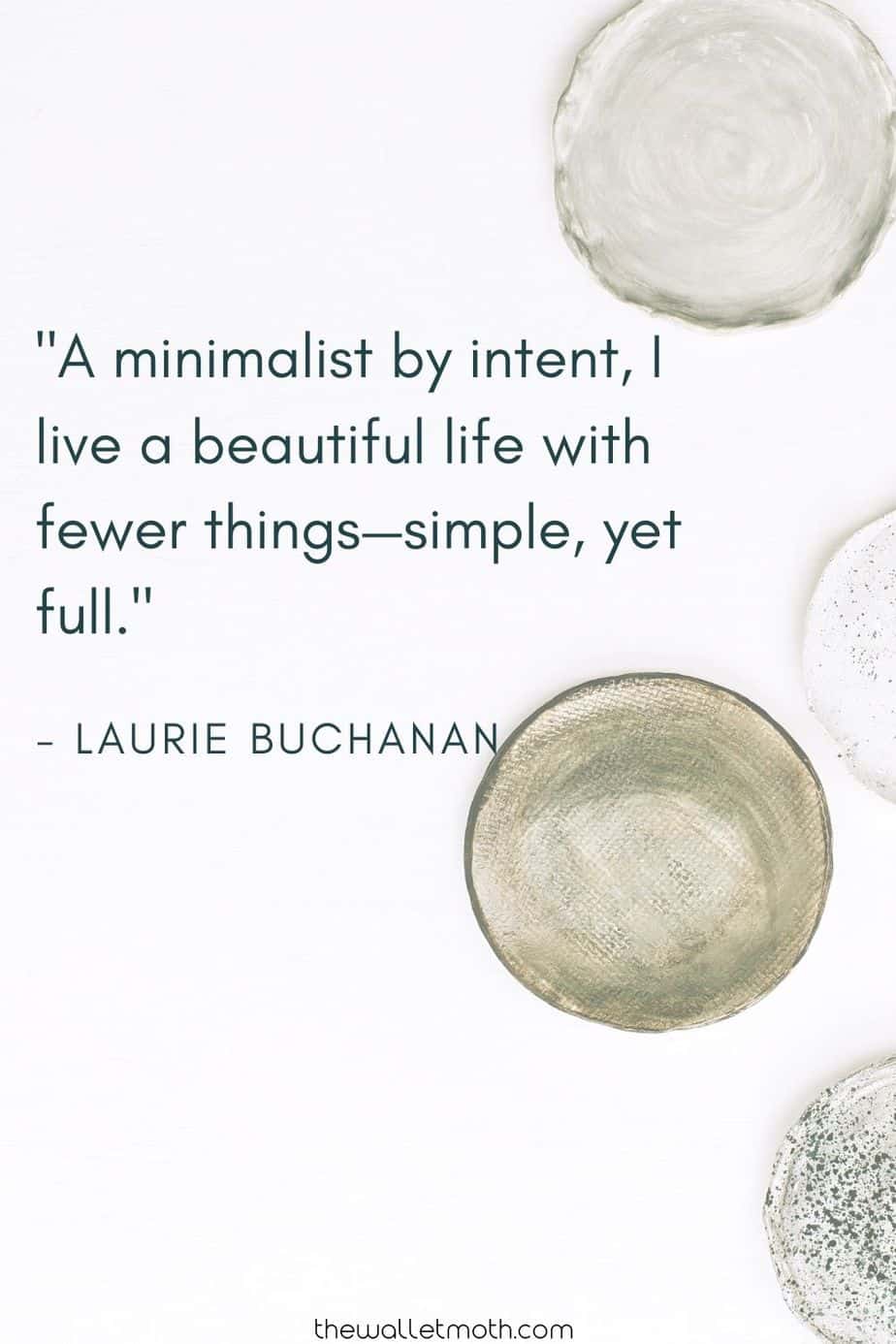 Simple, yet full. There's really no better way to describe the core thinking of minimalist living. It's not about living on the bare necessities – it's about simplifying to give yourself more room for the things that matter.
Laurie Buchanan is a holistic health practitioner, life coach, writer, and is the author of Note To Self: A Seven-Step Path to Gratitude and Growth .

2. "The best things in life aren't things." – Art buchwald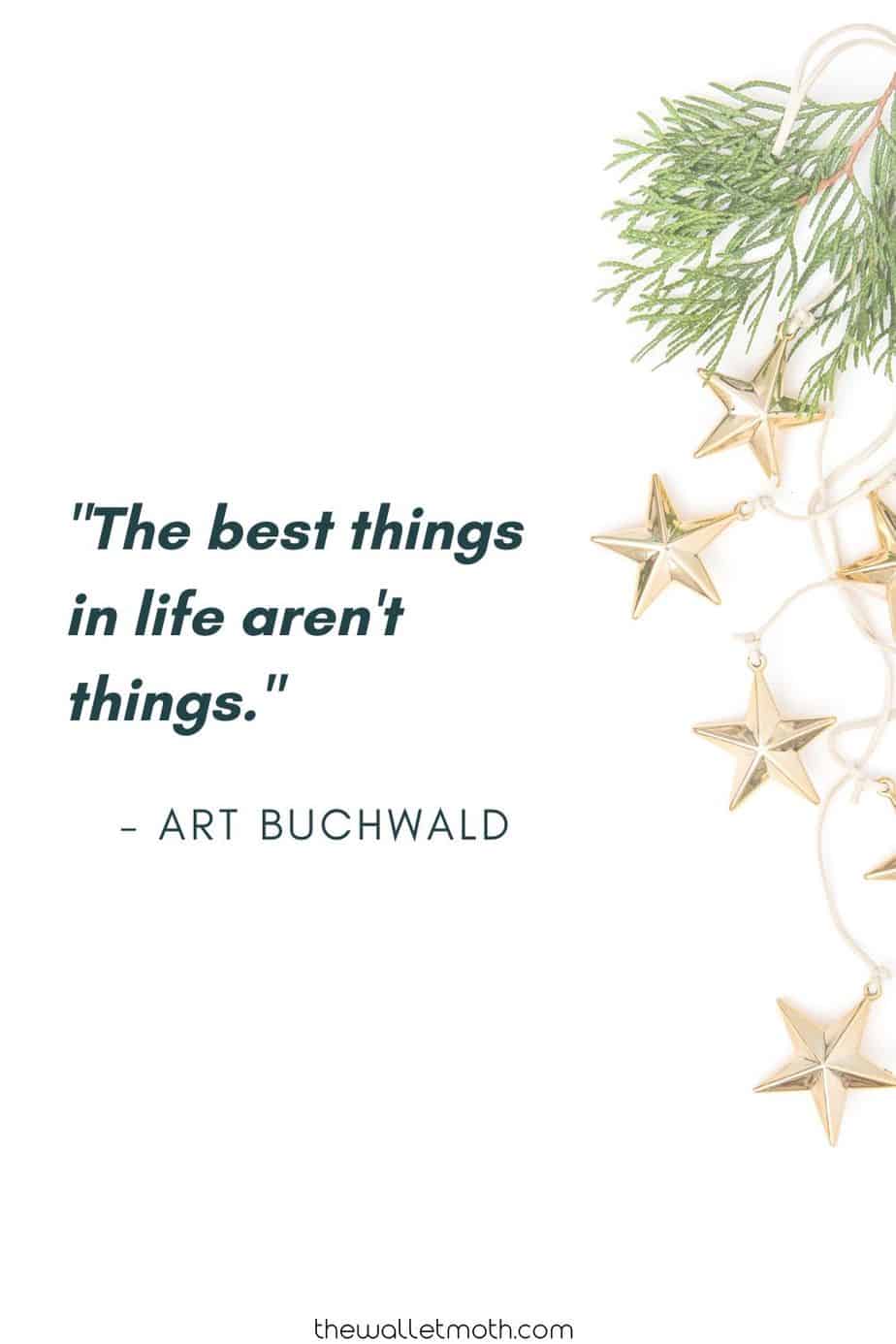 Rarely can the best experiences in our lives be attributed to things. Simple living recognizes that the immaterial: friendships, relationships, mental health, self care – these things are the best things.

3. "Have nothing in your house that you do not know to be useful, or believe to be beautiful." – William Morris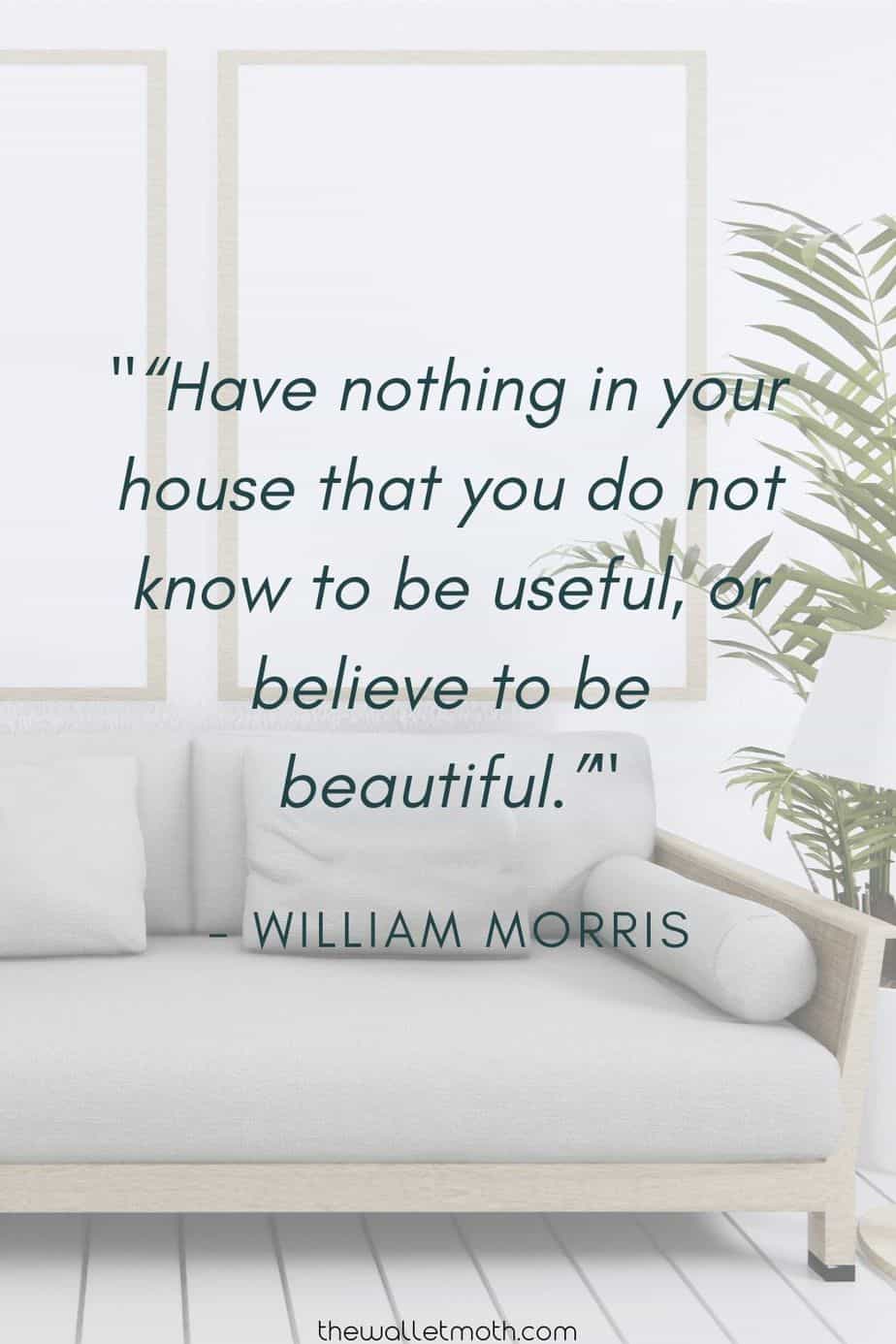 A great quote for inspiring a home decluttering session – I always feel like a weight has been lifted after sorting out my home.

William Morris was a British textile designer, poet, novelist, and social activist.

4. "My new deliberate and slower pace has created a high quality in my experiences." – Lisa j schultz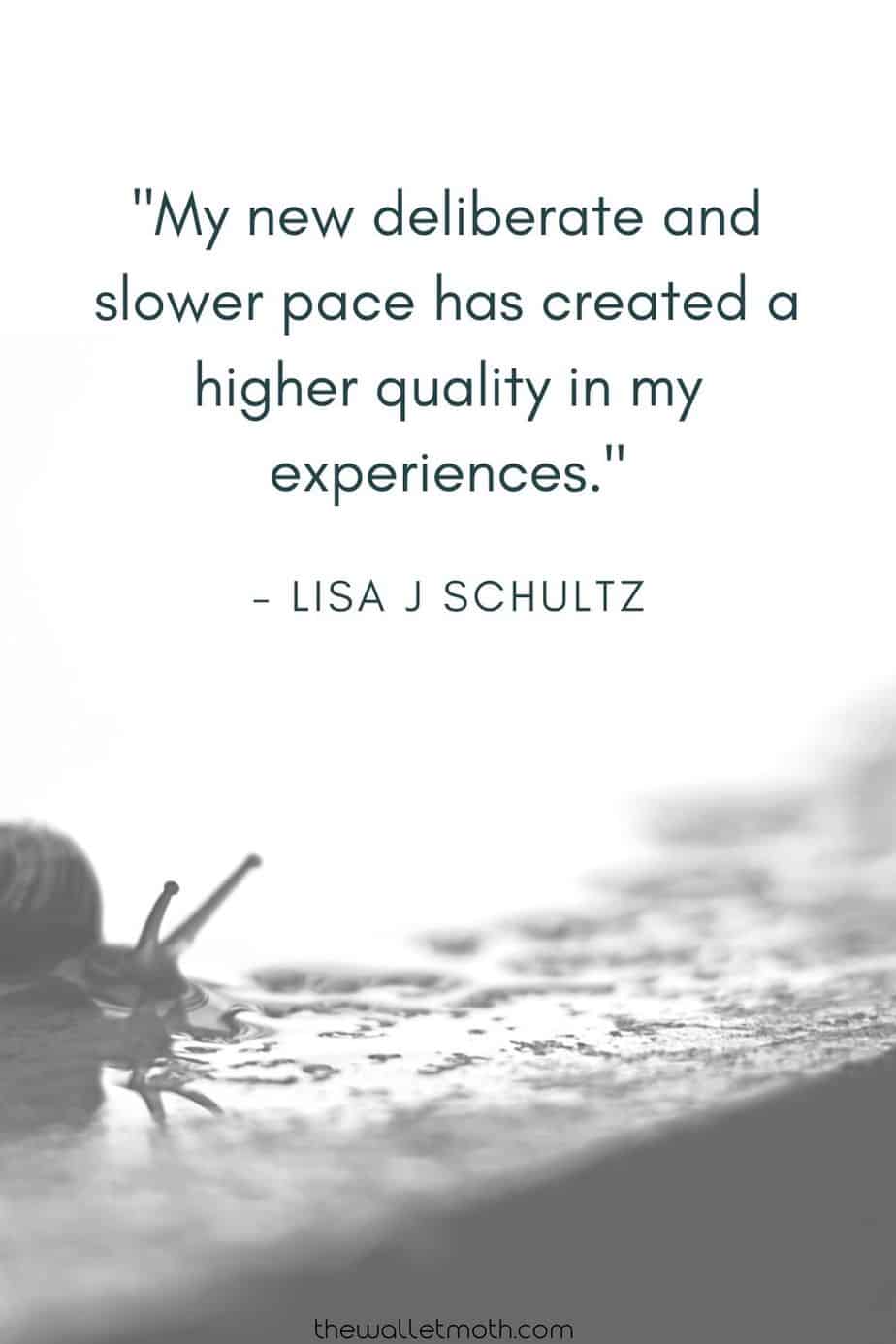 Taking the time to arrive in the present, to slow down and acknowledge your thoughts, feelings, and emotions as and when they happen – that's the first step to beautiful experiences.

Lisa J Schultz is the author of a number of books, her latest being Lighter Living: Declutter. Organize. Simplify.

5. "The secret of happiness, you see, is not found in seeking more, but in developing the capacity to enjoy less." – socrates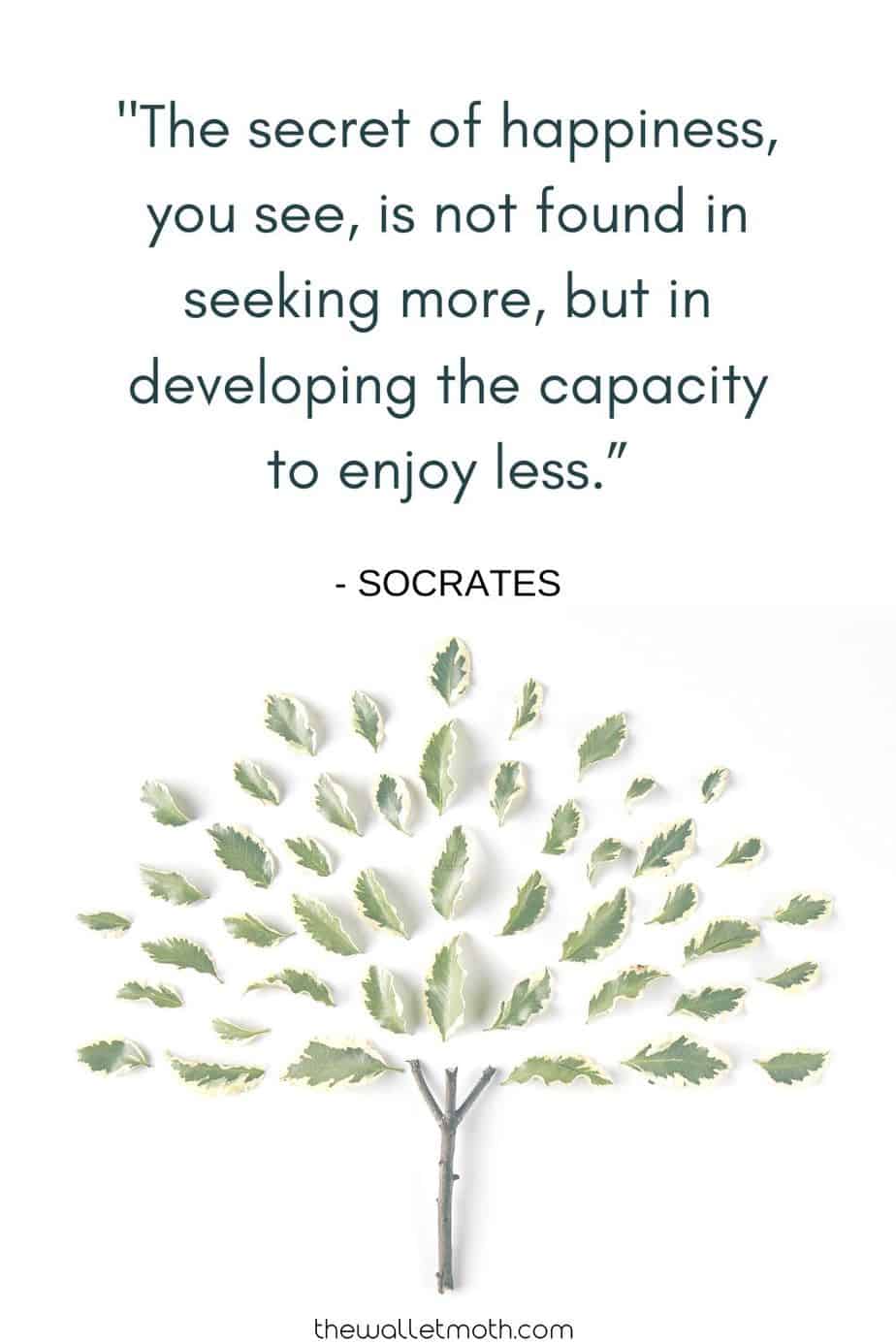 Learning that the path to happiness is internal – in looking inwards and really knowing yourself – rather than found in external sources, can be transformative.
What can you do to learn to really find the value in the few but important things you love?

6. "Declutter your mind, your heart, your home. Let go of the heaviness that is weighing you down. Make your life simple, but significant." – Maria defillo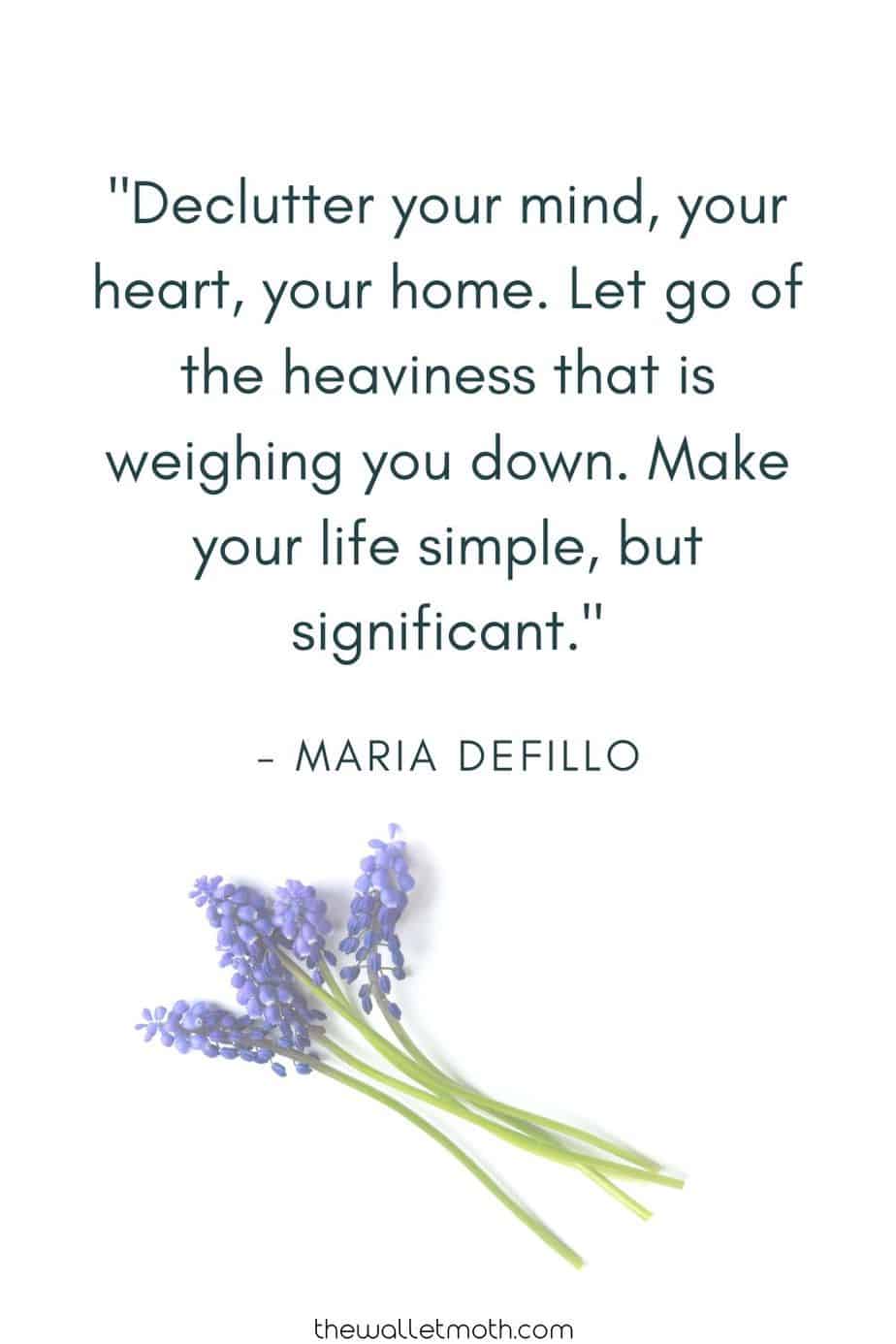 Simple, but significant. I love that. Simple living isn't about cutting down our lives to the bare bones, or about depriving ourselves – it's removing that unconscious weight of burdens we don't really need.

7. "Do only what is necessary and required. Efficiency is elegant. Less is more." – scott perry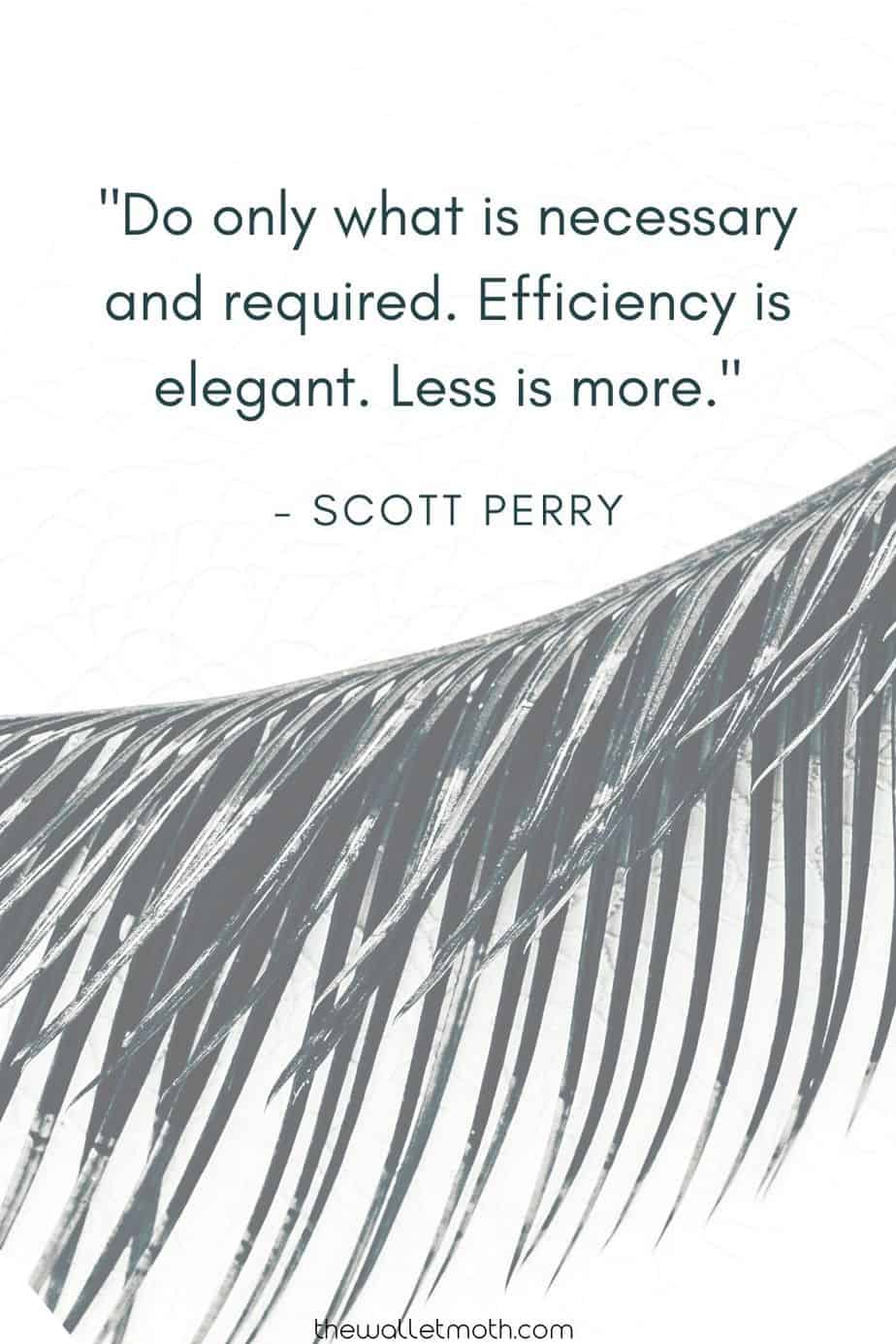 Less is more. Would you agree? Do you currently only do what is necessary and required, or do you live out your days a little more mindlessly, without any real thought?

8. "Life is as simple as these three questions: what do i want? Why do i want it? And, how will i achieve it?" – Shannon L Alder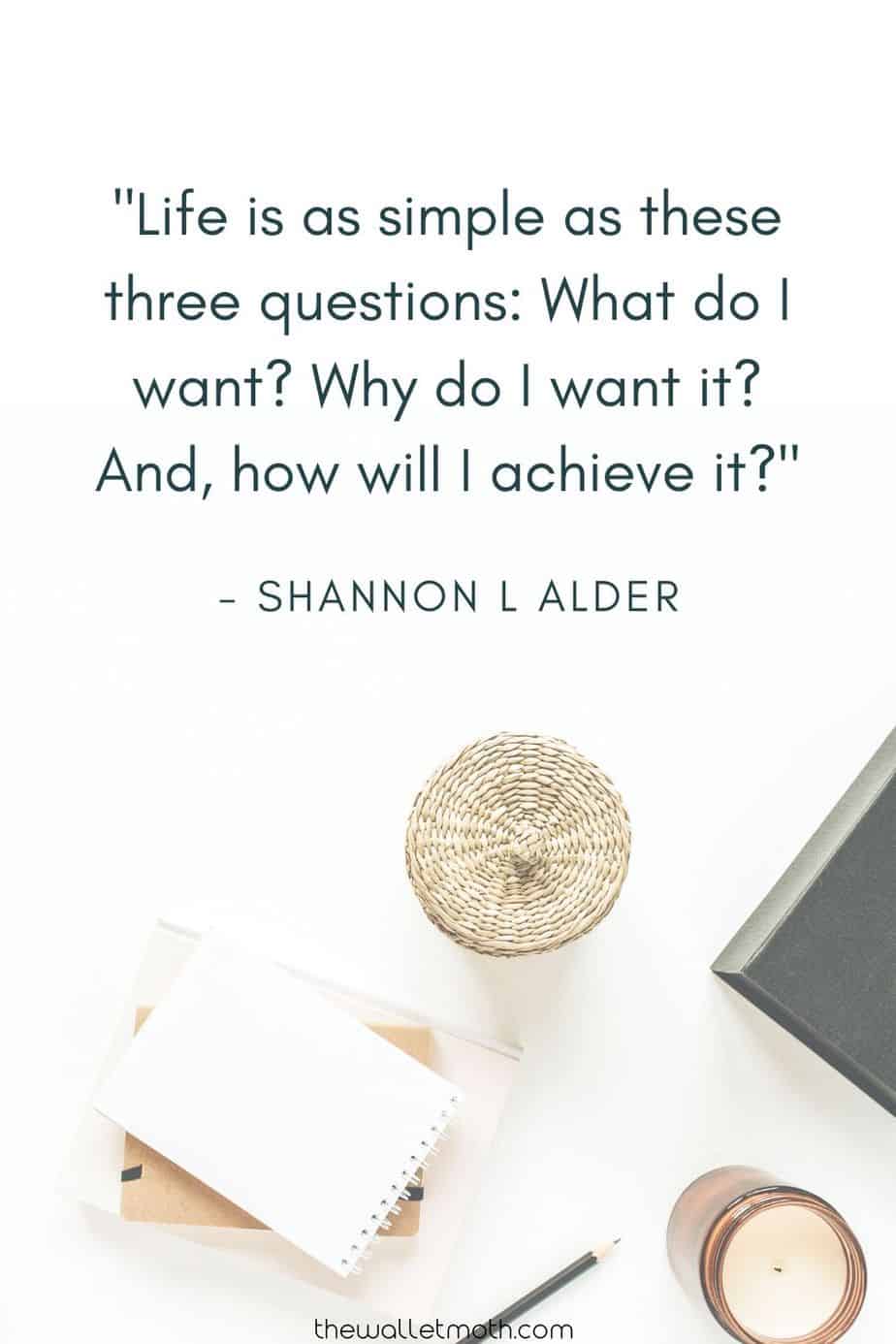 These three questions are some of my favourite journaling prompts when I'm trying to really map out the direction I want to move in for the future. Many of us, at some point or another, get weighed down by listening to the voice telling us "this is what you should want", "this is what you should be doing", rather than looking inwards and asking ourselves what we really want with our lives.

Shannon L Alder is an inspirational author whose writings centre around celebrating your uniqueness.

9. "Make things as simple as possible, but no simpler." – Albert Einstein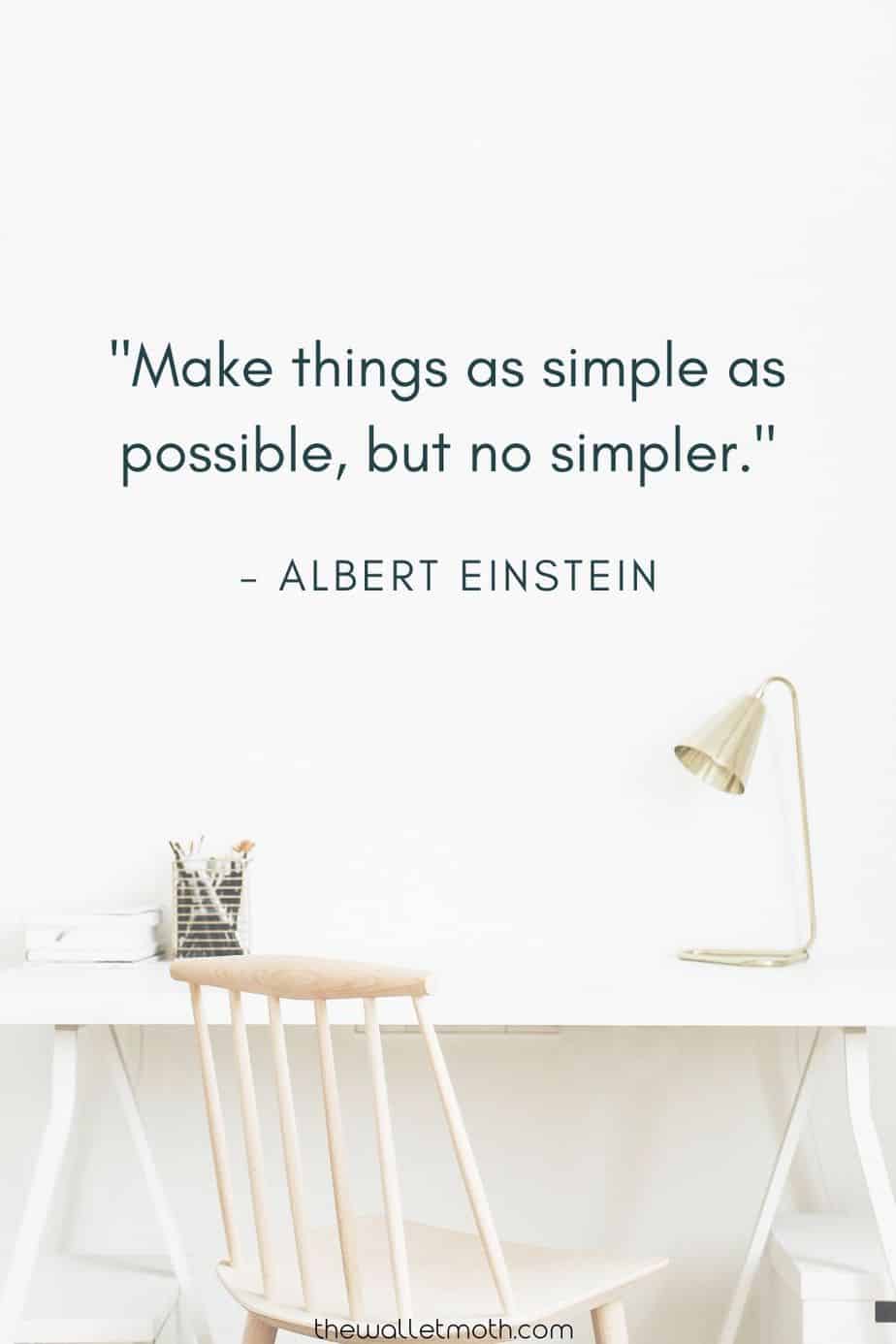 When you start recognizing the clutter within your life – from your physical environment to digital clutter, to even things like mindless spending and expenses – you start to also recognize how needless they are.

10. "Life is like art. You have to work hard to keep it simple and still have meaning." – Charles De Lint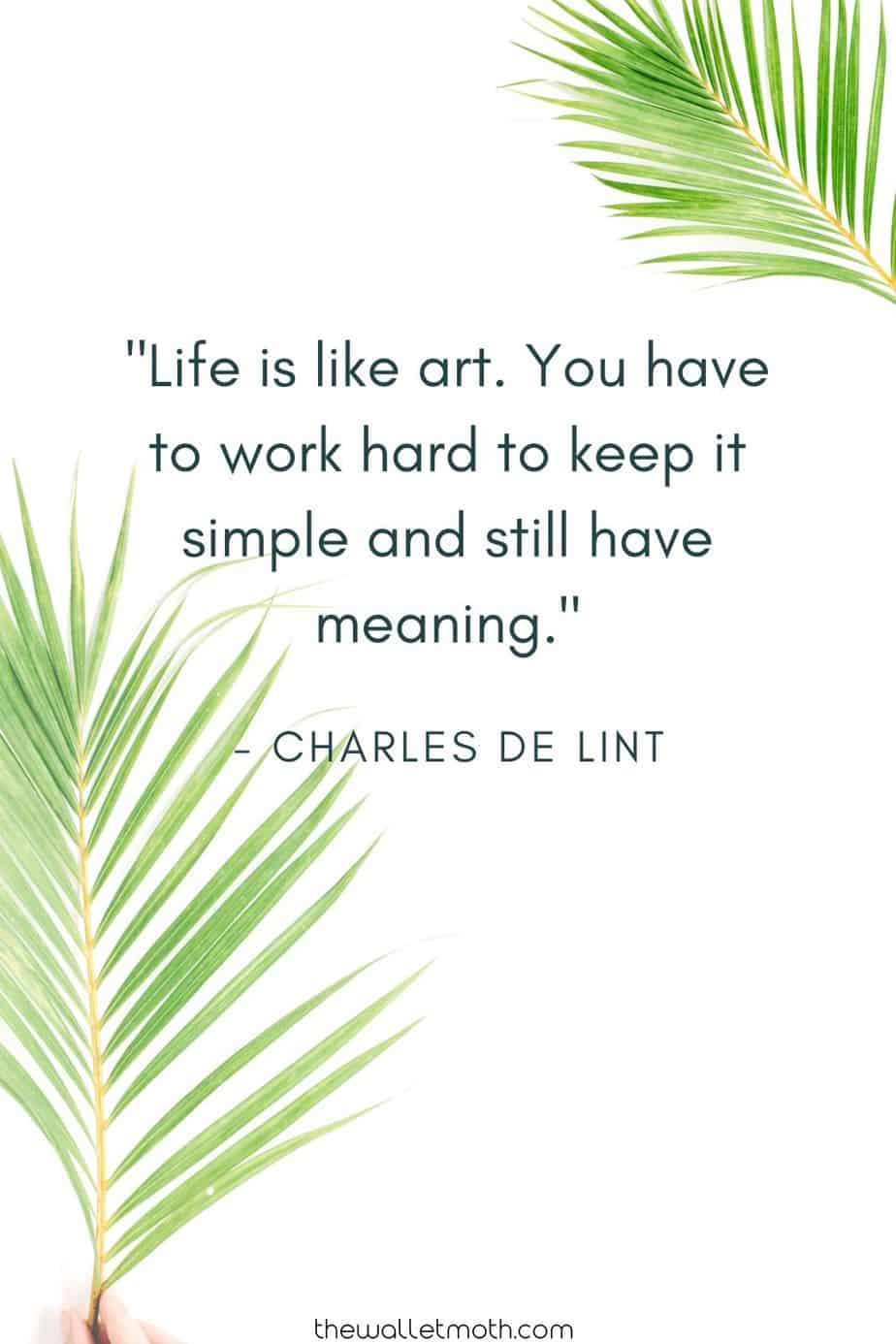 This minimalist lifestyle isn't a quick fix that you do once and don't think about again. It's a journey, a way of living. You have to work hard at it. But if that's the sacrifice for living a life with more meaning, isn't it worth it?

11. "Clutter is not just the stuff on your floor – it's anything that stands between you and the life you want to be living." – Peter Walsh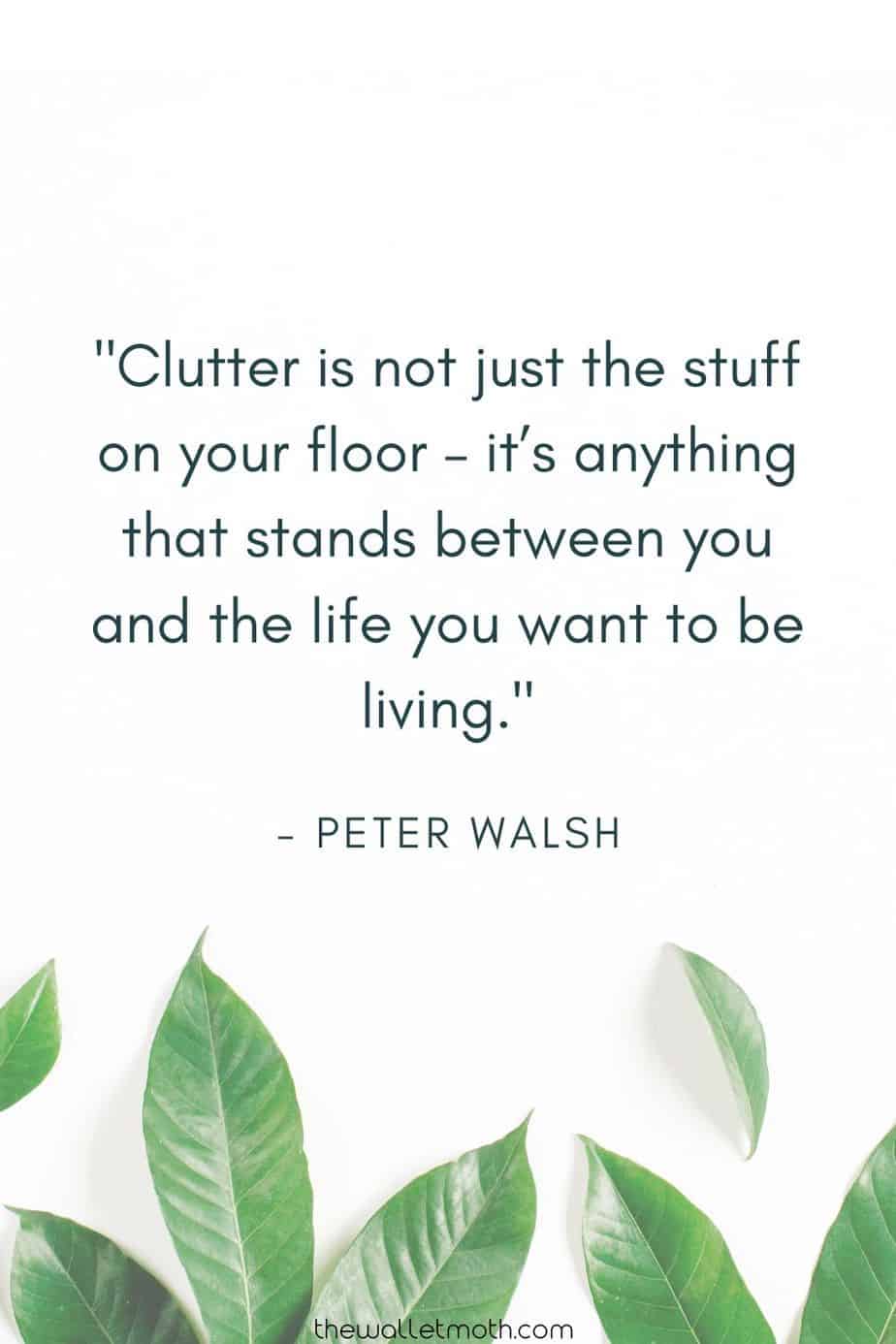 Yes, simple living is about addressing the clutter around your home. For many of us, that's the first and very important step.
However, simple living soon transitions to addressing the clutter in every aspect of your home: from travel to finances to even your relationships.

12. "Only great minds can afford a simple style" – Stendhal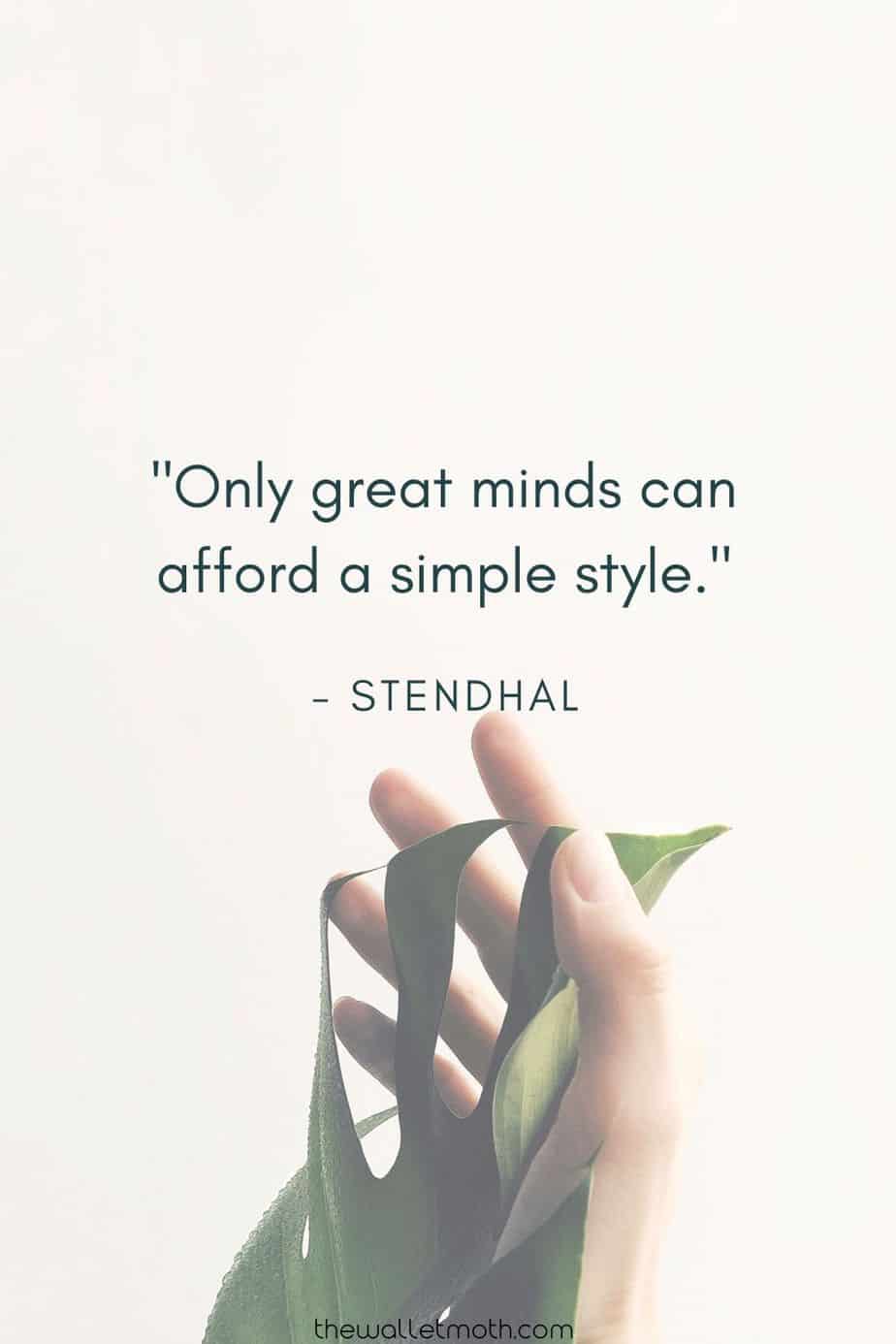 A nice little ego boost for us minimalists! Only great minds can afford a simple style – whether you agree or not, simple living does take a certain degree of self-awareness, and constantly analyzing your place in the world.

13. "I don't say no because I am so busy. I say no because I don't want to be so busy." – Courtney Carver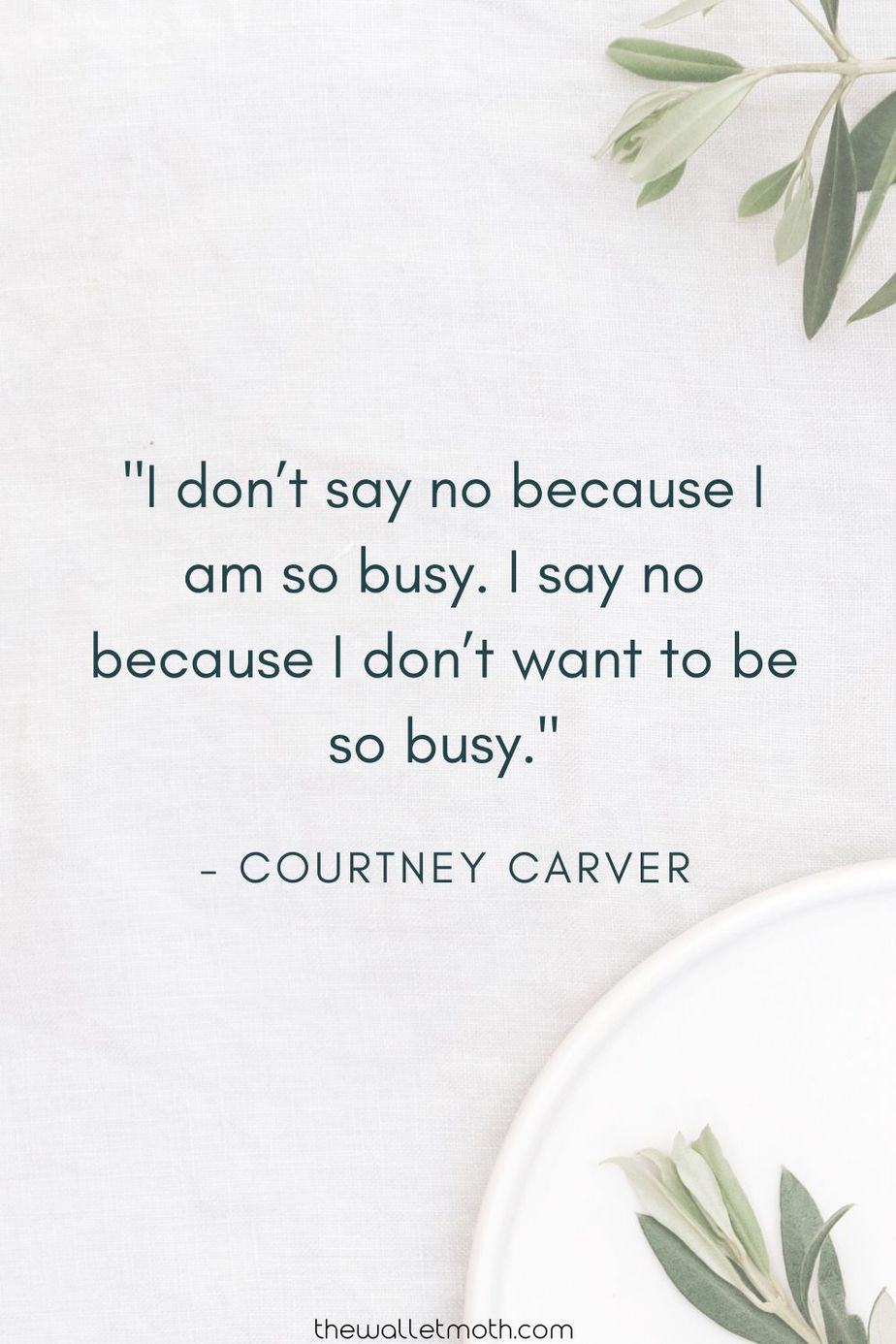 Courtney Carver is a big voice in the simple living space, and the highly successful author of Project 333: The Minimalist Fashion Challenge That Proves Less Really is So Much More, and Soulful Simplicity.
Additionally, Courtney's blog, Be More With Less, has been a big source of inspiration for my own minimalism journey.

14. "Be as simple as you can be; you will be astonished to see how uncomplicated and happy your life can become." – Paramahnsa Yogonanda
Uncomplicated doesn't mean boring – it can be the key to unlocking a new plane of happiness born out of simplicity.

15. "Simplicity is making the journey of this life with just baggage enough." – charles warner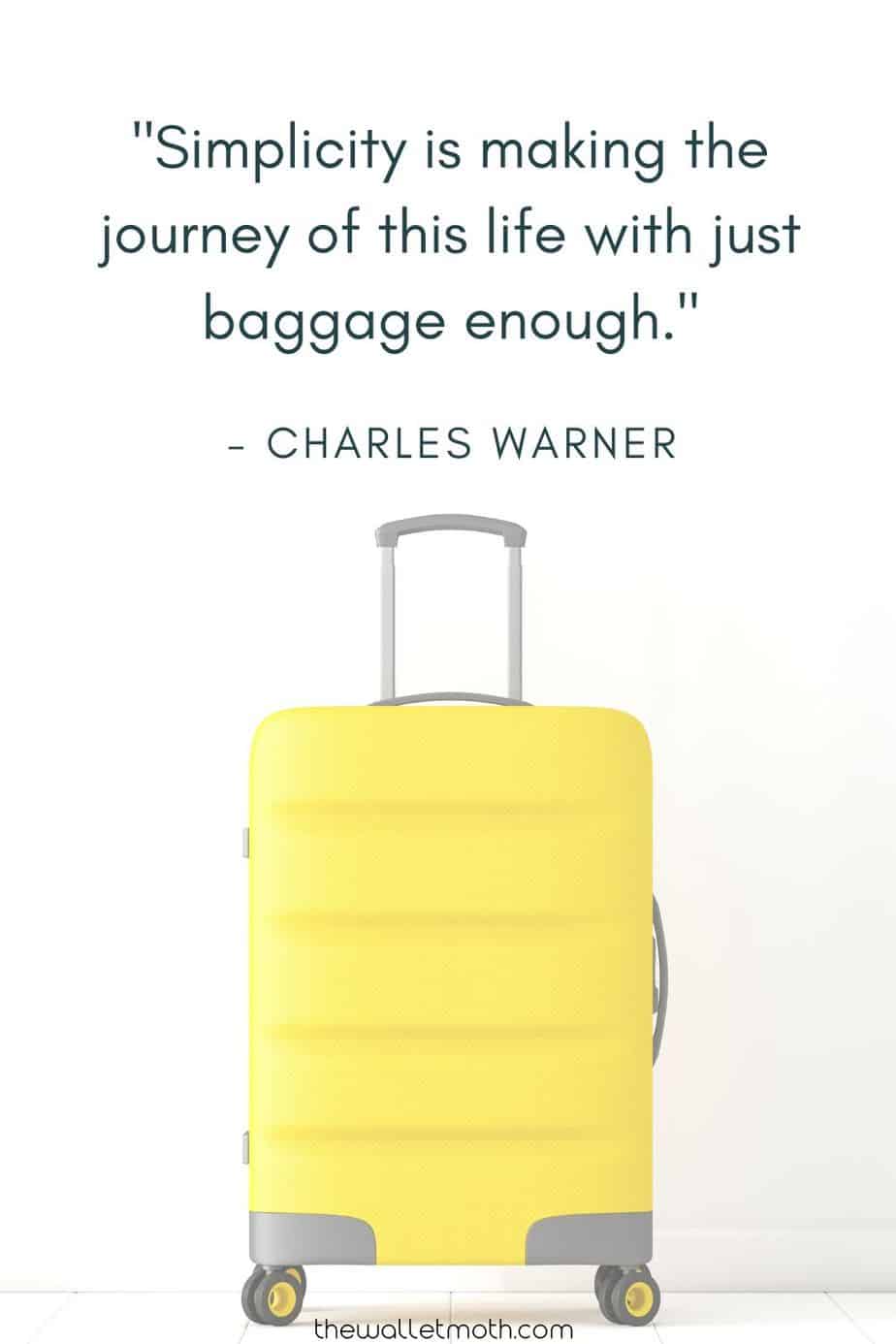 Just baggage enough: not the bare essentials, but not so much that you're dragging it behind you everywhere you go.
This quote, of course, applies to more than just minimalist travel – but this has been one aspect where I've really felt the benefits of minimalism.

16. "Live a simple life; you will own the most beautiful treasures of the world!" – Mehmet Murat Ildan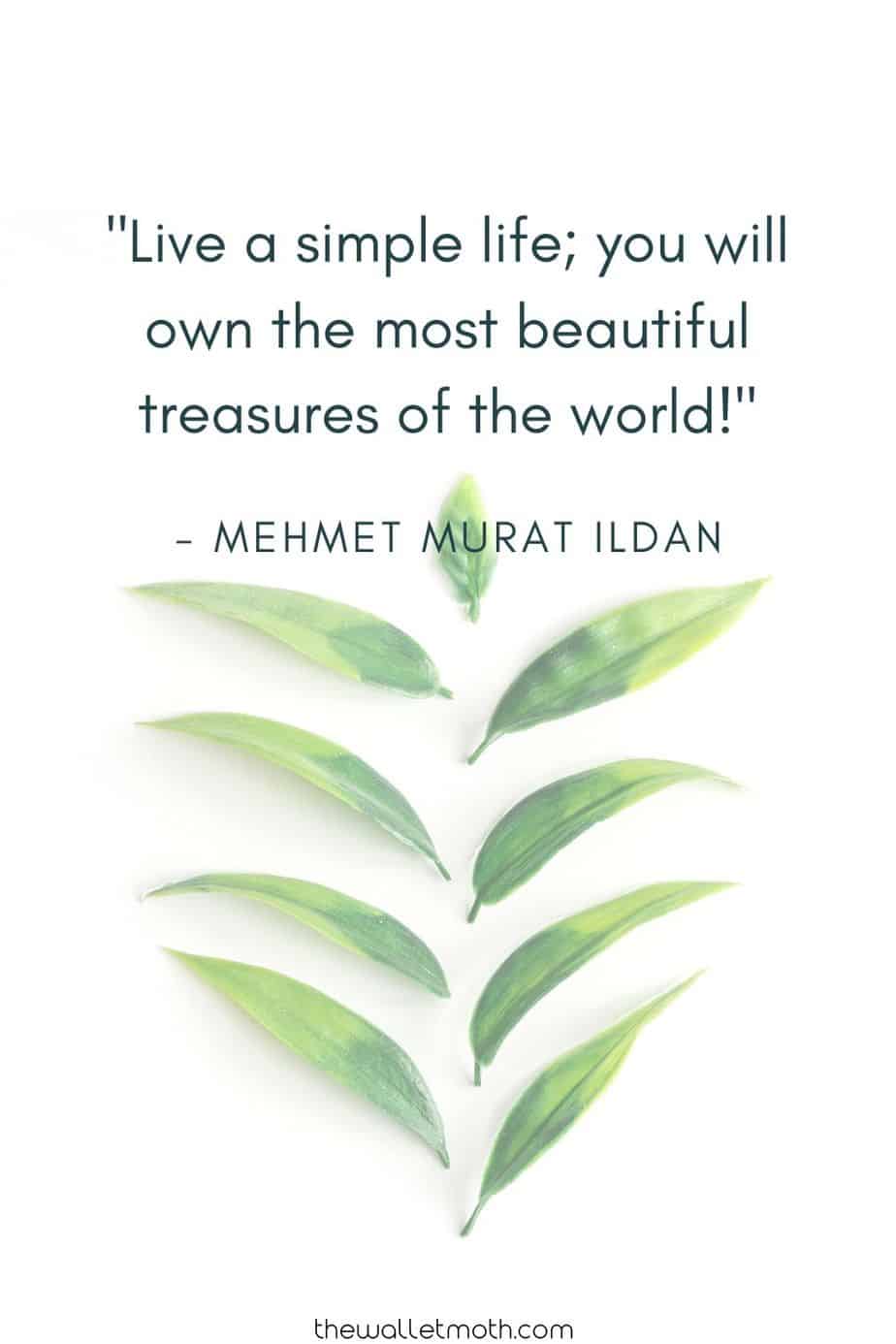 A powerful reminder that beyond simply decluttering our physical lives, a simple life can be one of the most beautiful experiences to behold.

17. "When we intentionally create space in our lives, we can intentionally decide what to fill it with." – Cait Flanders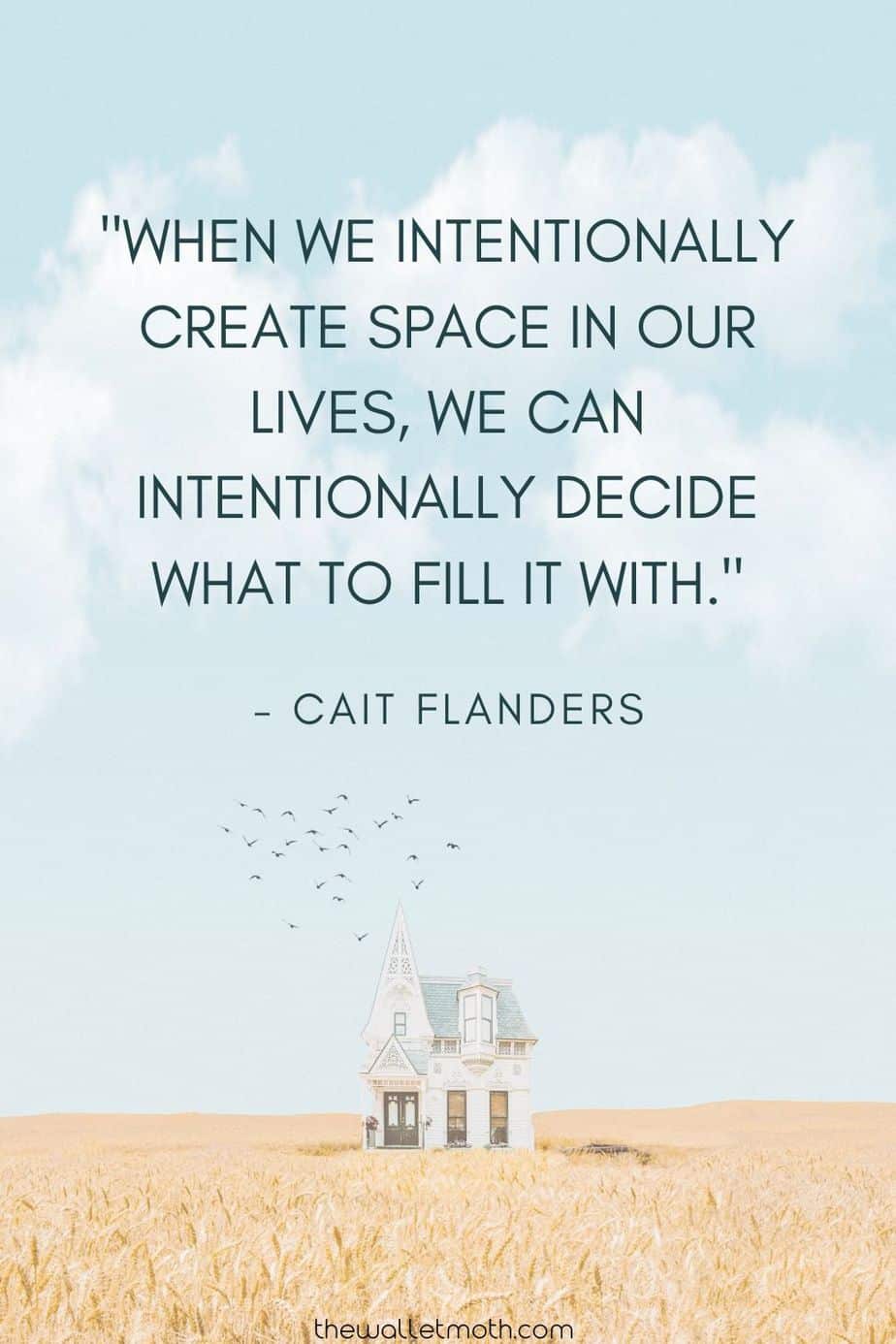 Cait Flanders is the author of Wall Street Journal best seller The Year Of Less, chronicling her year-long shopping ban!

As well as that, Cait is an extremely gifted writer, podcaster, and source of inspiration for finding the joy in living with less.

18. "There are two ways to be rich: one is by acquiring much, and the other is by desiring little." – Jackie French Koller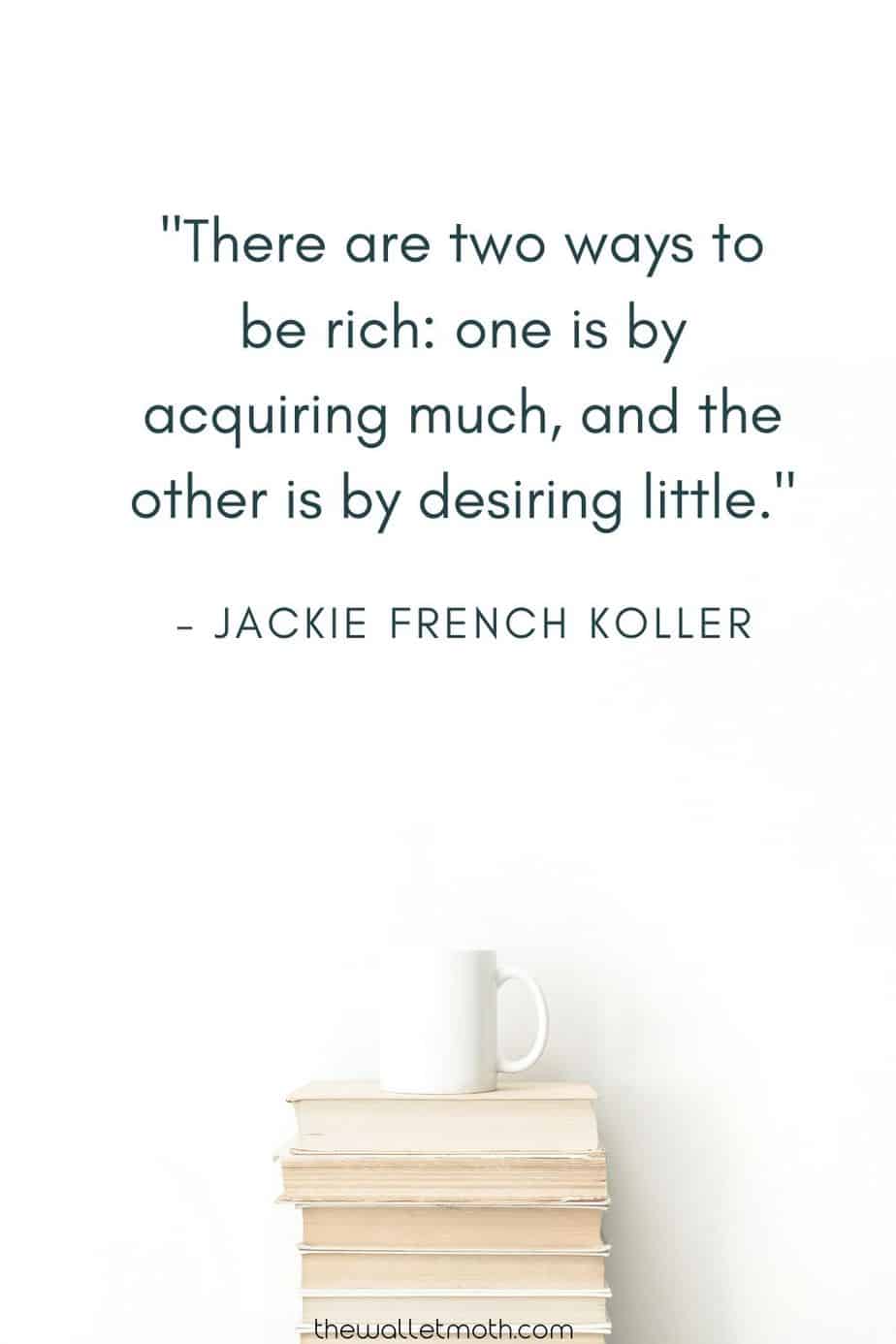 Many of us think to be rich, we needed to work hard to earn lots of money so we can go out and buy lots of things.
How often do we take a step back and ask ourselves: do I actually want to be able to buy those things? Being wealthy is a matter of perspective – you can aspire to earn lots, and own lots – or you can simplify your desires and see that you already have everything you need within your grasp.

19. "Living an intentional life places a focus on living in the now. On bringing mindfulness and meaning to your actions and your plans, and staying in touch with who you really are and what really brings value to your life." – The Wallet Moth
Intentional living places a focus on being in the present: right here, right now. Personally, my yoga practice has been a huge help for reminding me of the beauty and the important of tuning in to the here and now, and appreciating the beauty in that.

20. "How many of us are really taking the time to think about what we want from life, what makes up happy, and how we can place more emphasis on those things and less on every other distraction?" – The Wallet mOTH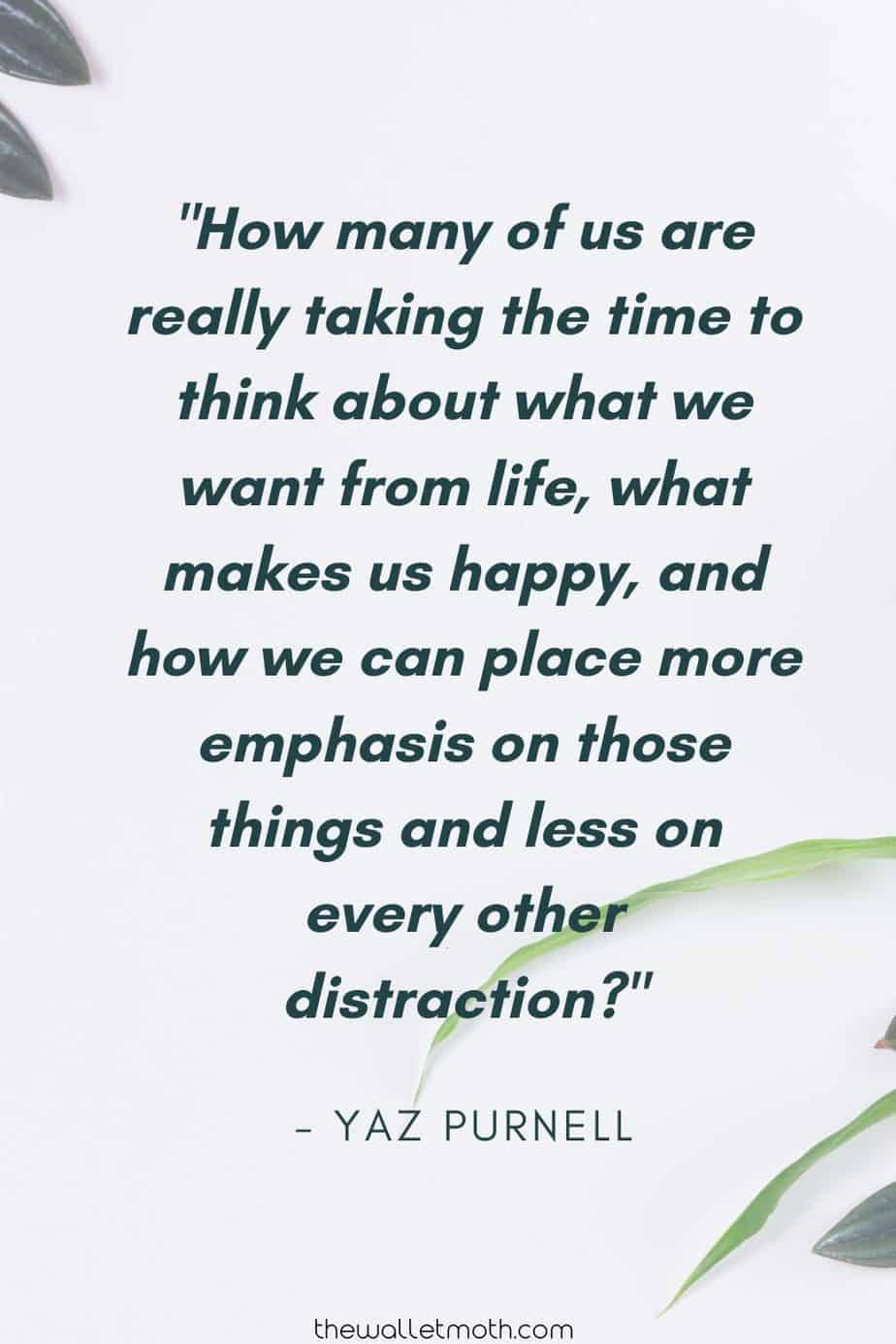 A huge part of minimalism, for me, has been building the habit to question my intentions and my actions.
To cultivate a minimalist mindset that begins to identify distractions from the things that add value – and to be able to recognize when I need to take a step back and clear some clutter from around me.

21. "The ability to simplify means to eliminate the unnecessary so that the necessary may speak." – Hans Hoffman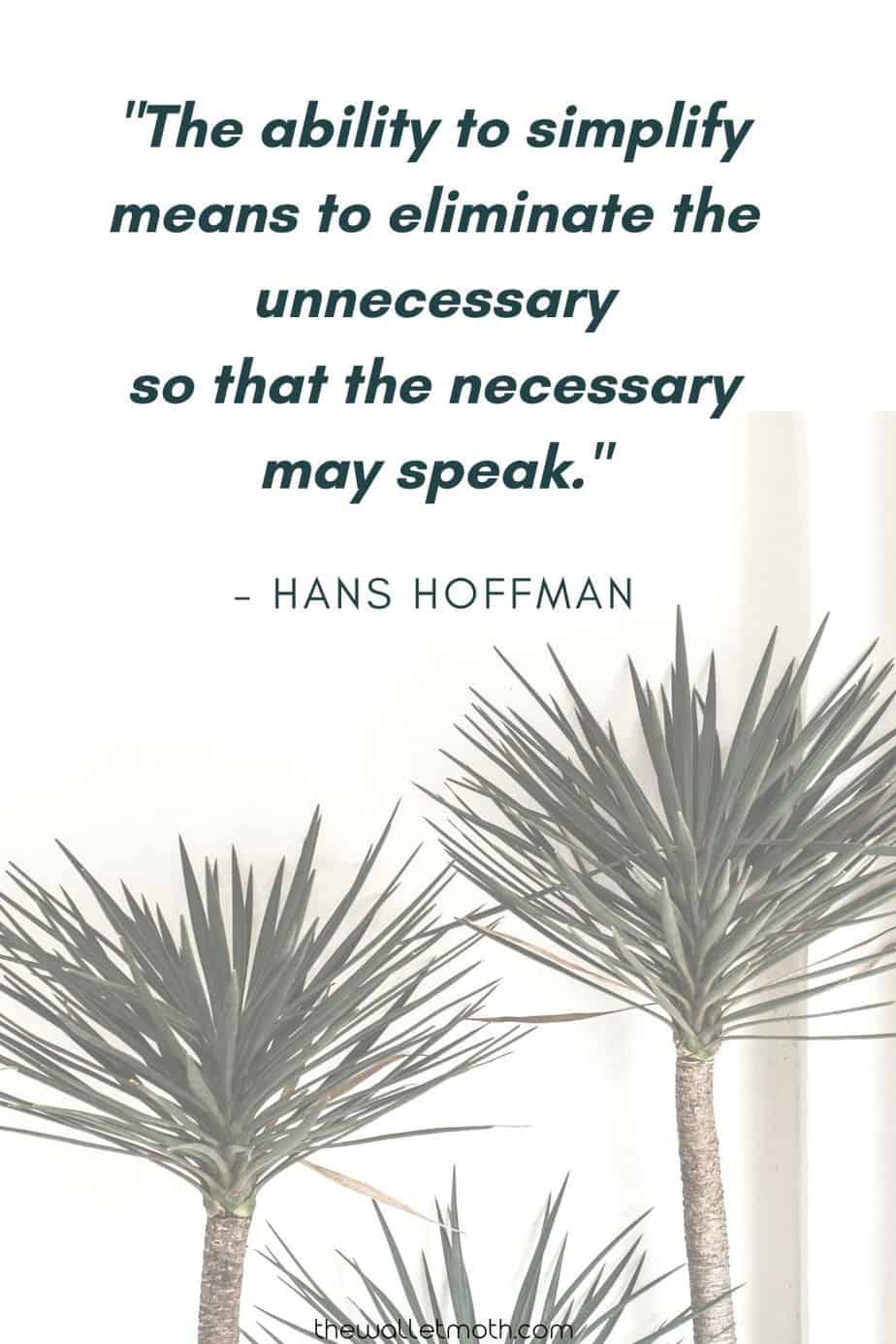 Simple living is about systematically clearing away the clutter, the distractions, the unnecessary, so that the things that really matter have the time, attention, and energy they deserve.

22. "You have succeeded in life when all you really want is only what you really need." – Vernon Howard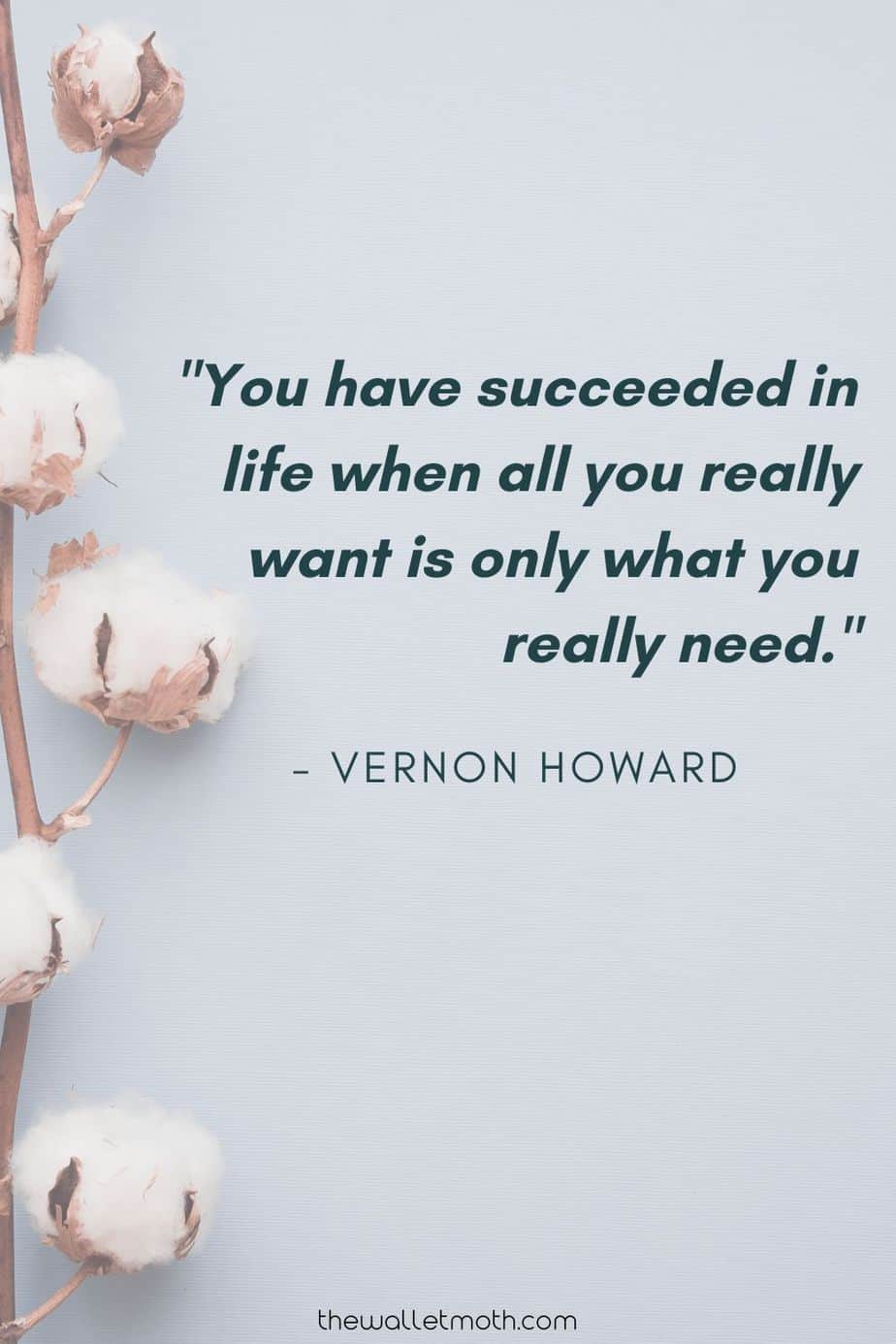 Just like wealth is a matter of perspective, so is contentment. When you can see through the clutter and distractions and create a clear picture of what you really want your life to look like, the secret to happiness is at your fingertips.

23. "That's been one of my mantras – focus and simplicity. Simple can be harder than complex: you have to work hard to get your thinking clean to make it simple. But it's worth it in the end because once you get there, you can move mountains." – Steve Jobs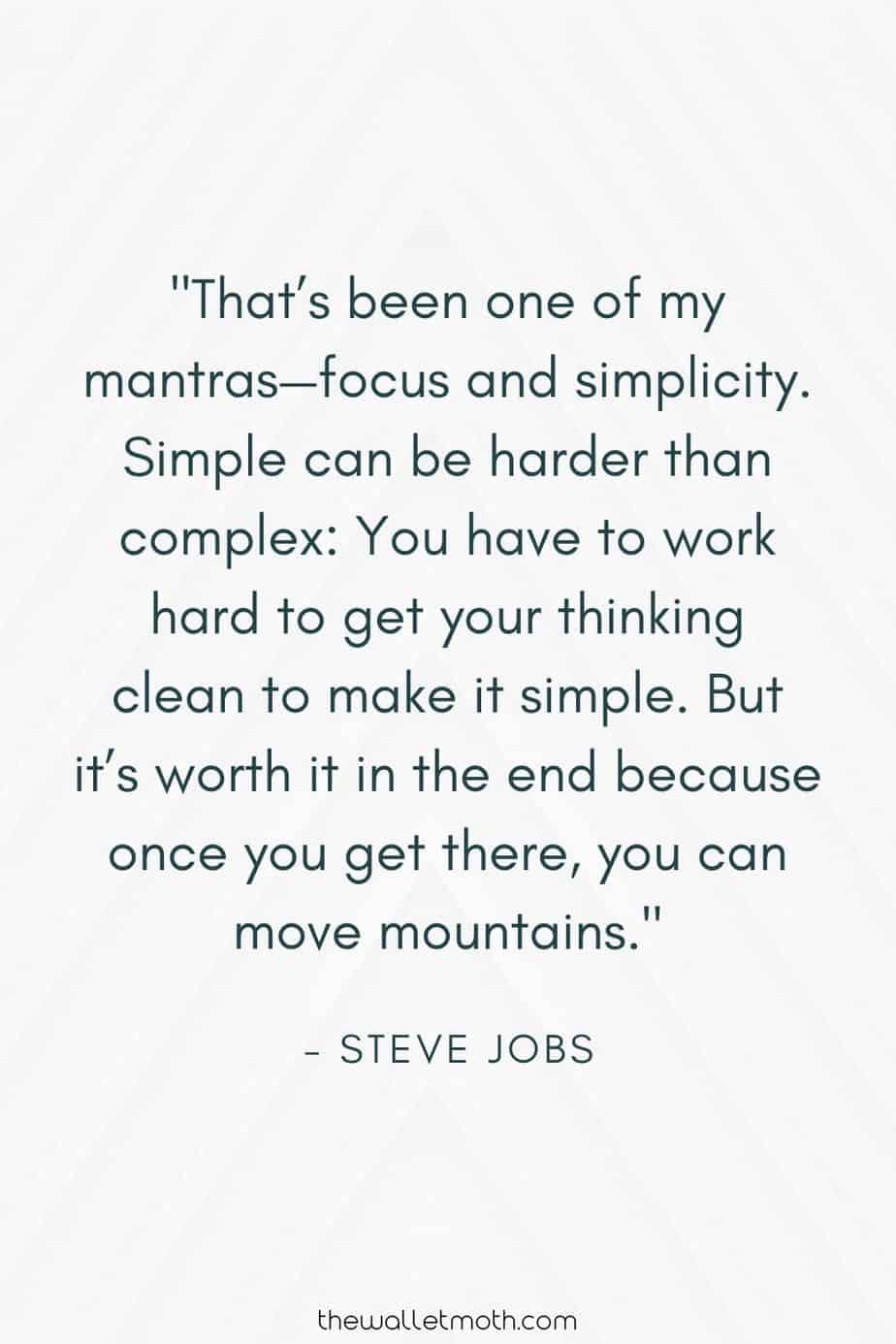 Clutter is easy. Simplicity takes work. The minimalist journey is an on-going process of being mindful, of analysis and assessing.

Once you get there (wherever 'there' is for you), though, you can do so much more.

24. "It's 100% easier to increase your time and freedom by eliminating the dumb things you do every day than to try to be 100% more productive doing more dumb things." – Richie Norton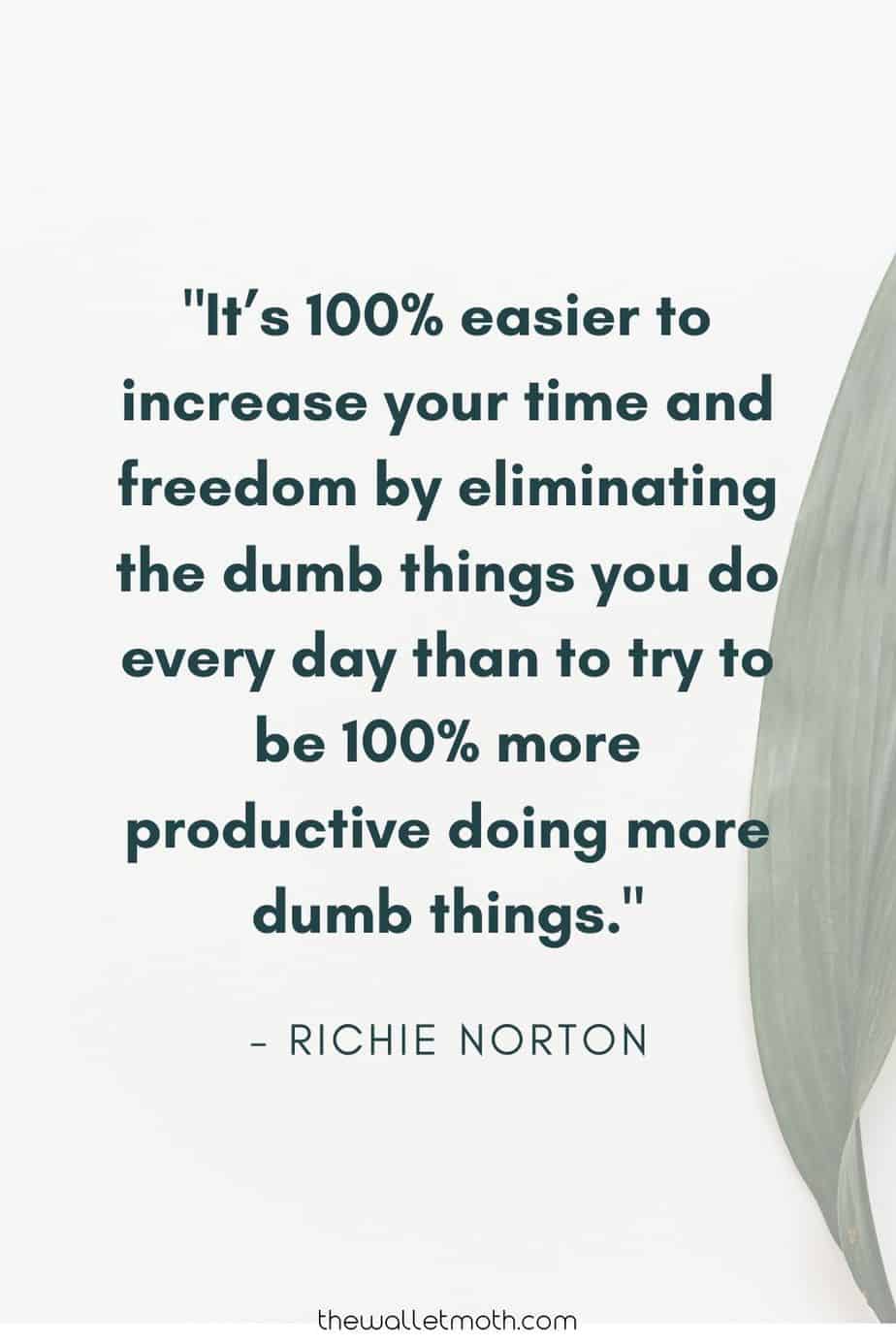 This simple living quote really just sums it up. If you want more time and freedom for the things you love and actually enjoy doing, it is far easier to eliminate the things you don't enjoy that to try to conjure up more time out of thin air.

25. "Clutter smothers. Simplicity breathes." – Terry Guillemets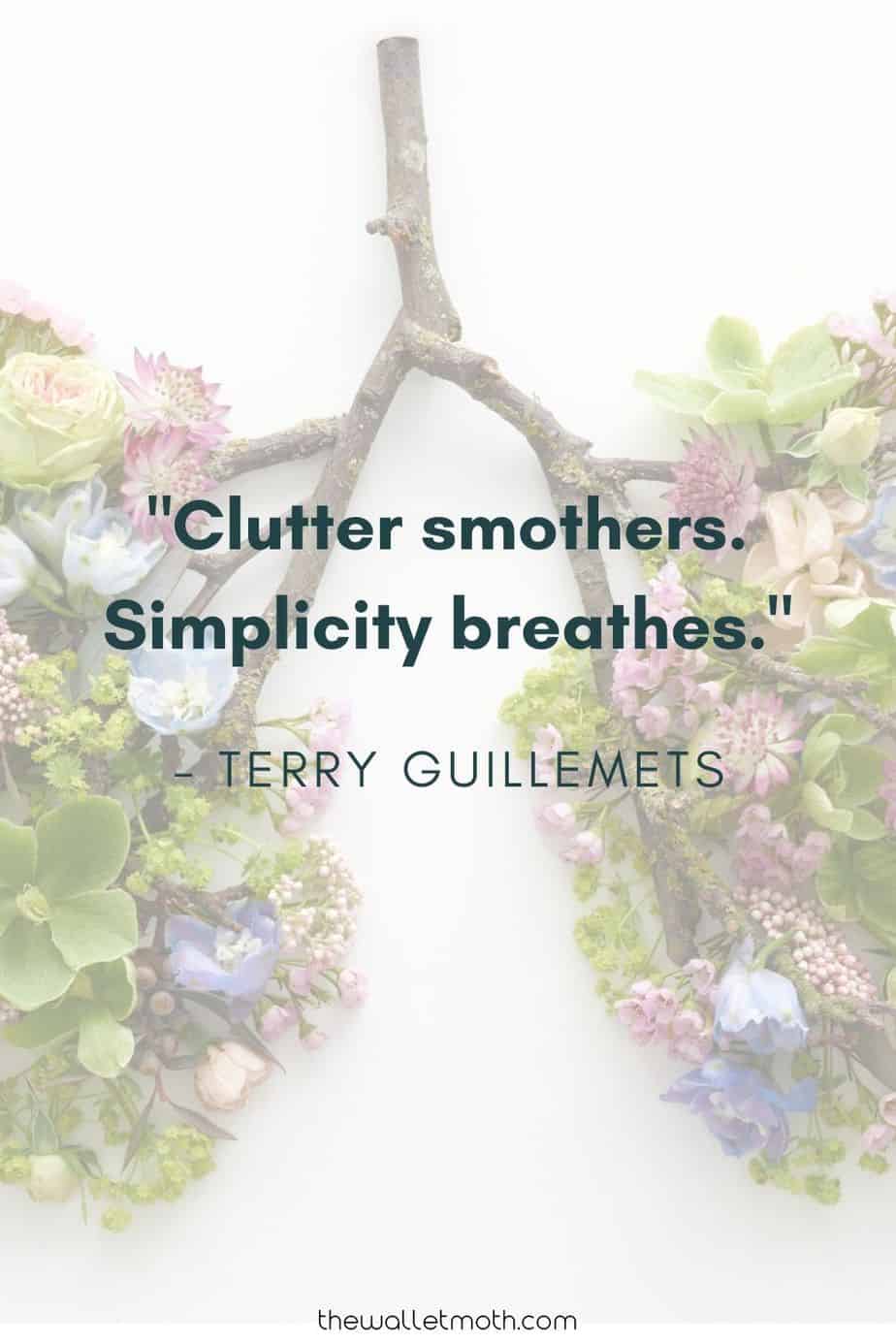 Simple, and to the point. If you've ever spent a good few hours decluttering your home, you've probably experienced that feeling of a weight being lifted from your shoulders at the end.

Minimalist living creates the space (literally and metaphorically) that you need to take a breath.

26. "The question of what you want to own is actually the question of how you want to live your life." – Marie Kondo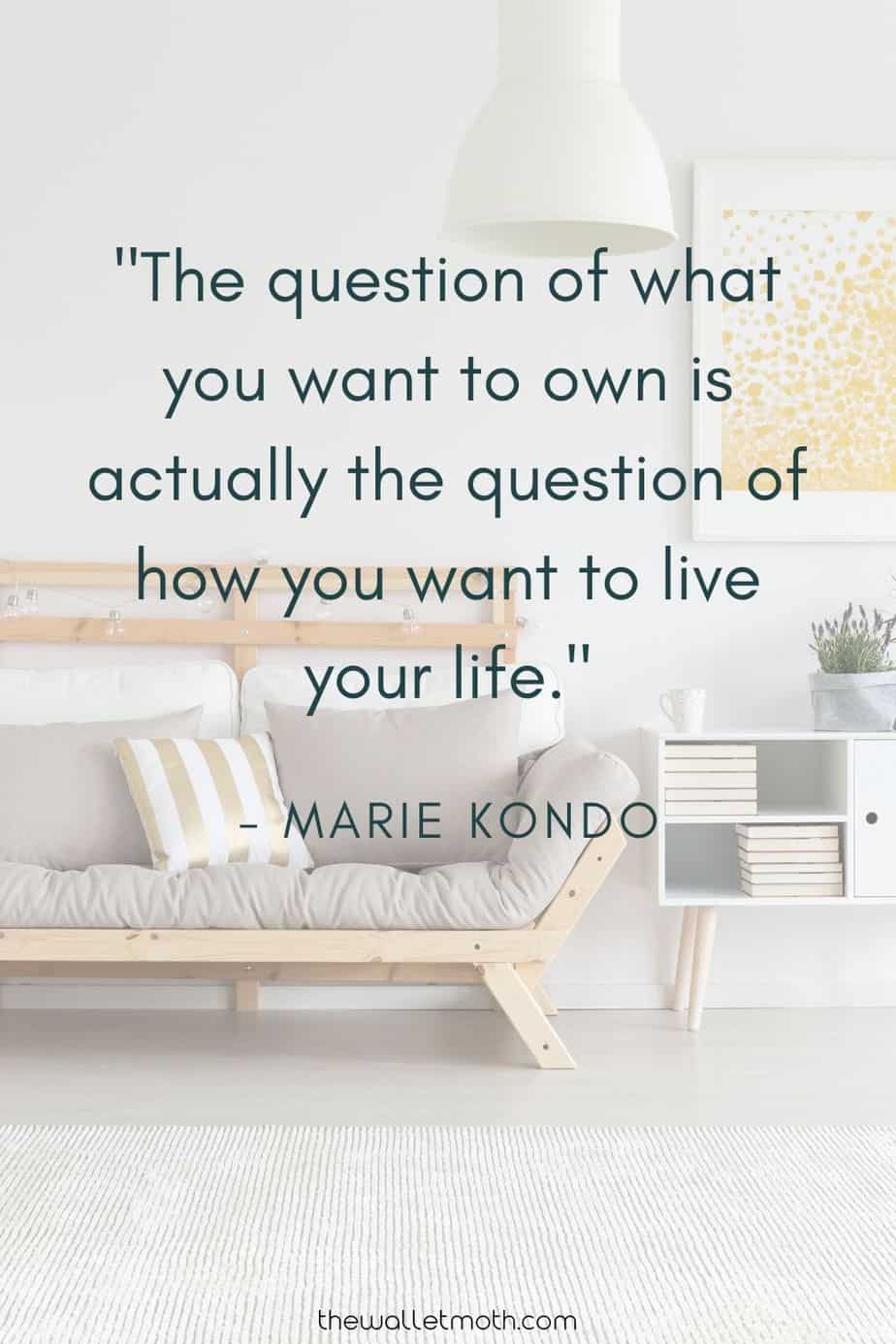 Marie Kondo is the creator of the famous KonMari method, author of the best-selling book The Life-Changing Magic of Tidying: A simple, effective way to banish clutter forever, and also has a hit Netflix show, Tidying Up with Marie Kondo, centred around decluttering your home.

Marie's signature tip is to ask if something 'sparks joy' when deciding whether to keep it or declutter. It's about making a conscious choice about how you will live your life.

27. "Frugal living opens your eyes to the sheer joy living with less can bring. More than a shift in spending habits, living frugally can totally transform your perspective on money, on your daily habits, and on your whole life." – The Wallet Moth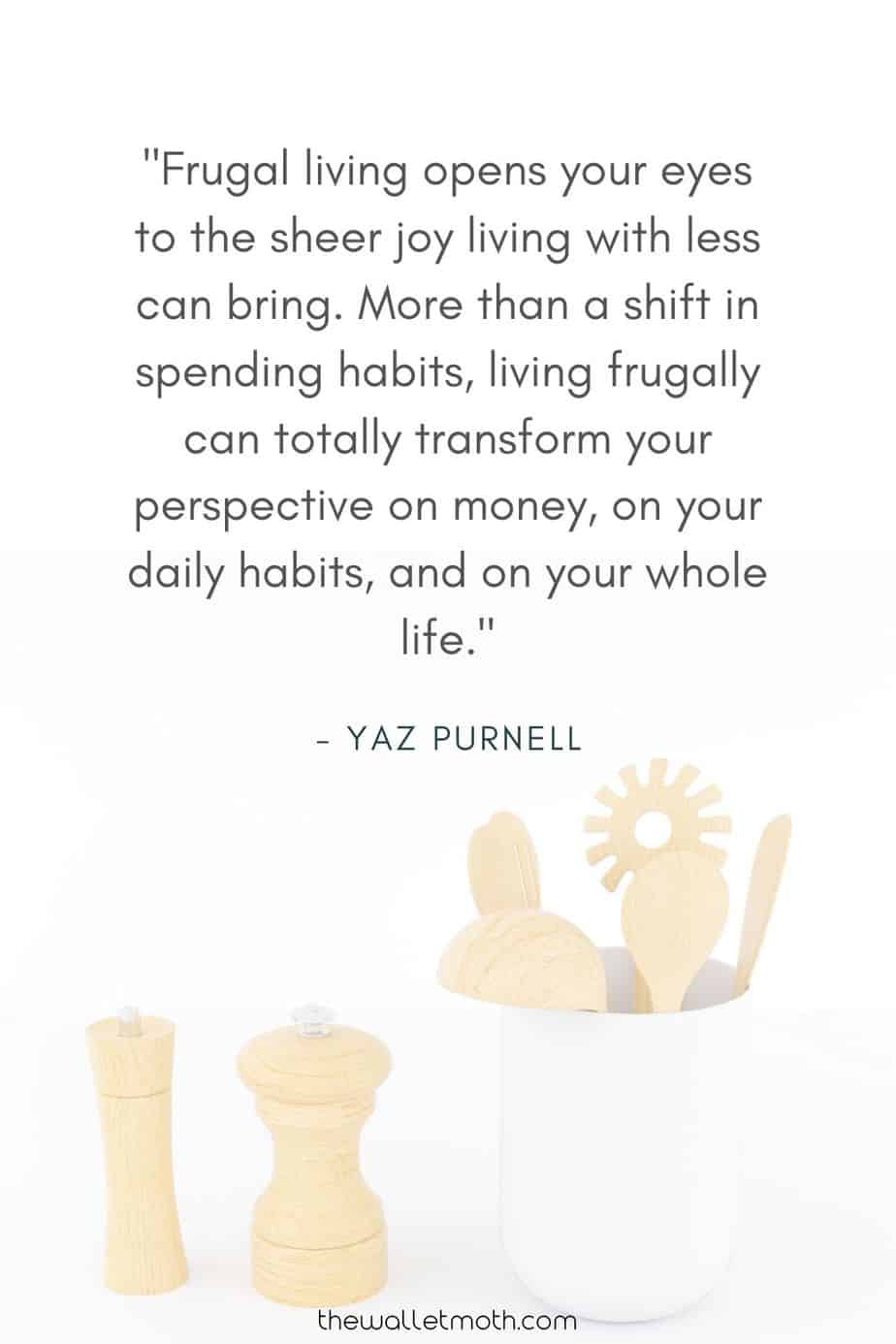 Living frugally is a big part of simple living. It's not about spending less or being 'tight' with your money – it's simply spending smarter so that you can spend your money on the things that you actually want to (versus mindless, unnecessary expenses).

28. "Lead a simple life. First reduce your greeds. Then reduce your needs." – Ritu Ghatourey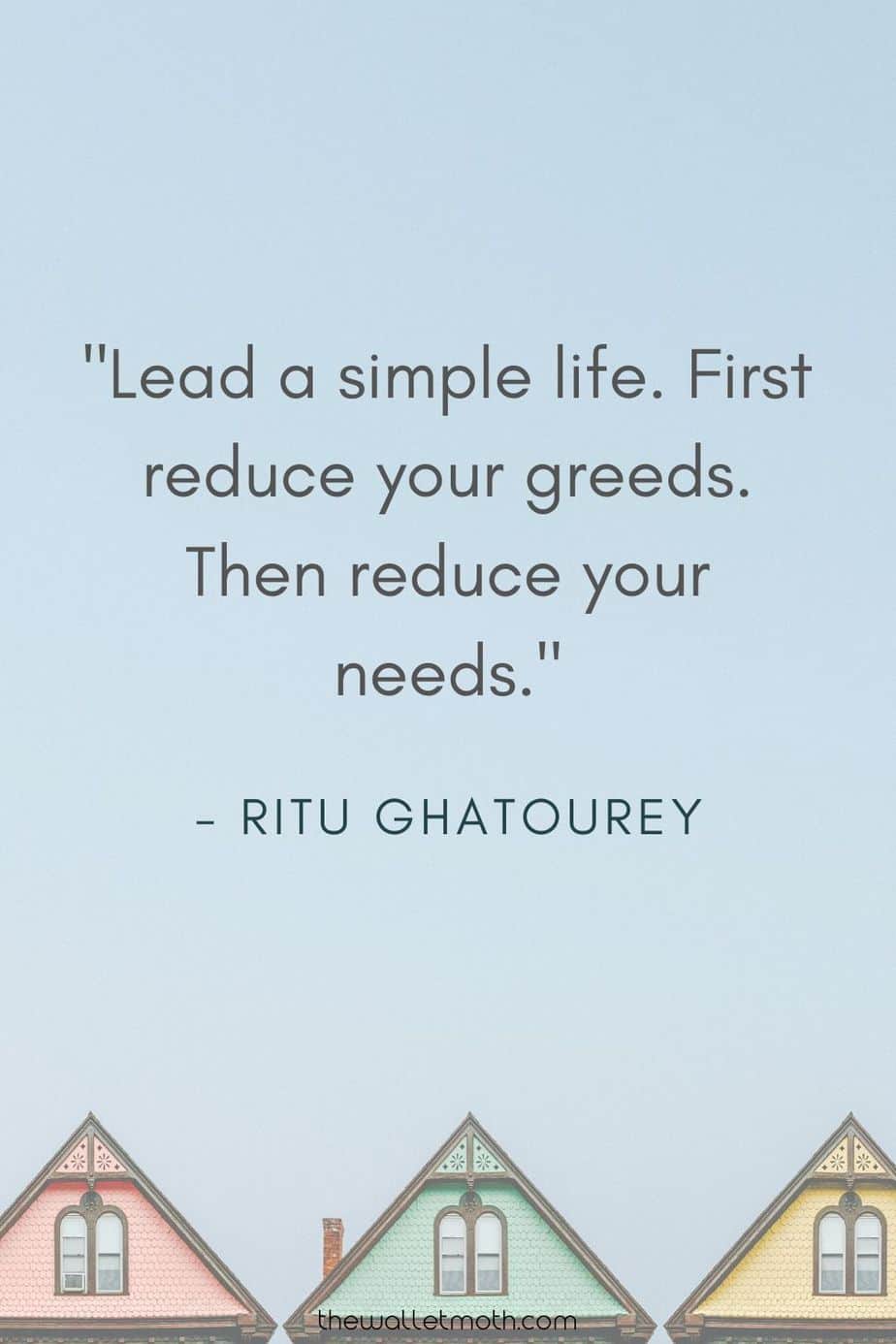 Less greed, fewer needs. When you recognize that you need only a few important things to be content with your life (those things being different for each and every one of us), your life becomes a whole lot simpler.

29. "The first step in crafting the life you want is to get rid of everything you don't." – Joshua Becker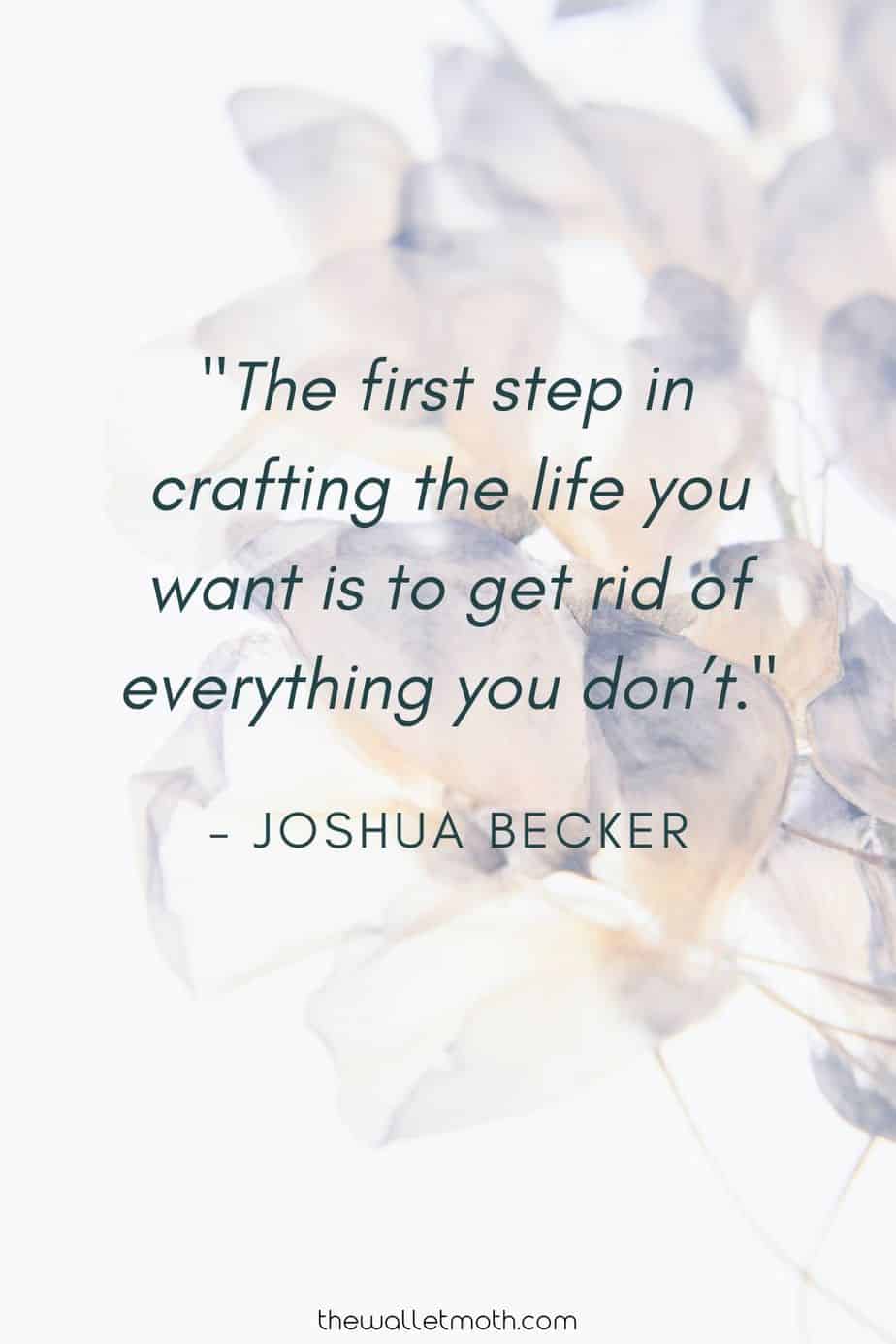 Joshua Becker is the author of The More Of Less, where he shares his own experiences on living a better life with less, as well as practical suggestions for creating your own minimalist life.
I'm a big fan of Joshua's work – I even wrote an entire review on his book, Simplify, because I liked it so much!

30. "The greatest step towards a life of simplicity is to learn to let go." – Steve Maraboli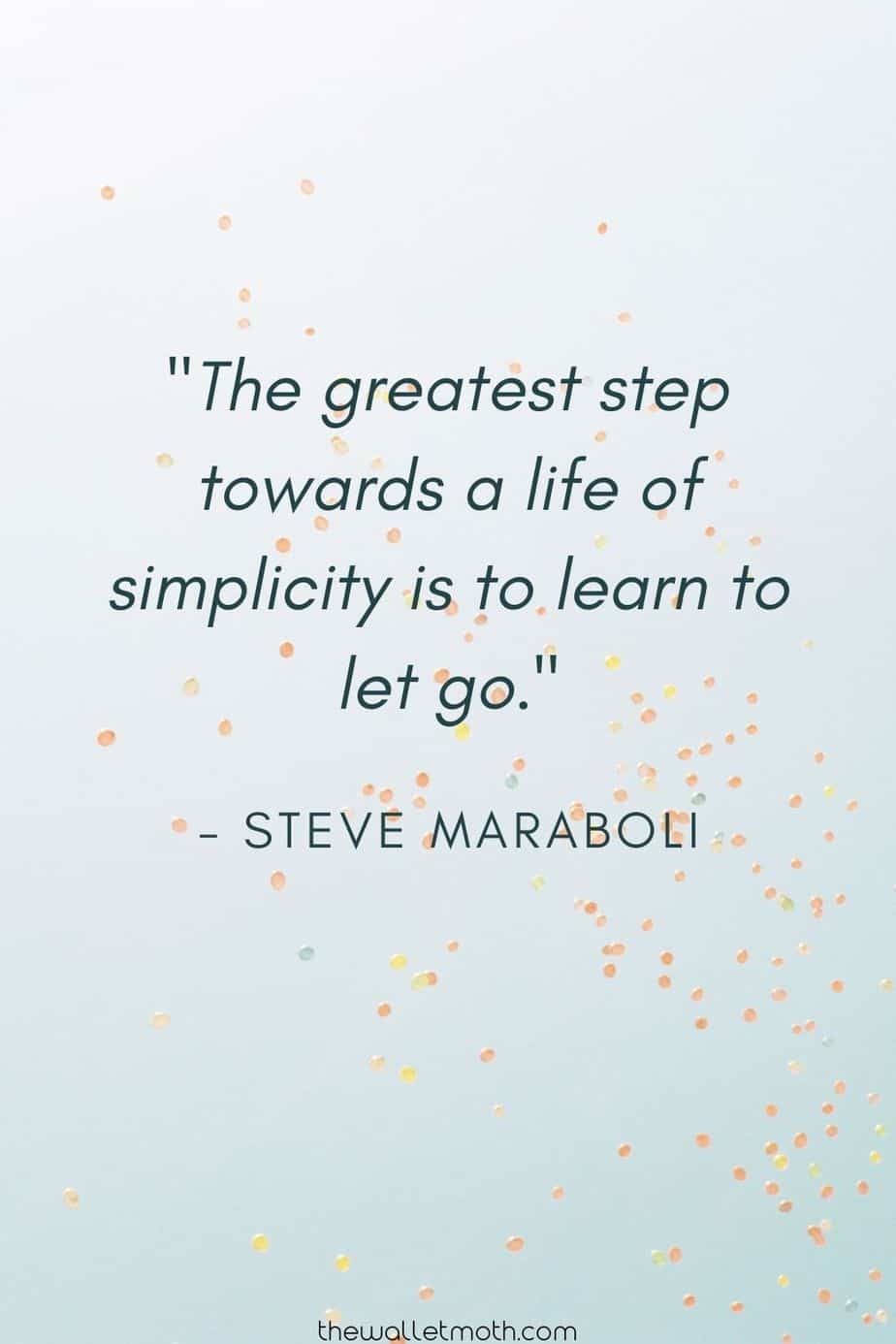 Steve Maraboli is a motivational speaker, author, and Behavioral Scientist.
Would you agree that a pivotal part of simple living is learning to let go? To let go, perhaps, of the path we're conditioned to follow – of the things we're taught we should want and should be doing to, instead, create space for the things we actually want.