We may earn money or products from the companies mentioned in this post, and as an Amazon Associate I earn from qualifying purchases. Please see my full disclosure for more information.
Introducing the S.C.A.T.T.E.R declutter method: a fail-safe, 7-step process to ultimate organization for your home.

I am not a naturally hyper-organized, tidy person. There, I said it.
I love to organize, I love to live free of clutter, and I love how having a clean and tidy home makes me feel more productive. However, stuff piles up.
Before I know it, my drawers and cupboards are a mess, everything is in disarray.
So, I need a system. A way of making the process of decluttering and tidying systematic, and something I can do on autopilot.
Introducing, the S.C.A.T.T.E.R. declutter technique.
A fail-safe method of decluttering guaranteed to help you ruthlessly clear out the clutter, tidy and organize your home for maximum efficiency, and reinforce new, positive habits to help you declutter and keep it that way.
The S.C.A.T.T.E.R. declutter method is for the people who have too much to do, and never seem to have enough time to do it. For the people who put home organizing at the bottom of your to-do list because it's just too much effort. For the people who love having a neat and tidy home…but it never seems to stay that way.
This method essentially lets you go into auto-pilot as you declutter, without feeling like you could be doing something better, or getting totally overwhelmed with where to start.
The S.C.A.T.T.E.R declutter method transformed my wardrobe: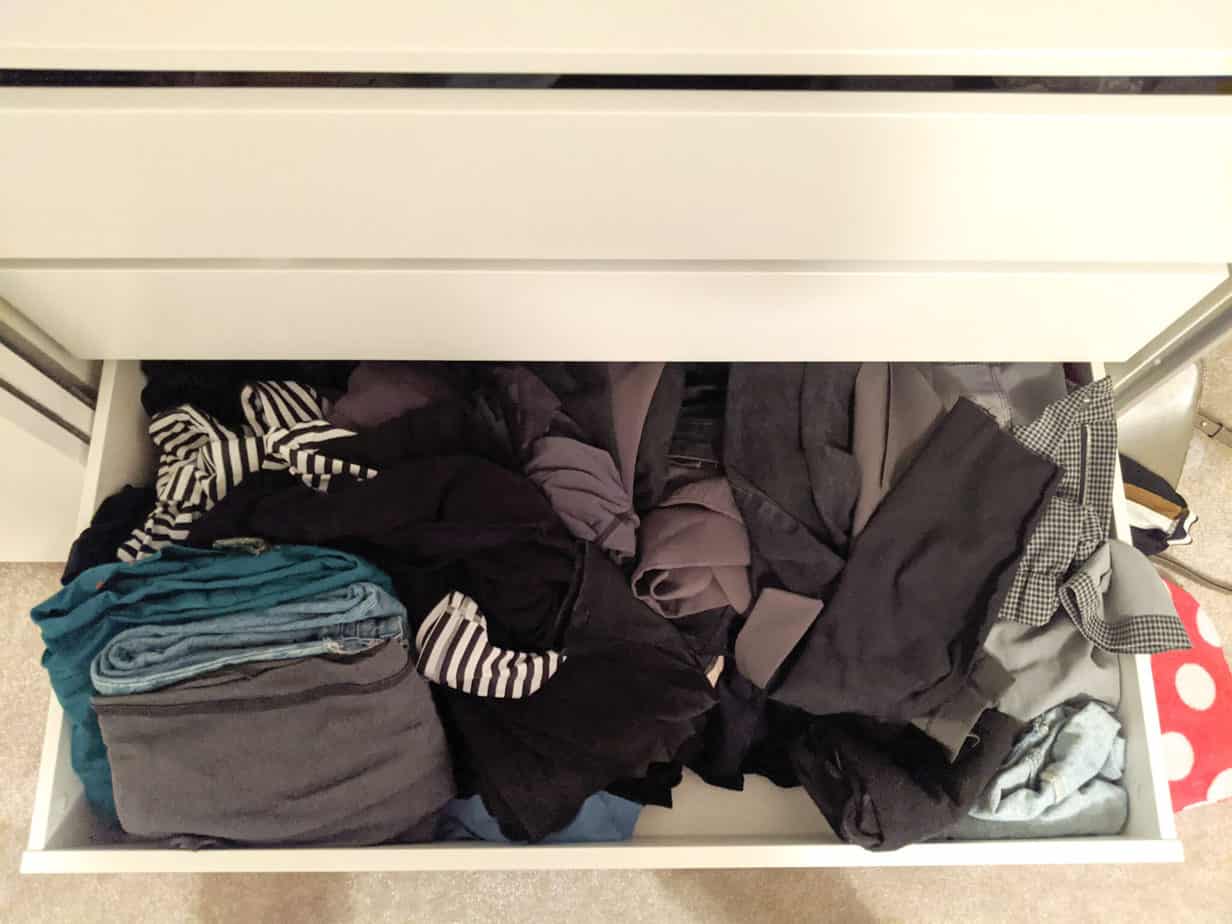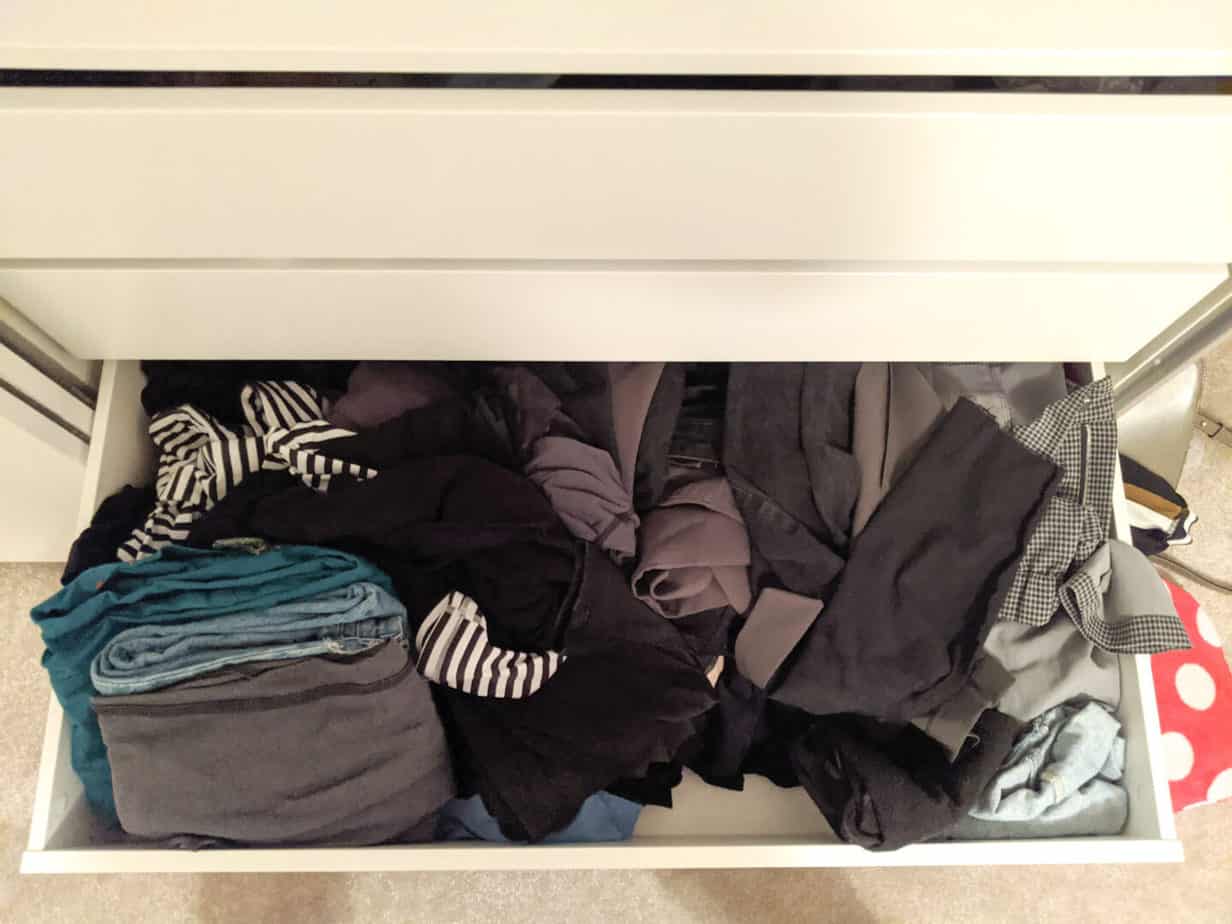 Read how to totally declutter your wardrobe: step by step guide next.
My kitchen cupboards: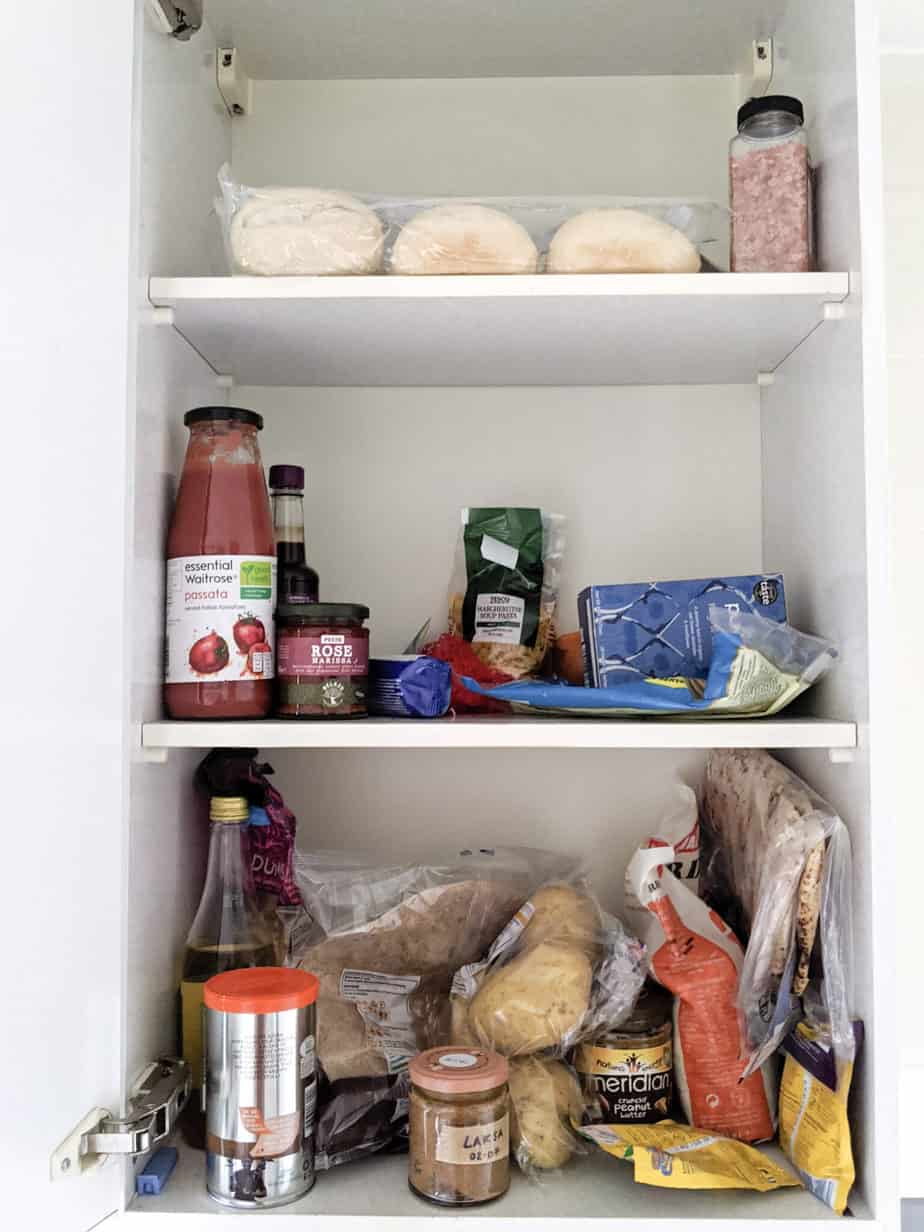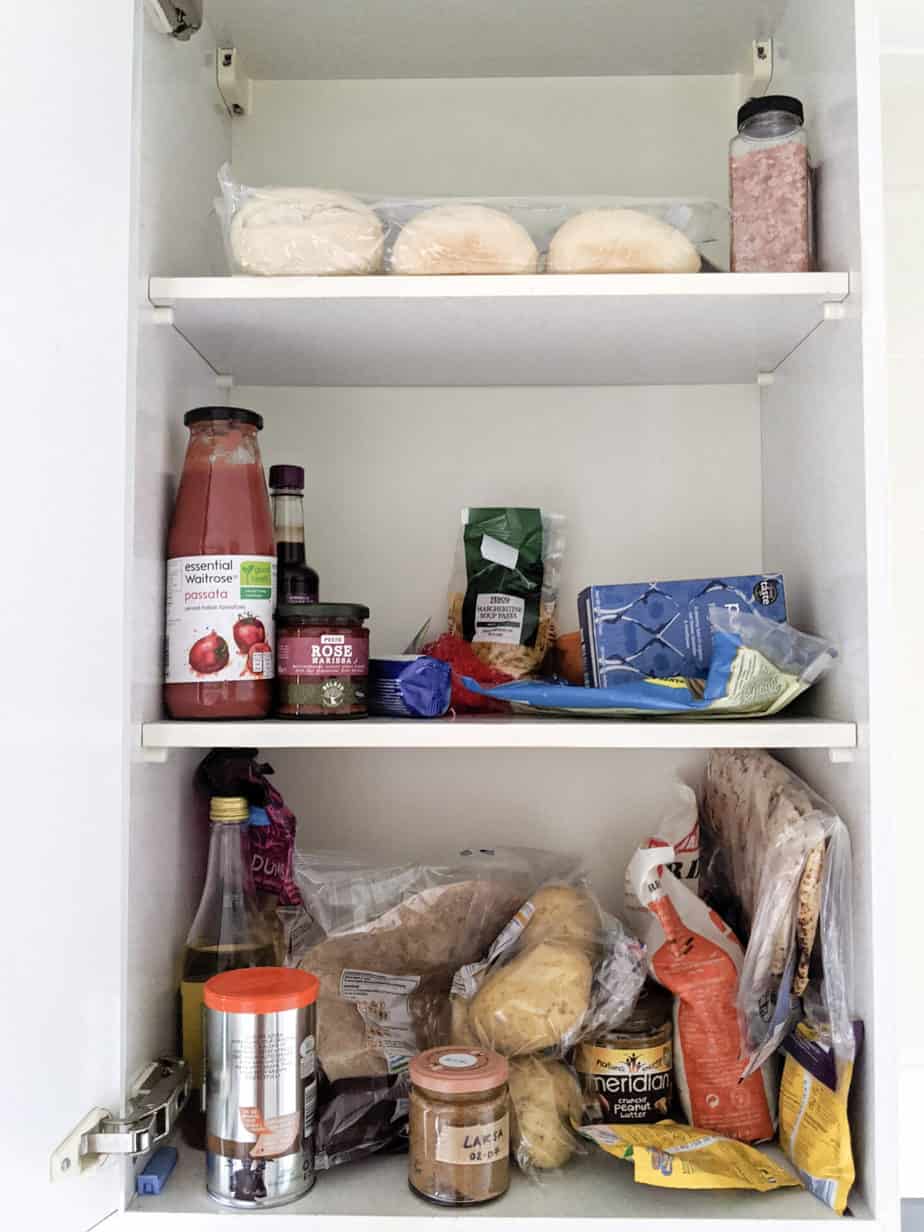 And can honestly be applied to each and every aspect of your home.
Here are the 7-steps to the S.C.A.T.T.E.R. declutter method that you can use to declutter and organize your whole home. Make sure you've grabbed your free cheat-sheet to use every time you need to have a clear out, too.
The 7-Step S.C.A.T.T.E.R. Declutter Method
Step 1: Schedule A Declutter Appointment With Yourself
Whenever I try to commit to having a deep-clean and clear out, I can't help but feel like I could be doing countless more productive things, and end up rushing.
Step one deals with that straight away: treat your declutter session like an appointment you can't miss.
Block out a few hours in your calendar and commit to decluttering ONE area of your home. Believe me, you will be regretting trying to tackle your entire home an hour in! A few popular areas of the home to start could include:
Your wardrobe

Skincare/beauty products

(read how I decluttered my skincare routine from countless to just 5 products)

Kitchen cupboards

Fridge, freezer, and pantry

Bookshelf and living room surfaces

Utility room/ cleaning products

Garage or the attic

Home office/ paperwork
One of the biggest reasons a lot of us end up hoarding clutter in our homes is simply because we don't have the time to really go through everything and give each item its own place.
Give yourself the opportunity to really take your time without feeling like you could or should be doing a million other things.
Step Two: Clear Everything Out
This step is essential if you're really going to find every single item a home (or get rid of it altogether!). Once you've assigned a certain area of your home a declutter appointment, the next step is to clear everything out of wherever you've put it.
Just dump it all over the floor. I know – now things like worse than when you started. However, not only does this give you a real visual idea of how much clutter you've got, but it also means there's no going back and putting this off for another day. So, you might as well do it right!
This is also a good opportunity to have a deep-clean of your cupboards and shelves now they're empty. For clothes, you could consider getting some of these great scented sachets to make your drawers and clothes smell great.
Step Three: Analyze, Assess, and Sort
Now that everything's out, you can start to analyze exactly what you've got. Before tidying and organizing everything away, assess every single item and put them in to keep, recycle/donate, and discard piles.
A few great questions to ask yourself:
Do you use it? 

Do you

like

it? 

Is it old and out of date? 

Is this just taking up space?

Are you likely to use it in the next two months, or even in the next six months? 

Could you gift it to a friend or a local shelter?
You could also use this opportunity to sort 'get rid' clothes into sell and donate piles, and make a little extra cash in the process of decluttering. Take a look at some of the best places to sell your clothes online in 2020.

Step Four: Tough Love
Throughout the above step, you're going to need to practice some tough love. Don't keep onto things you've had for years for sentimental reasons, or 'just in case'.
If it's been sitting in a box for years and will almost certainly just return to that box for the next few years, let it go.
There are exceptions to everything, of course. I'm not telling you that you can't have things that spark special memories.
For these things, I recommend getting a storage box that you can keep as a memory box. This is a good way of assessing what things really are sentimental to you (and therefore worthy of the box) and what you really won't miss if you throw it out.
Once you've got your three piles, go through your keep pile onde more with the 'tough love mindset'. Seek out things you've tried to hang on to but don't really add any value to your life.
It can be hard being ruthless but trust me, you'll don't need that extra weight. As an example, going through my drawers, the tough love step convinced me to donate three extra pairs of leggings that I conceded I really didn't wear or need.

Step Five: Tidy – Give Everything A Home
My favourite part of decluttering! Now you've got your keep pile and you've gone through it with your tough love mindset, you can start putting things away.
Here, storage boxes, baskets, and containers are your friend. A few of my top recommendations to keeping things super tidy and organized include:
Once you've got your organization system in place (maybe you want to tidy things away colour coordinated, by size, category etc), keeping things clutter-free and tidy is much easier.
You just need to think of it as making sure everything gets home safely at the end of each day. Putting in the effort now to get things looking amazing is the hardest step – once it looks great, you'll feel much more motivated to keep things looking that way.
Since I used the S.C.A.T.T.E.R declutter method to organize my entire home, it's been so much easier to keep things looking that way now everything has a home.

Read these insanely clever kitchen organization hacks next!

Step Six: Empty Your Home Immediately
Don't just box up your donate and discard piles and tell yourself you'll deal with them later! 90% of the time, you'll forget about it and end up with exactly the same amount of clutter, just in a different way!
Empty your home immediately. Discard your discard pile straight away, and then place your donation box by your front door, or if you can, head straight out to the recycling centre and get rid of it.
This is a must – whatever you do, don't just stick your donate and throw piles in the attic for another day. You'll be re-starting the entire process a few months down the line and kicking yourself!
Just get it done.
Step 7: Record Your Thoughts And Experiences
One of the most powerful tools I've found for cultivating this minimalist mindset that helps you stay clutter-free is to record your thoughts and experiences after a big clear out.
Get a notebook and just jot down a few thoughts. You could use bullet points, or write out long paragraphs – whatever suits you best. I recommend jotting down:
A brief summary of the things you ended up throwing out or donating

Any thoughts that really stood out. For example,

I have way too many pairs of jeans.

Or,

It surprised me how many tins of food I had stored at the packed of my pantry!

How you feel now you've organized that area of your home
It's not what you write down that's so important, exactly, it's about taking the time to be present about what you've just achieved and reinforcing that positive mindset to create a long-term habit for yourself.
Half of being more minimalist is about living more mindfully, and that extends to the level of clutter you have around the home. Taking a moment to record your thoughts helps you be intentional with this whole process, creating that habit for the future.
So, that's the 7-step S.C.A.T.T.E.R declutter technique. A systematic way of decluttering and tidying your home without the extra hassle and overwhelm.
Try it out, download your free S.C.A.T.T.E.R cheat sheet, and start transforming your home for ultimate organization. Let's do this.
Read next: 25 super simple home organization ideas for total beginners.