We may earn money or products from the companies mentioned in this post, and as an Amazon Associate I earn from qualifying purchases. Please see my full disclosure for more information.
No money, no car, no job – sound familiar? Many of us have been there at one point or another, especially in our early 20s when just starting out in life. If you're reading this, chances are you're feeling a bit stuck right now. But don't worry, we've all been there in some shape or form.
It's the ultimate catch-22: you need a job to get a car, but you need a car to get a job. There are ways to make money without a job – and there are things you can do to get back on your feet.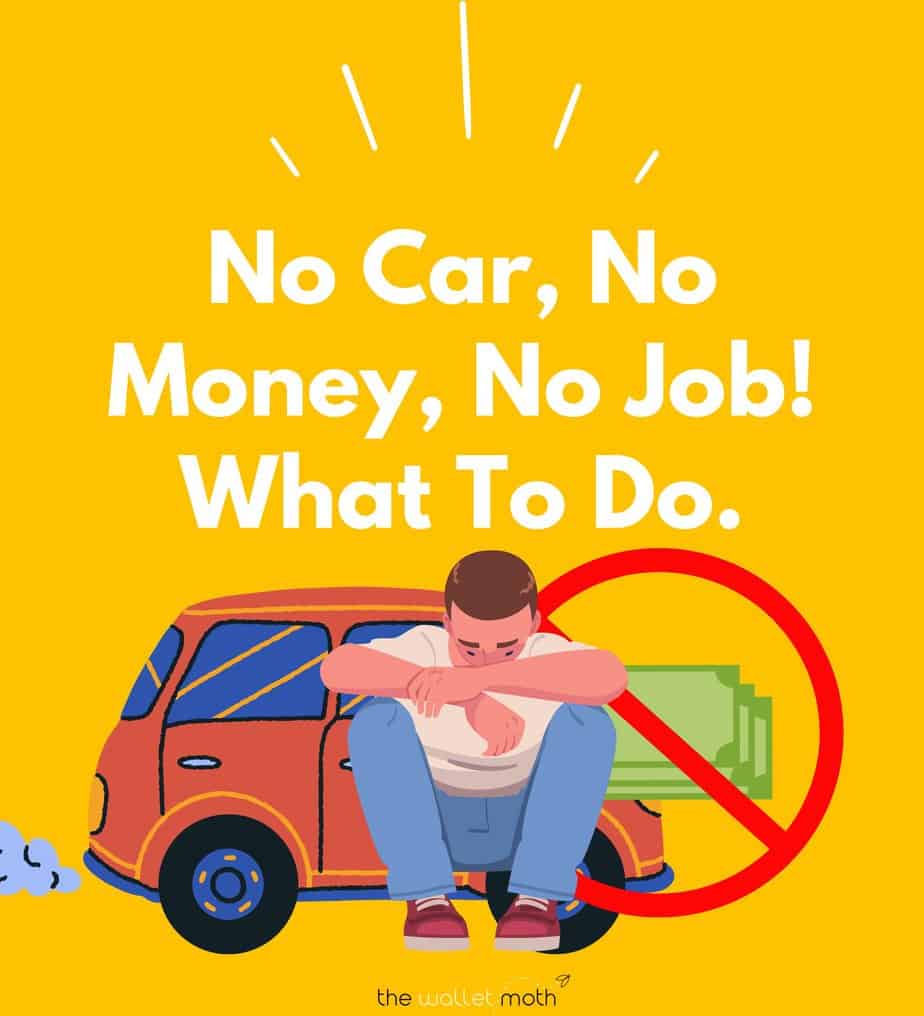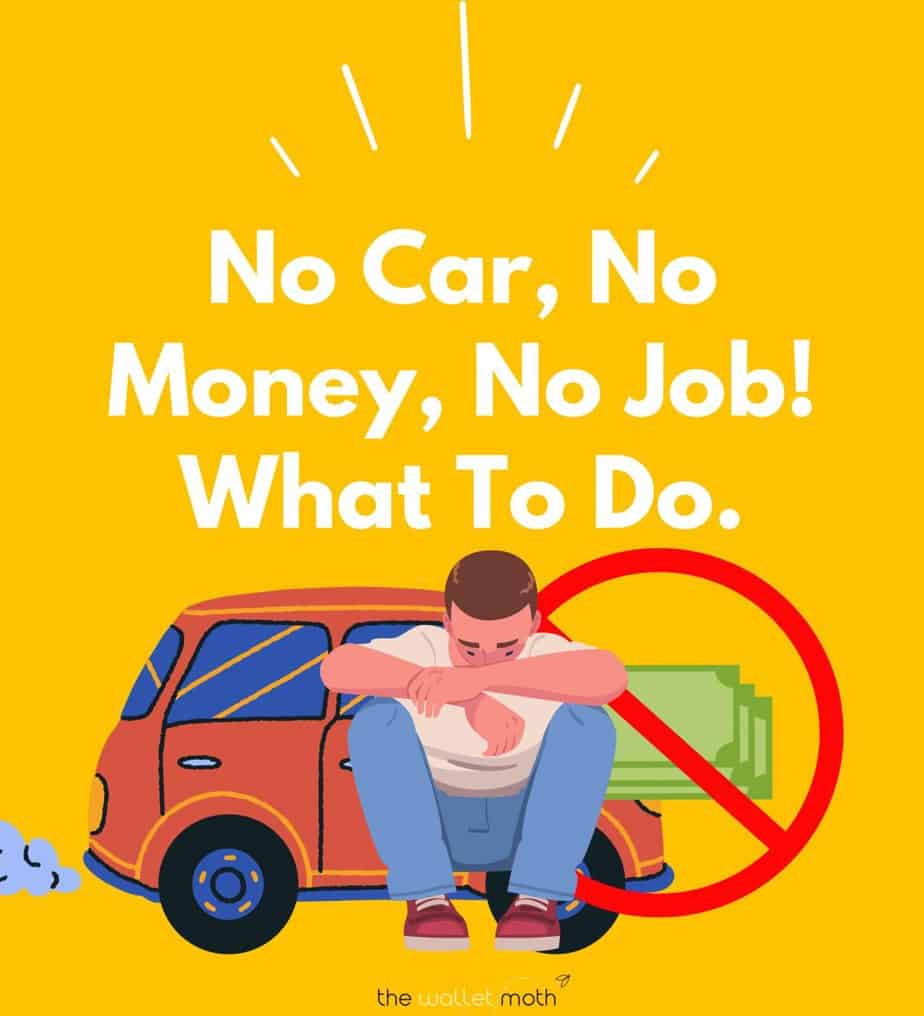 The first thing to remember is this: you're not alone, and there are options available to you. Let's explore a few possibilities that can help you out of this rut.
Jobs You Can Get With Little To Zero Experience
No money, no car, no job: let's first tackle that last element. A job. With a job, you'll start earning money, and can then start to save for a car.
Of course, it can be difficult to get to your job without a car. If you have a good public transport system where you're based, this is your best bet for now. Otherwise, you may need to consider a remote job that you can do from home. Jump down to the section on online side hustles.
When you're starting from scratch, it's about taking that first step. Jobs that require little to no experience are perfect in this situation.
Here are a few suggestions:
Retail: Stores are often looking for help, especially around busy seasons. The great part about retail jobs is that they often offer flexible schedules, perfect if you need to balance multiple commitments.

Restaurant Industry: Working as a server or a dishwasher can be a starting point. Plus, tips can make a significant difference in your take-home pay.

Cleaning Services: Many cleaning companies hire people with no prior experience.

Call Centers: These jobs usually offer training on the job and can sometimes even be done remotely.

Delivery Driver: With a rise in services like Uber Eats, Grubhub, and DoorDash, this could be a feasible option if you can find a way to get a vehicle.
Improving Your Likelihood of Getting Hired
Even with zero experience, there are some things you can do to improve your chances of getting a job. These include:
Leverage Your Transferable Skills: Even if you lack specific job experience, you may have transferable skills from other areas of your life. These might include leadership, communication, or problem-solving abilities. Make sure to highlight these in your resume and during interviews.
Volunteering and Internships: These can be great ways to gain real-world experience and learn new skills. They can also lead to networking opportunities that may open the door to paid positions.
Networking: Reach out to people in your desired industry. Attend networking events, join online groups or forums, and don't be shy about telling people you're looking for a job. You never know who might be able to help.
Tailor Your Resume and Cover Letter: Even with limited experience, a well-written, targeted resume and cover letter can catch an employer's attention. Be sure to highlight your relevant skills and abilities and express why you're interested in the job and the company.
Side Hustles That Could Generate Additional Income Quickly
Side hustles can be a great way to make some quick cash, especially if you're trying to save up for a car or get through a jobless period. What's more,, many of them can be done from home – instantly fixing the 'no car' part of your problem.
Is it feasible to make money online? Absolutely. There are online side hustles for everyone and anyone – whether you have readily transferrable skills or absolutely zero experience. Let's take a look at some popular ones.
We've got a whole list of ways to make money online – but here are some of the most obvious side hustle ideas for beginners:
Freelancing: Websites like Upwork and Fiverr offer a platform where you can offer your skills, like findings writing jobs, graphic design, social media management, or virtual assistance.

Pet Sitting/Dog Walking: If you enjoy animals, this could be a fun and rewarding way to make some money. Rover is an extremely popular dog-walking and pet sitting platform that's a great place to start.

Selling Items Online: From selling second-hand clothes you no longer wear to handmade crafts, selling items online through websites like eBay or a small business on Etsy can provide an additional income source.

Tutoring: If you have expertise in a particular subject, you could offer tutoring services. A few good options include Skoolie, TutorMe, and Tutor.com.

Task Services: Websites like TaskRabbit allow you to earn money by helping others with tasks like moving, cleaning, or assembling furniture.
How To Get A Car Cheaply
Getting a car, even when you're short on funds, may be more achievable than you think.
10 Cheapest Car Makes & Models On The Market
If you're looking for affordability, consider these cheap car options:
Chevrolet Spark
Mitsubishi Mirage
Nissan Versa
Hyundai Accent
Kia Rio
Honda Fit
Toyota Yaris
Ford Fiesta
Fiat 500
Smart Fortwo

This article from Cars.com lists out the current cheapest cars you can currently buy. This is a good option if you're in desperate need of a car as soon as possible. Have a look at this helpful guide on buying a car for cheap.
Keep in mind that buying used can significantly reduce the cost of these vehicles. Be sure to consider the total cost of ownership, including insurance, maintenance, and fuel costs.
Support That's Available To You
Lastly, it's essential to know that there are resources available to help you out of tough situations. Look into local charities that offer help with food and basic necessities. Hostels and shelters may be able to provide temporary housing.
Additionally, check for local and government programs that offer employment assistance or job training. Non-profit organizations may also offer programs to assist with transportation for individuals who are job hunting.
Remember, it's okay to ask for help when you need it.
So, here's the bottom line: being without a job, a car, and funds can feel overwhelming, but it's a situation that can be improved.
It might take time and effort, but remember, every step you take brings you closer to your goal.
Keep going, stay positive, and don't be afraid to ask for help when you need it.