We may earn money or products from the companies mentioned in this post, and as an Amazon Associate I earn from qualifying purchases. Please see my full disclosure for more information.
In this guide, we'll cover how to throw your dream baby shower on a budget. Over 25 cheap ideas for planning big or small, choosing an affordable venue, budget-friendly party food, and more.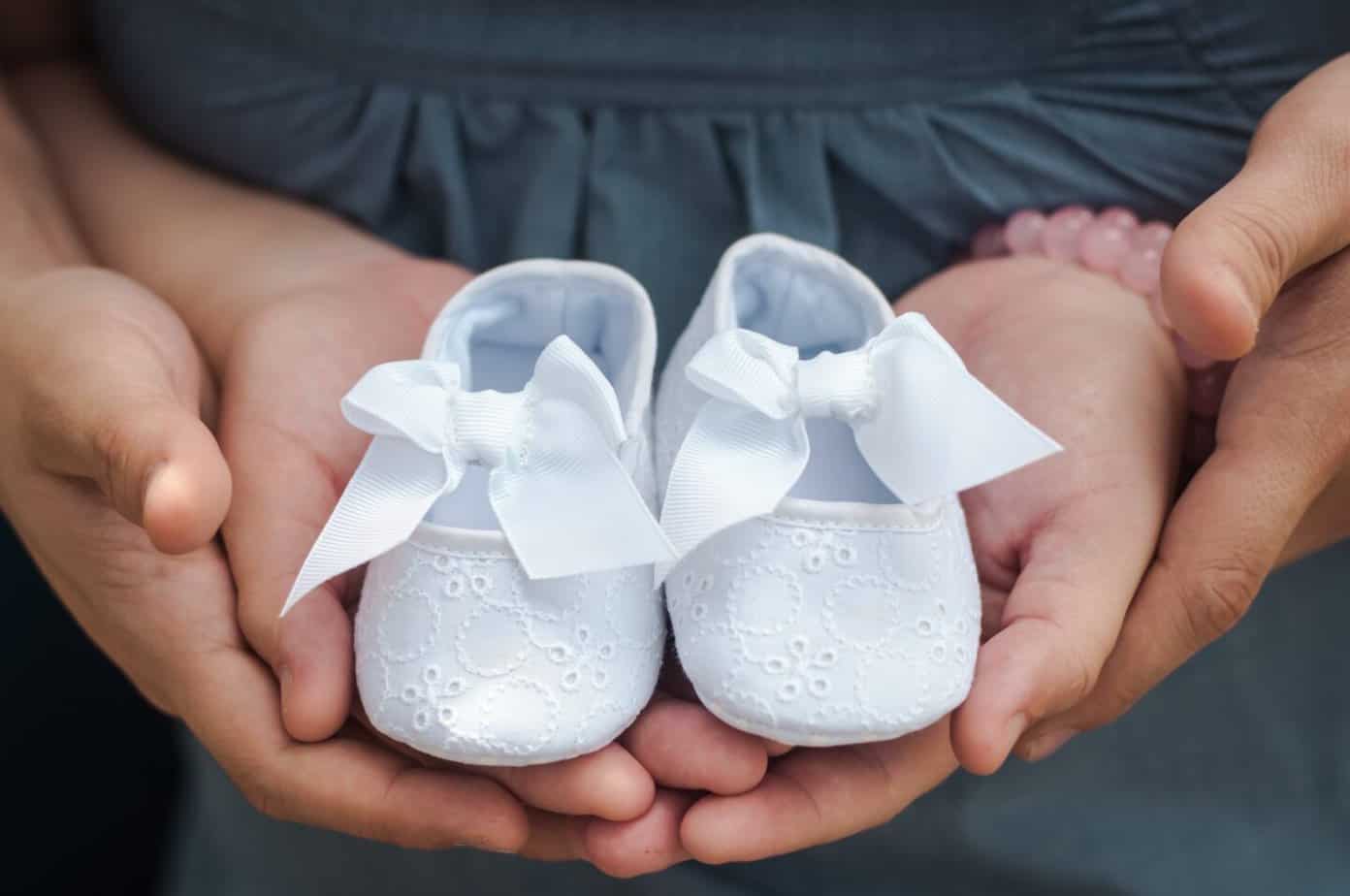 How Much Does a Baby Shower Cost?
How much your baby shower costs depends on a wide range of factors, from your venue to decor and refreshments. Generally speaking, if you are throwing a baby shower on a budget you should expect to pay at least $100 if you are including food, drinks, and getting decorations for the party. If you are throwing a virtual baby shower online, you could throw your baby shower for as little as $20!
If you rent a big venue, have a large guest list, offer a full meal, drinks etc and go big with your decorations and party favors, a baby shower budget could go up into the thousands.
How to have a baby shower on a budget
1. Throw Your Shower From Home
By avoiding costly venues and opting for simple decorations and food, you can still throw a beautiful baby shower without breaking the bank. If you have the space, this could be one of the best ways to have your baby shower on a budget.
What's more, having the shower at home will give you more control over the guest list, so you can avoid inviting people who you don't really want to be there.
2. Do a hybrid shower
A hybrid baby shower is essentially throwing your shower in-person and online, so that people who live far away from you can still attend and share your day with you.
The benefit of this, of course, is that you then have to host less people in person – which means fewer people to cater for, provide drinks and refreshments, decor etc.
3. Host an outdoor baby shower
One for summer baby showers! While baby showers traditionally take place indoors, there are so many benefits to having a budget baby shower outdoors!
For one, you'll save money on decorations and venue rental fees. An added bonus, of course, is that you can take advantage of the beautiful weather (hopefully!) and have the baby shower at a local park. Just be sure to pack some bug spray and sunscreen for your guests!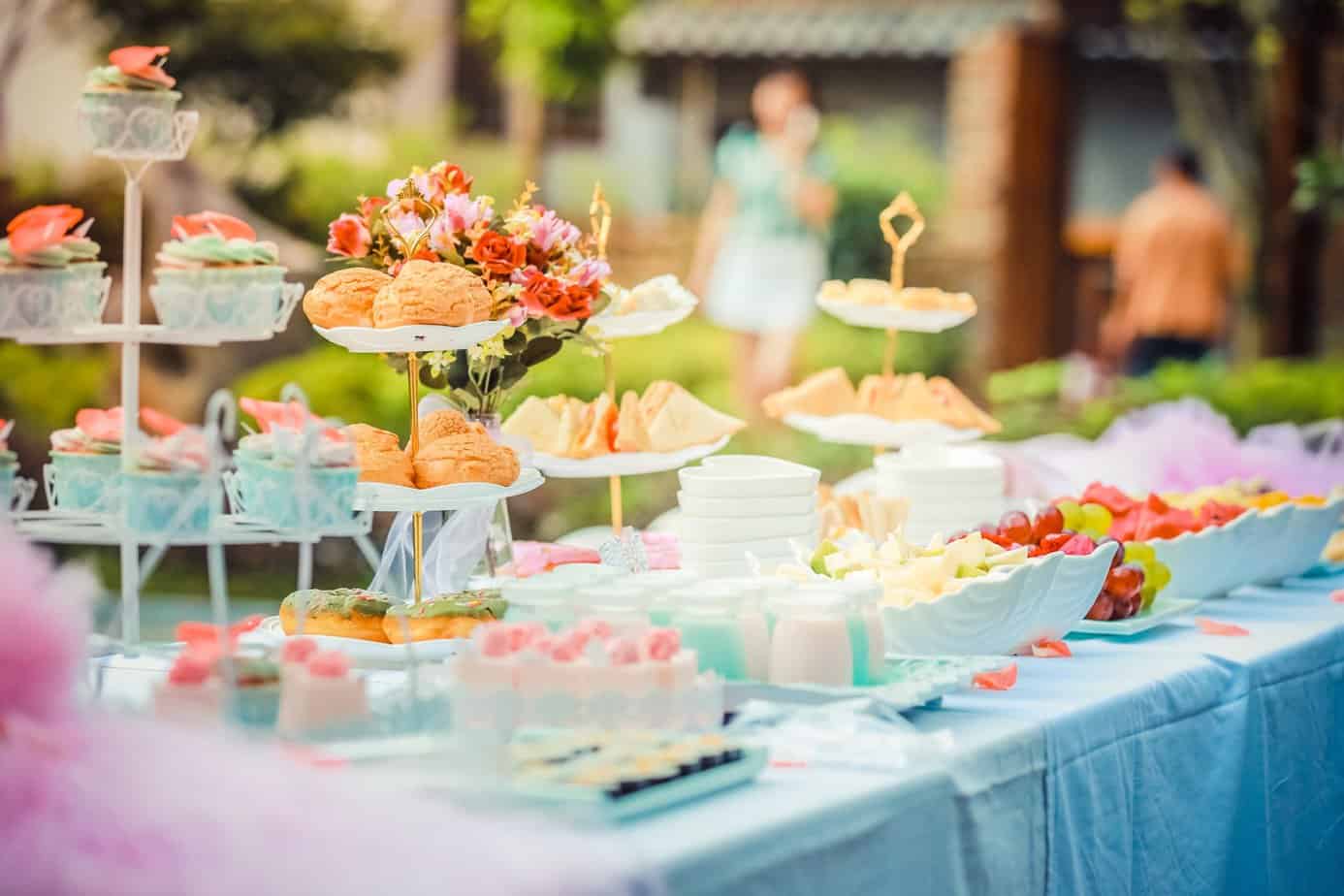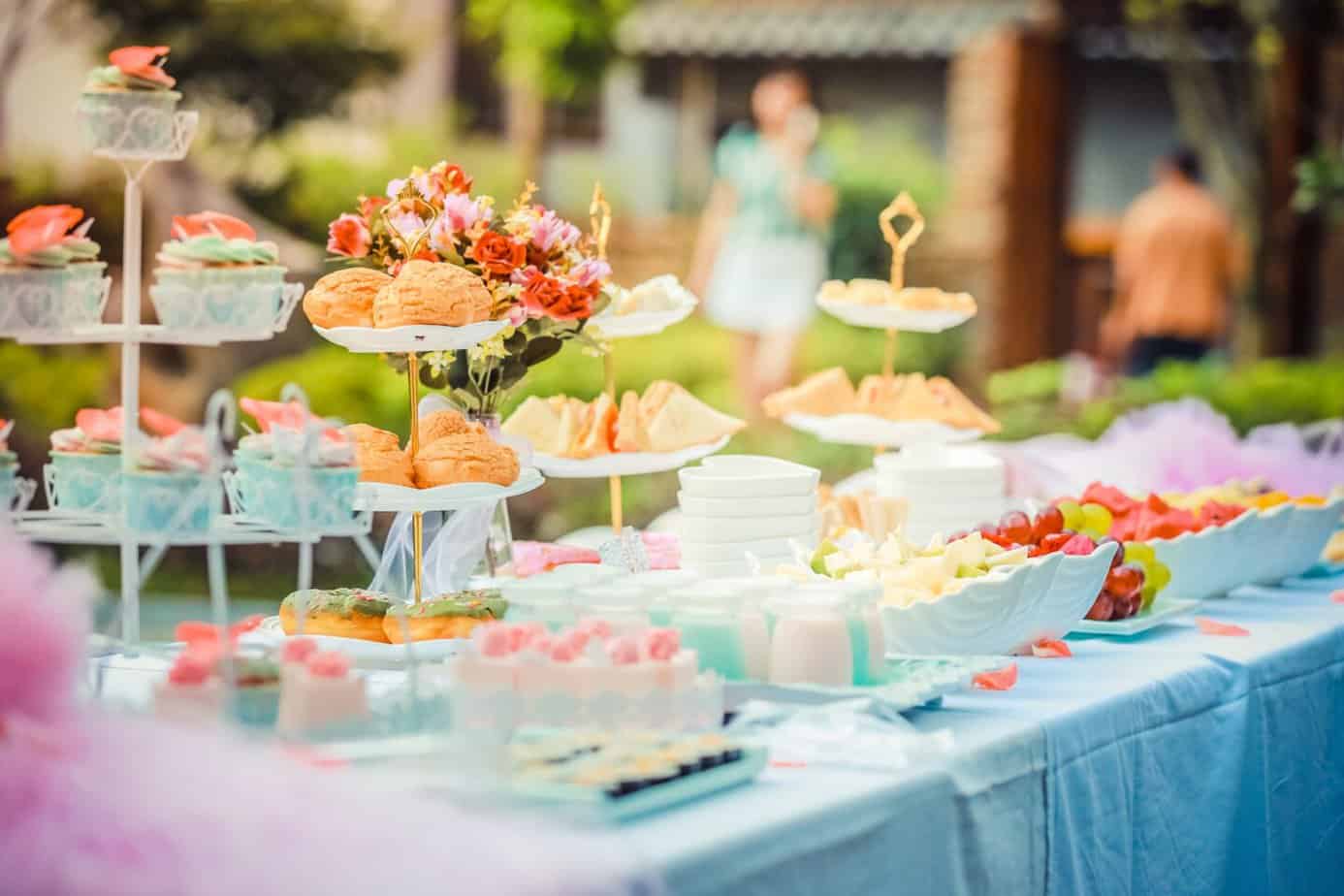 4. Host a smaller, intimate party
Baby showers can be quite overwhelming, especially if they are large affairs with lots of people. That's why more and more parents are choosing to have small, intimate baby showers with just a few close friends.
This can be a much more relaxing and enjoyable experience for everyone involved. Plus, it's often easier to get everyone together for a small baby shower than a large one. This is often just as memorable (or perhaps more so) for you, and cuts down on costs a lot.
5. Don't be afraid to ask for help
If you are offered help when planning your baby shower on a budget, accept it! Becoming a new parent is one time when you should definitely be saying 'yes' to offers of help more than ever – you need your village around you!
Don't feel embarrassed to ask someone to be in charge of supplying some decorations, food, drink etc – most people will be more than happy to contribute, and those that aren't wouldn't have offered in the first place!
6 . Ignore Instagram show-offs
In addition to the cost of hosting the event, there is also the pressure to make sure everything is perfect. This can often lead to parents-to-be going overboard in their efforts to throw an elaborate baby shower – especially when the hashtag 'baby shower' is literally crammed with the most extravagant celebrations you can imagine.
While there is nothing wrong with wanting to give your child a memorable celebration, it is important to avoid going overboard if you're on a tight budget.
Keep in mind that the baby shower is just one part of the larger journey of parenthood. At the end of the day, what matters most is that your child is loved and has everything they need to thrive. There is no need to put yourself under undue stress in order to throw an over-the-top baby shower. So take a deep breath, relax, and enjoy this special time with your friends and family.
7. Choose Digital Invites
Save money on printing invites by making a beautiful e-invite and messaging it to your friends. It will also save you the hassle of posting all your invites and chasing people for an RSVP when you could simply text them!
8. Make Your Own Decorations
With a little creativity, you can easily create lovely DIY decorations that will add to the festivities without breaking the bank.
For example, you can make banners out of construction paper or fabric, decorate picture frames with baby-themed stickers, or fill vases with baby items such as socks, booties, and rattles.
You can also find inexpensive baby shower favors at retailers such as Target or Walmart. By being creative and taking advantage of sales and discounts, you can easily save money on baby shower decorations.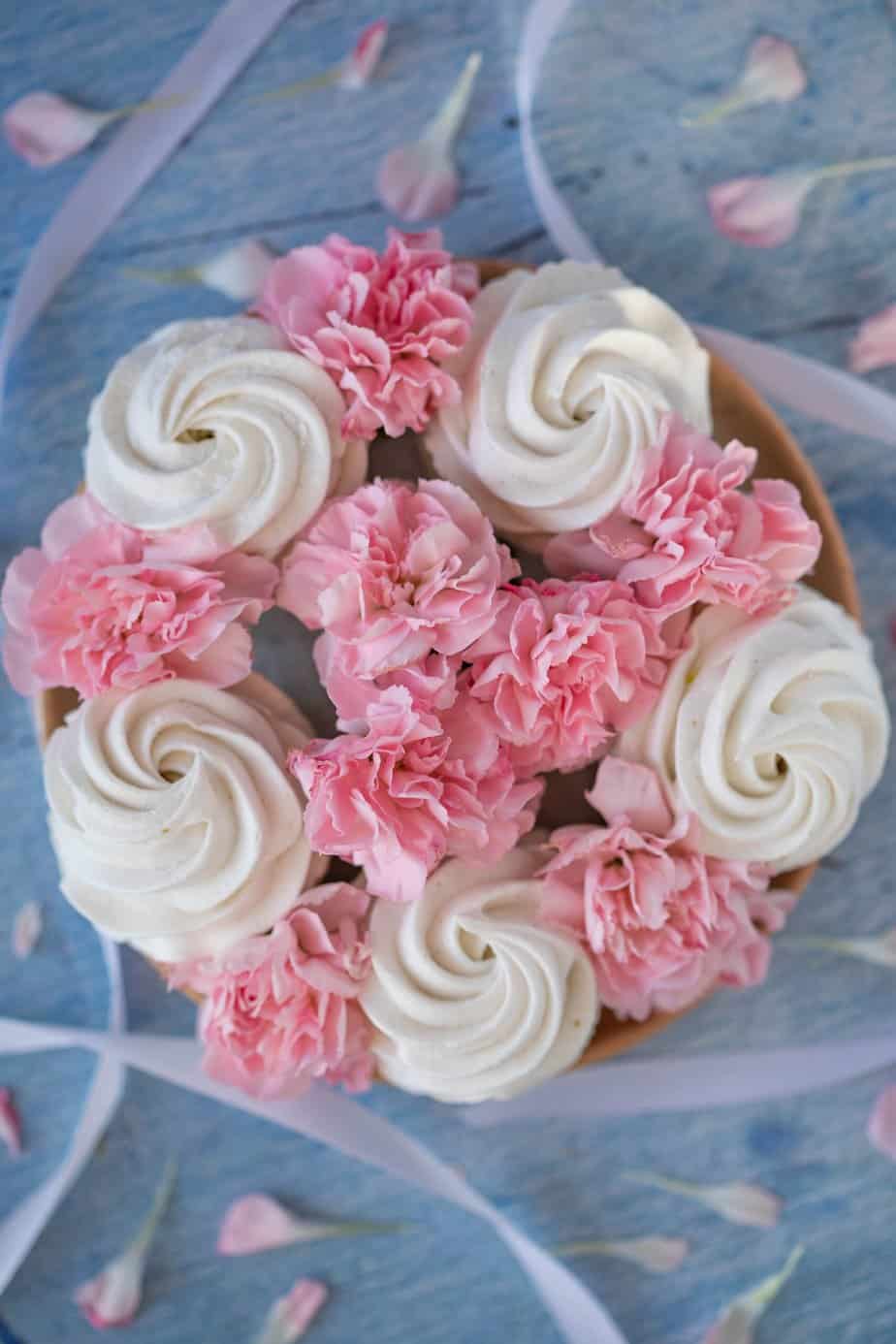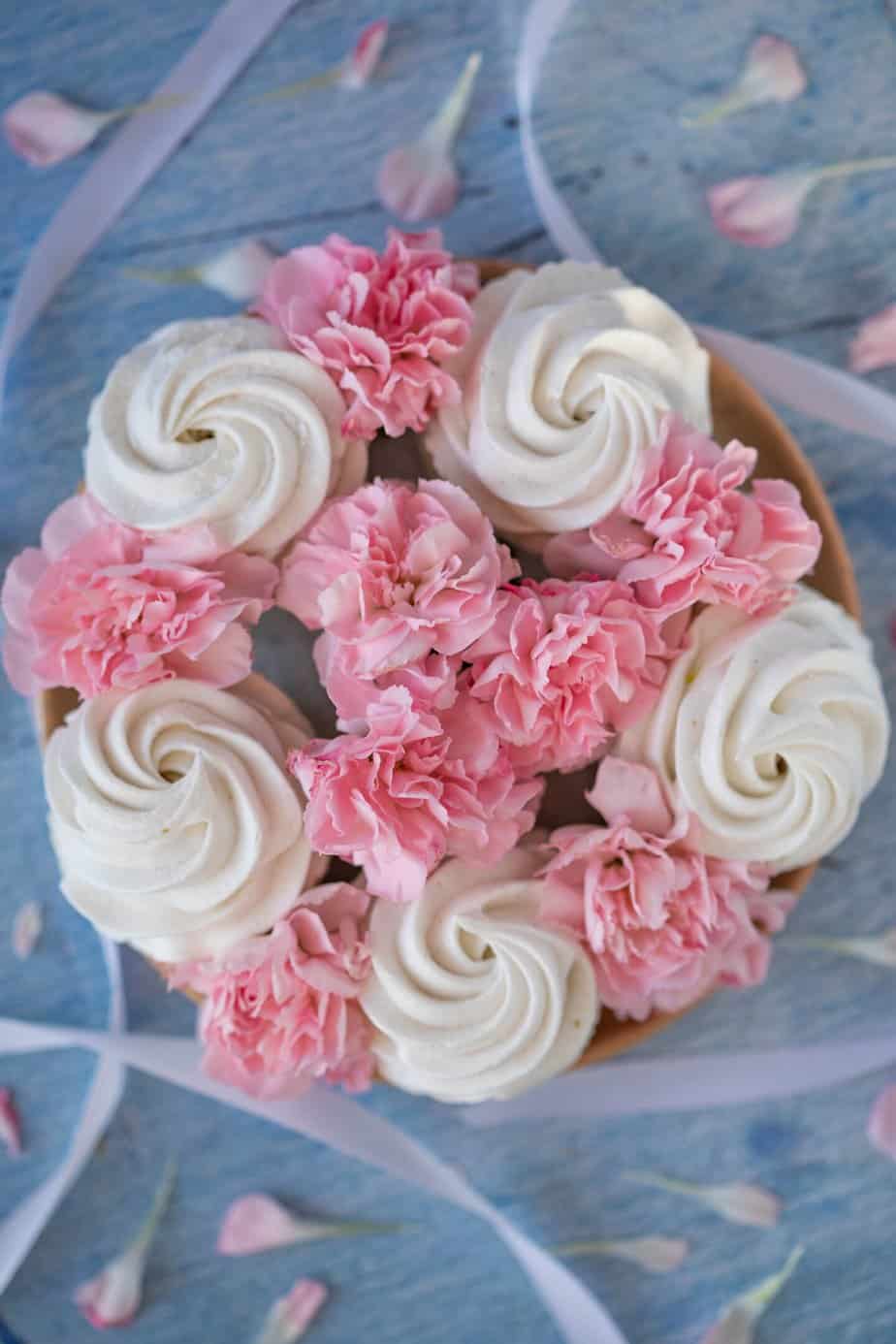 9. Pass on the Favors
Although it's always nice to send your guests off with a little thank you for attending your baby shower, if you're on a budget then it's definitely not a necessity!
Customized baby shower favors can cost a lot when you're trying to save money, so instead why not bulk-buy a box of nice cookies you could hand out instead? Remember, you've already provided the venue, food and drink, and that's plenty!
10. Make savvy food choices
It's so easy to end up spending a fortune on party food when you're hosting. Be clear about your budget when deciding what refreshments you'll serve, and make sure you stick to it.
We've added some budget party food ideas below for some inspiration.
Recommended post: 45 Frugal Living Tips To Try in 2022
Baby shower food ideas on a budget
Feeding a gathering of people can easily get very expensive, so it's a good idea to take some time to plan out exactly what you'll be serving up. The balance, of course, is having a great spread of food that keeps your guests happy, but also sticking to your budget.
Ideas that are right on the money for a budget baby shower include:
1. Potluck
Ask your guests to all bring a dish! If you're having a more intimate baby shower, this is a great idea. You could assign each guest a type of dish to bring (sweet or savory, snack or main, appetizer or drinks) and all enjoy an array of foods without anyone paying out more than they can afford.
2. Pizza
Pizza – it's cheap, it's easy, and it always goes down well! Just make sure you've got enough in for all your guests to have a couple of slices, and pick a variety of toppings to suit meat eaters and veggies alike.
3. Finger sandwiches
You can buy trays of ready-made finger sandwiches from stores for fairly reasonable prices. This is the most hassle-free budget baby shower food idea – although you could make your own finger sandwiches for less money but more time!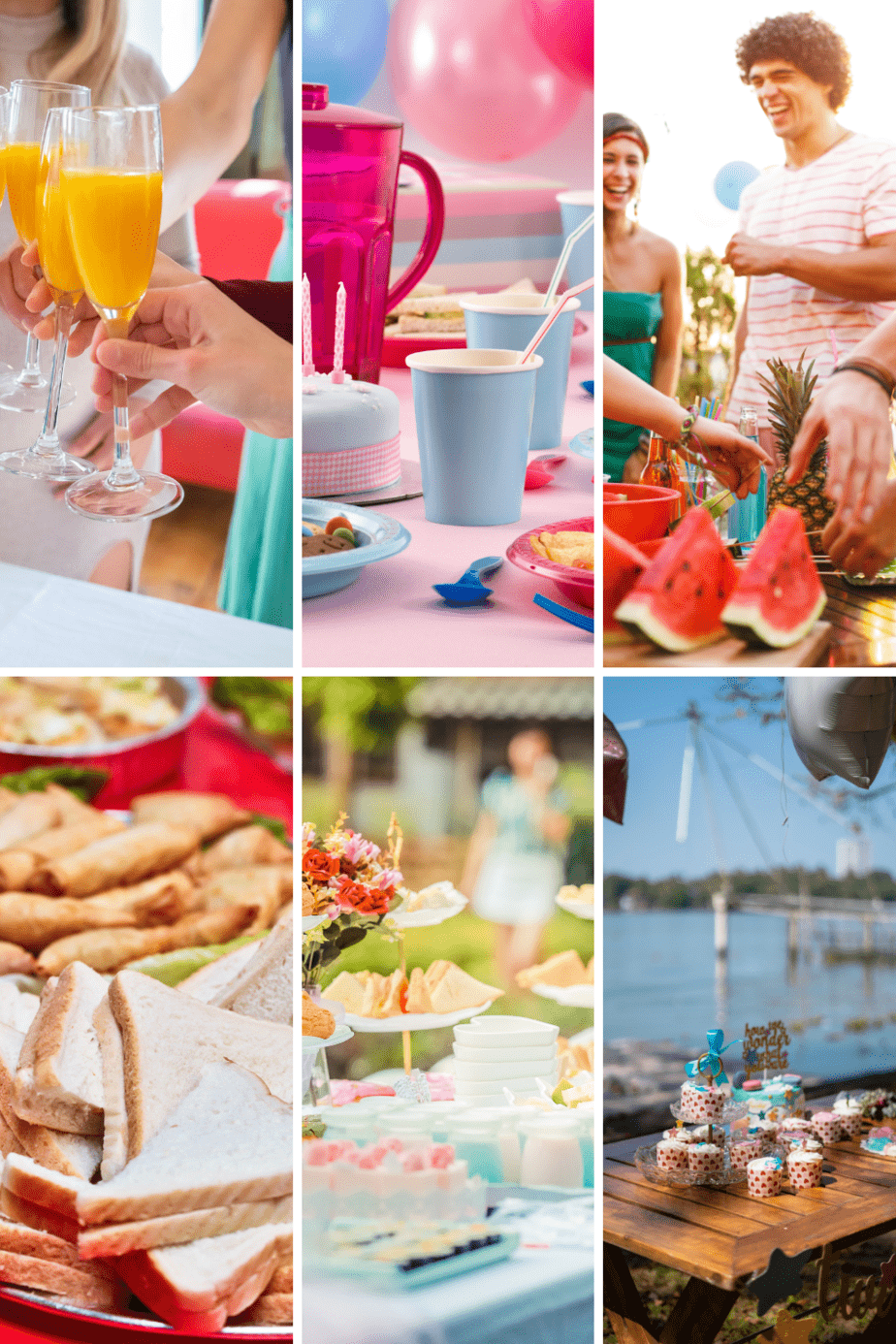 4. Fruit/veggie trays
If you're more interested in serving your guests things to snack on rather than a full meal, a few platters of fruits and veggies can go down really well and suit a budget perfectly. Spice things up by adding dips such as hummus, tzatziki, and even a chocolate sauce for the fruit.
5. Homemade cakes
A batch of cupcakes can be whipped up in 30 minutes (decorating will take a little longer) and make an extremely thoughtful, budget-friendly snack for guests.
6. More ideas…
This list of cheap party food ideas has plenty of great inspiration to help you find the perfect food for your baby shower without spending more than you can afford!
Recommended post: Best Sites To Sell Second-Hand Baby Items Online
Where to have a budget shower near me: Places to have a baby shower
Your options are:
Home
Outside (in a park, for example)
Look for local halls, church halls, community halls etc available for rent for a few hours. Most are around £20 per hour
Ask a friendly/family member to host
Baby shower themes
There are many different ways to approach a baby shower theme, and the options can initially seem overwhelming.
However, by narrowing down your focus and considering the style of the event, you can easily choose a theme that everyone will love without breaking the bank.
1. Classic baby shower
Ask guests to bring a newborn item such as a onesie, booties, or even a pack of nappies! Remember, this party is about you and your baby, so if you can't decide on a theme, just don't have one!

2. Safari-themed baby shower
Decorate your venue of choice with animal print balloons and streamers, serve up jungle fruit punch, and put out lion-shaped cookies for a fun, animal-themed baby shower.
This is a great budget-friendly option that will go down a treat with any kids in attendance, and can easily be achieved with some green decorations and a few animal prints.
3. Under-the-sea-themed baby shower
Fill an aquarium (or even a paddling pool for outdoor baby showers!) with plastic fish and coral, hang blue and green streamers from the ceiling, and set up a buffet of seafood dishes.
4. Garden party-themed baby shower
Decorate your garden with ivy garlands and colorful flowers, set up a small sandbox in one corner of the room, and serve up cucumber sandwiches and strawberry lemonade.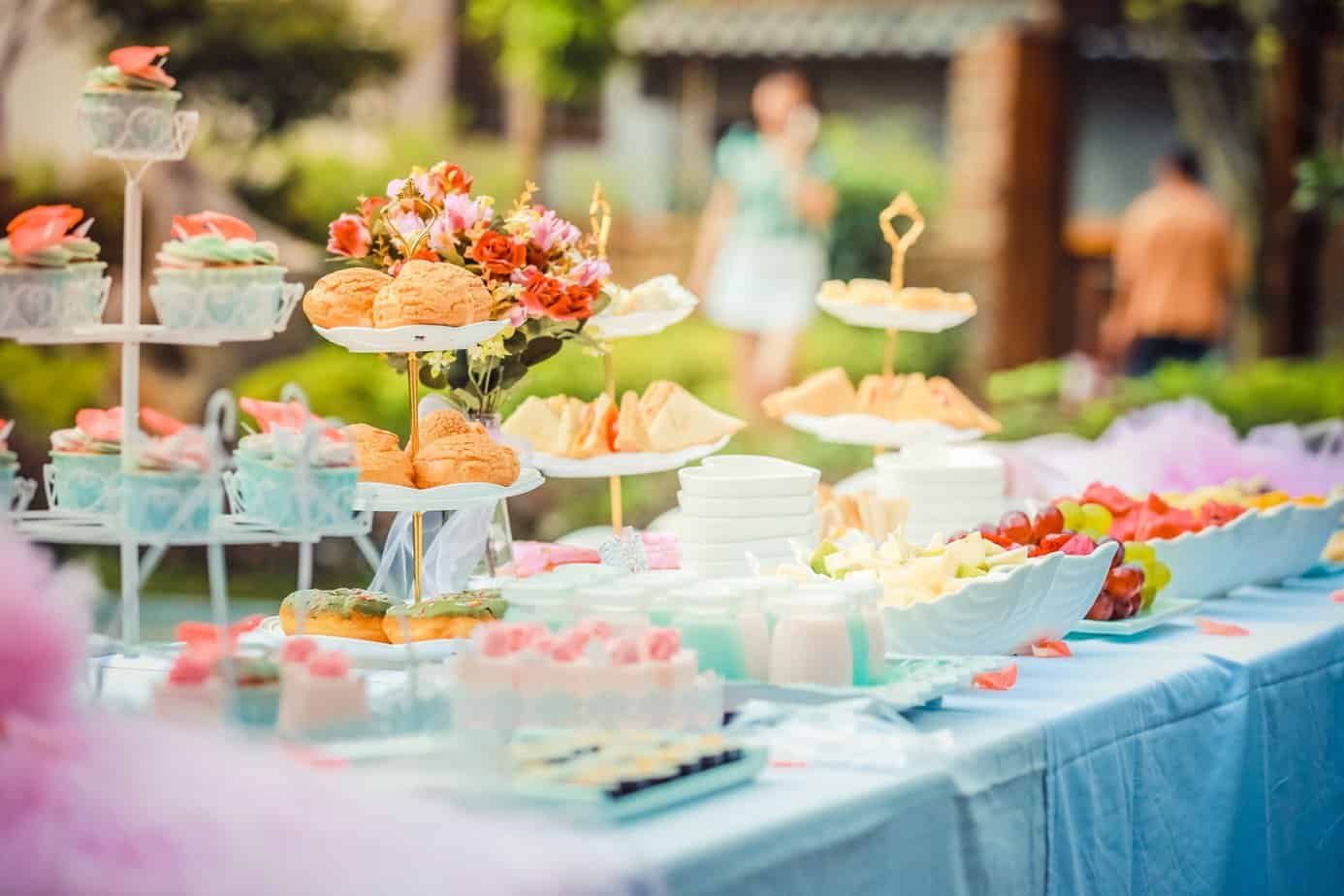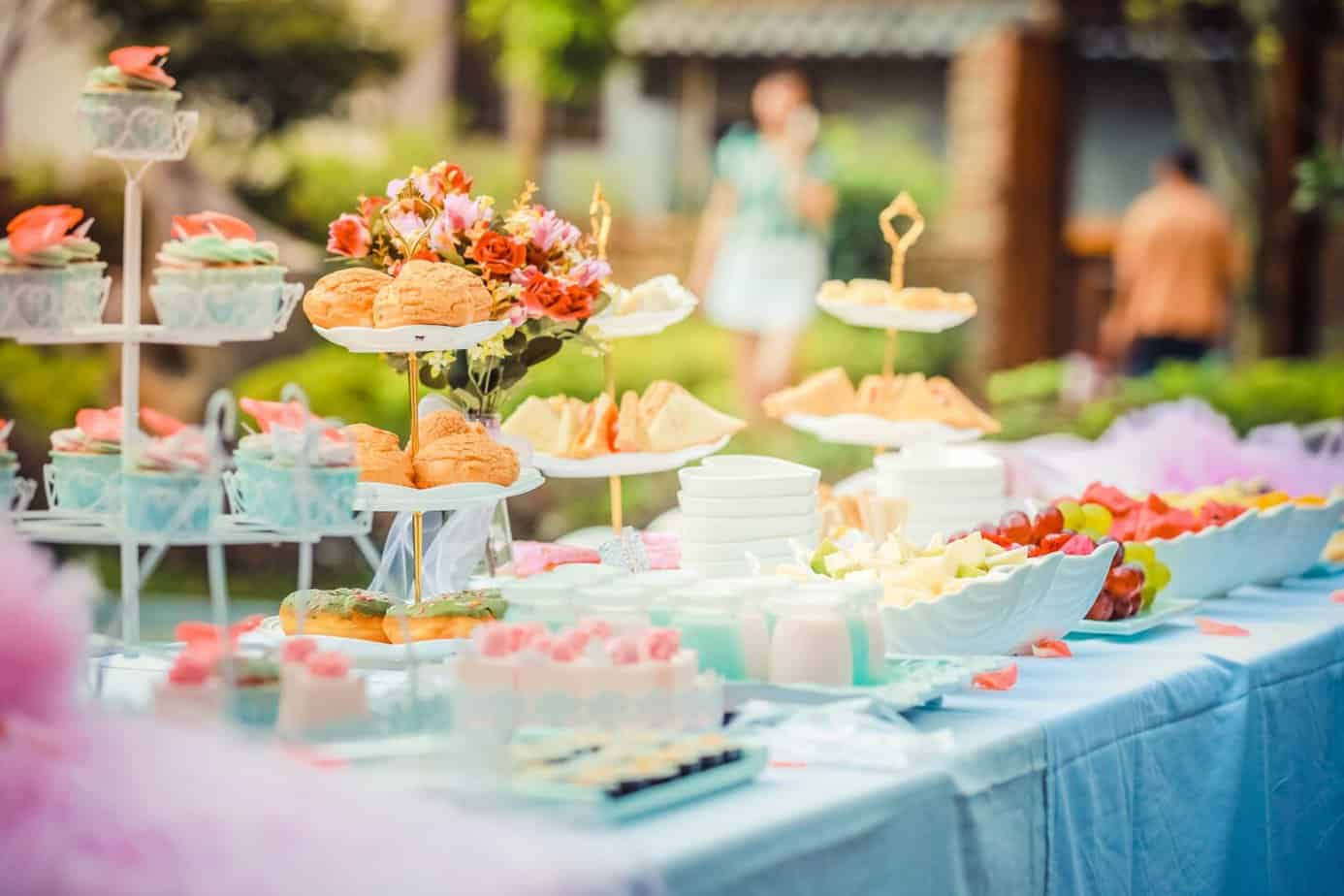 5. Princess-themed baby shower
Have guests dress up in fancy gowns and tiaras, serve tea and scones in the afternoon, and put out a tower of cupcakes for dessert. This one is a bit more out there, but could be a fun way of celebrating the impending arrival of your baby girl on a budget.
6. Balloon garland
Even a beautiful balloon garland can serve as a theme in itself. You can order the arch and balloons yourself from Etsy for a more affordable option – although you do have to assemble the balloons yourself.
Pink for a girl, blue for a boy, or a beautiful neutral option if you're keeping the gender as a surprise!
Even if you don't want to go all out, there are ways of including a subtle theme in your decor. For example, if you're planning a rustic baby shower, consider incorporating natural elements like wood and stone into your decor. No matter what your vision is, there are plenty of baby shower theme ideas to inspire you!
Recommended post: 16 Top Tips For Budgeting When You're Pregnant
Baby shower decorations on a budget
Need budget-friendly decor ideas for your baby shower? Take a look at these ideas for some inspiration:
1. Balloon garland
String together balloons of different colors in a pretty pattern, or stick them to an arch structure for a real standout piece.
2. Pom-poms
These can be made out of tissue paper or crepe paper, and hung from the ceiling or around doorways.
3. Streamers
Drape streamers in rainbow colors from the ceiling or around doorways.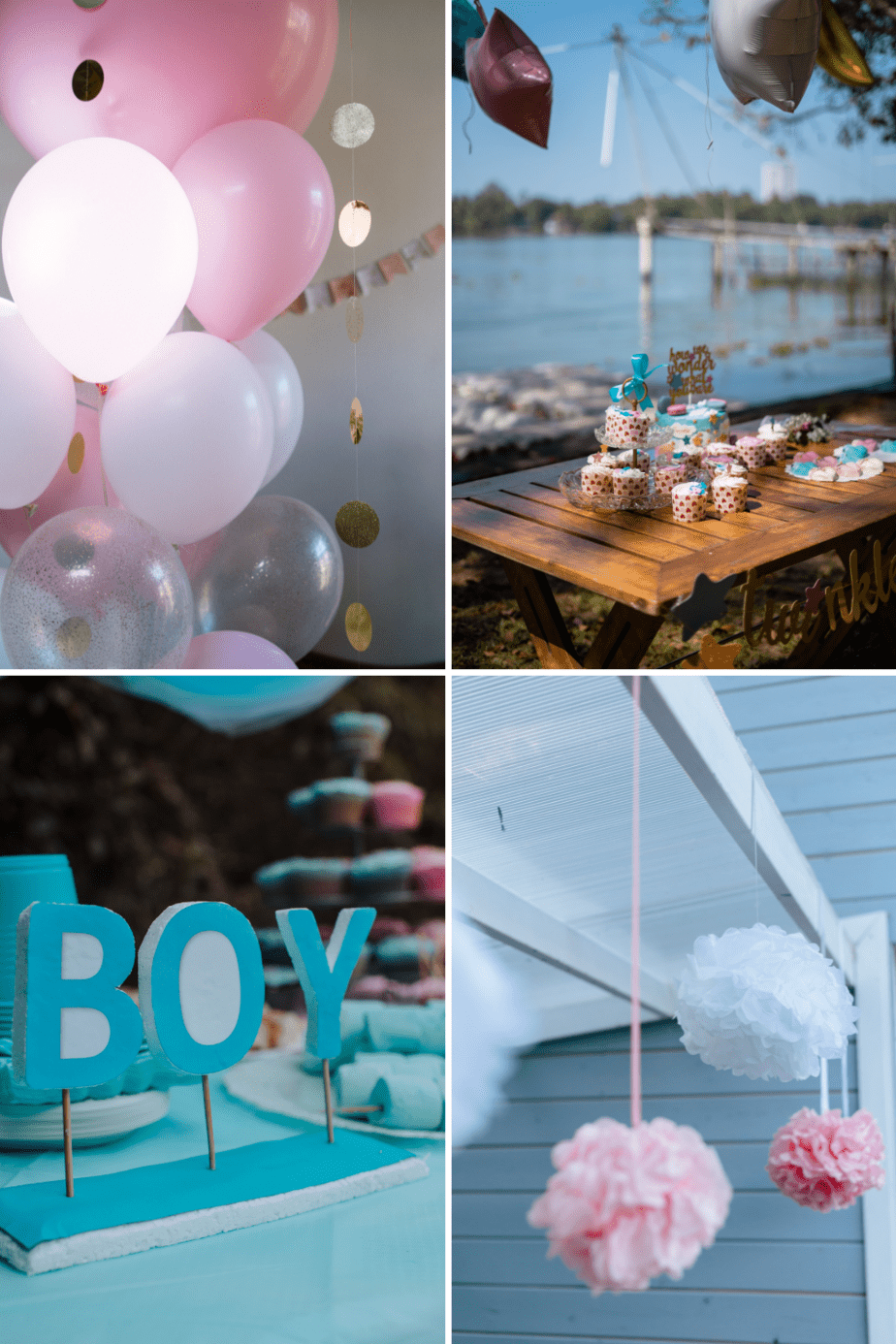 4. Balloons with tassels
Simple, but effective. Add a tassel to the end of each balloon for a fun touch.
5. Flowers
Fresh flowers or artificial flowers can be used to decorate tables, gift baskets, and other areas
6. Ribbons
Tie ribbons in bows around pillars, chairs, and other areas – this is super budget-friendly but can make a huge difference to your venue!
Recommended post: 20 Christmas Traditions To Try With Your Family This Year
Conclusion: How to throw a baby shower on a budget
A baby shower is a wonderful way to celebrate the arrival of a new baby. However, it can also be a costly event. If you're looking to throw a baby shower on a budget, there are a few things you can do to save money.
One of the best ways to save money is, of course, to consider holding the event at your home instead of renting a venue. This will allow you to avoid rental fees and other associated costs.
Secondly, take advantage of free or low-cost decorations by making your own banners and centerpieces.
Finally, don't be afraid to ask for help from friends and family members. This can be a great way to get everyone involved in the celebration while also keeping costs down. By following these tips, you'll be able to throw a beautiful baby shower without breaking the bank! Have a great time!