We may earn money or products from the companies mentioned in this post, and as an Amazon Associate I earn from qualifying purchases. Please see my full disclosure for more information.
In this guide, we'll be covering some of the top easy Upwork jobs for beginners, giving you the best chance of getting hired and improving your profile with quality reviews as a newcomer to the freelance world.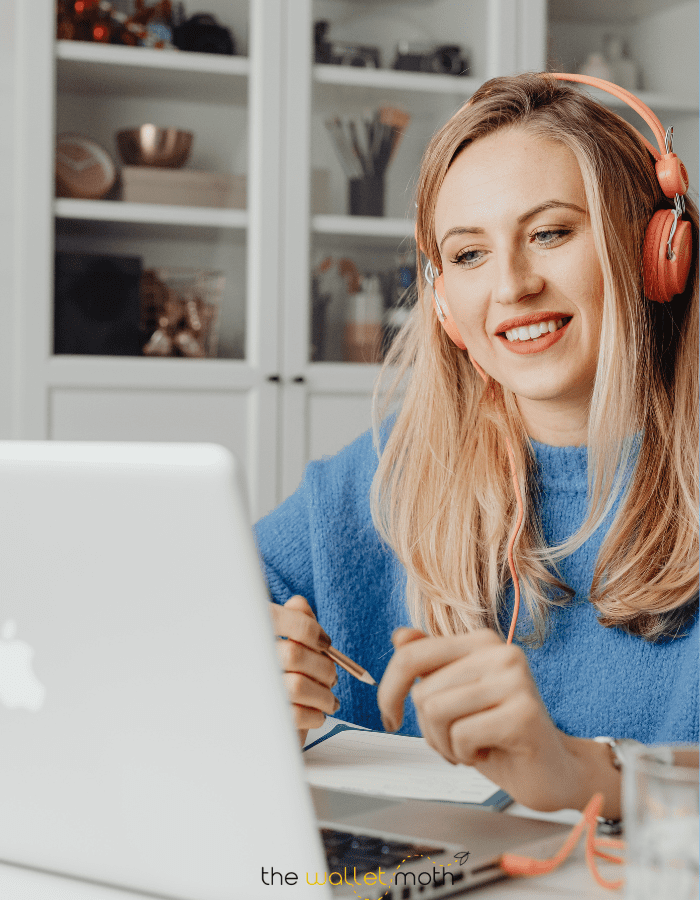 According to a report released by Upwork earlier this year, nearly half (46%) of millennials, and 43% of Gen Z professionals had taken on freelance work in some form. The unquestionable fact is that freelancing and working remotely have become the norm for many businesses across the globe, and it's not going anywhere.
The report found that the majority of freelancers say that freelancing has given them greater control over their life (74%), and more flexibility to address their personal needs and mental health (73%).
What's more, the range of services provided shows there is an in for everyone: over half of freelancers surveyed were providing knowledge-based services (more highly-skilled roles such as IT and Operations), but 37% of those surveyed were providing unskilled services and labour – demonstrating the high demand for beginner freelancers who may not have honed their area of expertise just yet.
Platforms like Upwork remain highly-trafficked websites to both source freelancer talent and find work, whether you're a beginner or a seasoned professional. If you're keen to kickstart your freelance career, whether that's as a side hustle or as a genuine career, these easy Upwork jobs for beginners are the perfect way to get your foot in the door.
Most in-demand jobs on Upwork
According to Upwork's Future Workforce 2022 report, the job categories that are most in demand are:
Accounting (33%),
IT & Networking (30%),
Operations (29%).
However, over the next six months, 52% of businesses surveyed also say Customer Support will be a top position they are seeking to fill.
It's clear that the more in-demand jobs are the ones that require previous training, qualifications, and a degree of experience. However, it's also clear that more 'beginner-friendly' jobs, such as customer support, are still highly valued by businesses. 
The report showed positive indications that businesses will be looking to take on more freelancers in the next year – great news for any newbie to Upwork. 69% of all hiring managers say that they anticipate hiring in the next six months. With freelancers contributing an estimated $1.35 trillion to the U.S. economy in annual earnings in 2022 (a whopping $50 billion increase from 2021), the time to establish yourself on a popular freelance platform like Upwork is now.
Top 11 Upwork Jobs for Beginners Ranked:
To find the top Upwork jobs for beginners, I sorted a number of job types by 'entry level' experience. Entry level means the job poster is not expecting applicants to have a lot of experience in the role they are applying for (although it often means they are expecting to pay less than they would for an expert, too).
Below are the top 11 most-populous entry-level jobs we could find on Upwork as of this month.
| # | Job Role | Number of Entry-Level Job Listings |
| --- | --- | --- |
| 1 | Data Entry | 4,102 |
| 2 | Researcher | 3,181 |
| 3 | Social Media Manager | 2, 751 |
| 4 | Graphic Designer | 2,715 |
| 5 | Virtual Assistant | 2,468 |
| 6 | Editor | 2,407 |
| 7 | Content Writer | 2,320 |
| 8 | Customer Service Agent | 1, 285 |
| 9 | Transcriptionist | 1, 237 |
| 10 | Copywriter | 838 |
| 11 | Website Researcher | |
# of Job Listings Accurate as of Dec '22
Finding Easy Upwork Jobs for Beginners: Potential Niches to Target:
Native language jobs
Native language jobs are a niche that can be really easy to dominate – especially if you speak multiple languages. For example, many online businesses are often looking for native speakers to translate articles in order to target traffic in different countries. Or, you might have a company based in one country – say, for example, China – looking for a native-language speaker to fact-check a document written in English.
Equally, you may face less competition targeting native-language jobs because the pool immediately gets smaller. The real benefit of targeting this niche is that you have an instant advantage just for speaking a certain language.
Location-based jobs
If you're looking for location-based jobs on Upwork, there are a few ways you can go about it:
Use the search function: You can use the search bar at the top of the Upwork homepage to search for jobs based on specific keywords, such as "location-based" or "onsite". This can help you find jobs that are specifically looking for someone to work on-site at a particular location.
Filter your search results: When you search for jobs on Upwork, you'll see a list of results. You can use the filters on the left-hand side of the page to narrow down your search results based on various criteria, including location.
Browse the job categories: Upwork has a number of job categories that you can browse to find jobs that might be a good fit for you. For example, you can find location-based jobs in categories such as "Customer Service", "Data Entry", or "Field Service".
Use your profile to showcase your location-based skills: In your Upwork profile, you can include information about your skills, experience, and location. This can help you attract clients who are looking for someone with your specific skills who is located in a particular area.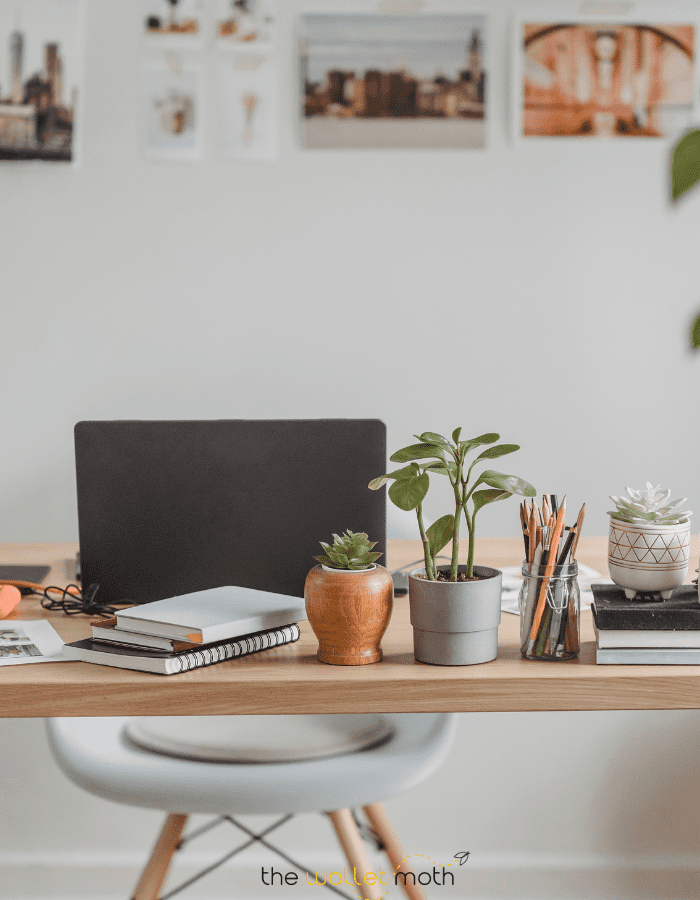 Top 11 Easy Upwork Jobs for Beginners
The jobs below might not feature in the top 3 most 'in demand' roles on Upwork, but they do all have two things in common: they're frequently listed on Upwork, and they're roles any beginner can win, with the right pitch.
1. Data entry
Upwork Job Listings: 4,102

Also known as 'grunt work', data entry can be rather tedious at times but it is a great starting point for someone with little to no experience on Upwork. Plus, there are a lot of data entry jobs available – so putting in the time now to do those lower-skilled jobs to build up your reviews and reputation can pay dividends later.
A data entry job involves inputting data into a computer system or database, typically from paper documents or electronic files. The data may include text, numbers, or other types of information, and it is typically entered using a keyboard or other input device. Data entry jobs may involve verifying the accuracy of the data being entered, sorting and organizing the data, and performing other tasks related to the management of data.
These jobs may require a high level of attention to detail and accuracy. Data entry jobs may also involve working with specific software programs or databases, and some jobs may require specific knowledge or skills in these areas.
2. Researcher
Upwork Job Listings: 3,181

Researchers on Upwork are hired to do a wide range of tasks, depending on the specific needs of their clients. Some common tasks that researchers may be hired to do on Upwork include:
Conducting research: Researchers may be hired to conduct research on a specific topic or issue, using a variety of methods such as literature reviews, surveys, interviews, or data analysis.
Analyzing data: Researchers may be hired to analyze data and extract insights from it. This could involve using software such as Excel or SPSS to analyze large datasets, or developing statistical models to test hypotheses.
Writing research reports: Researchers may be hired to write research reports based on their findings. This could involve organizing and synthesizing data, as well as writing clear and concise summaries of the research.
Providing research support: Researchers may be hired to provide support to other researchers or organizations by helping with tasks such as data collection, data entry, or literature reviews.
Conducting market research: Researchers may be hired to conduct market research to help businesses understand consumer behaviour or market trends. This could involve conducting surveys, focus groups, or other types of research to gather data.
3. Social media manager
Upwork Job Listings: 2,751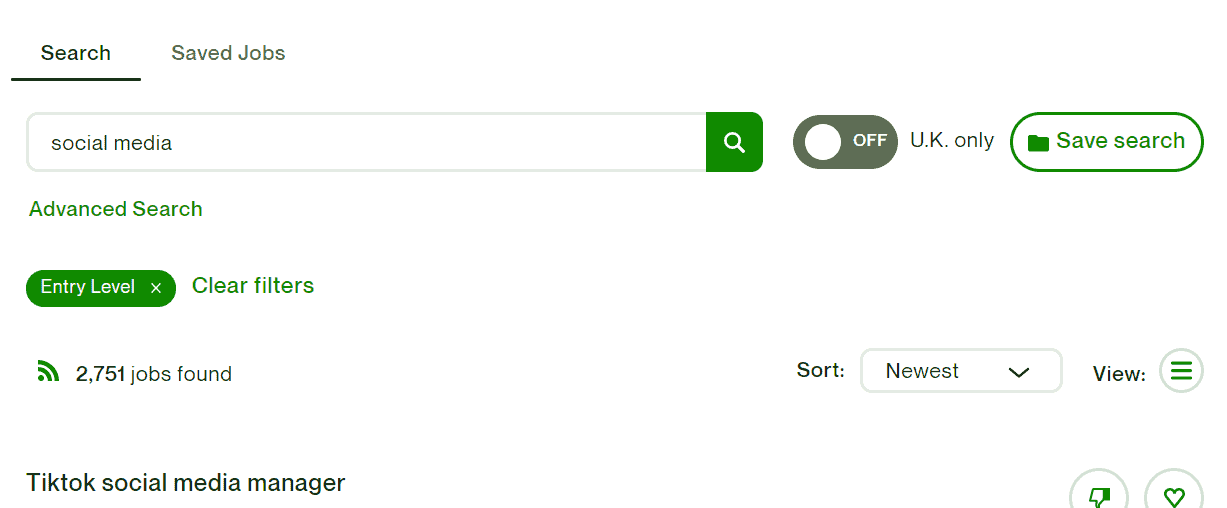 Social media managers are highly sought after on Upwork because it's a role many companies do not have the budget or inclination to hire for full-time, and so they're often looking on Upwork for a trustworthy freelancer to keep their socials ticking along.
A social media manager might:
Schedule daily or weekly posts across a number of social media platforms, including Facebook, Instagram, Twitter, LinkedIn, and TikTok
Come up with ideas for new content
Create graphics
Edit images
Film videos or work with external agencies to do this
Stay on top of latest social media trends
Optimize posts for social media search engines
Manage social communities
4. Graphic designer
Upwork Job Listings: 2,715

Graphic designers on Upwork are hired to do a wide range of tasks related to visual design and communication. Some common tasks that graphic designers may be hired to do on Upwork include:
Creating visual designs: Graphic designers may be hired to create visual designs for a variety of purposes, such as logos, websites, advertisements, brochures, and packaging. They may use software such as Adobe Creative Suite (e.g., Photoshop, Illustrator, InDesign) to create these designs.
Designing layouts: Graphic designers may be hired to design the layout of materials such as newsletters, magazines, or book covers. They may work with clients to determine the best layout for the content and ensure that it is visually appealing and easy to read.
Producing graphics: Graphic designers may be hired to produce graphics for use in a variety of media, such as websites, social media, or print materials. This could involve creating graphics from scratch or modifying existing graphics.
Creating digital content: Graphic designers may be hired to create digital content such as infographics, social media graphics, or interactive PDFs.
Providing design support: Graphic designers may be hired to provide support to other designers or organizations by helping with tasks such as creating graphics, designing layouts, or providing design feedback.
Of course, to do this role you'll need some degree of experience or expertise in this field. However, with many businesses happy to use tools such as Canva for graphic creation, it's no longer completely out of the question for a relative beginner to quickly create amazing graphics.
5. Virtual Assistant
Upwork Job Listings: 2,468

Being a virtual assistant was actually the very first ever long-term role I landed on Upwork back in 2017. It was for a company based in Germany, but they didn't mind that I was travelling through Asia and so on a completely different timezone. In 2017, I was just setting up my freelance business, and gaining a consistent, long-term client (for around $500 a month, perhaps 6 hours a week) at the time was invaluable.
Virtual assistants may be asked to do a wide range of tasks. Personally, I edited and uploaded articles to their blog, made graphics, scheduled social media posts, and helped manage their Facebook page. Other tasks you might be given, for example, could include:
Responding to emails
Outreach and PR campaigns
Scheduling social media posts and interacting with other profiles/in groups to promote content
Uploading articles onto the site
Basic website maintenance (updating plugins, ensuring back-ups are scheduled regularly, etc)
Conducting research for articles to send on to the content writers
6. Editor
Upwork Job Listings: 2,407

Any company that uses exclusively freelance writers for their website will know that the quality and tone of voice can vary from writer to writer. An editor's job, therefore, is to bring cohesiveness between the content so that everything published by the business has a single, consistent voice.
This is an easy Upwork job for beginners because it is so high in demand. You may need some prior experience in content writing and/or editing, but being able to showcase skill in this area will go a long way. Companies will pay handsomely for a quality editor because they can be hard to come by.
7. Content writer
Upwork Job Listings: 2,320

Being a content writer was one of the first jobs I ever did on Upwork (as a content writer by trade, I obviously had a slight advantage!). Content writing is a fantastic job for beginners because:
You can pitch your rate to your experience and expertise
It's often consistent, ongoing work
You can choose to get paid per article or per word, meaning your income is really dependent on how fast you write!
There are so many content writing jobs on Upwork that you can choose niches that really interest you.
As a content writer, you'll often be writing articles and blog posts for the company that hires you. They may provide you with a topic title, keywords based on SEO research, and a blog outline. Some, however, may just give you the article headline and leave you to go off and do your own research to create an article based on that.
You'll need to decide how you prefer to work and discuss this with your employer before beginning to ensure everyone is happy with how things work. Being able to write posts for SEO and include additional skills such as internal linking and correct formatting are big pluses.
8. Customer service agent
Upwork Job Listings: 1, 285
Customer service work is another easy Upwork job for beginners. These days, it's easier than ever to provide customer service assistance remotely, whether that's answering calls or replying to live chat functions on websites and responding to emails.
This is another job where you don't need much experience, and all companies need this role filled to some capacity. If you are patient, with a good telephone manner, this could be a great fit for you!
9. Transcriptionist
Upwork Job Listings: 1, 237

Transcription is often an easy job to find on Upwork because it is a task that can be done remotely, and there is often high demand for transcription services. Transcription involves converting spoken words, such as those in a recorded interview or a podcast, into written text. This can be done by listening to the audio recording and typing out what is said, or by using transcription software to automatically transcribe the audio.
Transcription is often used in a variety of industries, such as media, research, and legal, and it can be done in a number of languages. Transcriptionists may be responsible for transcribing interviews, lectures, meetings, or other types of audio recordings, and may be required to have specific skills or knowledge related to the content of the recordings.
There are a few different types of transcription, including verbatim transcription, which involves transcribing everything that is said, including filler words and pauses; and edited or clean transcription, which involves transcribing only the main points and omitting filler words and unnecessary information.
10. Copywriter
Upwork Job Listings: 838

I've put copywriting separate from content writing because as a copywriter, you'll be focused more on writing copy for sales purposes rather than purely educational. A copywriter is often the one responsible for that 'hook' that makes the reader want to buy a product or service.
Copywriters might be writing entire pages of sales copy (you know those seemingly never-ending info pages for online courses?), or just a few short lines for paid ads and product pages. It's high in demand on Upwork and if you've got the knack for writing sales jobs, it can be an easy way to make money on Upwork.
11. Website testing
Upwork Job Listings: 814

Website testing involves evaluating a website or web application to ensure that it is functioning correctly and meets the requirements and expectations of the client or end user. This may include testing the website's functionality, usability, performance, and compatibility with different browsers, devices, and operating systems.
Website testers may be asked to perform a variety of tasks, such as:
Navigating through the website and using its features to ensure that they are working as intended
Identifying and reporting any errors or issues that are encountered
Verifying that the website is visually appealing and easy to use
Checking that the website loads quickly and performs well under different conditions
Testing the website's compatibility with different browsers and devices
Ensuring that the website is secure and protected against attacks
Website testing may be done manually, using tools such as browser developer tools and performance monitoring tools, or it may be automated using testing software.
**Number of job listings accurate at time of publication, December 2022
How to improve your chances of winning bids on Upwork
As a beginner on Upwork, you will need to focus a huge amount of your attention on the pitch you send to prospective clients. There are thousands of Upwork jobs for beginners – but there are also thousands of beginner Upwork uses to compete with. Remember, a freelancer with 10's or hundreds of positive reviews is naturally going to be more attractive to a client than a freelancer with no one to back up how good your work is.
Therefore, you'll need to send across a custom, top-tier pitch that is written specifically for the job you are applying to. If you can send some evidence of your experience, even better. This guide provides some useful insight into winning jobs as a freelance writer with no experience but is still applicable for the other jobs listed above.
For example, you might screen-record yourself user-testing and researching a website to include in your portfolio. You might mock up some social media posts or infographics on Canva to be used for social media job applications, etc.
There are several more steps you can take to improve your chances of winning jobs on Upwork:
Create a strong profile: Make sure to fill out your Upwork profile completely and accurately, including your skills, experience, and any relevant certifications or qualifications. It is also a good idea to include a professional headshot and a clear, concise summary of your skills and experience.
Bid on relevant jobs: Only bid on jobs that are a good fit for your skills and experience. This will increase the likelihood that you will be selected for the job and also help you to build a positive reputation on the platform.
Submit a personalized proposal: When submitting a proposal for a job, be sure to tailor it to the specific needs and requirements of the client. Include specific examples of your relevant experience and why you are the best fit for the job.
Offer competitive rates: Consider the going rate for similar work on the platform and be sure to price your services accordingly. Keep in mind that offering competitive rates does not necessarily mean the lowest rates – you should also consider the value you bring to the table.
Build a strong portfolio: Include examples of your past work in your Upwork profile or as part of your proposal. This can help to demonstrate your skills and experience and give clients confidence in your abilities.
Communicate effectively: Respond promptly to client inquiries and be sure to communicate clearly and professionally throughout the job process. This can help to build trust and increase your chances of being selected for future jobs.
Finally, ask your first few clients to provide you with a review on Upwork. This can make a huge difference to the likelihood of you getting hired in the future – sometimes it really is all about getting your foot in the door!
Yasmin Purnell is a freelance writer and the founder of The Wallet Moth. Yasmin is on a mission to help her readers achieve control of their own finances and live an independent life that isn't controlled by a number in a bank account. When she's not tapping away at her keyboard, you'll find Yasmin spending quality time outdoors with her daughter, cooking up a plant-based storm on ByTheForkful.com, or enjoying a yin yoga class.