We may earn money or products from the companies mentioned in this post, and as an Amazon Associate I earn from qualifying purchases. Please see my full disclosure for more information.
Is £60k a good salary, and how does it compare to the median earnings of full-time workers across the UK? We look into whether you can live on £60,000, where it will go farthest, and how this figure the median earnings across the UK in this article.
Perhaps you currently earn £60k a year and are wondering how it compares to other full-time workers.
Maybe you've recently been offered a new job – or are searching for new roles – and trying to gauge what this salary might look like in a budget.
Or, maybe you've been simply pondering what your goal income is – and how feasible it is to achieve that figure in the UK.
In this article, we'll be addressing the question: Is £60,000 a good salary in the UK?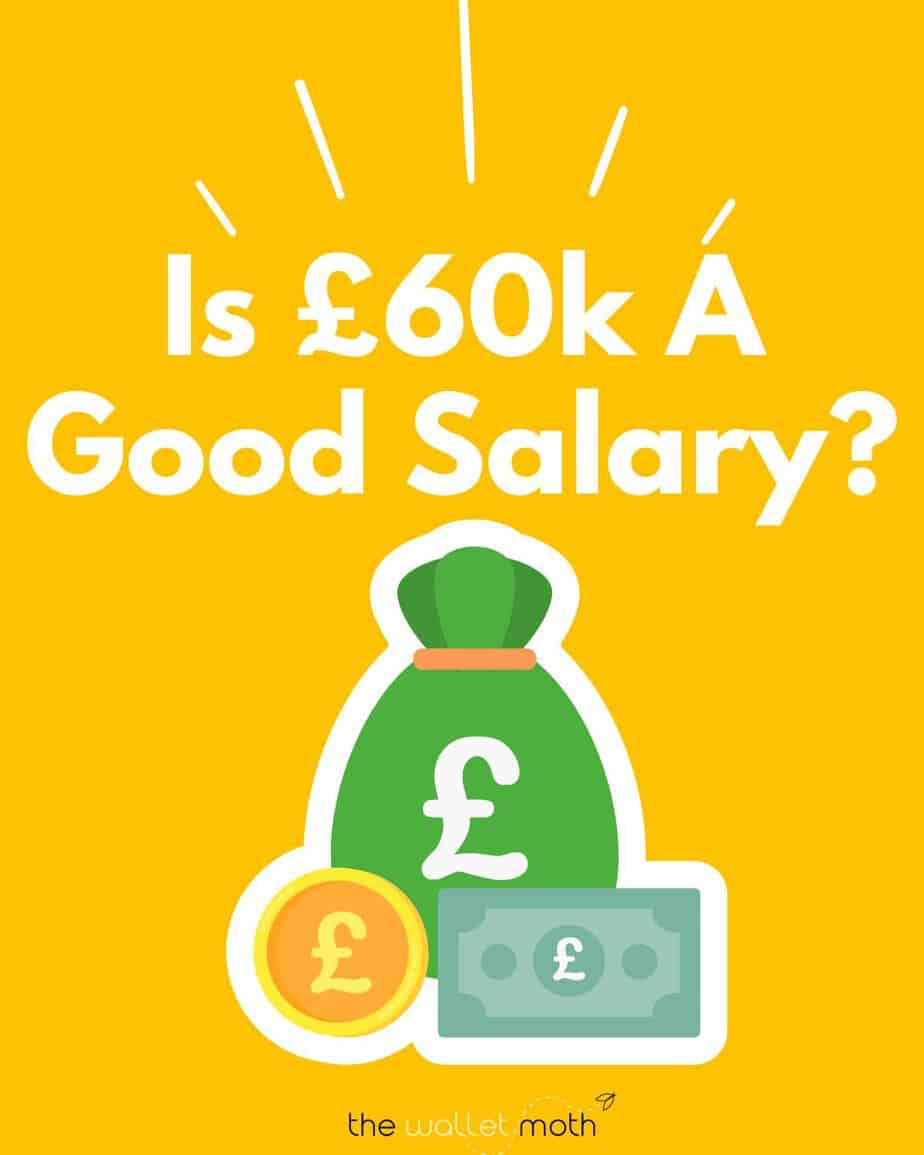 You might also be interested to read our write-up of how a £40,000 salary and a £50,000 annual salary compare next!
TLDR: £60,000 is well above the median annual pay for full-time employees (almost double!), making it a great salary for most Brits across the country.
However, as you might expect, your location, occupation, and more can affect how a £60k salary measures up.
We'll be deep diving into all those factors and more here.
How Does £60,000 Annual Break Down After Tax?
£60,000 breaks down to £43,850 net pay annually after income tax and national insurance. This is the equivalent of £3,654 a month or £843 a week assuming you work 5 days a week – an impressive salary for many individuals.
It's important to remember that you'll pay tax on that salary, and the actual amount you receive in your bank account either on a weekly, bi-weekly, or monthly basis will already have that tax reduced.
Here's what your net income will look like after taxes:
| Period | Gross Income (£) | Net Income (£) |
| --- | --- | --- |
| Annual | 60,000 | 43,850 |
| Monthly | 5,000 | 3,654 |
| Weekly | 1,154 | 843 |
| Daily* | 230 | 168 |
*The daily figures are calculated based on a 5-day working week.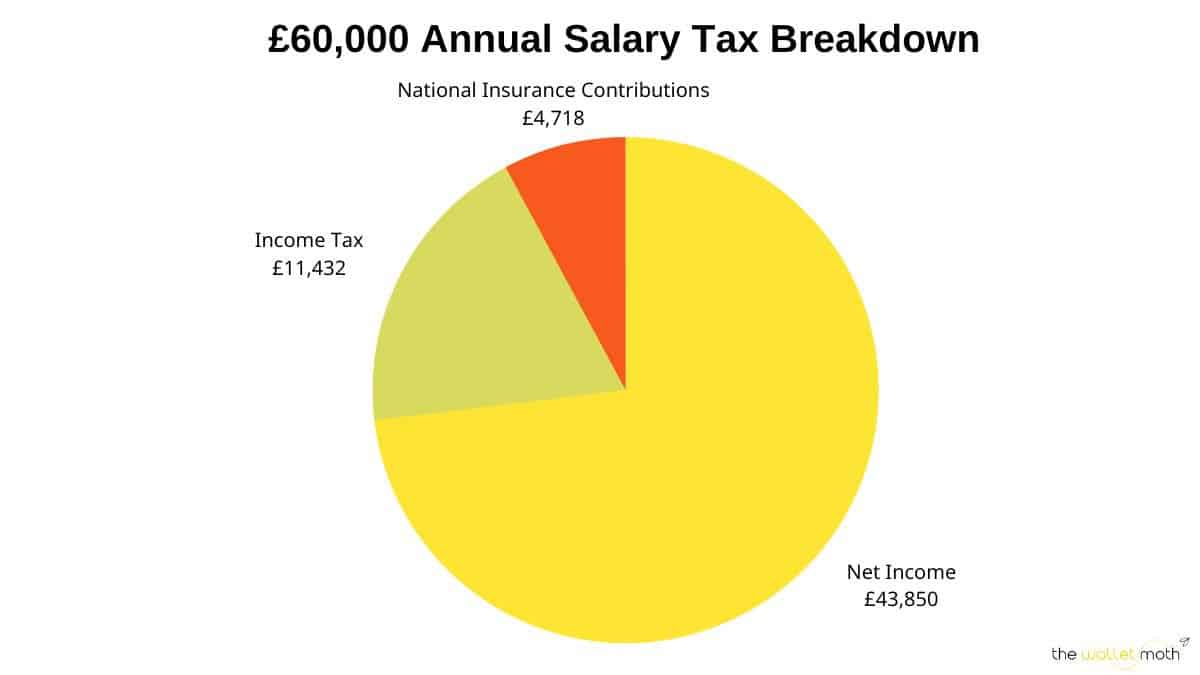 Is £60,000 a good salary?
At the end of the 2022 financial year, the median annual pay in the UK was £33,000 – putting £60k well above average. In fact, if you are earning £60,000 per year, you are earning almost double what the current median annual pay for full-time workers is.
Therefore, anyone on this salary should be pleased to know that you are earning above the average annual wage.
£60,000 Salary Compared by Location
While £60,000 might be well above the median annual earnings for the UK (full-time workers) as a whole, that figure does vary slightly across regions.
As one might expect, the highest median annual earnings can be found in the City of London, sitting at £56,628 at the end of the financial year in 2022. Salaries are generally higher around London due to the much higher cost of living, and due to the higher concentration of national and global businesses.
The median annual earnings for London as a whole were slightly lower, at £41,860, meaning someone on £60k per year would still be earning above the median even in the capital city.
That being said, earning above the median in London doesn't mean you'll be living a life of luxury. The cost of living can be extremely high in London, with some of the highest costs in the UK for rent, eating out, and transport to name a few. You could easily see your £60k paycheck go down the drain if you haven't got your budget dialed in.
At the other end of the scale, a £60,000 salary would be considered well above average in the North East – the only region where the annual median pay falls under £30k.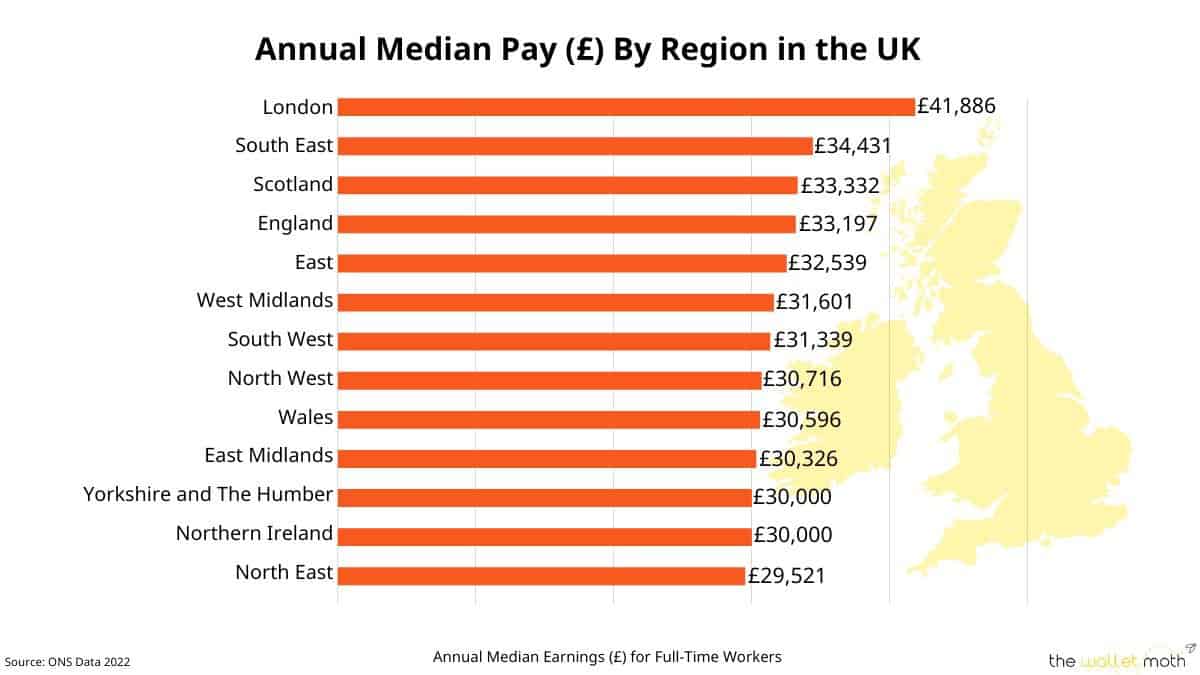 £60,000 Salary Compared By Occupation
Aside from location, it's also important to consider how the industry you work in can affect how your salary measures up.
Despite £60,000 being above the national median annual salary, there are certain occupations where this figure does fall short.
Here are a few occupations that have higher median earnings than £60,000:
Senior roles
Chief executives and senior officials (£79.835)
Marketing, sales, and advertising directors (£77, 695)
Information technology directors (£73,571)
Public relations and communications directors (£66,510)
Financial managers and directors (£64,193)
Functional managers and directors n.e.c. (£61,139)
Medical
Specialist medical practitioners (£68,614)
Education
Headteachers and principals (£66,686)
Transport
Aircraft pilots and air traffic controllers (£62,778)
Jobs that pay £60k
So we've covered the jobs that pay more than a £60,000 annual salary, but what about the positions where you'd expect to see this figure?
Here are the jobs that had this median salary at the end of the last financial year (we've allowed jobs that fall around £1,000 above or below this sum, too):
Functional managers and directors n.e.c.
Senior police officers
There are undoubtedly many more jobs in which you can earn £60,000 per year – this were the only two that had a median pay of approximately £60k according to the latest available ONS data.
You could search for job vacancies with a salary range of £60,000 on Indeed and LinkedIn to see what kinds of jobs have this type of pay packet.
Could I afford a mortgage on a £60k salary?
Whether or not you are able to get approval for a mortgage in the UK depends on a number of factors.
Mortgage lenders will, as a general rule, offer around 4.5 – 5 times your salary, so a £60,000 salary would mean you may be able to apply for a mortgage of around £270,000 – £300,000.
As of January 2023, the average house price was £290,000 in the UK, putting you in exactly the right bracket to find an averagely-priced home in the UK.
Of course, it's not always that simple, though. House prices can vary enormously depending on where in the UK you live – and a £300,000 home in London, for example, will look very different to a £300,000 in Scotland.
Keep in mind, if you have a partner, then both your salaries can be used to get a joint mortgage. If you were both earning £60k a year, you'd be looking at a much bigger budget (£540,000 – £600,000) and have a lot more options.
How should I spend my £60k salary?
We're not going to judge how you spend your own hard-earned cash – but this is a personal finance site, so it's only fair we give you a few budget-savvy pointers!
A simple budgeting tip to provide some perspective into what budget categories you should allocate your income to is the 50/30/20 rule.
The 50/30/20 rule is a simple, practical rule of thumb that makes budgeting super simple and in black-and-white. Of course, you can adjust the quotas to your needs – but this at least provides a baseline.
According to this rule, you should aim to allocate your net income as follows:
50% on needs
30% on wants
20% on savings and debt repayments
Here's the 50/30/20 budget breakdown for a £3,654 monthly income (£60k monthly net pay):
| Category | Percentage | Monthly Amount |
| --- | --- | --- |
| Needs | 50% | £1,827 |
| Wants | 30% | £1,096 |
| Savings & Debt | 20% | £731 |
Needs include the obvious bills, mortgage/rent, as well as any necessary expenses such as childcare, insurance, etc.
Wants might include allocating funds for your hobbies (although if you're on a tight budget, there are plenty of free hobbies you could take up!), social life, fitness, travel, etc.
Savings and debt are pretty self-explanatory – although you might want to break down how much goes towards debts, and where you'll put your savings (for example, in an emergency fund, an ISA, a general savings account, etc).
Affording rent on a £50k salary
A general rule of thumb is to spend no more than 1/3 of your monthly income on rent/mortgage, which equates to approximately £1,218. If you followed this guidance, you would have approximately £800 remaining in your 'needs' category for other bills and necessary expenses.
Budgeting tips to make £60k go further
Here are a few simple, practical budgeting tips that can make your £60k annual salary stretch that bit further:
1. Track your income
It's very difficult to make your money go further when you don't know where it's going in the first place.
Make an effort to track your income. Even if it's just for a couple of months, try to gain an awareness of where your money is going. You could use an app like Snoop, Plum or Emma to automate this process, or you could use a good old-fashioned Excel spreadsheet!
2. Identify Your Biggest Expenses
We all have those areas where we have a tendency to overspend.
However, when it starts adding up, those luxuries we allow ourselves can become a major spending issue.
Look out for subscriptions you don't use. Identify habits you could do with cutting out, and patterns in your spending that you can try to adjust.
3. Build Frugal Habits
Frugal living isn't necessarily about spending less – it's about spending smarter. Learning more about frugal living could be the fundamental difference between living paycheck to paycheck, and using your money to add genuine value to your life.
These frugal living tips are a fabulous place to get started with this.
And if you're still struggling…
4. Consider increasing your income
If asking your employer for a raise is beyond the realms of possibility right now, you have two options here:
The sacrifice here is your time. Side hustlers spend their evenings working instead of relaxing after their 9 to 5, but with rising costs everywhere it's worth considering. Plus, you never know where your side hustle could take you.
Keep in mind that earning more than £60,000 puts you into the second tax bracket in the UK.
This is something you should carefully consider before putting your effort into building your income (and make sure you understand what this means for your taxes).
Tax on £60,000 per Year and Over
When you earn £60,000 in the UK, the way your income is taxed will depend on the current tax brackets set by the government. The tax bands for income tax are as follows:
Personal Allowance: £12,570 income is tax-free.
Basic rate: 20% tax on income between £12,571 to £50,270.
Higher rate: 40% tax on income between £50,271 to £125,140.
Additional rate: 45% tax on income over £125,140.
So, if you earn exactly £60,000 a year, the first £12,570 would be tax-free due to the Personal Allowance. The remaining £37,430 would be taxed at the basic rate of 20%.
The amount exceeding £50,270 will be taxed at the higher rate of 40%. For example, if you earn £60,000, the first £12,570 is tax-free, the next £37,700 is taxed at 20%, and the remaining £9,730 is taxed at 40%.
In addition to income tax, you'll also need to pay National Insurance contributions, which are another form of taxation in the UK that fund state benefits. The rate you pay depends on how much you earn and is broken down into different 'classes'. If you're an employed earner, you pay Class 1 National Insurance contributions. The rates are:
12% on earnings between £184 and £967 a week (£7974 to £4195 a month)
2% on earnings above £967 a week (£4195 a month)
FAQs
Do I need a degree to earn £60,000?
No! While a degree might give you a foot up in reaching the £60k salary mark straight after leaving full-time education, you can still work your way up the career ladder to £60,000 and beyond without one.
Where in the UK will £60,000 a year go furthest?
Some of the cheapest places to live in the UK where £60k will stretch further include Dundee, Hull, Glasgow, West Yorkshire, Carlisle, and Londonderry.
£60,000 a year is how much an hour?
Assuming you work a standard full-time 40-hour week, your hourly rate when earning £60k a year is approximately £24.05 per hour.
£60,000 per year is how much paid monthly?
A £60,000 annual salary is £5,000 per month or £3,654 after taxes.
Is 60k a good salary UK?
Yes, £60,000 a year is considered an excellent wage in the UK when you compare it to the median annual earnings of full-time workers (£33k). A 60k annual salary would put you firmly in the middle class anywhere in the UK and will allow you to live a comfortable life.
What jobs pay £60k?
Some jobs that pay £60,000 per year include functional managers and directors n.e.c., and senior police officers. Other roles will also pay this figure – often in positions of seniority. Looking at job boards online will reveal an insight into the types of jobs that pay 60k.
What makes a good salary in the UK?
You are considered in the top 1% of earners in the UK if you make £15,196 per month. Someone earning £60k (£5,000 a month), would be in the top 25% of earners. Earning an extra £200 a month (£5,200 per month) would put you in the top 10% of employees.
---
Source: All income data is sourced from the ONS earnings and working hours data, with the latest data available from the end of the 2022 financial year.