We may earn money or products from the companies mentioned in this post, and as an Amazon Associate I earn from qualifying purchases. Please see my full disclosure for more information.
An honest review of the Snoop AI app: what is it, how much does it cost, and is it a good budgeting app? We've answered all your questions here.
Snoop AI Summary
Launching on the Apple and Andriod stores in 2020, the Snoop app is relatively new to the financial app scene. However, it is making a big impact, with many customers leaving near-perfect reviews and it gaining the attention of major news outlets, and even winning a banking award.
Available in both free and subscription versions, the app is incredibly intuitive and easy to set up and comes with a number of features to help manage and save you money. Noted, many of these features you will find on other money apps, but the free version is definitely worth a download.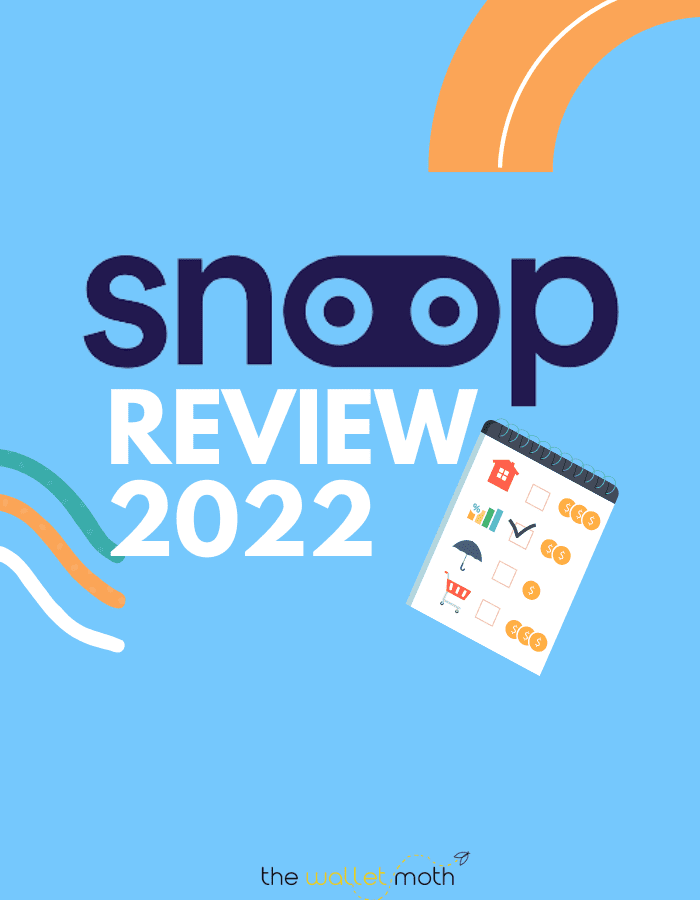 About Snoop
Snoop is an app focused on your finances and saving you money. Launched in 2020, and the brainchild of ex-managing director John Natalizoa and ex-CEO of Virgin Jane-Anne Gadhia, the app aims to use AI to help you make better money decisions and find your savings.
The application uses open banking technology to connect to your bank accounts and credit cards to help you see all your spending and your payment deadlines. After launching in 2020, the app has continued to develop and grow its features, adding more every month for customers to access. In 2021, the company scooped up the award for 'Innovation of the Year' at the British Bank Awards – high praise indeed.
Snoop has three main goals. Firstly, it aims to display your accounts from different banks and cards all in one place to give you an easy overview of your spending and bills. Secondly, it alerts you if you appear to be overpaying on your bills such as energy bills, internet or mobile so that you can make money-saving changes. Lastly, it looks at your spending habits and comes up with personalised suggestions of how you can save money – from voucher codes to better deals for your contracts.
The Snoop app
The Snoop app is available for download on both iOS and Android devices and is very user-friendly. Setting up the app couldn't be easier – simply download it to your device and then enter your details (name and phone number) before entering a one-time code. You will then be asked for your email address and asked to create a pin code to enter the app securely.
Once in the app, you can add your accounts through the open banking system and start to track your spending. The app is extremely intuitive and easy to use – meaning that you are more likely to keep track of your spending.
Snoop works with a number of different banks including most of the high street banks and online banks such as Revolut, Starling and Monzo. They are constantly working to add new banks to their platform allowing you to access all your accounts in one place.
One of the great features of the app is the Payment Hub. This is where you can see what you are spending, and where you are spending it over the course of the month – allowing you to identify where you can cut down on your spending.

On top of this, it allows you to see what payments are coming up and when – and lets you know when your contracts for your utilities and broadband are coming up. When the time is right, the app can help you find better deals for these contracts, saving you more money.
Security
Like any app that wants access to your finances, Snoop wants to ensure that its security is tight. It uses an open banking model to look at what you are spending on each of your accounts. It does not have access to your login information on your accounts or passwords and can only see your transactions.
Additionally, the app is not allowed to move money from your account or between accounts – this has to be done by you. The app is regulated by the Financial Conduct Authority to ensure that your money is safe, giving you peace of mind.
Pricing
There are two pricing options with the Snoop app. The app itself is free to download to your mobile device and there is a free version of the app that can be used. For Snoop's premium services, subscription costs around £3.99 per month or £31.99 per year.
The subscription provides you with extra features including the ability to further analyze your spending into categories, create spending targets, and receive customized spending reports. On top of this, you can let the app know that you are expecting refunds on your cards, and it can notify you when they have been received.
Pros of using Snoop
Snoop has a number of different advantages that can benefit users including:
Ease of use – the app itself is easy to set up and navigate to get the best out of your money.
All of your accounts are visible in one place – meaning you have a clear overview of your finances and due dates for payments.
Money saving tips – vouchers, deals and tips to help you save money based on your regular spending.
FCA regulated – to give you peace of mind.
Snoop AI Cons
Snoop is still a pretty new app, so it is constantly updating and adding new features. Compared to some of the other financial apps on the market, it lacks more detailed budgeting tools that allow you to manage your money better.
On top of this, the platform has been criticized for its name 'Snoop' due to the connotations of spying linked to the name. While there is no evidence of this, and the brand has been clear about its tight security rules, it can still put some potential users off.
User reviews of Snoop
Snoop is a relatively new app on the market, being launched only two years ago at the beginning of the pandemic. Due to this, there are few reviews (only 31) on Trustpilot, the trusted independent review site. Out of these 31 reviews, 25 give the app 5/5, while only 4 reviews rate it anything less than 'Great'. Reviewers praise the app for finding offers that they would never have found without it and praise its 'responsive customer service'. A few of the negative reviews focus on concerns around putting in their bank details, however, as you can see above, Snoop is serious about their security.
There are more ratings for the app within the Apple app store, with over 2,000 reviews and a total rating of 4.5/5. Many users highlight the app's ability to save money, with some stating they 'saved money in minutes' and that they 'wish they had this sooner'. There are a few negative reviews around technical issues, however, the developer has been fast to respond, asking the reviewer to contact them by email so they can investigate and correct the issue – impressive customer service.
Similar Apps to Snoop:
There are a few financial apps on the market that are similar to the Snoop app. Emma is one of the leaders in this field and it has a number of similar features – it looks at how you are spending. The main difference between the two apps is that Emma has a larger focus on budgeting your money, while Snoop seems to focus more on saving money through deals and vouchers that match their spending.
Money Dashboard is also an app that looks into your spending, but again, it focuses more on managing your money and budgeting than finding deals to suit you.
Overall: Would We Recommend Snoop?
If you are looking for an app that pulls together all of your spending on one platform and has easy-to-understand recommendations on how you can save money, then the Snoop app is a good one to download. It is a great introduction to managing your finances and getting on top of your money.
If you are looking to delve a little deeper into understanding how you can make the most out of your money, Snoop may be a little too basic, and other apps such as Emma may have more features that appeal to you.
FAQs
Is Snoop safe to use?
Snoop ensures that your data is kept safe by using a 256-bit encryption. Additionally, the software doesn't save your login details or even see them, and is not able to move your money.
Do I need an account to use Snoop?
Yes, you will need to sign up for an account with Snoop, however, there is a free version and a paid version, meaning that you do not need to spend money on it if you don't want to.
How much does Snoop cost?
Downloading the Snoop app to your mobile device is free. When you access the app, there is a free version, with more basic features and a more advanced version of the app which costs £3.99 per month or £31.99 a year.
How does Snoop make money?
Firstly, Snoop makes money through the Snoop plus subscription part of its application. On top of this, the app also makes money from free users, but not by charging them. The app sells anonymous data on its user's spending habits, allowing companies to discover trends and understand their market data. On top of this, part of the Snoop platform focuses on recommending different services and products to you that can financially benefit you – but it will receive a commission for doing so.