We may earn money or products from the companies mentioned in this post, and as an Amazon Associate I earn from qualifying purchases. Please see my full disclosure for more information.
What is The Emma App?

The Emma budget app was launched in the UK in 2018 by co-founders Edoardo Moreni and Antonio Marino. Since its launch, the app has launched over $8m in order to build a "one stop shop for all your financial life".
The Emma budgeting app uses Open Banking to connect your bank accounts and other financial information to the app, providing a single place to view your savings, spending, investments, and more.
What Countries Does Emma Operate In?
Emma operates in the UK, US, and Canada currently.
Key Features of the Emma App:
The Emma app uses a smart learning algorithm to instantly track and categorize your transactions, which is useful for identifying your essential expenses and the unnecessary subscriptions you might want to cancel.
The app is designed to sync your budget to your payday, tracking your payments throughout the month while also alerting you to your future and upcoming expenses by looking at past transactions.
aNALYTICS
A major part of the Emma app is the analytics insights it offers on your past spending and budgeting. The app provides a clear breakdown on:
Your income for the month
Your total expenses
Your committed spend for the rest of the month (and how much you have left over)
Subscriptions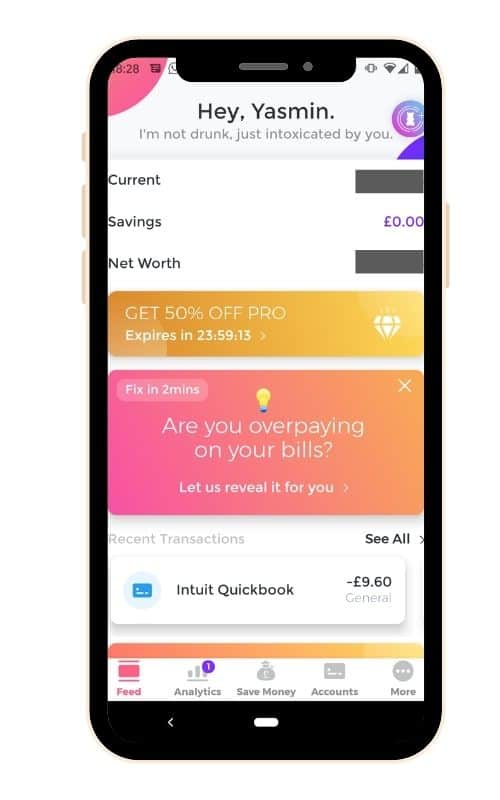 Budgeting section
The budgeting section gives you the option to set a budget for yourself in each category and alerts you if you go over that budget. You can set your budget either payday to payday, or month-to-month-end, which is useful if you're a freelancer or self-employed and don't have one single payday.
The categories expand to cover a huge range of budgeting categories like food and drink, transport, entertainment, bills, etc, so can give you a useful instant insight into the spread of your spending. A useful feature of this section is that the app's smart learning capabilities will offer budget suggestions based on your past spending, so you don't necessarily have to pluck a random figure out of thin air.
Daily and real-time balances
If you have multiple accounts (investments, bank accounts, cryptocurrencies etc), it can be useful to have all of that data collated in one place and see real-time balances across your accounts.
I find it useful to have a daily snapshot of my bank balance (however painful that number can be to see towards the end of the month, I think it's important to be aware!), and instant updates from the app when I'm paid and when I've been charged for something.
Emma rewards
Emma offers cashback rewards within the app, giving you a certain amount of cashback when you make a purchase from one of their partners or, alternatively, offering a free product/discount which is a nice touch.
Partners associated with the rewards section include Beer52, PensionBee, Farewill, and Pact Coffee.
The Emma app also has a referral program, offering £15/$15 for every person you refer to the app. You and the person referred must be based in the UK, US, or Canada.
Emma Investment Account
A newer feature of the app is Emma Invest, giving members the opportunity to invest via the app. This feature is available to all users and includes a 'List' feature in which you can add stocks you are interested in into organised lists for you to keep an eye on in the future.
The feature includes three types of funds for users: Withdrawable Cash, Unsettled Cash, and Reserved Cash.
Is the Emma App Free?
Yes, the Emma app is free to download and use. You can choose to subscribe to their paid plans, Emma Pro, Emma Plus, or Emma Ultimate, however.
| | Emma Free | Emma Plus | Emma Pro | Emma Ultimate |
| --- | --- | --- | --- | --- |
| Cost | Free | £4.99/month ($4.99) | £9.99/month ($9.99) | £14.99/month ($14.99) |
| Combine accounts | ✓ | ✓ | ✓ | ✓ |
| Monthly budget | ✓ | ✓ | ✓ | ✓ |
| Spending analytics | ✓ | ✓ | ✓ | ✓ |
| Subscription tracker | ✓ | ✓ | ✓ | ✓ |
| Emma invest | ✓ | ✓ | ✓ | ✓ |
| Make payments in-app | ✓ | ✓ | ✓ | ✓ |
| Cashback | x | ✓ | ✓ | ✓ |
| Bank transfers (UK only) | x | ✓ | ✓ | ✓ |
| True balance | x | ✓ | ✓ | ✓ |
| Fraud detection | x | ✓ | ✓ | ✓ |
| Bill reminders | x | ✓ | ✓ | ✓ |
| Offline accounts | x | x | ✓ | ✓ |
| Custom categories | x | x | ✓ | ✓ |
| Smart rules | x | x | ✓ | ✓ |
| Transaction splitting | x | x | ✓ | ✓ |
| Rolling budgets | x | x | ✓ | ✓ |
| Cash/ manual transaction tracking | x | x | ✓ | ✓ |
| Business acoounts | x | x | x | ✓ |
| Unlimited banked transfers | x | x | x | ✓ |
| | | | | |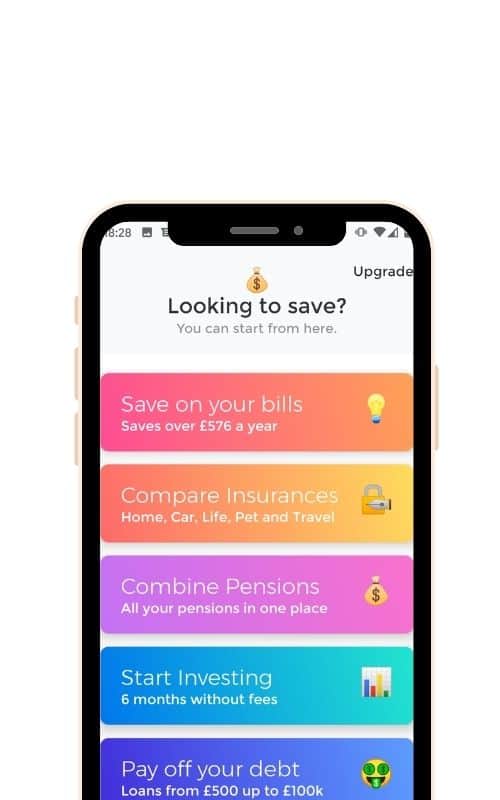 Who is Emma Best for?
Emma's main target audience is really anyone who relies on their smartphone for online banking. A real positive about this budgeting app is the user-friendly interface: setting up your account and syncing your bank accounts is a seamless process that takes about 10 minutes maximum.
What banks are supported on Emma?
Emma supports the following bank accounts in the UK:
American Express
Bank of Scotland
Barclays
Barclaycard
Capital One
Chip
Clydesdale Bank
Danske Bank
First Direct
HSBC
Halifax
Lloyds Bank
MBNA
Marks & Spencer
Monzo
Nationwide Building Society
NatWest
PayPal
Revolut
Royal Bank of Scotland
Sainsbury's Bank
Santander
Starling
TSB
Tesco Bank
TransferWise
Ulster Bank
Virgin Money
Vanquis
Yorkshire Bank
Investment Accounts Supported on Emma
The Emma app can sync up t your Nutmeg stocks & shares account, PensionBee for pensions, and the following crypto exchanges:
Binance
Bitfinex
Bitstamp
Bittrex
Coinbase
Coinbase Pro
Kraken
What Do Others Say About It?
As of 2022, the Emma app has 80 reviews on Trustpilot with an overall score of 2.9 (rating: average). The most recent reviews are largely negative – although it should be noted that many of these were posted by people who had simply downloaded the app and then deleted it, while the reviews from users of the app are more positive.
When this review was first published in 2020, the company had an overall rating of 4.1 out of 5 on Trustpilot, but that was based on only 35 reviews. The app reviews provided more insight: Emma had over 2.5k reviews on iOS and a score of 4.7, while it received a 4.5 on Android with over 1.3k reviews.
In October 2022, the app now has over 11,000 reviews on iOS with a rating of 4.7, and over 4,800 votes on Android with an average rating of 4.3.
Is Emma secure?
Emma uses 'bank-grade encryption' to keep your money safe, and is registered with the Financial Conduct Authority (FCA) and the ICO. The app has access to your financial data in 'read-only' mode only, so no one from the app can physically access your money.
How Does Emma App Make Money?
The Emma app has three paid plans: Emma Pro, Emma Plus, and Emma Ultimate. However, the app does have a free version available to use and claims this will always be an option.
Alternatives to Emma
Other budgeting apps you could consider include Snoop AI, Yolt, Plum, Trim, and Money Dashboard.
Emma vs Money Dashboard
Money Dashboard is another budgeting app that you might want to consider. Launched in 2010 and later re-designed as a mobile-first app, Money Dashboard Neon, in 2020, the app offers many of the same features
Verdict: Emma Review
Overall, Emma is a fantastic budgeting app that shows a lot of promise considering its relative youth in the grand scheme of things.
The intuitive interface makes it easy to track and manage your money, set budgets, and monitor your expenses each month, while the pro subscription offers some interesting advantages.
Yasmin Purnell is a freelance writer and the founder of The Wallet Moth. Yasmin is on a mission to help her readers achieve control of their own finances and live an independent life that isn't controlled by a number in a bank account. When she's not tapping away at her keyboard, you'll find Yasmin spending quality time outdoors with her daughter, cooking up a plant-based storm on ByTheForkful.com, or enjoying a yin yoga class.