We may earn money or products from the companies mentioned in this post, and as an Amazon Associate I earn from qualifying purchases. Please see my full disclosure for more information.
Is £40k a good salary, and how does it compare to the median earnings of full-time workers across the UK? We look into whether you can live on £40,000, where it will go farthest, and the median earnings across the UK in this article.
The current cost of living crisis has left thousands of Brits feeling frustrated at watching prices everywhere skyrocket, while job salaries seem to have plateaued.
It's left many people comparing their salary to others around them, but wondering just how their annual salary measures up. In this article, we'll be addressing the question: Is £40,000 a good salary in the UK?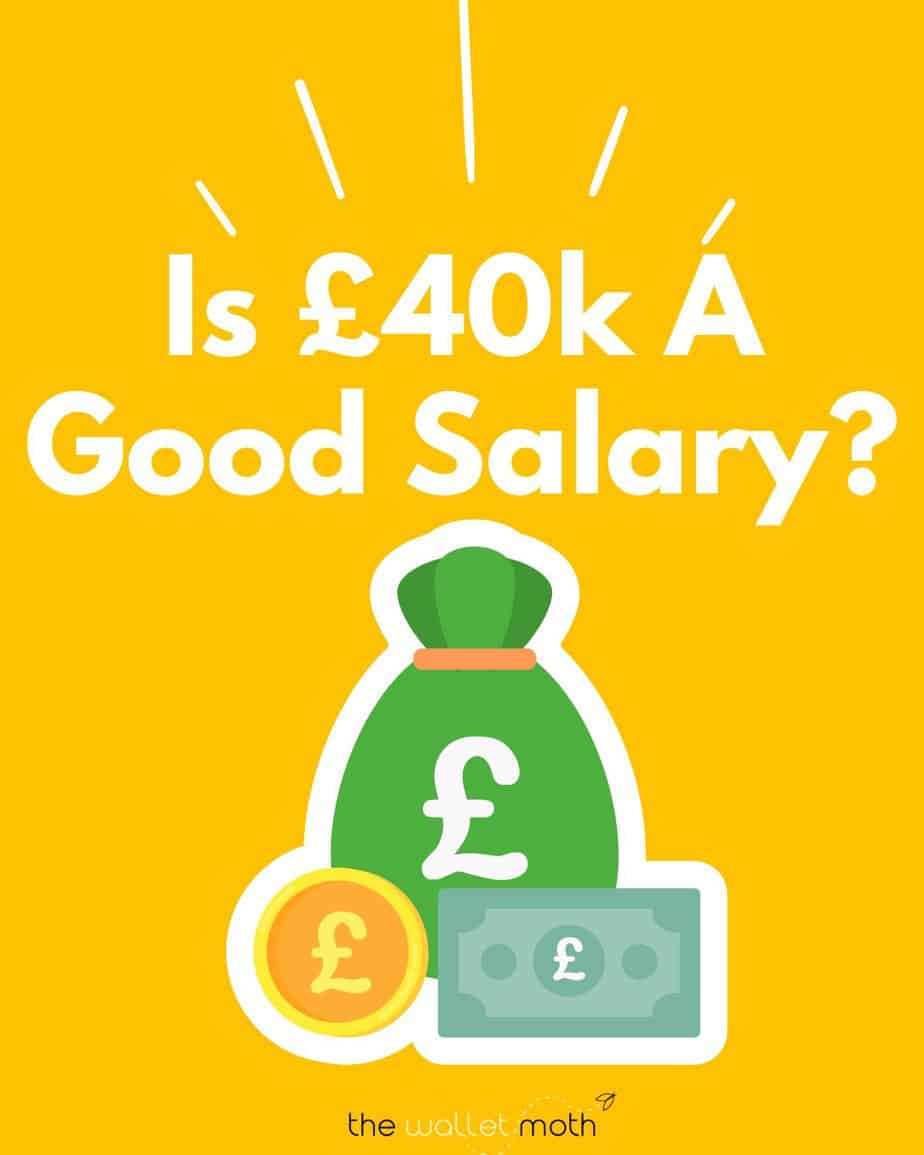 TLDR: Yes, £40,000 is above the median annual pay for full-time employees, making it a great salary for most Brits. However, this answer can differ depending on your location, occupation, and a myriad of other factors.
We'll be deep diving into all those factors and more here.
If you're thinking of setting your sites even higher, find out whether £50k is a good salary in the UK, and see how £60k annually compares to other full-time workers.
How Does £40,000 Annual Break Down After Tax?
£40,000 may sound like a lot of money – because it is! – but it's important to remember that you'll pay tax on that salary and the actual amount you receive into your bank account either on a weekly, bi-weekly, or monthly basis will already have that tax reduced.
Here's what your net income will look like after taxes:
| Period | Gross Income (£) | Net Income (£) |
| --- | --- | --- |
| Annual | 40,000 | 31,224 |
| Monthly | 3,333 | 2,602 |
| Weekly | 769 | 600 |
| Daily* | 153.85 | 119.04 |
*The daily figures are calculated based on a 5-day working week.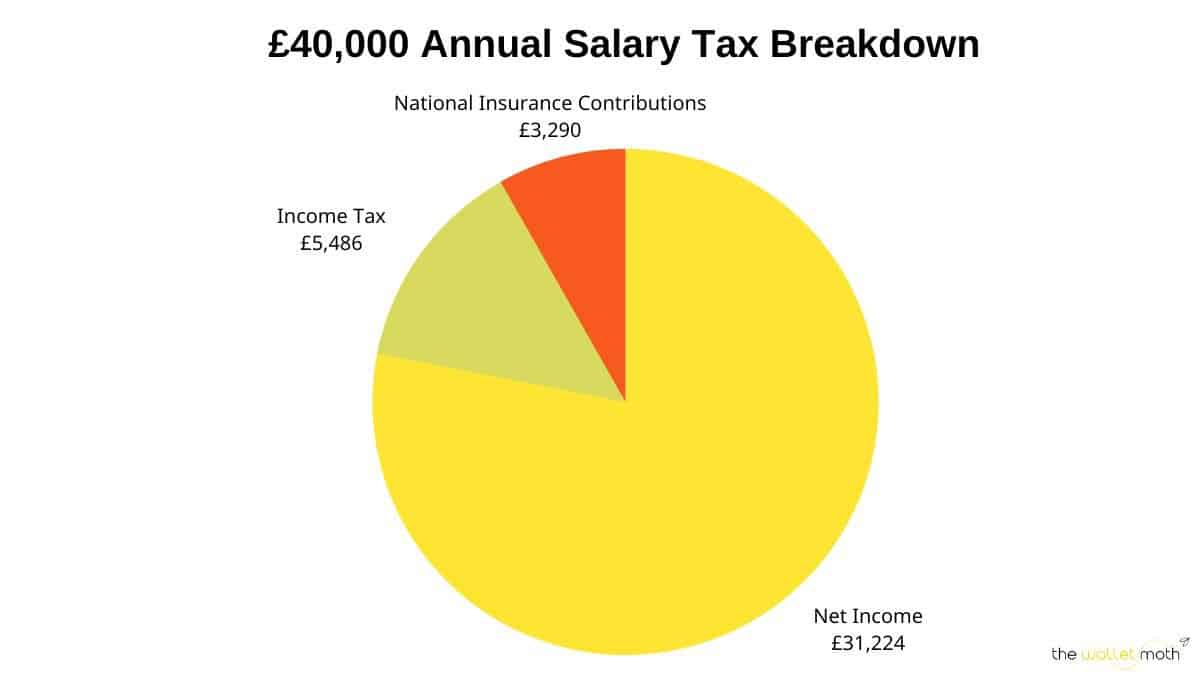 Is £40,000 a good salary?
At the end of the 2022 financial year, the median annual pay in the UK was £33,000 – putting £40k well above average.
Therefore, anyone on this salary should be pleased to know that you are earning above the average annual wage.
However, when we look more closely across the UK, as you might expect the answer is different depending on location.
£40,000 Salary Compared by Location
As one might expect, the highest median annual earnings can be found in the City of London, sitting at £56,628 at the end of the financial year in 2022. Salaries are generally higher around London due to the much higher cost of living, and due to the higher concentration of national and global businesses.
The median annual earnings for London as a whole were slightly lower, at £41,860, meaning someone on £40k per year would be sitting right around the average income.
At the other end of the scale, the median annual earnings in Torbay, Devon, are £25,636. People earning £40,000 here would be earning almost double the median earnings here.
This is perhaps why an influx of remote workers are considering places like Devon to settle down – where their money is likely to go much further than in the cities.
On a regional level, a £40,000 salary would be considered well above average in the North East – where the median annual pay is over £10,000 lower.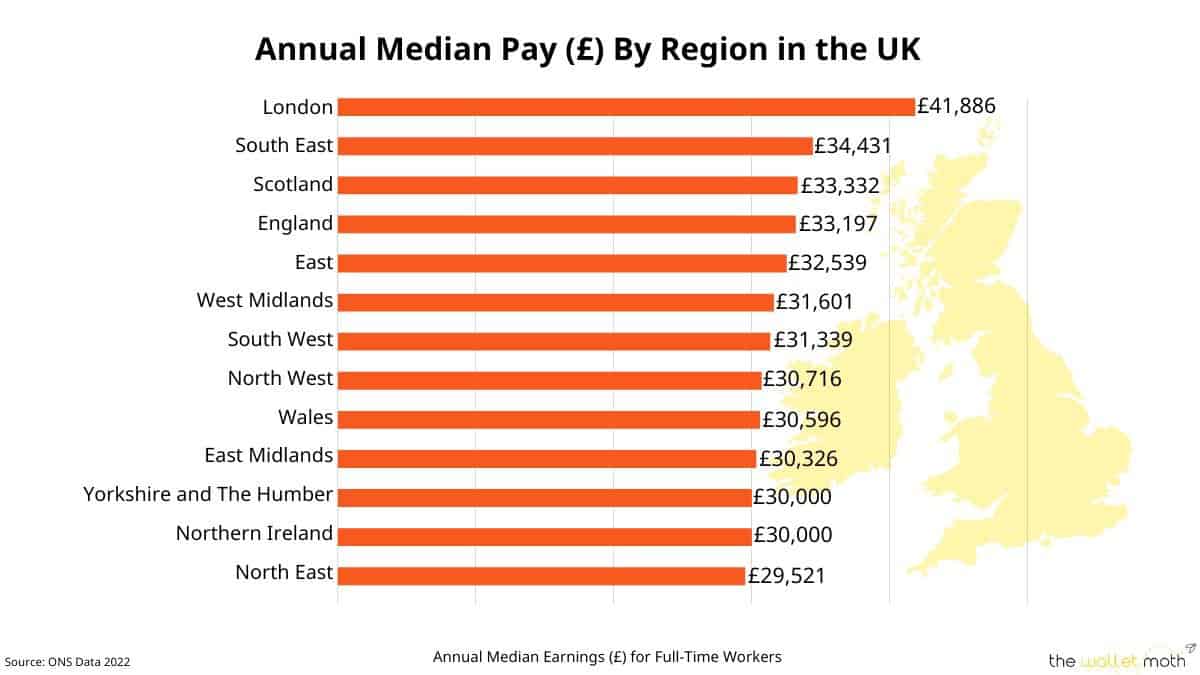 £40,000 Salary Compared By Occupation
Aside from location, it's also important to consider how the industry you work in can affect how your salary measures up.
A retail assistant in all likelihood wouldn't expect to be earning the same salary as a surgeon, after all.
Despite £40,000 being above the national median annual salary, there are certain occupations where this figure does fall short.
Here are a few occupations that have higher median earnings than £40,000:
Senior roles
Chief executives and senior officials (£79.835)
Marketing, sales, and advertising directors (£77, 695)
Information technology directors (£73,571)
Public relations and communications directors (£66,510)
Financial managers and directors (£64,193)
Functional managers and directors n.e.c. (£61,139)
Sales accounts and business development managers (£47,393)
Production managers and directors in manufacturing (£47,068)
Human resource managers and directors (£46,967)
Marketing and commercial managers (£46,747)
Medical
Specialist medical practitioners (£68,614)
Health services and public health managers and directors (£50,789)
Healthcare practice managers (£45,027)
Law Enforcement
Senior police officers (£59,141)
Barristers and judges (£53,110)
Solicitors and lawyers (£48,580)
Education
Headteachers and principals (£66,686)
Higher education teaching professionals (£47,300)
Transport
Aircraft pilots and air traffic controllers (£62,778)
Train and tram drivers (£58,868)
Rail transport operatives (£50,561)
Engineering
Electrical engineers (£50,487)
Engineering project managers and project engineers (£45,808)
IT
IT business analysts, architects and systems designers (£50,396)
Cyber security professionals (£45,593)
Programmers and software development professionals (£45,508)
Jobs that pay £40k
So we've covered the jobs that pay more than a £40,000 annual salary, but what about the positions where you'd expect to see this kind of pay?
Here are the jobs that had this median salary at the end of the last financial year (we've allowed jobs that fall £1,000 above or below this sum, too):
Mechanical engineers
Managers in transport and distribution
Midwifery nurses
Education managers
Quality control and planning engineers
Chartered surveyors
Mental health nurses
Financial accounts managers
Residential, day, and domiciliary care managers and proprietors
IT network professionals
Construction project managers and related professionals
Physiotherapists
Advertising accounts managers and creative directors
Nurse practitioners
Other health professionals n.e.c.
Social workers
Could I afford a mortgage on a £40k salary?
Yes, in theory, you would be able to get a mortgage with a £40,000 salary.
Mortgage lenders will, as a general rule, offer around 4.5 – 5 times your salary, so a £40,000 salary would mean you could get a mortgage of £180,000 – £200,000.
If you had a 20% deposit, you could be looking at buying a house with a budget of £220,000.
As of January 2023, the average house price was £290,000 in the UK – so you might struggle to find a good range of houses with that budget.
Keep in mind, if you have a partner, then both your salaries can be used to get a joint mortgage. If you were both earning £40k a year, you'd be looking at a much bigger budget.
How should I spend my £40k salary?
It's smart to think about where you will allocate your money before you spend it.
A great simple budgeting tip you can apply to almost any salary is the 50/30/20 rule.
The 50/30/20 rule is a simple, practical rule of thumb for individuals who want a budget that is easy and effective. It offers guidelines for enjoying your income while also ensuring that you save and invest for the future.
According to this rule, you should aim to allocate your net income as follows:
50% on needs
30% on wants
20% on savings and debt repayments
Here's how you would break down a monthly net income of £2,602 according to the 50/30/20 rule:
| Category | Percentage of Income | Amount (£) |
| --- | --- | --- |
| Needs | 50% | £1,301 |
| Wants | 30% | £780.60 |
| Savings & Debt | 20% | £520.40 |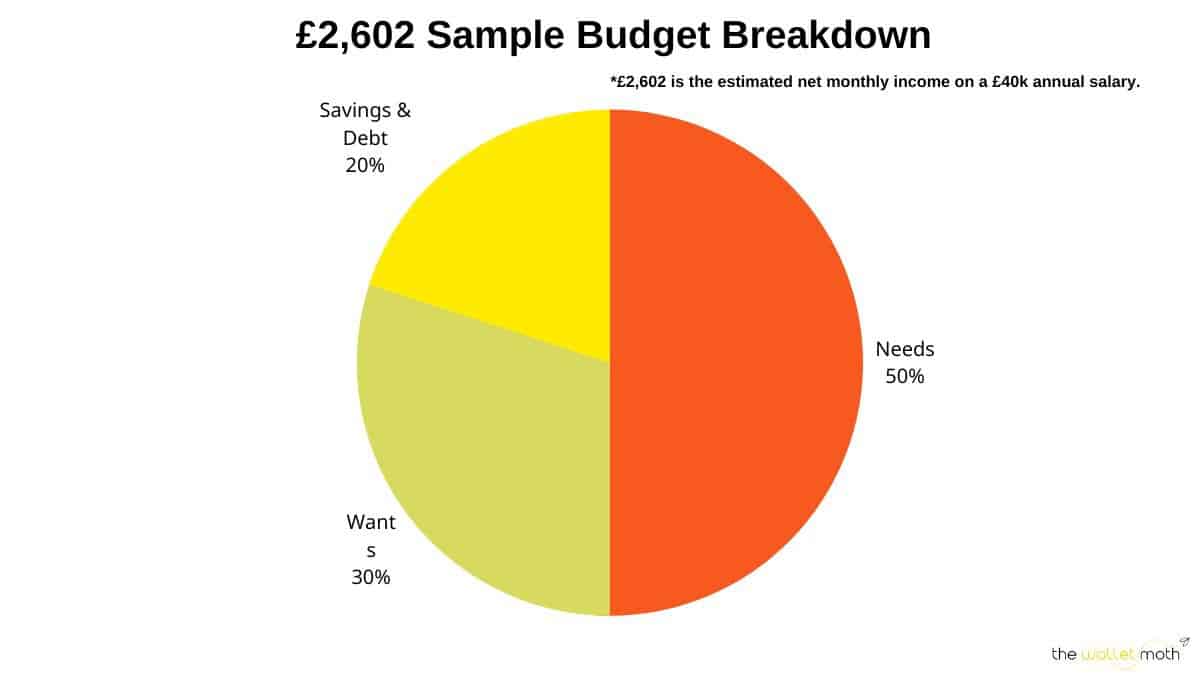 Affording rent on a £40k salary
With the average rent costing £1,199 in the UK (as of April 2023), this budgeting rule would not leave you with much left for other bills and essentials.
Depending on the cost of living in your area, you may find you need to allocate more of your 'wants' or 'savings' quota to your 'needs' budget.
Budgeting tips to make £40k go further
Despite £40,000 being an above-average salary in many parts of the UK, you may still be feeling the sting of the cost of living crisis. This could be especially true if you living in a high-cost-of-living area, live alone, have dependents, or have large sums of debt that you need to pay off every month.
Here are a few simple, practical budgeting tips that can make your £40k annual salary stretch that bit further:
1. Start Tracking your income
It's very difficult to make your money go further when you don't know where it's going in the first place.
Make an effort to track your income, even if it's just for a couple of months, and gain an awareness of where your money is going. You could use an app like Plum or Emma to automate this process, or you could use a good old-fashioned Excel spreadsheet!
Once you have that data, you can move on to the next step…
2. Identify major money drains
We all have those areas where we have a tendency to overspend, be it on clothes or takeaways or something else entirely.
However, when it starts adding up, those luxuries we allow ourselves can become a major spending issue.
Look out for subscriptions you don't use, habits you could do with cutting out, and patterns in your spending that you can try to adjust.
3. Adopt some frugal practices
Frugal living isn't necessarily about spending less – it's about spending smarter. Learning more about frugal living could be the fundamental difference between living paycheck to paycheck, and using your money to add genuine value to your life.
These frugal living tips are a fabulous place to get started with this.
And if you're still struggling…
4. Find ways to increase your income
If asking your employer for a raise is beyond the realms of possibility right now, you have two options here:
The sacrifice here is your time – side hustlers spend their evenings working instead of relaxing after their 9 to 5, but with rising costs everywhere it's worth considering. Plus, you never know where your side hustle could take you.
FAQs
Do I need a degree to earn £40,000?
No! While a degree might give you a foot up in reaching the £40k salary mark straight after leaving full-time education, you can still work your way up the career ladder to £40,000 and beyond without one.
Where in the UK will £40,000 a year go furthest?
Some of the cheapest places to live in the UK where £40k will stretch further include Dundee, Hull, Glasgow, West Yorkshire, Carlisle, and Londonderry.
Where is £40,000 not the best salary?
London has the highest median annual salary in the UK, at £41, 860. While this is only slightly above £40k per year, it's important to remember that London also has a much higher cost of living than other parts of the U. You'll be spending more on rent, bills, entertainment/leisure, and just about everything else.
£40,000 a year is how much an hour?
Assuming you work a standard full-time 40-hour week, your hourly rate when earning £40k a year is approximately £19.23 per hour.
£40,000 per year is how much paid monthly?
A £40,000 annual salary is £3,333 per month or £2,579 after taxes.
---
Source: All income data was sourced from the ONS earnings and working hours data, with the latest data available from the end of the 2022 financial year.