We may earn money or products from the companies mentioned in this post, and as an Amazon Associate I earn from qualifying purchases. Please see my full disclosure for more information.
This post lists over 15 ways to make quick money in one day, or simply boost your income this month without having to get a full-on second job. 
Having extra cash to play with gives you so much more financial freedom and over time, that can really change your life. So when you realise that there is actually a tonne of ways you can easily up your income and even make quick money in one day, or even increase your earnings by a few hundred dollars every single week, things get kind of interesting.
With that extra cash you could do so many more things. You could:
Pay of your debt
Save for a house
Have more free cash to invest in a business venture
Build a strong emergency fund, put more into your pension or a savings account
Consider leaving a job you hate for something you really want to do
Have a little more wiggle room for doing the things you love!
The good news is, you don't have to wait a year for your boss to maaaybe give you a raise on your monthly income. In fact, diversifying your income outside of your 'regular' job is a great idea anyway.
Have multiple streams of income gives you more opportunities to earn money and providing a stable foundation of income should one stream suddenly fail (if you were made redundant, for example, having another stream of income could be invaluable).
The below ways to make extra money each month are great whether you're employed full-time and want to up your income, or if you're a student or stay-at-home parent looking for some creative ways to make some more money on the side!
How To Make Quick Money In One Day
Side Note: No single one of these ideas is likely to work if you want to make $100's in one day – honestly, there's no 'quick' way to do that. However, below are all easy, simple, and legitimate strategies to make some quick money in a day.
1) Survey Sites
Survey sites are a fantastic way to earn money on the side if you don't have the time to invest in a proper side hustle such as freelancing or blogging (see below!).
While you won't make big bucks from Survey Sites, they are a legitimate way to earn cash that I (and many other money bloggers) regularly fall back on to make some cash.
Some sites are great and provide genuine opportunities to earn cash in exchange for completing surveys, watching videos, reviewing products and more. Others, however, take more time and effort to complete than the money you'll receive in turn and simply are not worth it.
With that in mind, if you've got a few hours spare in the evenings (perhaps when you're sitting in front of the TV) and like the idea of making some cash each week from filling out surveys, I'd recommend the following sites for getting started (all are completely free to join):
Swagbucks (get a free $5 bonus for signing up)
Another fab app I highly recommend downloading is the Nielsen Mobile Panel, which lets you earn money and enter to win thousands every single month – purely for having the app on your phone!
2) Virtual Assistant
A virtual assistant helps online businesses, bloggers and entrepreneurs with the admin side of things for their business. This could include things such as:
Responding to emails and keeping their inbox clear
Scheduling posts on social media
Creating graphics and photos for their blog
Proofreading and editing posts
Outreach for the company
Other admin tasks such as expenses, editorial calendars and more
One of my very first freelance jobs was actually to be a virtual assistant, and over 18 months later I still have that client today (they're great!).
I definitely fell into my role as a virtual assistant, but I really enjoyed it because I always had something new and interesting to do.
Being a virtual assistant is possible for anyone as it doesn't require a specialist skill like design or writing. It is a great form of steady income every month as there are always tasks to be done, and it keeps my workload interesting as there are always other things to do if I'm not in a writing mood!
I highly recommend checking out Gina Horkey's website and courses. She built a successful virtual assistant business with no experience in just 6 months, and is one of my work-from-home idols!
If you're not sure what exactly you could offer as a VA, she also has an amazing list of over 100 things you can do as a virtual assistant – so there is definitely something for everyone with this side hustle.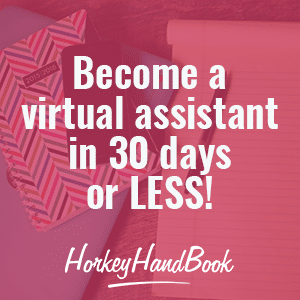 3) User Testing
User Testing is a website that you can earn money from by testing websites!
You can earn $10 per test, which is typically 20 minutes. If you have the time to spare, this can be a fantastic and super reliable way to earn money every evening when you have some time to kill!
Check out how to become a User Tester here.
4) Create a Course
Do you have a skill that you think other people would be interested in learning? There are a lot of highly successful people today because they've seen a gap in the market for a course that would really sell – if you have a niche skill without many highly rated courses, you could be on to a huge winner.
Not to mention, creating a course requires a lot of work initially, but then you'll be on your way to a passive income stream to earn money while you sleep!
A few fantastic platforms to create your course on are:
5) Teach English Online
VIP Kid is currently amongst one of the top companies to work for remotely. With this site, you can teach English to Chinese children online and earn up to $25 an hour from the comfort of your own home!
I know people that have used VIP Kid themselves to supplement their income and they have raved about it, so it's definitely worth checking out if you think you have what it takes to teach English!
Visit VIP Kid and register as an online teacher.
6) Shop on Cashback Sites
Finally, let me introduce you to the best-kept secret when it comes to shopping online. eBates is a website that allows you to sign up, shop with your favourite retailers as usual, and it will then give you cash back whenever you make a purchase through the site.
This is a totally legitimate site and a great way to make money without making any major alterations to your current routine
7) Start Your Own Website
What, you didn't know that bloggers can make money? And more than that, that there are bloggers out there making even more money than they ever could have made in a regular job? Well, there are!
In the past 3 months, I've tripled my income from my blog already – and it's all thanks to this course: Making Sense of Affiliate Marketing.
I go into way more detail in my make money as a full-time blogger post, but here's the gist: Michelle currently makes over $50,000 every single month from affiliate marketing on her blog (and a whopping $100,000+ every single month), and in this course, she's revealed all her secrets. It is legit. Within 2 days of applying the course materials to my blog, I made my first affiliate sale – and they've kept on climbing ever since.
If you're interested in working remotely as a blogger, you need this course, really.
8) Deliver Food
Become an UberEATS driver, Deliveroo, or PostMates and make money delivering food for people in your spare time. Also a great way to stay fit if you run your deliveries on your bike!
9) Make Money on Your Smartphone
I'm just going to leave this here for you:
15 SUPER easy ways to make money with your smartphone
10) Sell Old Items Online
Selling things online is a great side hustle you can do in your spare time, and you can scale it exactly to how much time you have to spend on it.
A few things you could sell include:
Old clothes (in good condition)
Items from your house decluttering (again, provided they're working!)
DIY crafts (knitting, crocheting, pottery, jewellery-making)
Online products i.e. printables, eBooks, courses
Goods on Amazon
 Depending on whether you want to make serious money, or an extra bit of cash each month, there are a number of platforms you could choose to sell things online.
11) Become a Driver
A tonne of people drive for Uber or Lyft on the side of their regular jobs to earn extra money extra single day. Why not?!
If you have a car and don't mind spending a few hours behind the wheel, this could be a perfect little side job for you – and an interesting way to meet some new people!
12) Become an Airbnb Host
Last year I interviewed Lily, who earns over $50,000 every year from her Airbnb side hustle. She just rents out a spare room in her and her husband's house and boom, steady income with not too much work required.
If you have a spare room, being an Airbnb host could be the perfect way for you to make money each month. If you live in a great area, you could even make 100 dollars a day just from this!
Sign up to be an Airbnb host and get credit off your first stay with my link.
13) Start Your Own Amazon Store
You could also consider starting your own Amazon FBA store, which involves having your own online store but all orders are fulfilled directly by Amazon. There are huge benefits to selling things online this way, and you can scale your profit over time if you decide you want more than a side hustle.
Take a look at my post on making money from Amazon FBA here.
If you want more information, I'd highly recommend checking out The Selling Family for a huge range of courses packed full of valuable information.
14) Become a Freelance Writer
I now run my freelance writing business full-time, but previously this was my very own side hustle.
Freelance writing is a perfect way to make extra money every day, especially if you have a knack for words!
Take a look at these articles to get started:
How to Become a Freelance Writer and Where to Find Freelance Jobs Online.
15) Be a Secret Shopper
Mystery shoppers are paid to enter a store or restaurant and review the service they receive, the cleanliness of the environment, and a range of other aspects as an anonymous shopper.
If you have spare time in the day and like the idea of going undercover in the shops and restaurants, this could be a good option to make money without a job!
I hope these tips helped give you some extra inspiration to make $100 today – or even just to boost your income a little. The key takeaway is that you don't need a second job to make more money: you just need a little creativity to put your spare time to good use. Good luck!