We may earn money or products from the companies mentioned in this post, and as an Amazon Associate I earn from qualifying purchases. Please see my full disclosure for more information.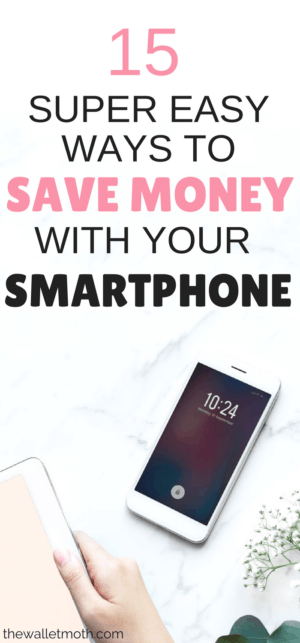 How many hours a day do you spend scrolling on your smartphone? Be honest.
I'll hold my hands up. I'm a typical 'millennial' – I'm attached to my smartphone. Sometimes I'll be on my laptop, decide to go to sleep, only to realise I'm now scrolling through the exact same stuff online but on my phone instead.
So…what if I told you that you could actually make use of all this time spent on your phone, and start making money with it?
Yup – totally possible!
No, I don't mean getting paid for flicking through Instagram and Whatsapping your mates (although that sounds like a pretty sweet gig…), but there are legitimate apps and websites that will pay you in cash – and you can use them from your smartphone wherever you are.
Got a spare 10 minutes to kill in the day? A long train commute with nothing else to do? Why not earn a little cash from that time rather than waste it on social media?!
These apps are not going to make you rich. That's just a fact – I've yet to find an app that could ever replace a real job. However, these are all perfectly legitimate ways to make money that don't waste your time.
There are a lot of apps out there that are more time than it's worth, so be selective when downloading apps that promise to help you make loads of cash. The ones listed below are, in my experience, some of the most trustworthy and efficient ways to make money with your smartphone.
Here we go – 15 ways to make money with your smartphone (and they actually really work!).
A) Surfing Online & Playing Games
Swagbucks
Swagbucks will pay you in points that can be redeemed for cash or vouchers in return for completing online tasks such as surveys, playing games, watching videos, or simply surfing the web through the app.
It is one of the most legitimate and most popular sites for earning money online, and is a great way to earn money from your smartphone in the evenings. Sign up to Swagbucks for free now.
Nielsen Mobile & Computer Panel
The Nielsen Mobile App is a brilliant way to make money on your smartphone. It pays you and gives you opportunities to win thousands every single month, simply for having the app installed and running in the background on your phone.
Pinecone Research
Another fantastic site that will pay you in cash or retail vouchers in return for completing short surveys online. One of the better paying survey sites to sign up to – join Pinecone Research for free.
Inbox Dollars
Inbox Dollars is a great way to make money with your smartphone by completing surveys, watching videos, and playing games. This site will also give you a $5 bonus simply for joining!
B) Shopping Online
Ebates
Ebates allows you to sign up for free, shop with your favourite retailers as usual, and it will then give you cash back whenever you make a purchase through the site. This is a totally legitimate site and a great way to make money without making any major alterations to your current routine.
Read my full review of shopping online with Ebates.
TopCashBack
Another extremely popular cashback site that you can earn money from simply shopping with your favourite retailers through the app. Definitely worth checking out if you are a fan of online shopping already!
Sign up to TopCashBack for free with my link.
ShopKick
Shopkick is brilliant. It will pay you for spending time in certain shops that you probably already go to! Just scan your barcodes and get points that can be redeemed for gift cards at your favourite retailers. A brilliant way to save money on the shopping you already do.
C) Selling Online
Poshmark
Poshmark is a brilliant way of selling your brand-name clothing without hassle. You just have to take a photo of the clothes you want to sell and post them – it's super simple and you'll receive 80% of the selling price!
Decluttr
The place to sell your unused DVDs, books, and CDs – simply enter the barcode of the items you want to sell to get a quote from Decluttr, confirm your order, and pack up your items to ship to Decluttr for free!
eBay
Another fab way to make money on the side by selling unused and unwanted items from around your home. Some people even make a killing by buying discount items and selling them at a higher premium on eBay – something to consider if you have the time!
D) Side Hustles
Airbnb
Airbnb is my go-to website to find great value deals on accommodation when travelling, but did you know that it's also a great side hustle if you have the space in your home?
Lily makes over $50,000 a year with her Airbnb side hustle, so definitely consider becoming a host if you have the time and a few spare rooms that could be put to use!
Lyft
Becoming a Lyft driver simply requires a car and a smartphone to accept lifts. You simply need to pass a background check and have your car signed off for a safety check and you'll be able to quickly start accepting ride requests with the Lyft app and start making money.   
Uber
Like Lyft, you need to pass a driver check and car safety test to start driving for Uber. A lot of people actually drive for both apps to get more lifts while they're working.
Deliveroo
Deliveroo is massive in the UK. There are guys out cycling with those huge insulated boxes strapped to their backs earning money for delivering peoples orders from popular restaurant chains.
Deliveroo seems like a great way to keep fit while also earning money, and all you need is your smartphone to accept orders and a bike. Become a deliveroo driver today.
Postmates
The US equivalent. Sign up to be a Postmates delivery person.
For more apps you could make money from on your smartphone, check out this awesome list of money-making apps.
What creative ways do you use to make money online? Have you tried any of these apps? Let me know in the comments!