We may earn money or products from the companies mentioned in this post, and as an Amazon Associate I earn from qualifying purchases. Please see my full disclosure for more information.
In today's fast-paced world, having a side hustle has become an increasingly popular way to supplement income, follow passions, and gain additional skills. While it may not be for everyone, side hustles can be especially appealing to introverts. This article rounds-up 30 of the very best side hustles for introverts, both online and in the real world.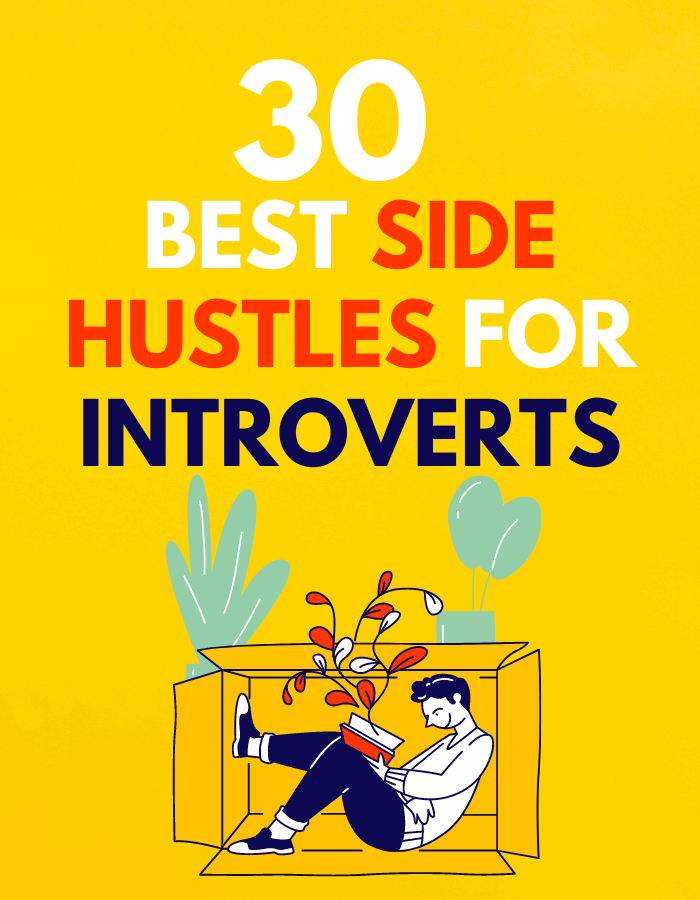 ---
Here we'll explore why introverts may prefer side hustles over traditional careers, the best side hustles for introverts, and key considerations for introverts starting a side hustle. Remember, it's not only extroverts who become successful business owners!
Also, we'll have some helpful tips on how to manage burnout and maintain work-life balance will be discussed in the article. Read on to find out more!
Looking for more generic ways to make money on the side? This list of 54 ways to make money at home is a great place to start!
Why would being introverted affect my career?
It's important to stress that there are no jobs that are right or wrong for an introverted person. Being an introvert or an extrovert is not a black-and-white thing, and it's impossible to divide the entire world into two simple categories!
However, it's true that many people feel energised in different ways. Some people prefer to be in the company of others and that leaves them feeling content and full of energy, and these people are considered extroverts.
Others feel more energised after spending time alone and may prefer their own company. These people are considered to be introverts.
When it comes to career choices, introverts often gravitate toward careers that allow them to work independently and have control over their environment. They may shy away from careers that involve heavy social interaction or require them to be constantly in the public eye.
However, introversion is not a weakness but a strength that can be leveraged in the right career.
By understanding and using it to their advantage, introverts can find careers that align with their personality and work style. Let's look at the best side hustles out there.
Best Side Hustles to Consider
There are many side hustles that are well-suited to introverts. The five main categories include freelancing, online businesses, creative pursuits, online side hustles, and local services.
Freelancing
Introverts skilled in writing, editing, proofreading, or virtual assistance can turn these skills into a successful side hustle. Freelancing offers the flexibility to choose projects and clients and to work from anywhere. A great platform to get started on is Fiverr – you just need to create your profile and then clients can come to you! Let's take a closer look at some of the best freelance jobs for introverts.
Freelance Writing: If you're an introvert with a passion for writing, becoming a freelance writer could be a side hustle for you. Whether you're writing articles, blog posts, or marketing copy, there is a high demand for skilled writers in the online marketplace.

This was my first ever freelance job (and still is six years later), and is perfect for anyone who prefers to keep interactions online – best thing, no phone calls!

Translation Services: Introverts who are bilingual or multilingual can offer their language skills as translation services. Whether you work for a translation company or start your own translation business, there is a high demand for skilled translators, especially in the business world.

Data Entry and Transcription: Data entry and transcription are great side hustles for introverts with strong typing and attention to detail-skills. These jobs often require minimal social interaction and can be done from home. This is a great job to find on Upwork – take a look at this list of easy jobs for beginners on Upwork for more information.

Virtual Assistant jobs: Virtual assistants can help businesses and individuals with a variety of administrative tasks, such as email management, appointment scheduling, and social media management. This is a great side hustle for introverts who prefer to work behind the scenes and enjoy administrative tasks.

Graphic designer: Honing your design skills can be one of the best ways to make money if you are a creative introvert. This can easily become an exciting full-time job that allows you to work from home while still expressing your creative side.

Virtual bookkeeper: This is a mathematically-minded introvert's dream job, as you spend your days with numbers and little-to-no social interaction! You don't need a degree to be a bookkeeper, but gaining some level of certification may help your clients gain some trust in you.
Online Businesses
E-commerce, drop shipping, and selling digital products are all options for introverts who are comfortable working independently and prefer to work from home. These businesses typically require a strong online presence (and a good internet connection!) so introverts will need to be comfortable with building a website and promoting their business online. Here are three main side hustles to consider, whether you're looking for extra cash or for a full-time income.
Online Marketing: Online marketing is a growing field that introverts can leverage to build a side hustle. Whether it's SEO, social media, or email marketing, introverts can use their marketing skills to help businesses reach a wider audience and increase their online presence.

Accounting: Introverts who enjoy working with numbers can offer bookkeeping and accounting services to small businesses and individuals. This can include reconciling bank statements, creating financial reports, and managing accounts payable and receivable. By using software like QuickBooks, introverts can manage financial records, produce financial statements, and help clients save money on taxes.

Online Selling: Introverts who enjoy sourcing and selling products can start an online business. Whether you sell vintage finds, handmade products, or items you source from wholesalers or your local flea market, online selling is a great way to earn extra income and work independently without having to interact with people face to face!

Online courses: Another increasingly popular side hustle for introverts is to create your own online courses. The best thing about this side hustle is that you can create a course on your speciality in your spare time, and once that up-front work is done, you can reap the rewards of passive income for years.

Social media influencing or management: Whether you'd like to grow your own social media accounts or help others with theirs, this can be a fantastic behind-the-scenes job if you pick the right niche. Just think, how often do you really see your favourite food blogger's face on social media?

Being a social media manager or influencer may sound like you need to be extroverted and comfortable with being in front of a camera and human interaction, but in reality, you could simply be behind the screen posting and scheduling videos if that's what you're more comfortable with.

Niche websites: Niche websites are a big thing in the online publishing space right now, and if you find a low-competition niche with high-volume keywords, you could be onto an absolute goldmine. I'm a big fan of Niche Pursuits for all things niche websites and affiliate marketing ideas.
Creative Pursuits
Creative introverts can pursue side hustles in the likes of photography, painting, drawing, crafting, or DIY projects. These pursuits allow introverts to tap into their creative side and can be done on a flexible schedule, making them the perfect side gig for anyone who loves to create.
Content Creation: Content creation is another great option for introverts who enjoy writing, podcasting, or vlogging and posting YouTube videos. By creating high-quality content and building a following, introverts can monetize their work and earn a passive income. You could focus on writing a brilliant blog post, or you might prefer to put your creativity into creating visual content, such as videos or photos.

Graphic Design: Introverts with a talent for graphic design can offer their services to businesses and individuals needing design work. Whether creating logos, designing websites, or creating marketing materials, graphic designers can use their skills to earn a side income from the comfort of your own home.

Photography: If you're an introvert with a passion for photography, you can offer your services to friends or start your own photography business. Whether you specialize in portrait, landscape, or event photography, there is a demand for skilled photographers. What's more, you could sell your photos as stock photos on sites like iStock as a good side hustle for creating passive income.

Web Developer: Introverts with a talent for web development can offer their services to businesses and individuals in need of website design and development. Whether it's building custom websites, creating e-commerce platforms, or working with WordPress, web developers can use their skills to earn a side income.

Book reviews: It may sound cliche to assume introverts love to read, but the stereotype does ring true for many – making this the perfect side hustle for some introverts. You could find a rewarding creative outlet in providing book reviews for fellow readers, and earning your money via affiliate sales or sponsorships.

Video games: Introverts who love video games can actually make money from this passion in a few different ways. You could go into programming and design and actually start building your own game, you could enter battles to win cash prizes for certain games, or you could stream live on Twitch (although that's quite a competitive niche to enter these days).
While these are just some examples, you can try to monetize any creative skill that you have. If you love music, look for jobs in music production. If you love painting, try to see if you can sell it. Whatever you're great at, turn it into a side hustle. 
Online Side Hustles
There are plenty of online and remote side hustles which introverts would love to do. These allow you to earn money from your own home with minimal social interaction.
Affiliate Marketing – Affiliate marketing is where you promote a product and then get a percentage of the sale. We often see this with the likes of Instagram and TikTok influencers, but you can also create your own blog or Twitter page. 

Blog – As we mentioned there, you can use a blog to promote affiliate links, but there are other ways to monetize a blog too. For example, you can place adverts on your website as well as offer premium content or sell your own products.

YouTube Channel – Putting yourself out there can be difficult for many introverts, but a YouTube channel can be a good way to earn money. Find a niche doing something you love and then create high-quality videos that people will love.

Online Surveys – Earning money from surveys sounds like an introvert's dream. However, the reality isn't quite as appealing. The respective amount you earn per hour from completing surveys is very, very low. You'd be better off putting your time into other side hustles, but if this is something you'd like to try, Survey Junkie is a good place to start.

Selling clothes online: A fantastic side hustle can be finding bargains in thrift stores or second-hand charity shops, and flipping them on an online store. Find the best places to sell clothes online to really give your online store the best shot.
Local Services
If you're comfortable offering your services in your local area, then this can be a perfect way to earn a little more money. There is a vast range of things you could do, but here are a few examples.
Pet Care: Introverts who love animals can earn extra income by offering pet care services, such as dog walking, pet sitting, and pet grooming. Whether you work for a pet care company or start your own pet care business, this is a great side hustle for introverts who love spending time with animals. Being a dog walker doesn't typically require any training, but it's a good idea to at least be comfortable with the dogs you are working with!

Gardening: For those that live in the suburbs, offering gardening services or general yard work can be a great idea. It can be hard work to get clients, but once you get the work, you can be left alone to complete your tasks. 

Babysitting: Perhaps the best example of a side hustle is babysitting. If you know there are young families in your area, this can be an easy way to earn a little extra money. You can post your availability on social media groups or even create your own flyers. What's more, one great thing about this idea is that you can be a babysitter in your free time and while the kids are in bed, you can work on your other side job too!

Power Washing: We chose power washing here, but if you feel there is a local need for a service, then exploit it. For example, gutter cleaning is another potential great side hustle. These jobs can be hard work but require minimal start-up costs. 

Food delivery: You might need a bike or a car to make this a feasible option, but delivering people's food via Uber or Deliveroo is a good option for anyone wanting minimal human interaction.

Delivery driver: Alternatively, you could consider signing up to be a delivery driver, delivering packages and parcels to people's houses. The earning potential may not be quite as high as some of the online jobs listed above, but it's a solid way of earning money and perfect for someone who doesn't want to work closely with others.

Focus groups: You could also consider signing up to take part in focus groups near you. How far you are willing to travel will very likely affect how much you earn, as you may not always find openings in your immediate local area. This can be a fun way to earn money on the side, although it would involve talking to others about your experiences with a project or product.
What kind of side hustles suit extroverts?
Any of the side hustles listed above could also be a good fit for many extroverts. However, one side gig someone more outspoken and confident may want to consider is getting paid to be an online friend!
Key Considerations for Introverts Starting a Side Hustle
Side hustles may sound great if you are an introvert, and yes, they are an amazing opportunity. However, there are some important things you need to consider before starting a side hustle. 
1. Compatibility with your Personality
As an introvert, it's important to consider the compatibility of your side hustles with your personality. Will the side hustle require you to interact with people frequently, or can it be done mostly independently? Will it allow you to work at your own pace, or will it require you to meet tight deadlines? These are important questions to ask yourself to ensure you choose a side hustle that fits well with your personality.
2. Schedule Flexibility
As an introvert, you may need a certain amount of alone time to recharge, so it's important to consider the level of schedule flexibility you'll need in your side hustle. Some side hustles may require a set schedule, while others may allow you to work at your own pace. Consider what works best for you.
3. Comfort Level with Technology
Many side hustles require the use of technology, such as a computer, software, or online platforms. As an introvert, it's important to consider your comfort level with technology and ensure you have the necessary skills and equipment to be successful in your chosen side hustle.
4. Potential for Growth
While a side hustle may start as a way to earn extra income, it's important to consider the potential for growth. Can the side hustle grow into a full-time business, or is it meant to remain a part-time gig? Consider your long-term goals and choose a side hustle that has the potential to grow with you.
5. Finances
As with any business venture, it's important to consider the financial aspects of starting a side hustle. How much money will you need to invest in equipment, supplies, or training? How long will it take to earn a profit? Consider these factors and create a realistic budget before you start your side hustle.
6. Marketing and Promotion
Many side hustles require a certain amount of marketing and promotion in order to attract customers and grow your business. As an introvert, you may be uncomfortable with the idea of actively promoting your business, so it's important to choose a side hustle that aligns with your comfort level and skills.
Managing Burnout as an Introverted Side Hustler
Starting a side hustle can be both rewarding and demanding, and it's important to manage burnout and maintain a healthy work-life balance. As an introvert, you may have different challenges than extroverts when it comes to balancing work and personal life, so here are a few tips to keep in mind:
Prioritize self-care – Whether it's reading, meditating, or engaging in a hobby, make sure to prioritize activities that bring you joy and help you recharge.
Set clear boundaries – Establish a set schedule for working on your side hustle, and make sure to clearly communicate these boundaries with friends and family.
Delegate tasks – If your side hustle requires teamwork, delegate tasks to other team members or outsource work to reduce your workload and minimize burnout.
Take breaks – Don't be afraid to take a break from your side hustle, whether it's a day, a week, or longer. Taking time off can help you return to your work with renewed energy and focus.
Seek support – Finally, don't hesitate to seek support from others, whether it's from friends, family, or a therapist. Having a strong support network can help you navigate the ups and downs of running a side hustle.
By following these tips, you can manage burnout and maintain a healthy work-life balance as an introverted side hustler.
Final Thoughts
Side hustles offer introverts a unique opportunity to pursue their passions and supplement their income in a way that aligns with their personality and lifestyle.
Whether it is freelancing and consulting, online businesses, creative pursuits or others, there are many side hustles that are well-suited to introverts.
The key to success is to choose a side hustle that aligns with your strengths and interests, find your target market, and build a strong online presence. These steps allow introverts to turn their side hustle into a successful and fulfilling career.