We may earn money or products from the companies mentioned in this post, and as an Amazon Associate I earn from qualifying purchases. Please see my full disclosure for more information.
Today we have a guest post from Kelly Dunning over at Travel-Wise. Like myself, Kelly is no stranger to the digital nomad movement, and it was fantastic to see her insight into the digital nomad community right here in the UK to help anyone else planning on working remotely when travelling to Edinburgh! Thanks, Kelly!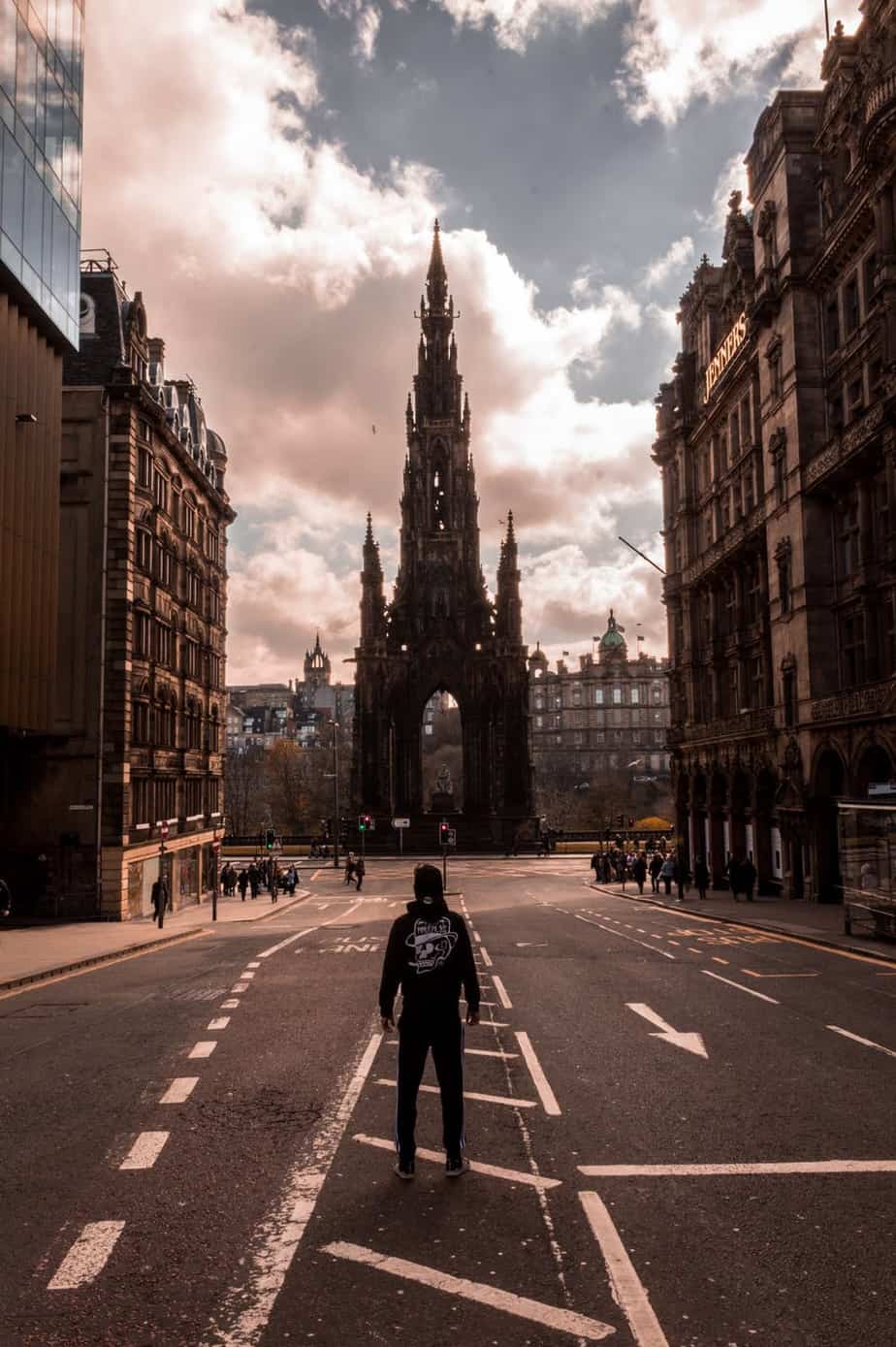 Edinburgh, the capital of Scotland, is one of the most intriguing cities in the United Kingdom. Within the narrow and winding cobblestone streets of the Old Town you'll find cozy pubs and cafes, fascinating museums and buildings with hundreds of years of history.
If you're visiting in August, you can enjoy the world's largest arts and culture festival — the Edinburgh Fringe. Over 2,000 shows take place throughout the capital over the month of August, including musical theatre, comedy, drama and much more.
Even if the festival isn't on, there's a lot to enjoy including excellent art, a great dining scene, beautiful historic buildings, fun nightlife and so much more. Staying in Edinburgh means you'll always have plenty to do when you're not working. 
This guide will show you where to stay, work, and places to visit when you're travelling to Edinburgh as a digital nomad.
Read next: Digital Nomad Guide To Chiang Mai

Where to Stay
While maybe you can't quite afford a castle stay in Scotland (although this would make for a great experience to write about on your blog), digital nomads visiting Edinburgh tend to go for Airbnb or apartment rental style accommodations. These offer a lot of advantages, as they often have more space than a hotel room. You'll have your own kitchen so you can self-cater and you might even have a work station where you can set up your laptop and get work done.
If you're a digital nomad on a budget, hostels can also be a good bet. There are several in the city to choose from. A bed in a hostel dorm usually ranges from £10-£15 per night in the low season to £25-£35 per night in the peak travel seasons and during festivals.
If you're looking for a hotel stay, Edinburgh also has some great options. For example, you can check out Eden Locke, an elegantly designed hotel in the heart of New Town. It has a coffee bar, with great WiFi and coffee, where you can sit with your laptop. Or, you can work in your room with fast WiFi and large windows overlooking the city. 
Read Next: A Vegan Weekend In Lisbon, Portugal

Where to Work
When it's time to get some work done, there are many great quiet spots around Edinburgh where you can settle in and focus.
The Elephant House
Legend has it that J.K. Rowling wrote the early "Harry Potter" novels while cozied up at a table at the Elephant House. Whether or not it's true, this quiet coffee house does make a great environment for getting work done.
Black Medicine Coffee Co.
This is a popular laptop work session location for students and digital nomads alike, with a friendly and laid-back atmosphere, delicious coffee, and sweet treats like paninis and chocolate muffins.
Balcony Cafe at the National Museum of Scotland
There's something extra inspiring about working in this stunning museum, where you can gaze at priceless works of art whenever you need to jumpstart your creativity. The cafe offers WiFi, tea, coffee and an array of snacks — plus yummy homemade soups.
The Melting Pot
This Edinburgh co-working space is a great spot for nomads. Not only does it allow you to rent out a desk in a cool and contemporary environment, it also offers a great opportunity to share ideas and chat with fellow workers. Plus, there are even regular events such as yoga and inspirational talks.
Kingsford Office
This fun and laid-back co-working space is located at the heart of the city. It offers everything a nomadic worker might need, including speedy WiFi, coffee, printing services, refreshments and even an open bar on Fridays.

Things to Do
All work and no play makes a very dull digital nomad. No matter how busy you are, make sure you are balancing your work time with time spent exploring the city and enjoying your surroundings.
When you take a break from work, here are some of the best things to do in Edinburgh:
Clear your head with a walk through the Royal Botanic Garden.
Learn about the past at the Museum of Edinburgh.
Climb up Calton Hill and gaze at the view from the top.
Admire the masterpieces at the National Gallery of Scotland.
Stroll along the scenic Water of Leith Walkway, a tranquil path and cycle trail.
Marvel at the gorgeous stained glass and impressive ceilings.
Tour the Writer's Museum and learn about Scotland's most famous literary icons, including Robert Louis Stevenson, Robert Burns and Walter Scott.
Have a picnic on the grass in beautiful Princes Street Gardens.
Explore Holyrood Park, an incredible landscape of volcanoes, wells, lochs and ancient ruins.
See the Palace of Holyrood, the official residence of the monarchy of Scotland since the 16th century.
Have you ever visited Edinburgh? Let me know your thoughts – and if you have any more recommendations to add for others travelling to Edinburgh!