We may earn money or products from the companies mentioned in this post, and as an Amazon Associate I earn from qualifying purchases. Please see my full disclosure for more information.
When you've got a small bedroom, it can be difficult to figure out how to maximize the space and make your room actually work for your needs. These genius small bedroom organization ideas are perfect for doing exactly that: all are simply but super effective ways to provide loads of storage space while still making your room look great!
Before I moved into my current flat, my bedroom was tiny. Like, box room, can barely lay down on the floor tiny. That meant multiple innovative solutions were needed to get the most out of the space (and the organization ideas evolved as I grew up, too – from needing a desk as a student to wanting more closet space and a bigger bed as an adult!).
Thankfully, this means I've managed to gain a great level of insight into organizing a small bedroom for a range of ages and needs. Below, these genius organization hacks are perfect for making the most of your small bedroom (small bedrooms are just cozy spaces – who wouldn't want that!)
22 Genius small bedroom organization ideas:
Storage options:
1. Over the door organizer
Over the door storage organizers are a really fantastic way to organize your small bedroom. You can use them for shoes, jewellery, or even just for storing accessories like beauty products, hairbrushes etc.
In this post, I review 18 of the best over the door organizers online for different areas of the home.

2. Under the bed storage
Using the space under your bed is an absolute must for small bedroom organization. When I've had a small room to work with in the past, I've opted for a taller bed with more room underneath to allow for additional storage.
You have a few options here:
3. Storage drawer on wheels
A rolling storage cart can be a fantastic option for organizing a small bedroom: they look nice (especially if you choose a colour in keeping with your theme), and offer multiple levels of storage. A cart like this could easy serve as a nightstand as well as providing additional space for other bedroom essentials like books, notepads, an alarm clock etc.
Importantly, these carts are on wheels so you can move them around easily. That means you can easily roll the cart out the way any time you need to access something else in your room or just need to create some more space.

4. floating desk
This modern-looking floating desk looks fantastic and is a great option if you don't have the space in your room to add a full desk.
If you are a student, or don't have the space anywhere else in your home for a home office, a floating desk is a good option and can provide additional storage space for your work accessories and equipmnet.
With more and more people choosing to work remotely these days, having a designated area for working makes a lot of sense.

Closet organization:
5. Mirrored sliding closet doors
Sliding closet doors are an absolute life-saver when you're trying to organize a small bedroom – not having to factor in space for opening a door outwards is invaluable!
In addition, having mirrored sliding doors instantly creates the illusion of having a room double the size, amplifying any light your room receives to make it seem bigger and brighter.

6. Wall brackets for clothes
If you don't have a lot of space for a clothing rail in your wardrobe, wall brackets are a fantastic solution for maximizing the space you have. These wall brackets extended directly out of your wall, rather than being placed horizontally, to give you more space to store your clothes neatly on hangers.

7. s hangers
Perfect for using in tandem with the wall brackets above, s-hangers are a fantastic way of organizing your clothes neatly in a small space. These hangers allow you to store multiple pairs of trousers/jeans on one hanger, so you can massively reduce how much space you need to hang your clothes neatly!
8. Adjustable closet system
Rather than opting for a fixed wardrobe, this adjustable closet system is fantastic because you can customize your shelving and rail space to suit your needs exactly. If you tend to have a lot of clothes that need hanging up, you can adjust the system to have more rods, while people who prefer to fold their clothes can have more shelving.

9. Drawers inside closet
I've found installing drawers inside my wardrobe to be immensely helpful when dealing with a small bedroom. You can still have space to hang clothes in the space above the drawers, but also have lots of room for storing items that don't need to be hung up.

10. Drawer Organizers
An essential small bedroom organization idea (or for any bedroom size, really!), is to have organizers in your drawers to separate your socks, underwear etc and help keep your drawers far tidier.
These affordable drawer organizers are fantastic for organizing your socks, underwear, bras, ties, and whatever else you'd like to sort out.

Shelving:
11. Floating shelves
Floating shelves maximize the wall space in your small bedroom to provide additional storage space and decor options without taking up valuable floor space.
These shelves can be fantastic for storing items like books and knick-knacks, or you could even a plant or two to add some greenery to your bedroom!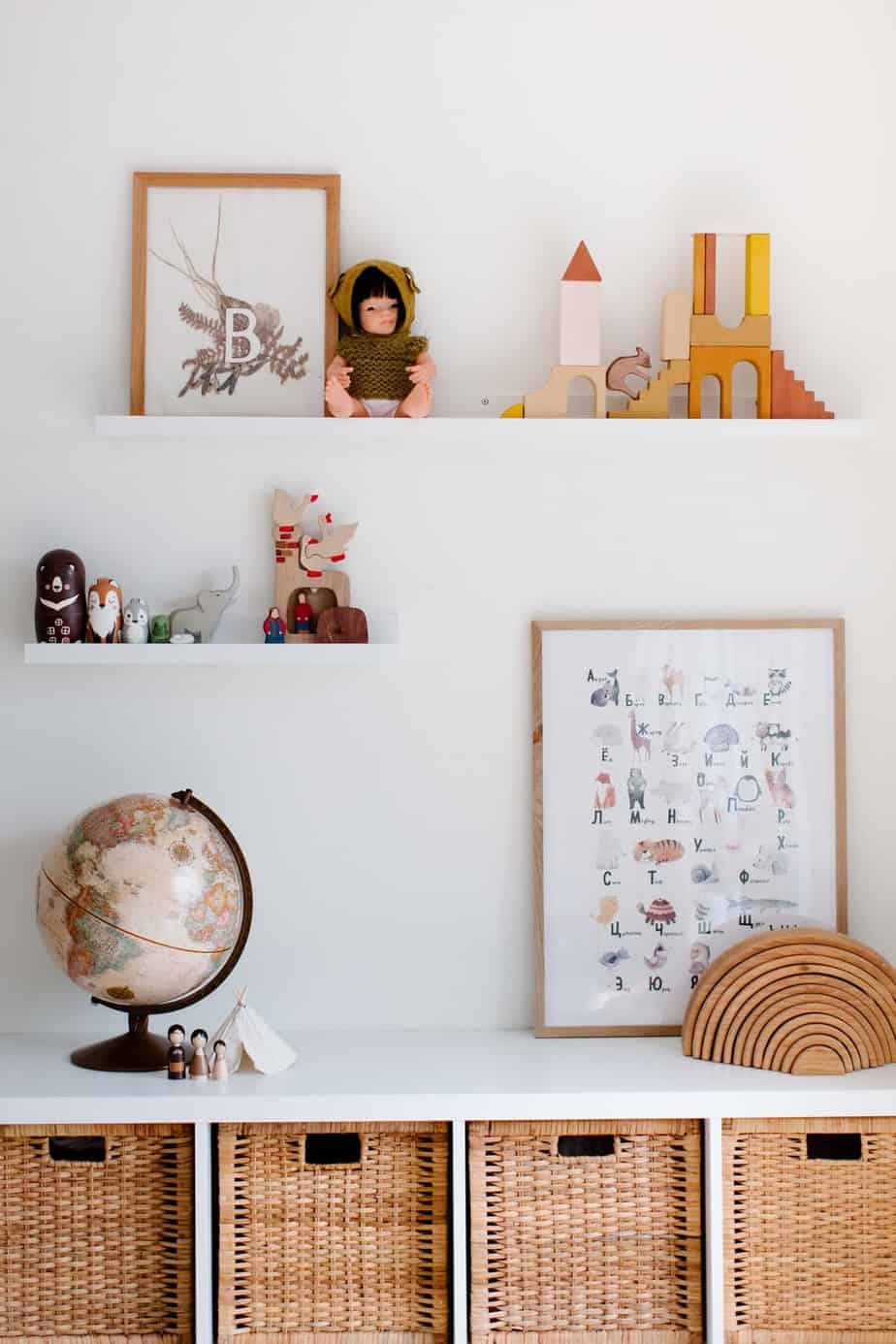 12. Ladder shelving
A ladder shelving unit is a good way of adding extra storage space to your small bedroom while also adding a cool statement piece of furniture to it! In my old small bedroom, I had a ladder shelf right at the foot of my bed, so the bottom two shelves didn't need to look pretty because you couldn't see them (ideal for bits and bobs), while the top shelves were used for books and decor items to brighten up my room (like a framed picture and a vase).
13. Corner shelving
Another fantastic small bedroom organization idea is to utilize your corners! These often-ignored areas of the room could be transformed into a statement part of your bedroom with some choice corner shelves.
If you're really tight on space but want to add some shelves for added storage, this is a creative solution that can look really fantastic.
14. High wall shelves
Another great idea for shelving for a small bedroom is to have shelves all around the highest point of your walls, just below the ceiling. This elongates the walls and adds an almost whimsical element to your bedroom – especially if you are big into books and line the entire shelves with your favourite reads!
A few photos of this idea can be seen in this article from House & Home.
Bed Options:
15. Loft bed
A loft bed can be a great option for organizing a small bedroom and to give you a lot more floor space to work with. While loft beds might be seen as only an option for a child's bedroom, you can absolutely choose this option for a unique look.

16. Platform bed with storage underneath
Alternatively, you can have a 'normal' bed but make sure you choose one with ample storage space underneath. You can choose to either have built in drawers or cupboards underneath your bed, or buy a platform bed and under-bed storage units separately.

17. Futon
As an alternative option, you could consider getting a futon to maximize the space in your small bedroom. A futon can be rolled up as a sofa in the day to give you more floor space, and then pulls out as a bed at night.
For maximum space-saving, you could go for a traditional Japanese futon (which can even be stored in a cupboard) or you could go for a more Western sofa-bed type option.

Maximizing your space:
18. Go for lighter colours
Lighter neutral colours are a great way of maximizing the light and space you have in a room, so if you want the room to appear bigger, go for a neutral shade on the walls and add pops of colour through your decor and soft furnishings.

19. Use mirrors to maximize the light
Mirrors are a fantastic way of making the most of the natural light you have in a room, and can definitely help your small bedroom look much bigger.

20. Avoid clutter
Clutter is an absolute no-no for small bedroom organization: cluttered surfaces will instantly make a room look smaller and make it really difficult to stay tidy!
A few good articles to get your started on decluttering (and keeping things that way!):
21. Use the walls
When you don't have floor space, use the walls! Shelving takes up space that you wouldn't use anyway, and provides a great opportunity to store items in an aesthetically pleasing way.
These geometric shelves can also act as a great art-piece for your walls whilst also providing additional storage space – win-win!

22. Keep things in their place
Finally, a good tip to bear in mind for organizing a small bedroom is to give everything a home – and just make sure it gets home at the end of the day. Unfortunately, small spaces look messier much quicker, because just a few things being out of place can instantly take up valubale room – but making an effort to keep things in their place at the end of each day can be really helpful for keeping you on top of that.