We may earn money or products from the companies mentioned in this post, and as an Amazon Associate I earn from qualifying purchases. Please see my full disclosure for more information.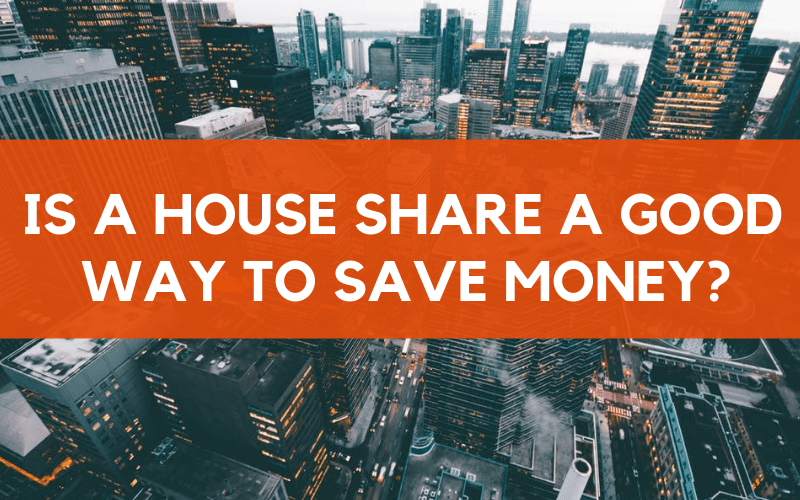 For anyone under the age of 30, the thought of home ownership has inevitably arisen at some point. And for many, that thought is quickly squashed by a lack of savings, the burden of debt, and what feels like a totally unachievable amount of money needed for a house deposit. So, we turn to a house share or renting.
In 2016, This is Money reported that only 42% of millennials will be homeowners by the age of 30. In 2017, the BBC reported that just over 30% of millennials in the US, UK, Malaysia, and Canada have purchased their own home (compared with a whopping 70% in China!)
Home ownership is falling and renting your own home or a house share is an ever more popular alternative.
Let's break it down: home ownership vs renting vs a house share.
Should You House Share?
Pros:
| | | |
| --- | --- | --- |
| Home Ownership | Renting | House Share |
| You're paying towards your own asset | You don't need a large deposit first | You don't need a large deposit to move in |
| A fixed mortgage won't increase | It's much easier to move somewhere else | Rent is much cheaper when split |
| Tax deductions | Home repairs are someone else's responsibility | You'll probably be able to afford a nicer place than if you were renting alone |
| You can customise your space | Renting costs less money | It's very social – you'll always have people to talk to |
| No one can kick you out or change your contract | Insurance costs are lower | You all share cleaning chores |
Cons:
| | | |
| --- | --- | --- |
| Home Ownership | Renting | House Share |
| You need to save for a deposit | You're paying towards someone else's mortgage (not your own) | You don't own the property, so less control over how long you live there, costs etc |
| Moving out is a much more costly process | Your landlord can terminate your contract | Lack of privacy |
| You're responsible for paying for things like repairs, renovations, and decorating | You can customise your space without prior permission | Your housemates may not have the same cleaning standards as you |
| Most of your mortgage payments will go towards interest at first | It's normally more expensive than a house share | |
| There are a lot more upfront costs to buy a home | | |
Will a house share save more money?
House sharing is without a doubt the most affordable option out of home ownership, renting your own home, and house sharing – at least in the short term.
Putting buying your own home aside for the moment, a house share could be a much more appealing option to many people over renting your own home.
First off, on your own, you're going to have a much smaller budget than a group of people all paying the rent and bills together.
That means you'll probably be able to afford a nicer home, a nicer (and safer) area, and you'll be able to split the cost on things like furniture and household essentials.
Alone, you're more likely to be forced to move into a much smaller space, and the upfront costs, if you rent an unfurnished house or apartment, will be a lot higher.
Is A House Share Cheaper Than Buying Your Own Home?
Buying your own home is expensive. Not only do you have to save for a deposit before you can even consider applying for a mortgage, but you'll also need enough to pay for additional fees such as surveys, legal fees, appraisals, insurance, and moving companies.
For a house share, in comparison, you'll only need a deposit that equals roughly one month's rent, and you'll be good to go. If you're moving in with people already established in the home, you shouldn't need to buy much else other than a few of your own kitchen goods,  and even if you're in a group moving into a new home, the initial cost of furniture etc will be much cheaper split between you all.
However, you can't ignore the fact that buying a home means that every month you pay back your mortgage. Your home is your asset and will add a lot to your net worth in the long run. A house share, or renting, in contrast, is 'lost' money – you're paying off someone else's mortgage.
My Own Experience
My personal experience: after University, I moved back home for a year to get a job and figure out what the hell I was going to do with my 'adult' life. A year on, I decided to move back to my University city, Nottingham, landed a job as a Junior Copywriter and began searching for a house share.
I used EasyRoomate and found my home for the next year within a week (details on how below!). For a year, I house-shared with 5 other girls all working full-time like me.
At 23 years old, I was actually the youngest person living in the house. The other girls were in their late 20s/early 30s and had been living happily together for almost 4 years.
When you live in a house with people you like and can split the cost of bills and rent, the choice seems obvious. I know many people who share with friends or who have moved in with complete strangers, and they often end up making strong friendships. There are nightmare scenarios, but these are rarer than you'd think (in my experience).
Financially, a house share allowed me to save significantly more money than renting my own property would have. A one bedroom flat in the area I wanted to live in would have cost about £500/month to rent at the cheapest, with council tax, bills, and internet costs on top of that (~£178/month based on UK averages).
In comparison, my house share in the same location cost me £315/month with all bills, council tax and internet included.
Totally monthly savings: ~£363/month. I did the maths, that's over £4000 saved in one year!
Read Next: How to Budget On A Low-Income
The Downsides
It wouldn't be fair to publish an article on house sharing without examining the reasons why it's not always a great idea, no matter how much money you'll save. Honestly, my experience of house sharing has been wholly positive. I know there are some nightmare stories, but I think these are disproportionately reported compared to the number of people living in perfectly peaceful house shares.
In the sake of fairness, however, these were the biggest cons of house sharing:
I had my own room in my house share, but we shared the kitchen, living room, and bathrooms. This was generally fine because my housemates were considerate people and we all tidied up after ourselves, but what did sometimes get to me was the lack of personal space.
In person, I'm fairly introverted so when I got home from working a busy, loud office I liked to just sit back and have some quiet time. When you're in a house share, that's not always possible unless you shut yourself in your bedroom straight away…
In your own home, you have a fridge and you can use as many shelves as you want. In a house share, you are assigned one shelf and you stick to it. Same goes for kitchen cupboards and storage space.
Sharing a house just means less space for your things. Frustrating at times, but this did get me started on my journey to being a minimalist!
Essentially, the cons of house sharing boil down to a lack of privacy. However, for me, having my own room as my 'private haven' was worth the sacrifice of an entire house for more than double the cost.
How I Found My House Share
I used a service called EasyRoommate.com which made finding a house share incredibly easy. I was offered a job in Nottingham on a Tuesday, and I had viewed three great houses and found the place I wanted to live within a week.
EasyRoomate is available across 24 countries so doesn't just apply to the UK, and the process is exactly the same in every country.
You simply select the location you are looking for a room in and will be prompted to input your name, price bracket for rent, gender, and occupation. This helps the site find better matches for you, and also allows the people who have posted a room to get a better idea of who you are.
House sharing works both ways remember! Your housemates need to like you as much as you like them!
It's easy to filter the available rooms further, with options to search specifically for all male/female housemates, rooms available immediately, the particular area in the city you're searching for etc.
From there, you can send the listing a message through the website, and arrange a house viewing. EasyRoommate also offers a premium service which means those listings have been verified by the EasyRoommate team. This just gives a bit of added guarantee that the listings you are viewing are accurate, honest and legitimate.
Staying Safe
If you've arranged a house viewing, always give someone the details of where and when you are going to view the house.
Even though EasyRoomate.com is a highly recommended service and used internationally, you should always be safe when going to meet strangers! If you're still nervous, ask a friend to accompany you to the house viewing – they could even just wait in the car while you go to look around!
Alternatives
House sharing may not be for everyone, but I highly recommend giving it a try before you write it off. I never would have been able to move to Nottingham on my own without sharing a house, and I made some wonderful friendships at the same time.
Some house-shares are even available as monthly roll-over contracts, so you don't have to commit yourself long-term if you're really not sure you can hack sharing with strangers!
A few alternatives that will also help save money on housing include:
Move back home with your parents (if they'll permit it!)
Rent out your own property (is house sharing less intimidating if it's your house?)
Live in rural areas. Cities are always expensive, but if you don't mind the idea of living in a more isolated location, you can normally find better housing prices.
Check out my post with some extreme alternative living options!
Looking to rent out a room (or several) in your home? Post your room on EasyRoommate and get an extra month totally free!
---
Have you considered house sharing to save money on housing prices? It's your turn: share your thoughts experiences with sharing houses in the comments below!