We may earn money or products from the companies mentioned in this post, and as an Amazon Associate I earn from qualifying purchases. Please see my full disclosure for more information.
This post may contain affiliate links. Please read my disclosure for more information.
Hustling as a freelance worker is hard work, especially if you're using Upwork. You can have years of experience, impeccable attention to detail, and create copy that makes the heart melt – but try telling that to a client with 20+ other people scrambling for the same job. Knowing how to find freelance clients is the first step – know how to make your pitch win is the second.
I've been a copywriter for nearly 2 years, so it's fair to say I've accrued a lot of experience, and have the portfolio to match. The one catch? I've been working for an agency the entire time, so I cannot publicly advertise my portfolio as my own – it's all owned by the company I worked for.
That means as a freelancer, I'm starting from scratch to fund my travels around the world. Rather than display my portfolio online to make it easily accessible, I have to send every client I pitch a pdf document containing my portfolio, brimming with links to articles, content marketing, and web copy I've produced for a huge range of companies. Sometimes they open it, sometimes they find an easier option.
It's not easy getting yourself noticed on freelance job sites like Upwork – the competition is high, with many people prepared to work for low rates. These people, and those with reputations built up over time on the site, will often win the jobs.
When you don't have a 'Job Satisfaction' Rating, or any proof that you'll deliver great work from past clients, it can be tricky getting a foot in the door – but it can be done.
So how did I land my first client?
A Great Profile
If you haven't got much previous experience, and have zero experience on Upwork, your main priority is to make your online profile absolutely spotless.
Here's a few tips:
Summary
Your summary needs to stand out from the crowd. No "I'm a great team player, work well independently, have great writing skills". That should be a given. Write something that your potential clients won't have read before.

Here's an example of one of my overview drafts. As you can see, I focus on
what the client needs – and exactly how I can deliver that.
Job history
List your previous jobs, and expand on them if you gained any relevant experience from them. Your profile essentially reads as your CV, so make it detailed, interesting, and above all, applicable to the jobs you're pitching for. Any job that you've used your skills as a writer in is worth putting down – there's nothing that shouts 'inexperienced' more than any empty job section.
Portfolio
If you don't have much previous experience as a freelancer, offer out your services to friends and family for free. This will at least give you a few examples of your work to put in your portfolio – that's what I did, and then sent my full agency portfolio as an attachment in each individual proposal.
Alternatively, draft some work for big, recognisable brands in your own time. They won't be published, but they'll at least show your skills and a creative approach to a lack of experience.
No subjective proposals
Do not send a template proposal message out to every client. These are easily identifiable and if you're against another writer who puts time and effort into drafting each client a personal message, guess who's going to get the job?
Take the time to submit a direct proposal for each job, especially in the beginning, and you'll significantly increase your chances of being approached for the project. Make sure you include the client's name, if included, rather than just putting 'Dear Sir/Madam' or 'To whom it may concern' – there is no better way to alienate someone trying to offer a job, and try to make a personal connection through your cover letter – whether it's suggesting how you would do the project, or picking up on something in the company that connects with you.
Do your research
Many clients include a link to their website in the job posting so before you submit your proposal, you should definitely check out the client's site and get any idea of who they are and what they offer. If there's no link included, at least be sure you're the right person for the job – and tell them how. Whether that's past experience or a particular passion for a subject, that additional bit of research will always count in your favour.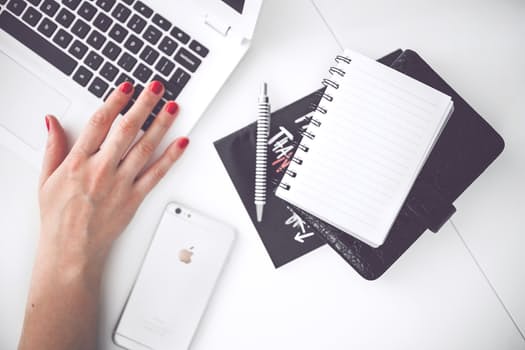 The very first pitch I landed, I looked at the client's site and told them in my cover letter that I loved the brand's voice and the products they sold (because I honestly did). I also briefly outlined how I would go about the project they listed, showing I'd done some research into the company and had thought about how I'd meet their needs. Needless to say, the client really appreciated the effort I put in and quickly offered me the job!
Be timely
Of course, you can't be chained to your emails waiting for a job offer to come in 24/7, but if a client contacts you and you take days to reply, they'll have offered the job to another candidate without a second thought to your schedule.
Make sure you're checking your emails regularly and responding to clients as soon as you can – a timely, professional approach makes you a far more inviting person to work with.
Bid Often
Logging in to Upwork once a week and submitting a few bids is not the most efficient way of landing your first job – if you do win a job, it will be down to luck or timing more than persistence! Bid as often and as regularly as you can, but make sure the job is:
Within budget

Applicable to your skills
Some clients request a 1,000 word article and want to pay $6 for it. That's an insult to copywriters and not worth your time. No matter how desperate you are for a freelance gig, set a lower limit to your rate and only apply to jobs that are actually worth your time and value as a freelancer.
Meet deadlines
So you've landed your first job – congratulations! All there is to do is create a top-notch piece of work to send to your client before the deadline. Do not, under any circumstances, miss this deadline or do a half-hearted job. You cannot afford a bad review as a first-time freelancer, and missing deadlines is unprofessional and a sure-fire way of souring a good relationship.
---
These tips are exactly what I did to land my first Upwork client within one month of signing up to the website.
I put every effort into my pitch, and the project I delivered to ensure it showcased the best of my ability as a copywriter. I've since secured a long-term freelance writing contract with that same client – built on a great working relationship due to the time and effort I put into meeting their needs and deadlines.
If you follow these steps to nail your first freelance writing job, you never know what doors it will open!
If you're interested in being a freelance writer, blogging is a great first step! Starting my own blog was one of the best decisions I could ever have made for focusing my mind on the goals I truly want to achieve. Plus, it's a great example of your writing abilities!

If you're interested in starting a blog of your own, I strongly recommend using BlueHost for a quality hosting provider at low prices (it's the only provider I use!). Check out my exclusive link for a free domain and hosting packages as low as $3.95/month.
Alternatively, check out my free guide to starting your own blog in under 10 minutes flat!