We may earn money or products from the companies mentioned in this post, and as an Amazon Associate I earn from qualifying purchases. Please see my full disclosure for more information.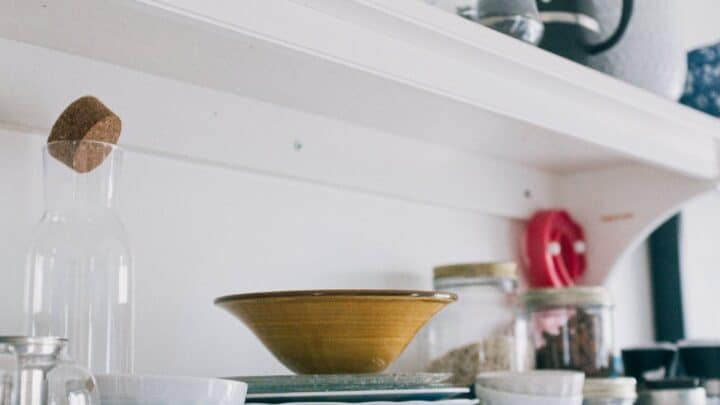 20+ insanely clever and super easy kitchen organization ideas that you are going to love…
No one likes a cluttered kitchen. It's frustrating, noisy, chaotic, and wastes time that could be spent doing more important things.
If you've got limited kitchen space, these kitchen organization ideas are perfect for helping you really maximize your space, organize every element of your kitchen, and ultimately make life so much easier.
If you've been struggling to take control of your kitchen, try a few of these organization hacks and believe me, you'll be wishing you did it sooner!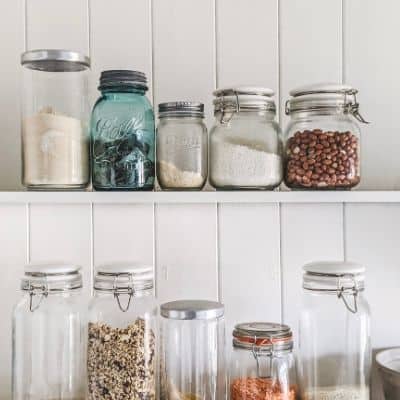 Invest in some glass storage jars, perfect for storing long-life dried goods such as rice, pasta, nuts, beans, oats, muesli etc.
Glass storage jars have so many benefits. They prevent your pantry items from going stale in half-opened bags, they prevent spills, clearly display what you have in your cupboards, and look so beautiful! If you have shelves in your kitchen, having your glass jars out on display can make a gorgeous feature piece.
2.
Organize Your Spice Rack
The spice rack is one area of the kitchen that can very easily get out of control – especially if you're like me and love your food with lots of flavour!
If you don't have a spice rack yet, this should be your first priority. This 2-tier rack is cheap and simple but has the added bonus of being wide enough to fit jars of different sizes (so you can bulk buy your favourite spices and decant them into recycled mason jars!)
3.
Empty and clean your fridge
Specific attention should be paid to your fridge door because we're all guilty of letting condiments sit way beyond their best-before date in that section of the fridge.
Other ways you can organize your kitchen for maximum efficiency include:
Empty everything out and clean the shelves before re-stocking
Throw out any condiments over 3 months old
Categorize your shelves: vegetables in the drawer, fruit in one corner, protein in another etc
4.
Get some storage baskets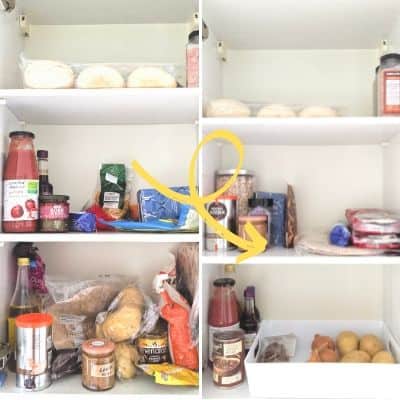 Storage baskets will change your life. These make accessing things so much easier, instantly tell you what you need to use up versus what you need to stock up and prevent your cupboards falling back into disarray once you've organized them.
Use these baskets for organizing your:
Kitchen cleaning products
Snacks
Cereals/breakfast foods
Tinned goods
Non-refrigerated vegetables (i.e. potatoes, onions, squash etc)
5.
Tidy under the sink
It can be easy for the area under your sink to fall into an unorganized mess, with the products you use on a daily basis at the forefront, and countless bottles and potions being forgotten at the back.
To tidy under the sink, use the S.C.A.T.T.E.R. technique to get everything out and find a system that works for your cleaning routine.
6.
Pair all your tupperware containers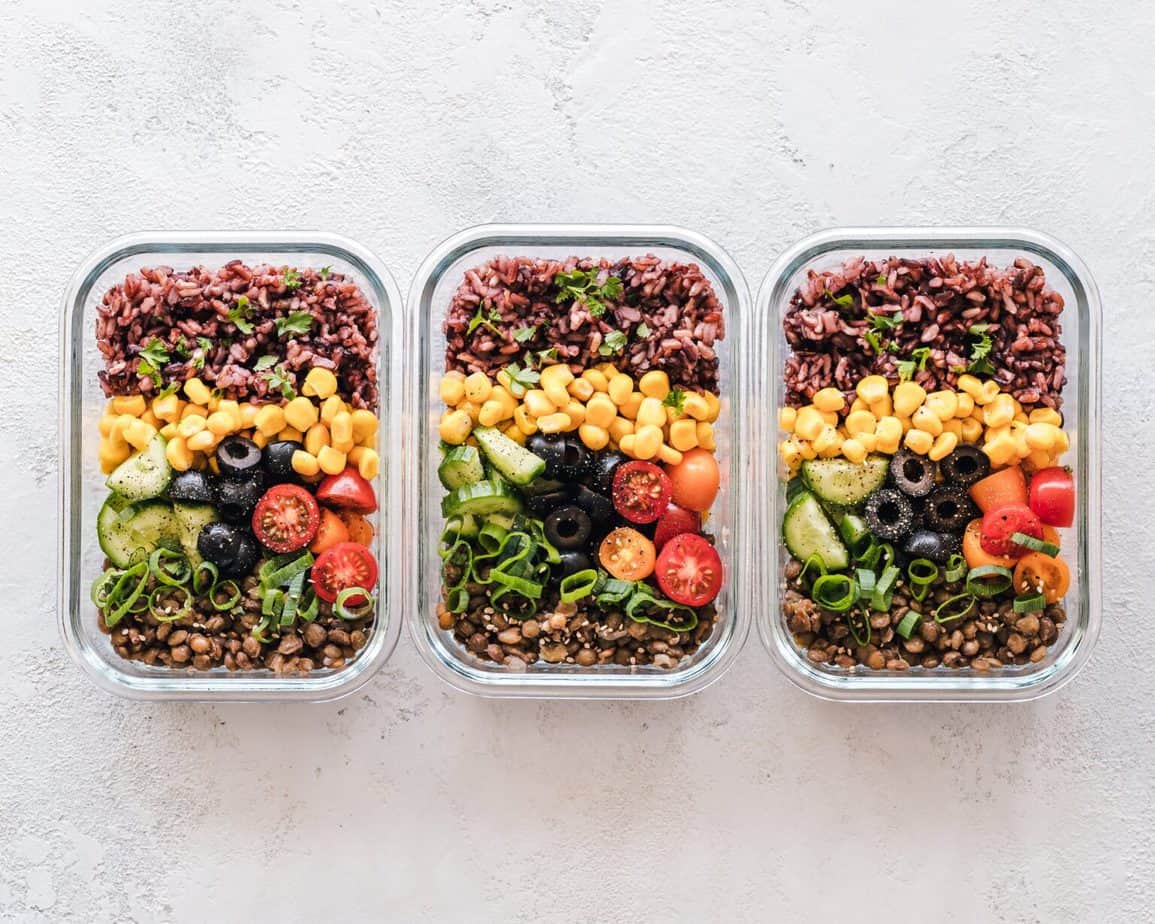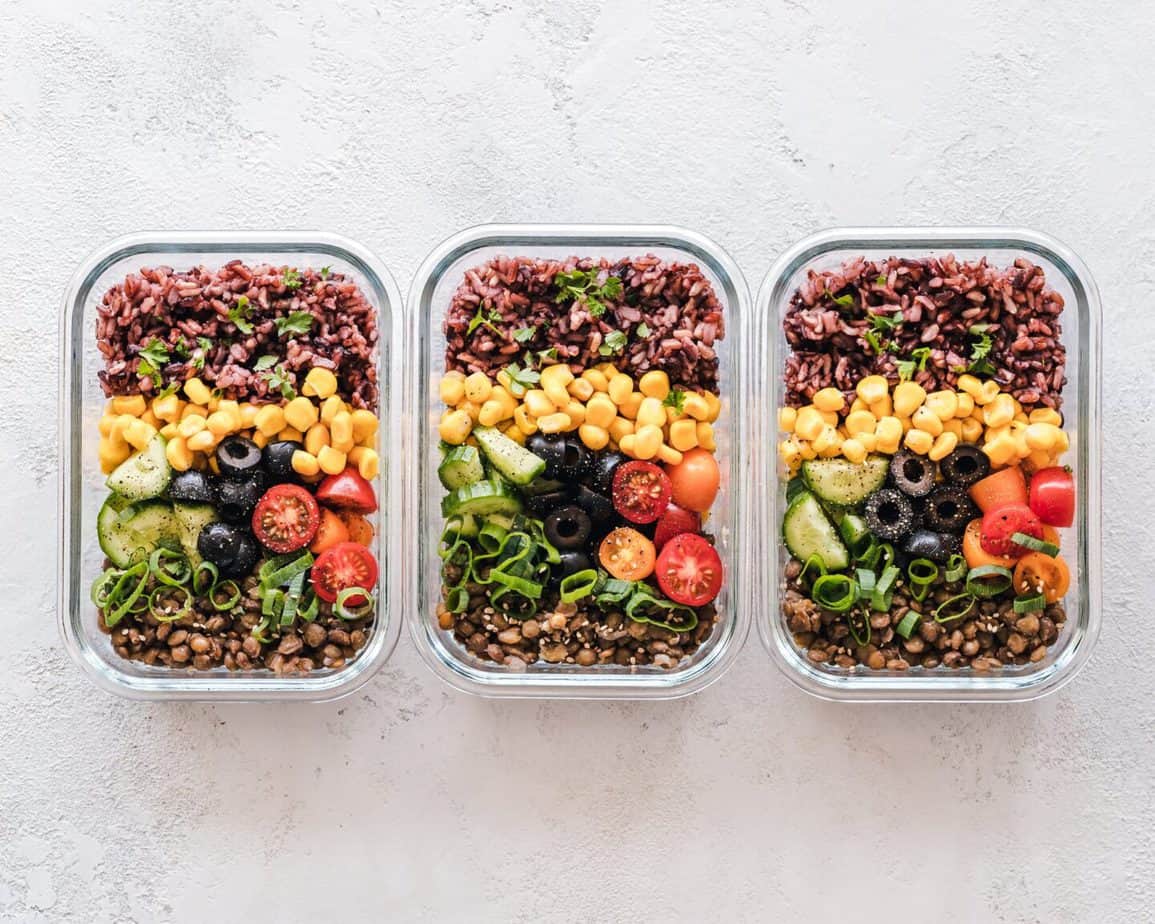 Some people think that stacking Tupperware containers and storing the lids separately is more efficient, but in my experience that only leads to mismatched pairs and lost lids!
Instead, I highly recommend matching your containers with the correct lid and then stacking on top of each other. If your storage box shelf is looking a little lacklustre, maybe consider investing in a new set of containers that you can keep organized from the start (I love these glass storage containers as they don't stain and last a lot longer!).
7. Sort out your Dinnerware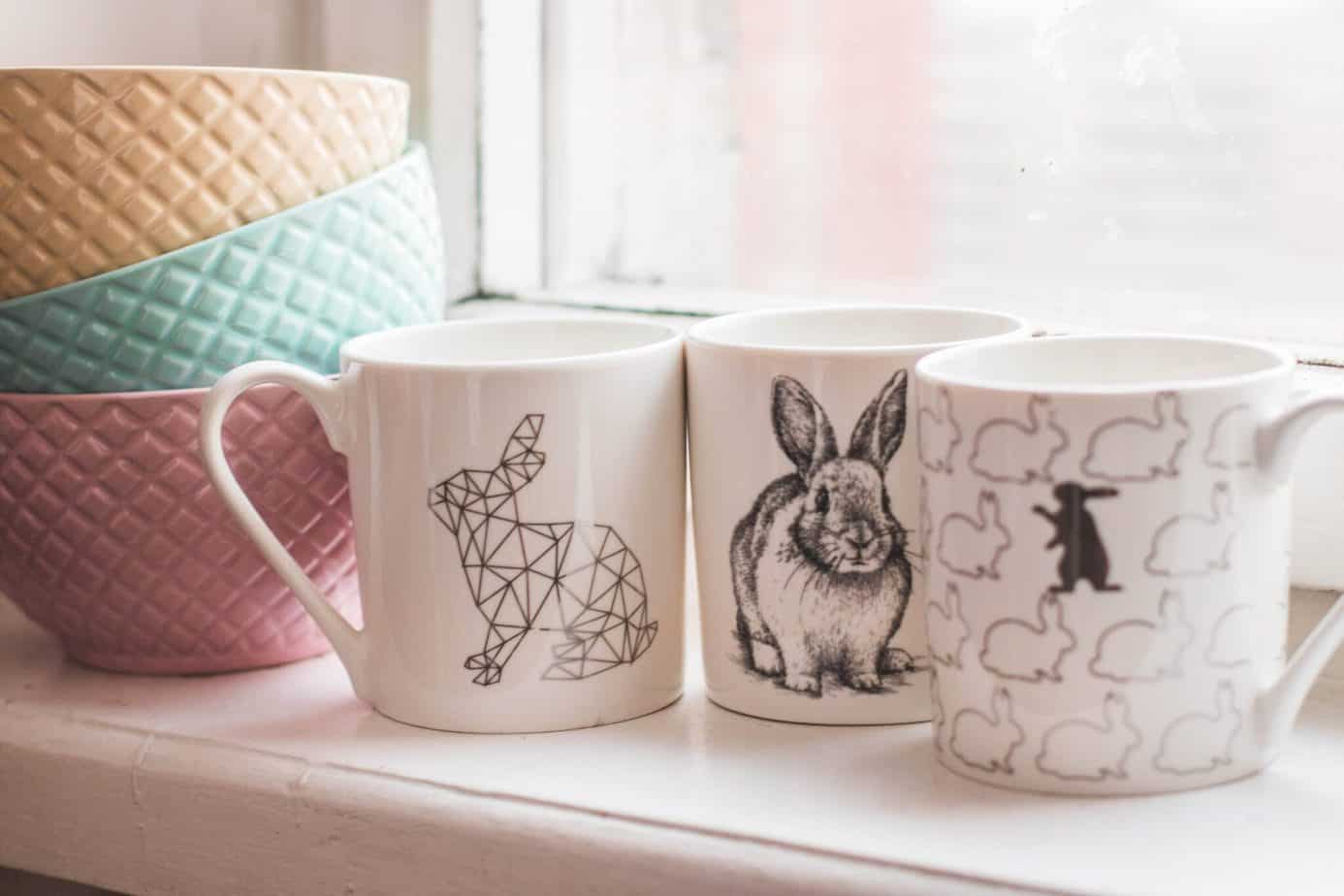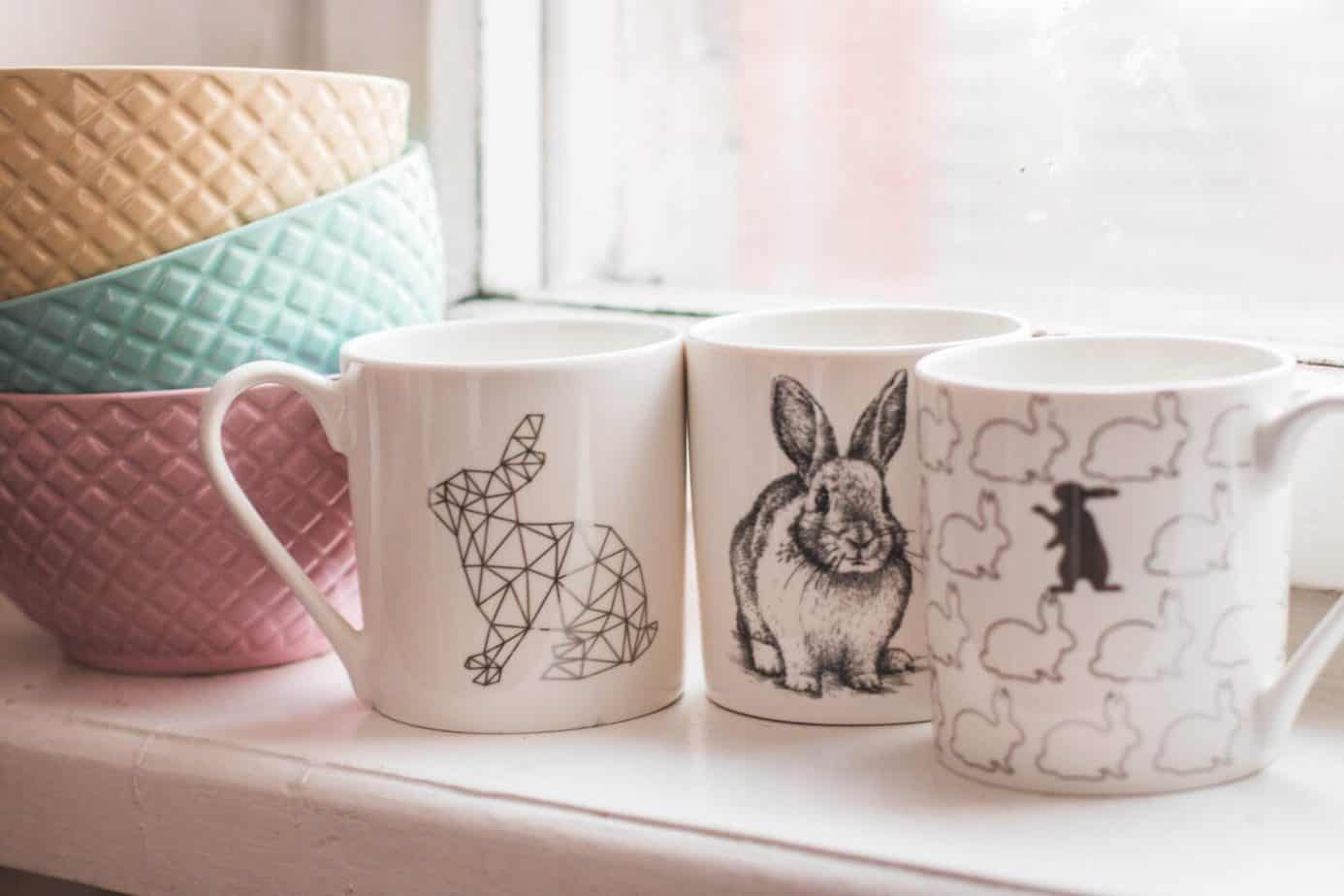 Another easy and effective kitchen organization hack is to sort through all your dinnerware. Go through your:
Mugs
Bowls
Plates
Serving dishes
Cutlery
And get rid of anything that is chipped, cracked, or simply past its lifetime. Then, re-stack everything neatly and in a way that works for your typical routine.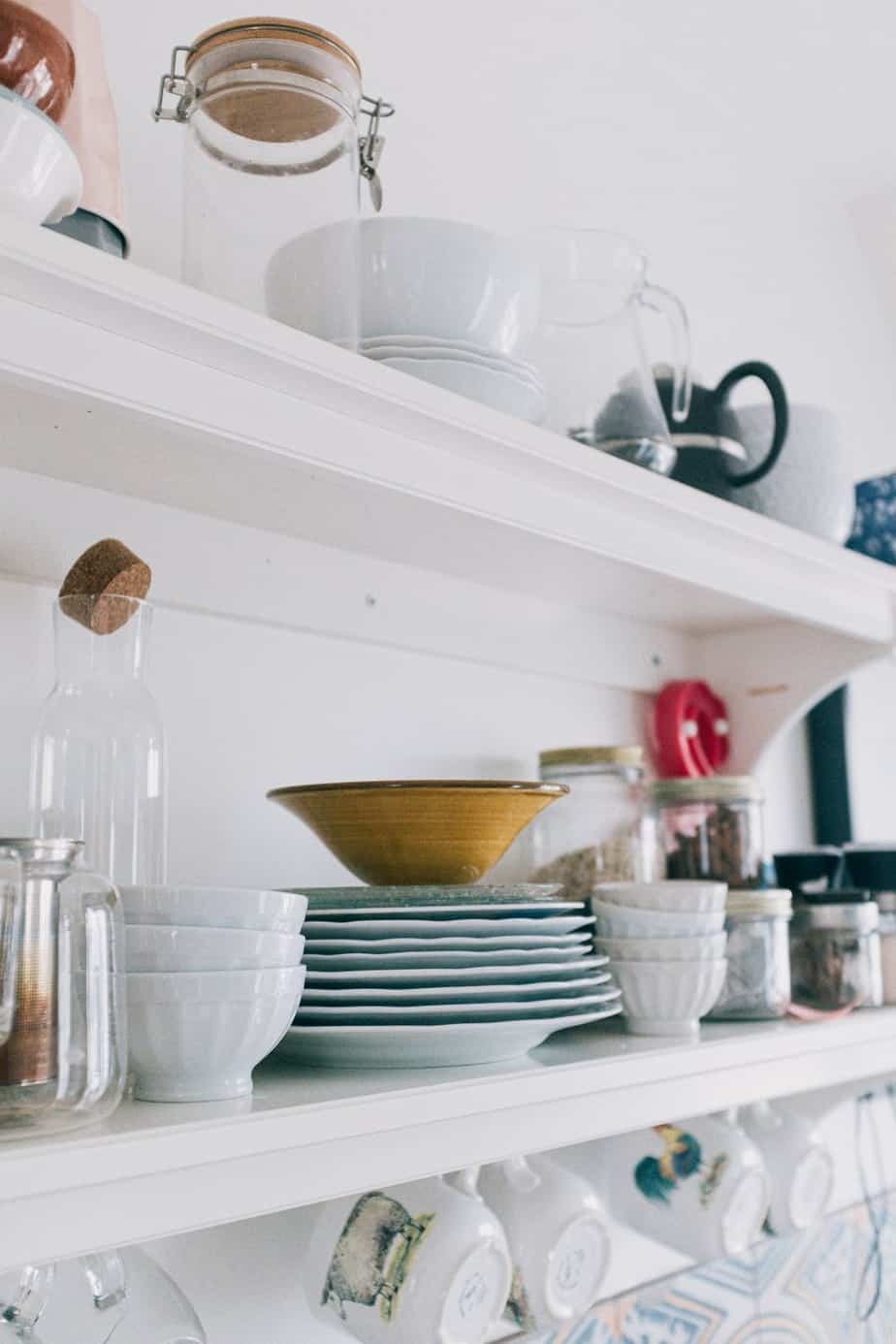 8. Cooking equipment & utensils
Likewise, go through your cooking equipment and organize neatly. This means finding a neat way to store your utensils (spatula, wooden spoons etc) – I love the way utensils look stored in a cool farmhouse-style container, but you might prefer keeping yours out of sight in a drawer.
Then, go through your baking trays etc and get rid of anything very stained and old, chipped, cracked etc.
9. use drawer dividers to organize your drawers
Most people use the same drawer for multiple different things (cutlery, utensils, measuring cups, scissors, bottle openers etc), which can lead to things looking a little…chaotic.
These simple bamboo drawer dividers are an amazing way to easily organize your drawers and compartmentalize all of your things.
10. Get a shopping bag dispenser
These days, most of us have a huge stockpile of shopping bags in an effort to be more environmentally conscious (and let's face it, to avoid that damn 5p bag charge!). To keep your bags organized, invest in one of these cool bag dispensers that can be wall-mounted.
These can also be used for organized garbage bags and kitchen/toilet rolls.
This slide-out bin holder will keep your waste container hidden, but easily accessible in your kitchen. Such a simple addition to your kitchen, but one of those things that you'll wonder how you ever got by without it!
12. Organize your sink area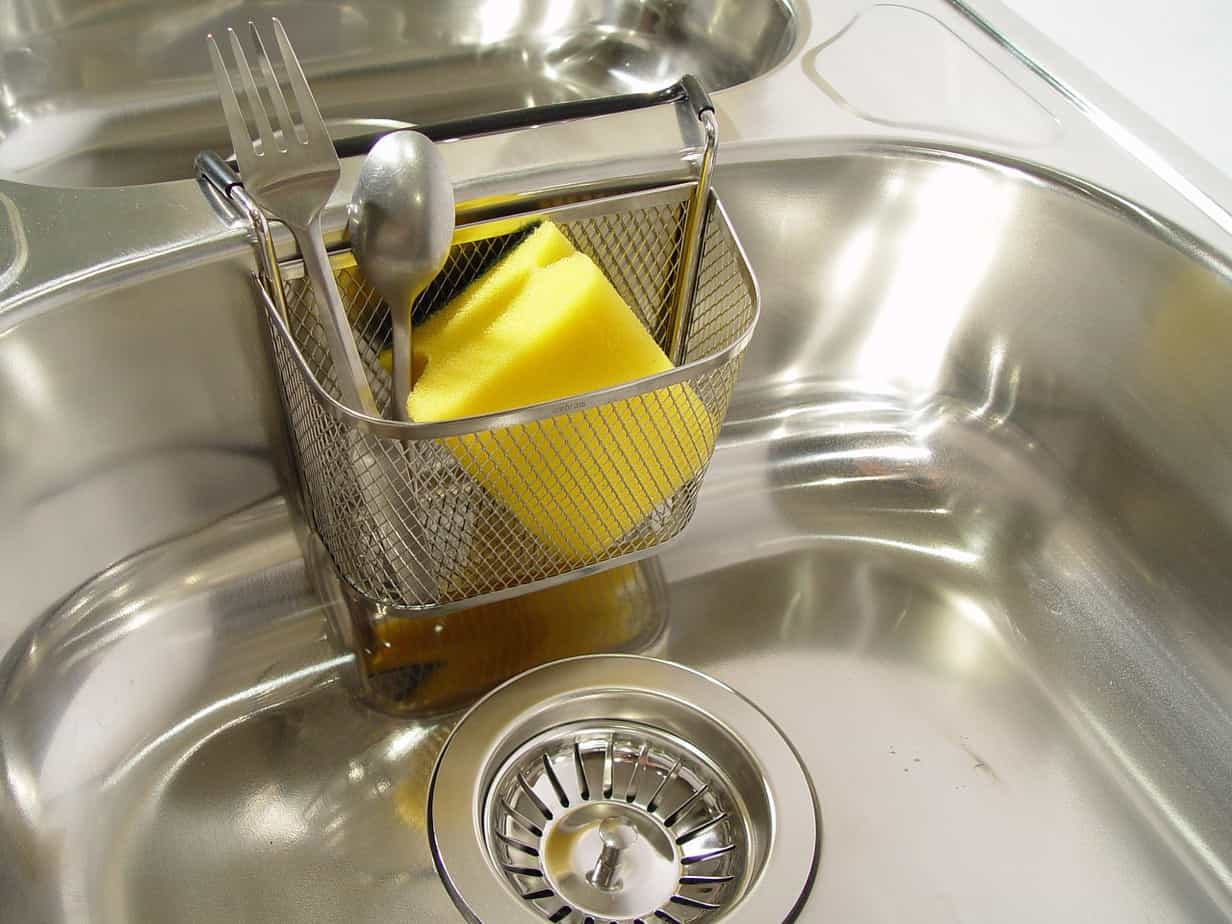 This stylish stainless steel sink caddy provides separate spaces for storing your kitchen sponges, brushes, pump dispensers, and more – as well as providing a little rack for storing long-handled products upright.
A perfect solution for keeping the area around your sink tidy and hygienic!
Another one of those cheap but insanely effective kitchen organization ideas. This cheap but well-designed over-the-sink chopping board is the perfect solution for making the most out of your kitchen space – especially if you don't have a huge amount of surface space!
14. Use over-the-door organizers to maximize your storage space
If you don't have a huge amount of storage space in your kitchen, using an over-the-door organizer can be a great option for keeping things neat and tidy. Take a look at my review of the best over-the-door organizers online to see if any suit your needs.

15. Hang a rail on your ceiling
If space allows, you could hang a simple rail from your ceiling to display your cooking utensils or pans – adding a unique feature to your kitchen while also maximizing the storage space that you have!
This kitchen rail looks great and has 10 hooks for hanging your kitchen equipment for easy access.

16. Have instant access to measurements and cooking times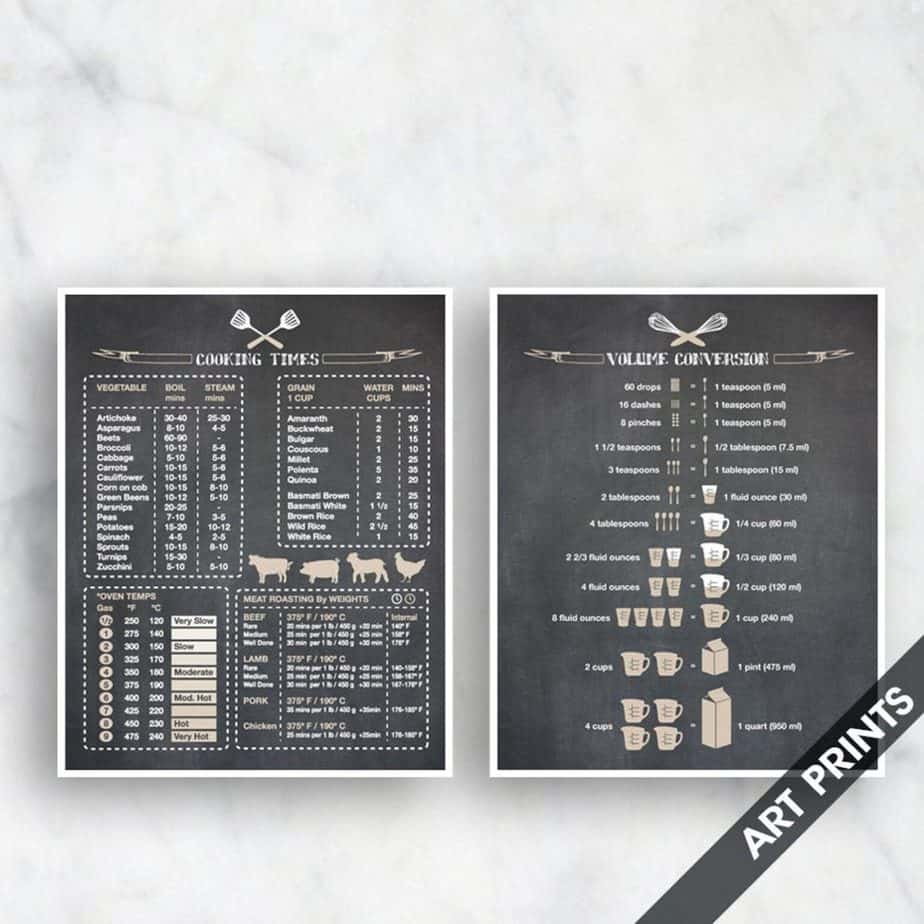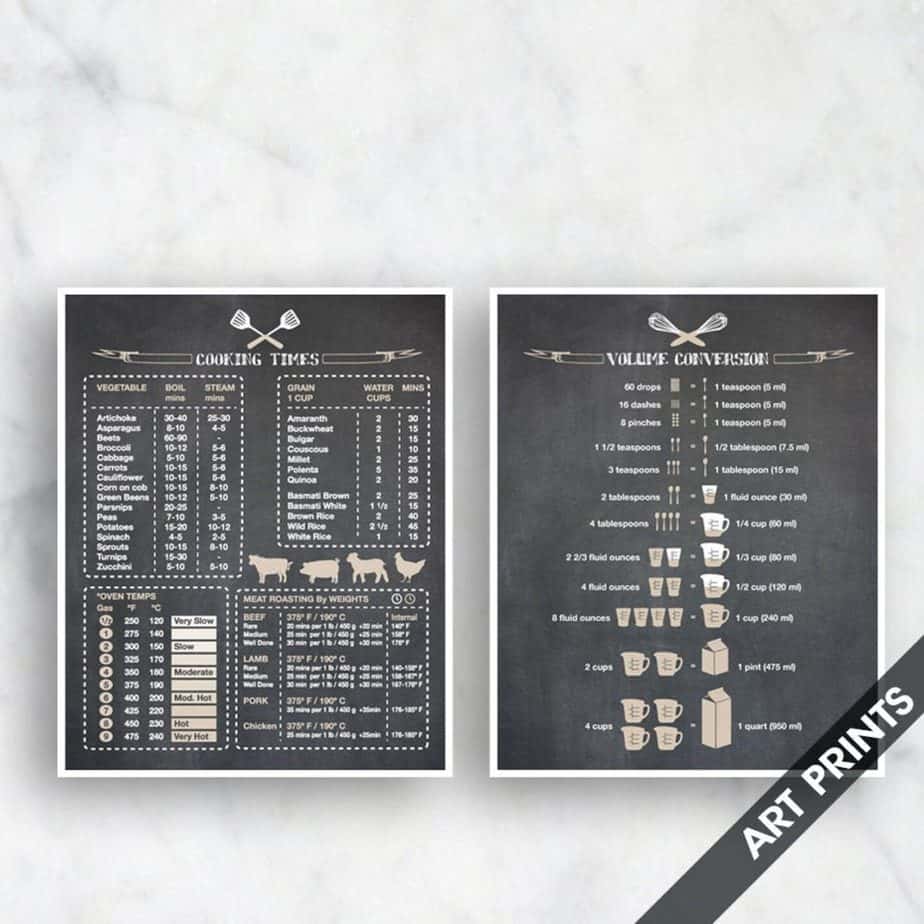 Every single person who has ever tried to follow an online recipe can relate to frantically googling measurement conversions. Instead, get one of these beautiful kitchen conversion and cooking time charts and either hang it on your wall as a feature piece or hide it away on the inside of a cupboard for easy access.

17. Get a chalkboard for editable shopping lists
Super useful for multiple-person households, in particular, a chalkboard can make an interesting feature in your kitchen and provides an easy way of quickly jotting down things you need to stock up on the next time you do a food shop.

18. Get some stacking shelves for your kitchen cupboards
Some kitchen cupboards can have a lot of vertical space that is difficult to make the most of – so these portable stacking shelves offer a great way of really maximizing the space you have. You could use these to stack up your pots and pans, or for using in your pantry.
This 3-tiered fruit basket is an attractive storage solution for keeping your fruit organized and easily accessed while also freeing up counter space. This is also a great idea if you tend to find some fruit tends to get buried and forgotten at the bottom of your fruit basket, providing three sections to easily organize your produce.
20. Tea, coffee, and sugar organizers
This set of airtight tea, coffee, and sugar organizers looks beautiful and provides an efficient way of keeping your tea and coffee fresh and organized. Most people have a hot drink every single day, so making a useful feature of these items makes a lot of sense!
---
Simple kithcen organization ideas to keep your kitchen tidy:
Schedule in a 'cleaning/organzation session' every week to make sure everything is in it's right place
Use the S.C.A.T.T.E.R. method to keep your kitchen free from unnecessary clutter
Try to keep as much counter space free as possible – use storage jars, baskets, and containers to keep things organized and out of sight
I hope this list of kitchen organization ideas has given you some great inspiration for keeping your kitchen clutter free!