We may earn money or products from the companies mentioned in this post, and as an Amazon Associate I earn from qualifying purchases. Please see my full disclosure for more information.
I used to think the dream closet was shelves upon shelves of beautiful clothes to choose from, with an entire room next to it filled with accessories, shoes, and bags.
As I got older, I soon realized that my once 'dream' wardrobe would actually be a complete nightmare.
The fact is, choosing what to wear day in and day out can get exhausting. No one wants to be rifling through item after item when you need to be out the door in 20 minutes and just feel frumpy in everything you try on.
If you're a long-time follower of this site, you'll know that my love for the minimalist lifestyle all began when I started travelling in 2017. One backpack, 12 months. Sometimes I got sick of wearing the same 5 outfits day after day – but far more often, I felt liberated.
For me, creating a capsule wardrobe was an idea born out of a need to remove that stress from my life permanently. To enable me to save money on clothes shopping, save time on getting ready each morning, and create a wardrobe that I could essentially pick items out of blindly and be confident that my outfit would a) make me feel comfortable and b) suit my style – no matter what I pulled out.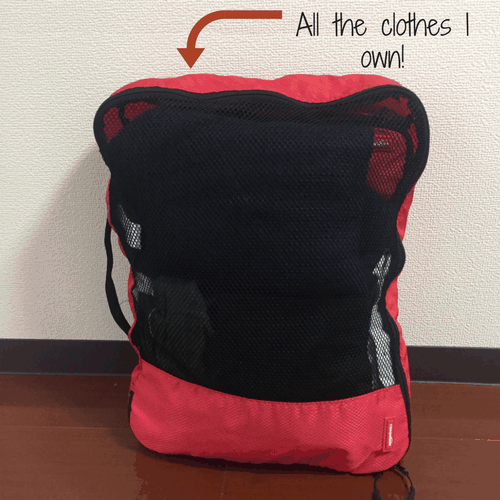 A capsule wardrobe might be for you if:
You often find yourself feeling as if you've got nothing to wear – even when your wardrobe is close to bursting.
Far too often, you buy something only to wear it once (or never!) and discard it to the depths of your wardrobe forever after
You sometimes find clothes that you totally forgot you even own and still have the tags on…
You're definitely guilty of buying clothes just because [choose your option: they're on sale|it might go with x and x thing I already own|I need something to wear next weekened|you don't have many 'nice' things…]
The responsibility to find a nice, comfortable outfit every day can be a stressful and exhausting process sometimes
Often, you resort to the same basic items each day anyway
You'd like to spend less money on clothes shopping
If you found yourself nodding to any of those statements…great! You're in the right place. You might as well give it a go, right? There's no need to throw out three quarters of your wardrobe immediately. Today, you could just box up the items we sort out and set them aside for a couple of weeks and see how you go with your capsule wardrobe.
So, before we dive in…what actually is a capsule wardrobe?
A capsule wardrobe is a small collection of essential items of clothing that are timeless, coordinate with each other, and can be worn in a number of different styles.
Often, a capsule wardrobe will change with the seasons – allowing you to swap your summer essentials like shorts and summer dresses with winter essentials such as jumpers and more options for warmer clothes.
A capsule wardrobe is associated with minimalism, mindfulness, and intentional living. It's a method of organization, of streamlining your clothes to save time and energy on outfit selection each day, and ensure you can mix and match your items without stress. In a word, a capsule wardrobe simplifies everything.
Honestly, introducing a capsule wardrobe into my routine has made my life SO. MUCH. EASIER.
Goodbye to the 10 minute struggle trying to find a nice outfit. Goodbye guilt because I haven't worn those three tops I impulse bought last week (because, well, I don't do that anymore…), and goodbye stressing over clothes that don't make me feel my best self.
Ultimately, that's what a capsule wardrobe is, for me. It's identifying the clothing that makes me feel confident, comfortable, and most myself, and creating a collection of clothes that fit that description perfectly. Letting go of expectations of myself – of a need to keep up with trends that don't suit me – and letting myself be who I actually am.
My capsule wardrobe lets me clear my mental clutter. It removes that element of stress and frustration from my life and gives me more time and energy to spend on the things that actually matter to me.
How to start a capsule wardrobe
Rule number one: there are no set rules.
I'm not about to sit here and tell you to throw out everything except 25 items as if that's some magic number to success.
No. no rules. Just guidelines to help you find a capsule wardrobe that works for your needs.
Step 1: Know Your Style
Create a clear picture of your style. Go through your wardrobe and pick out the items you always seem to fall back on.
It might also help to scroll through old photos and find outfits that you remember feeling really great in. Another option is to go through some photos of your fashion icons and take note of what you really like about what they're wearing and why (when I did this, I came to the very real acceptance that while I'd love to be an Alexa Chung peter-pan collar and mini dress kinda girl, I'm definitely more of a Dakota Johnson loose jeans and t-shirt kinda girl).
Step 2: Start Forming your capsule collection
Out of those fall-back items, you want to create the 'base' of your capsule closet. These are the items that will make up the real backbone of your wardrobe: those timeless pieces that you can mix and match with anything and everything.
Try to structure your base by:
Bottoms (maybe 5 in total, leggings, jeans, a skirt etc)
Tops (I'd say about 6 – 8 in total)
Layering (5 key layering items i.e. shirts, jumpers/sweatshirts)
Shoes (about 4 pairs of shoes, excluding workout shoes and heels for special occasions)
Essentials
By essentials, I mean the things that aren't exactly traditionally a part of a capsule wardrobe but that you just…need.
Things like PJs, work out clothes (although I have to force myself to declutter this section of my wardrobe on the regular..!), winter essentials such as coats, thermals etc, and summer essentials for very warm weather, like shorts and summer dresses. You can still apply a minimalist approach to these items, but as they're seasonal and/or separate elements of your wardrobe, it's not quite the same as your capsule.
Step 3: decluttering
If you're struggling to settle on your capsule, that's okay. Like I said earlier, this isn't about making a ruthless decision and throwing out half your wardrobe.
For me, creating a true capsule wardrobe took a long process of trial and error until I settled on the things I really love to wear – and even now, I'll be there are still a handful of things that don't really serve my priorities that I haven't bit the bullet and reduced yet.
If you can't choose what to keep, focus on what you can reduce instead. I use my own S.C.A.T.T.E.R. declutter system to help me organize every part of my home, including my wardrobe. Check out how it helped me organize my workout drawer: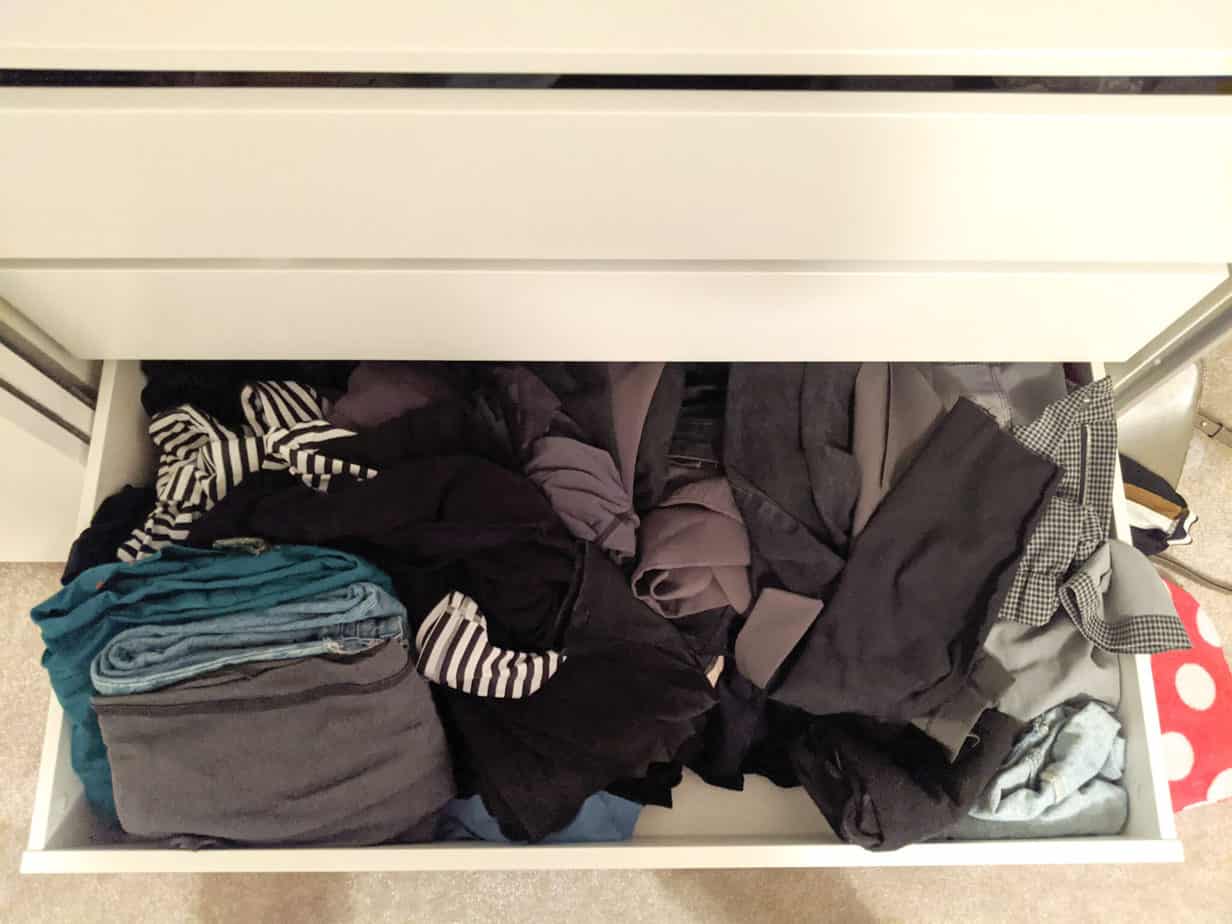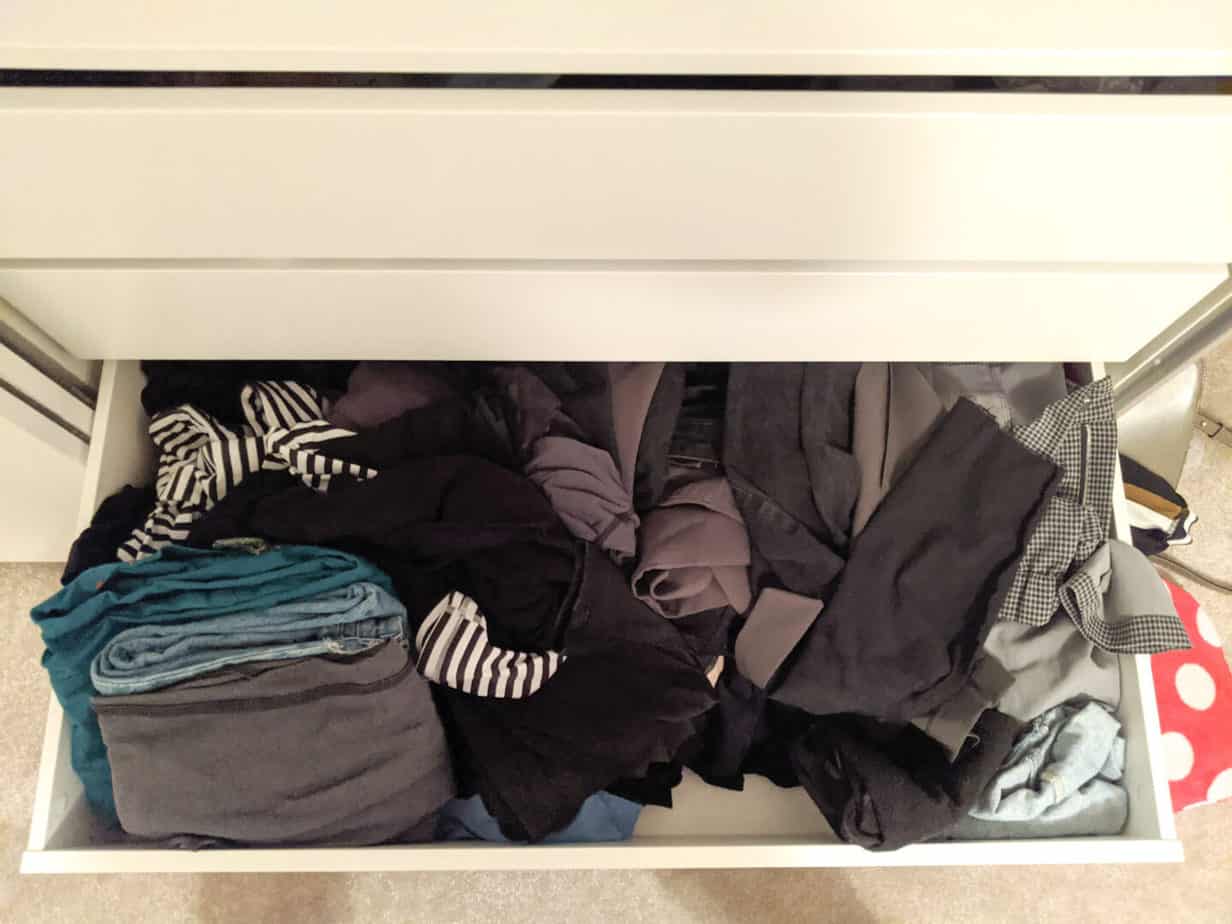 Step 4: Create Your Capsule
Now, to really get a clear picture of what items you want in your capsule closet, a good place to start is to consider what events/styles you need your outfits to be suitable for.
For example:
Work/corporate attire
Home/chilling outfits
Going out/dressy outfits
Active/gym on-the-go
Casual day-to-day
For me, I work from home and the majority of the time I'm only really leaving the house to either go to a yoga class or actually teach the yoga class, to go to the climbing gym with my friends, or maybe for an evening down the pub.
Therefore, the most important outfits for me were ones I can be active in, comfortable for working from home, and slightly more dressy but casual outfit for going out with friends. This means that my capsule wardrobe contains a lot of leggings for yoga, working from home, and climbing. A statement pair of quality Levis jeans that can be dressed up or dressed down. Trainers, and a pair of boots. Casual t-shirts, tank tops, and comfortable sweatshirts on top.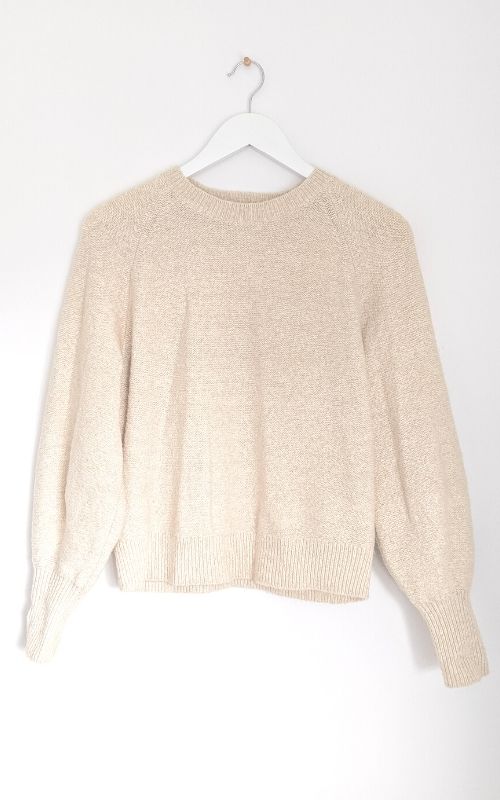 The point here is that my perfect capsule wardrobe could be your capsule nightmare. If you've got a corporate job that requires formal outfits, or like going out on a regular basis, my selection of comfy leggings and baggy jumpers is not going to be suitable, obviously.
Figure out what you need to fit your lifestyle and shape your wardrobe around that. Once you've got your style and the types of clothing you need in mind most, select your capsule items using the guide above (around 8 tops, 5 bottoms, 4 shoes, and 5 layering items).
Key Tips:
Ask yourself: Do these things co-ordinate?

It's all well and good having a hand-picked collection of items, but if they're all bold and vibrant patterns, it's not going to be easy to mix and match your clothes without over-thinking it too much. Aim for more neutral tones with a pop of colour here and there to allow your items to compliment each other.
Don't feel the need to be ruthless immediately

There's no need to throw out all your clothes straight away. If there are a few items that definitely don't fit in your capsule wardrobe (a statement dress, or a brightly patterned shirt, for example) but you don't want to get rid of – don't! Just set them aside for the time being. Give yourself a couple of weeks with your capsule wardrobe and it will soon become clear whether you're feeling a lack of choice in certain areas.

Ask yourself: am I likely to wear this more than once in the next three months?

The ever-changing trends in fashion can make it feel like you're on this endless race to catch up and try new things, even if you never would have thought to wear them before (right now, I'm thinking about those sheer, puffy-sleeved tops that seem to have popped up everywhere right now!). Try to ignore what the magazines are telling you is trendy, and instead focusing on what elements of your own style you feel really comfortable in. The trendiest people are the ones who are comfortable in their own skin.
More capsule closet inspiration:
For some more ideas and inspiration for finding a capsule closet that suits you, I highly recommend checking these posts out – they helped me a lot!
Un-Fancy: An invaluable resource for all things capsule closets and simplifying your clothes.

The Everygirl: How to start a capsule wardrobe: This post actually features Caroline from Un-Fancy, and also includes some usual collages to give you a more visual idea of what a capsule wardrobe could look like.