We may earn money or products from the companies mentioned in this post, and as an Amazon Associate I earn from qualifying purchases. Please see my full disclosure for more information.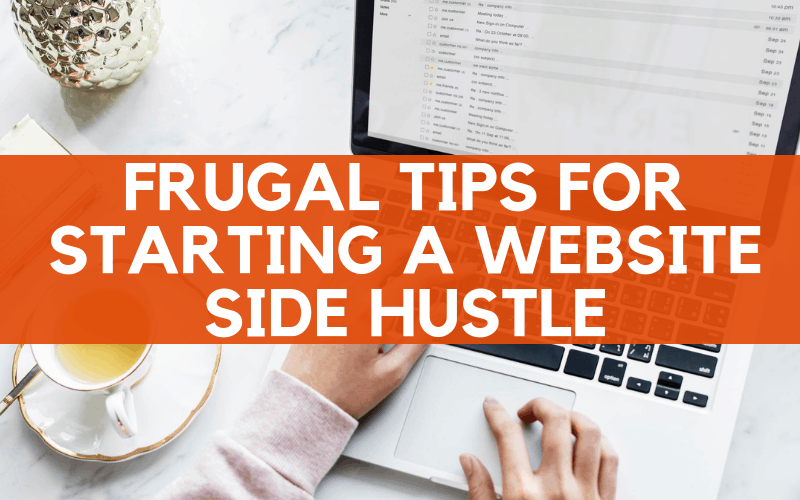 Today we've got a guest post from Jason at Mint Habits– a lifestyle blog with a focus on personal finance topics, and other fun making money topics to help you get ahead in life!
It seems like everybody has something going "on the side" nowadays.
There are an endless amount of "opportunities" out there, from network marketing to flipping homes. If you're reading this article, chances are you're also in the "side hustle" game and you are a driven person who also wants more out of life.
Well, today I want to share with you the "best" business opportunity (or side hustle) you could do… I may be totally biased but in my opinion, but as you'll soon learn, the pro's far outweigh the con's if we're comparing various side hustle ideas.
So what's that side hustle..? Making money with your own website!
Why do I recommend using a website to make money as your primary side hustle? Because you 100% own this "business" and also the amount of money you can make can replace your day job income (usually in a few years if you're working hard). This approach to side hustling is different than many types of typical side ways to make money.
This article will focus on starting your own website as frugally as possible, and give you a ton of tips on how to keep costs minimal as you journey through growing your website.
How does a website make money?
In a nutshell, you create content on your website that people are interested in reading. You then attract traffic to your website (get eyeballs on your content). And then you monetize that traffic by getting your readers to take an action that makes you money.
A website can be set up as a personal blog where you will be the face of the website, sharing your personal experiences while letting your readers learn a lot about you. However, a website can also be set up where there is no real personality to identify the website with. If you're shy or don't want to share your personal life, the second option is better. Regardless of how you create your content, the idea behind making money with a website is the same as I mentioned earlier!
I've been blogging for many years, spending thousands of dollars learning the ropes. I'll tell you something right now that most people won't tell you… and that is that almost all the information out there to help you succeed online is available for free. Courses will help speed up your learning curve substantially but it's mostly not necessary. You'll have to decide how much your time is worth!
With that said, here are my top 10 tips for helping you succeed in making money with your website while keeping costs as low as possible!
1. Pick a website topic you love
Your number one step (before you do anything) is to decide what topic or topics your website will cover. Your topic will dictate what type of content you will create for your website and, essentially, how much you'll love doing what you do on the side.
You must understand this: Pick a topic you are very passionate about or something you love talking about/doing. For example, you could create a website around a hobby you love (this post talks about hobby topics to base your website on).
The most "costly" thing about making money online with your own website is your TIME. It will usually take 6 months to 1 year to earn your first few dollars (really generalizing here), and perhaps a few years before you are making enough money to replace your day job income.
Things will get very difficult as you learn the ropes, fail, and try again. It's excruciatingly hard to deal with this when you're not even enjoying what you're doing. Quitting, or trying something else will waste a lot of your precious time (which is really money since you could have been doing something else to make money).
2. Get cheap hosting
You need hosting to have your own website. It's like your online "land" to put your house on. A lot of people ask "which host should I get" or "do I need expensive hosting".
It's really simple. When you are starting out, there are only 3 things that are important:
You need a host that's reliable enough
You need strong support from the host (for when you have technical issues)
You need site speed that's "fast enough"
Basic shared hosting covers all the above.
Your hosting and domain name is really your only hard costs when you begin your website. I've seen people spend over $100 on hosting in the beginning and it's totally not necessary.
When you're ready for the benefits of more expensive hosting, you can easily switch to it. So I don't recommend getting this at the start.
3. Spend a lot of time in blogging Facebook groups
This may be the biggest goldmine tip I'll share with you, and that is to find blogging focused Facebook groups or Facebook groups dedicated to your niche.
You want to join them and spend a lot of time reading and asking questions. This is the best place to learn what it takes to make money with a website, and best of all, you get to ask questions any time you want.
Facebook groups are completely under-utilized in my opinion! There are so many smart and helpful people in there to learn from, and it doesn't cost you a dime.
I recommend joining around a dozen or so groups relevant to you. You'll soon figure out which groups work best for you within the next few weeks, which is where you'll spend most of your time moving forward.
4. Communicate and interact with people in your niche
I mentioned using Facebook groups in the previous tip to communicate with people in your industry. A step on top of that is to commonly engage with other websites in your niche! It's as easy as commenting on their blog posts or commenting on their Facebook/Instagram/Pinterest social media posts.
You want to do this because of two things:
You build relationships
You build authority
Did you notice in high school cool people hang with other cool people? Well, you decide who you hang with online by who you interact with. Building these relationships is paramount to your success online because you WILL need help along the way. And you need people to want to help you.
Focusing on relationships will be one of the backbones for succeeding online. In a nutshell, you build and nurture relationships with people who matter. Everyone helps each other out (for example, sharing each others stuff or linking to each other to share audiences) and everyone wins. Everyone gets ahead faster. That's how you do it with relationships online.
Best of all? This is all FREE! You don't need any special tools to get people to share your content or link out to you!
5. Pay close attention to what successful people are already doing
Your ability to succeed online will rest on your ability to analyze what's working and "copy" it. I say "copy" because no matter what anyone says, that's basically what you will be doing. All the wheels have been invented. It's more of a matter of picking the one you feels works best and "copying" it for yourself.
Of course, this doesn't mean ripping off someone's blog post or stealing headlines. It means analyzing what they did to succeed, and doing the "same thing" but in your own words and style.
For example, this is a guest post. Guest posts have been an effective way to increase my website authority and presence for years. Millions of people have done guest posts. I'm not reinventing any wheels here. I'm doing what successful people before me have shown to work.
I find a lot of new bloggers feel they need to do something completely radical and different to succeed. That can absolutely help you "stand out", and if you have something like that, then for sure it may help you greatly. However, it's not necessary. What's necessary is to analyze the successful people and learn from them. A good way to get an idea of how much money people make (and if you should follow them) is through their income reports.
And guess what? This is also free! I recommend following a few people in your industry very closely. What types of content do they publish? After you sign up for their mailing list, what kind of emails are you receiving? How are they promoting themselves on social media? Etc. It takes some thinking and time to figure out these things. Take it day by day and within a year or so you'll likely have a great idea about how this "making money with a website thing" works.
6. For the most part, forget buying most courses and tools
I've touched on this topic lightly a couple of times so far, but I want to reiterate that you don't need to buy course after course to get ahead in this game.
You "may" need a few courses on certain topics. And that's totally normal. If you came across someone who really knows their stuff about this topic and feel their course can help you save time and make more money, it makes sense to buy it. For example, Yaz recommends the Making Sense Of Affiliate Marketing course if you're looking to make money with your blog via affiliate marketing, as it lays everything out for you, step by step.
I do find a lot of people go into this "I need to buy more courses". I certainly was like that for a few years. I also did the same thing with success books (I think I have over 20 now). I can tell you firsthand I don't need that many books to succeed in life. The smarter choice would be to buy a few excellent books and read them over and over again.
That's what I recommend with online courses. Invest in a few (if needed) that are really good. And go over the course material often (rather than buying many courses that you don't even have time go though because there are so many!)
With regards to online tools, for the most part, use the "free" tools and plugins until you are ready for more premium things. You "could" invest money into a nice website in the beginning. I'm not opposed to that IF you are very certain you are in this for the long haul. A professional looking website will go a long way to build trust in your readers (especially new ones). While website design is important, it's not a "main thing" you need to focus on in the start.
7. Stick with what you're doing and don't jump around with different money making ideas
A problem I had in the early years was trying something for a few months and then moving on to something else. I did this continually. I tried different ways to monetize my websites, tried different ways to get traffic, and created over 20 different sites. I started sites that I had for a few years that I just let expire after all that work.
Thinking about all the time I wasted makes me shake my head. I don't want you to do this either! Just pick a way that has shown it can work. And hammer on it until you make it successful.
For example, if you wanted to start a blog style website and you wanted to make money with a few affiliate products you love, then focus on that. don't get worked up when you read about how much money this other person is making with ads on their site, or how this person is getting so many sales through Facebook ads.
All of this will pull you in so many directions. Here's the truth. There are MANY ways to get traffic to your site. And there are MANY ways to make money with your site. I don't want you to be completely closed mined to these possibilities, but I do want you to pick a vehicle that WORKS, and stick with it until you make it work.
As an example, if you are a natural health blog, and you want to promote affiliate products like skin care cream, focus on these products only. Find websites that do this well and see how you can do the same. And work on it until you make it happen! Jumping around different ways to attract traffic and the myriad of products will likely slow down your success.
8. Keep your website and daily tasks simple for now
There is a huge learning curve when you begin this journey. I would say it takes around 6 months to 1 year to really get your bearings on how this all works…. so do it day by day and keep everything as simple as possible.
This general tip encompasses your entire website strategy.
Use just the plugins you need for your site. Keep your fonts simple and website styling simple. Follow a few people carefully to learn from them and just these people. Focus on 1 or 2 ways to attract traffic, and talk about just a few main topics on your site, etc.
Later on, when you're more knowledgeable and ready for more complexities, it will be much easier to hand and deal with issues as they arise.
The more complex you make things the more likely problems will occur. This will cost you time. For example, I had 12 plugins installed on my site and updated all of them. One of the plugins crashed my site. I contacted my host and we figured it out eventually. It took 3 hours. I also had to send several emails to the plugin provider to fix the issues. This is all time wasted. The more simple you keep things, the less likely something like this will occur. I find simplicity often coincides with frugality and minimalism.
9. Choose just one social media platform to dominate. That's it
I often hear people saying "you need to be on all the social media platforms and get traffic from everywhere". This is literally the worst advice someone can give you.
It's so wrong because doing a little bit "everywhere" is doing nothing at all. The amount of work it takes to make a dent in ANY social media network is profound. In fact, I would say it takes a year or perhaps a few years to really make an impact on ONE social media network.
So you want to focus your time on ONE network that you feel is best suited for your website. For example, Pinterest is an excellent social media network for many niches. It's the social network I spend the most time on and get the most traffic from.
I don't bother with Facebook or Instagram or Twitter. I might do just the bare minimum to stay "alive" on them, but I'm definitely not "active" on them if you know what I mean.
It's also important to understand that the work that needs to be done to grow a social media account is substantial, and the myriad of things you will need to learn an implement will be no simple task. There is absolutely no way you can build several social media accounts, on top of your regular website duties, to a level that you need to succeed online.
10. Ask for help all the time! People will help you (surprisingly right!)
In todays "me me me" world, it's actually a little surprising how helpful the online community is. I usually find that when you ask another blogger for advice or to answer a question, they happily will. And I love that.
I mentioned earlier that you want to be a part of a community. Don't overlook this step. The more you're "in" with a certain group of people, the more likely it is you'll get what you want when you ask for it.
But even so, I emailed a random person asking them about how they set up a part of their website. I got a very detailed email back that obviously took the time to write.
So my advice to you is to ask for help and ask for it often. Because people are very willing to give and to help. So take advantage of that so you can also give back some day. Asking is always free, so run with it!
Last Words
Your first year of working through making money with a website will be one of your most challenging years mostly because you will be facing so many unknowns, especially since this is everything but a quick reward way of making money.
I have to encourage you to stick with it! The biggest "cost" will be your time. Actual dollar costs can be extremely low (and probably should be). While you will likely benefit substantially by purchasing coaching or courses, and other helpful plugins and tools, most of this is "likely" not necessary in the first year or so. I talked about many ways to get help and learn for free in the tips above. So really try and explore those options as much as you can to keep this side gig as frugal as possible!