We may earn money or products from the companies mentioned in this post, and as an Amazon Associate I earn from qualifying purchases. Please see my full disclosure for more information.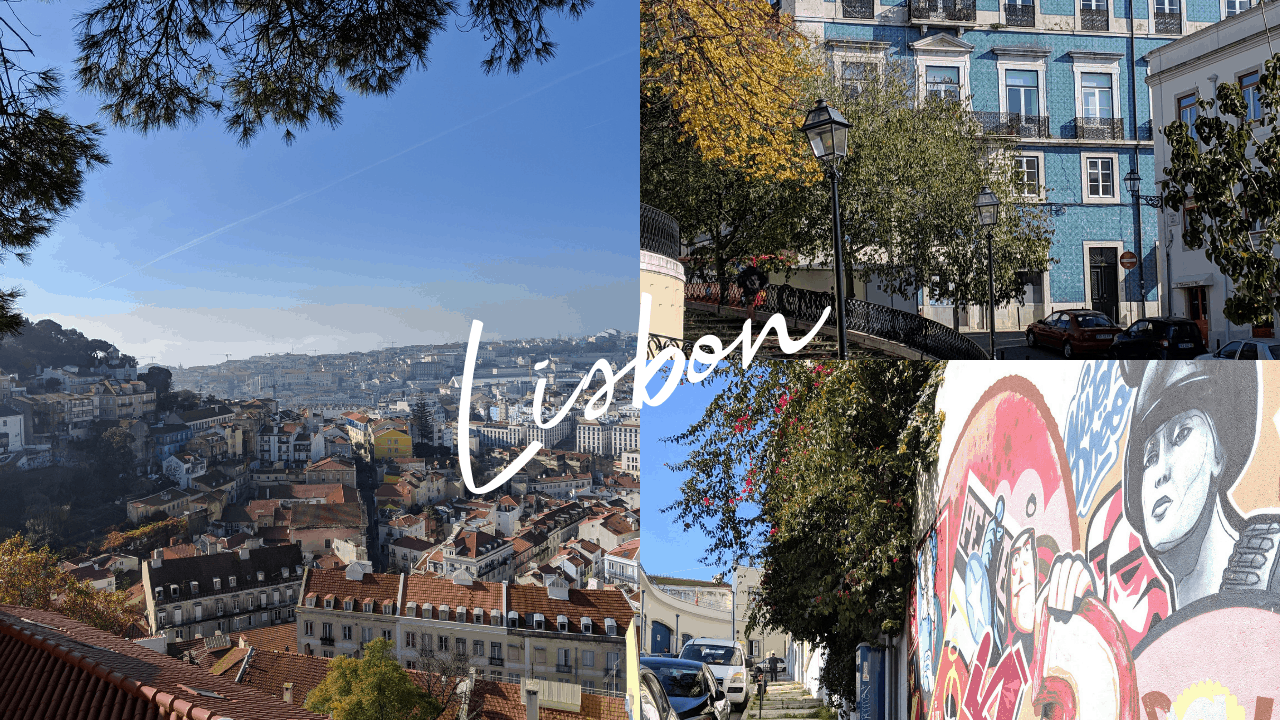 Soo…this post is three months late ? but I'm finally getting around to it!
At the beginning of December, I travelled to Lisbon on my own for a four-night stay in the city.
Why?
Well, it's Lisbon.
More specifically, though, I needed to tick a final point off my '2018 goals' list:
See, while I've been extremely fortunate and have visited a lot of the world, it's always either been with someone or to see someone I knew.
I'd never travelled to a new place where I knew absolutely no one before – my previous long-term travels had been with first my sister, and then with my now ex-boyfriend, so solo travel was still this mysterious, somewhat intimidating thing to me.
So, when I found return flights to Lisbon for £35 (that's roughly $45 – bargain, right?!), I took a leap of faith and booked my first ever completely solo trip.
About Lisbon
Lisbon is the capital city of Portugal and is about a 2 and a half hour flight from London.
It's known for being a hilly coastal city with a rich blend of heritage and culture mixed with a liberal attitude and progressive thinking.
I'd been meaning to visit Lisbon for a while now: first, I read that it was a great European destination for digital nomads. Then, I learned there's great surfing not far away. Finally, I learned there's good climbing also surrounding the city.
That had me sold – and although I didn't surf or climb while there (neither are really appropriate for a December visit!), I did love it just as much as I thought I would.
Vegan Weekend In Lisbon:
Highlights
I'm not going to reel off a bunch of 'must-visit' tourist attractions because honestly, that's not how I travel.
I keep things frugal by walking around the new destinations I'm in and getting my bearings. Unsurprisingly, this is also, I've found, the best way of really getting a feel for a new city – simply exploring with no real aim.
So, below are the highlights I found while visiting:
Alfama is one of the oldest districts in Lisbon and it really is beautiful.
I'd read it's worth a visit, so on my first day, I started exploring the city while heading in the general direction of Alfama.
I was met by cobbled street after cobbled hill – each as photogenic as the next. I reached the Alfama district around 10 am, and the streets were blissfully quiet. I spent the entire morning just picking a direction and walking around. An area really not to be missed in Lisbon.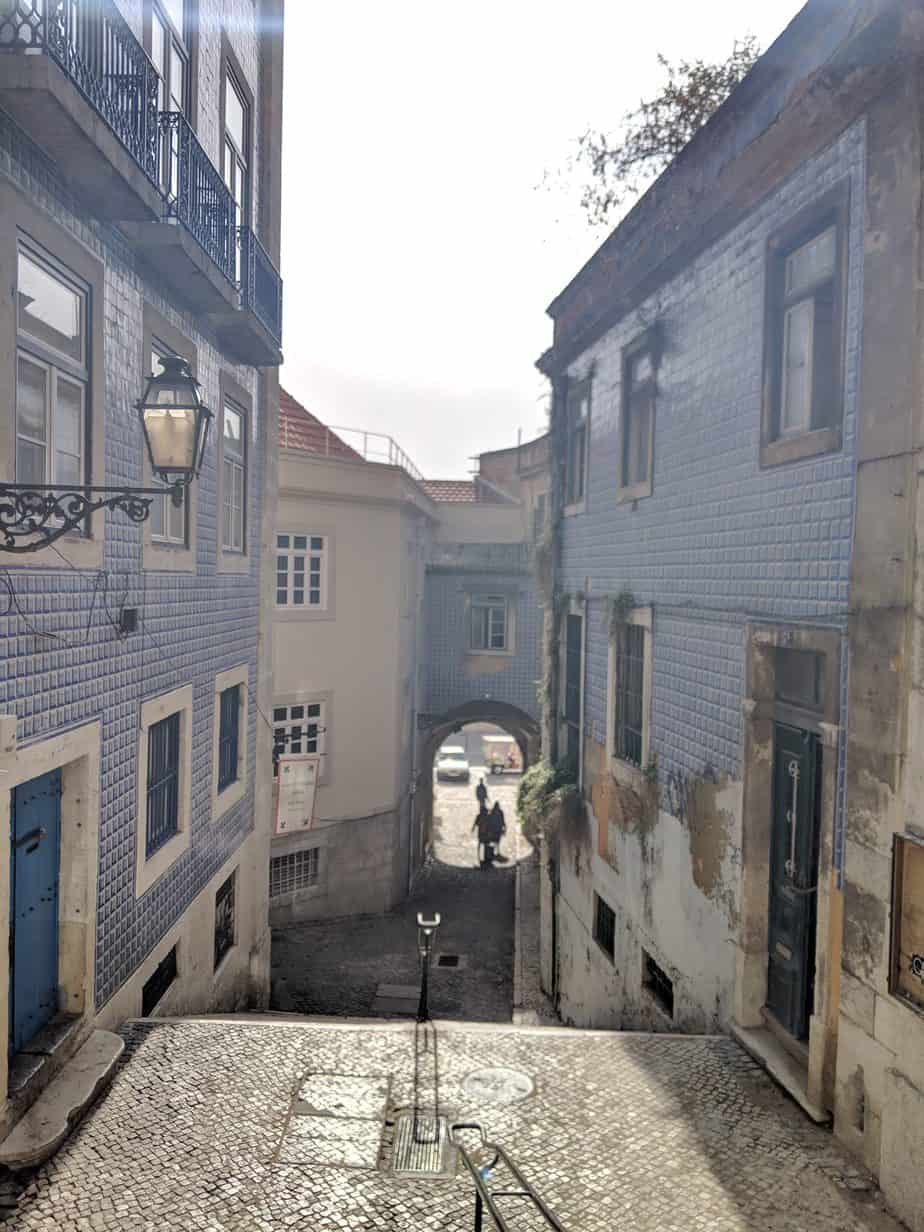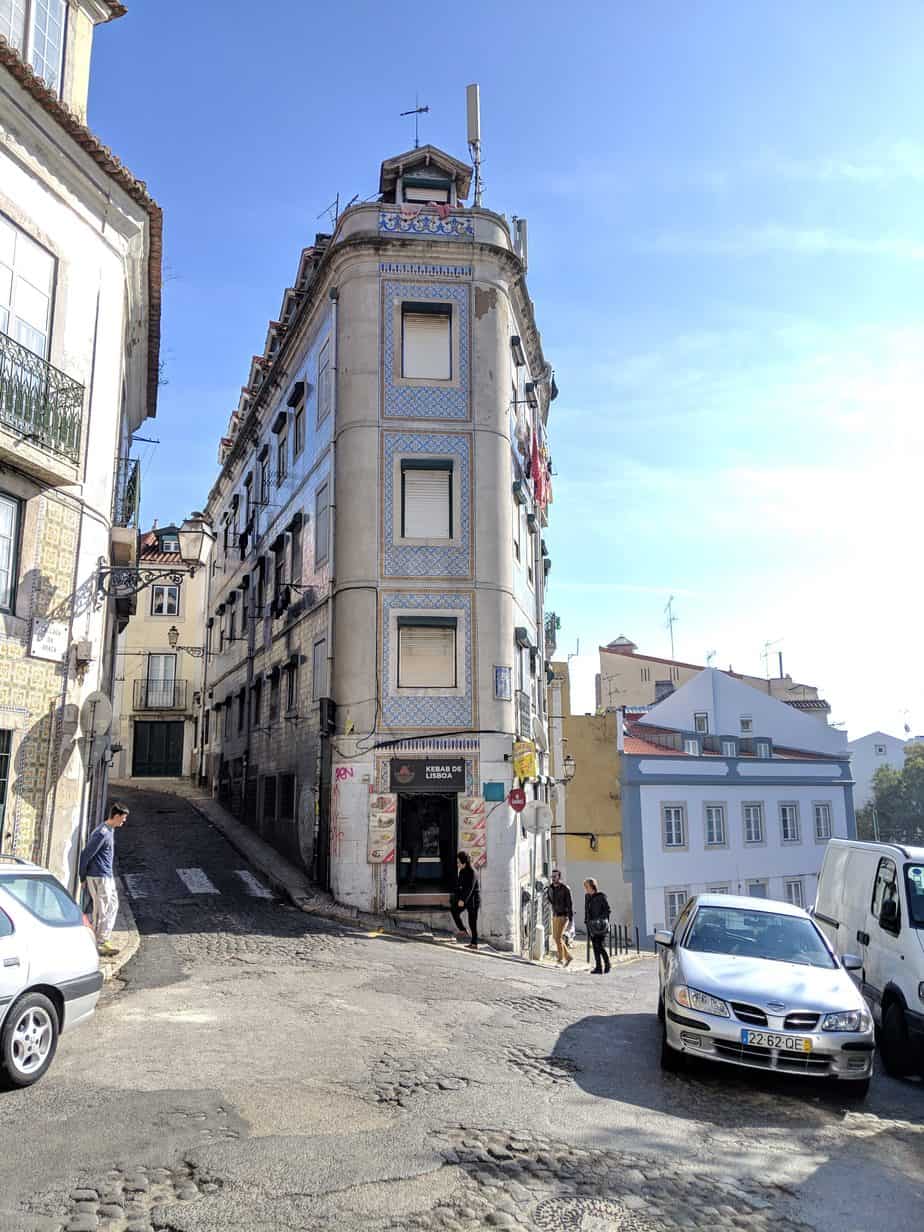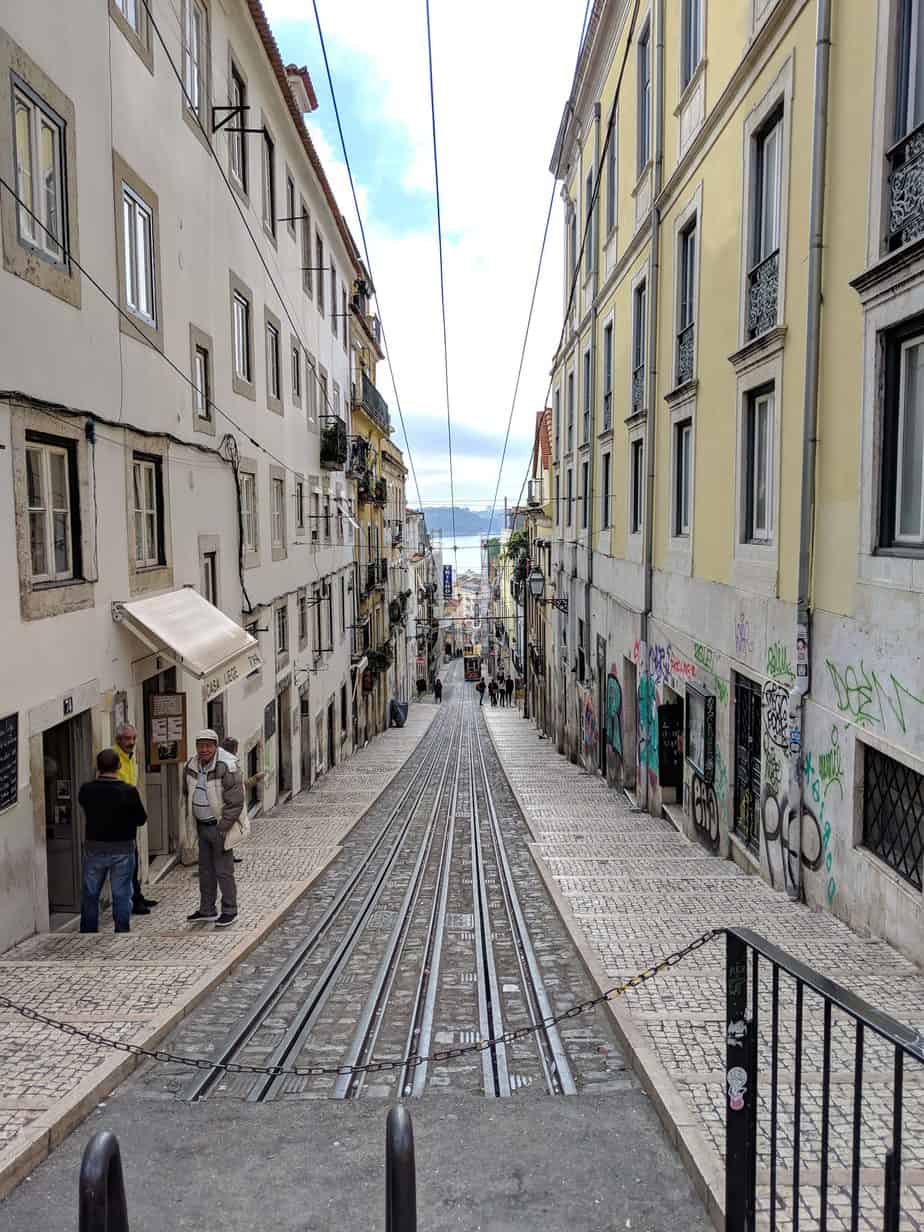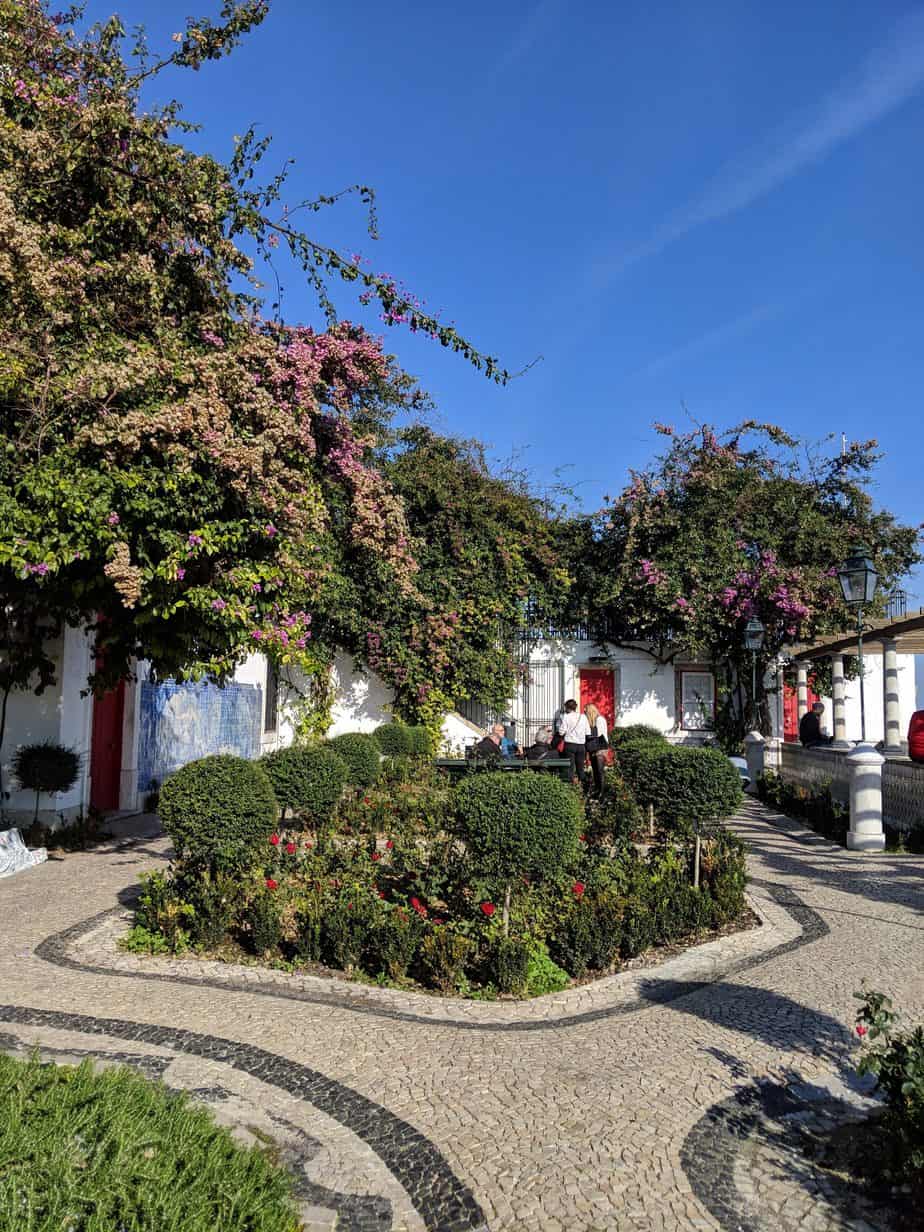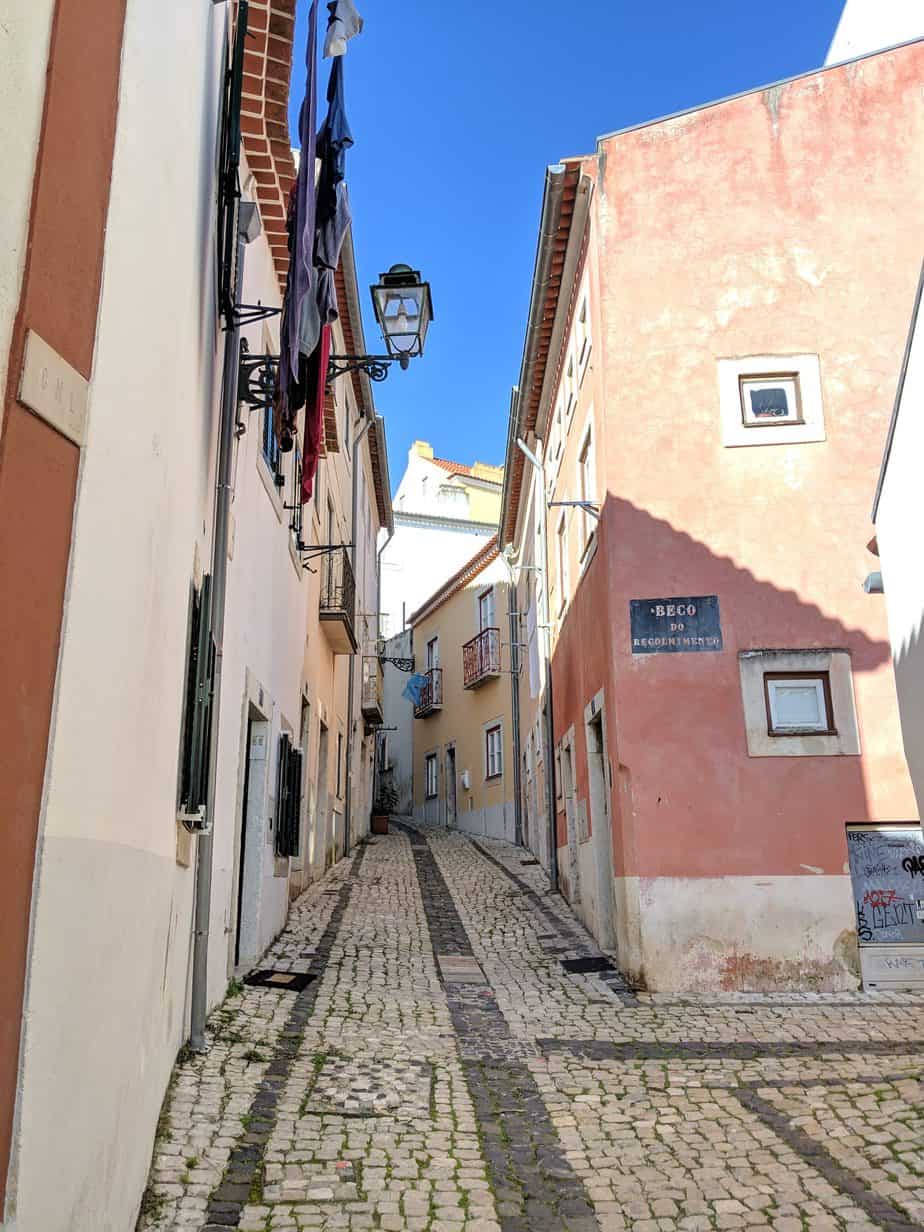 Miradouro Sophia de Mello Breyner Andresen (Viewpoint)
I accidentally happened upon this viewpoint while exploring, but it was one of my total highlights of the whole trip.
There's a small cafe where you can order a coffee and sit back staring out at the breathtaking view, while a local busker sings Faro music as you watch the world go by.
Here's a little clip I filmed while there – it fills me with contentment every time I watch it. (Advanced warning: I'm sorry for the amateur vertical recording!)
Belem is about a 30 – 45-minute tram ride from Lisbon city centre and is home to the Torre de Belem and a number of monuments and museums.
It's also located right on the river, offering the most scenic views, especially on a sunny day.
I loved spending the afternoon wandering up and down the waterfront.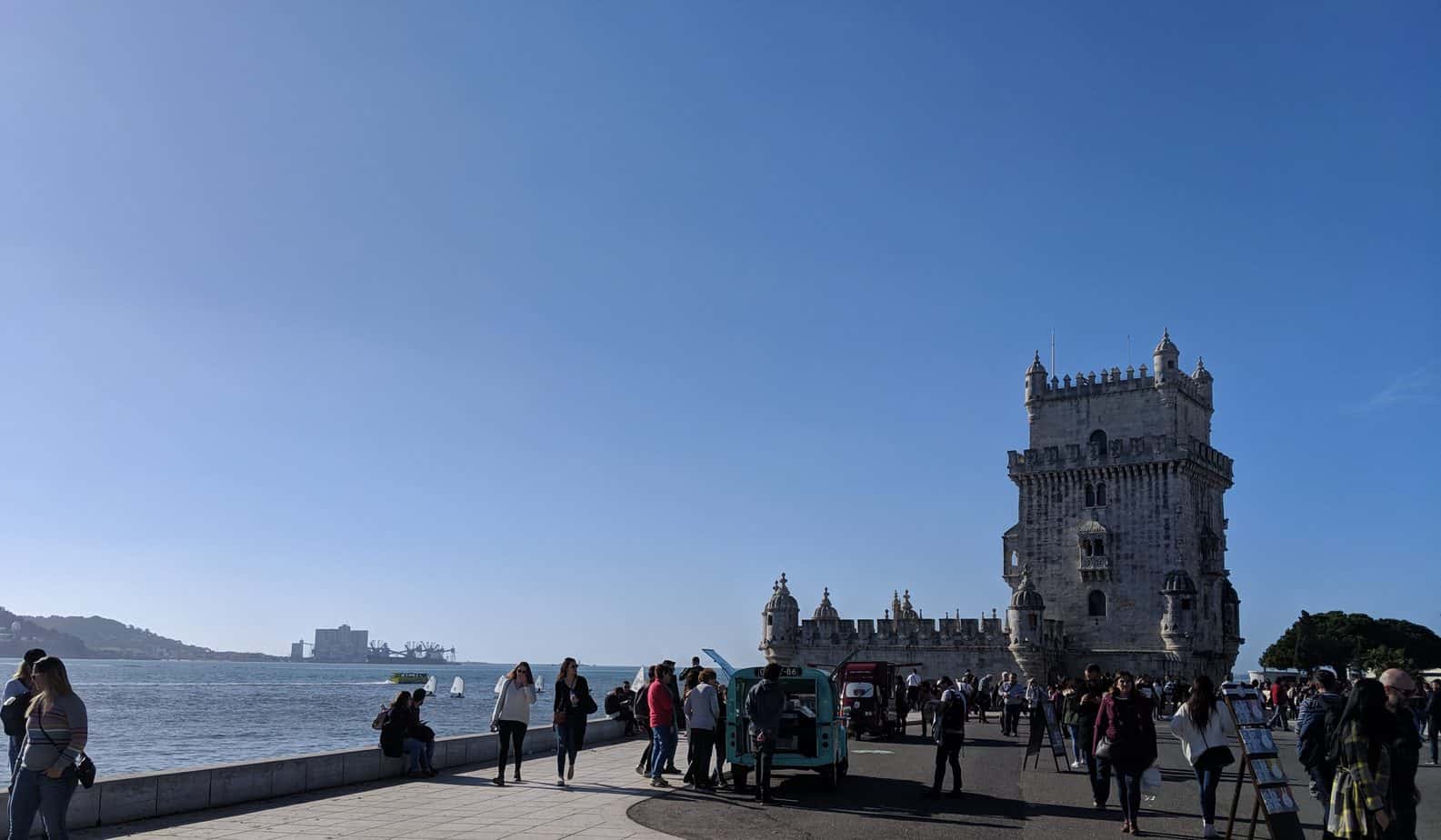 Vegan Food In Lisbon
Now for what you're all here for: the grub!
I was a little apprehensive about the vegan food scene initially, especially because I'd really struggled to find food without any dairy while in Spain early in the year.
However, I was absolutely blown away by the quality and quantity of vegan restaurants in Lisbon – my entire trip was essentially a food tour around the city!
Here are all the vegan restaurants I visited, and a little review of each:
Princesa do Castelo:

Right in the heart of the Alfama district, which was nice. The food was good, and they had a few options which I think change each day. The place was absolutely dead however, with just the staff sitting around outside, which was a bit intimidating. 6/10.




Jardim das Cerejas:

Great buffet food for a great price. €8.50 for an all-you-can-eat buffet with some really tasty options. I actually came here twice: the first night I had a delicious chickpea and sweet potato curry, I can't remember the second night but I loved this place! They also do a really yummy vegan chocolate mousse-cake which I took away with me to eat later, and it was delicious! Not a fancy place, but excellent for a budget-friendly filling lunch. 8/10.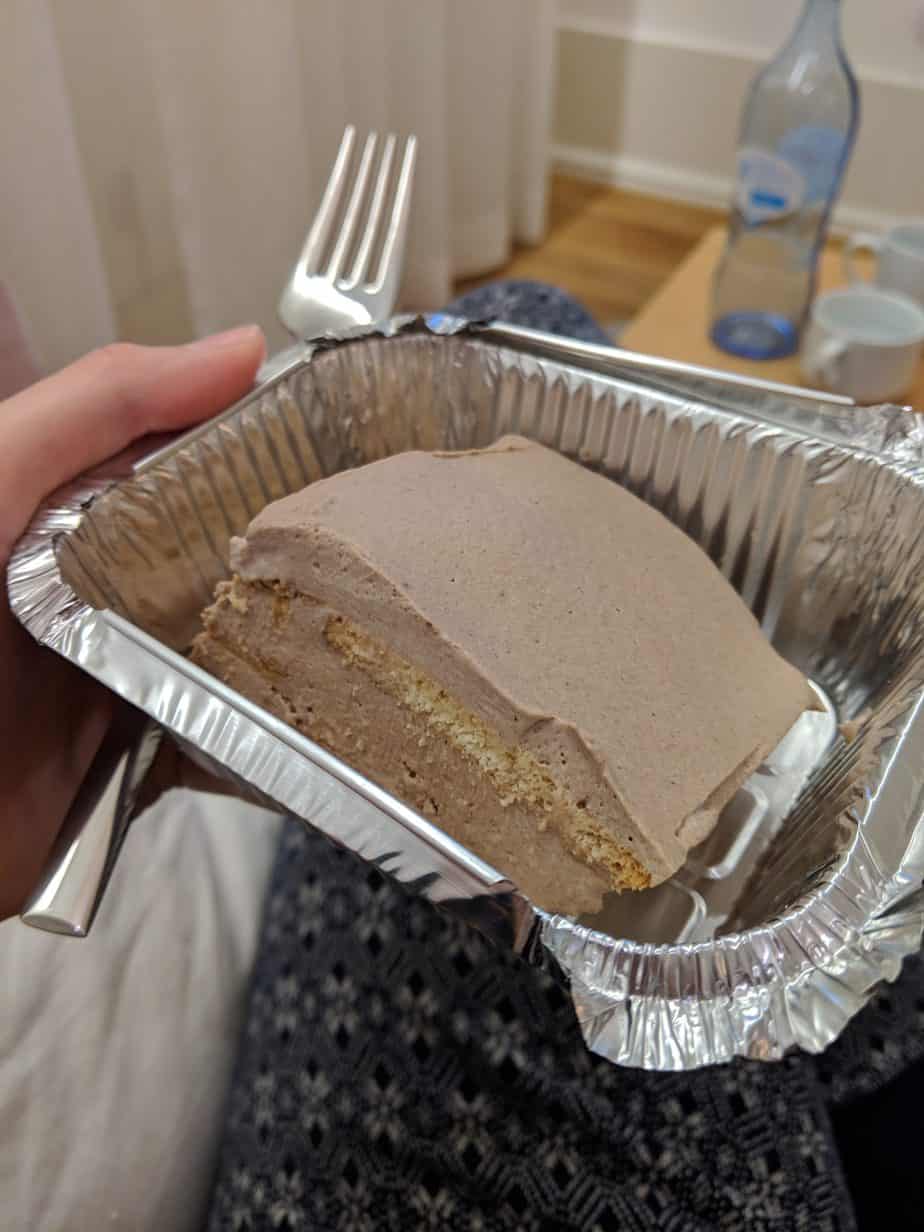 Organi Chiado:

Located in the Chiado district down a set of stairs. As soon as I walked in, the staff were super friendly and did everything they could to make me comfortable, which was really appreciated. I had the chickpea burger (no bun) which came with an enormous array of salads: roasted vegetables, couscous, salad and cabbage, tahini dressing, topped with beetroot chips. This was another fairly affordable place and the food was incredible. Highly recommend – I only wish I'd gotten a photo of my food! 9/10.
Ao 26 Vegan Food Project:

This place is often described as being a little more like fine dining, so I went there for the more casual lunch service. I got the black bean soup (amazing), and a lentil and vegetable loaf with a cheesy-tomato sauce and broccoli and potato mash with a salad on the side. It was incredible – such tasty food, a great atmosphere, and new specials every day. You have to go here! 9/10.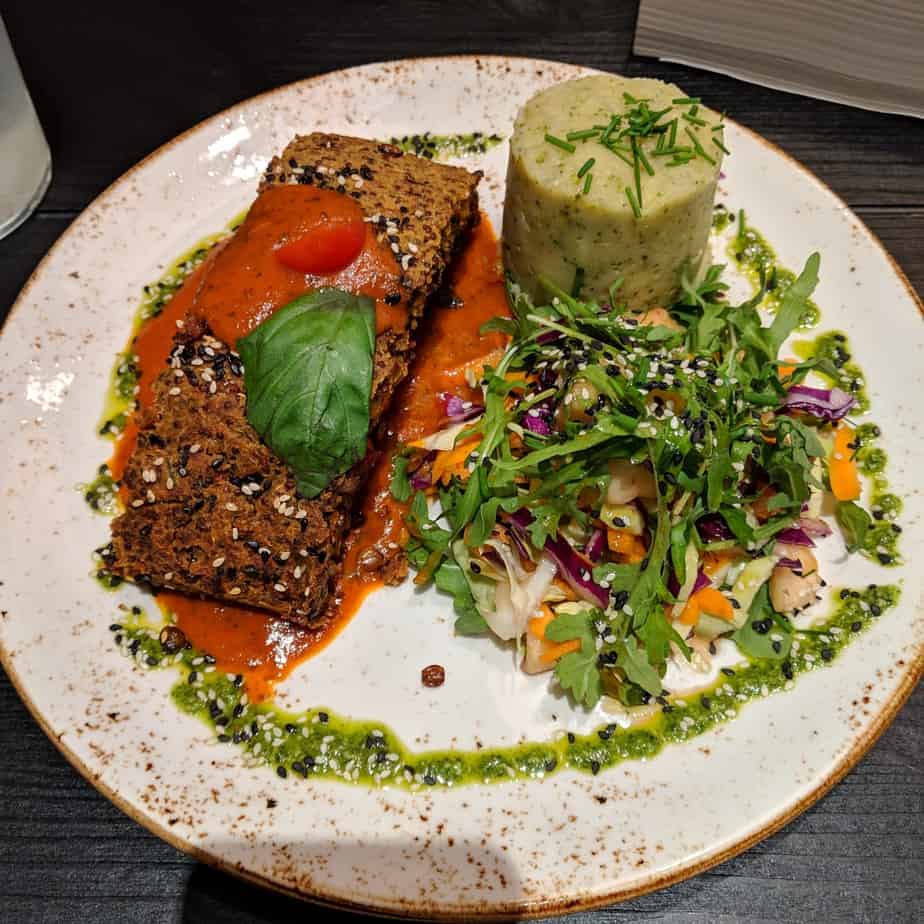 Sama Sama Crepe Bar:

I went here just before I set off to the airport on my last day, and I'm so glad I found this little place! There are no tables, just a few kegs you can sit on outside, and the guy behind the counter cooks your food fresh in front of you. I got the tomato and lentil dahl crepe with coriander pesto and vegan cheese. I still think about it. 9/10.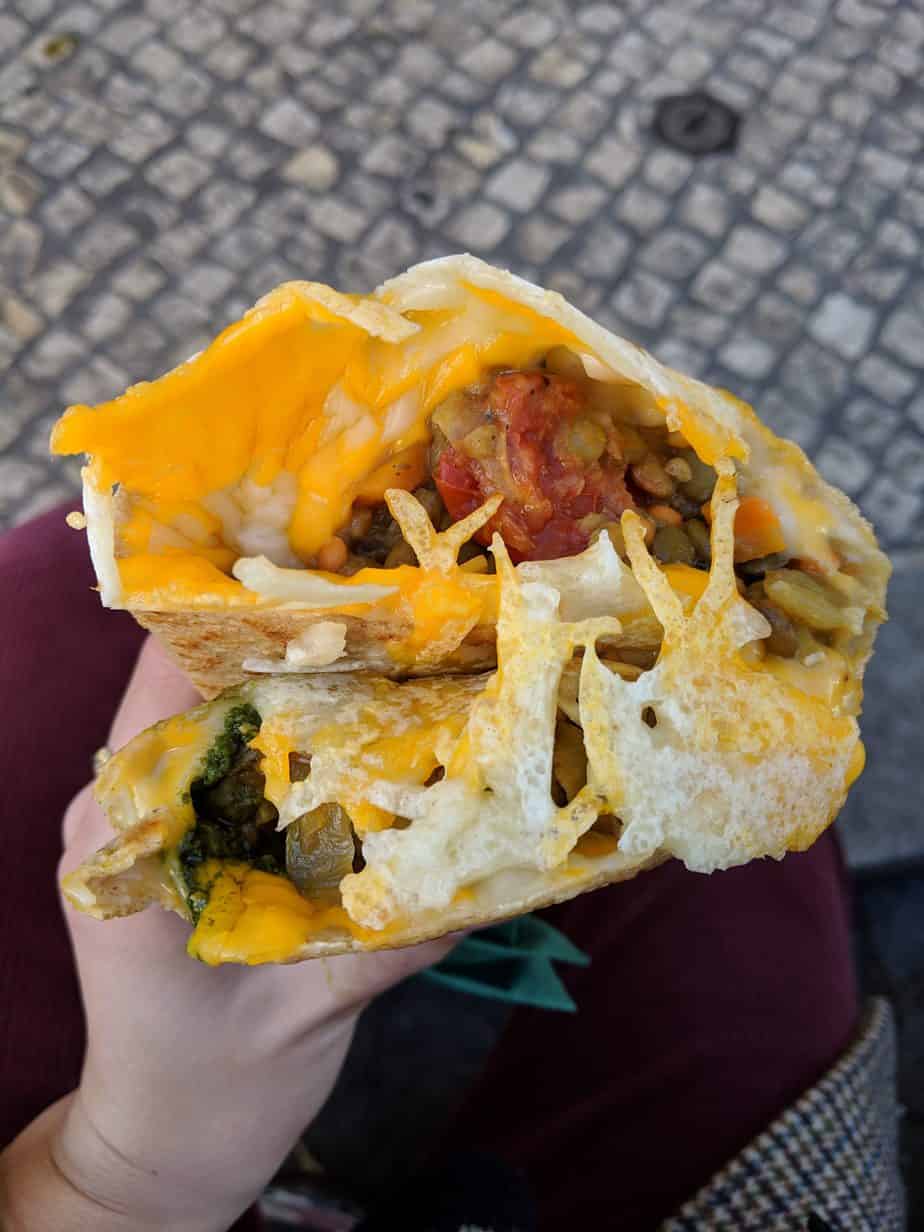 Where To Stay:
I stayed at the Boutique Chiado Suites and would highly recommend them.
I paid €304 for a four-night stay, and for that price, I had a kitchen/diner/living room, a separate double bedroom, and an en-suite bathroom. It was absolutely spotless and beautifully decorated, and in a fantastic location right in the heart of Chiado.
You could absolutely stay in cheaper places in Lisbon and there are a lot of backpacker hostels with very affordable dorm rooms, but since I'd saved so much on my flights I was happier to spend a little more for a really nice experience.
Other places I read that are great to stay inclide:
Baixa (the historic centre)
Bairro Alto (for bars, pubs, and nightlife)
Avenida da Liberdade (shopping)
Alfama (I'd stay in Alfama if I went back!)
Have you ever been to Lisbon? Did you like it? Any tips for when I go back? Let me know!
Pin this post for later: